22 African Print Dresses That Will Be Perfect For Church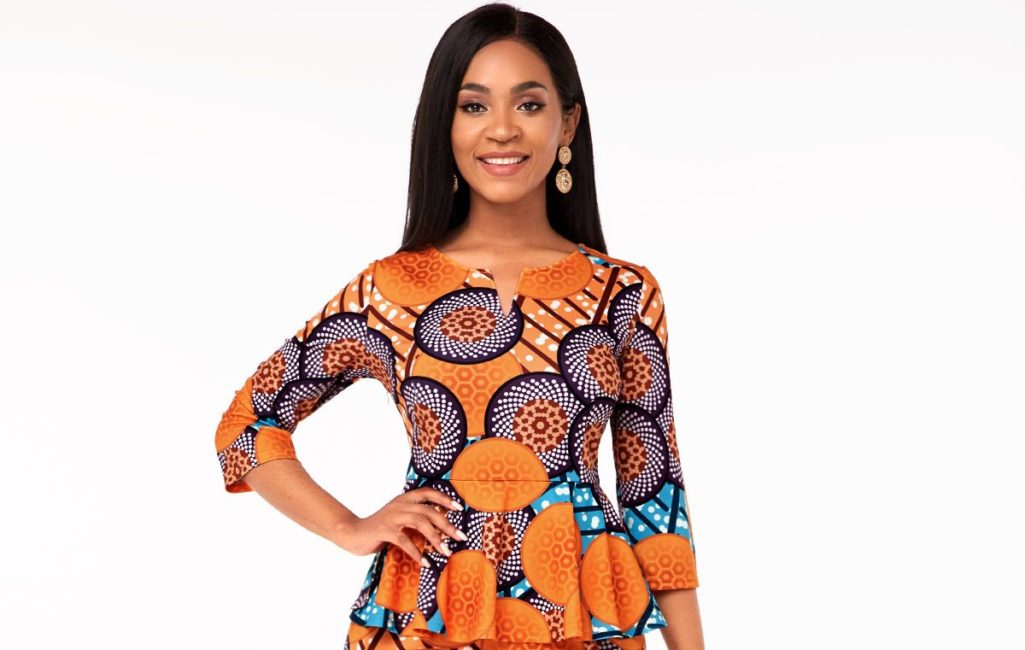 Charles Hix once said, "Looking good isn't self-importance; it's self-respect." With that in mind, African print attires are specifically made to enhance self-respect and etiquette. Apart from being colorful, African print is also prestigious and classy. A dexterously made African dress will not only give you confidence and character but will also make you the cynosure of all eyes.
For those who also mind their spirituality, the church is an esteemed go-to place for spiritual nourishment. Therefore, they are also conscious of their attire when going to church. They want to appear decent without being seductive. African print dresses cater for your politesse. So, let's explore some of the most popular African prints that you will definitely want to add to your wardrobe.
Ankara
This popular fabric is also known as the African wax print, Dutch wax print, or Kitenge. The Ankara print was originally made through the 'Batik' process by the Dutch. The main feature of this fabric is the color intensity of both right and wrong sides that is almost the same. Did you know that African prints convey different messages? Ankara fabrics are used to convey various messages and are named after buildings, personalities, and cities among others.
Kente
The word 'Kente' is derived from the word 'kenten' which literally means 'basket'. It is believed to have originated from Ghana and was made by the Akan language speakers, especially the Asante dialect. Kente fabric was made by hand weaving cotton and silk cloth strips way before the 11th century. Although this glamorous print has become the symbol of African heritage for all, it was initially worn for religious and sacred purposes by the royals.
Bogolan
We can't agree more with Dr. Charles E. Kellogg, a soil scientist who said, "Essentially, all life depends upon the soil." Have you ever thought that soil or rather mud can be used to dye fabrics? Well, the Bambara tribe of Mali has used fermented mud to make mud cloth. Bogolan in Bambara means 'made from mud'. In case you have a repugnance for chemically dyed fabrics, this is a perfect African print for you.
Kikoy
Kikoy is commonly found in Tanzania, Zanzibar, and Kenya. Although it emerged from cultural interactions between East Africa and Oman countries many centuries ago, it is mainly considered a symbol of the Swahili culture. The main features of this famous African cloth are its rectangular shape and its contrasting woven patterns. Unlike other African prints, Kikoy gets its distinct patterns from weaving in cotton yarns of contrasting colors.
Shweshwe
The main feature on this South African fabric is its intricately done geometric patterns. This African print is made on dyed cotton fabrics. Often seen as the denim of South Africa, Shweshwe derived its name from King Moshoeshoe 1 of Lesotho. It is said that in the 1840s, he was gifted this fabric by French missionaries. Due to his influence as a king, he ended up popularizing it.
Now that you know various African print designs by name and their origin, let's have a look at 22 stunning African print dresses that are ideal for church.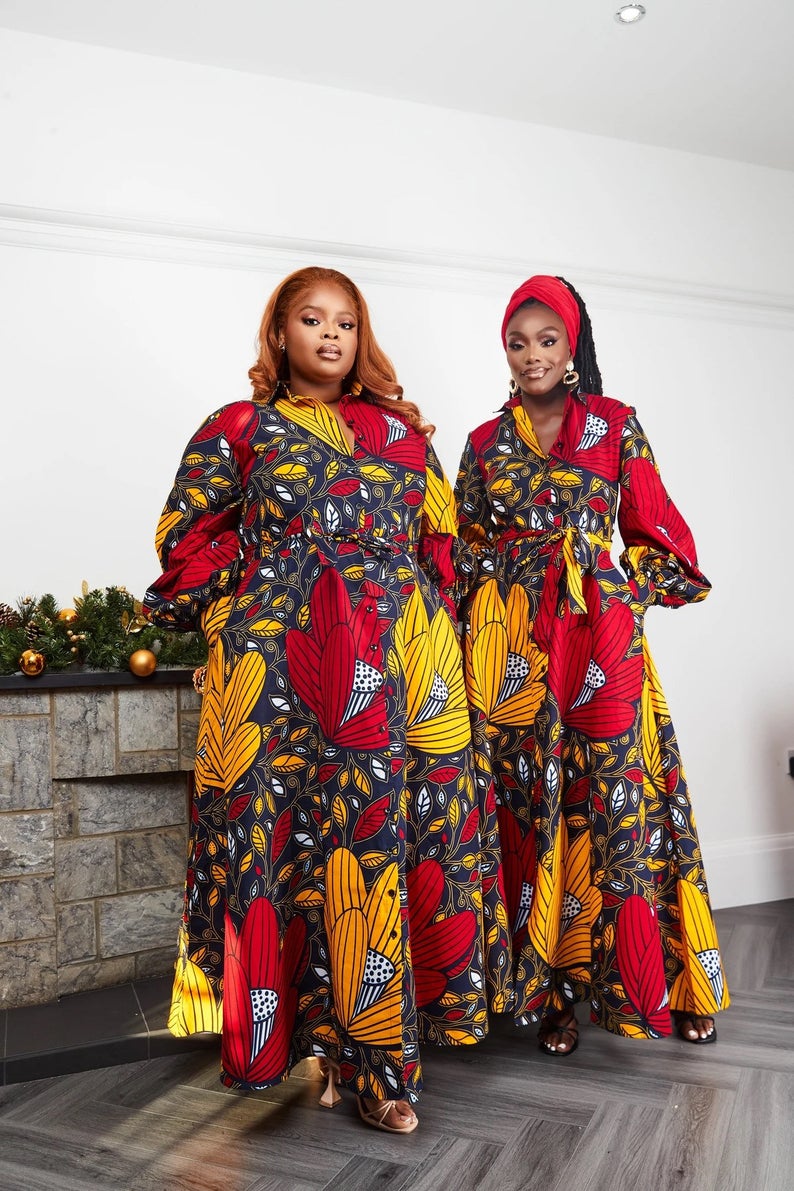 In the past, plus size women were left out when it came to trendy fashion designs but not any more. Bearing in mind that African women are curvaceous and of different body sizes, this Ankara print dress design addresses all the issues. The bright orange, red and white decorations on a black background bring out a nice contrast of colors.
#2. African Prints Ankara Maxi Dress – Get It Here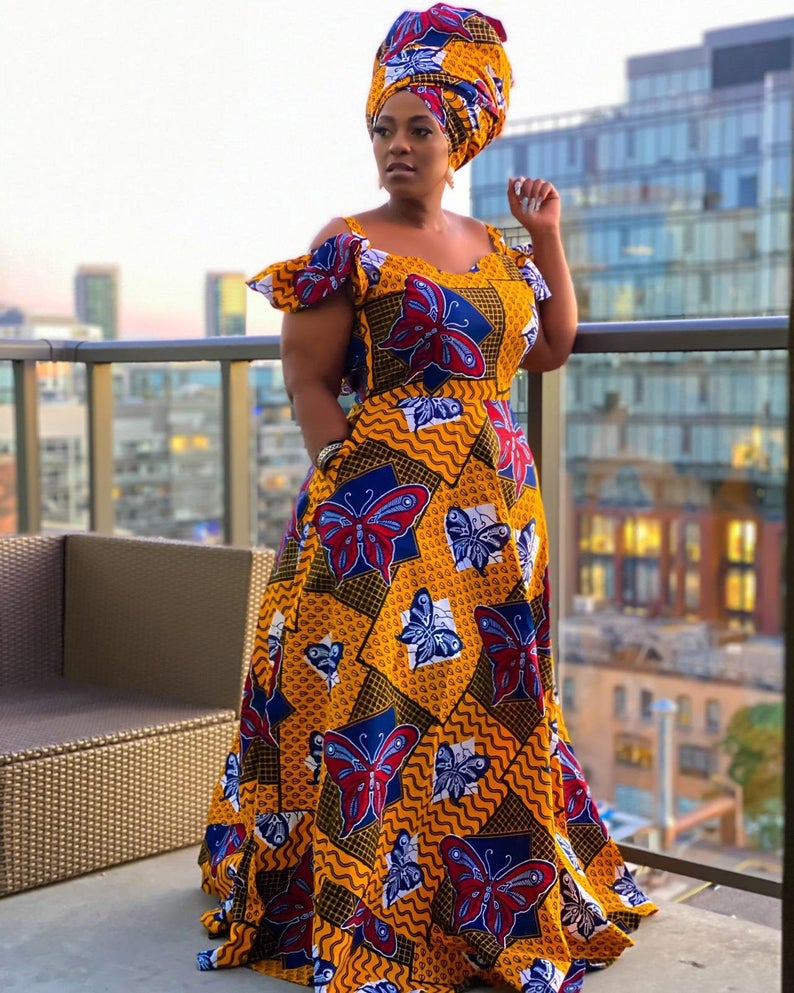 This maxi dress is showcasing Ankara print so perfectly. The high rising head wrap is a show grabber that completes this attire to the wearer's satisfaction. It even comes with a side pocket that can fit in your Bible.
#3. African Fabric Smock BabyDoll Midaxi Dress – Get It Here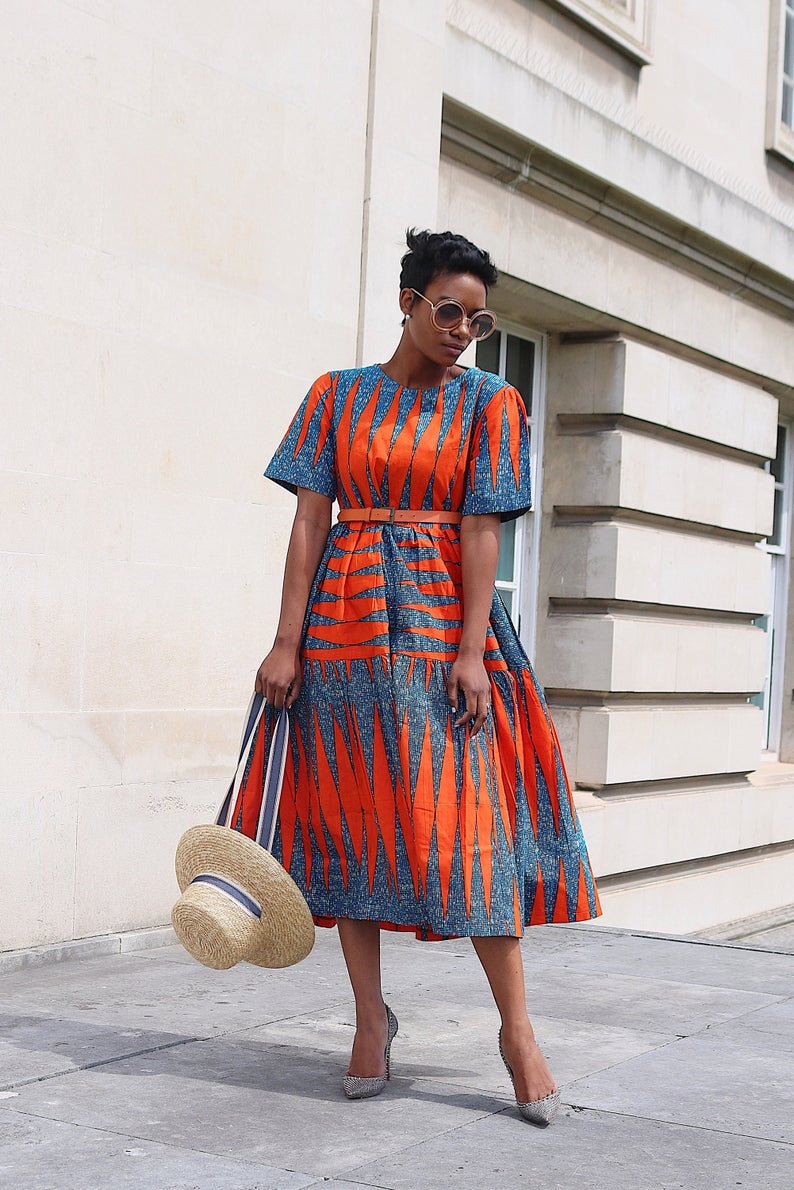 Modesty can be easily achieved through this African fabric dress design. The greyish blue and deep orange colors look good together. The orange belt, straw sun-hat, and matching grey heels complement this attire stylishly. Obviously, you can look both modest and stylish.
#4. African Print Low-back Dress – Get It Here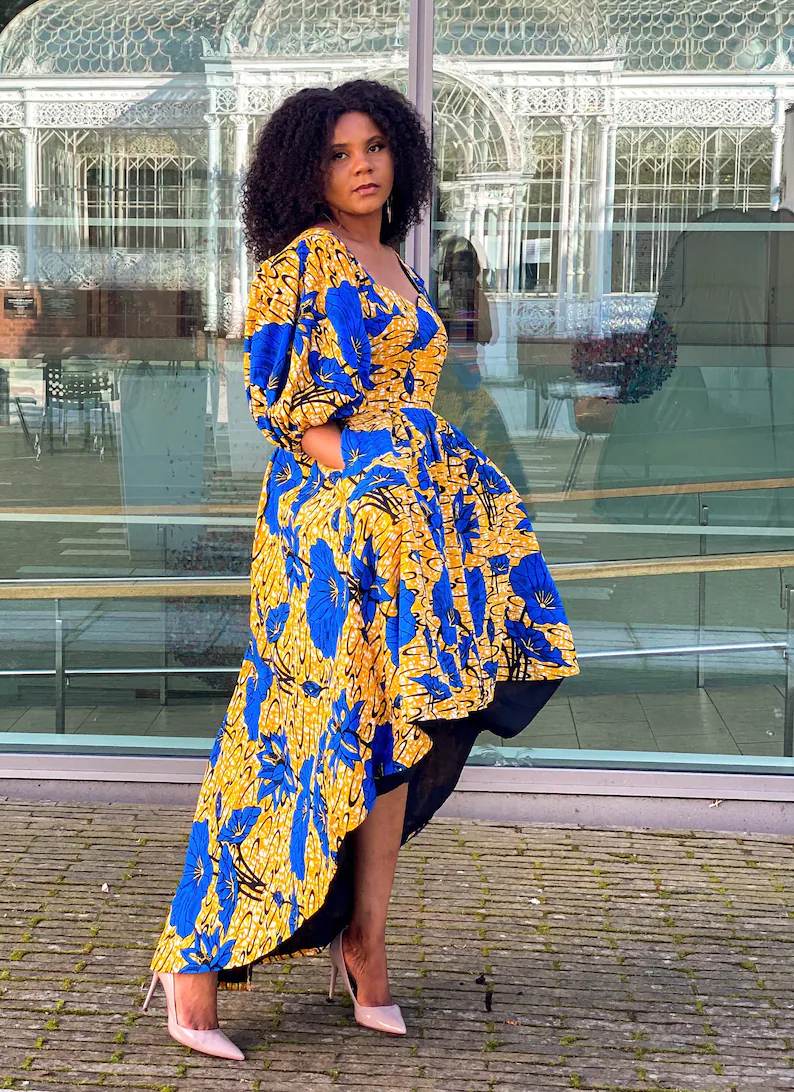 Another superb presentation of blue and orange, with s sublime touch of black and crepe pink color. Note how the crepe pink pair of heels modishly completes this garb. The slant cut of the gown and the pop in the front will leave eyes popping.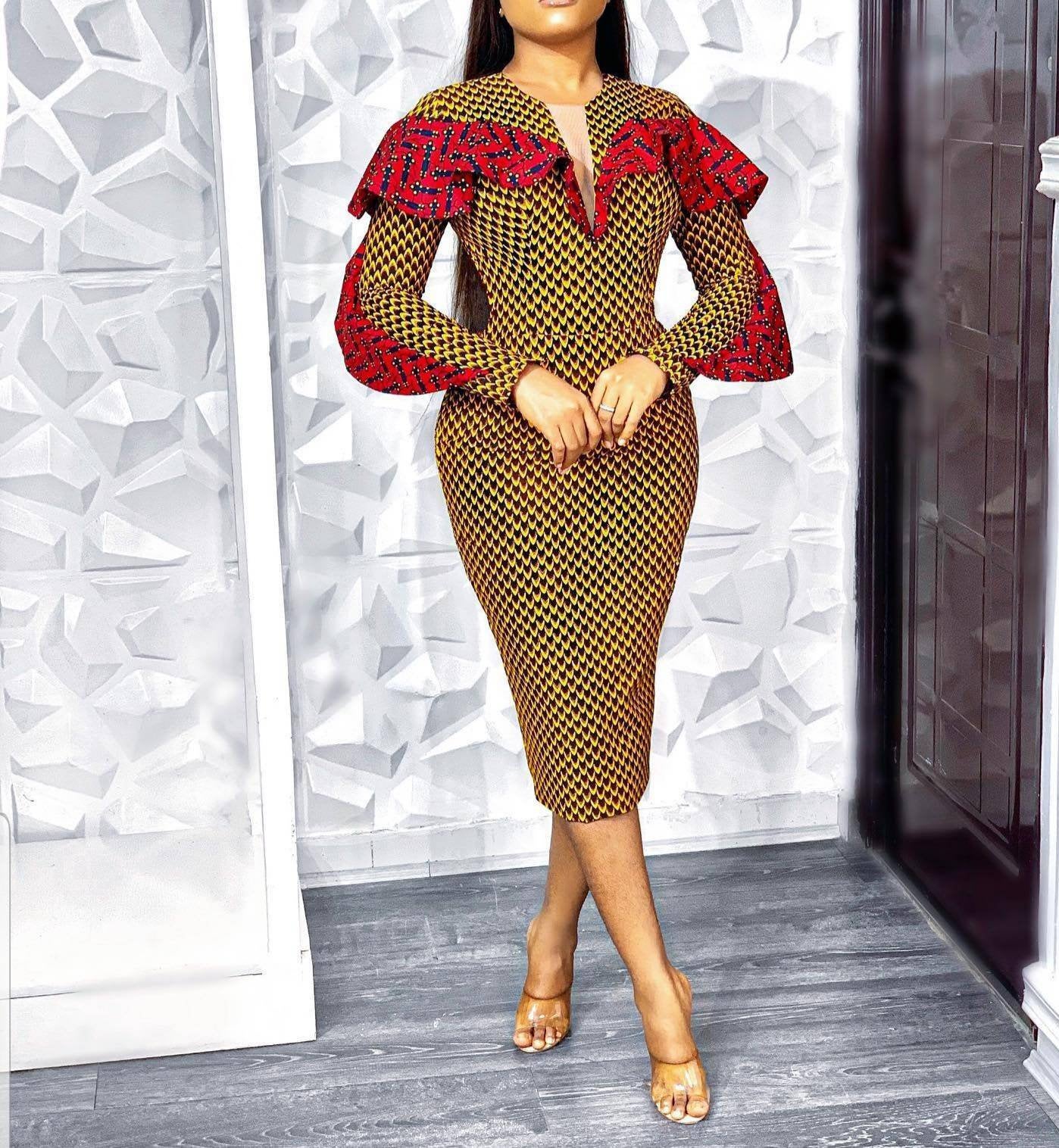 Shades of brown perfectly mix and match with the red detail decorating the neckline. Some of the striking features of this dress are the deep slit on the chest and butterfly decor on the arms. The shiny brown open heels finishes off this outlook.
#6. Red African Print Highlow Gown – Get It Here
This ruby red Ankara print high-low dress is ideal for church during the summer. It draws attention to the large asterisk decorations on the bodice and skirt of this gown. If you fancy a gown that flows with your steps, this would be it.
#7. Ankara Top African Clothing Skirt Print Dress Fashion Women's Fabric Short Summer – Get It Here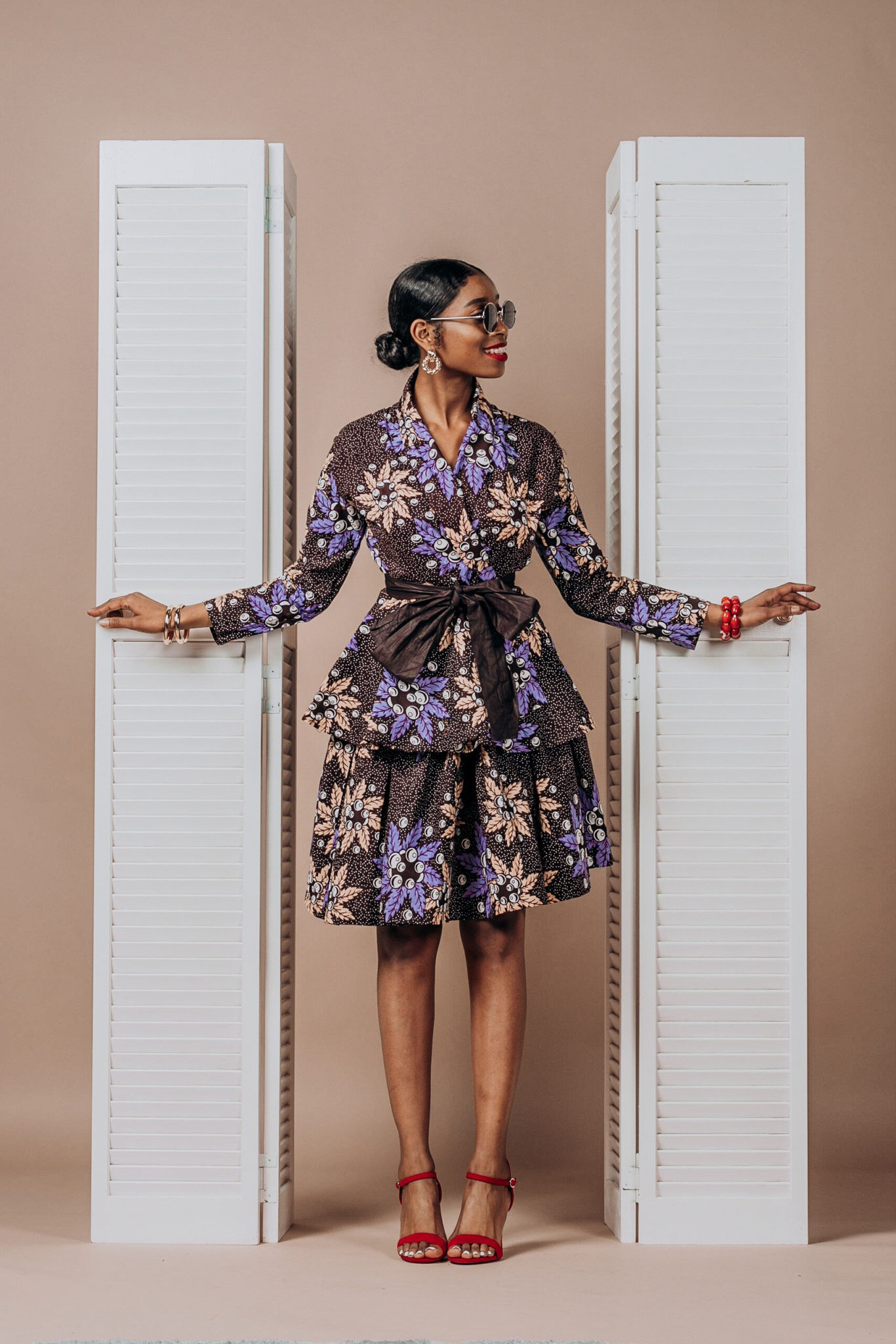 As always, you can never go wrong with black. This is evident in this black African print attire with purple and crepe pink decorations. The red heels and the handbeads give a nice contrast of colors.
#8. Ankara African Print Summer Dress – Get It Here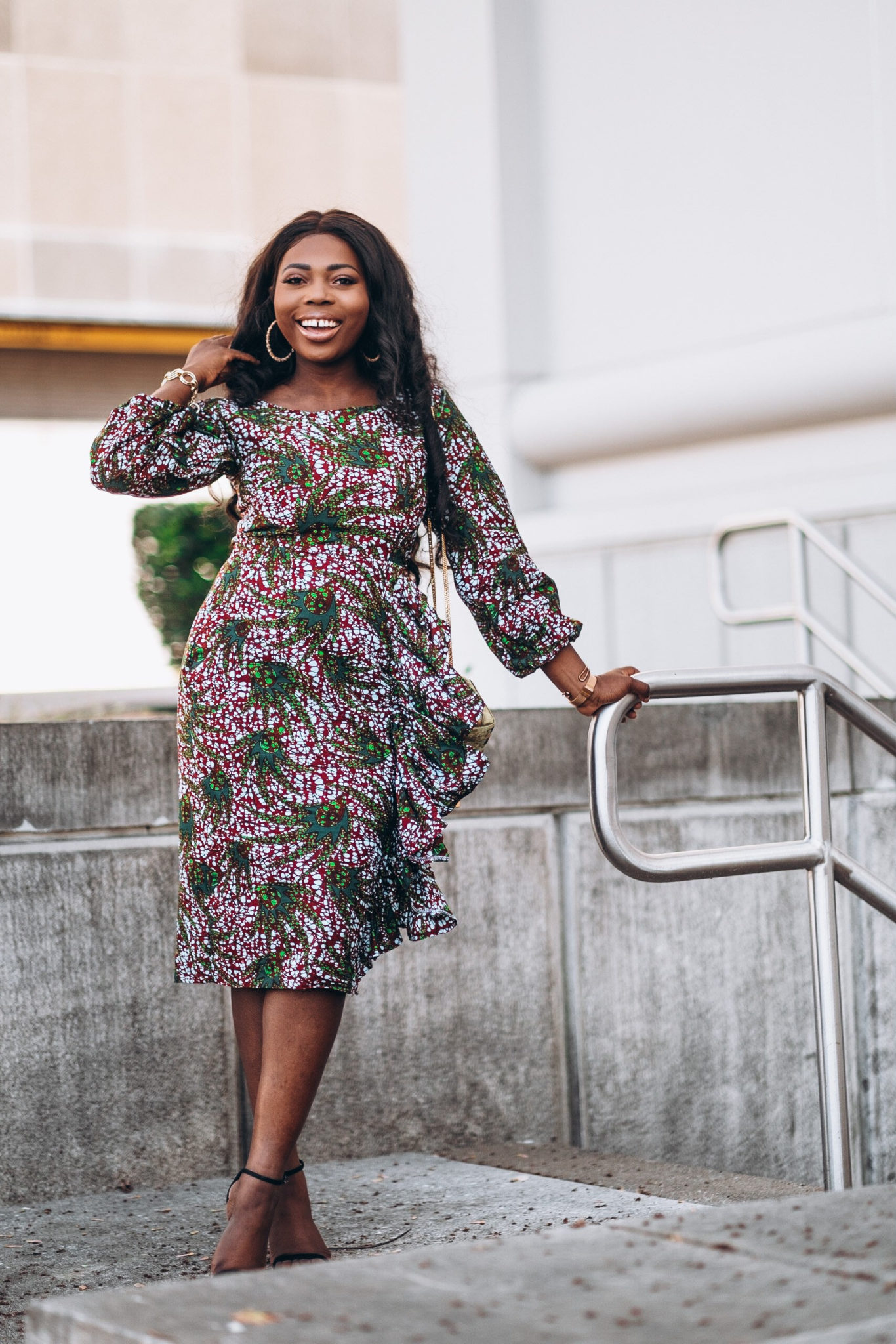 Want to turn up to church in style? This green, white and maroon Ankara dress will get you all the attention that you need. Its notable features are the round neck, long sleeves and the stylish ruffle design on the side.
#9. African Print Ankara Midi Dress – Get It Here
This is a perfect African way of red re-enaction. The red wide belt and hem on this dress tone well with the red floral print decorations together with the other blue and green floral prints. The red heels and clutch bag with an African touch finish off this ensemble.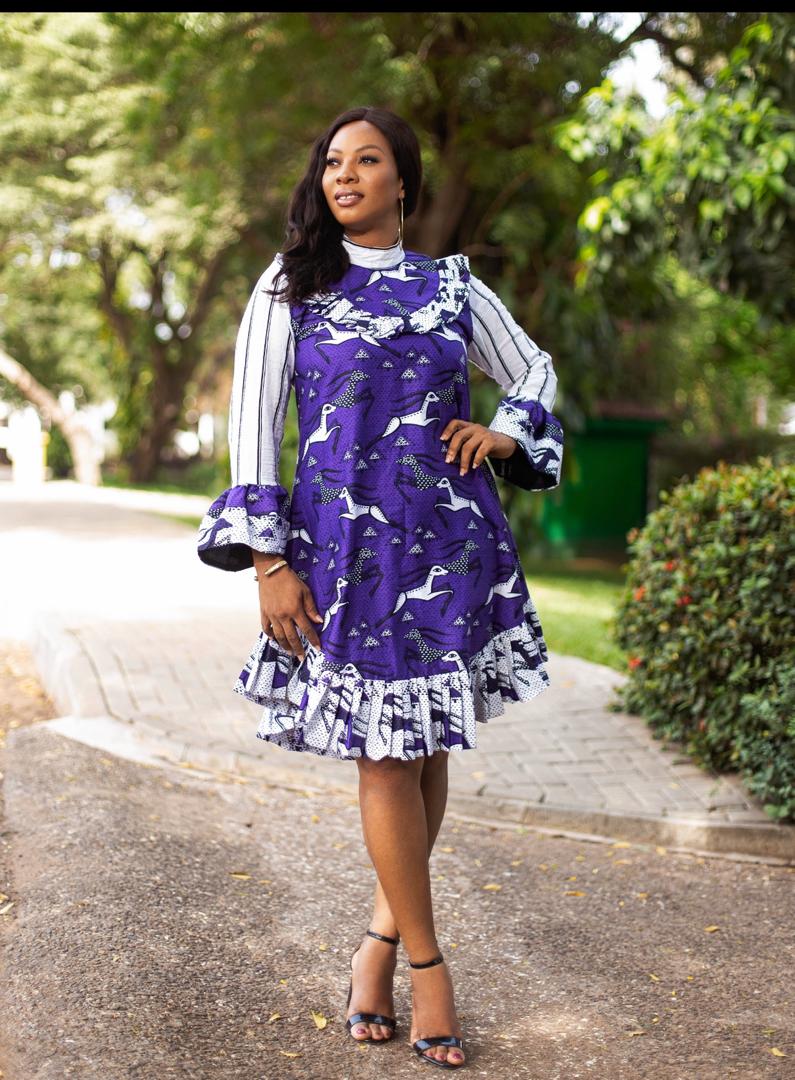 Elegance doesn't always mean complex. Even though this colorful purple and white dress looks simple, the flares on the sleeves, bodice and on the hem add a stylish fashion statement.
#11. Decent African Print Dress – Get It Here
If you are looking for modesty, look no further. This beautiful orange, navy blue, and beige dress is an excellent choice. The details on the neckline and sleeves give it a stylish touch and the long sleeves are appealing too. The beige heels cap off this glamorous outfit.
#12. Half Sleeve Geometric Print Yellow Slit Dress – Get It Here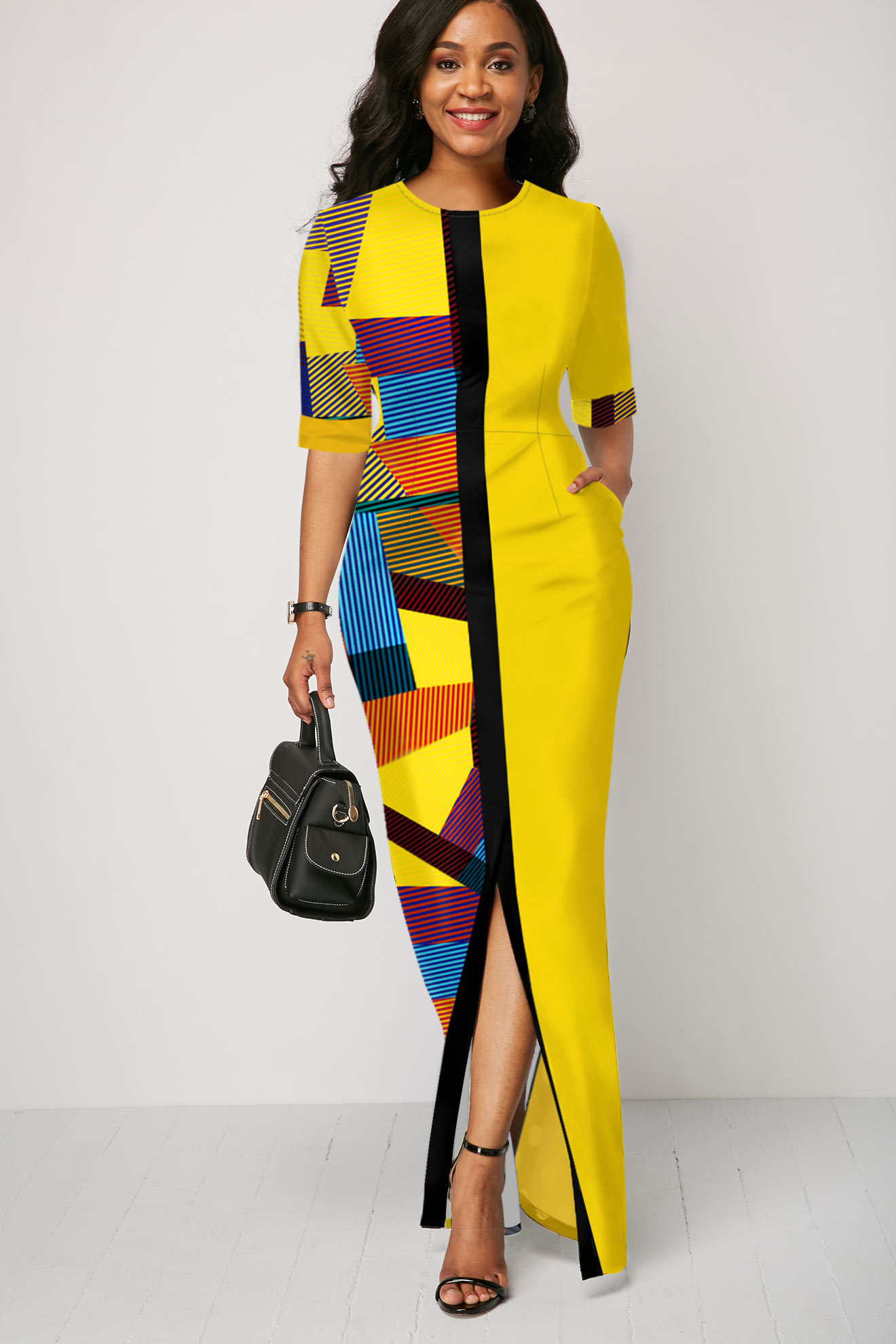 The design of this yellow dress has brought out an artistic asymmetrical balance that is otherwise hard to achieve. The geometric print is also visually attractive making this half-sleeved dress one of its kind.
#13. Mesh Top and Leaf Pattern Dress – Get It Here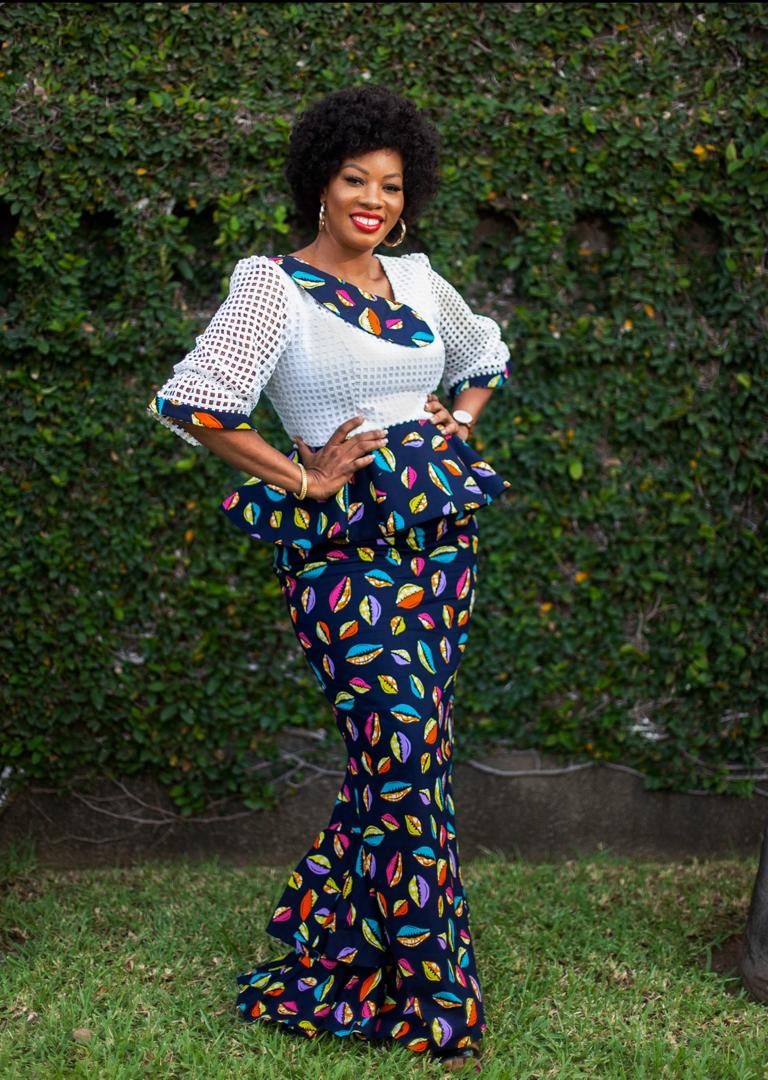 Navy blue and white is a powerful color combination in that it brings out a stylish contrast as seen on this African print attire. The white mesh top has a chic neckline finish that is replicated on the sleeves. The flare on the lower part of the bodice rhyme so well with the flared bottom of the skirt.
#14. Women African Print Yellow Long Puff Sleeve Dress – Get It Here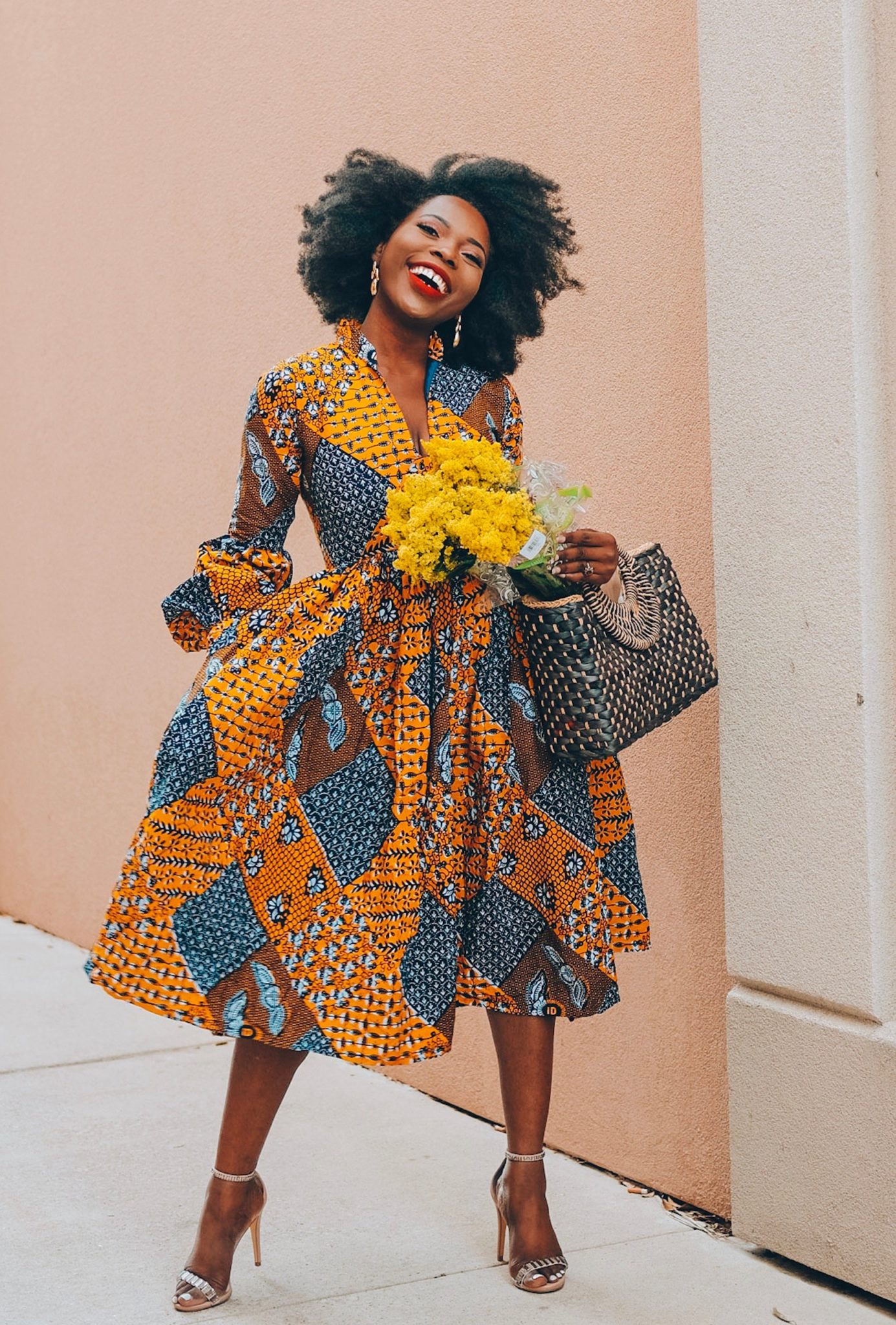 This simple orange, brown and black African print dress will make you the talking point in every African church. The long sleeves makes it ideal for evening outdoor parties as well. The unique handbag and modish simple heels culminate the look.
#15. Keyhole Neckline Tribal Print Flare Sleeve Dress – Get It Here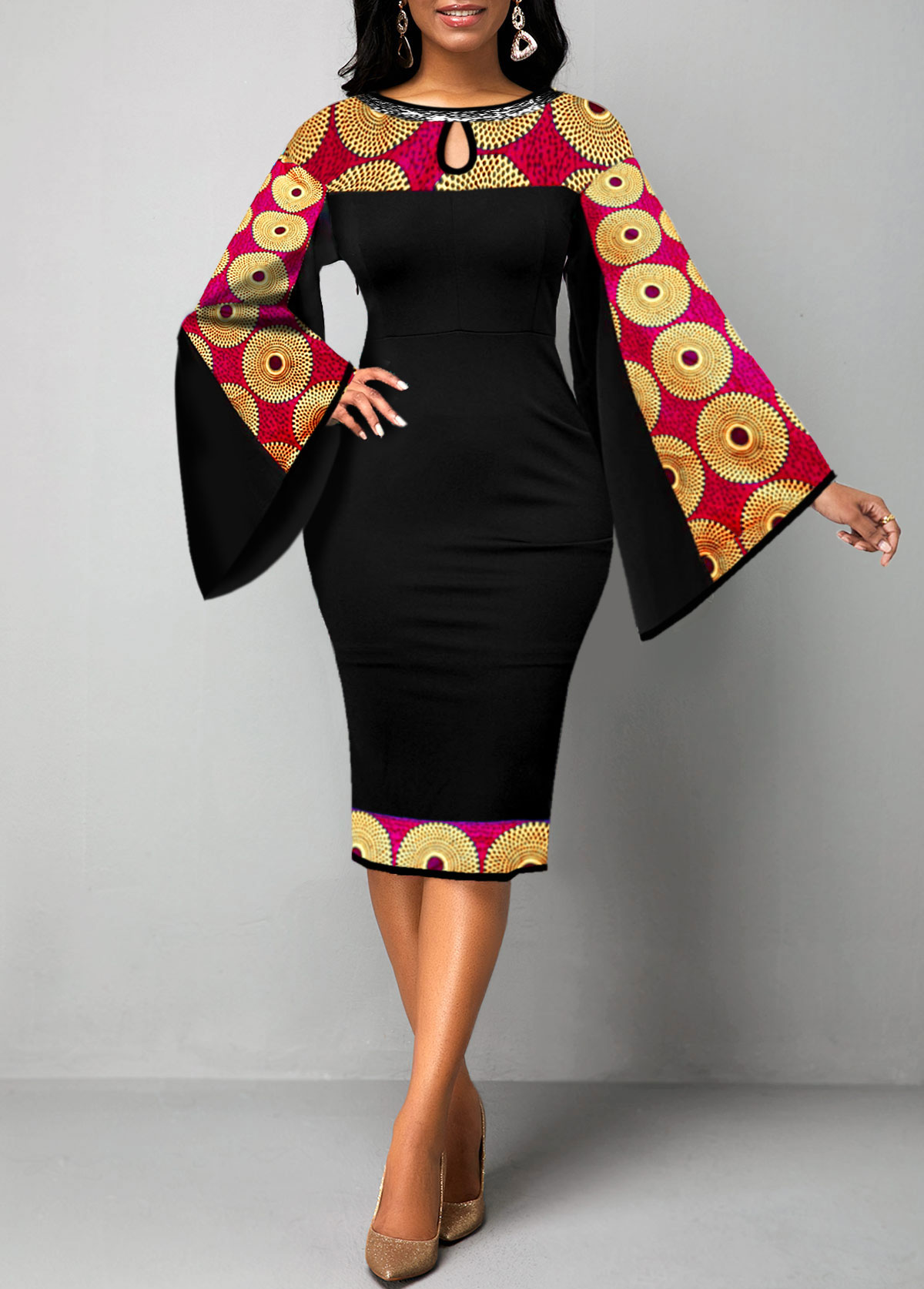 Stylish wide flared sleeves with a tribal print detail is what you will notice at a first glance on this black dress. The hem matches perfectly with the top part of this keyhole neckline attire. There is no better way to put a shine on your week.
#16. Split-Neck Tribal Print Flounce Dress – Get It Here
The color combination on this fabric is resplendent, to say the least. The split neckline and 3 quarter sleeves give this Tribal print attire likable and unique features. One can't fail to notice the flared bottom of the top and the shiny beige heels. Obviously, you can emphasize your figure in a decent way.
#17. African Print Short Sleeve Round Neck Dress – Get It Here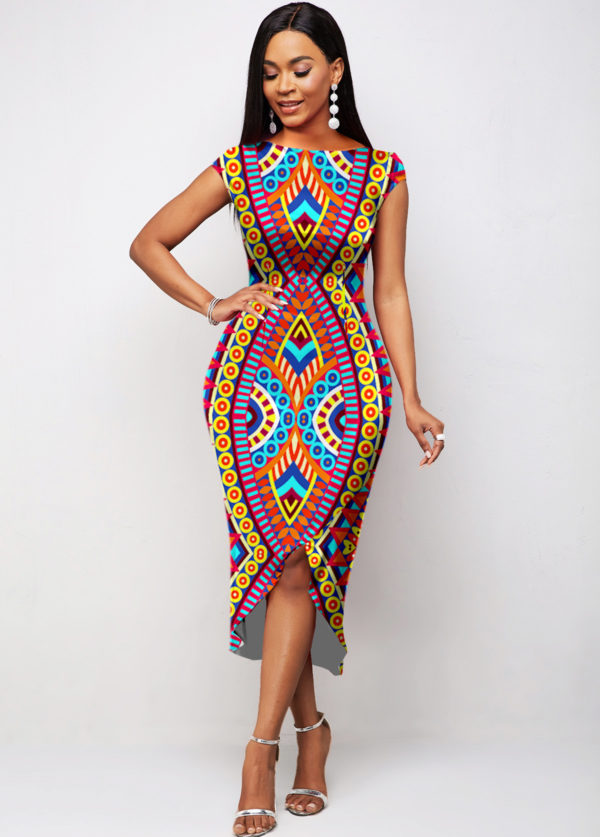 Africa is defined by pallets of colors. This African print dress takes more than an artistic skill to combine more than six colors on one fabric. The designer cuts it creatively to give an hourglass figure.
#18. African Print V Neck Chiffon Cape Printed Dress – Get It Here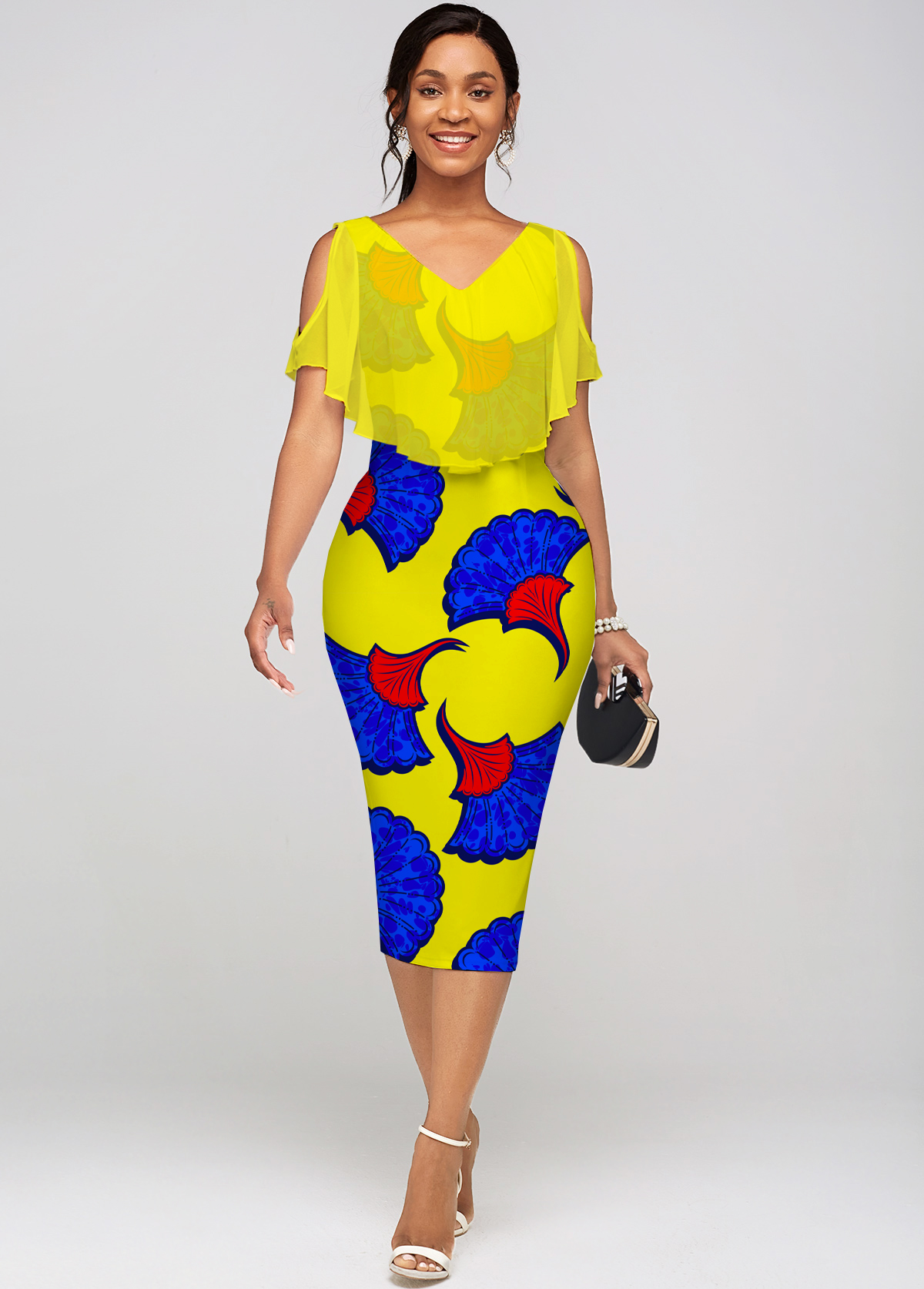 Yellow, blue and red are colors that always match. The V neck and the chiffon fabric on the upper bodice are notable features of this contemporary dress. In this appearance, the ushers would certainly be at your beck and call.
#19. African Print Kimono Wrap Dress – Get It Here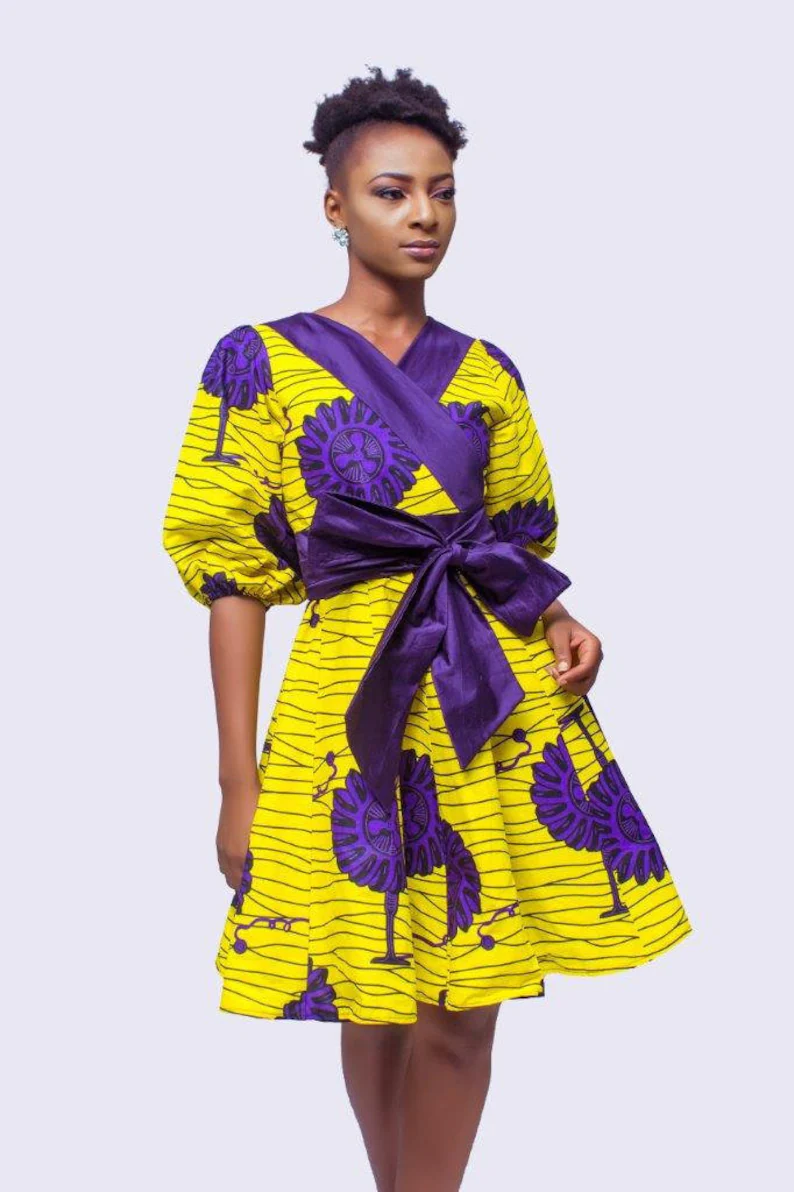 When it comes to church fashion, simple is always better. The purple finish on the neckline and the complementing tie belt are eye catching features on this uncomplicated dress. The yellow and purple colors look so good together. Don't you think so?
#20. Belted Dashiki Print Bib Neck Maxi Dress – Get It Here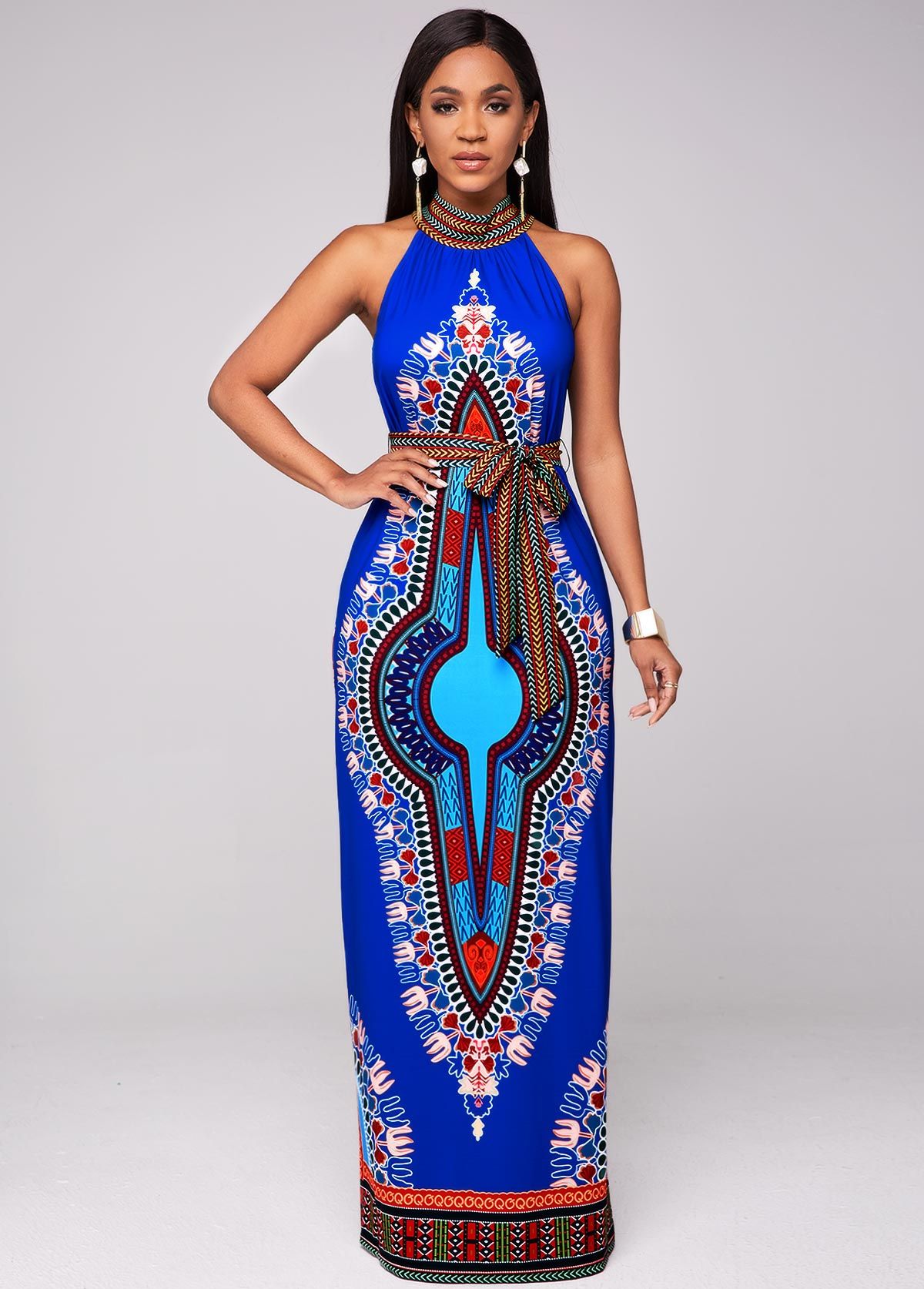 This blue Dashiki dress shines in its lucidity. Note the artistic effect of the rhyming collar, tie belt, and hem print designs giving this attire a complete and bold fashion statement. The entire front view looks like an optical illusion.
#21. Ankara and Organza Fit and Flare – Get It Here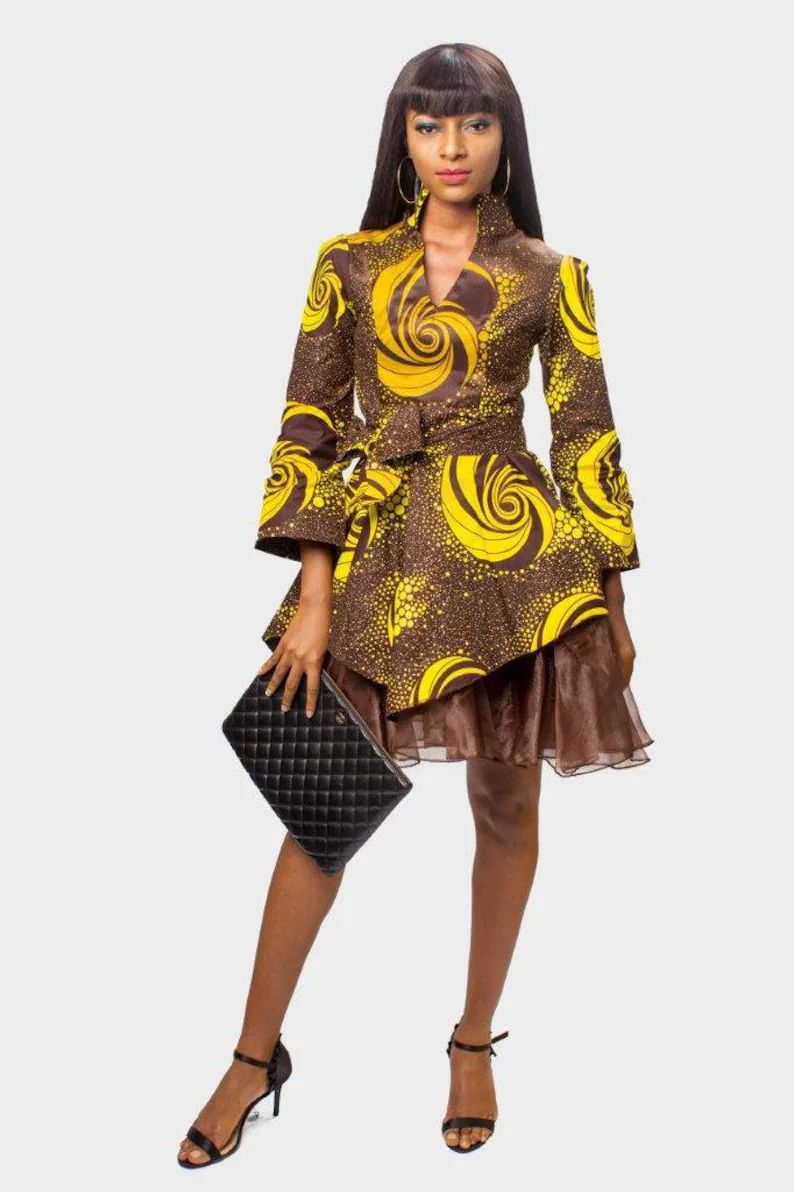 Modish is one word that describes this brown and yellow Ankara print dress. The high collar, V-neck, long sleeves, matching tie belt are some of its irresistible features. The brown silk organza gives this garb a top-notch uniqueness.
#22. African Print Raissa Midi Dress – Get It Here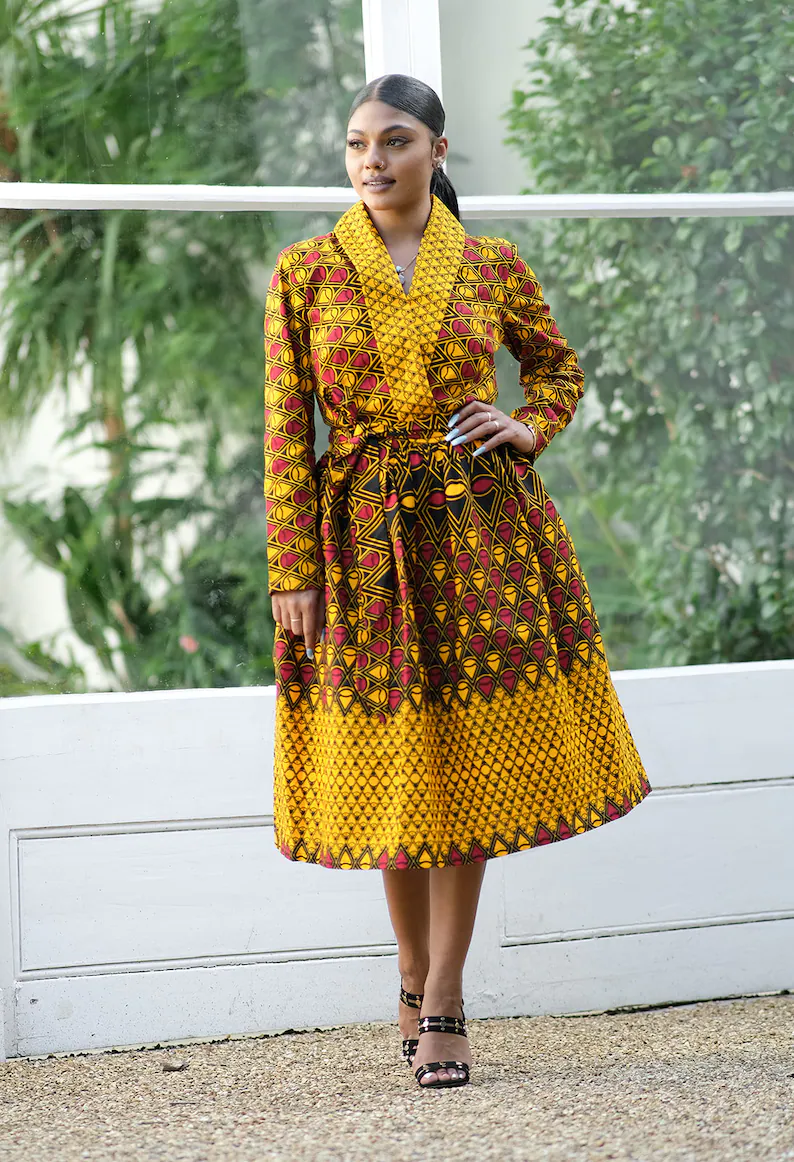 The chic design of this African print Raissa Midi dress makes it a must-have for any lady who keeps her wardrobe à la mode. The orange, maroon and splash of black colors bring out a unique contrast of colors on this long-sleeved dress. You can't fail to notice the modish neckline and the simple matching tie belt.
Conclusion
Although African print is no longer an eccentric art of the African artisans and does not necessarily conform to the traditional processes, its authenticity and popularity are on an upward trajectory. Lately, African prints have been employed in the making of trendy bags and phone acessories.
Contemporary interior décor also incorporate African print. For instance, Bogolan or mud cloth is commonly used in most high-end African-themed hotels as wall decorations, table cloths, pillowcases, and upholstery. There you have it. Which of them will you purchase first? Let us know your thoughts in the comment box below.