15 Of Stephanie Okereke's Afronista Looks That Got Us Charmed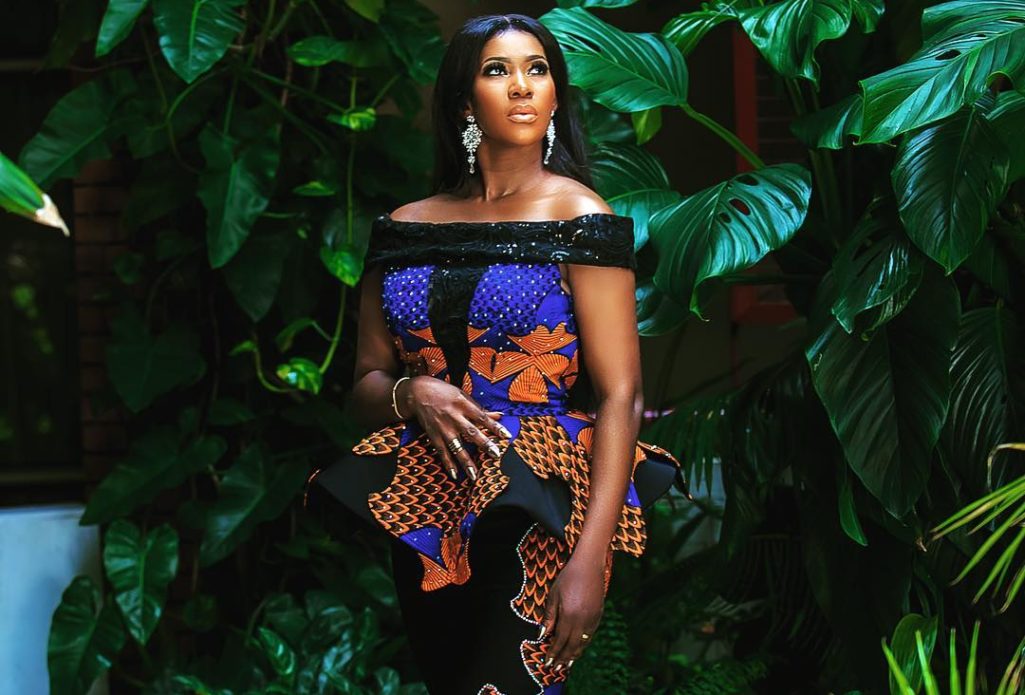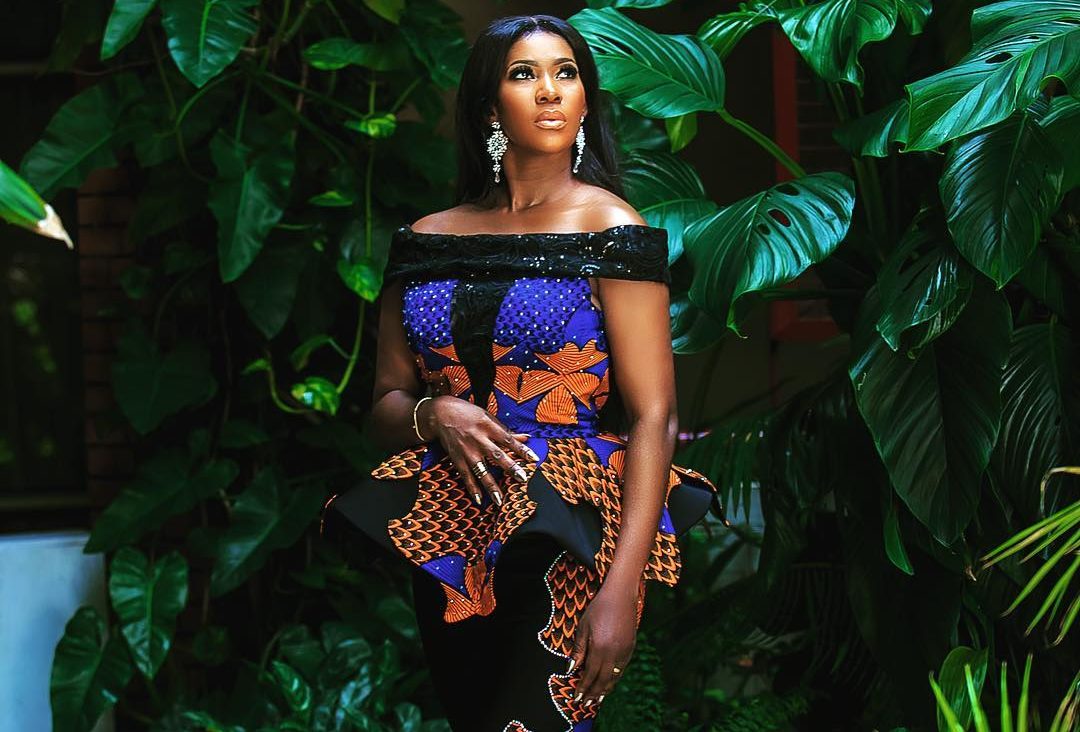 If you are a lover of Nollywood films, then you probably already know Stephanie Okereke. The Nollywood star, wife, and mother of one is famous for her fascinating acting skills. However, what many don't know about her is her elegance and style with African fabrics.
Stephanie Okereke knows how to delight her fans with artistry and classic looks. With a pretty face, model height, and long legs that leave heads turning, this Nigerian actress has all it takes to look fabulous in any outfit. Today we will look at some of our favorite Afronista looks that she has worn.                       
1. Middle spiked Ankara dress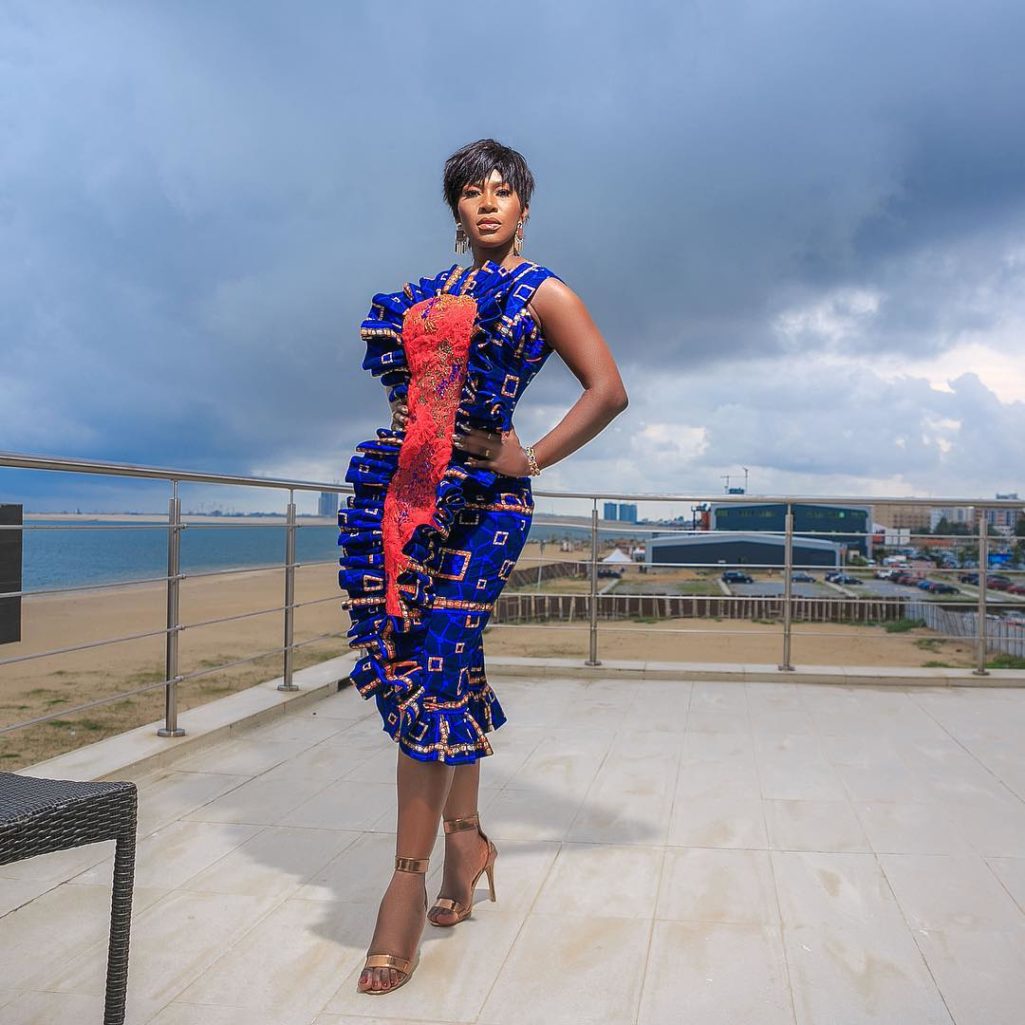 Here, Stephanie rocks a blue and red Ankara dress. The dress is knee-length, just enough to give you a glimpse of her beautiful long legs. Also, she accessorizes the dress with golden brown heels and jewelry. You can also try this look if you are longing for something new.
ALSO READ: 25 Fashion Fabulous African Style Outfits for Work
2. Debonair Ankara styles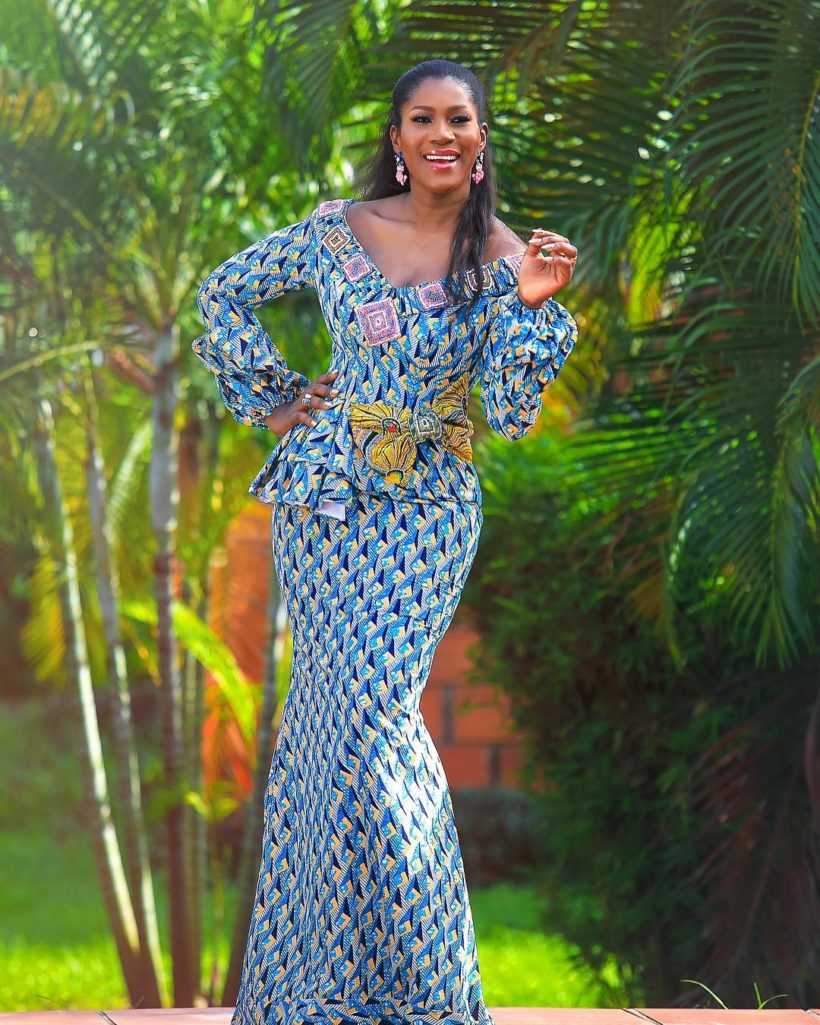 Stephanie Okereke never goes wrong when it comes to fashion. This is evident in the debonair African dress that she rocks in this picture. The mixed print has a big bow tie on the left side, which adds elegance to the entire dress. She finishes off by accessorizing the look with beautiful light pink earrings.
3. Off-shoulder peplum dress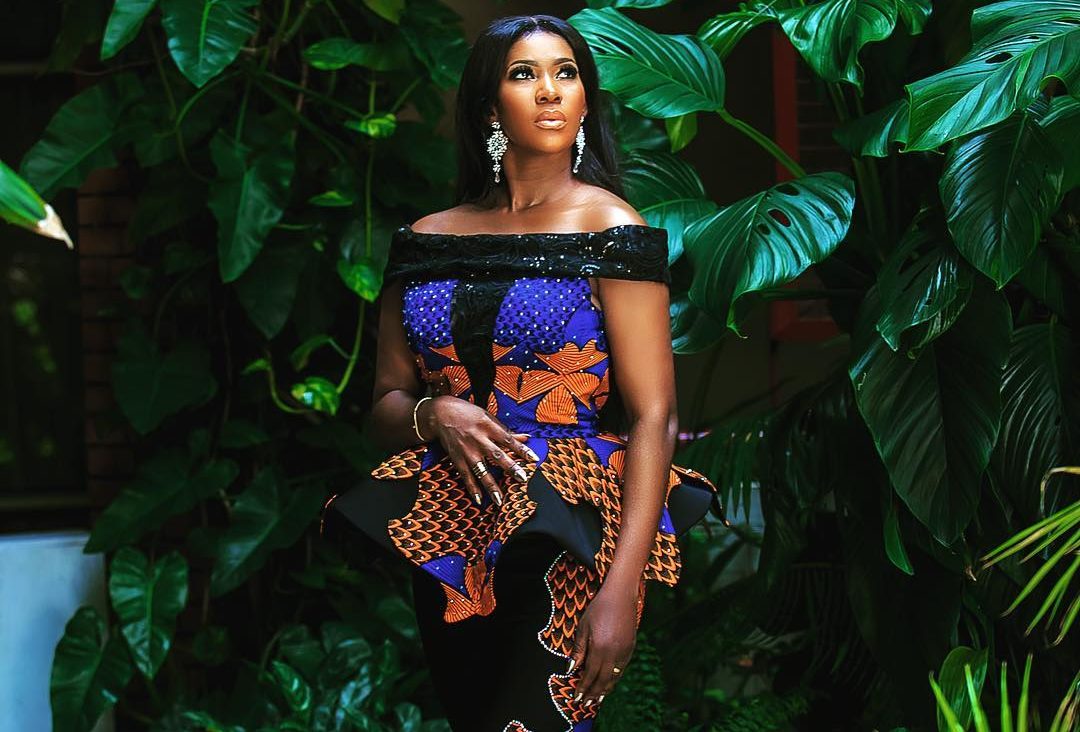 Fashion is a beautiful art. This is particularly so when the designer pays attention to details. This blue off-shoulder peplum dress was obviously custom-made for Stephanie Okereke. The dress has an off-shoulder design that flaunts Stephanie's silk smooth skin.
Also, it has a peplum design on the waist that elegantly flares. You can't help but notice the artistic cutouts made by the designer. Try this for a dinner date and watch all eyes fall on you.
4. Ankara shirt-dress and skirt
We love this Ankara shirt dress and skirt worn by Stephanie Okereke. The outfit features a plain white fabric shirt and a mermaid skirt. The skirt also has side pockets with large black and white polka dot garnish.
The Nigerian actress and producer rocked this outfit to the opening of Miniso, Nigeria. Stephanie completes the look with a pair of silver high heels and a short hairdo. You can read off the feeling she got from the dress from the glow on her face.
5. Skater dress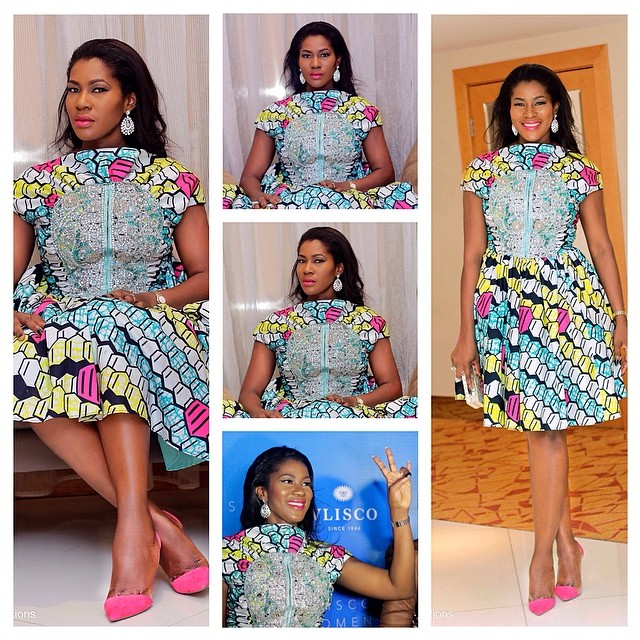 No outfit brings the girly side of you than an African skater dress. Actress Stephanie Okereke shows us her girly side by rocking a short Ankara print skater dress. She wore the dress during the Vlisco awards Ghana edition.
ALSO READ: Ankara Inspiration: 16 Looks from Vlisco's Woven Wisdom That Will Jazz Up Your African Style
We can already imagine the different occasions that can accommodate this dress. You can wear it for a weekend meet-up or when heading out for a wedding. Complete the look with matching earrings and shoes.
6. Ankara lace dress
Just when you think you have seen it all, Stephanie Okereke gives you reasons to think again. Have you ever imagined what a White and African bride mix will look like? Well, try rocking this Ankara lace dress worn by our favorite Nollywood star.
The top part of the outfit is made with lace. The middle section is designed with an Ankara fabric, and the bottom part of the dress is made from lace. Stephanie completes this Afronista look by wearing silver heels.
7. African print dress and jacket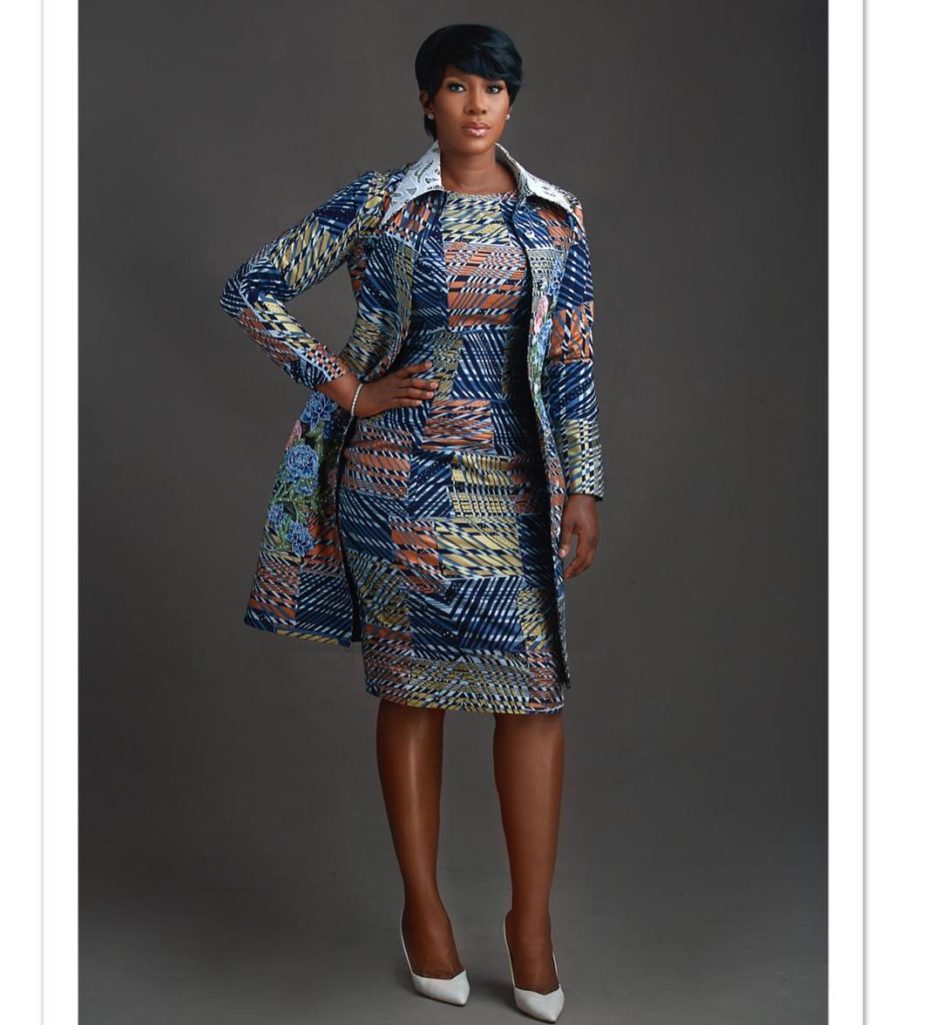 Actress Stephanie looks radiant in this African print dress with a long matching jacket. This versatile design can fit into an official or casual environment. It strikes the balance between work and play.
8. Red bodycon dress
Stephanie Okereke stuns us with a beautiful red print bodycon dress. As always, she never disappoints her fans with her sense of fashion. The actress complements the red outfit with dangling earrings and a pair of matching hand jewelry.
9. Ankara balloon dress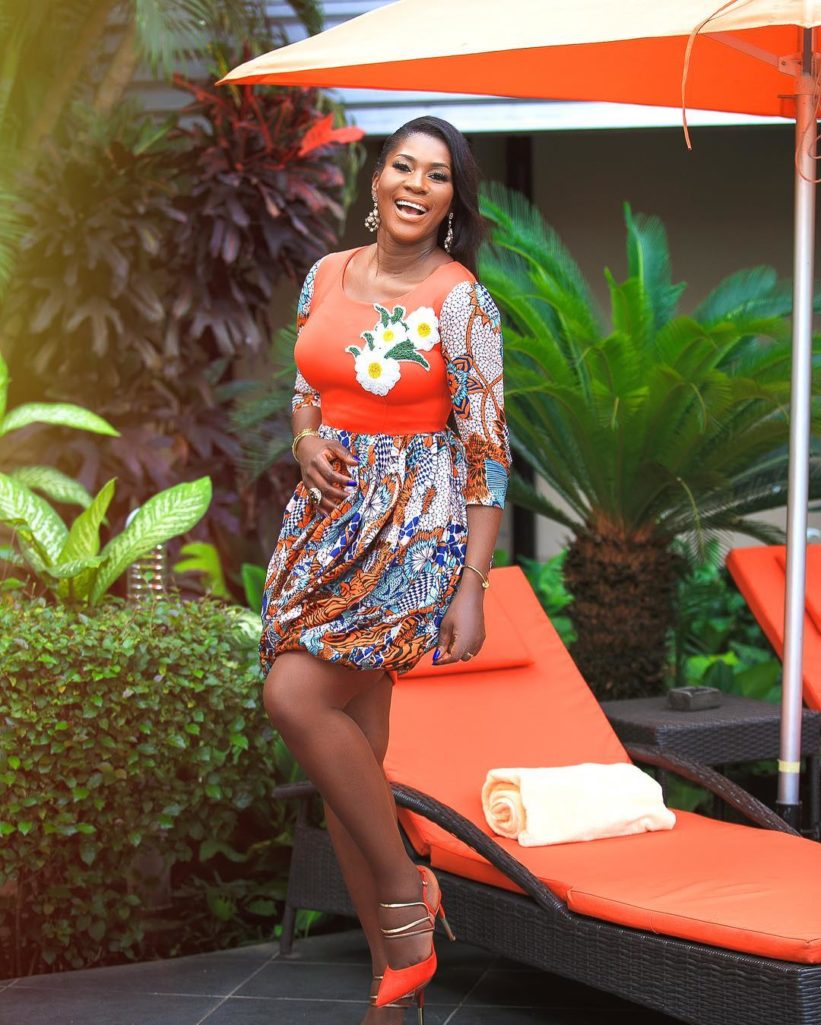 Another one of our favorite Afronista looks by Stephanie Okereke is the Ankara balloon dress. The actress looks flawless in this mixed orange print dress. This design was a trend a few years ago, and our Nollywood actress joined the wagon.
ALSO READ: 15 Unforgettable Ankara Styles By 15 African Actresses
The top part is made of plain orange material accessorized with a flower on the left side. Additionally, the hands and bottom sections are both made from Ankara fabric. She completes this look by wearing golden bangles and orange heels. Try this only if you are not afraid of drawing attention.
10. Ankara mini dress
Want to look classy and sassy at the same time? Why don't you try the Ankara mini dress? In this outfit, Stephanie Okereke breaks the norm. She decides to surprise her fans by wearing a sexy Ankara mini dress and a pair of cream heels.
This is not the day-to-day Stephanie that we are used to but we still love it. Want a lovely silhouette to wear on the weekend out, try the Ankara mini dress. We guarantee you will leave heads turning.
11. Print off-shoulder dress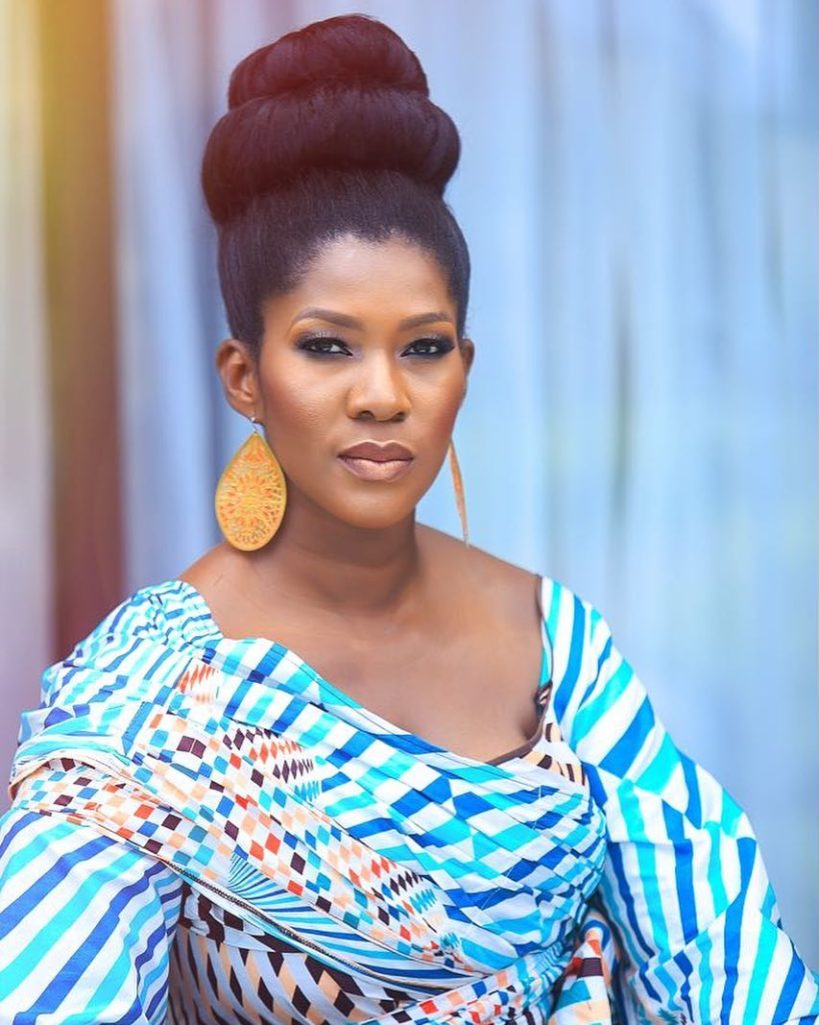 Want to look like an African goddess? Try this Afrocentric design by Stephanie Okereke. In this outfit, Stephanie rocks a print dress with big brown African earrings. Additionally, she styles her hair by wearing a big bun that outlines all her facial features.
12. Peplum skirt and blouse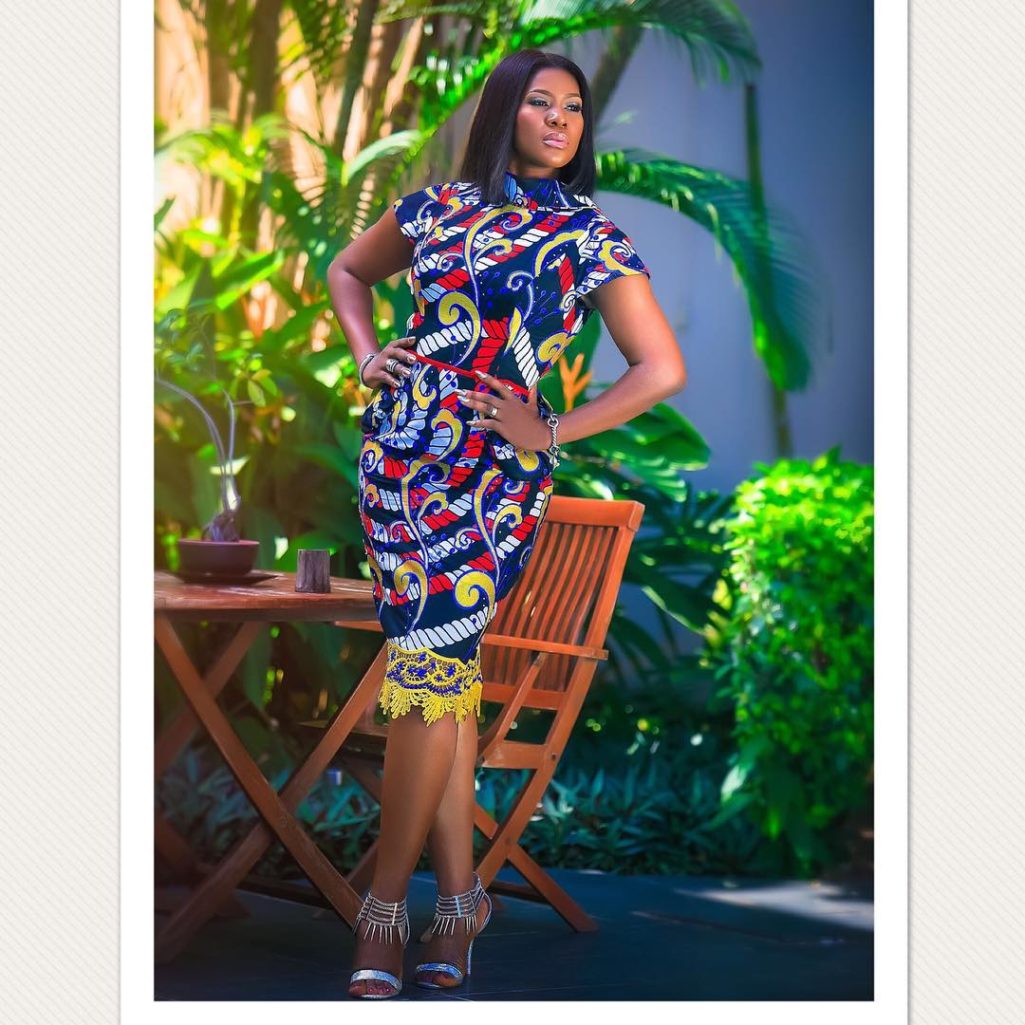 Stephanie rocks a body-hugging peplum blouse and skirt that highlights her well-structured body. The outfit has a red belt-like fabric around her waist to emphasize her slim waistline. Also, the shirt has a V-neck at the back.
The skirt is accessorized with a yellow lace at the bottom. She completes the look by wearing silver-grey heels. Want a style that will make you the talk of the town, try this peplum blouse and skirt.
13. One-shoulder maxi dress
Stephanie looks breathtaking in this one-shoulder maxi dress. The outfit is designed with pink and plain fabric on some parts. The rest is designed with plain African fabric. Rock this look when attending any traditional/modern function and you will never go wrong.
ALSO READ: 9-Year-Old Grace Busari Starts Ankara Teddy Bear Brand To Help Homeless Kids
14. Mixed print Ankara dress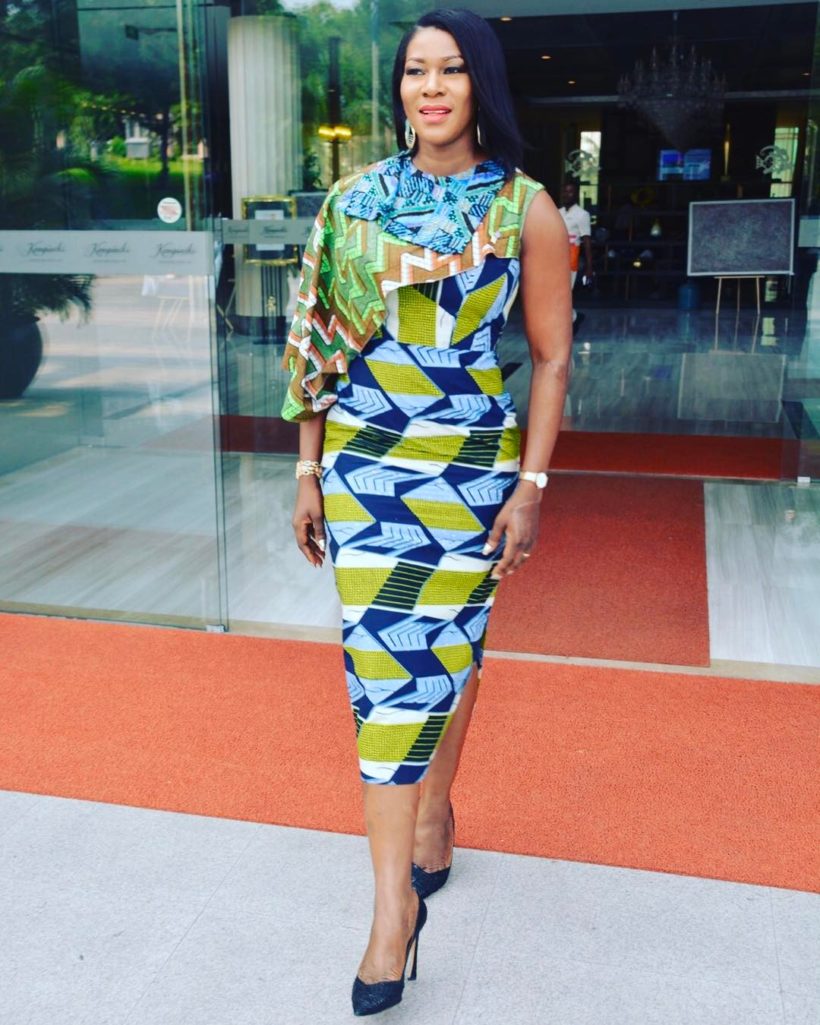 Want to turn heads? Try this Afronista look by Stephanie Okereke. This fashionable mother never goes wrong with any outfit. Here she gives her fans a treat by wearing a mixed print Ankara dress that has a side slit. The form-fitting dress perfectly highlights her curves.
15. Multicolored one-sleeved Ankara dress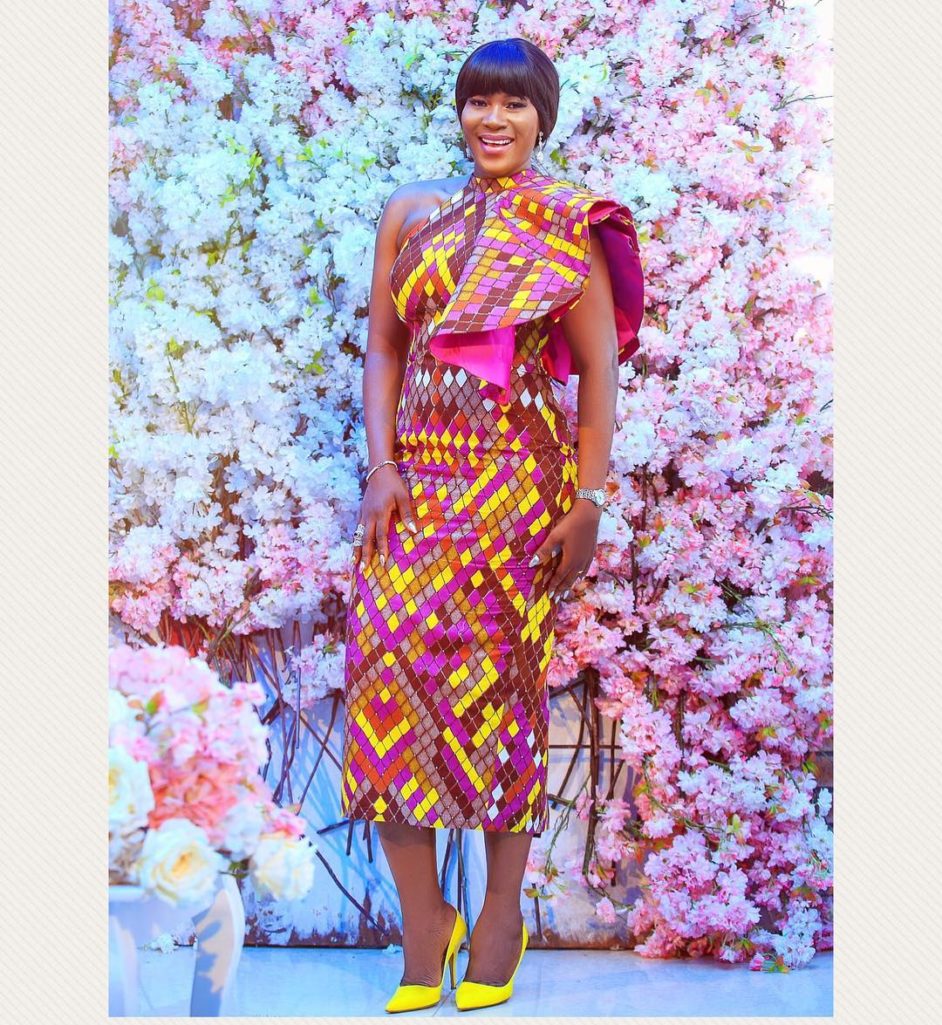 In one word, this style is exquisite. Stephanie looks breathtaking in this mixed yellow print turtle-necked dress. She complements the look with a pair of yellow heels and silver jewelry. Don't know what to wear for that upcoming wedding? Try this multicolored Ankara outfit.
Conclusion
Stephanie Okereke has set the fashion pace with unmatched adorable outfits. On a subliminal level, she matches her outfit with unique hairstyles. However, you will mostly see her in long weaves or a pixie cut hairstyle.
Celebrities like Stephanie Okereke wields great power in their public image. They can influence people's decisions with their actions. By wearing African prints, Stephanie Okereke is indirectly boosting its acceptance across the globe.
We commend her sense of fashion and encourage other African celebrities to do the same. Subsequently, we will be throwing the spotlight on other African celebrities promoting African prints.
Do you have any suggestions on who you think deserves the spotlight? Let us know using the comment option below.