Designer Spotlight: Is Nadir Tati The Most Expensive African Designer?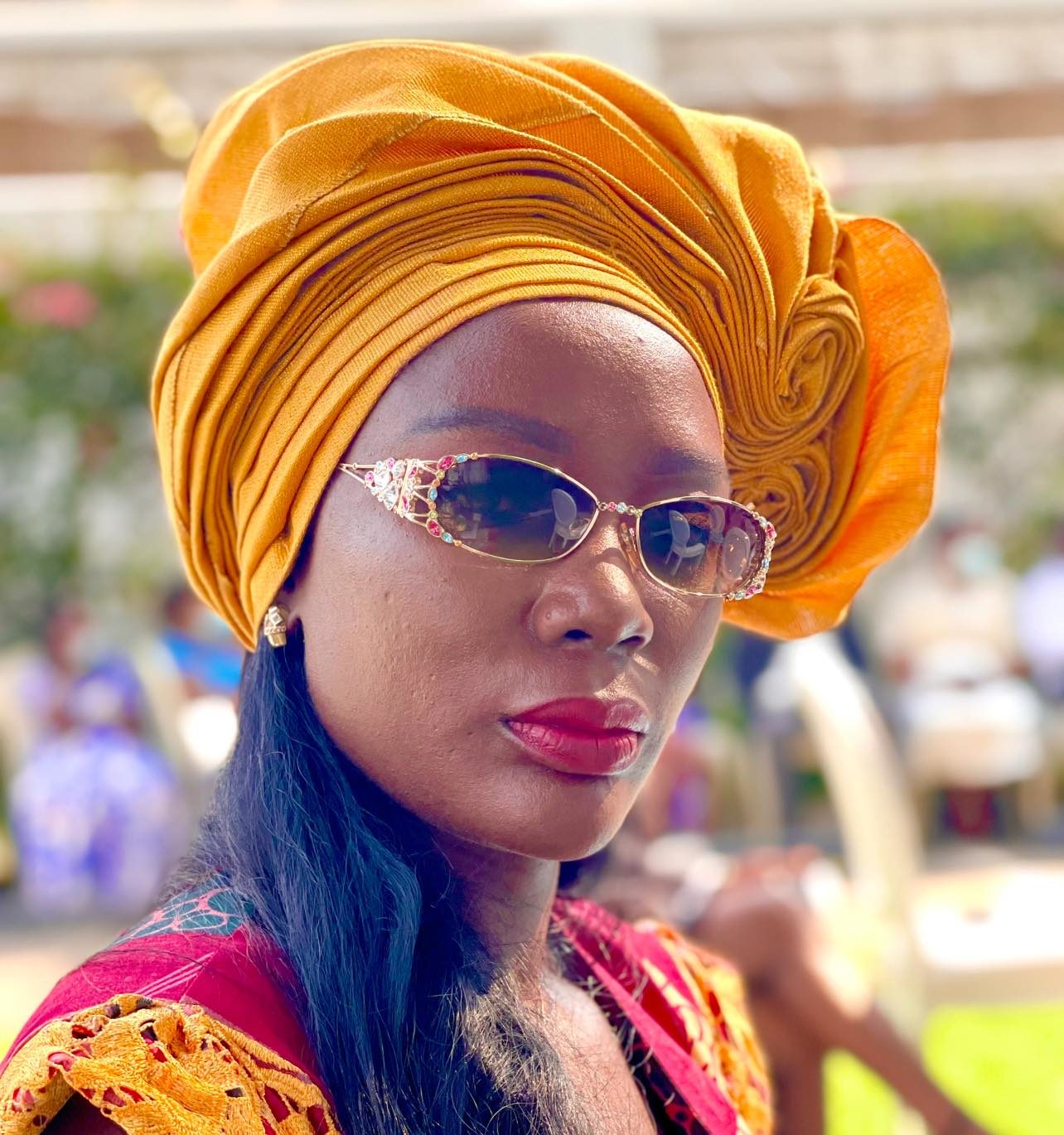 From a criminologist to a world-renown African fashion designer. In today's edition, our designer spotlight is shining on none other than Nadir Tati. It has not been a bed of roses for the CEO of Nadir Tati Group. Hers is a story of resilience and pure determination. She has made major achievements in her home country and beyond.
Interestingly, she considers herself an intercultural translator or transporter. In short, she exports African fashion culture to other parts of the world. On the other hand, she solicits other appealing fashion cultures and creates a hybrid of some sort. Keep reading to know her more!
Who Is Nadir Tati And How Did Her Career Begin?
Nadir Tati is an enthusiastic Angolan woman who was born on September 1, 1974. She has four siblings who are all brothers. She started out her career life as a criminologist and specialized in protecting women and children against sexual violence. However, just before the end of the Angolan Civil War, she traveled to Europe where she worked in the fashion industry. Later on, she returned home and started her eponymous label in 2003. Her design style is a fusion of western and African designs. Nadir has excelled in the African fashion industry since then.
Interesting Fact About Nadir
Her favorite African cuisine is Catatos. This is a meal made by frying the edible Catato larvae in oil with onion and garlic added to it. The Catatos are also used to garnish hors-d'oeuvres which are essentially French additional dishes served as appetizers. Her favorite fruit is the Pitanga.
Her Achievements In A Nutshell
After working on her designs for several years, Nadir finally managed to clinch the Best Designer of Angola award. She held the title for three years consecutively from 2010 to 2012. As if that was not enough, in 2013, she dressed Rachael Mwanza, a film actress, who was nominated for the Oscars' Best Foreign Film Award. This catapulted Nadir Tati to the international fashion industry platforms. She became the first Angolan, and by extension the first African stylist of an Oscars' nominee.
Nadir Tati Prominent Clientele
She has worked with famous models like Maria Borges and Leila Lopes. To add to that, Nadir has also dressed prominent people like Angola's current First Lady Ana Dias Lourenço to whom she credits her great success. At the moment, Nadir designs can go for about $6,000 to $10,000 per attire making her one of the most successful luxurious African fashion designers on the continent. Explaining her success, she said,
"A big part of my success comes from the fact that I never repeat creations – everything is bespoke. We have a lot of rich people here, but when they spend, they spend because they're looking for exclusivity."
Bold Nadir Tati African Fashion Presentations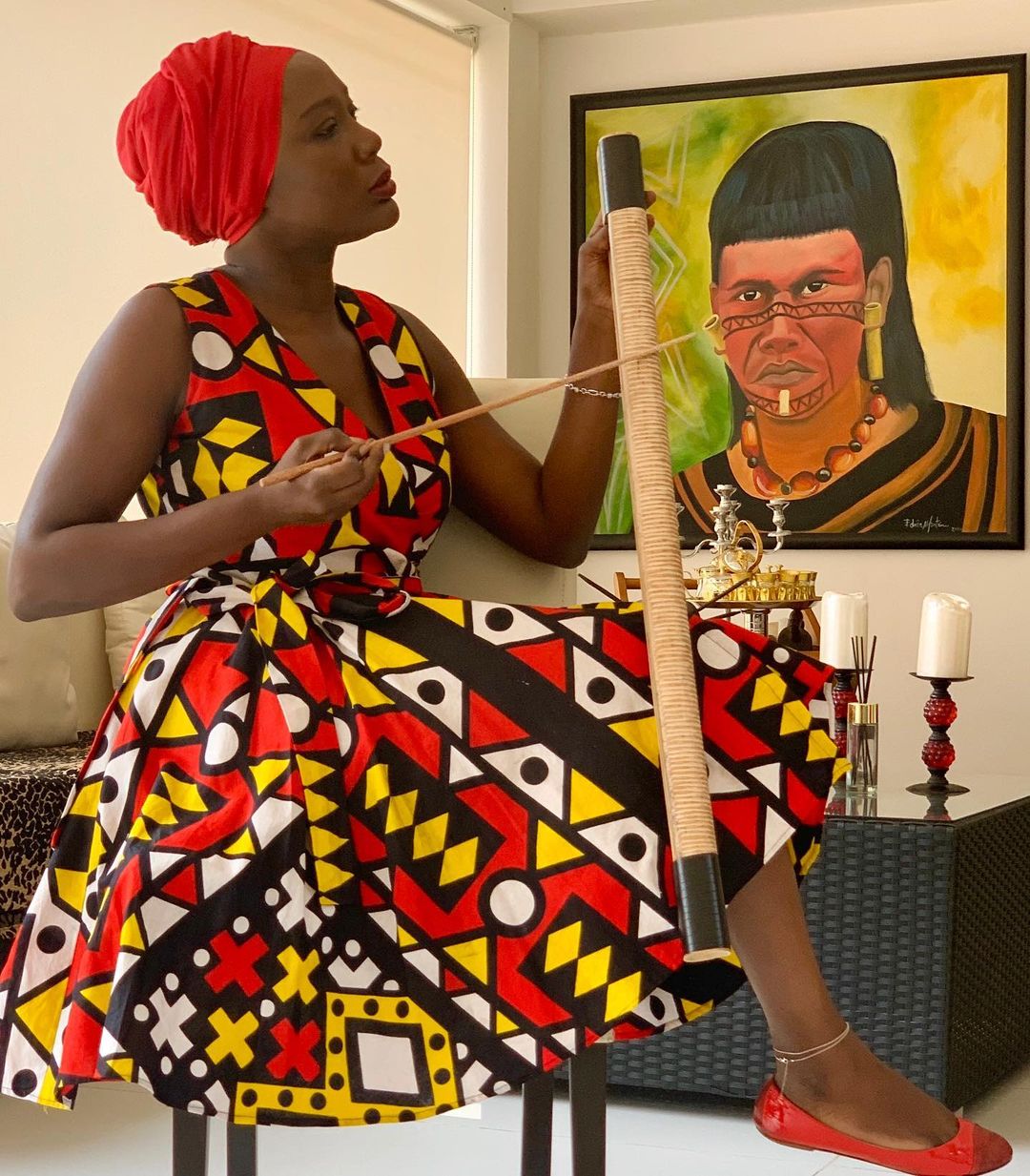 A focused Nadir Tati in a simple chic red, yellow, black, and white African print dress. The matching headgear and the flat shiny red doll shoes complement the whole apparel perfectly. This outfit is ideal for the summer holidays and any other casual events.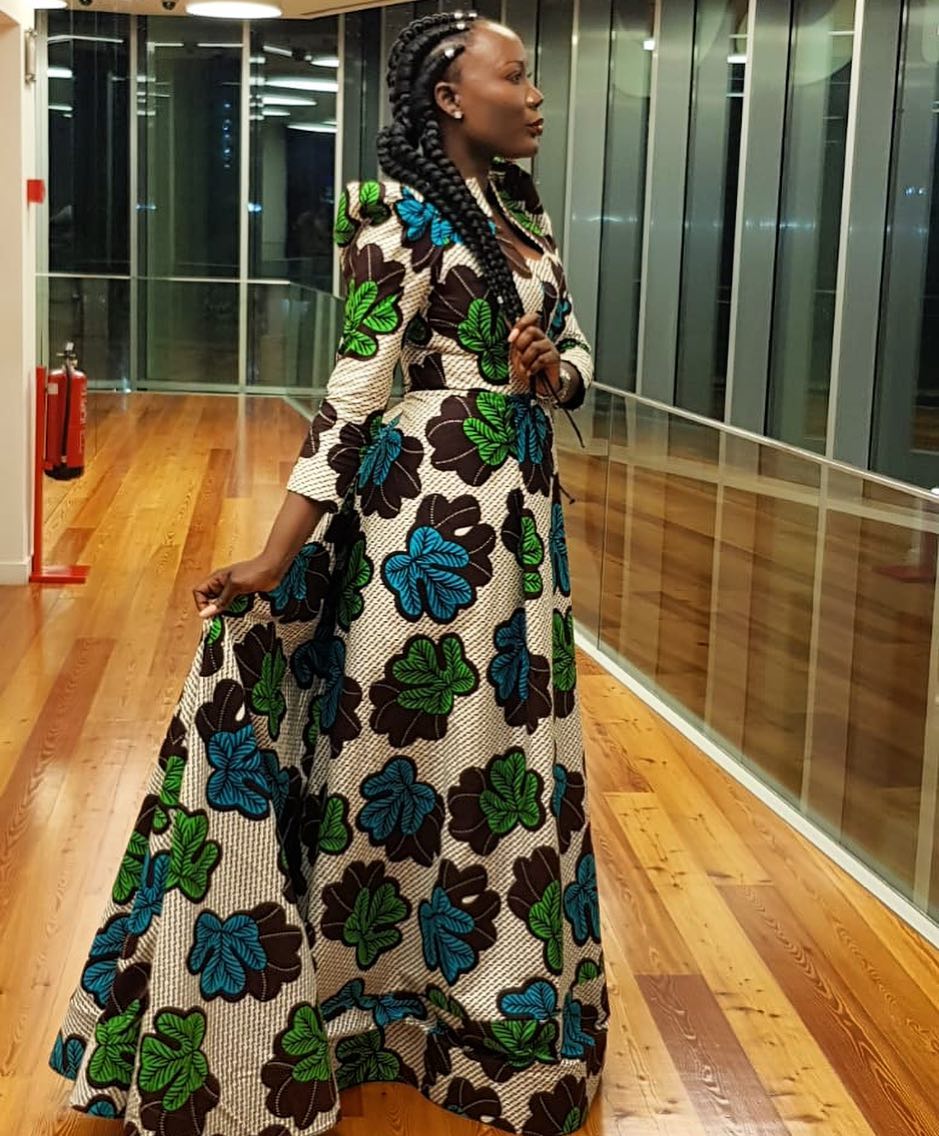 If you are looking for a comfortable and stylish outfit for a special occasion, then this is it. The bold dark brown, blue, and green prints on this long-sleeved cream dress create an African fashion impression in a simple yet unique way.
The Bright Version Of Nadir Tati African Fashion Designs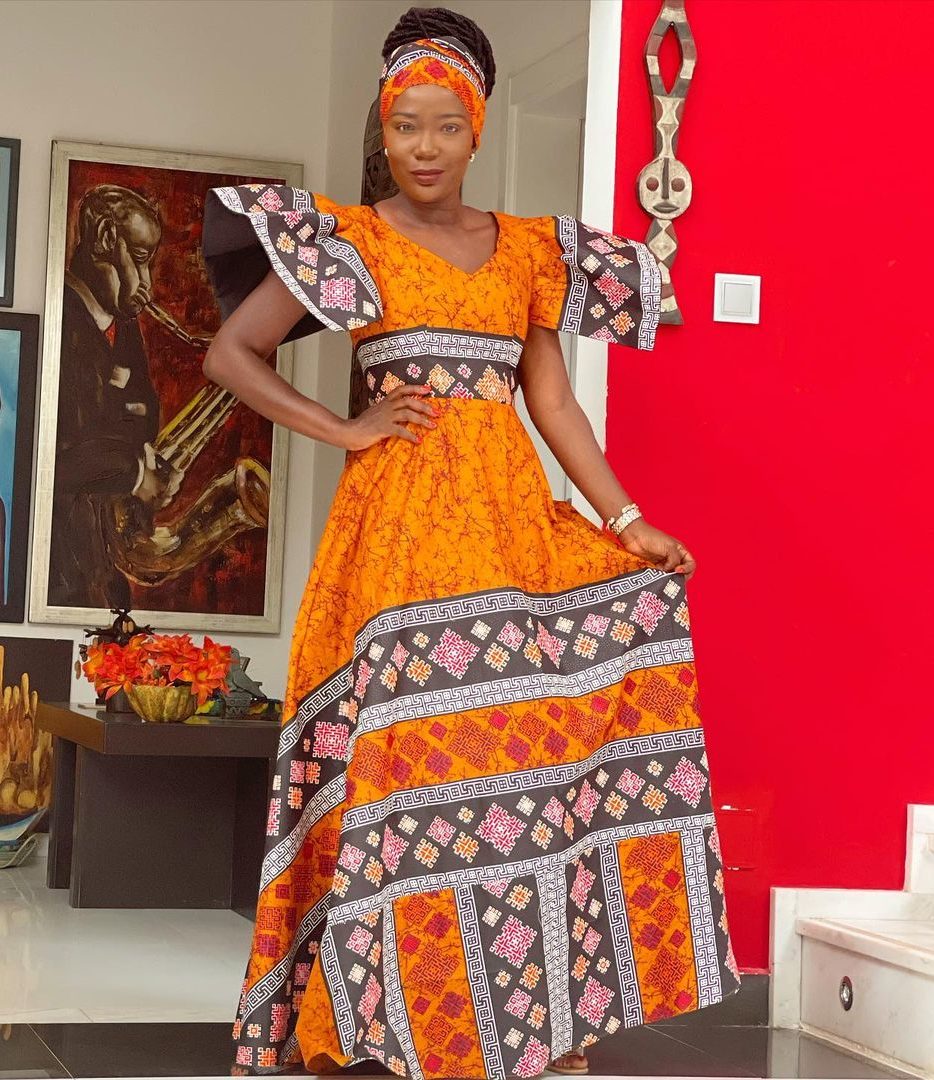 This orange dress coupled with a matching head scarf gives Nadir Tati a bright look. In addition, the grey, pink, and yellow intricate prints give the whole attire an authentic African fashion feel. The artistic background plays a major role in bringing out the beauty of this dress.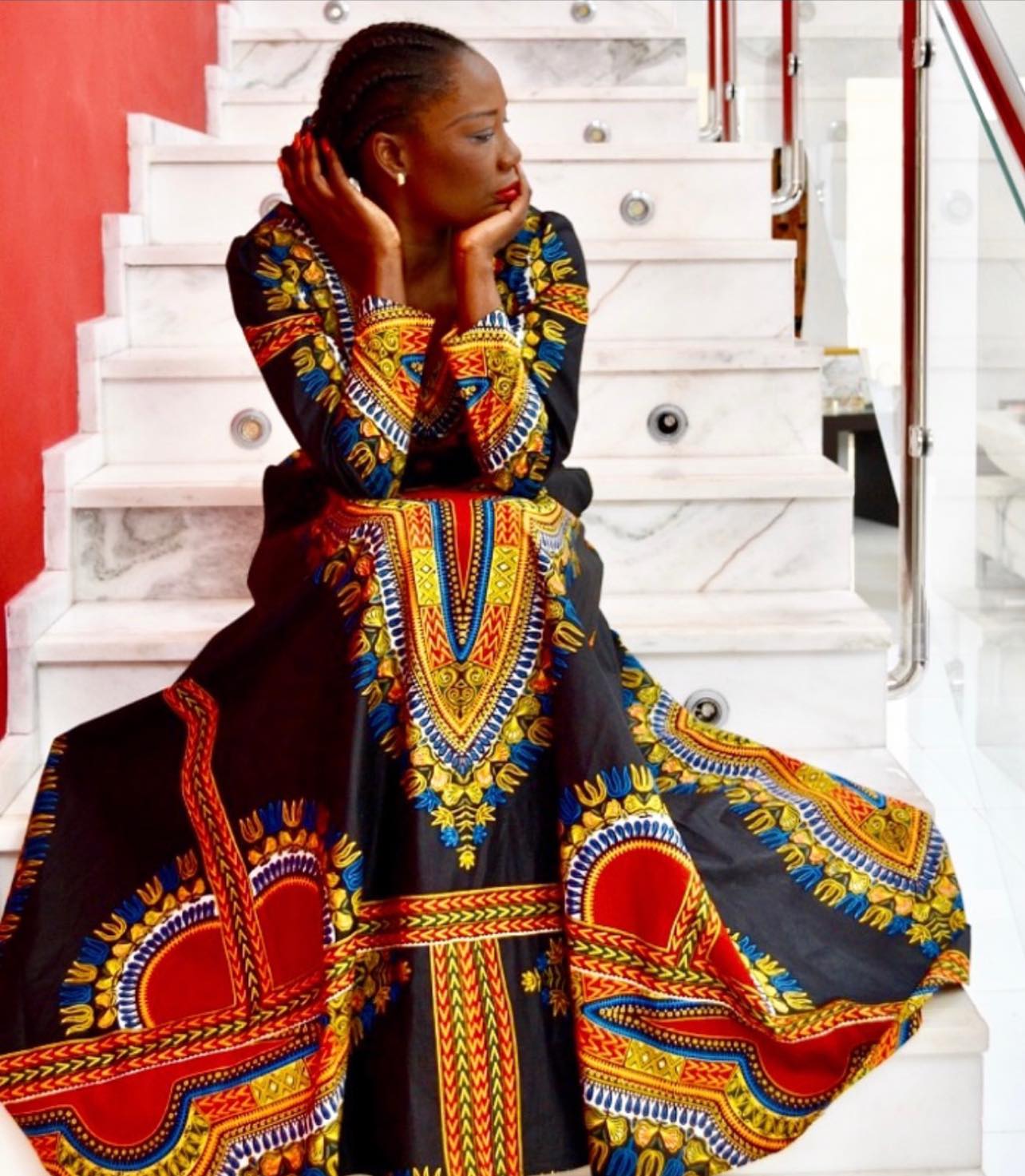 This long-sleeved maxi African print dress designed by Nadir Tati is a worthy addition to your wardrobe. That is if you value and pride in African fashion designs. The red, yellow, and blue prints add colorful decorations to this already unique dress.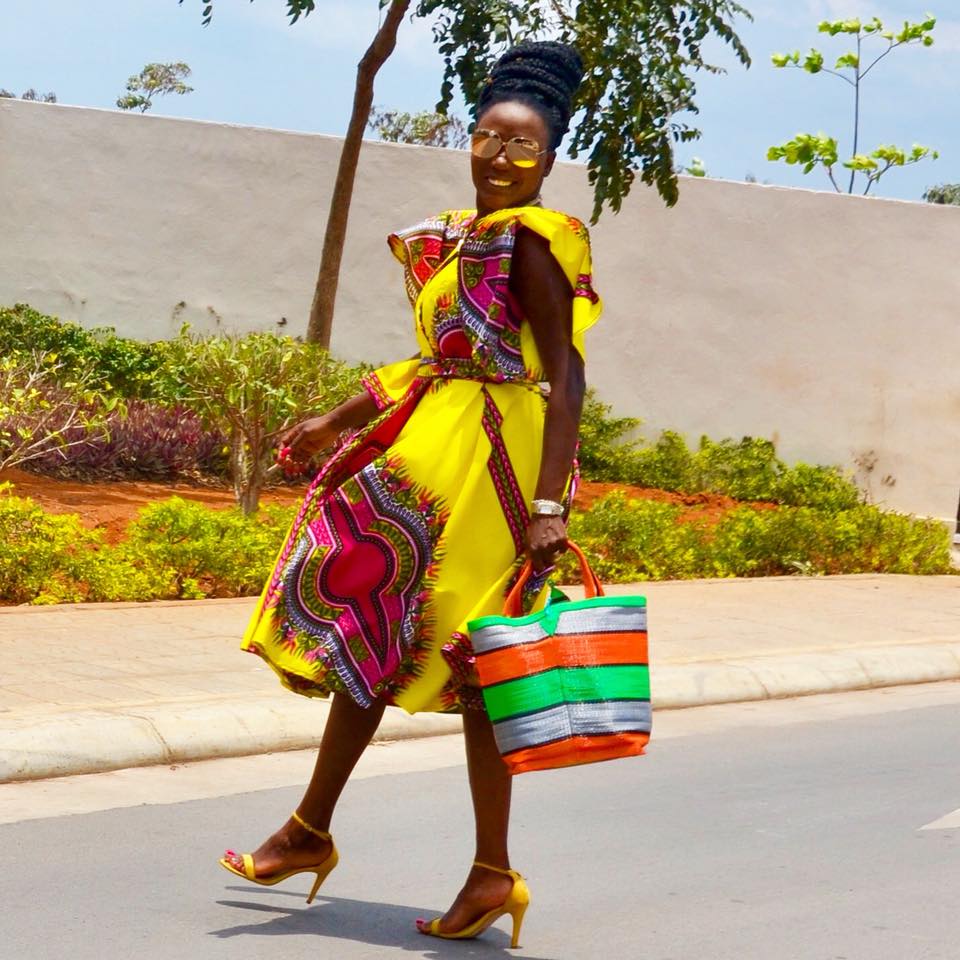 Nadir Tati looking jovial and brilliant in this yellow African print with red, purple, and green decorations. The yellow heels and the orange, grey, and green unique handbag finish off the stylish African fashion look.
Contemporary Elegance With The African Diva's Touch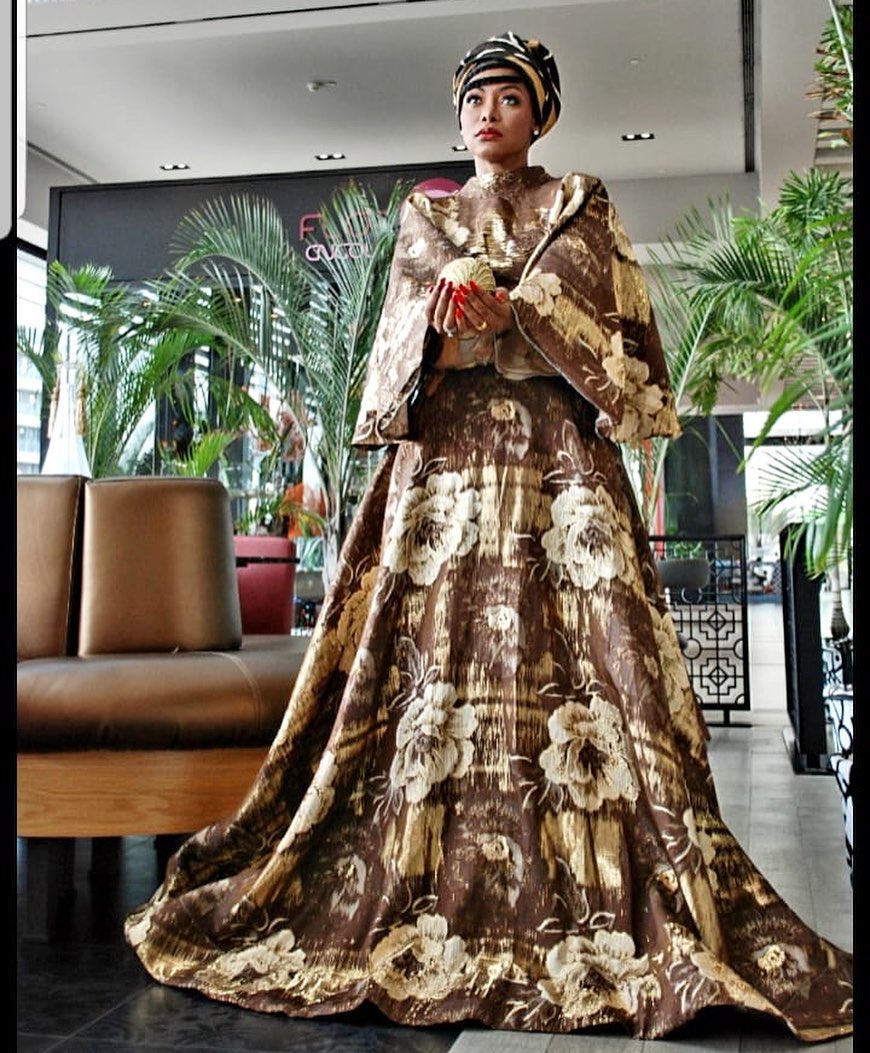 The earthy colors of this dress make it appealing. The large cream flowers and abstract decorations blend in so well with the deep brown color. We cannot fail to notice the flared long sleeves which definitely make a bold fashion statement. The headgear, which is an African fashion prerequisite, finishes the apparel completely.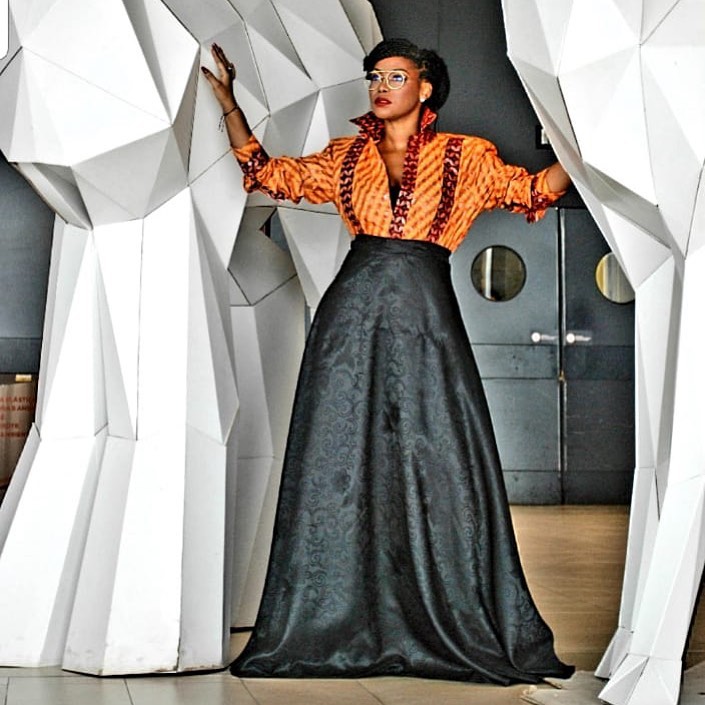 Black goes well with any color it is matched with as seen in this beautiful outfit by Nadir. The golden-brown top with shiny brown decorations creates an exquisite African print finish for this fashionable array.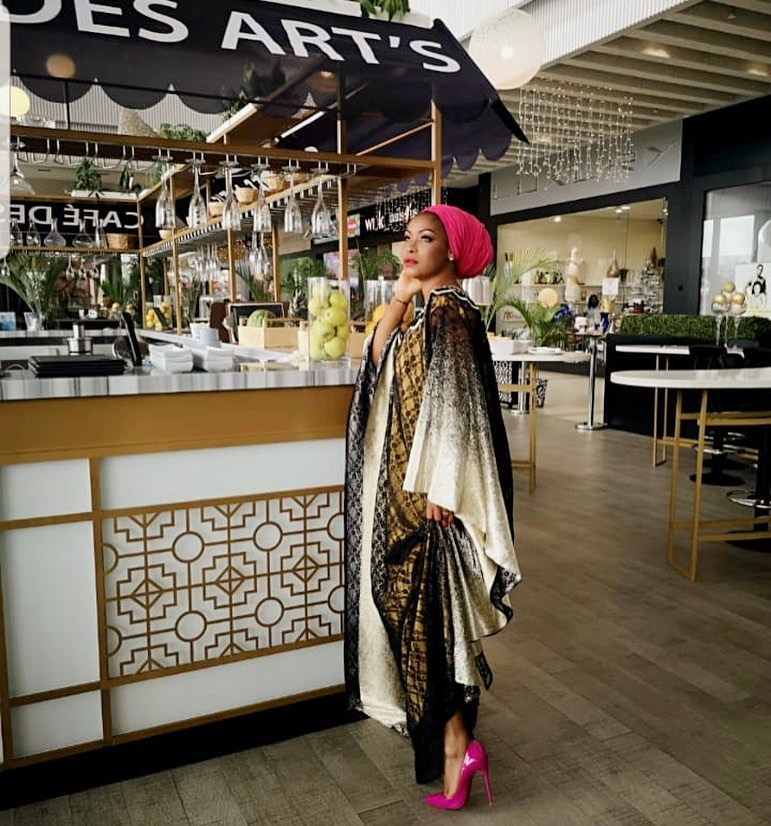 Free and stylish cream and black maxi Nadir Tati dress perfectly showcased. The wide sleeves with bright cream color which contrast with the black color on the hem of this dress add to its uniqueness. The pink headgear with matching heels adds some nice color contrast which completes this garb flawlessly.
A Sparkling Twist To The African Print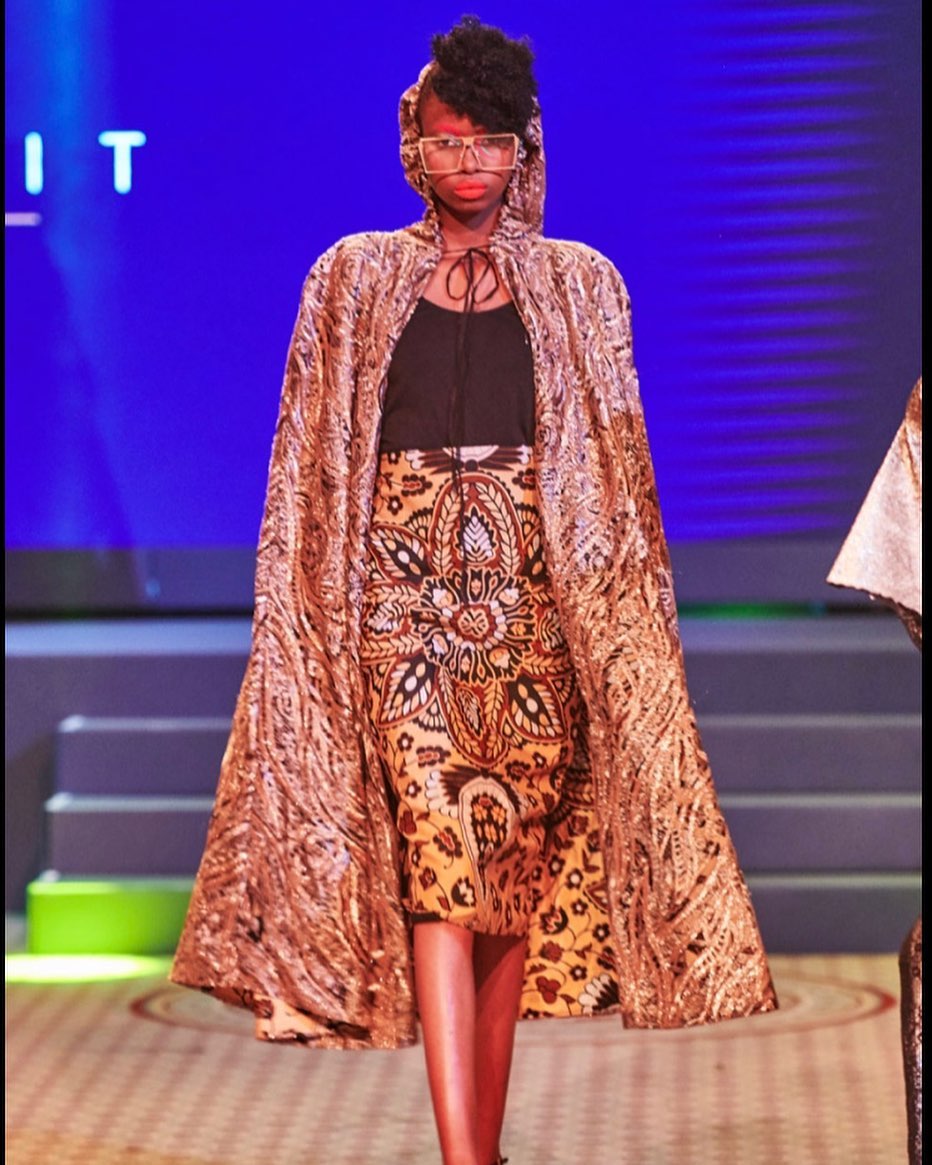 Brown and black colors always exude luxuriousness as evident in this simple yet peculiar Nadir Tati outfit.  The hooded overcoat is an interesting addition to the ensemble. The shiny embellishments give the whole attire a glamorous finish.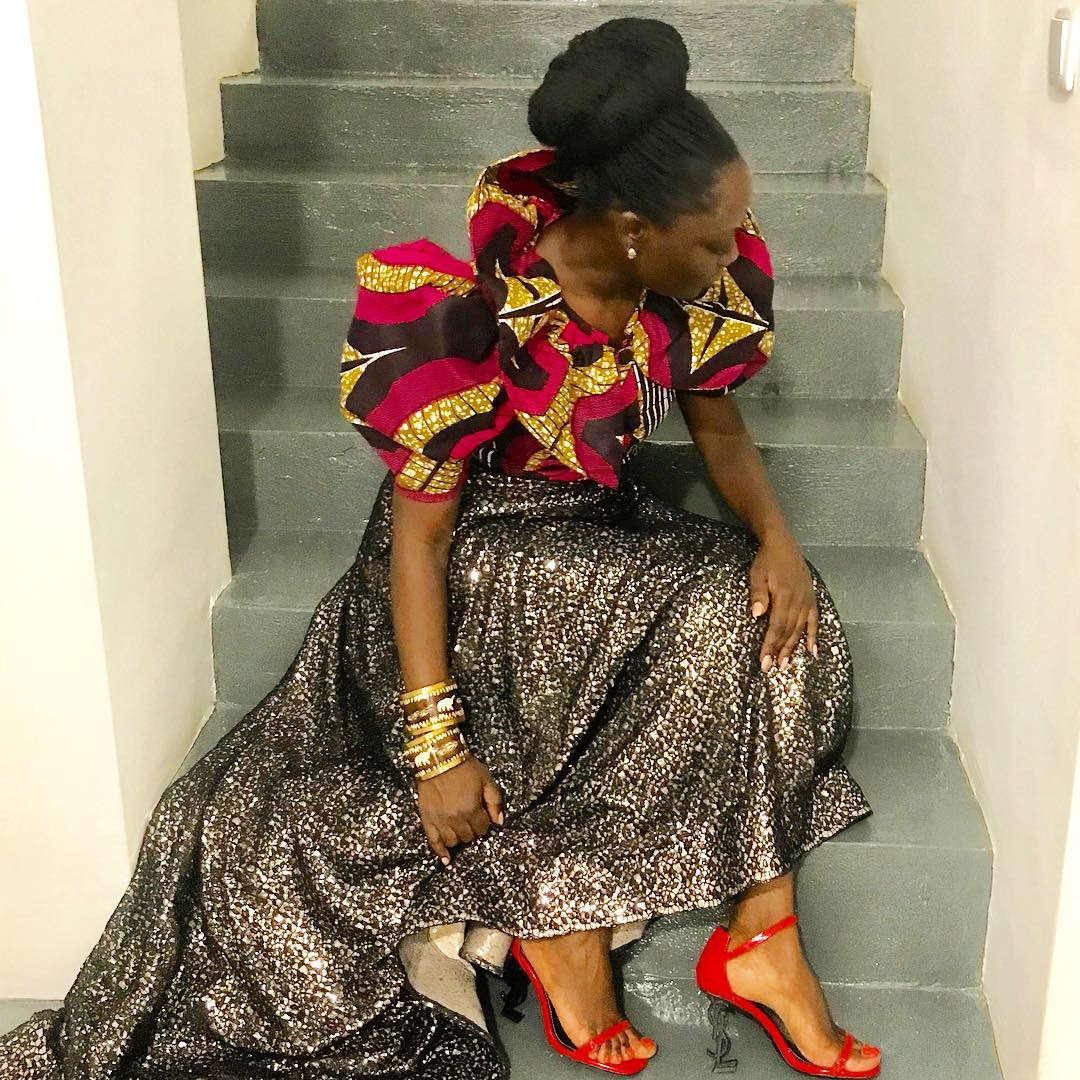 To a large extent, talent can be measured by the level of creative acumen one has—and Nadir Tati has lots of it. She has exhibited her prowess in mixing the shiny black contemporary fabric with the humble African print to come up with an elegant, stylish and unique dress.
Nadir Tati Stylish Men Ensembles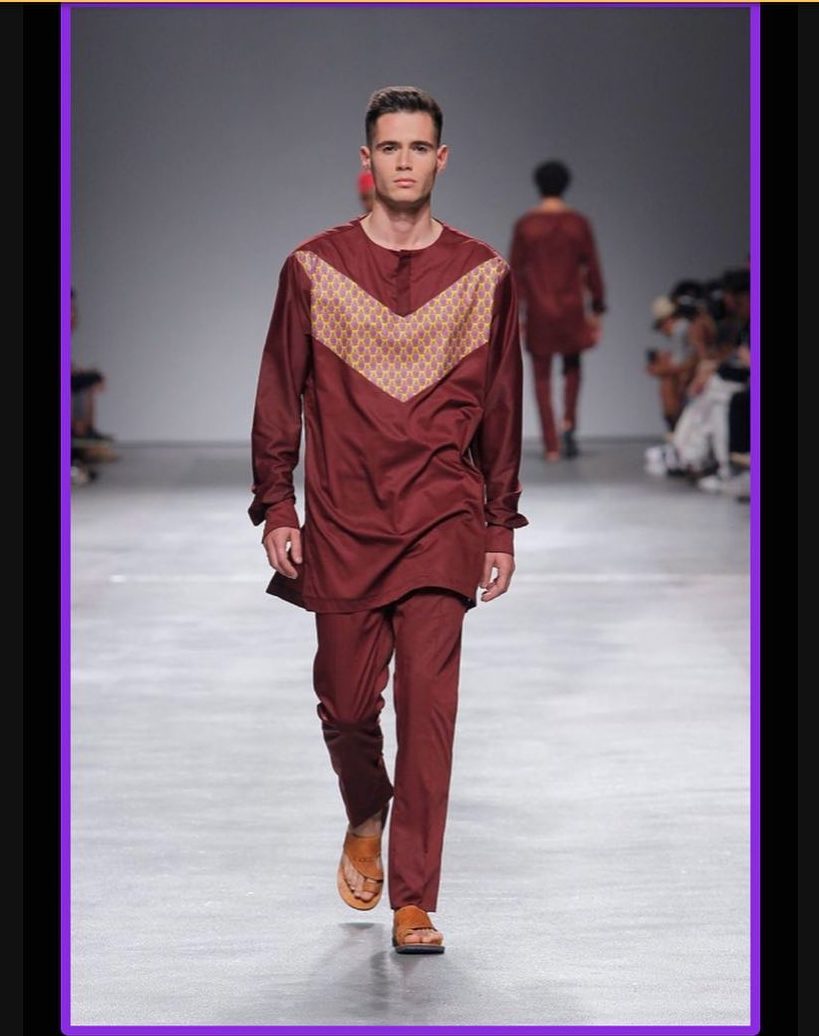 If you are looking for a classic, stylish, and yet simple ensemble then look no further. This fashion design for men by Nadir Tati is the real deal. The brown long shirt over matching pair of trousers is ideal for any occasion and the bright decoration on the front part of the shirt elegantly completes the look.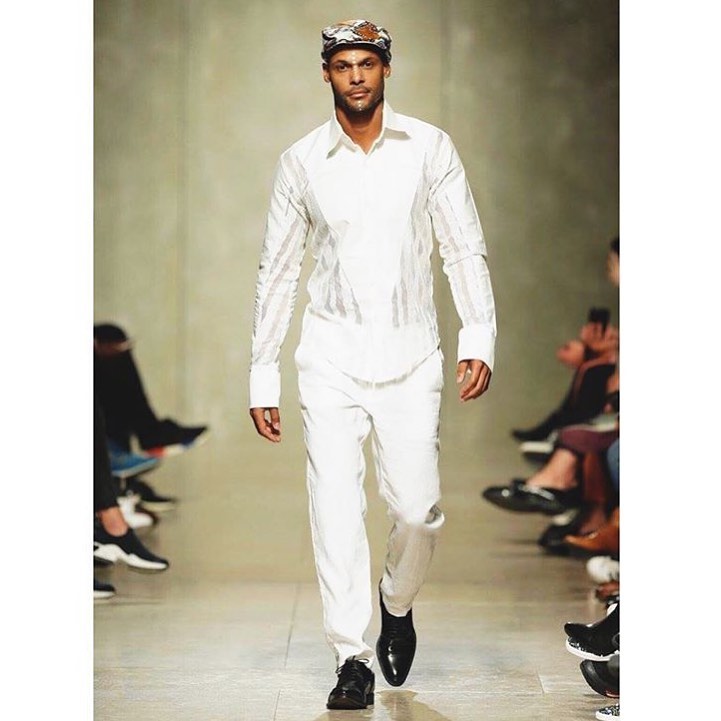 All white stylish Nadir Tati men's garb (Photo Credit: Instagram @nadirtati )
This all-white outlook by Nadir Tati is perfectly complemented by the shiny black pair of shoes. The cap with black and brown decorations adds some color to the apparel completing it in a stylish manner. Furthermore, it brings out a bold fashion statement. What do you think?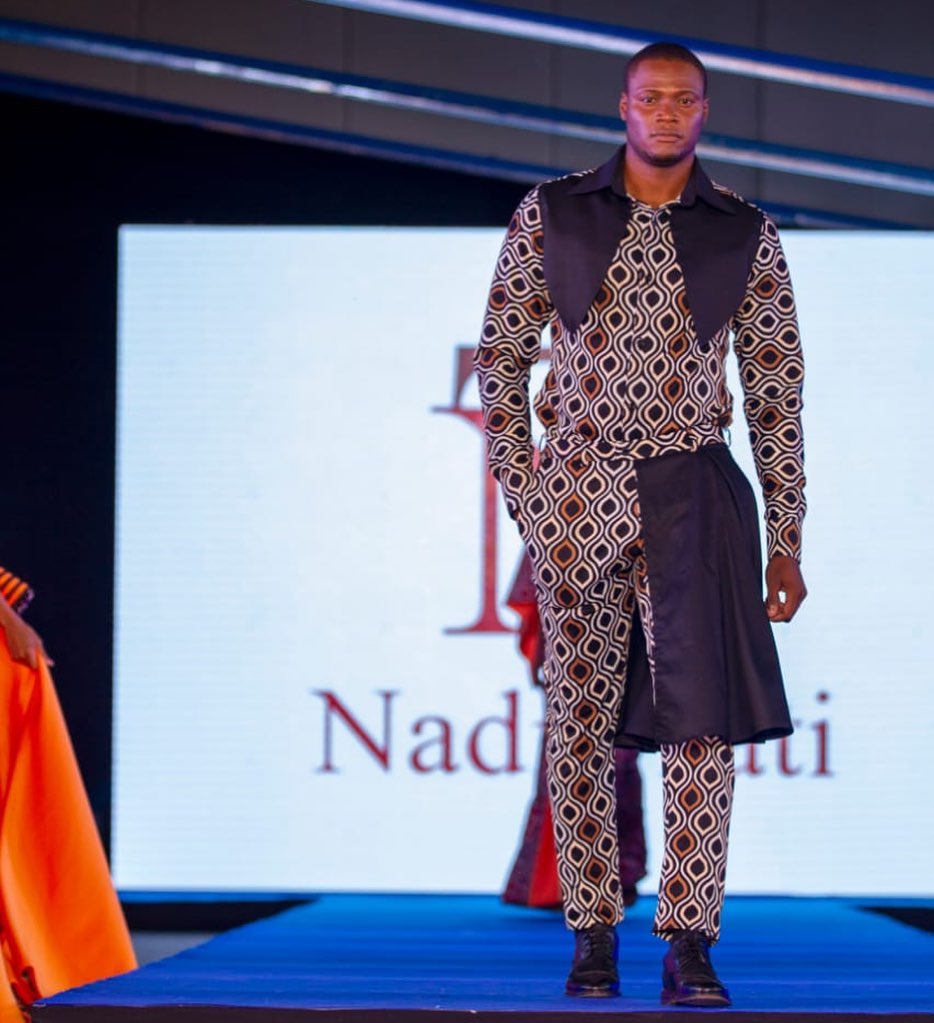 African print ensembles for men are becoming popular and widely accepted by the day. This matching cream, black, and brown African print attire is quite unique. The black piece of fabric on the waist and on the top part of the shirt which match with the collar add to the peculiarity of this garb created by Nadir Tati.
Stars and Distinguished Clients Dressed By Nadir Tati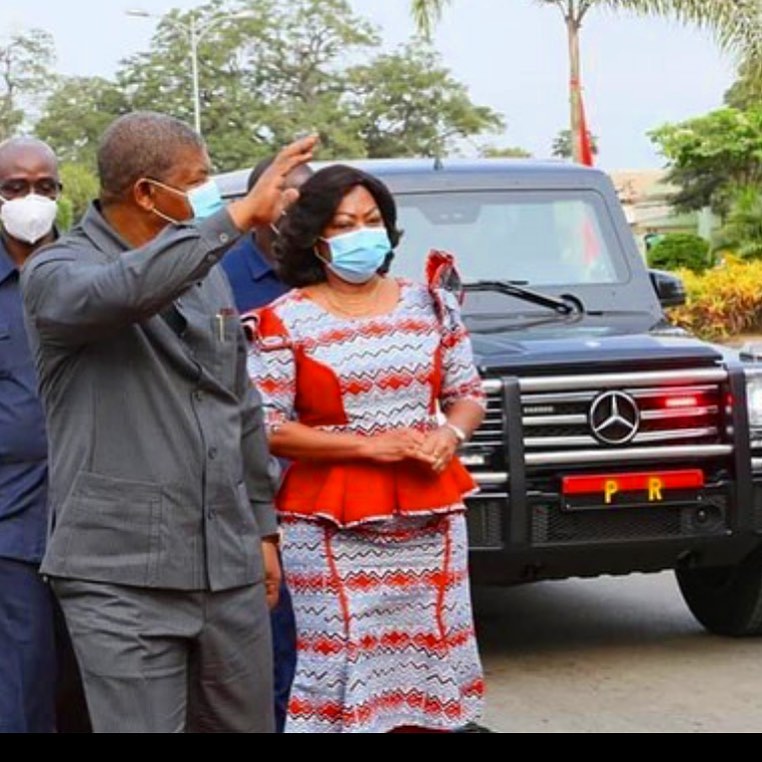 This red and white African print suit worn by the First Lady of Angola, Ana Días Lourenço, is a superb outfit specifically made for her by Nadir Tati. The colors definitely look good on her and the black and red zigzag decorations bring out the uniqueness of this garb.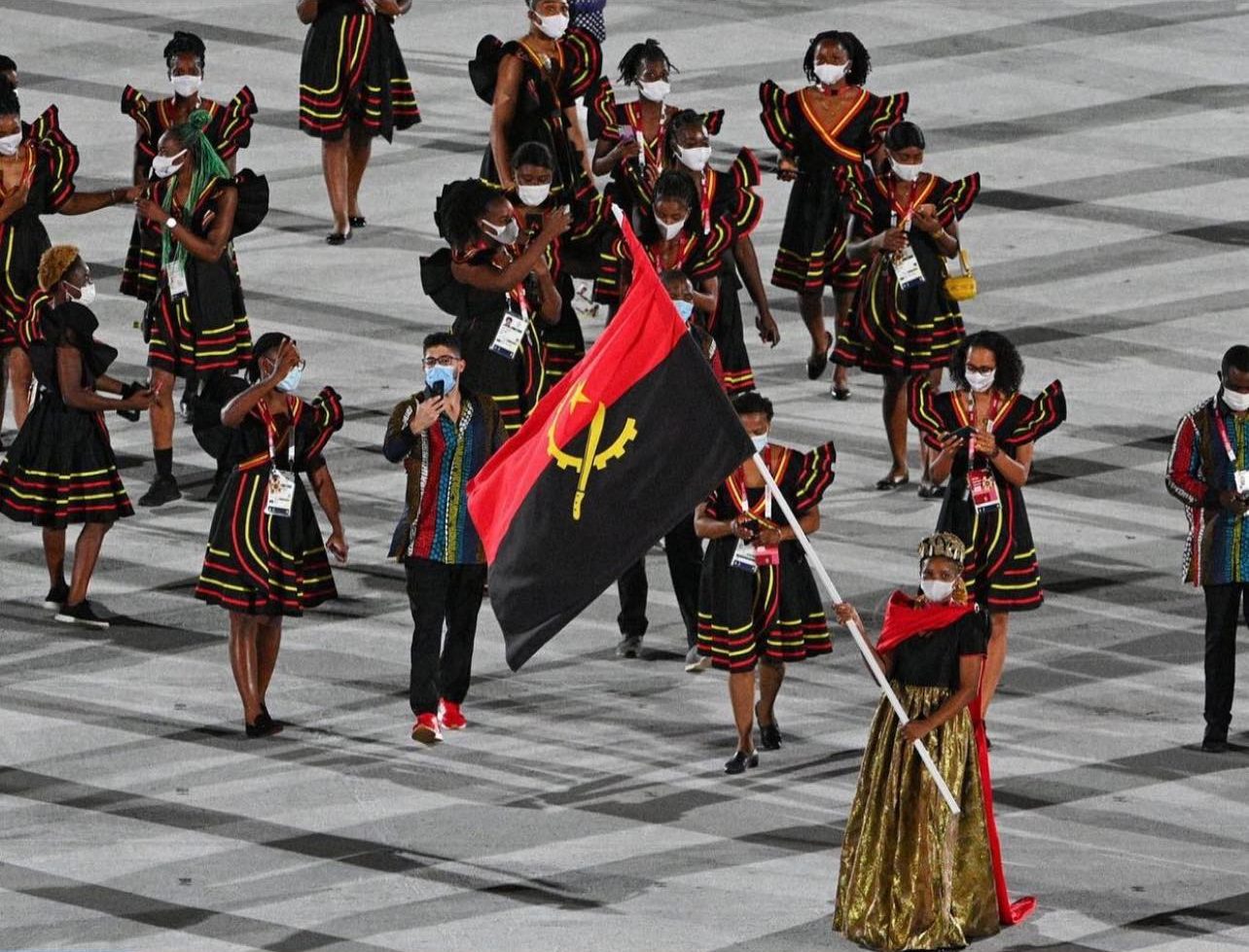 Nadir's exemplary designs have been recognized by all, great and small. It is no wonder that she got the honor to dress the Angolan Tokyo Olympics 2020 team. The team looked stunningly beautiful in their unique black attires with red, green, and yellow decorations.
The contentment on this couple's faces is enough evidence of Nadir Tati's excellent work. In addition, their matching blue African print attires look so good on them. The black, green, and red floral decorations create a unique finish on this African look.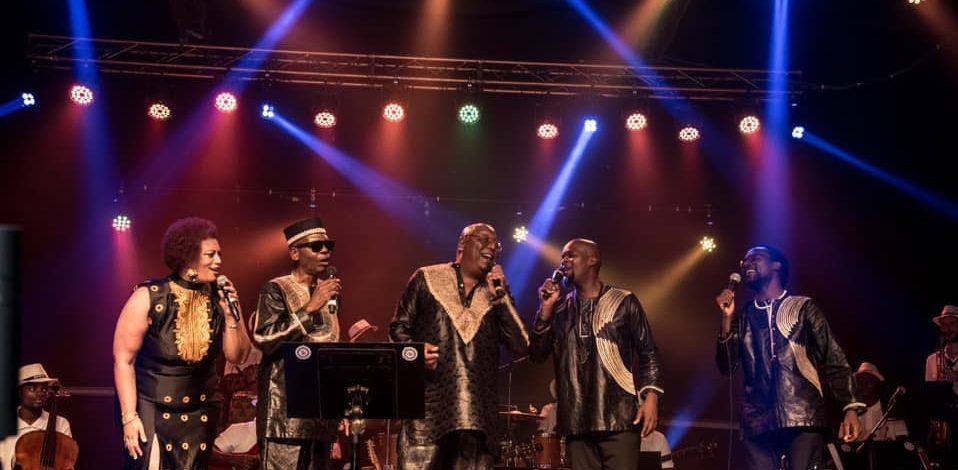 They look just as melodious as the tunes they are belting out. Show do Mes singers look stunningly beautiful in their shiny black attires. The golden intricate decorations complete the ensembles.
Conclusion
Africa is still facing serious challenges as far as the fashion and textile industry is concerned. For instance, cheap second-hand clothing, lack of well-trained personnel, and poor electricity are some of the major challenges affecting the African fashion industry.
In fact, Nadir imports about 80% of all her fabrics and accessories from abroad. However, Nadir Tati is still determined to put her best foot forward. She believes the industry is getting better and she is definitely part and parcel of the positive change. What's your contribution to the African continent? Enjoy some of her latest work!