Entrepreneur Spotlight: Lorna Rutto Chose Waste Over Bank Job
Lorna Rutto is one of the daring African women making incredible progress in fields that were once reserved for men years ago. Days are gone when women's lives were limited to household chores.
Today, women in Africa are pioneering and championing projects that are improving the quality of people's lives. Meet Lorna Rutto, a former banker who quit her job to make her dream a reality. While securing a bank job is the longing of many unemployed Africans, Rutto quit hers for waste, literally.
ALSO READ: Entrepreneur Spotlight: Uganda Eco-Stove Is Saving Ugandans On 2 Fronts
Who is Lorna Rutto?
Lorna Rutto a Kenyan ecopreneur and the founder of EcoPost, a waste recycling plant. The company manufactures eco-friendly, aesthetic, and durable lumber from plastic waste. In 2010, Lorna teamed up with her co-founder, Charles Kalama, and established EcoPost. The plant collects plastic waste which it uses as a raw material for making fencing posts.
The venture is offering a better alternative solution to waste management in Kenya and at the same time making eco-friendly fencing products from plastic waste. In doing that Lorna Rutto helps to conserve endangered forest trees.
Her establishment has created over 300 jobs for men and women in Kenya. Lorna Rutto's success story is one of courage, thinking smart, and determination. In 2011, the Cartier Women's Initiative recognized her as their laureate for Sub-Saharan Africa. Also, her efforts have won several awards and plaudits both at home and abroad.
In March 2022, the Cartier Women's Initiative celebrated 15 years anniversary. Interestingly, Lorna Rutto was also one of the women that were honored under 'Preserving The Planet' category.
ALSO READ: 10 of the Best Startup Accelerators for African Entrepreneurs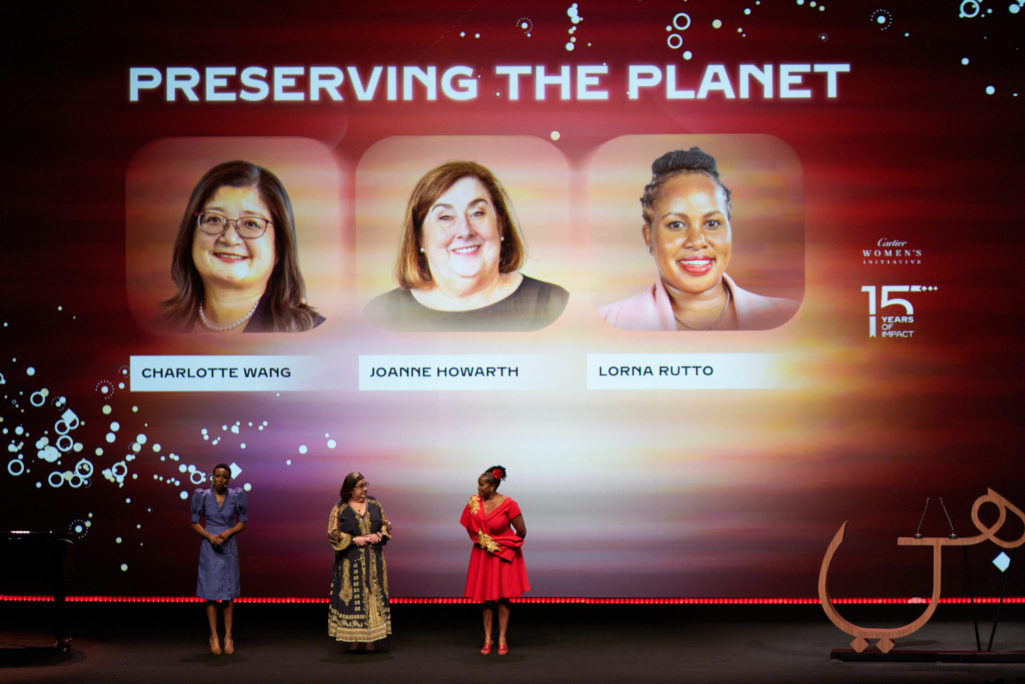 Lorna's early life and startup story
Lorna Rutto was born in Kaptembwa Slums in Nakuru, Kenya. She grew up in a street strewn with decomposing waste and garbage. Oftentimes, overflowing and clogged sewers would often encroach on people's homes in her neighborhood.
So, as a young girl, the ecopreneur developed eco-consciousness. This messy environment pushed her to start thinking about what she could do to make a small difference and improve the situation.
What came to mind was recycling plastic litter. At that time, Lorna Rutto thought about making small ornaments and jewelry from melted plastics. So, she started collecting littered plastics and started making earrings.
At that time, she used to sell them to other learners at school as well as friends in the neighborhood. These small efforts made her more and more environmentally aware. After school, Lorna joined college and graduated with a Bachelor of Commerce degree in Accounting. In an interview Lorna recalls,
"It wasn't really the earrings I was interested in—I just wanted to find a way to get rid of all that plastic!"
ALSO READ: Entrepreneur Spotlight: Yemisi Iranloye Abandoned The City To Live On A Farm. Here's Why
Lorna Rutto's entrepreneurial plunge
After graduation from college, Lorna Rutto started a career in the banking sector. However, the Kenyan ecopreneur didn't find satisfaction in this job. Deep in her heart, she had a desire to one day transform the environment and make an impact in society. She says,
"I was working on systems and structures and not with people and science, which had been my other passion at school. I wasn't comfortable about it."
So, after working for about three years, she quit her job and took the entrepreneurial plunge. Thus, the establishment of EcoPost was the fulfillment of her dream. While Lorna brought managerial and financial know-how into the eco-business, her partner, a biochemical engineer, brought his technical expertise.
Their first task was researching potential avenues and plastic emerged as the best starting point. This decision gave Lorna much delight because it was exactly what she has thought about all along.
How Lorna overcame financial challenges
At the onset, Lorna had a huge financial challenge. There was not enough money to do all that they had envisioned. Unarguably, shortage of funds is one of the most pressing challenges that African entrepreneurs encounter.
So, lack of capital is a convenient excuse that many have used to say "that's it". However, Lorna Rutto did not give up. Instead, she solicited funds from donors. Firstly, Lorna won a $6,000 seed award that became her startup's capital. That EcoPost was born.
Subsequently, she emerged as the winner of a Cartier Women's Initiative business plan competition and bagged $12,700. Later on, her company attracted investment from Opus Foundation and Blue Haven Initiative and the funds helped to further expand the company.
 EcoPost's success and expansions plans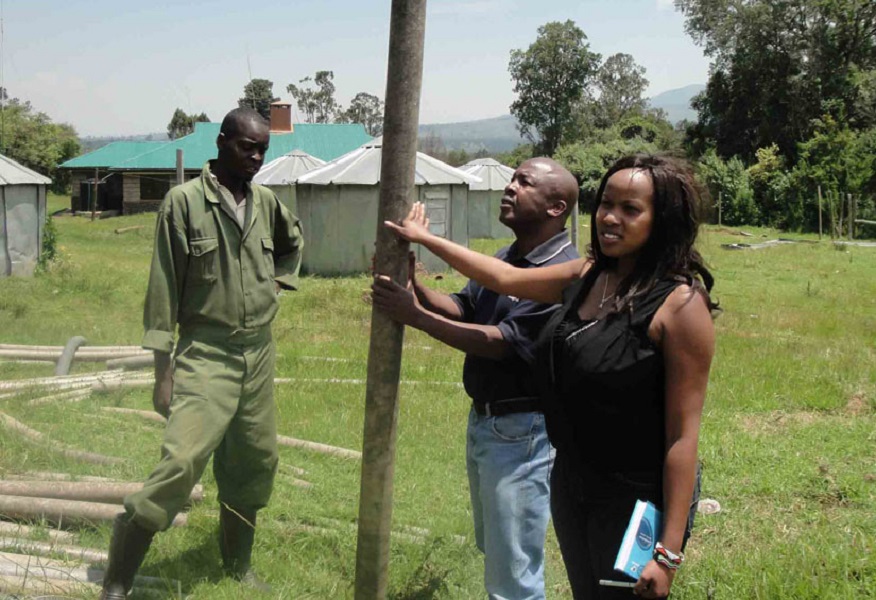 EcoPost collects tonnes of plastics from landfills and streets in Nairobi. Subsequently, they process them into fencing posts that are used for various purposes including fencing homes and forests.
Their work has helped to mop up tonnes of plastic waste from the streets of Nairobi. It is estimated that 2,400 tonnes of solid waste are generated daily in Nairobi alone. Plastic waste makes up a large chunk of that figure.
ALSO READ: Entrepreneur Spotlight: Ibrahim Mahama Sold His Artwork For $1 Million. See How He Is Using The Money
Today, EcoPost has made more than 10,000 fence posts and created employment for hundreds of people in Kenya. Through her company, Lorna has saved over 250 forest acres from deforestation. The successful entrepreneur says,
"By providing an alternative to timber we conserve our forests & maintain them as water catchments areas. Forests act as carbon sinks by removing CO2 from the atmosphere hence mitigating climate change. Each day when I go to work, I feel I am serving my purpose on this earth."
Lorna Rutto's ultimate goal is to create 10,000 jobs in the next 15 years. This will translate to more waste collected from the city. Also, the ecopreneur hopes to lead the company in doubling its annual output. She is positive that the rising timber prices in the region will lead to higher demand for their products.
5 Business Lessons from Lorna Rutto
There is so much to learn from the life of Lorna Rutto. There is a saying that if you want to be great, you have to walk in the footsteps of those that have been there before you. Some of the most impactful lessons to learn from this ecopreneur are highlighted below.
#1: Passion is king in business success
The most exciting feeling among business people that of making money from doing the things you love. Lorna argues that you may be making lots of money and living a good life. But there is a level of satisfaction that you will not experience if you're not passionate about your job.
Despite studying accounting and securing a comfortable job in the bank, Lorna resolved to stick to her passion. She hated the litter in her neighborhoods and developed a strong desire to change the situation.
ALSO READ: Entrepreneur Spotlight: Leah Wambui Built A Multi-Million Dollar Real Estate From Nothing
#2: Set and follow clear goals
In business, it is very important to know what you want to achieve and where you want to go. Entrepreneurs need to have a clear road map that will guide all their efforts and investments.
Without this clarity, it is easy to derail from your initial idea. The successful ecopreneur advises people to take time to plan their businesses.
#3: Never give up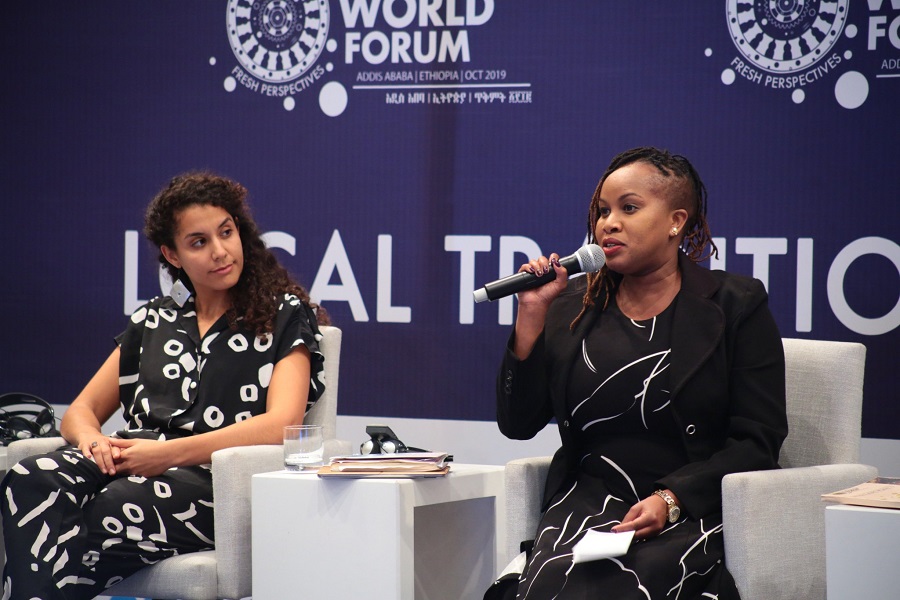 According to Lorna, people fail to achieve their dreams because they give up too early. She says that when in business, there will always be reasons to give up. Lorna recalls,
"I have enough reasons to give up because I had no finances to do all that I wanted to. Besides, people used to ask me why I left a comfortable banking career. But I did give up because I was very clear about what I wanted to do and achieve."
ALSO READ: Entrepreneur Spotlight: 😲5 Business Lessons From Cosmas Maduka, The Man That Turned $1 To $500 Million
#4: Don't listen to naysayers
Lorna insists that you shouldn't listen to naysayers if you want to succeed in business. There will always be people who will not find any good in your business or ideas. Some will tell you that the business you intend to start is the toughest.
Others will just find you incapable of running a successful business in your area of specialty. But once you set your goals and decide on the course you want to take, focus all your energies on that.
#5: Be patient with your business
Lorna says that patience is a great virtue in the business world. Most often, you will not see results as soon as you projected.
Every business requires time to grow and during this period, you should be patient. Keep moving forward with your tasks, projects, and activities, sooner than you think, success will come knocking.
Conclusion
Lorna Rutto and her waste recycling company are truly inspirational. The Kenyan entrepreneur demonstrates that it is possible to establish a sustainable and viable business in Africa. Besides, her success story confirms that there are lots of business opportunities in Africa.
Sadly, many people see problems, without looking for ways to solve the problems. If you want to become a millionaire, start thinking of solving problems. Wherever there is rot, there is wealth. However, you need to look from a different perspective to find it.
What do you admire most about Lorna Rutto and which of her business lessons struck you the most? Share your thoughts in the comment box below.
Join African Vibes Community for more positive African news, exciting tips, and discussions.