20 African Print Dresses That We Are Totally Crushing On This Fall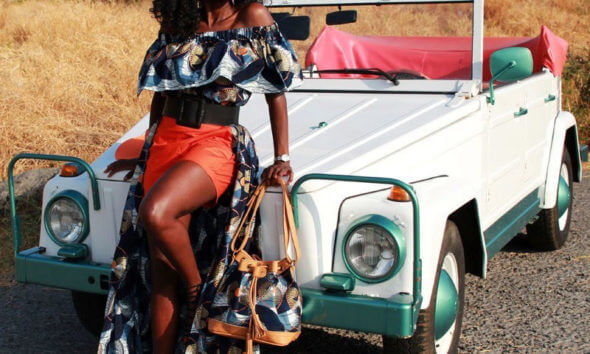 Culture is a people's way of life, and Africa takes so much pride in her rich culture. From traditions to folklores down to festivals, this richness in diversity is manifest. What more can define people more than the way they dress? For centuries, Africans have displayed their unique culture through dresses. While the dresses evolve overtime to fit modern fashion trends, it retains its dazzling Africanness. In this post, we bring you 20 African print dresses that we are crushing on this Fall.
1. Grass Field (The Harvey dress)
This is a classy A-line African inspired print shirt dress. This full button-up shirt is cinched at the waist with a waist belt made out of the same fabric. It also features a three-quarter sleeve and functional side pockets. This dress is super chic and can take you almost everywhere in the world when paired with the right accessories. Wear with heels or chunky sneakers for a comfortable yet classy look.
2. Bazara Pagne (Pagne Dress)
This is a beautiful off-shoulder wrap dress with a sweetheart neckline, pleats, and two side pockets. Wear the Bazara Pagne with a pair of stylish heels to weddings, church services, and get-togethers and we're willing to bet everyone's eyes would be on you!
3. Padamiliou (Kimia)
If you're looking for a simple and chic appearance this dress is your go-to. It's a midi dress that reaches the calves (length adjustable on request). It features an off-shoulder neckline that highlights your upper curves. Interestingly, it makes a good maternity gown that will accentuate the beauty of your baby bump. Throw in a few pieces of jewelry to complete your fabulous look. 
4. Kunzwax
Kunzwax is a classy but straightforward dress with a peplum lined sleeve and two pockets. It comes with a braided waist belt that adds glamour to your entire look. This can be worn to a social or religious event. With the right swag, you should easily make tongues to wag. Tell us what you think in the comment box below.
5. Dakrol
This long beautiful shirt dress is a one and done piece. It features a short sleeve and flares all the way down. The front slit overlaps at the knee allowing your admirers to steal a glimpse of your hot legs. It feels comfortable yet stylish for get-togethers and parties. Pair this dress with really long heels so that it doesn't sweep the floor behind you.
6. Mangishi Doll
Talk about clean, modern, and classy. This slitted African maxi dress with a v-neckline that cuts into the cleavage fits the narrative. The romantic flare will make you re-imagine your narrative about long sleeves. It is the perfect dress for non-formal meetings, weddings, and outings. With this African print dress, you'll only need minimal accessories to dazzle.
7. Amarys-Bodycon Dress
This orange bodycon dress is the ultimate dress for confident women. It features an asymmetrical cut paired with one shoulder puffed sleeve. Having a date night and want to give your partner a pleasant surprise? Rock this gown with bold African jewelry and you will be the center of attraction. Also, this dress is your go-to for hang out with friends and evening outings. 
8. Ohemaa-in-prints
Sheelah continues to create stunning styles for the bold African woman. This flamboyant style will make a perfect outfit for weddings and date nights. It is a mid-thigh length dress with puffy detachable sleeves. Rock this with a nice pair of heels, a clutch purse, and minimal jewelry. As Christmas approaches, you'll definitely want to have this in your collection. 
9. Sosoden
How high do you love your side slits? Knee-length? Thigh? Well, if you love high slits in a long dress Sosoden is your best bet. It is made from African wax fabric. It features two side pockets, an elastic waist at the back, and its slit is adjustable with press studs along the slit line. The off-shoulder will let you flaunt your sexy body. 
10. Foxy African (Simi Dress)
This African print is the perfect wedding guest. Wherever you were it to, the rich and vibrant colors will always stand you out. The super chic dress features a v-neckline, a long sleeve puffed towards the end, and two side pockets. Pair this dress with heels or chunky sneakers and you'll have jaws dropping when you walk-by.
11. Soraya Da Piedade (Soraya Dress)
Featuring a long skirt cinched at the waist, a waistband, and sleeveless see-through top that gives it a sexy feel, this African dress is indeed avant-garde! When you want to turn heads, you can never go wrong with Soraya Da Piedade. It won't really matter what you are putting on your feet because the attention will be on your torso. 
12. Gazemba Mugadra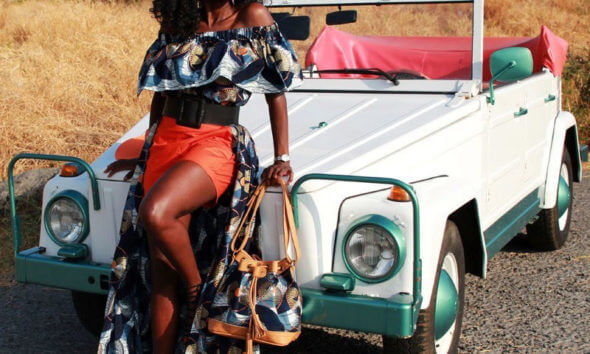 Gazemba Mugadra is a stunning and exceptional off-shoulder African print dress. It features a long and full flare with pleats at the back. The icing on the cake for us has to be that it comes with a matching short. You can wear this dress for almost all occasions, from a girl's day out to the beach to work or weddings when paired with skinny and fitted pants. 
13. Katie O
This stripe mix with African print is everything! The loose fit design makes this dress perfect for a casual or dressed-up occasion. Know how it feels awkward to meet a random stranger rocking your outfit? Well, with this design you are certain that will never happen because it can be customized in any way. 
14. Ingrid Donnet
Who says you can't look chic and bold in bright colors? This African print dress is an off-shoulder shirt dress which gives a casual vibe. It features a long sleeve and waist belt made of the same fabric. It exposes lots of your thighs making it perfect for the days you want to look seductive. 
15. Tribalbyn
The beauty of Tribalbyn design lies in its simplicity. However, you need to get the African print right to strike the right cords. It features a short sleeve and two side pockets. It is perfect for Summer and Fall parties. Wherever you go, you can easily blend in. What do you think about this dress? Let us know your thoughts in the comment box below. 
16. Grass Field (Zena Dress)
This is yet another glam dress with a rich color. This figure-flattering dress has a fitted skirt with ruffles, one-sided off-shoulder with two puffy sleeves, cinched at the waist, and slit at the back of the dress to make movement easier. With Zena dress, you're bound to make people stare morosely when you swagger through the street.
17. Foxy African (Sama Dress)
Sama dress is a flare dress with a halter neckline that can be worn to almost any occasion if paired with the right accessories. Rest assured, with the Sama dress you can never be overdressed or under-dressed. This is one of the rare outfits that will make you reminisce of your middle school days.
18. Dokki Oge
This V-neck half-cut flare dress is perfect for both social and religious events. Featuring a short sleeve and two side pockets, Dokki Oge dress is perfect for the pear-shaped woman to give off sensual, yet conservative vibes. It has the right sophisticated graceful style, just for you.
19. Dakrol
Dakrol is a short dress with two pockets, short sleeves, and a detachable belt. This African lively print dress is a must-have because you can wear it in any season. Its pleats allow you to spin and create the Cinderella effect when you dance in parties. Just make sure you don't spin too hard so you don't get dizzy.
20. African Fashion 4 U (Zakira Dress)
Also known as the Zakira dress, African Fashion 4 U is a gorgeous dress that evokes sexiness and royalty. This dress perfectly merges two African prints to create this one of a kind African dress. With a deep V-neckline and a puffy sleeve as its prominent features, Zakira is the right dress to pick when you want to make a bold statement.
Fashion trends come and go, but African print dresses always find a way to fit into every trend. Also, they're quite affordable and long-lasting. We also have tons of other designs for you to explore. Perhaps, we will have another collection, if our readers request it. Get your cash ready and stock your wardrobes with these stylish dresses today.