Designer Spotlight: How Guinean Mariama Camara Is Reimagining The African Tie And Dye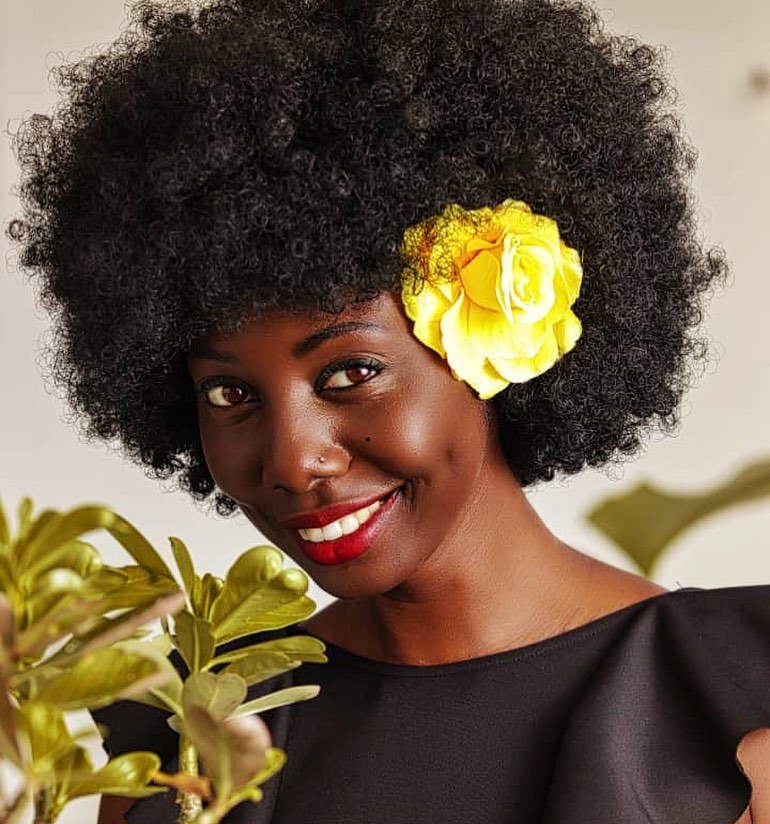 Mariama Camara had a dream; an American dream for that matter. She thought life would be easy once she landed in America but that was not the case. She went through several hardships but was determined nevertheless. Hers is a story of sheer determination full of purpose.
Today, in our designer spotlight section, we take a look into the life of Mariama Camara a trailblazer in the African fashion and design industry. Her journey to success is interesting and inspiring at the same time. Her gift and passion have opened doors for her—and she has rubbed shoulders with the high and mighty.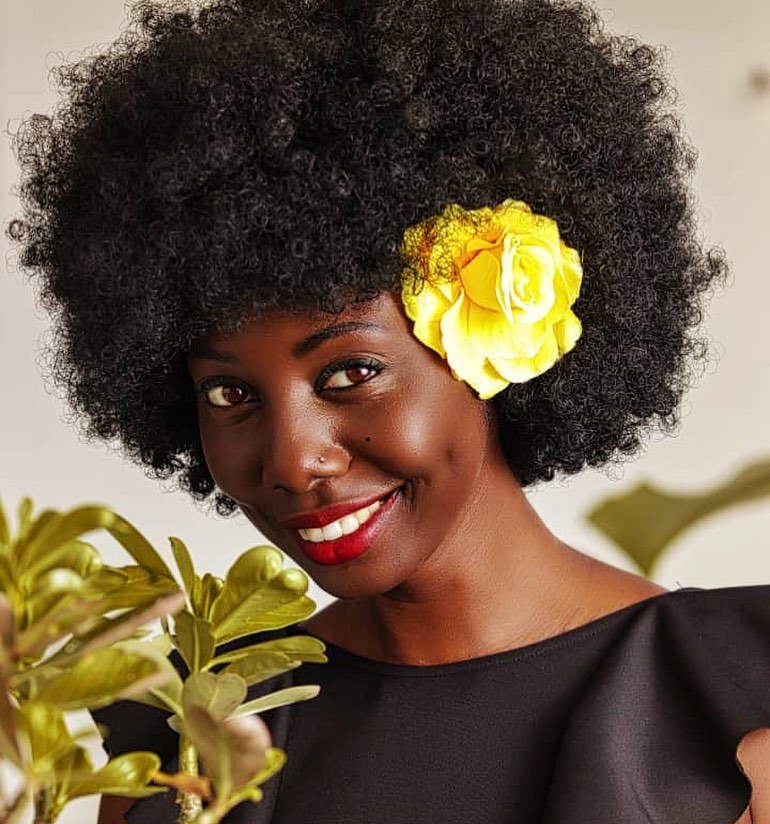 A Preview of Mariama Camara Background
Mariama Camara was born in the Republic of Guinea, West Africa. She is the fifth born of eight children. Amusingly, her maternal great-grandmother was one of the women who made it big in the tie and die industry in Kindia region of Guinea. Growing up, she watched her family design tie and dye prints and her passion for handmade products and textiles was kindled. Later on, her love for fashion continued to grow at her uncle's tailoring business in Guinea. She would collect and use the scrap strips of material to make dresses for her dolls.
Her Aspirations
Years later, Mariama Camara became the first woman from Kindia to showcase tie and dye designs on international platforms. Afterward, she started selling her designs on the international market. She plans to uphold the legacy of her family by empowering African artisans to continue designing creative and beautiful handcrafted textiles and other handmade products. Currently, Mariama Fashion Production based in New York City is the leading African handmade accessories and sustainable textiles company.
Mariama Camara's Exceptional Fashion Design Career
With only 100 dollars in her pocket, Mariama traveled to America in 2001. Initially, she had gone to visit her sister Tigui Mounir Camara, the founder of Tigui Mining Group. She had no intentions of overstaying. However, along the way, she found love, got married, and ended up staying. She looked forward to making her American dream come true in New York City which unlike where she had come from, was fast-paced and bigger. Despite feeling intimated by the big city, she knew it was the best place for her to realize her fashion dream and be what she wanted.
The Beginning of Mariama's Non-Profit
In 2008, Mariama Camara together with her younger sister, Aissata Camara, started an international non-profit organization called There Is No Limit Foundation. The organization majors in fighting poverty, diseases, and gender inequality by empowering the communities through facilitating economic activities, health, and education.
Her Dream Finally Comes True
Starting out as a model showcasing other designers' clothes did not deter her from accomplishing her childhood dream. Eventually, Mariama Fashion Production was born in 2012 in New York City. The company sources fabrics from across the African continent and develops products for established and emerging brands internationally.
Her designs appeal to the crème de la crème of the society like the former United States First Lady, Michelle Obama, and the likes and continue to grace international runways. She has met many prominent people like former presidents of the United States, George W. Bush and Bill Clinton among others.
What is Mariama Camara Doing of Late?
Recently, she ventured into skincare products and 100% natural healthy foods through her new company KANAFRIK. The company which was launched in July 2020 is located in Abidjan, Ivory Coast. Mariama Camara plans to have KANAFRIK outlets across Africa and internationally by 2023. At the same time, she seeks to promote 'Made in Africa by Africans' brands through this newly formed company.
Some of her skincare products include natural soaps, aloe vera gels, Shea butter, and natural oils among others. So far, the company has grown exponentially earning both local and international media attention. Being the devoted humanitarian that she is, KANAFRIK will also be another platform through which she will impact society by providing economic empowerment opportunities.
Some of Mariama Camara's Outstanding Designs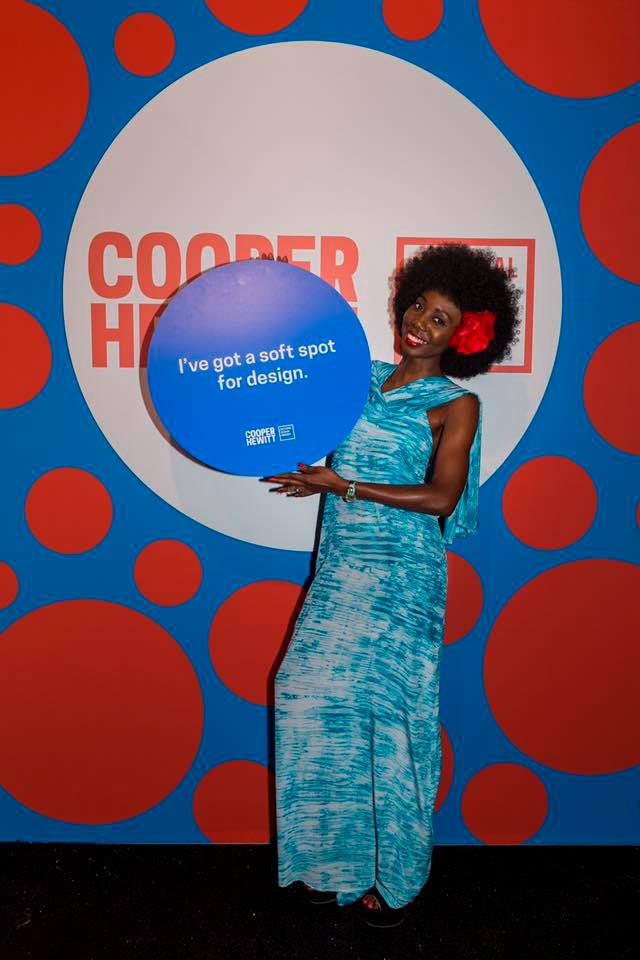 This simple and elegant hand-dyed green and white silk Celia dress looks so good on Mariama Camara. It is from her SS2017 collection. For sure she has a soft spot for design.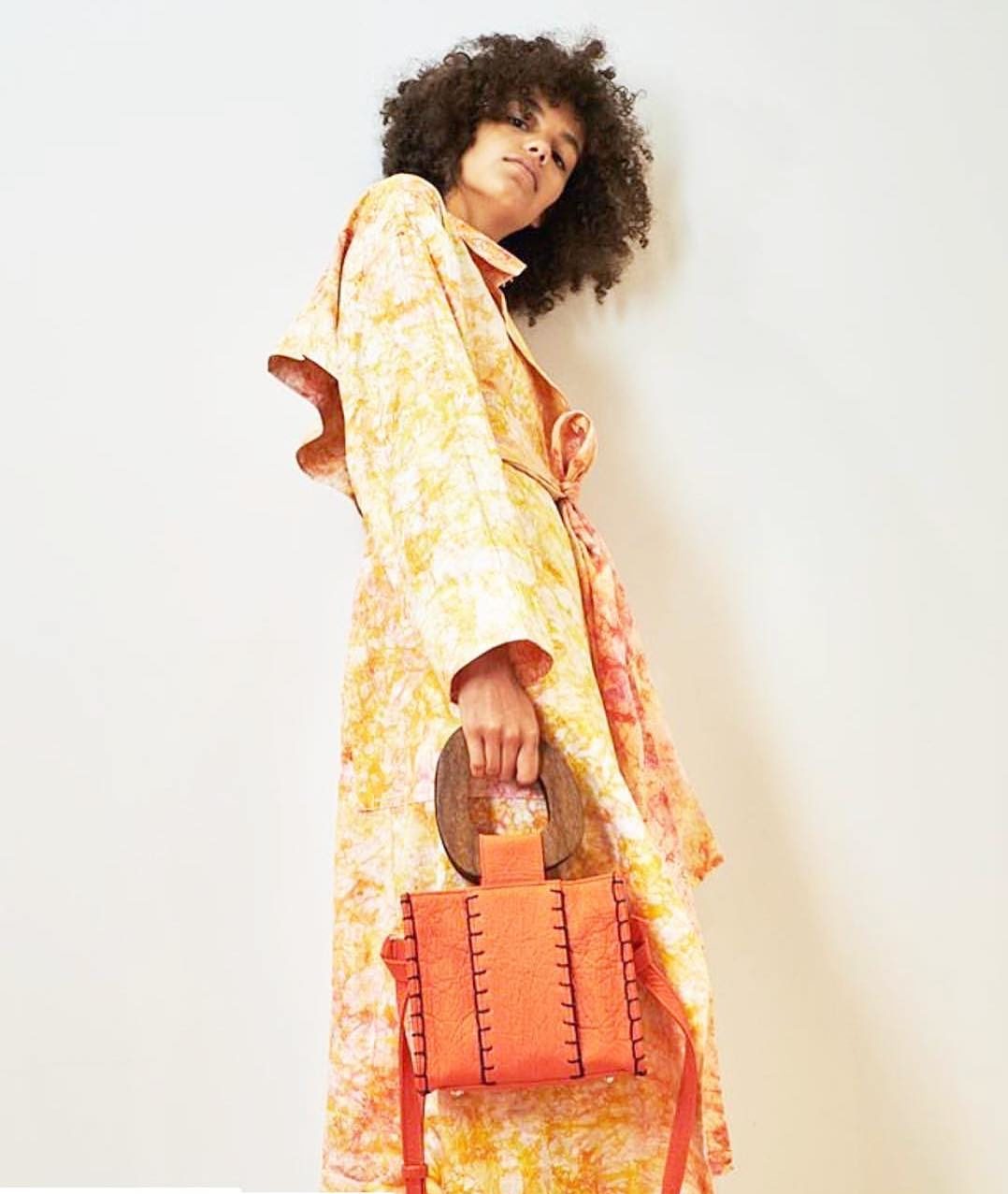 An orange and white beautiful attire made from mariamafashionproduction printed fabric. The antique brown-orange bag is also a perfect match, making the whole outfit look complete.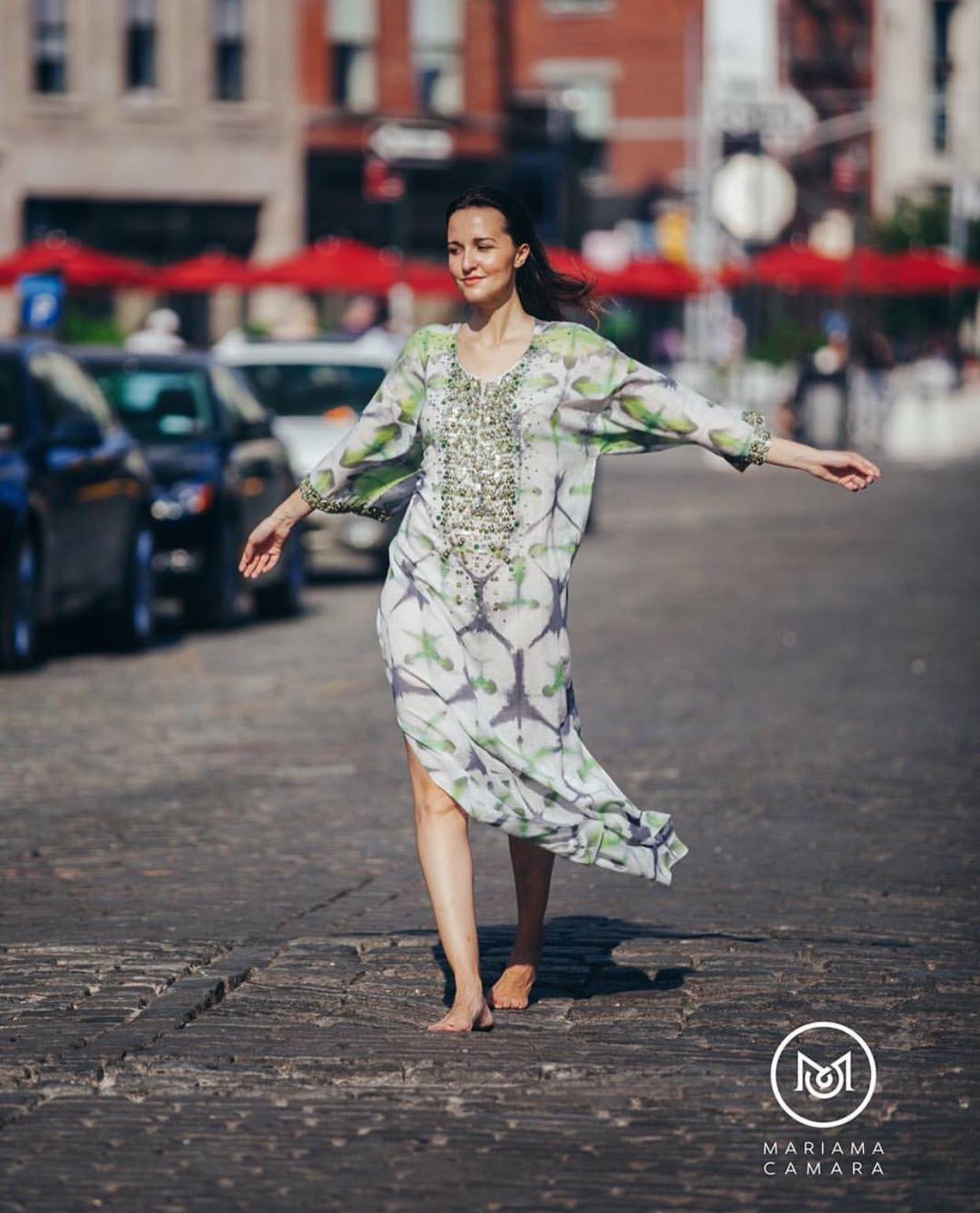 mariamafashionproduction Safia kaftan summer dress in all its splendor. The black grey and green tie and dye patterns are so beautiful and the crystal embellishments give this dress the finish it deserves. This model does her best in showcasing one of Maria Camara Safia kaftan dresses in the limited collection.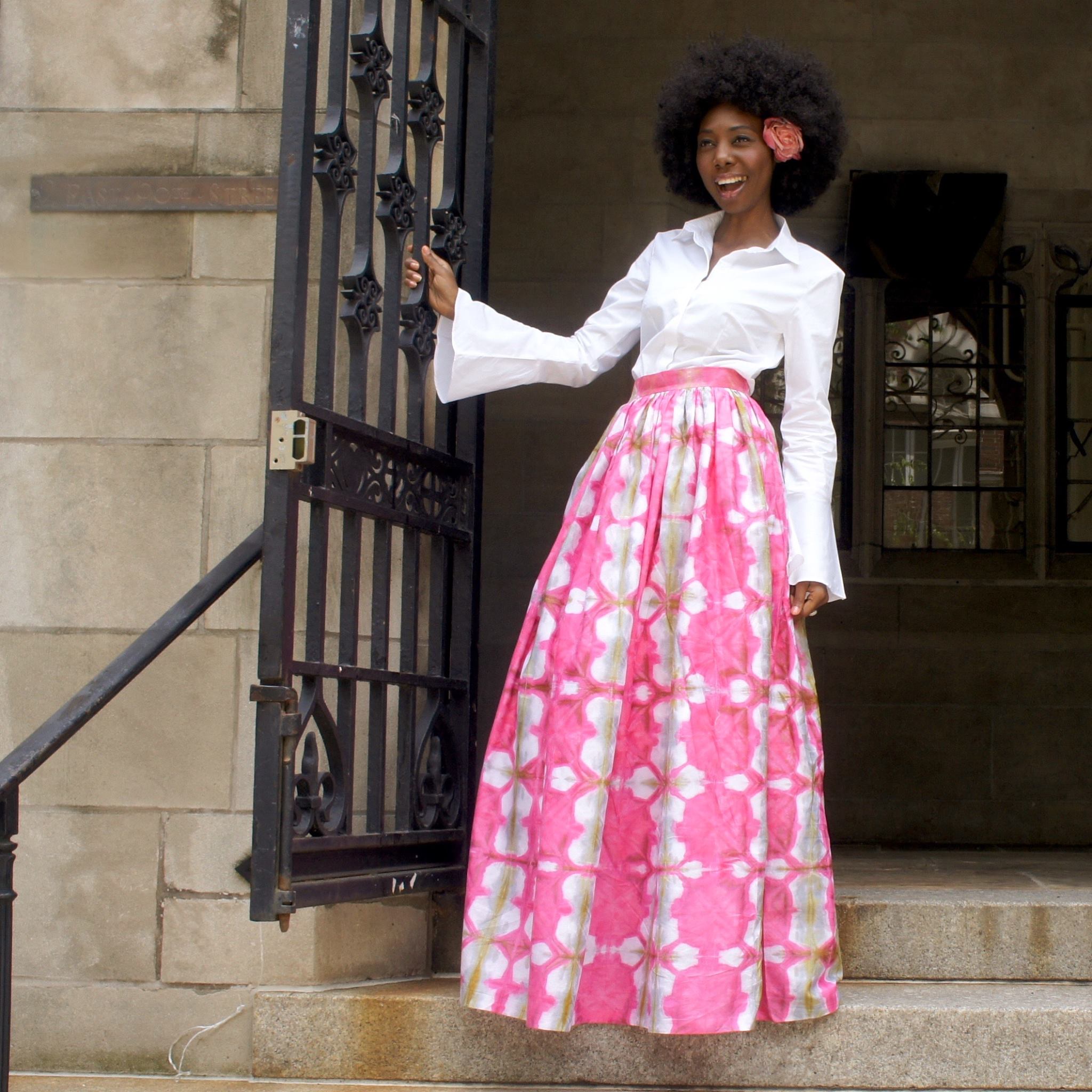 Believe it or not this white Lianne shirt and pink and white Lily skirt are 100% African made, thanks to mariamafashionproduction. Mariama Camara does a fabulous job in showcasing her favorite prints.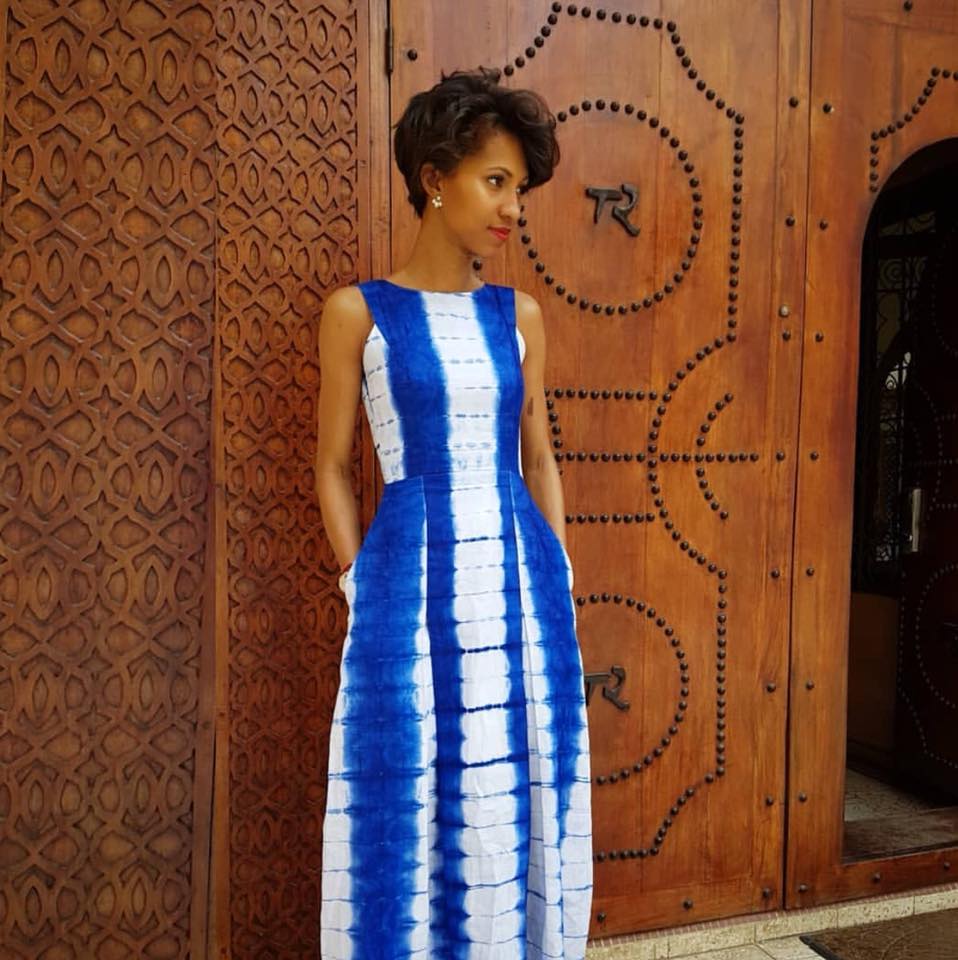 A beautiful lady wearing this simple and gorgeous blue and white tie and dye Celine dress from mariamafashionproduction. The simplicity of this dress brings out the contentment of the good-looking and composed lady.
Runway tie and dye looks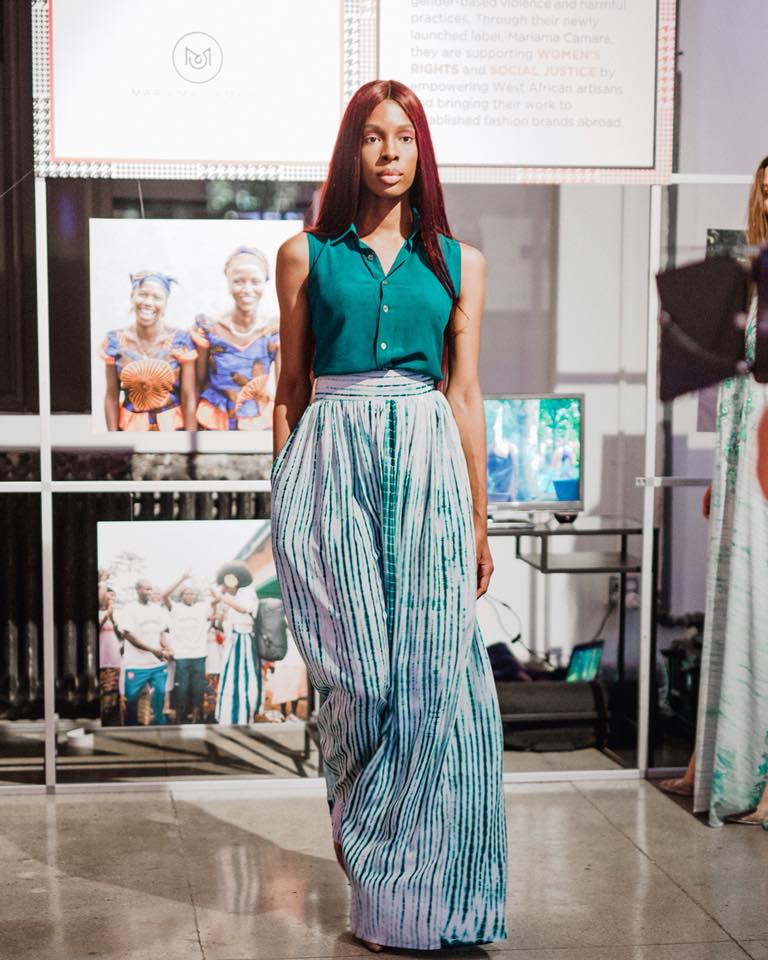 Handmade tie and dye never looked so eloquent. This modest attire can literally be worn in almost all events and occasions. Green and white colors match so well and elude a lot of easiness. What do you think?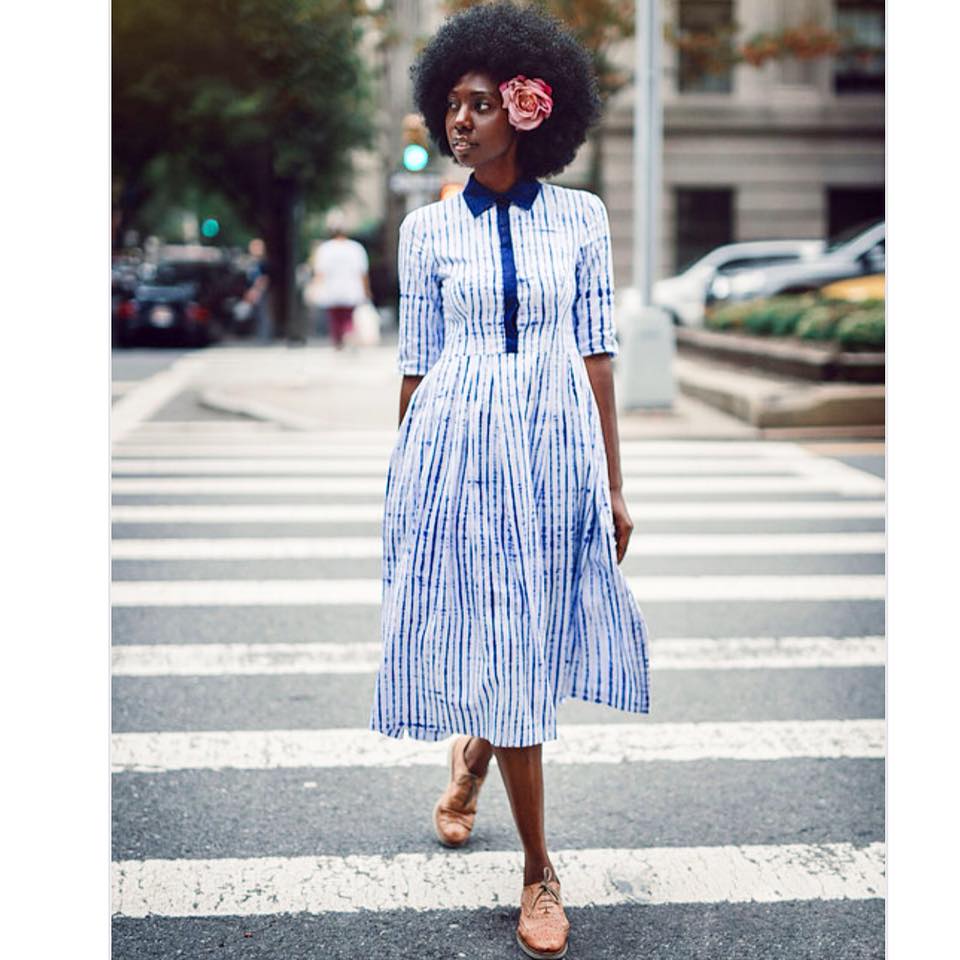 Mariama Camara in a midi dress rocking the streets of New York! This blue and white stripes midi dress look gorgeous on the confident and go-getter. The simple closed brown shoes and Maria Camara's signature hair flower adds charisma to the look.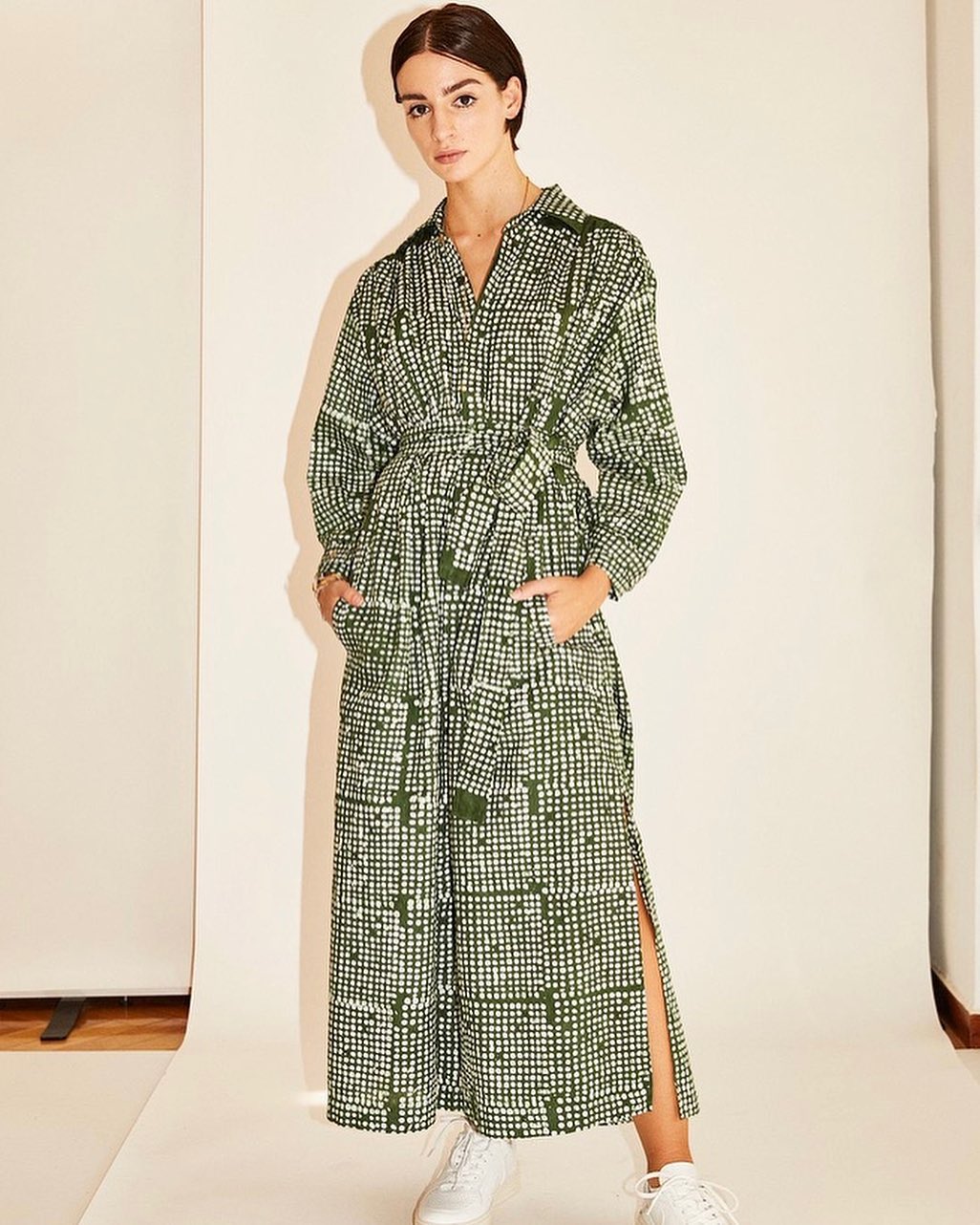 This handmade dye print is unique regardless of being done by hand. The prints are precise and intricate. The green and white natural colors add some beauty to this simple dress.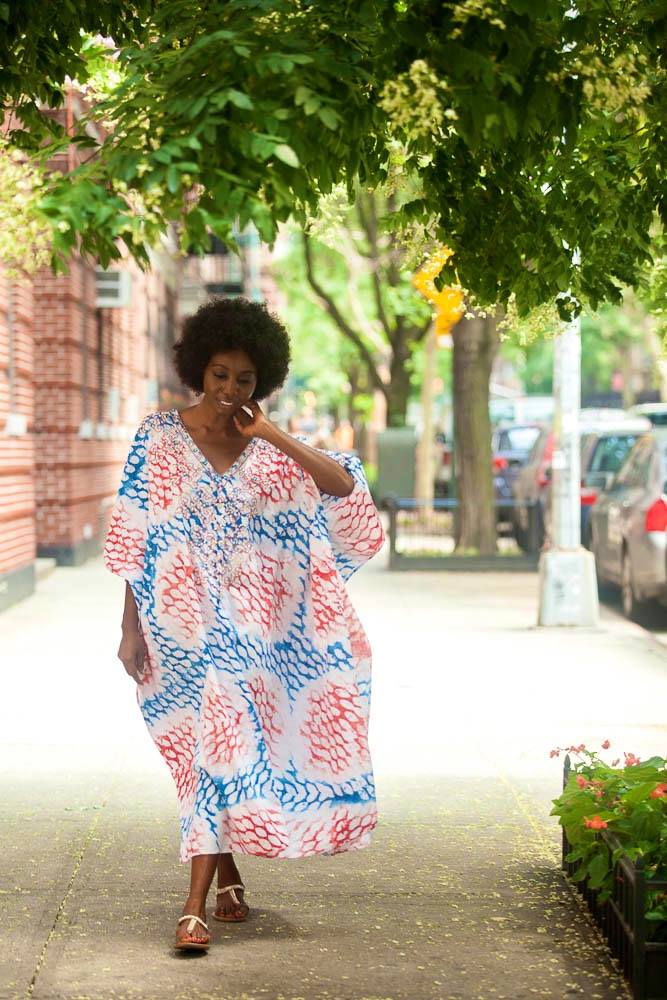 Mariama Camara looking gorgeous in this blue and pink Kira kaftan made of tie and dye. The crystal decorations and embroidery on the bodice gives elevates it to a masterpiece. Also, the sandals pair well with this dress to give a perfect casual look ideal for the summer seasons.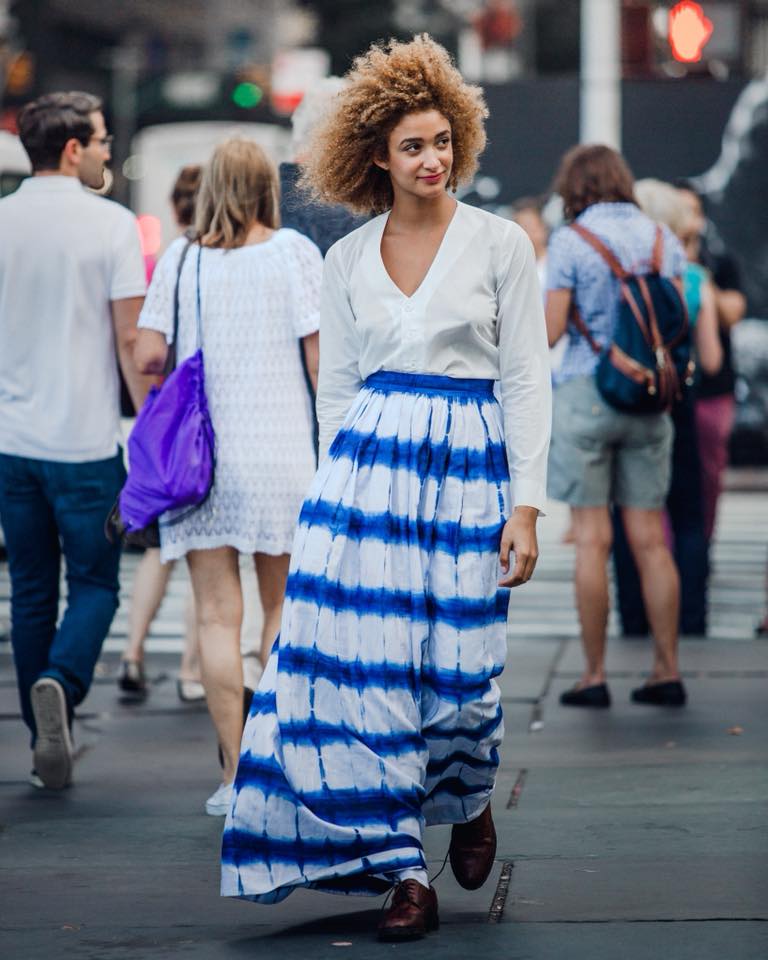 This amazing blue and white tie and dye Mahara skirt and the white V neck simple top scream freedom. Gabi Zuffo is not only a model but an actress and a DJ who does all she can to achieve her dreams.
Conclusion
"Sustainable fashion never goes out of style" is a mantra that Mariama Camara has sought to go by and she has truly shown the whole world that it is indeed true. She uses some of her resources to offer sustainable solutions to the local communities. During an interview with Daughters of Africa, Mariama Camara encouraged the upcoming entrepreneurs to expand their boundaries far and wide.
"It doesn't matter where you come from. What's most important is where you expect to be. Dream big. Believe in yourselves, and know the only limitations are those set by you."
As a leading female entrepreneur who is making a real impact in society, Mariama Camara was featured in a popular film called Dream, Girl. This is what she said when asked about her greatest achievement.
"My biggest achievement is being able to take my childhood passion and turn it into a career. Through hard work, I am able to continue the legacy of my family."