😲See The Shocking Reason Dave Chappelle Wants To Move To This African Country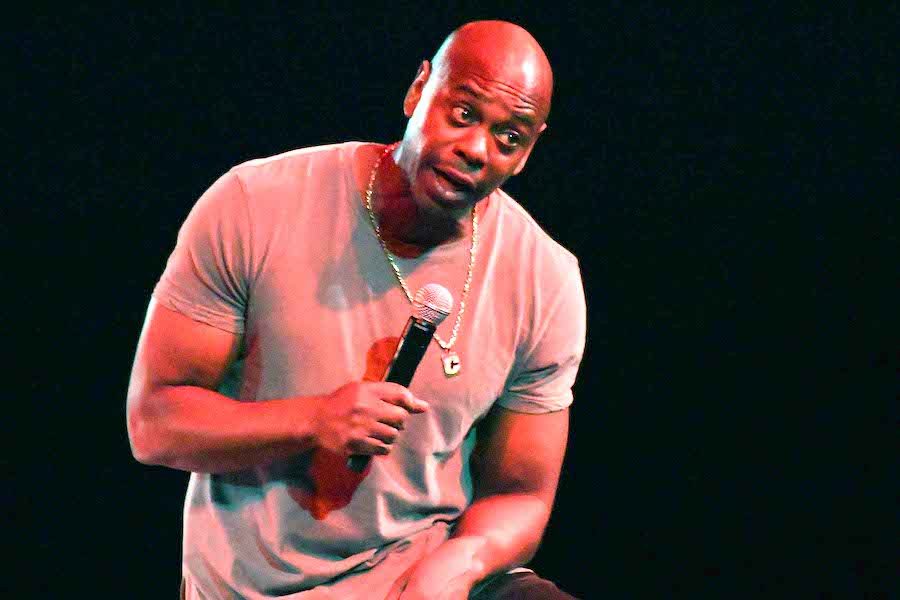 A few months ago, music legend and United Nations Messenger of Peace recipient Steve Wonder said he wants to move to Africa. Among other things, he cited disrespect as one of the reasons why he wants to make the sudden departure. Dave Chappelle, an ace comedian is the latest to declare his interest in moving to Africa. The big question is, why the sudden realization?
ANOTHER SHOW: Comedians Dave Chappelle and Joe Rogan will perform together in Las Vegas at the MGM Grand Garden Arena for one night in July. #8NNhttps://t.co/pUNON0MTs4

— 8 News Now (@8NewsNow) April 27, 2021
The American stand-up comedian and actor is popular for co-creating, writing, and starring in the groundbreaking comedy, Chappelle's Show (2003-2006). In the 21st century, Chappelle established himself as one of the most-revered stand-up comedians of his generation. His first one-hour stand-up special, Dave Chappelle: Killin' Them Softly, aired in 2000 on HBO. In 2017, he hosted an episode of Saturday Night Live, for which he won an Emmy Award.
Furthermore, he received a Grammy award for his Netflix comedy album "The Age of Spin & Deep in the Heart of Texas"  in 2018. Sticks & Stones earned Chappelle his third consecutive Grammy Award for Best Comedy Album in 2020.
Breach of Contractual Agreement
Dave Chappelle had several challenges in the past. He delivered some of the best sketch comedies for two seasons on the Chappelle's Show. The show confronted everything from race relations to drug abuse. It was a massive success. Consequently, it received outstanding ratings by Comedy Central to the point where the network offered the comedian $50 million to keep it on. At some point, the unthinkable happened. Chappelle bailed on his contract and ran off to South Africa.
In an interview with Letterman, Chappelle talked about the real reason why he left his show. However,  he said he was filming a certain sketch, and a crew member laughed at a beat that he thought wasn't the point of the sketch. While there was racial humor in the sketch in question, the laughter seemed to stem from something not related to the satire. The crew member laughed at Chappelle rather than with him by the sound of it. Letterman asks about the specific sketch in question and what it was about. Chappelle said,
"The sketch wasn't that bad. It's actually funny. It was a pixie. It was me dressed in blackface who'd pop up anytime a person felt the pains of racism, which is a tough trick to pull off. It's not a bad sketch, but hearing the wrong laugh, while you're dressed that way, it makes you feel shame."
Chappelle's Show also experienced further challenges last year. This time it was with Netflix. Dave Chappelle asked his fans to boycott his show on the streaming platform because he "never got paid" by ViacomCBS after walking away over creative differences in 2005.
Dave Chappelle's Top Five Comedy Shows
Chapelle has a series of comedy shows. Some of them have won him top-rated awards—making him one of the most fulfilled stand-up comedians of all time. Here are some of his rib-cracking comedy shows.
#1: Killin' Them Softly
#2: Deep In The Heart Of Texas
#3: One Night Only
#4: For What Its Worth
#5: Unforgiven
Why does Dave Chappelle want to move to Africa?
Just like Stevie Wonder, Dave Chappelle is fed up with America. The challenges he had in the country plus racism spurred his intentions. In a sit-down chat with supermodel icon Naomi Campbell, Chappelle said that Stevie Wonder inspired his decision and wants to follow the footstep of the legendary singer with a move to Ghana, West Africa. He said,
"Now those in the room that know Stevie personally say this thing many times through the years that we've known him. But this last time he said it, what he said was, 'I am moving to Ghana so that I can be valued and respected more,' that's almost exactly the phrase he used. You gotta think as a Black American who amongst us is more valued and respected than Stevie Wonder and the idea that he would feel this way at this stage in his life and career… I think that Stevie is the soul of American culture and if the soul leaves the body then this thing is dead. Then I thought I'll follow him over there, or I'll go myself. I'll do it for him."
We need to recall that Stevie Wonder argued that America is at a pivotal moment. According to him, Americans need at least five years to atone for their wrongs concerning racism. Both artists have impacted Black and pop culture. Also, they frequently talk about how racism and indifference to Black lives in America is forcing them to change their way of life.
Why are some American celebrities moving to Africa?
In recent years, several Black American celebrities are tracing their roots back to Africa. Interestingly, some have received citizenship from some African countries. In August 2019, actor and producer Samuel L Jackson received a Gabonese passport after he was hosted by Ali Bongo, the president of Gabon. Countries like Ghana and Gabon are hotbeds for Black Americans.
Ghana declared 2019 the Year of Return. It provided Americans with a reason to visit Africa for the first time. Surprisingly, After seeing the beauty and opportunities that abound in the continent, some have refused to return to America. The second phase of the Year of Return is tagged "Beyond the Return." Its focus is on fostering tourism and promoting economic relations, trade, and investments from the diaspora. In an interview with Black Enterprise, Akwasi Agyeman, CEO of Ghana Tourism Authority said,
"We feel that given the wealth that African Americans and Black Americans have, given that spending power — we felt that it is about time that we start the conversation about coming back to where you came from".
Dave Chappelle's recent revelation emphasizes the growing sentiment within the Black community to escape from racism and persecution by white America. Upon settling in Ghana, Chappelle intends to open a comedy club there. Perhaps, Africa's rising is closer than we thought.