25 African Shirt For Men From African Prints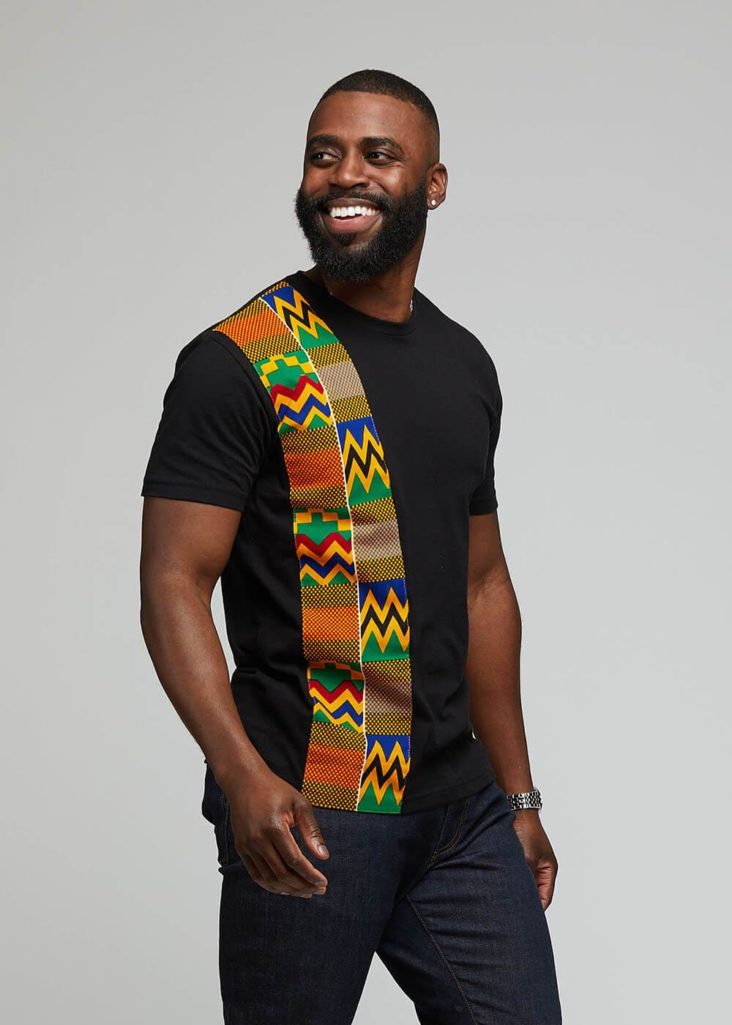 The popularity of African print shirts is growing in the entire world. Part of the reason for this popularity is due to their boldness, vibrance, and stylish look. They are highly customizable, come in a variety of colors and designs. Essentially, this makes African shirts suitable for multiple occasions. You will find men wearing these shirts in almost any social event; weddings, music festivals, indoor events. Therefore, if you are looking for an outfit for an event, a good dashiki shirt might just cut it. The features of these shirts will certainly make you stand out.
What is an African Shirt Called?
Primarily, African shirts are worn in West and East Africa. In that case, they are referred to as a dashiki in West Africa and Kitenge in East Africa. Notably, dashiki has informal and formal versions. Designs range from simply decorated clothing to fully custom-made suits. But, the most common one is the loosely-fitting shirt. This shirt comes with a V-shaped collar and an embroidered sleeve and neckline.
Where Can I Find African Clothing?
Owing to their fame, you can find African clothing practically everywhere. That includes in and outside Africa. Primarily, these shirts are found in open markets, walk-in stores, and online stores. In fact, the majority of such marketplaces are inspired by African fashion. More so, you can find art, jewelry, and accessories in these marketplaces to match your African clothing. One of the online marketplaces we highly recommend is I Wear African.
What Does African Clothing Represent?
Interestingly, African clothing bear several meanings. For instance, some represent an identity associated with historical periods or a geographical region. African clothing also represents social status, leadership positions, religion, and marital status. Some clothes are peculiar to certain ethnic groups. As such, they can be used as a tool for identifying them. All in all, African clothing has specific meanings. For example, kente cloth in the Ashanti (Ghana) symbolizes leadership. Below are fashionable African print shirts for men.
#1 – HongyuAmy Men's African Print Shirt Dashiki
HongyuAmy dashiki shirts bring color to life. This is a traditional dashiki T-shirt clothing that comes in various colors like black, red, and maroon. When custom-made, they come in different sizes. Therefore, regardless of your size, you are guaranteed to find a perfect match. Thankfully, African shirts do not bleach and are hand-washable. HongyuAmy African shirts are exquisite for an everyday look. Basically, they are perfect whether you are looking to go elegant or casual. The dashiki prints around the neck and the soft feel is designed for comfort.
#2 – Cloud Style Men's Paisley Shirt Long Sleeve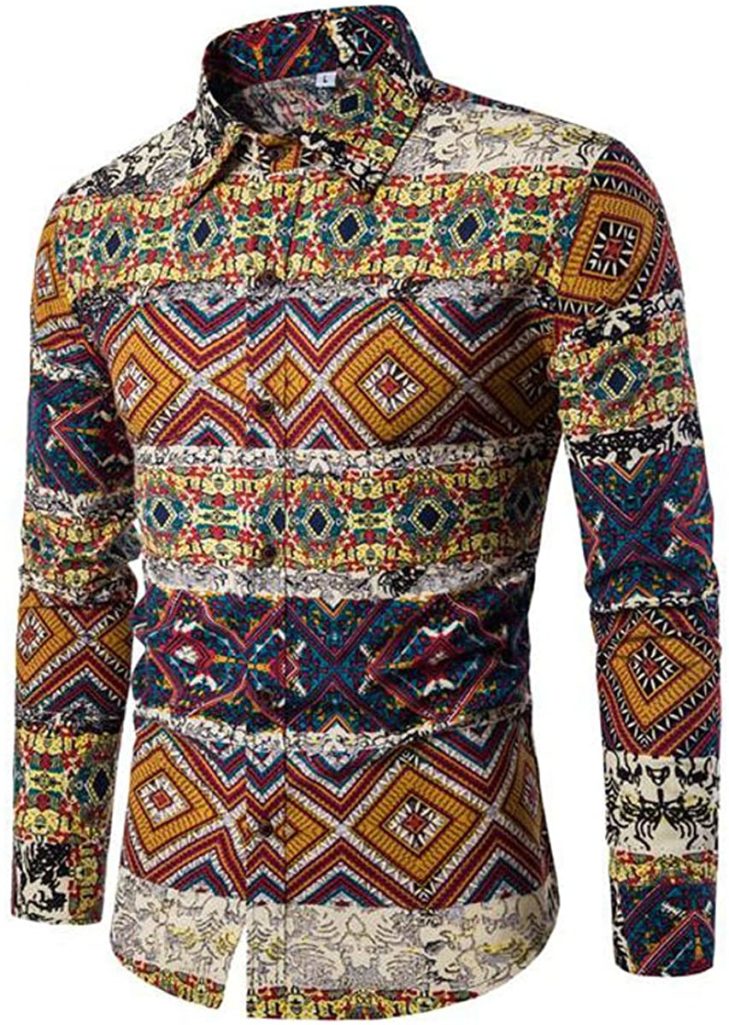 Casual fitting inspires most dashiki shirt designs. This African-inspired shirt buttons down to a regular casual fit. It comes in various colors including blue, red, maroon, purple, white, cream, yellow, and grey. Also, the sizes range from small to medium to large. In fact, the fabric used to make the shirts are 100% polyester and is easy to wash with hand. Also, the embroidery and the exquisite button design will bring out your elegance and taste. The shirt is suitable for work, weddings, and other occasions.
#3 – Makkrom Men's African Dashiki T-Shirts Tribal Floral Print V Neck Slim Shirts Tops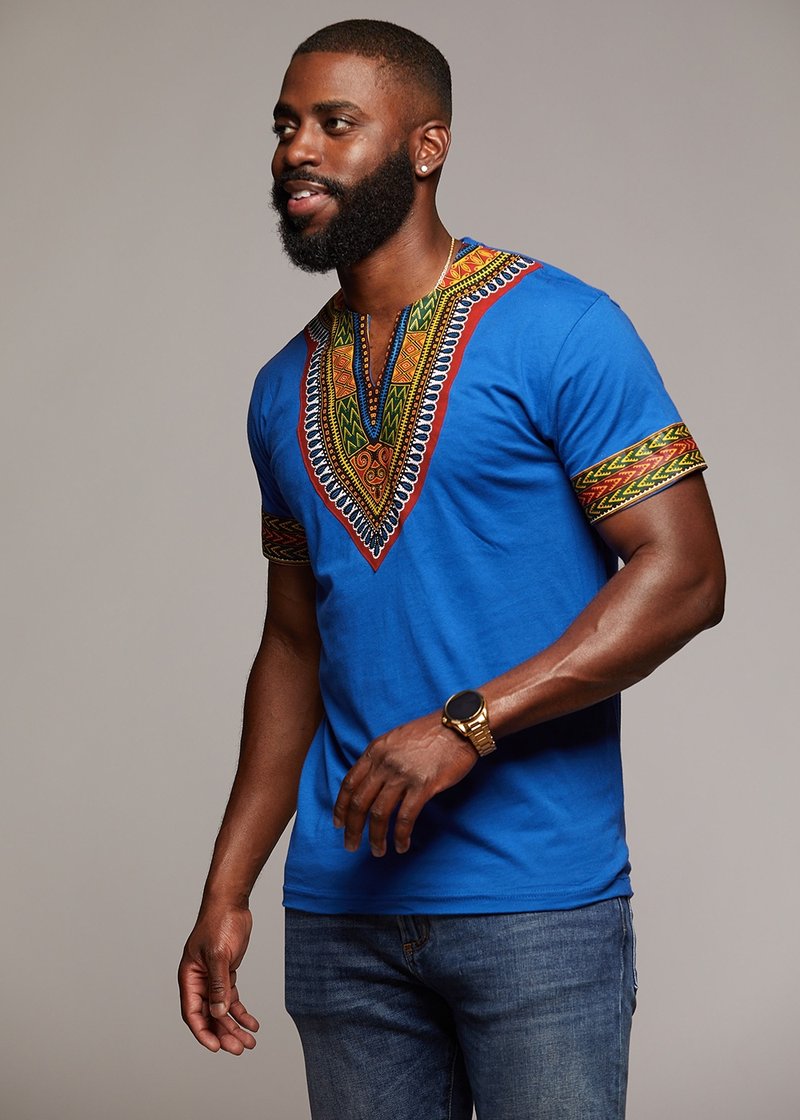 This African shirt comes in a variety of colors and sizes. Like the cloud-style shirt, the shirt does not bleach. Thus, it can either be hand-washed or washed by a machine. 95% polyester and 5% spandex make up the shirt. The two materials are of high quality, giving it a soft and comfortable breathable feel. Interestingly, the shirt also has a slight stretch giving it a better fitting. The shirt's design has a floral pattern design around the neck and sleeves. As a result, the shirt gives off a cool and outgoing vibe. In that case, this shirt is for you if you are planning a night out, dance, or movie night.
#4 – LucMatton Men's African Printed Patchwork Design Short Sleeve Button Up Shirt Traditional Dashiki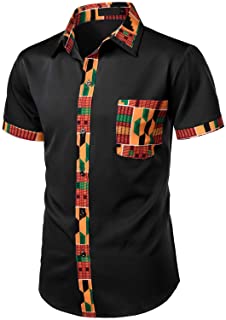 Nothing catches the eye more than a slim-fit and short-sleeved shirt. LucMatton shirt buttons down to a slim-fit design. What's more? The material does not bleach and can be hand-washed with cold water or a washing machine. Like most African shirts, it also comes in a variety of colors and sizes. Elastic polyester is the material used to make this shirt. In effect, the shirt undergoes high-density machine knitting, making it anti-shrink, lightweight, and breathable. The shirt features a chest pocket and African ethnic casual fashion style. Additionally, it can be elegantly worn with beach pants or denim shorts. The fitting, stitching, and color combination gives you the flexibility to get creative.
#5 – COOFANDY Men's African Dashiki Print Ruffle Shawl Collar Cardigan Light-weight Long length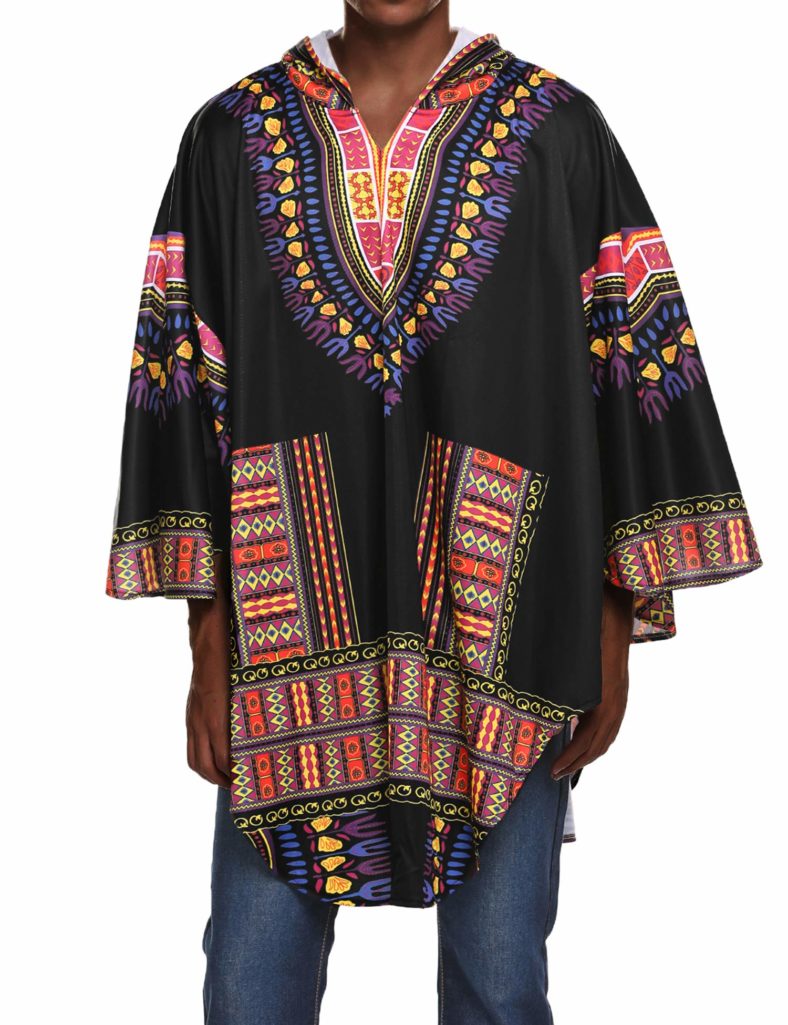 The COOFANDY shirt resembles the traditional Fulani attire. You would not believe that the shirt is handmade. This open-neck, long-sleeved shirt is made from 95% polyester and 5% spandex fabric. Without a doubt, this African Dashiki shirt will color your wardrobe. Even better, it is lightweight and hence suitable for tropical areas. Unarguably, the blend of comfort and style is simply unbeatable.
#6 – RaanPahMuang Brand Unisex Bright African Black Dashiki Cotton shirt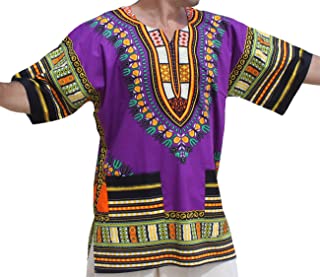 This elegant shirt is made out of 100% cotton fabric. Do you know what means? The shirt feels smooth and comfortable on your skin. This African shirt comes in multiple designs. Again, the sizes range from small to medium to large. The blend of colors and designs makes it compatible with different types of pants. Also, the lightweight makes it a summer essential. The open slit collar has additional stitching that gives it a fancy and luxurious look.
#7 – LucMatton Men's African Pattern Printed T-shirt Dashiki Outfit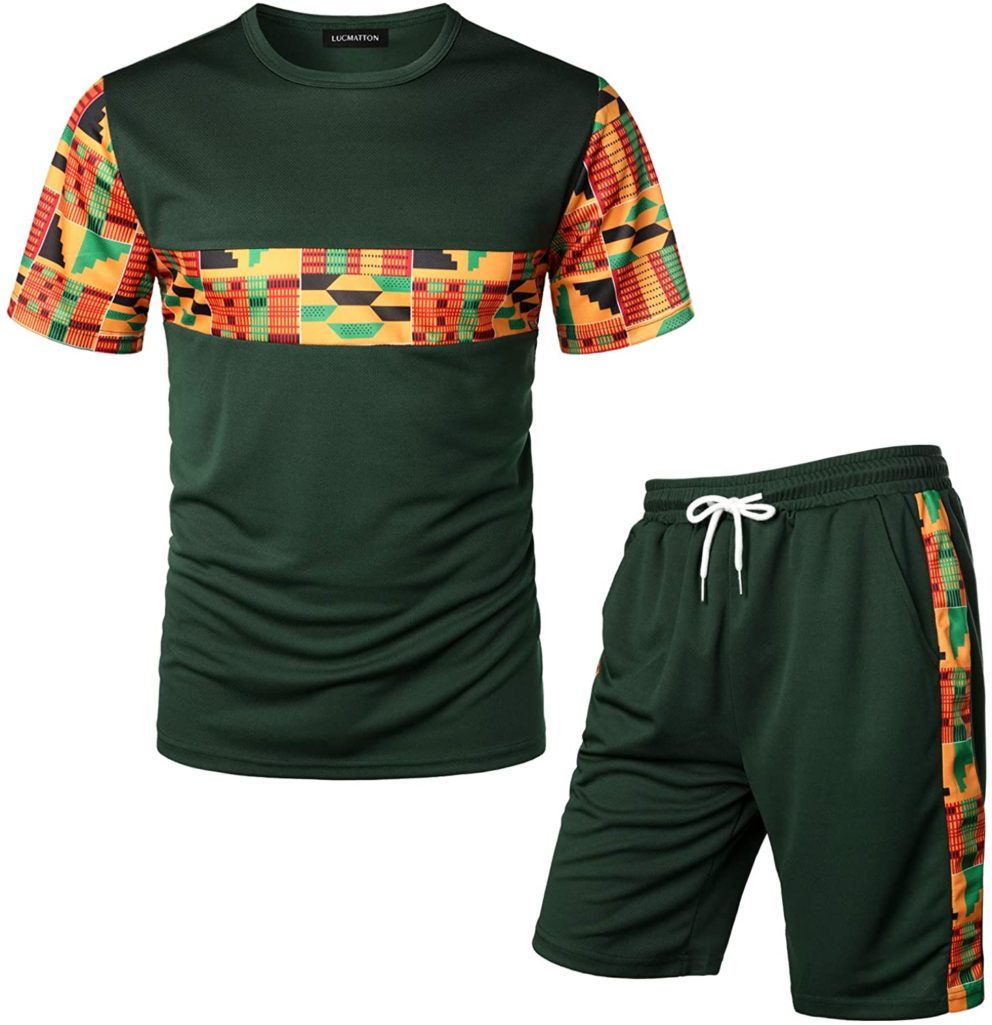 When last did you see a trendy men's print shirt made of  African fabric? This unique design blends polyester and kente. The fabric choice makes it comfortable, anti-shrink, lightweight, breathable, and quick to dry. It is also body-fitting wear that can pass for as a training kit. Casual settings suit this outfit best. Nevertheless, you can get creative in how you rock this unique wear.
#8 – LucMatton Men's African Traditional Hidden Button Short Sleeved Shirt Luxury Metallic Gold Printed Dashiki
This shirt is made out of 100% polyester fabric. Fortunately, it does not bleach. Even more, it can be hand or machine-washed using cold water. Like most African shirts, it has a slim fit style. Evidently, the best way to make African print shirts is to make them tight-fitting. The slim-fit design is coupled with a touch of traditional ethnic and luxury retro design. The icing of the fancy design is the shiny golden African pattern. You will definitely get heads turning when you rock this shirt at a party.
#9 –  JOGAL Men's African Dashiki Boho Print Short Sleeved Button-down Shirts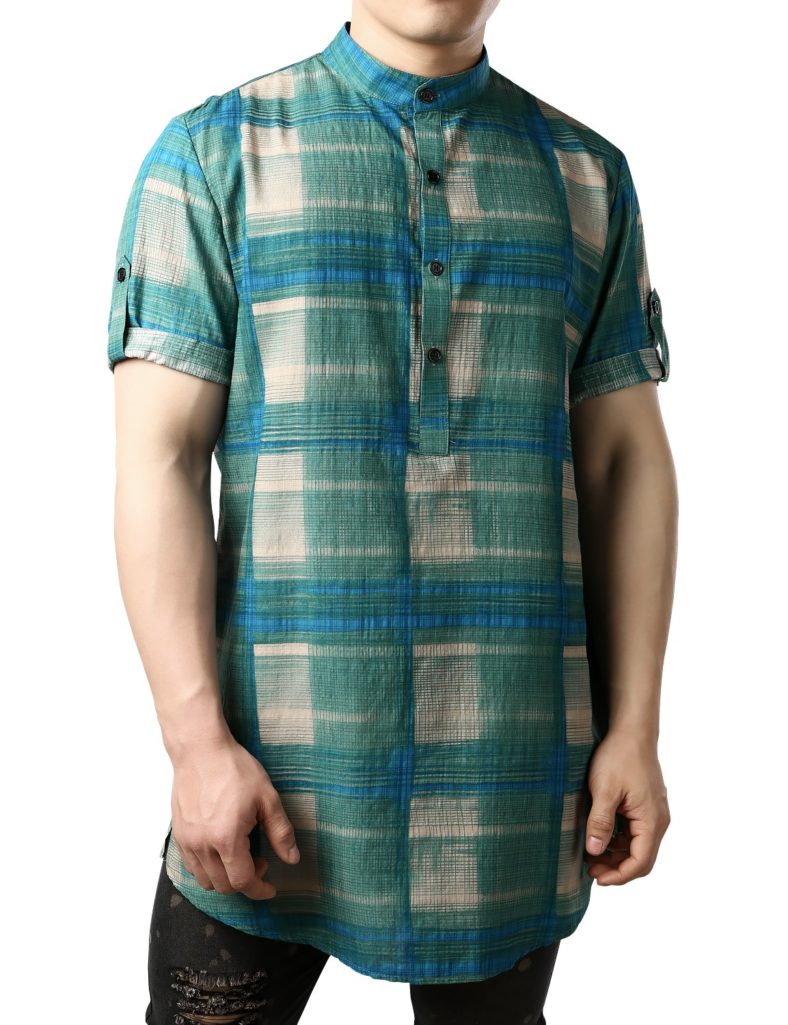 The contemporary design is the first thing that you will notice about this shirt. Undeniably, the folded sleeve held with a button gives it a military feel. It is made of 70% cotton and 30% viscose fabric. These fabrics are just as good for comfortability. The most noticeable feature of the shirt is the mandarin collar. The shirt is meant to be machine-washed in cold water and ironed on low heat. In essence, the artistic design portrayed by this African shirt is a true inspiration.
#10 – COOFANDY Men's African Dashiki Print Long Sleeved Button-down Shirt Bright Color Tribal Shirt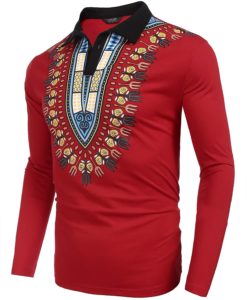 Luxury and style are the messages behind this shirt. Non-custom designs are made in multiple colors. These include white, cream, black, red, maroon, navy blue, and blue. Similarly, the sizes also vary from small to large. The shirt is made out of 98% Terylene fabric. This makes it ideal for every season. On top of the material, the cool fabric provides a comfortable wearing experience. It has an artistic design on the bodice which is hard to miss. Pair it with the right trousers and it can effortlessly fit into a formal setting. You would agree that versatility is the beauty of most African men's print shirts.
#11 – Pacinoble Men's African Dashiki Shirt Metallic Floral Printed Slim Fit Long Sleeved V-neck Shirt Blouse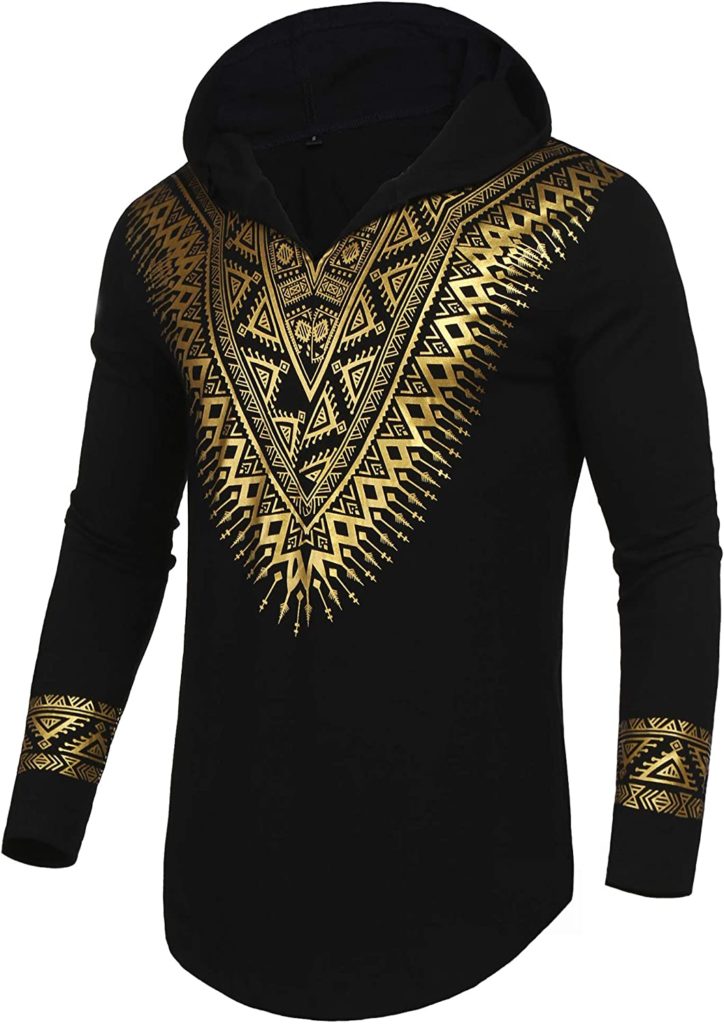 This shirt is available in different colors and sizes.  The elegance oozing from the shirt gives you a sense of belonging as an African. It's made out of 90% cotton, 8% polyester, and 2% spandex fabric. The fabrics make it skin-friendly, soft, and easy-to-dry, breathable, and comfortable. More so, the vivid hood gives it a touch of streetwear and hip-hop fashion. Additionally, the fabulous African 3D style of digital printing are intended to make you stand out. This shirt is suitable for parties, vacations, school, casual, and traveling.
#12 – Sdgverhe Traditional African Clothing Dashiki Shirt Color Tribal Festival Hippie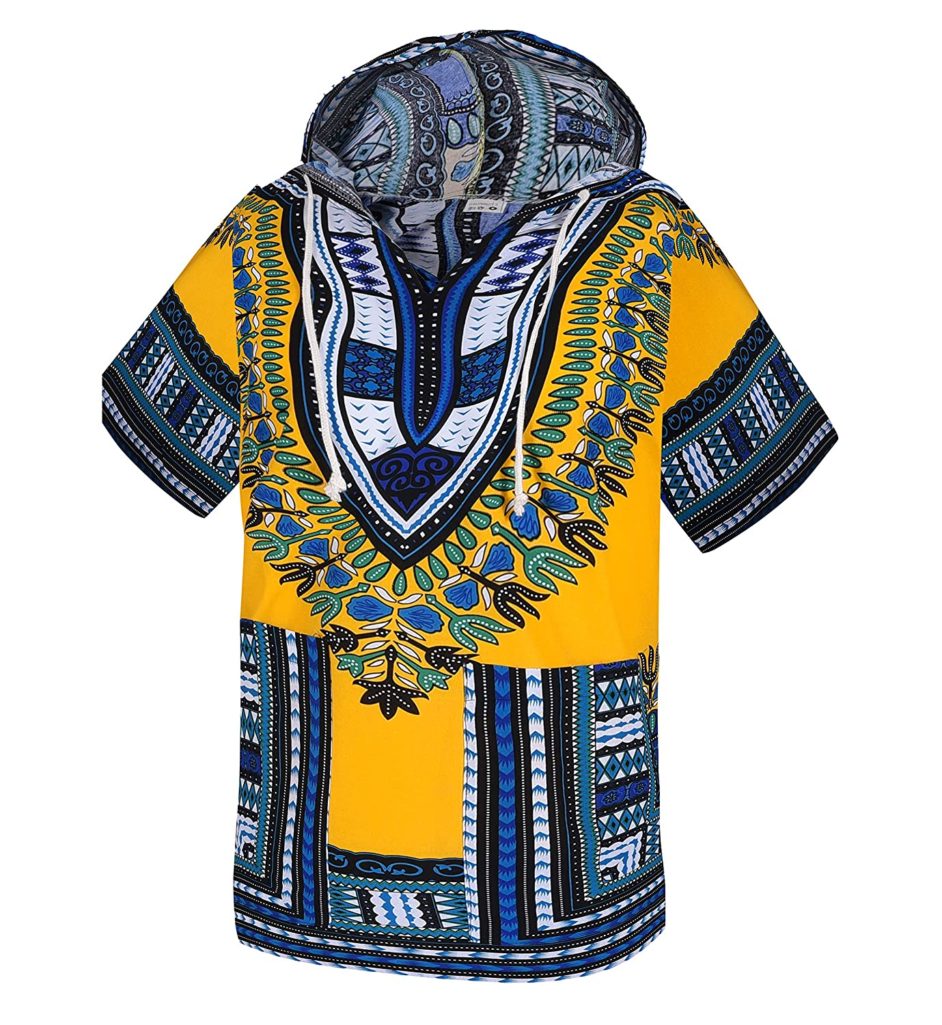 Most of the design features of this shirt are special. For instance, it has two large pockets. These pockets are located in the front. As such, they create more space for you to carry stuff around. Obviously, it's not a slim-fit shirt. However, it has been specially designed to fit most male figures. If you are not comfortable with baggy shirts, you can wear an undershirt. Also, the hood blends in to make it ideal streetwear.
#13 – Lofbaz Traditional African Dashiki Color Tribal Festival Hippie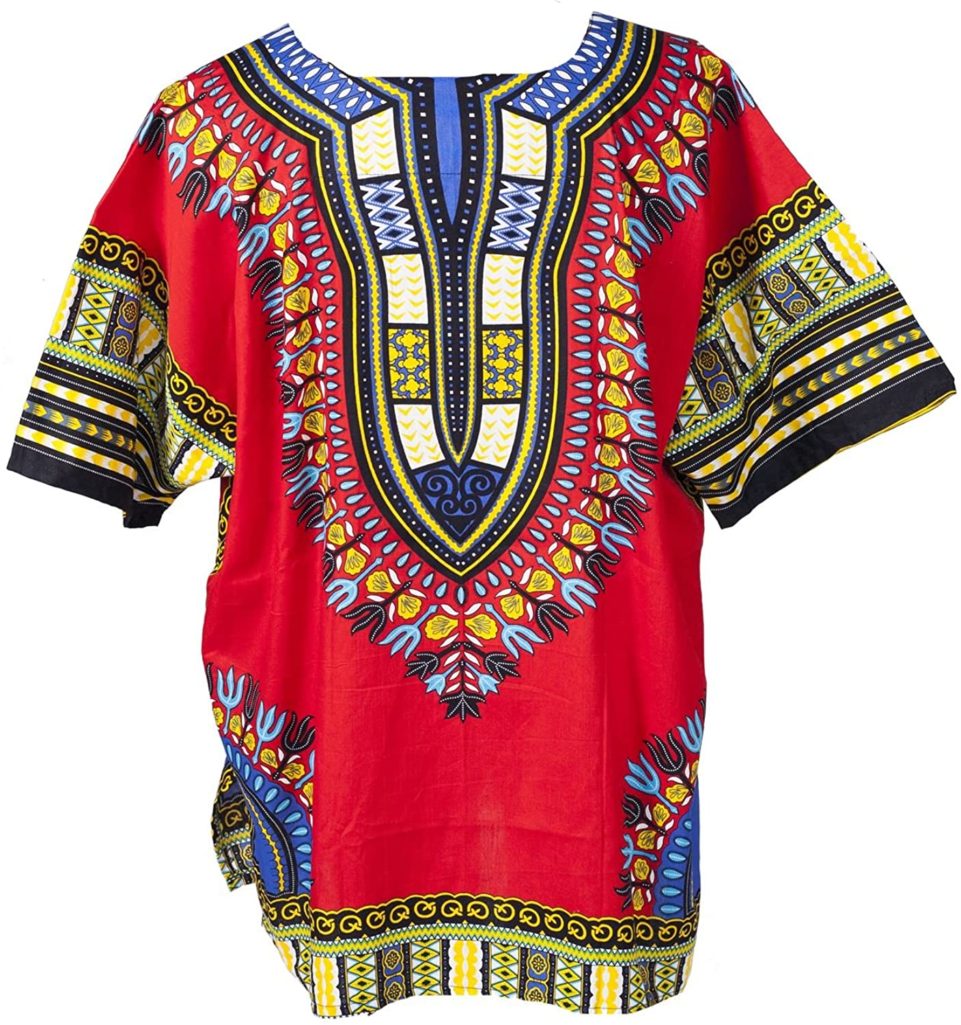 These uniquely designed African print shirts also come in numerous colors and sizes. The traditionally designed bohemian dashiki top with tunic style is perfectly suitable for any occasion. Interestingly, the shirt comes fitted with two large pockets. They are made out of cotton fabric with stunning, energetic, and bright colors. Ultimately, the design allows you to get creative.
#14 – RaanPahMuang Bright Colored African Dashiki Cotton Shirt Very Big plus Sizes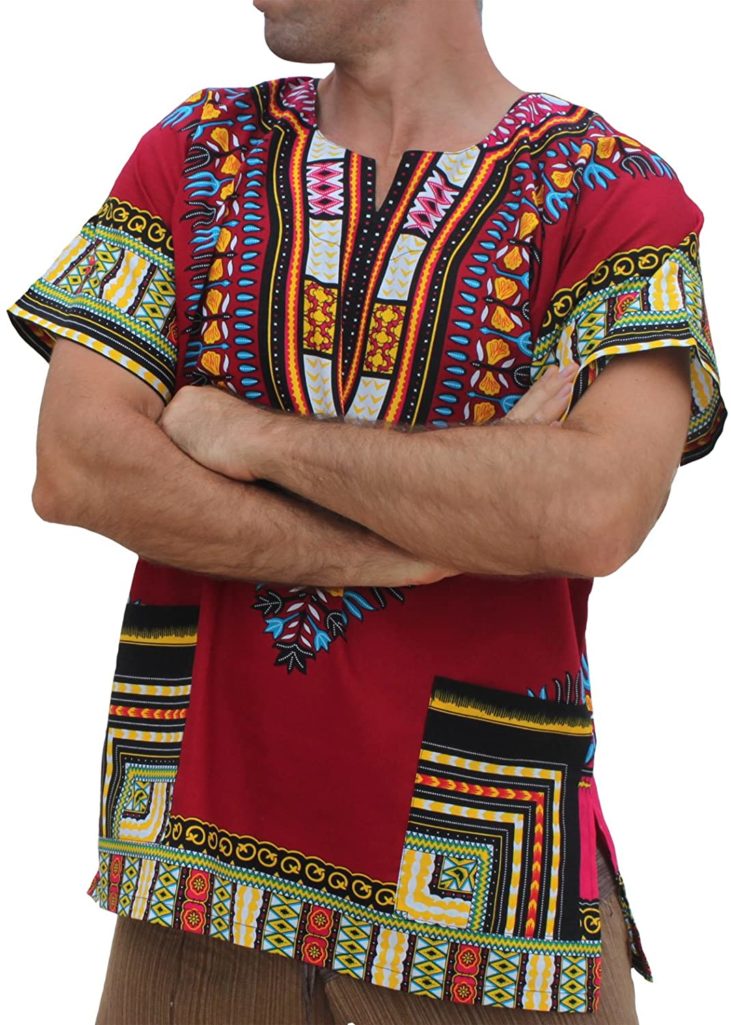 The super cool and light cotton fabric comes in a range of gallant artistic prints. Its dynamic design will make you the center of attraction. The colorfast dying that the shirt is made of is meant to limit shrinking and running. Additionally, the collar is an open slit. It has an extra interlaced stitch which keeps the shirt in good shape. Most importantly, the shirt has a buttonless design for easy and quick wear. Also, they also come in different sizes. Lastly, they have a holiday vibe that gets you going.
#15 – HaoDong Men's African Print Dashiki T-shirt Long Sleeved Tops Blouse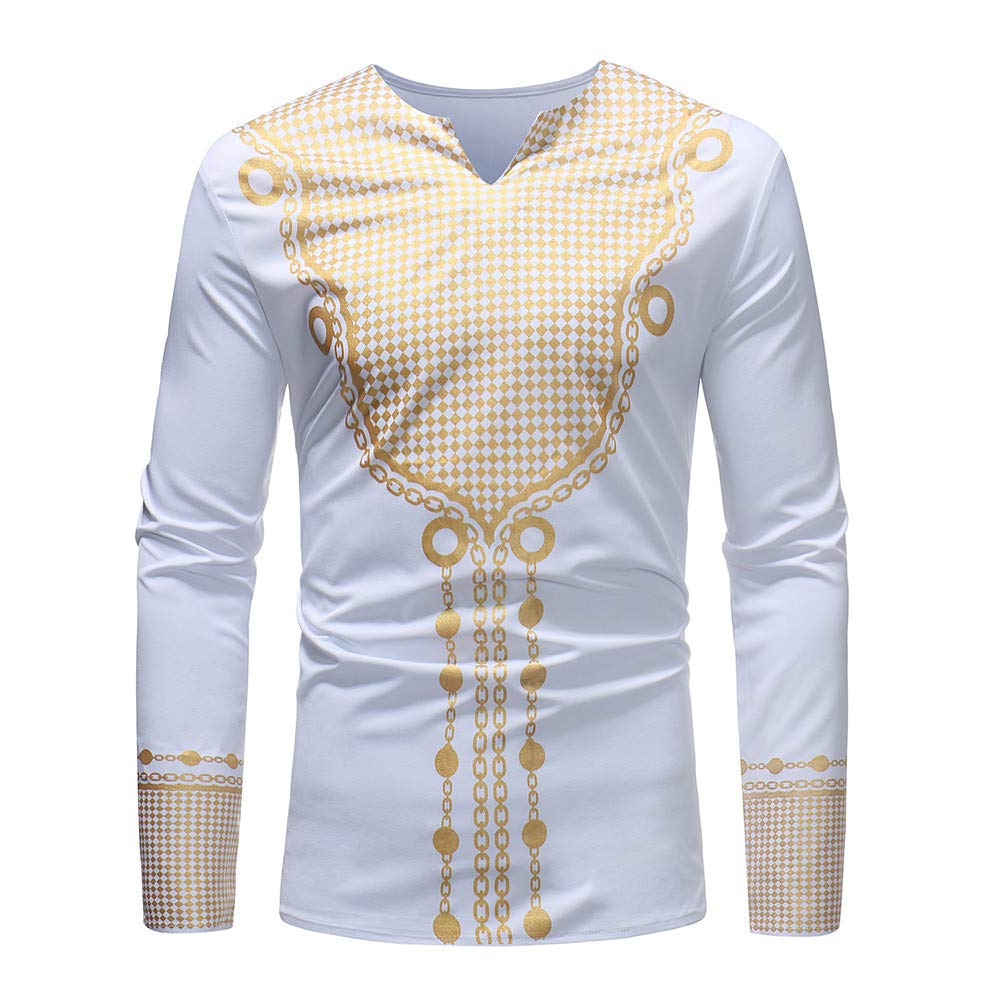 This African print shirt is made of 80% polyester fabric. In effect, it has a comfortable feel. Clearly, the V-neck short-sleeved shirt presents a special and unique style. Also, the attractive dashiki tribal pattern is quite the head-turner. Just make sure you are comfortable with attention when wearing this because it will be quite a stir. Interestingly, the fabric allows for machine washing using cold water.
#16 – Daupanzees Men's African Dashiki Shirt Long Sleeved African Print Casual Button-down Shirt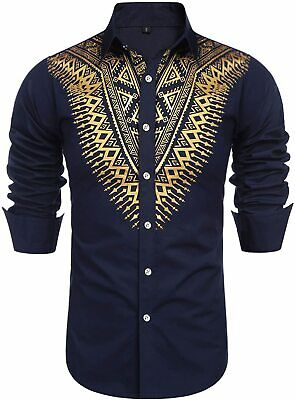 This particular piece is of premium quality. On top of that, it's stylish and made out of great fabric. This will suit your everyday look. Its design takes a holistic approach to virtually any activity. The button-down, light fabric, long sleeves, and African print design are some of its most striking features. The material allows you to either hand-wash or machine-wash. Also, note that the size is the standard United States size.
#17 – Luxfan Men's Dashiki African Tribal Clothing Printed Long Henley Shirt Traditional Ethnic Slim Fit Outfit plus Size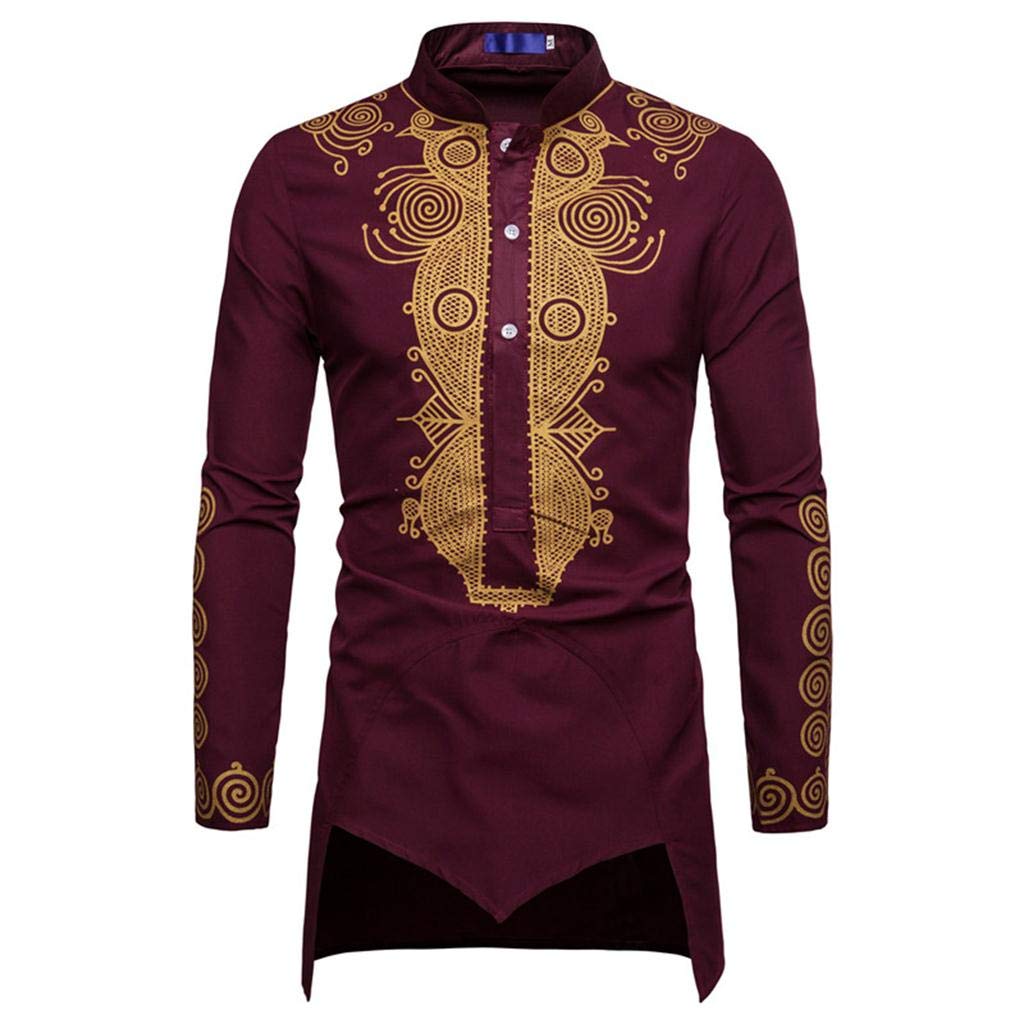 How many times do you see men's wear with fancy designs? This one begs to differ with a bold 'M' cut at the bottom. The knee-length design is a topic for another day. The choice of material used for this shirt screams comfort. This combination makes it the best option for summer. Like most African shirts the material does not bleach. Thus, it's suitable for numerous occasions, including dates, parties, school, anniversaries, and vacations. This African shirt is a must-have for your wardrobe.
#18 – COOFANDY Men's Henley Shirt Long Sleeve Floral Print Casual Zip-up Cotton Beach Party Hippie Shirt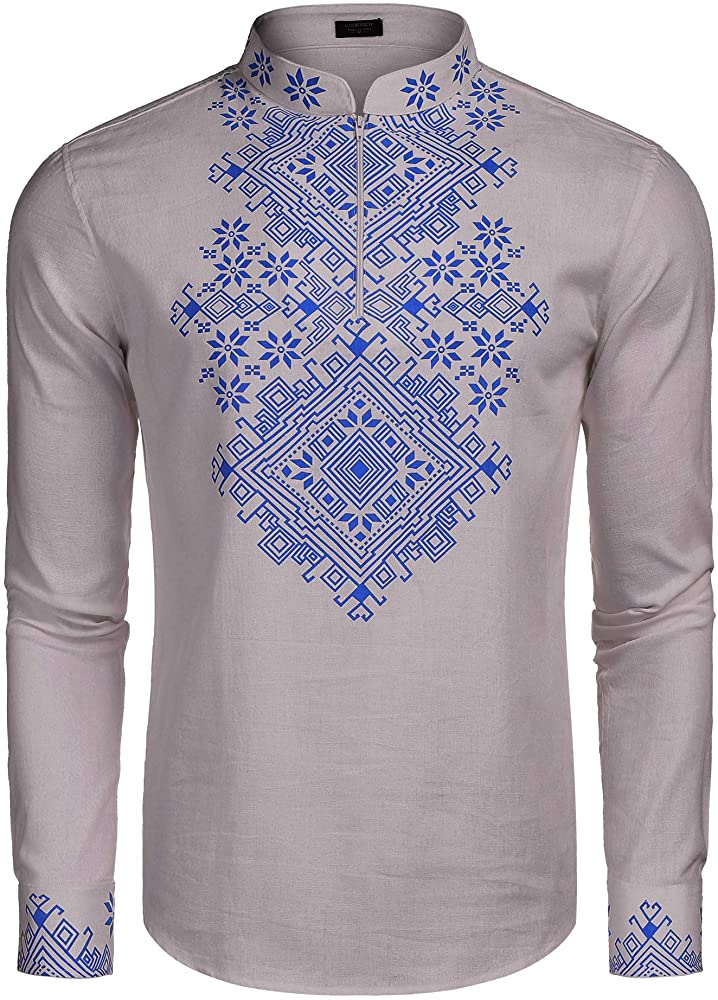 The sizes for this piece vary from small, to medium, to large and come in many colors. You will realize that the fabric used for this piece is soft blended cotton. Hence, the premium quality and the linen-cotton feel hugs you with comfort. Also, most of its features scream elegance. These are the zip-up design, slim fit, Henley collar, and graphic print style. In effect, it makes it more fashionable and multi-occasional. This special piece can be paired up with casual pants or casual jeans. This mix brings out a casual yet elegant look.
#19 – Shenbolen Men's African Print Shirt Dashiki Fashion T-shirt Tops
This shirt is handmade by experienced designers from 100% African wax and Kente. Undoubtedly, this combination takes special artwork. This is one of the African men's print shirts that bring out your confidence. Interestingly, you can pair it with virtually any type of pants. It allows you to glow while subtly announcing your African heritage.
#20 – LucMutton Men's African Traditional Pattern Patchwork T-shirt Breathable Short Sleeved Dashiki Shirt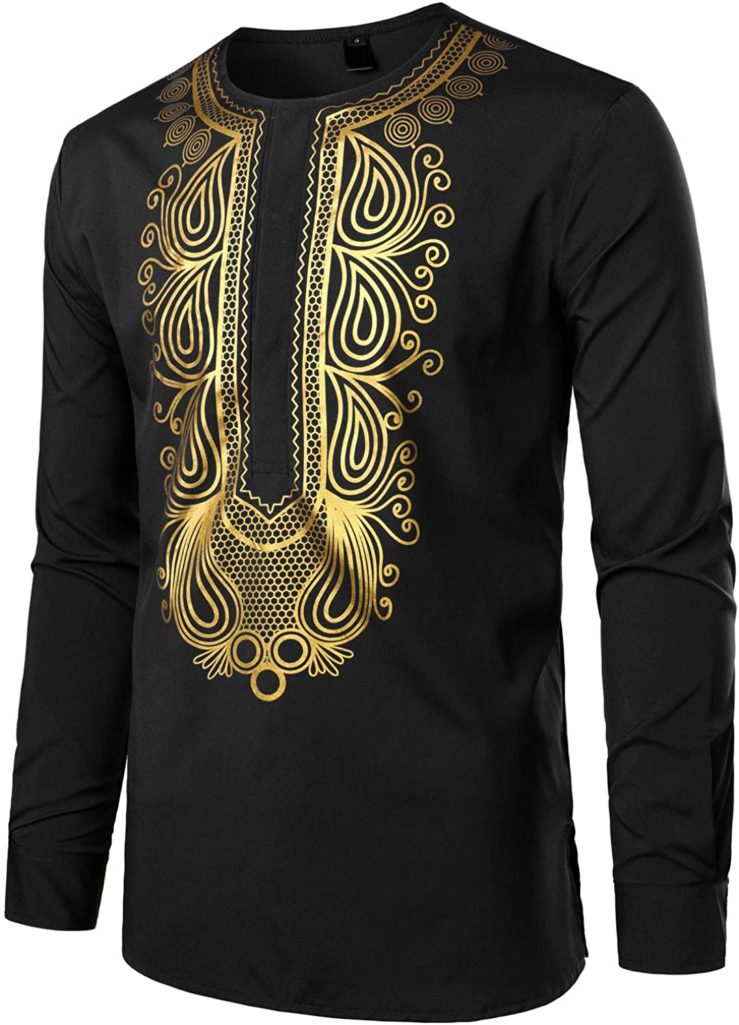 Designed to meet every customer's size, this piece comes in different sizes as well as colors. Perhaps, this flexibility in color and size is the reason why it is selling out. The fabric used for this shirt is a blend of polyester which gives it the luxury of machine-washing. Also, the fabric is comfortable, lightweight, and anti-shrink. The compliments will not stop pouring when you step out in this.
#21 – ZEROYAA Men's Hipster African Tribal Graphic Patchwork Design Slim Fit Long Sleeved Button-UP Mandarin Collar Shirts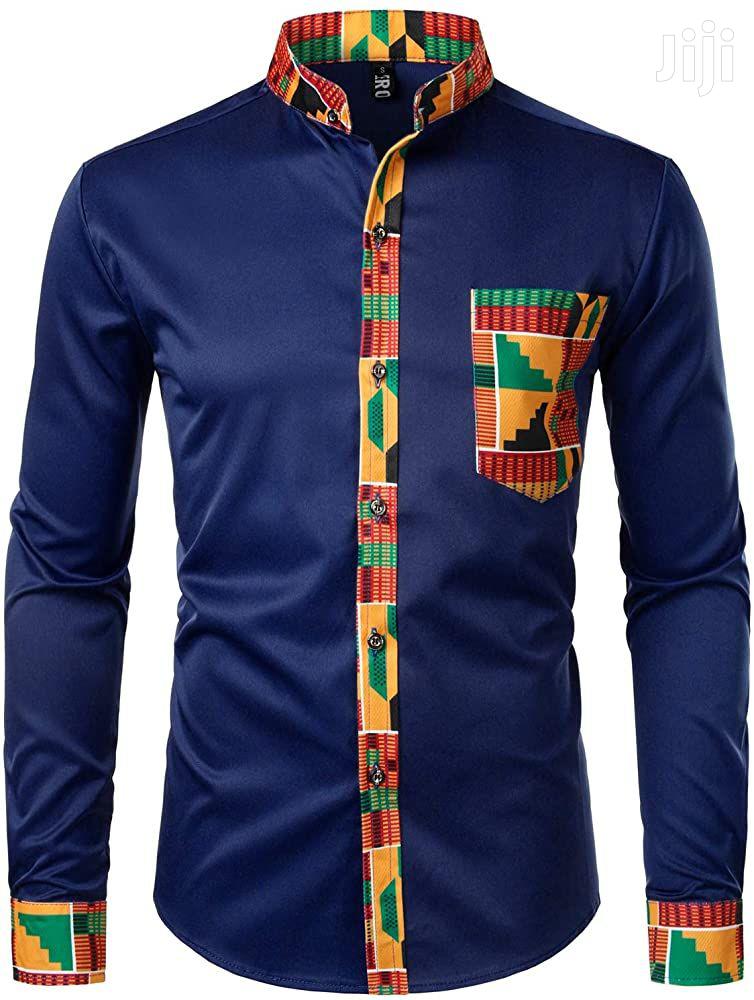 Do you like trendy yet boundless African wear? This African shirt does not go out of style. It comes in numerous colors and sizes for every customer, regardless of size. It showcases another brilliant combination of Ankara and western fabric. This goes a long way to show how much African prints can fit into western culture. Designs like this help to push the acceptance of African fabrics beyond the shores of the continent.
#22 – HEFASDM Men's Basic Style African Dashiki Stand-up Collar Shirts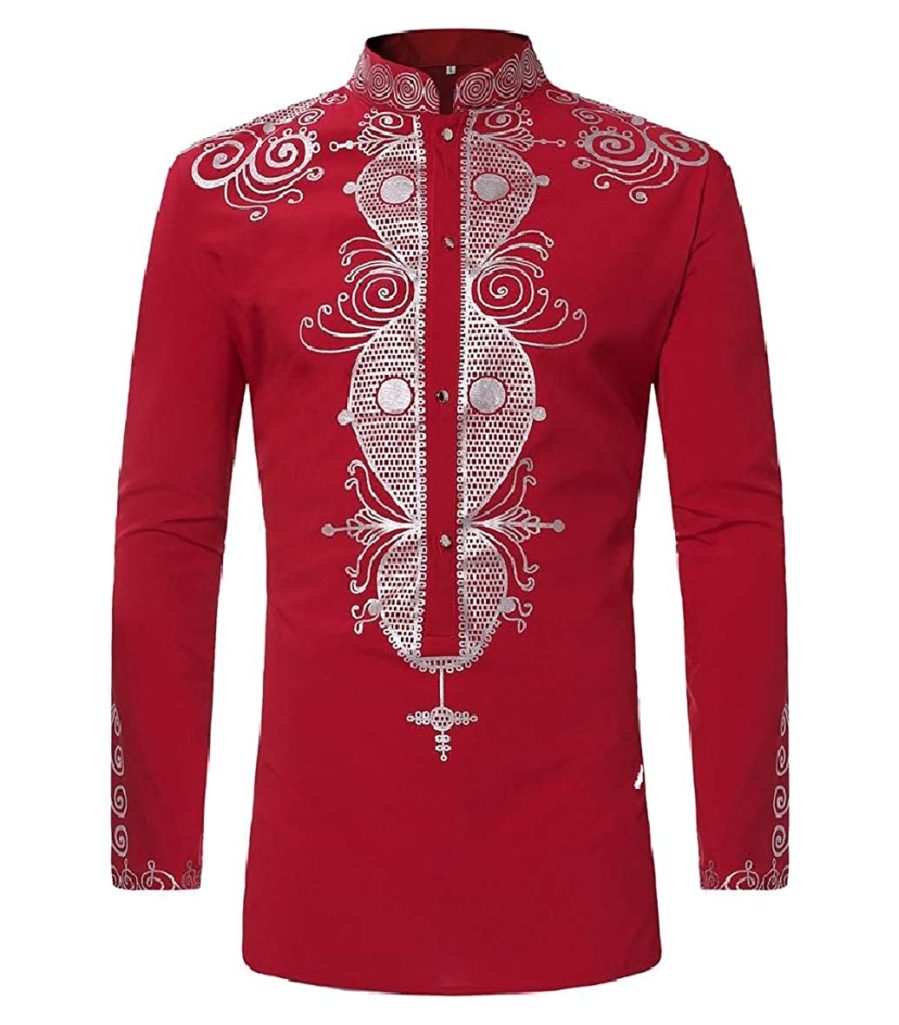 The style is perfect for summer, fall, and spring. In fact, most of the features give the shirt an authentic African feel. These include the collar, slim fit design, and metallic gold print design. It's made out of an 80% polyester fabric, giving it a lightweight, breathable feel. It's also suitable for every occasion.
#23 – HD African Printed Shirts for men Nigeria Long Sleeved Top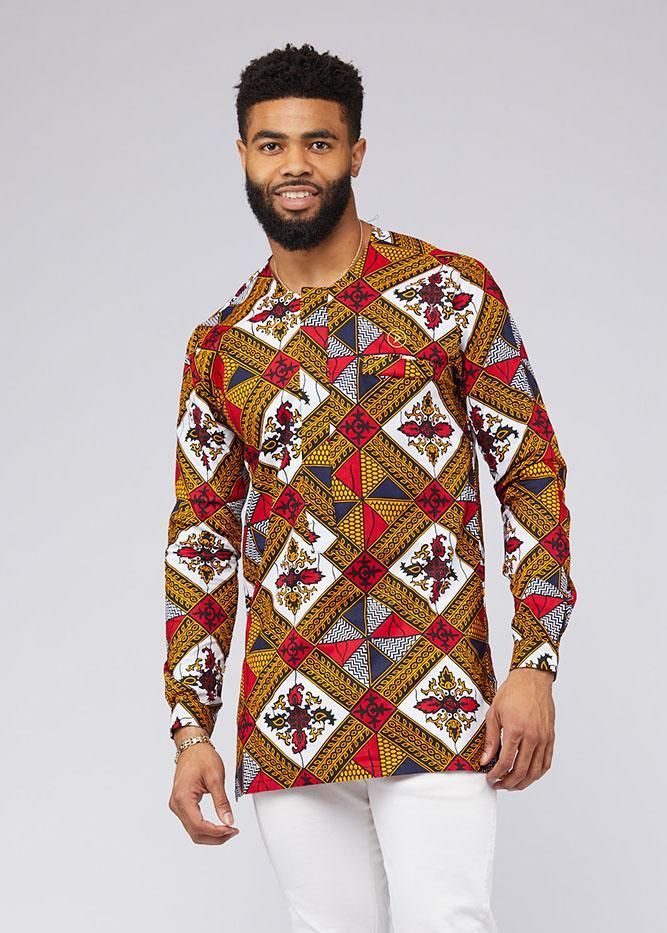 This piece is made out of 100% cotton. This is classic men's wear with long-sleeves and round collars. What makes this particular design stand out is the way the buttons are concealed under a flab of fabric. The colorful pattern of the fabric will easily turn a regular appearance into a red carpet celebrity show. You can rock it with pants of varying colors and it will still fit.
#24 – Tracksuit Men's Casual African Fashion Clothing Dashiki Shirts Long Sleeve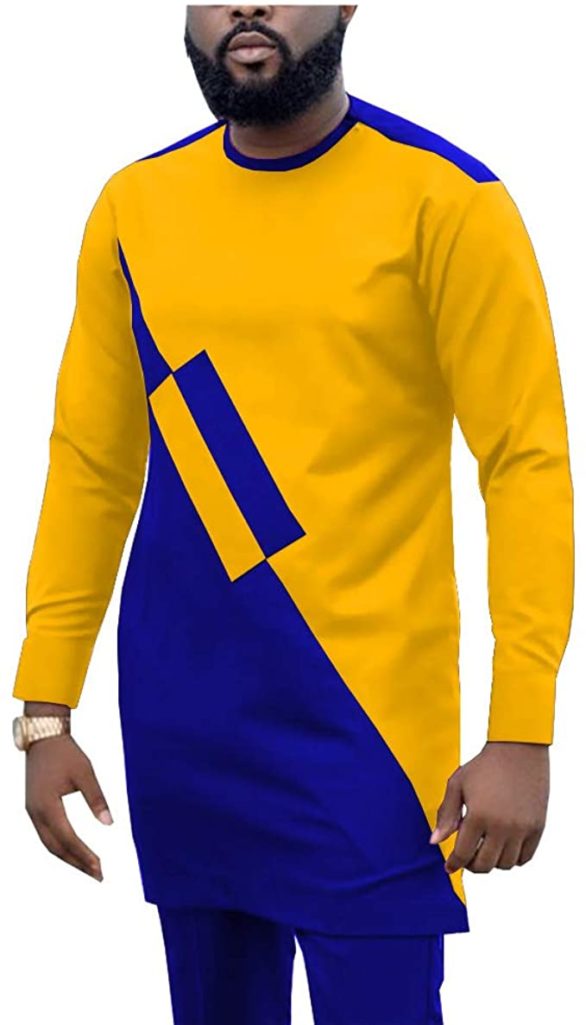 Royal blue and yellow have never blended so well like they do in this design. It is simple, yet fascinating such that a regular dressmaker can pull it off. However, nothing can rob it of its splendor. Although not authentically from African prints, the combination of colors and design has a way of emphasizing your masculinity.
#25 – VERWIN Stand Collar Plaid Casual Long-Sleeved Men's T-shirts Casual Men's Loose Top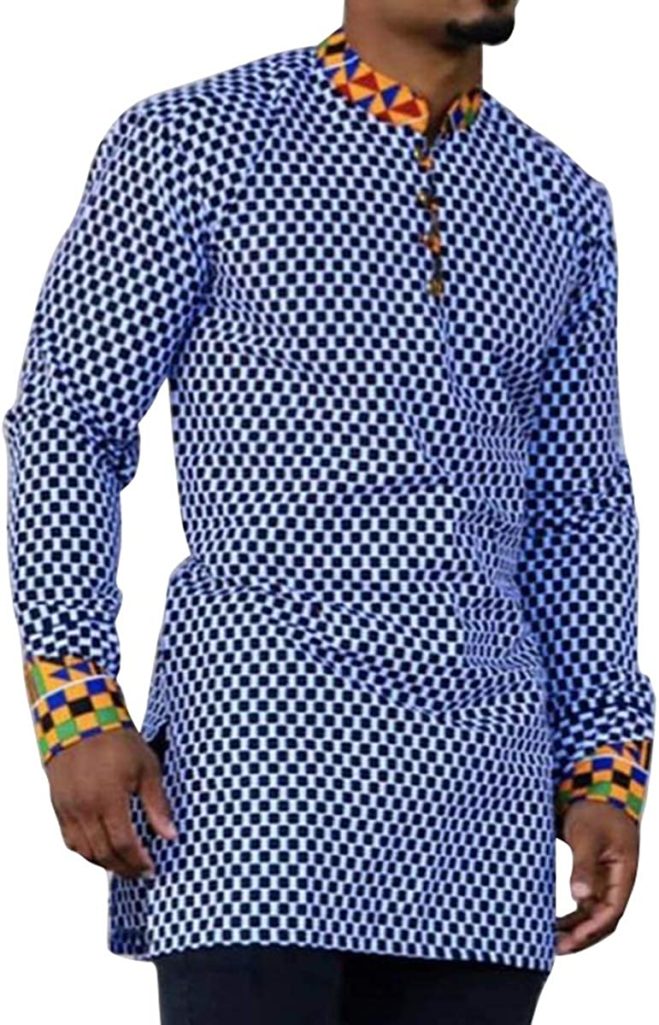 This is another interesting interplay between Ankara and Kente. When not pairing with western fabrics, African fabrics can pair among themselves to create a synergy of elegance. This piece is comfortable to wear, fashionable, and elegant. Besides, this shirt is highly customizable.
Conclusion
African shirts are popular for eye-catching designs, flexibility of use, and uniqueness. All this can be attributed to creative designers that have kept the art alive. Today, many Africans love them and are using them to announce or keep in touch with their roots. Perhaps, it is time for African designers to understand the power of African men's print as a tool to pushing African arts to the world. Subsequently, they will reap from the larger market.