Designer Spotlight: Meet Egyptian Designer Rania Elkalla Who Makes Home Accessories With Egg Shells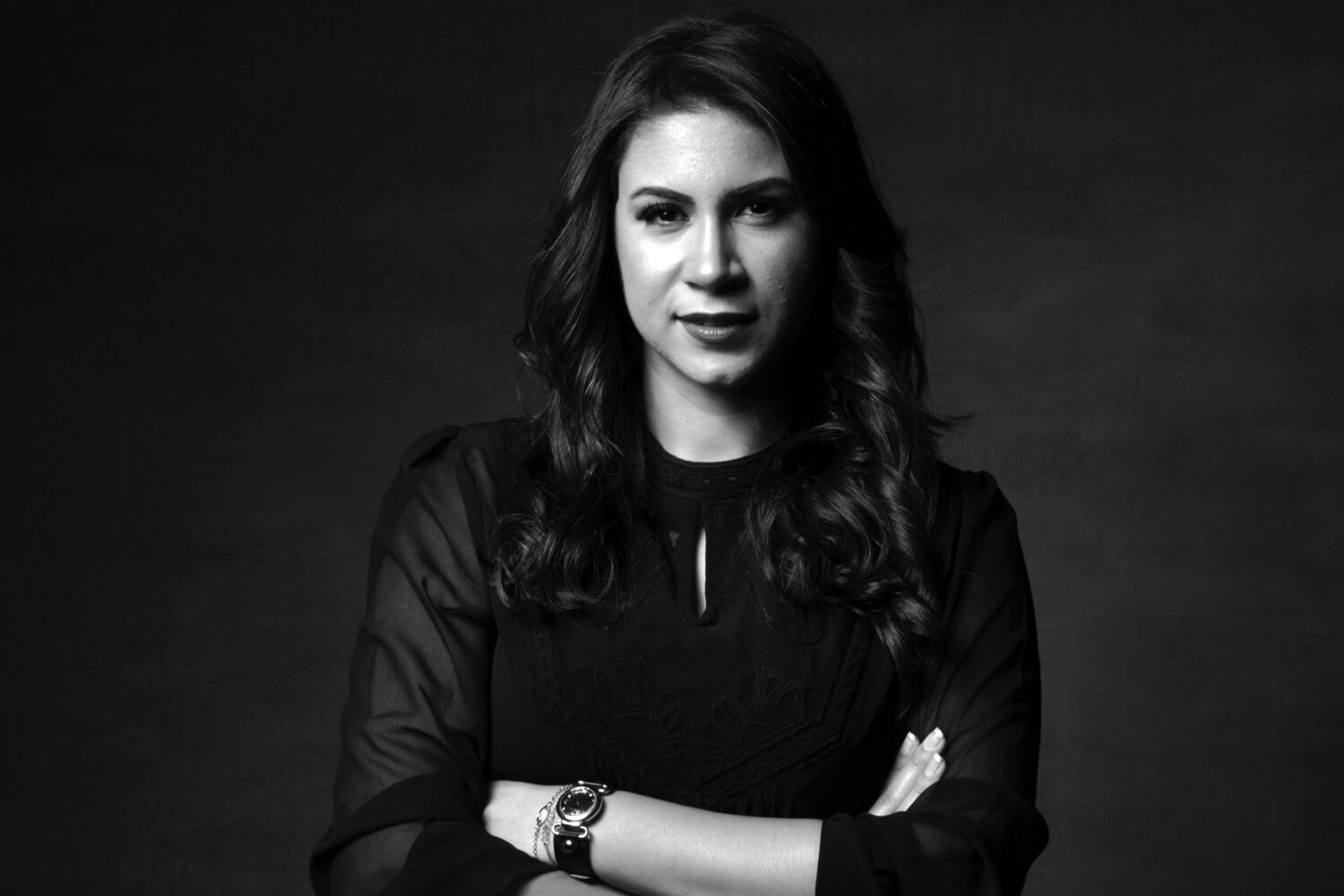 Innovation is what accurately describes the ingenious work of Designer Rania Elkalla. Unlike the usual combination of a wide variety of already existing materials, her "eggshell" products stand out. They are Egyptian-style fashionable and eco-friendly materials that represent a biodegradable alternative to plastic. Here is the amazing story of this stunning designer, her Shell Homage company, and its outstanding products.
Who is Rania Elkalla?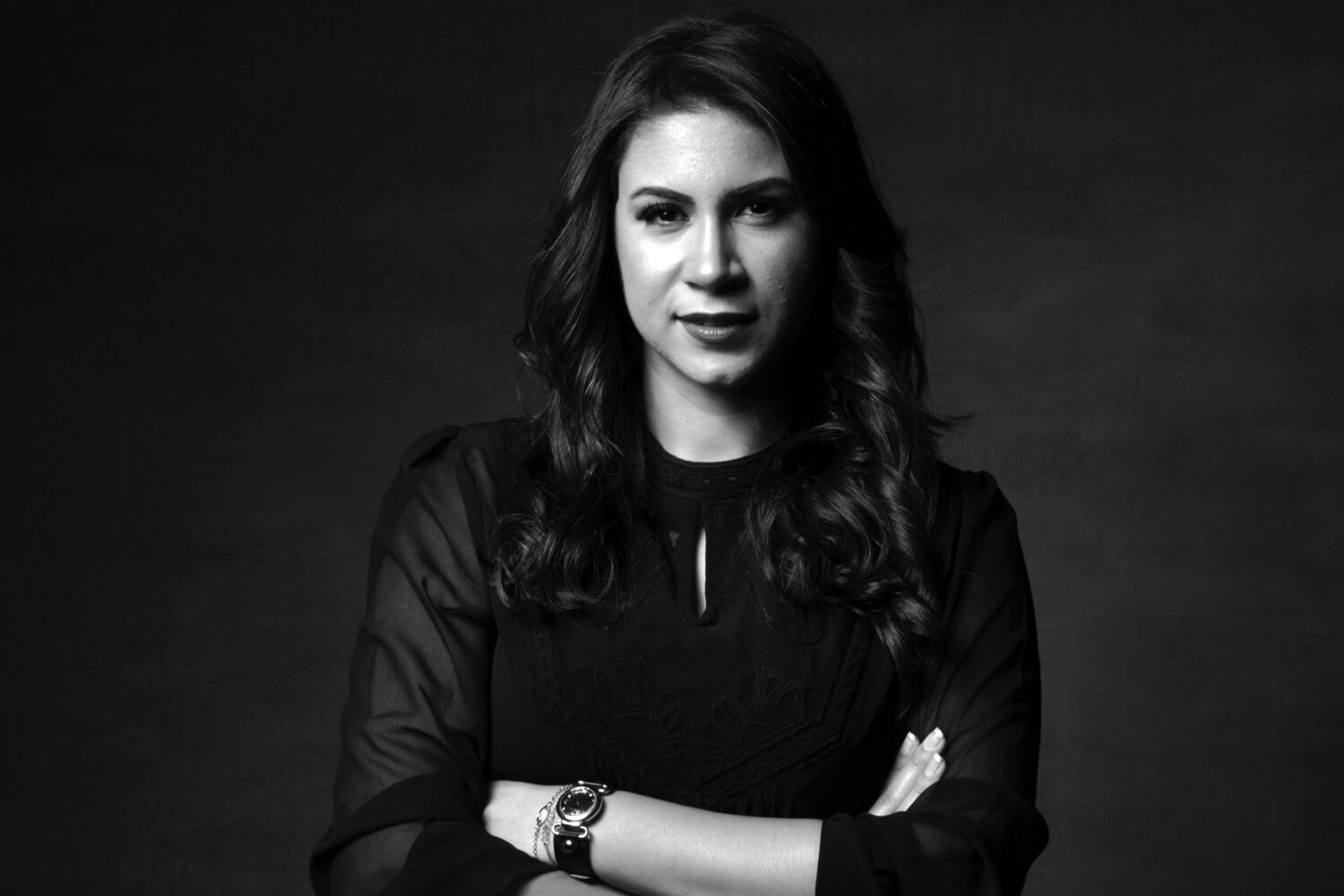 Our Designer spotlight is on Rania Elkall. She is the inventor of a composite material that is sustainable and biodegradable known as 'Shell Homage'. This material is a beautiful alternative to plastic. Interestingly, it is made wholly out of eggshells and nutshells. Also, it does not contain any toxic substances. Rania Elkalla is a risk-taker who is willing to experiment with new techniques. However, she prefers to work with nature than against it.
Shell Homage creations show that stunning, unique pieces can be made out of eco-friendly material. Most importantly, we learn that it is not a must to sacrifice style and color to support sustainability.
Rania Elkalla is a 26-year old integrated designer from Cairo in Egypt. She graduated from the German University of Cairo (GUC), where she studied major product design in the faculty of applied sciences and arts. The designer is also a Master's degree holder from the Technical University of Berlin (TUB) and German University in Cairo. Her successful products come from inspiration from her father, a 3D designer.
The Birth of Shell Homage a Sustainable Material out of Egg and Nut Shells
When Elkalla was working on her Bachelor's thesis at university, she decided to test the feasibility of her ideas. Therefore, she studied the possibility of using eggshells and nutshells to create a biodegradable material useful for the production of a variety of goods. Eventually, the outcome of her experiments and studies was the development of a substance with a similar texture to ceramic or stone.
The name, Shell Homage, emphasizes the raw material used in the manufacture of their accessories. The company uses a mixture of shells bound together as raw material for its products. Food dye introduces color, and the result is a versatile and attractive medium. Shell Homage is a natural material with application in the fashion industry for jewelry, décor items, and other products. Most importantly it is environmentally friendly as it decomposes naturally. Below are some examples of Unique Shell Homage products.
Rania Elkalla's Shell Products
First and foremost, Rania's stylish and vibrant products are the result of her belief that designers need to explore sustainable means of making their products. Also, she was worried that some of the material we call waste could be put into good use. In an interview, Elkalla recalls seeing her father struggle to crack nuts. That was where she got the spark to try new materials in her designs. She said,
"I got the idea from my father, who used to bring nuts, and we would crack them right before we eat them in order to have them fresh. We always try to eat organic and healthy food. I saw how difficult it was for him to crack the shells. Most of the nut consists of shells, especially coconut, 67 percent of it is the shell. It is very hard and I was astonished at how much it resembled wood, and I thought, why is no one using it, it is a waste".
Rania Elkalla's home accessory, the Shell Homage Hanger, bagged the award for the Furniture Accessories, Hardware, and Materials Design Category, 2016 – 2017.
Winner of the Women in Africa Award (WIA 54) in Climate and Sustainable Development
The goal of the Women in Africa 54 program is to mentor African women leaders who show potential. Thus, the foundation recognizes African women entrepreneurs working in various sectors. Interestingly, Sub-Saharan Africa has the world's highest rate of women entrepreneurs. Therefore, the future of Africa rests on their shoulders. In 2020, Rania Elkalla hit a new milestone. She became the only Egyptian to win the WIA 54 award in the field of climate and sustainable development.
Beyondplastics Award 2020
Beyondplastics.net is a global online platform. It honors designers who show innovation in creating packaging that is not only sustainable but also attractive. Consequently, their aim is to reduce the use of plastic for the good of the environment.
In 2020, Rania Elkalla's Shell Homage won the Beyondplastics Gold award. Shell Homage earned the award due to its attributes that were in line with the laid down criteria. In addition to being a biodegradable material, it is also attractive and suitable for use in a wide range of industries.
Shell Homage
Shell Homage is the name of Rania's project using biodegradable materials to make sustainable products. Most of her designs make use of eggshells and nutshell and don't incorporate toxic chemicals. The painting is a combination of food pigments and transparent biodegradable resin. Due to these factors, environmentalists are heaping praises on the Egyptian designer. The material is also light, durable, and bears a close resemblance to colorful precious stones.
Talking about stones, there is an interesting thing to note about Shell Homage textures. Its properties, whether hard or malleable and transparent or opaque, are regulated by slightly adjusting the production techniques. However, this does not require any additional production material.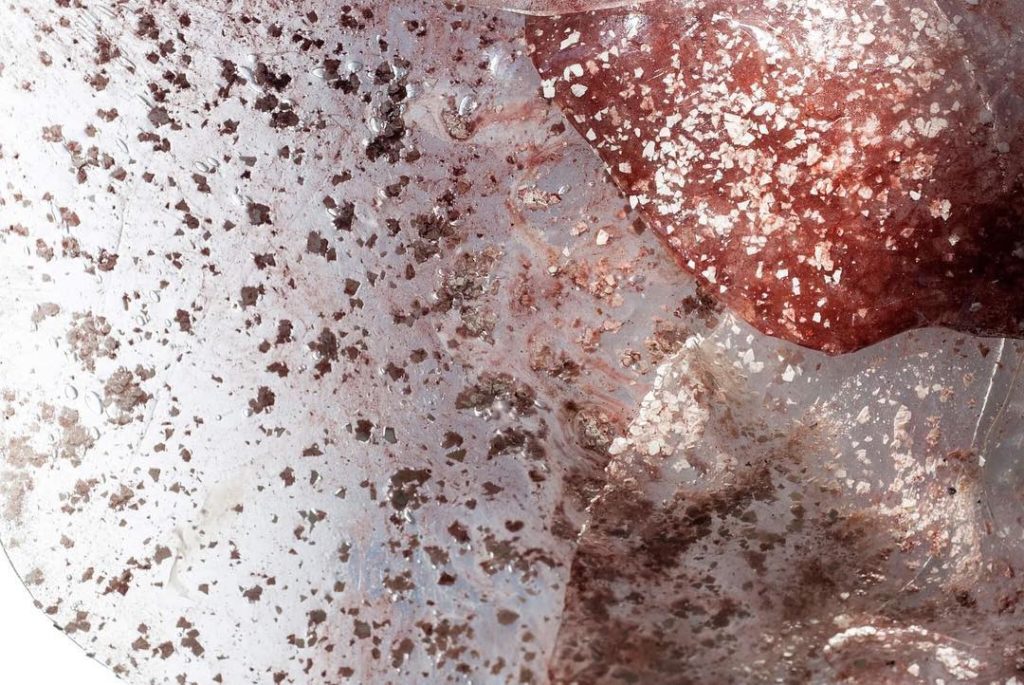 Thus, these shell products make use of easily accessible raw materials. They have a simple production process and can take various forms. Rania gets her eggshells from shops and restaurants. Subsequently, she grinds them into powder and heats them into different products as you can see below.
Iconic Collection Of Clocks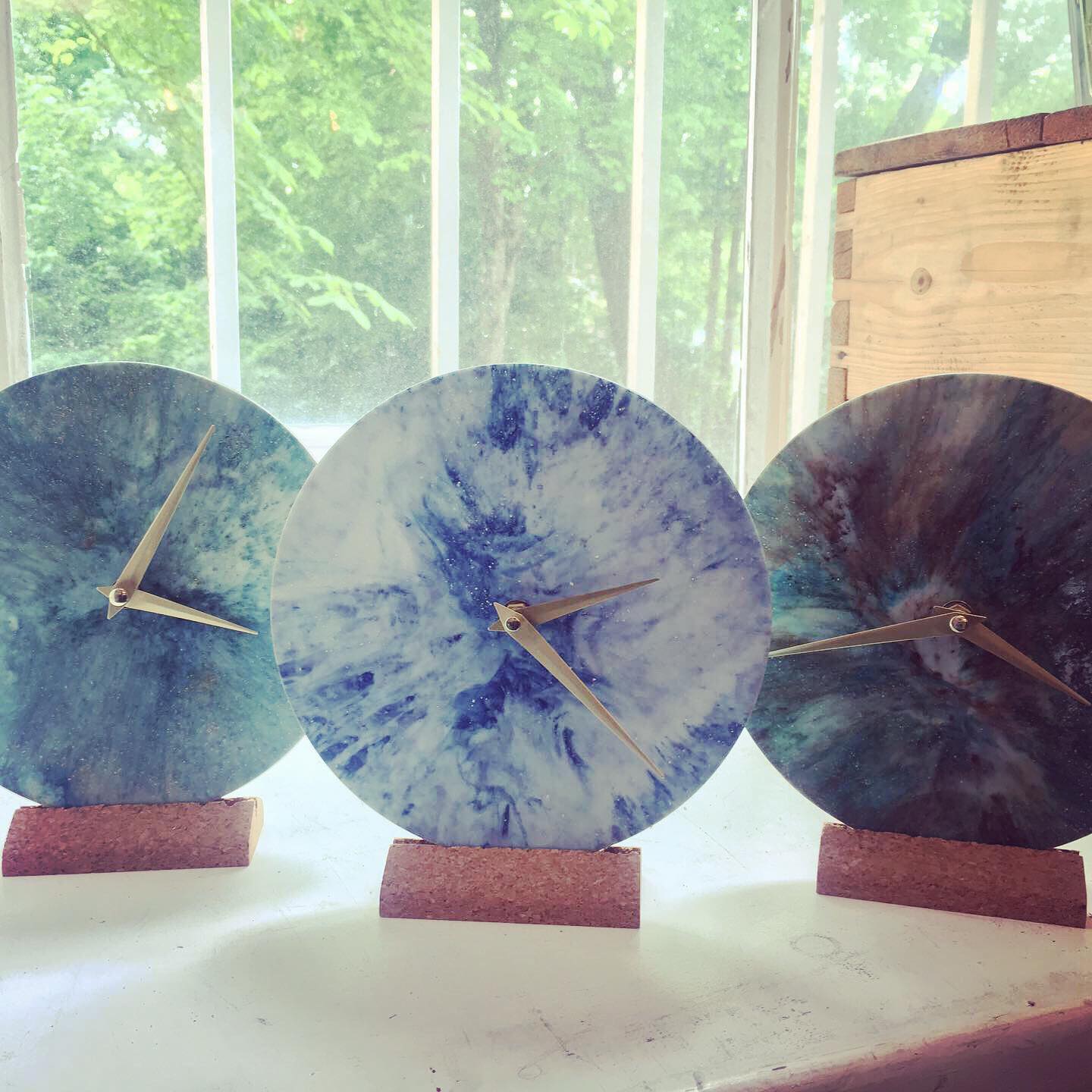 The above clocks have a  striking marble look with swirls of blue and white reminiscent of a cloudy sky. They are the perfect adornment of a mantlepiece.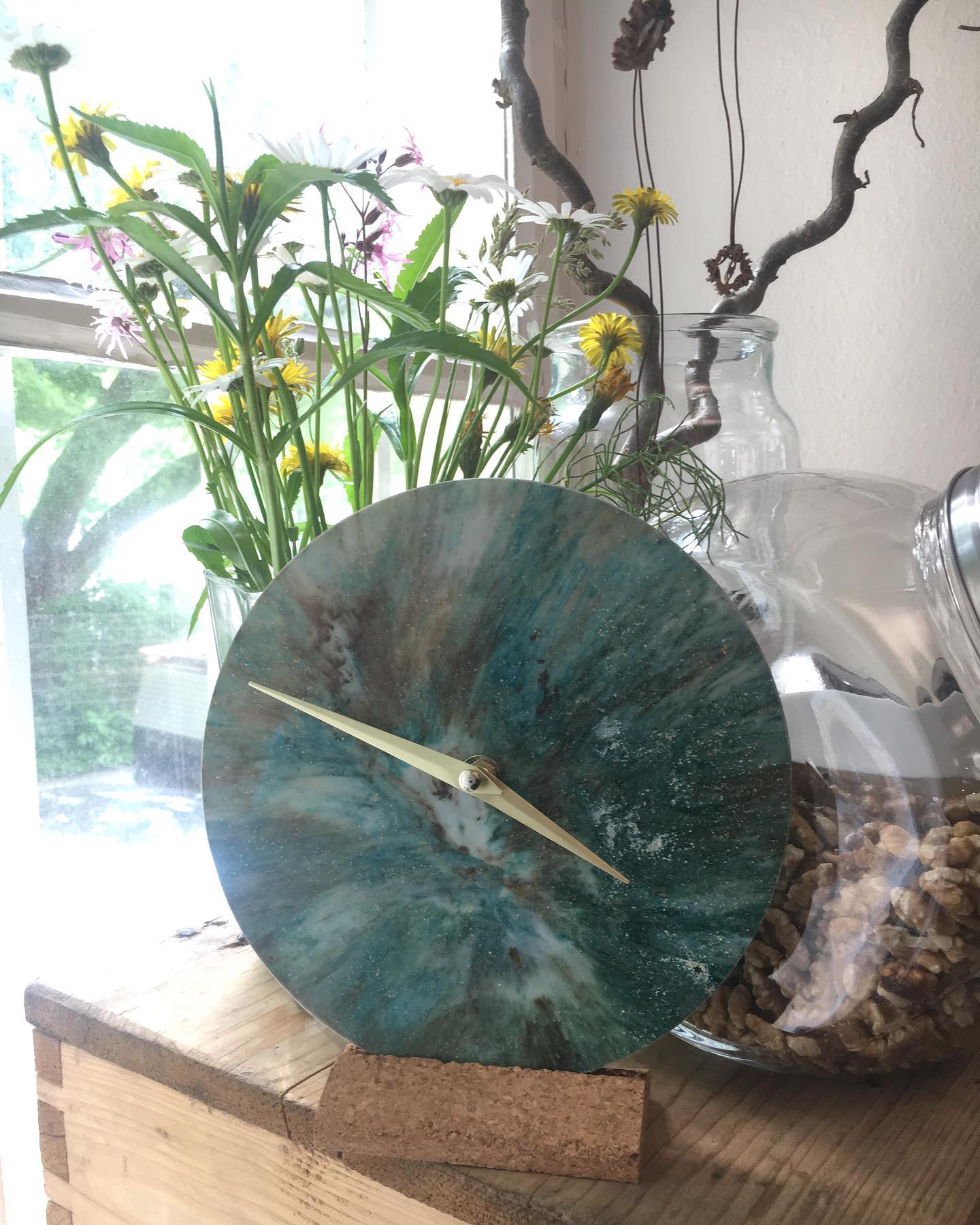 The blue-green tones of this gorgeous clock show that Shell Homage color combinations are infinite. Looking at the colors you get the feeling that you are riding the crest of a wave.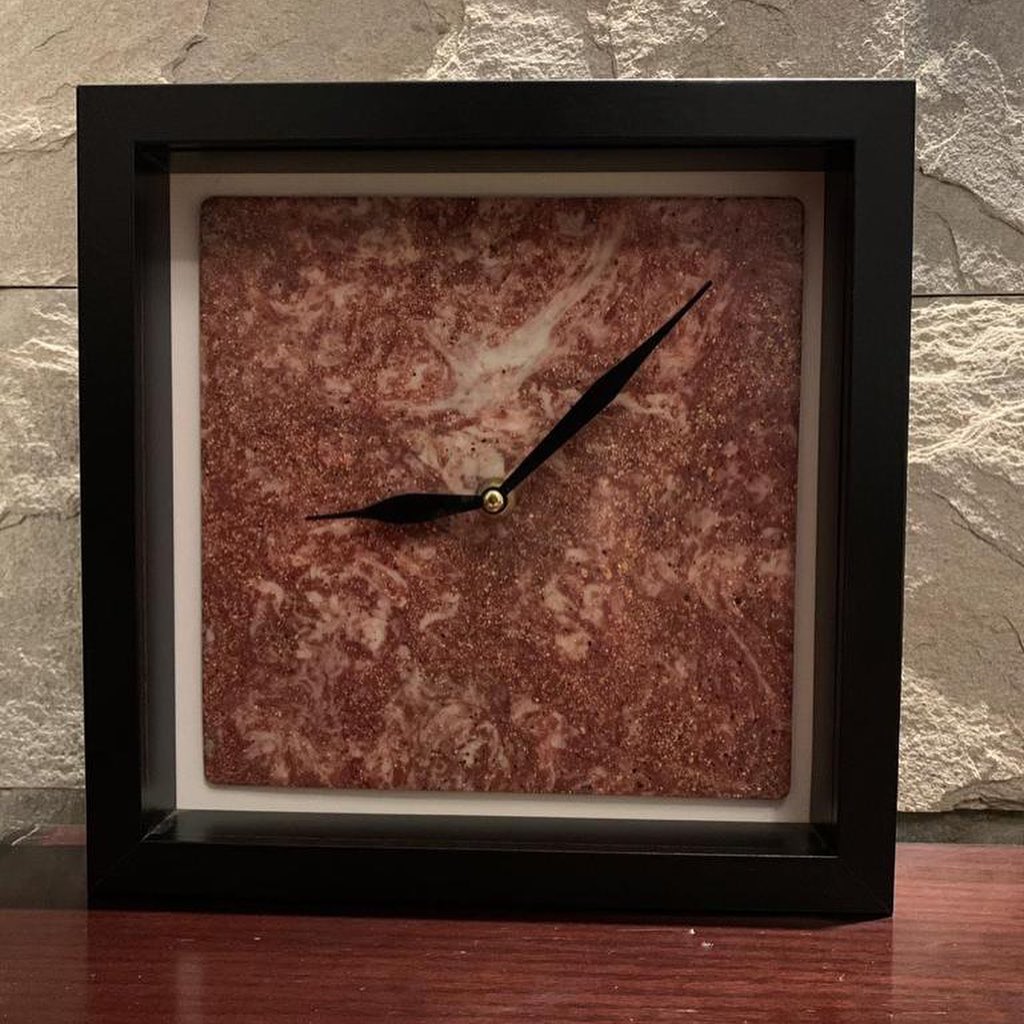 This predominately brown clock would be the perfect addition to a rustic interior. Nevertheless, its subdued hues will look striking against a natural stone wall.
Rania Elkalla's Use of Shell Homage for Retro Wall Hangings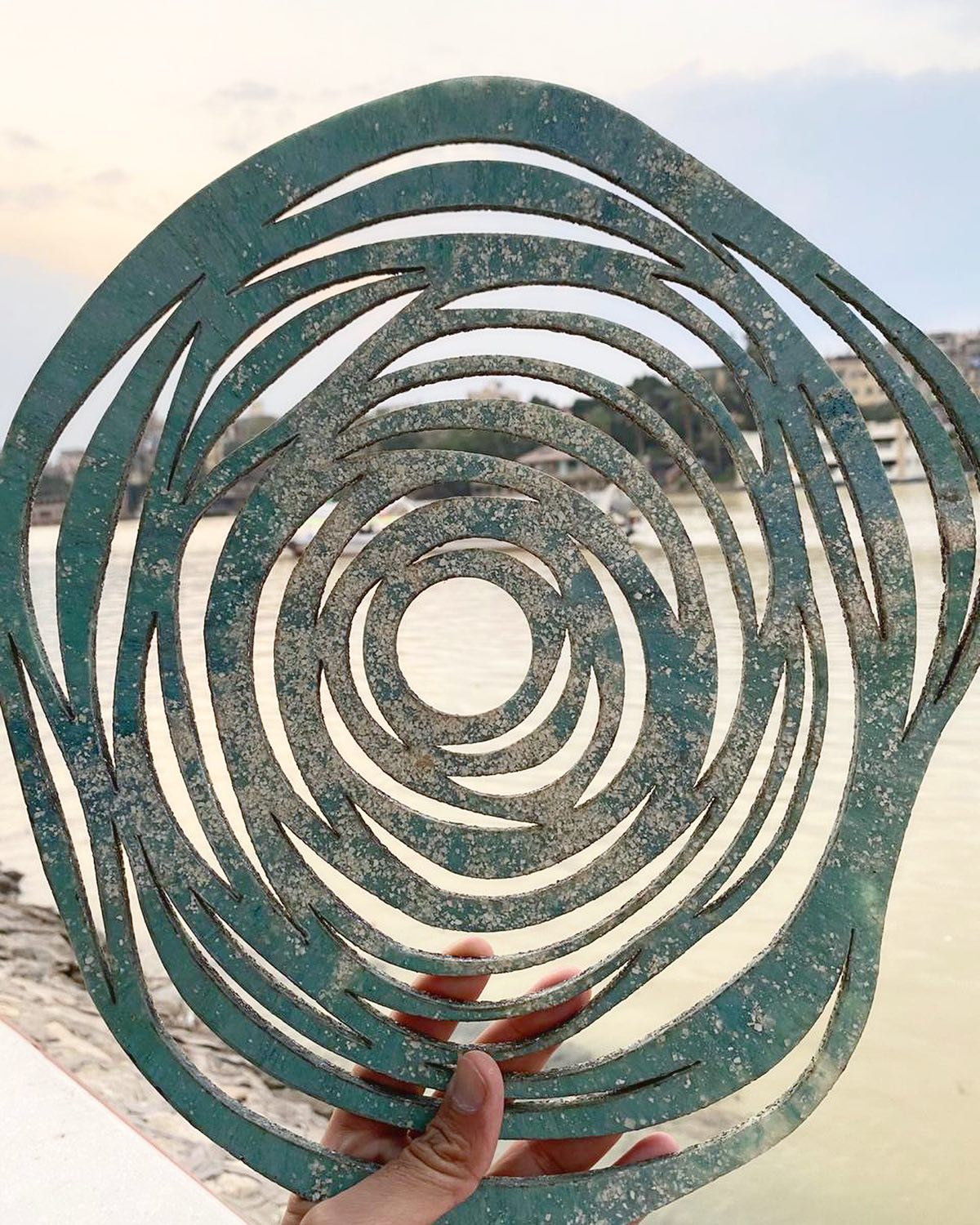 There is nothing like an unusual art piece to add interest to a room. This coiled Shell Homage creation is bound to be a conversation piece if mounted on a wall in the living space.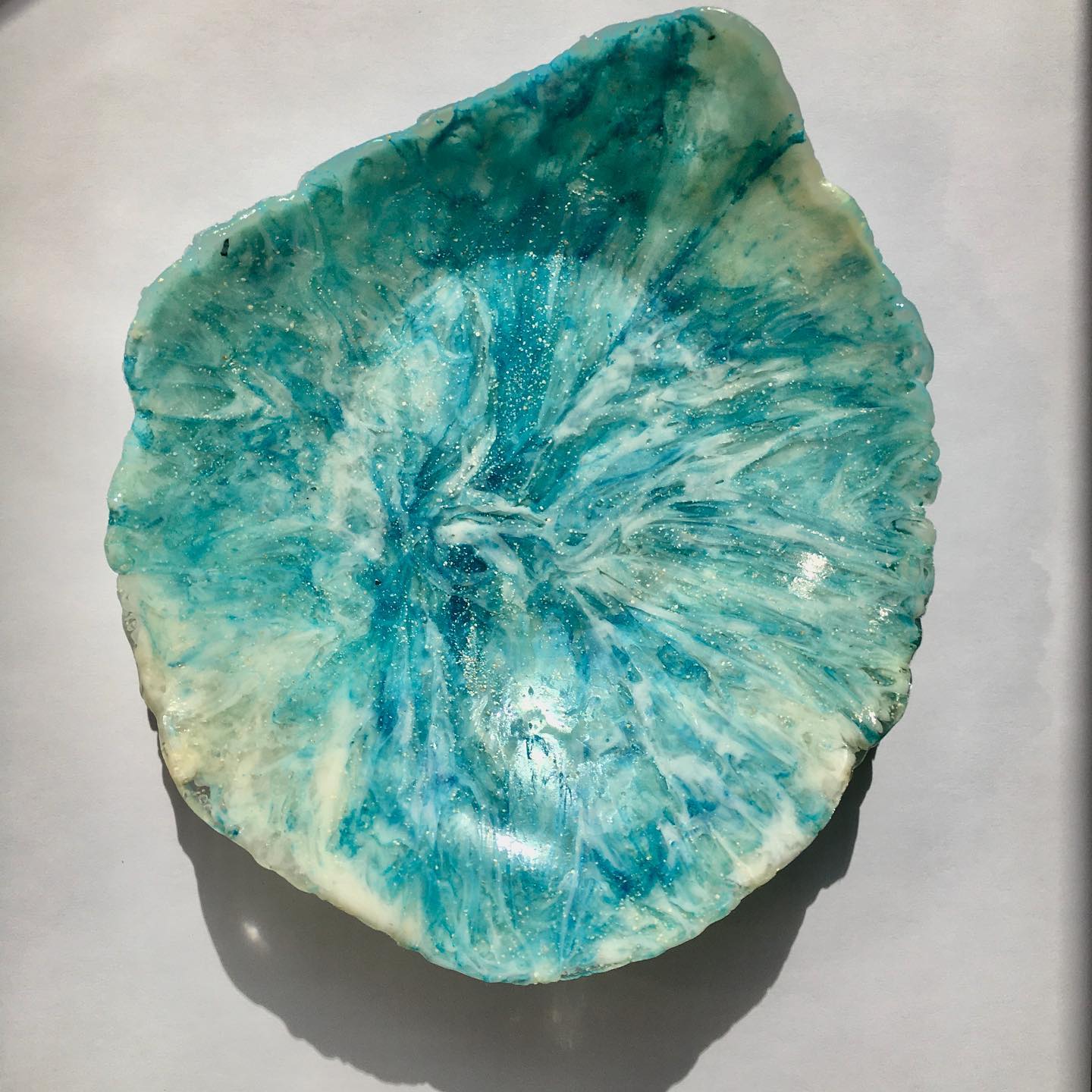 This incredibly beautiful wall hanging makes the perfect focal point. It has peaceful, restful colors that will add a cool vibe to the room. Notice how the colors create a sense of ebb and flow movement in the way they blend together.
Unusual Lamps and Light Fixtures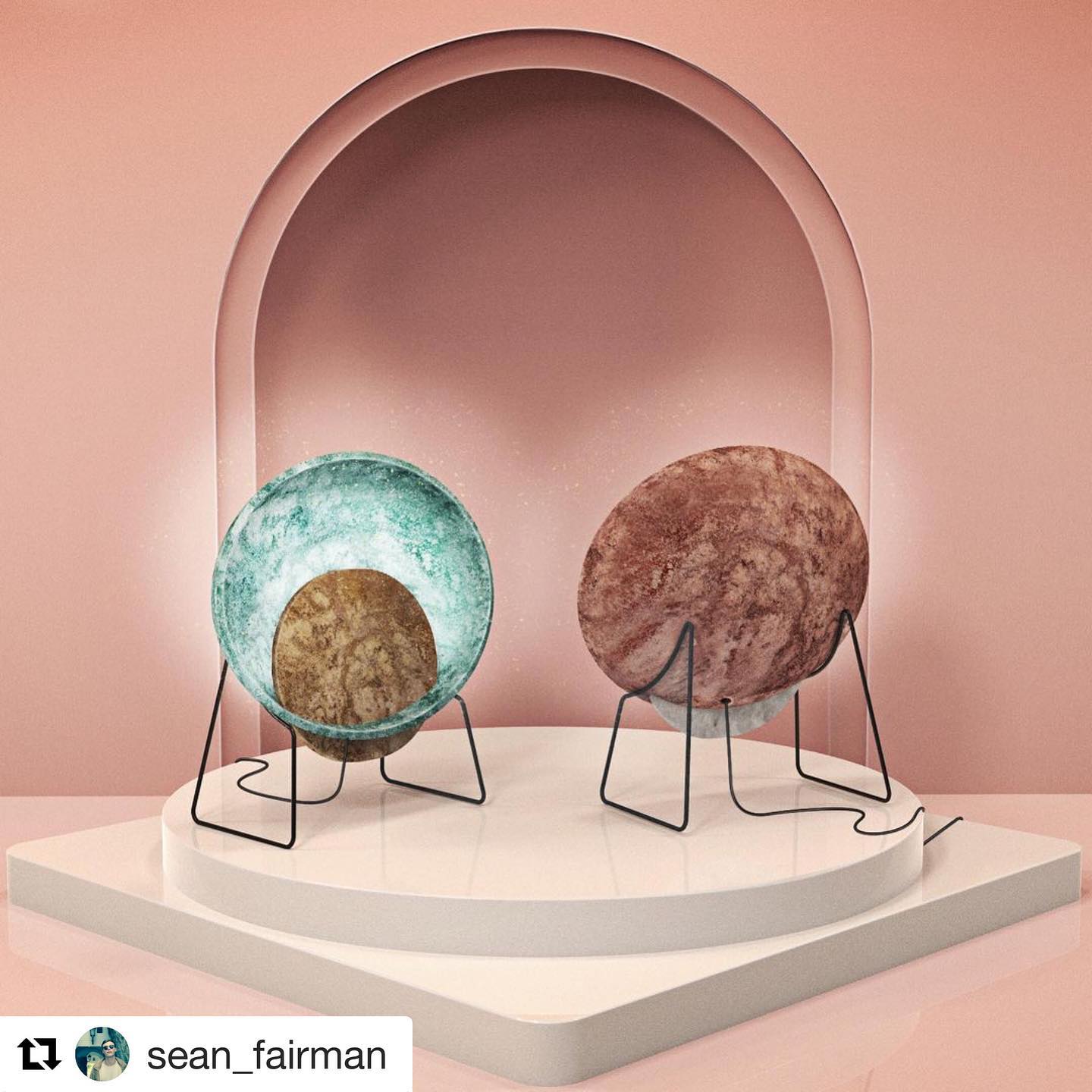 Lamps do more than light up a room. They also add drama and create a mood. Hence, the lamps above are works of art that will transform your room.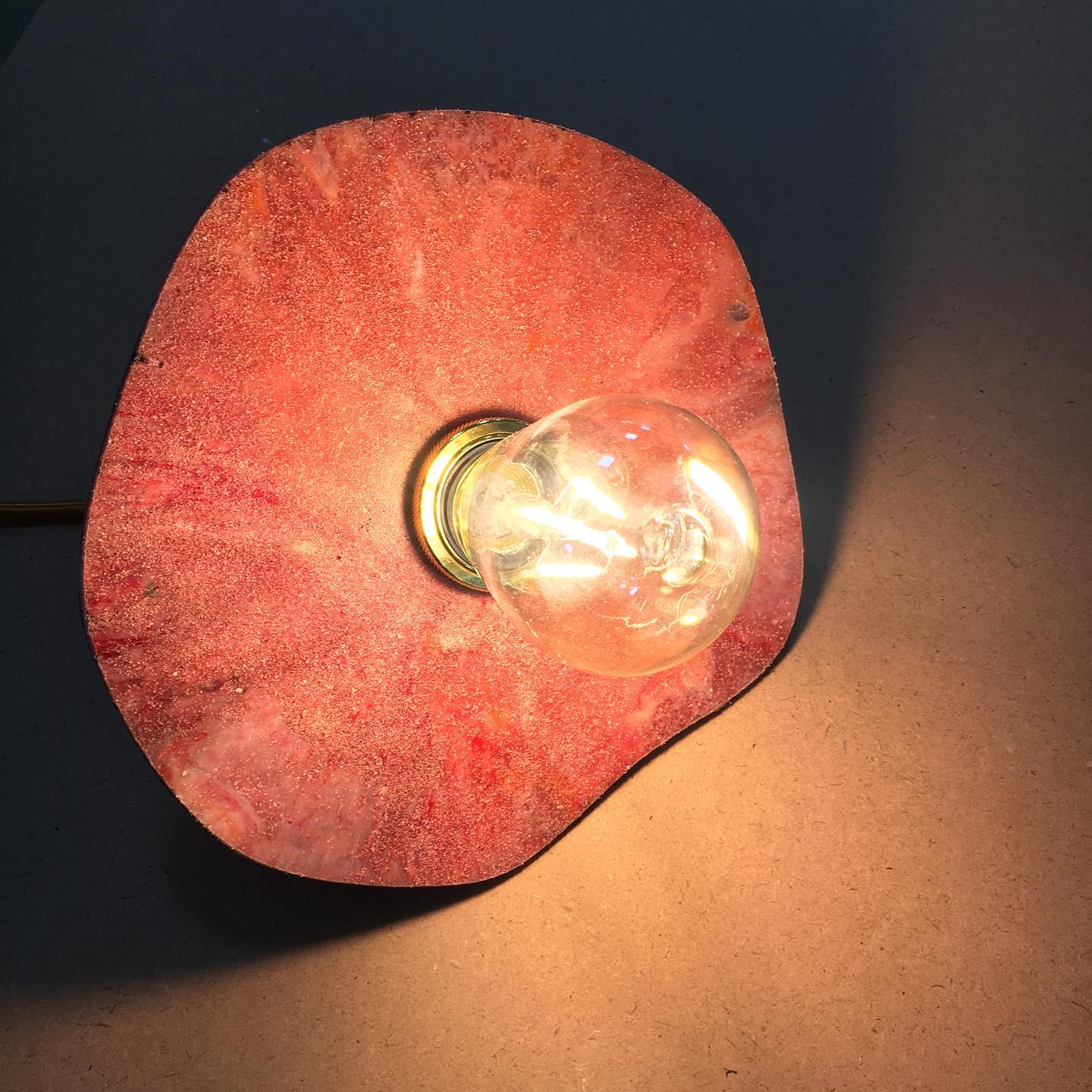 Rania Elkalla's use of Shell Homage for the support of this rippling light adds color and visual interest. The background has a beautiful texture and appears as though it was hewn out of rock.
A Stylish Room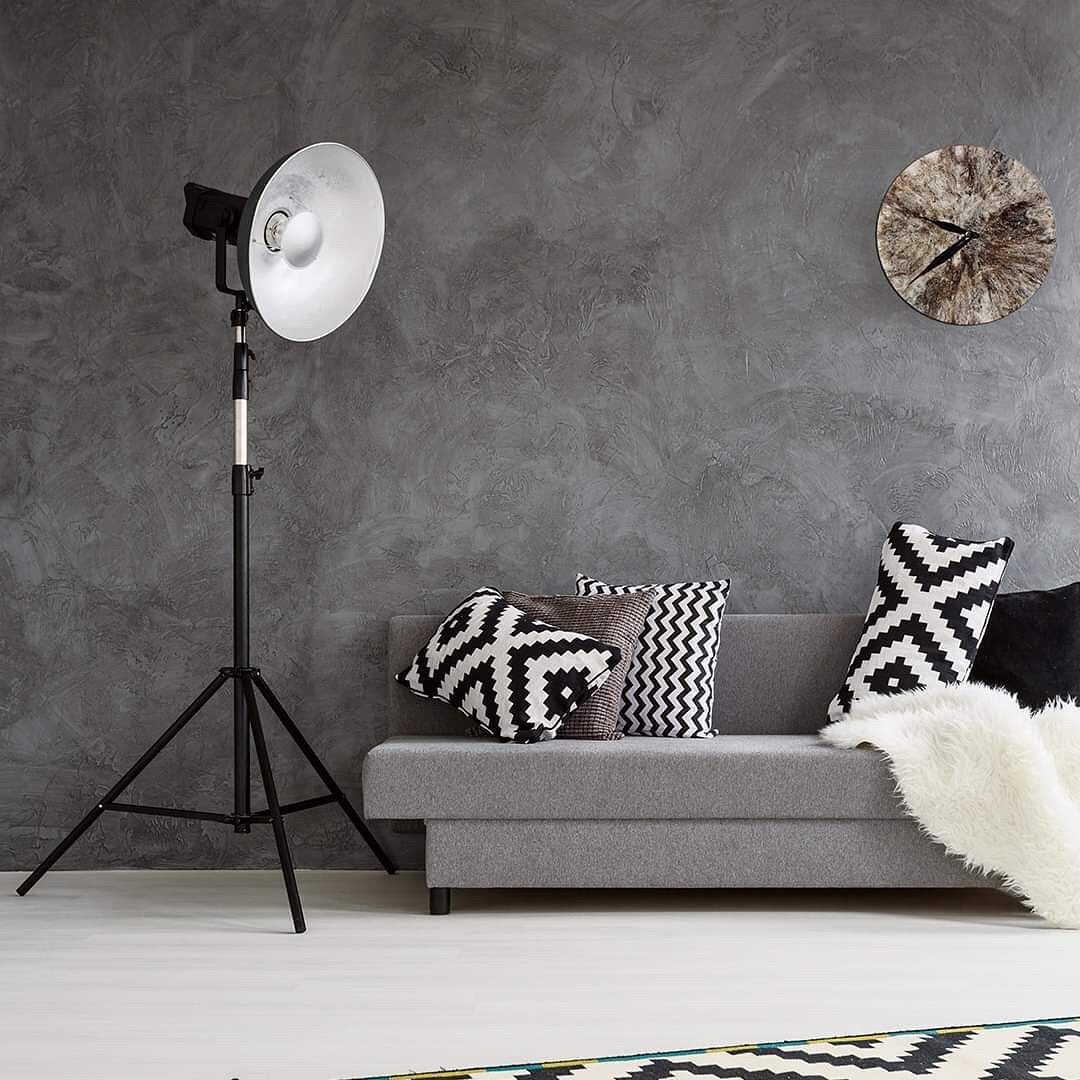 This living room has a brown Shell Homage wall clock as solitary wall adornment. It demonstrates the impact that a few well-chosen pieces can have on the decor.
Rania Elkalla's Shell Homage is Great for Odds and Ends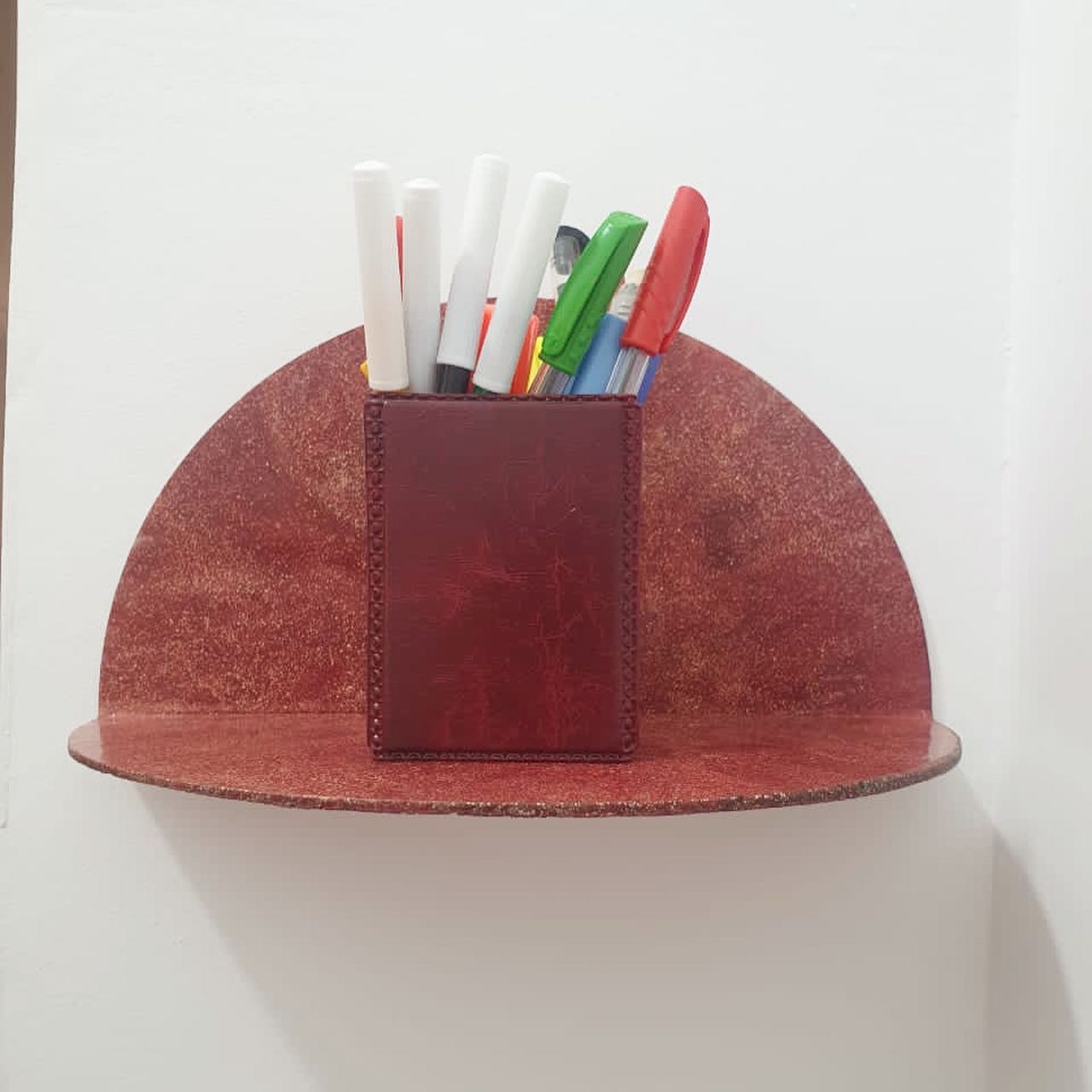 This classic pen holder is from Shell Homage. It is fascinating how the same material can achieve different looks. Perhaps, the impression is that of a leather holder resting upon a boulder.
These green marble-look combs are colorful and innovative and can work as wall hangers to create an ethnic look.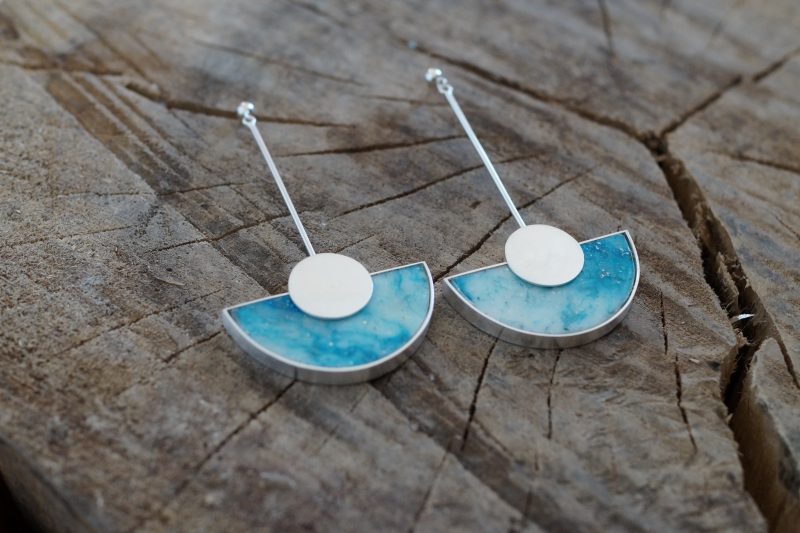 Shell Homage has also been used to create cutting-edge jewelry as can be seen in the above sky blue and silver dangling earrings. Interestingly, the material is lightweight and won't tug on the earlobes.
Impact of Renia Elkalla's Shell Homage
The impact of Rania's Shell Homage is far-reaching. From protecting our precious environment from further pollution to introducing a futuristic material, she is also inspiring a new phase in home design accessories. Shell Homage products are compostable in the garden when no longer in need. Thus, it is the ultimate solution to plastic pollution or keeping things that you no longer need.
Conclusion
Rania Elkalla's shell product is a challenge to other designers to start innovating with biodegradable materials. Thankfully, we are seeing a similar shift in the fashion industry where designers are using biodegradable materials and cutting down on waste. Consequently, we will not only be protecting our environment from pollution but also creating jobs for farmers who are usually the primary source of these raw materials. There is a world of opportunities out there and we challenge you to be creative.
Rania is offering sustainable solutions which may ultimately replace harmful environmental plastics. Hence, she can be counted among the African women entrepreneurs who are the future of the continent. In an interview with Frank Scott of DesignPRWire Elkalla was asked whether she had gems of wisdom for upcoming designers and she said, quoting the words of Thomas Edison,
"Work hard and be passionate about what you do. Genius is one percent inspiration, ninety-nine percent perspiration."