Designer Spotlight: French Designer Olivier Rousteing Traces His Roots to Africa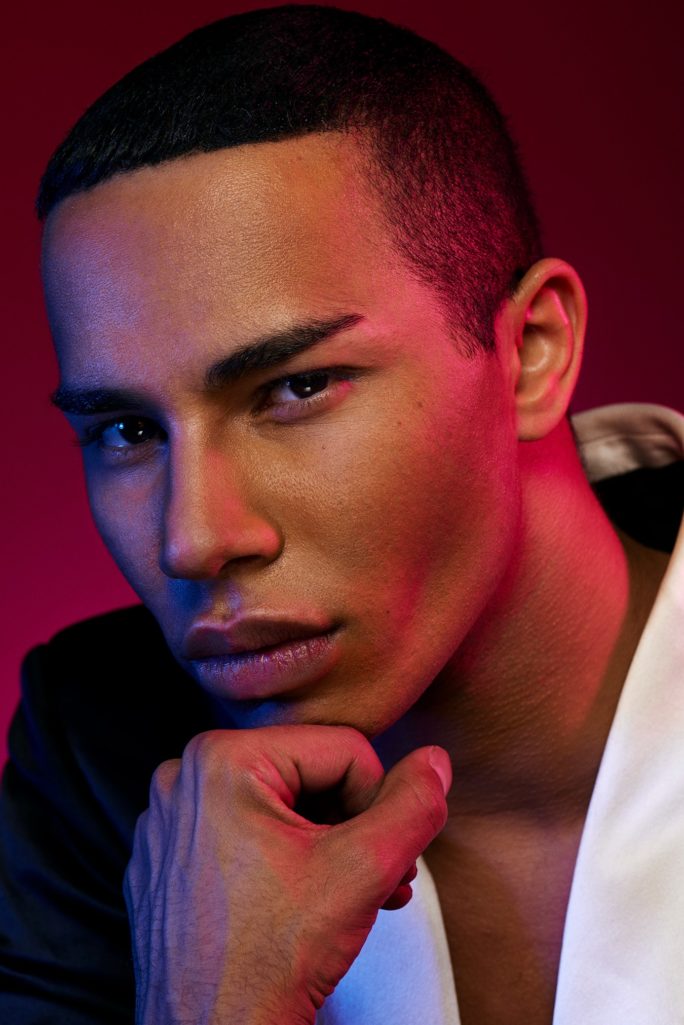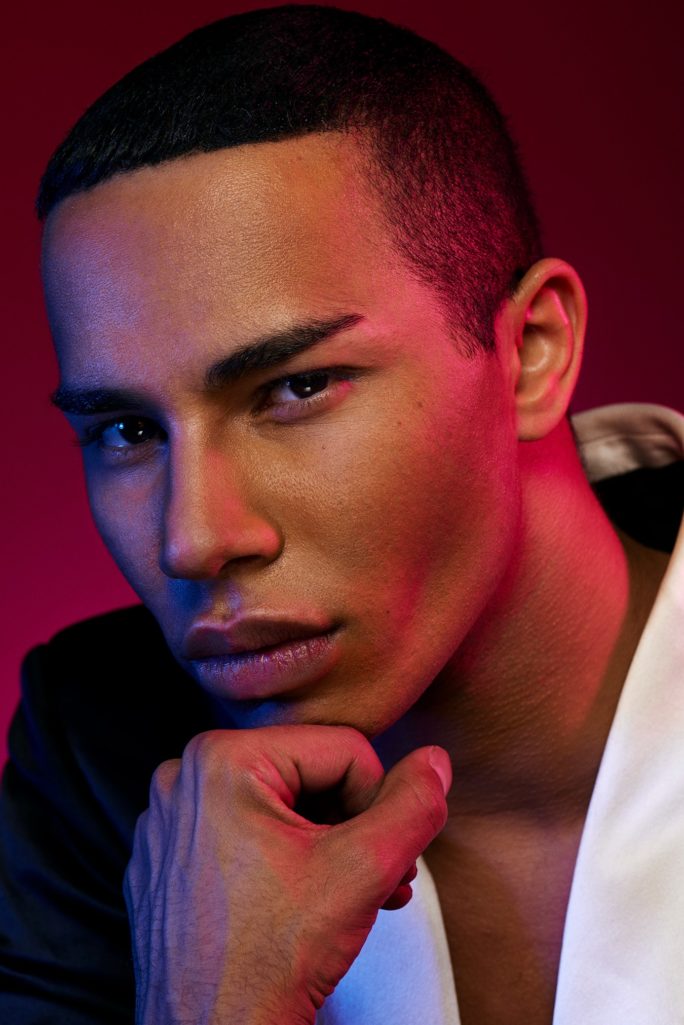 In November 2019 a profound and moving documentary hit the screens in France. Entitled 'Wonder Boy', it was based on Olivier Rousteing's personal journey in search of his roots. Today, we shine our light on the works of this creative and passionate designer and his journey to discovering his root. Interestingly, he is also the creative director of the famous French luxury fashion house, Balmain.
When Rousteing attained this prestigious role in 2011, he was only 25. This made him one of the youngest creative directors in the history of fashion. Inasmuch as he had reached a pinnacle in his career, he felt that something was missing. He was always looking for answers about his biological parents and where he came from. This is Olivier Rousteing's story and his impact on the fashion world.
Olivier Rousteing's Birth
The French adoption laws have a provision known as 'Sous X'. This is sometimes referred to as 'secret birth'. Children born under 'X' become wards of the state if they are not claimed by their birth parents within 2 months. In addition, the identity of the parents remains confidential.
Olivier Rousteing was born in 1985 and abandoned at birth. He spent the first year of his life in an orphanage before the adoption process was completed. Subsequently, he went home with loving adoptive parents and grew up in Bordeaux. He lived there until he was a teenager before moving to Paris to pursue a career in fashion.
The search for his roots begins
Once Rousteing established his career, he mustered up the courage to begin investigating his roots. As he explained to Vanessa Friedman of the New York Times, the search was highly significant.
"There's all this talk about inclusivity and diversity, and I'm the first to fight for it, but how could I fight for it without knowing myself where I was from?"
What Rousteing Discovered about his Origins
Working together with a social worker, Rousteing was able to access his adoption file. To his surprise, he discovered that he was not biracial as he had assumed all along. Rather, his mother was a Somalian from Djibouti, and his father Ethiopian. This makes him a full-blooded African. This is significant as it places him in the ranks of top designers in France who have African heritage.
Also, with this revelation, he could now work on resolving his identity crisis issues. Yet, the information revealed was bitter-sweet. Olivier Rousteing was sad to learn that his mother was only 14 when she gave birth to him. Also, she barely knew his dad. Since according to the law his mother's identity is confidential, the option he had was that of writing to her. He opted not to do so.
Olivier Rousteing's illustrious career
The young designer joined École Supérieure Des Arts et Techniques de la Mode, (ESMOD), a French private school of fashion in 2003. When he graduated, he worked for the Italian fashion designer Roberto Cavalli for 5 years. From there, he moved to Balmain. At first, he worked under the artistic director Christophe Decarnin. In 2011, Rousteing was promoted to his current position when Decarnin left the design house.
Rousteing brought freshness and youth to Balmain. He was not afraid to break stereotypes and introduce cultural diversity. As a result, the brand has enjoyed unparalleled success with the young generation. This is also partly due to his skill in harnessing the power of social media. For example, he has over 6 million followers on Instagram.
With his undisputed sense of glamour and style, Rousteing is more than a designer. He is also a friend to major stars such as Kanye West, Kim Kardashian, Rihanna, Beyoncé, J'Lo, and others. As a result, they endorse his creations. In 2013 Rihanna, who is frequently seen wearing Balmain, became the new face of Balmain. She starred in the campaign for the 2014 Balmain Spring collection.
Olivier Rousteing's Style
'A rock chic style with a dash of glamour' is one description of Rousteing's design style. But he favors the words 'Confident, Timeless, and Pop.' Here are highlights of some of his collections.
Balmain Fall/Winter 2021
Olive Notes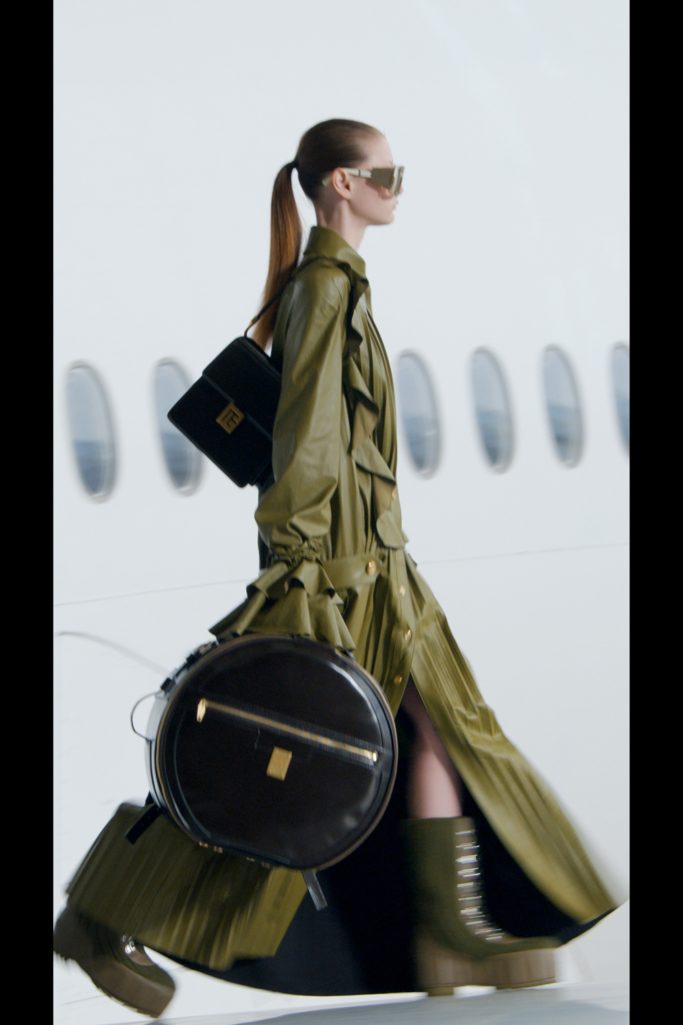 Olivier Rousteing found his inspiration for this collection from travel, both past, and present. The above creation features a feminine, flowing coat with ruffles along the lapel and sleeves. A unique circular travel bag, matching boots, and stylish sunglasses are the main accessories.
This is a fashionable travel look comprising olive-hued layers and a built-in neck pillow. The long jacket presents an edgy, laid-back look. This will definitely make perfect gear for the winter season.
Yellow Accents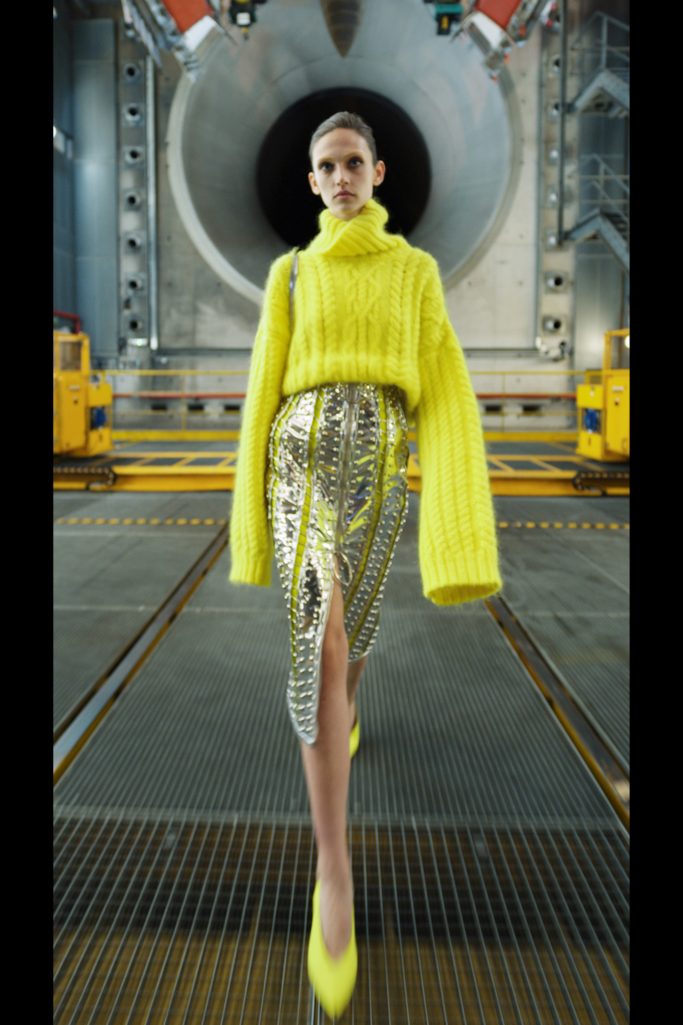 Travel is exciting, and this is a look that matches the mood. The lemon-yellow cable knit cropped sweater is the perfect pair to the slim-fitting metallic sheen skirt. It has a chic cowl neck and extra-long sleeves. Who says you can't look chick in winter?
Another take on sunshiny yellow looks for travel. This time a padded overcoat cinches the bright cable-knit sweater at the waist. Slinky matching leggings complete this iconic look. The extra-long hands of the sweater are hard to miss.
Celebrities in Olivier Rousteing's Creations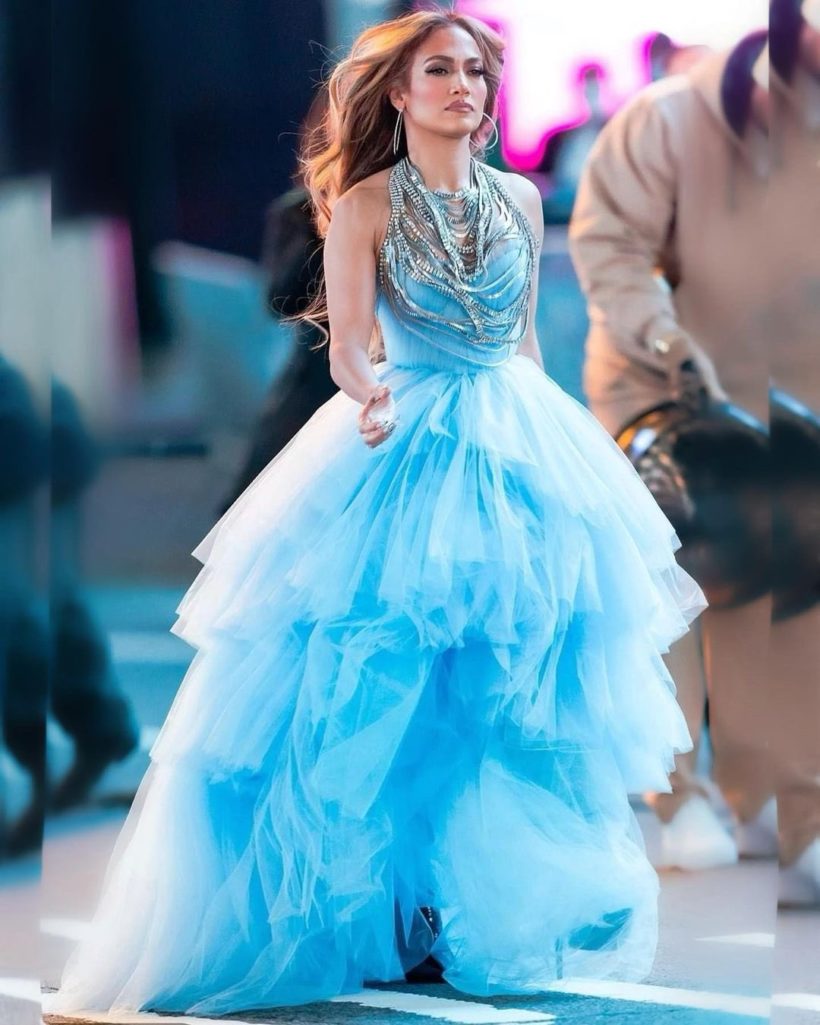 Lopez is resplendent in a baby-blue tulle-tiered gown. Silver accents around the bodice add a wow factor to this glamorous ensemble.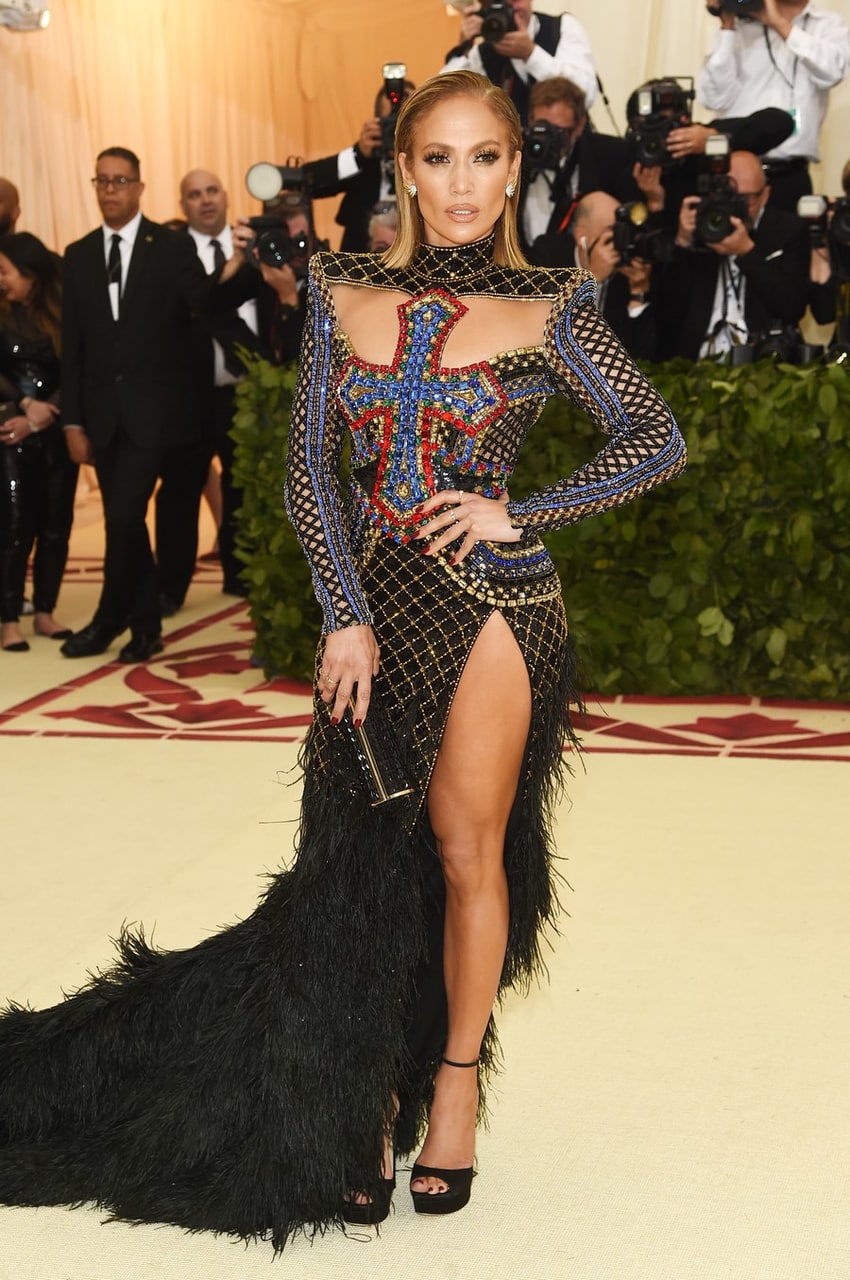 This is a stunning look especially crafted for a star. The gown is richly embellished with feathers and gold embroidery. The intricate beadwork at the bodice ends in a high collar and there are intriguing cutouts at the chest.
Olivier Rousteing's Gingham Looks
Rourteing's rock chic style is seen in this extravagant, ruffled gingham number. This fun ensemble is appropriately accessorized with a matching, oversize Balmain bag with a contrasting tangerine trim.
Spring/Summer 2021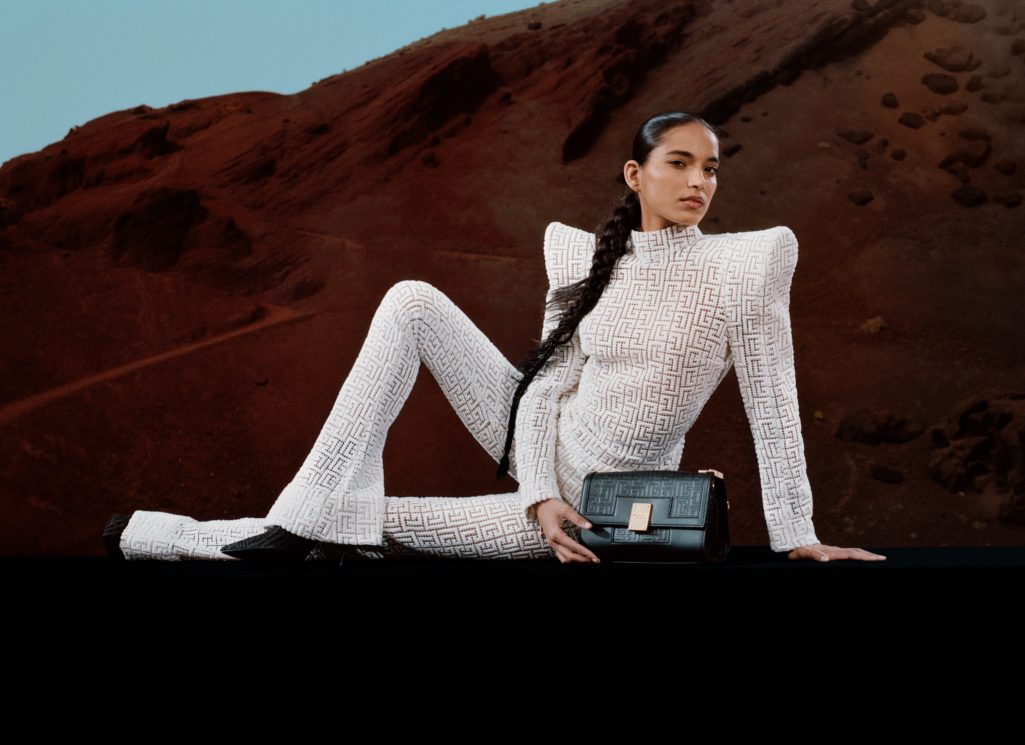 Understated elegance is the buzzword in the above pastel-colored jumpsuit. The exaggerated shoulder pads give off a futuristic vibe, and the trousers have a slight flare at the bottom.
Conclusion
The 'Wonder Boy' documentary took 2 years to film, and it did not have a happy ending. However, Olivier Rousteing demonstrated great courage in sharing his journey. At the premiere of the documentary, the director Anisse Bonnefont commended him. As reported by Lily Templeton of Women's Wear Daily, she said,
"With Olivier, we wanted to tell the story of someone looking for their origins because we believe it's very important to know who you are to know where you're going. He had an insane amount of courage to accept being filmed during his search. I believe it will help others. It's a topic that goes beyond us."