11 Stunning Non-traditional African Wedding Dresses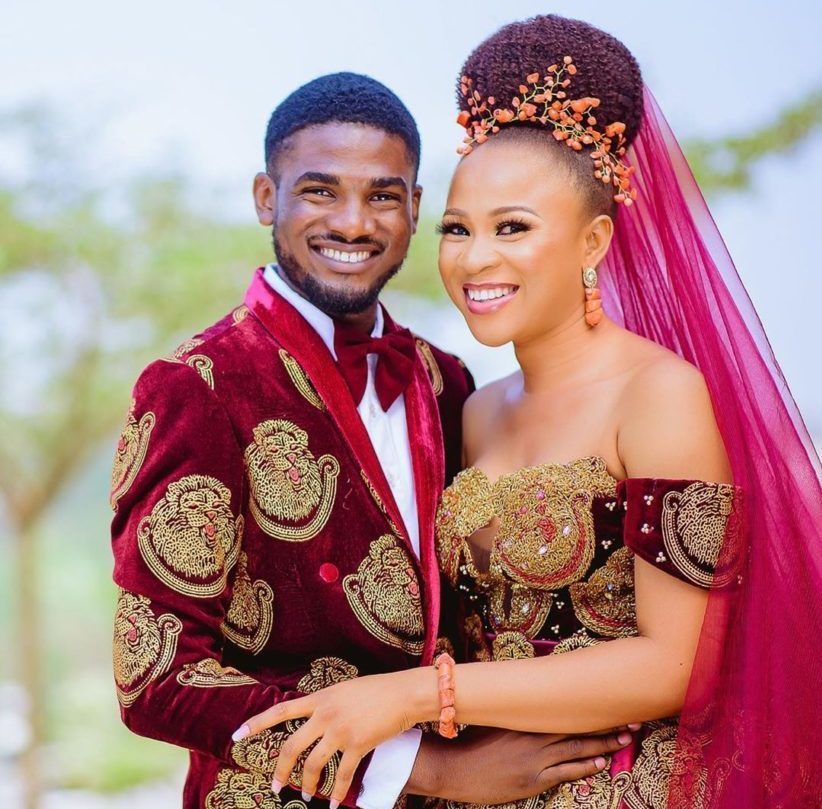 For ages, it has been a tradition for women to wear a white wedding dress. However, with evolving fashion industry and mental shift, women are becoming more confident wearing non-traditional African wedding dresses.
By non-traditional African wedding dress we are referring to wedding dresses made with African prints. Walking down the aisle in a stylish African wedding dress is now a thing of admiration rather than scorn.
Obviously, not everyone is still bold enough to do this. That is why we think those who can deserve commendation. We want to shine our light on women who decided to do away with white gowns.
11 non-traditional African wedding dresses from around the content
Africa is a continent with different cultures and traditions. Sadly, we are losing some of the traditions to western civilization. Choosing an African wedding dress over the conventional white gowns can be a step to redeeming some of our moribund cultures.
ALSO READ: Designer Spotlight: See Why Ugandan Kaijuka Abbas Was Recently Honored In Nigeria
The fabrics used for African wedding dresses range from Ankara, to Kente and animal prints. Interestingly, this can also help put African designers and textiles on the global stage. Below are examples of non-traditional African wedding dresses. We hope one of them inspires you.
#1. Kente train wedding gown
The first on our list of African wedding dresses is the gorgeous blend of white lace and kente gown. This Ghanian bride is all radiant with smiles as she rocks her hybrid wedding gown. If you want a mixture of a traditional and non-traditional dress then this is it.
This dress gives the bride a chic and sassy African look without entirely eliminating the 'white wedding' experience. The gown has the traditional white lace on the upper part and kente fabric on the front and back of the lower region. The gown hugs the body in all the right places outlining the lady's beautiful curves.
#2. Colorful Kente wedding dress
African wedding dress can come in diverse designs using varied fabrics. Therefore, nothing gives your wedding a unique flair like wearing this gorgeous Kitenge gown. The colorful prints have won the hearts of many people all around the world.
Some of the main features of this gown include an off-shoulder design and a round neckline at the front. Also, the dress has a mixture of pop colors of red, yellow, purple, green, and blue. Add beaded accessories to your hair to give you that signature African queen look.
#3. Kikuyu traditional wedding dress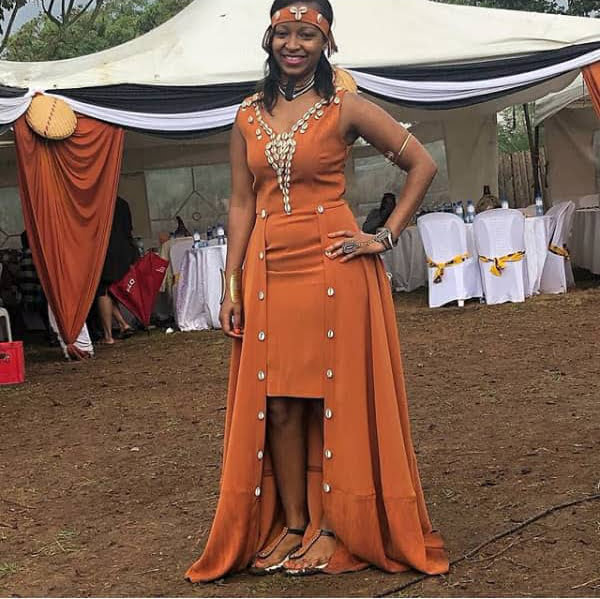 This bride from Kenya rocked a brown traditional African wedding dress. The dress is mainly worn during the traditional wedding termed "Ruracio". Ruracio means dowry payment, a ceremony that signifies the coming together of two families.
The wedding gown is made from brown fabric with creative beading on the neckline and a matching headband. Also, you can wear leather sandals and bangles to complement the look. Can you wear this wedding dress on your big day? Tell us in the comment section below.
#4. Plus size African print wedding dress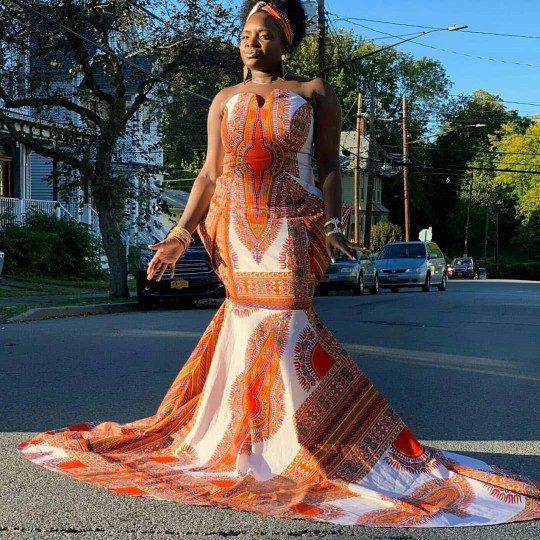 It's hard getting that perfect dress, especially if you are a plus-size lady. However, with the current trend in fashion, you can get various plus-size gown designs. One of them is this gorgeous orange and white African print wedding plus-size dress.
Slay effortlessly down the aisle with this figure-hugging dress. The dress comes with a matching headband for natural hair. You can wear matching pair of jewelry for a completely stunning look.
ALSO READ: Afrosapeur Spotlight: See Lenana Kariba's Lavish Caribbean Wedding
#5. Lace and Ankara dress
When it comes to non-traditional wedding dresses, there is no limit to what creative designers can spring up. One of them is combining lace and Ankara fabric. In this case, the wedding gown is made with traditional white lace.
Subsequently, the Ankara fabric is used to make a big flower that is attached to the base of the gown. The result is a stunning outfit that adds glamor to your wedding. Well, besides weddings, you can rock this to a red carpet event and be the target of the cameramen.
#6. Yellow off-shoulder wedding dress
We rarely see brides wearing yellow gowns. It's even harder to see a wedding gown made from the combination of Ankara and yellow net fabric. If you love trying out new things, you should put this gown on your bucket list for that special day.
The dress has a vibrant yellow color that brightens up the rooms. Also, it has an intricate off-shoulder design. There is no better way to make the memories of your special day linger than rocking this fabulous design.
#7. Venda African wedding dress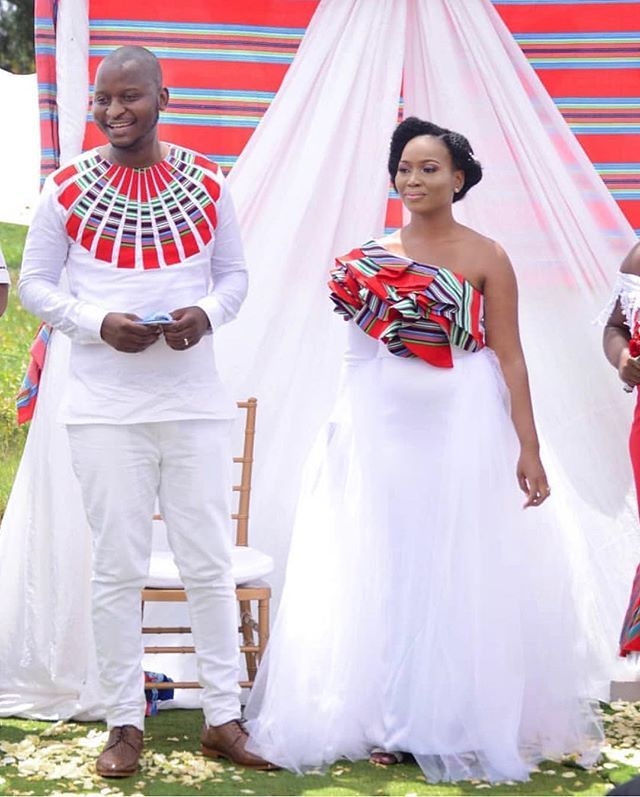 After her beautiful Venda wedding, Ika flooded her blog with her wedding photos. The most intriguing feature of this African wedding dress is the blend of Ankara and velvety material. The upper part can be made from folds of Ankara or Kente which matches the patch on her husband's shirt.
Furthermore, the rest of the gown is designed into a beautiful ball gown using spotlessly white cotton material. Was it a hit or a miss? Let us know your thoughts in the comment box below.
ALSO READ: Nigerian Artists Give Fans A Sneak Peek To Their Private Wedding
#8. Ankara dress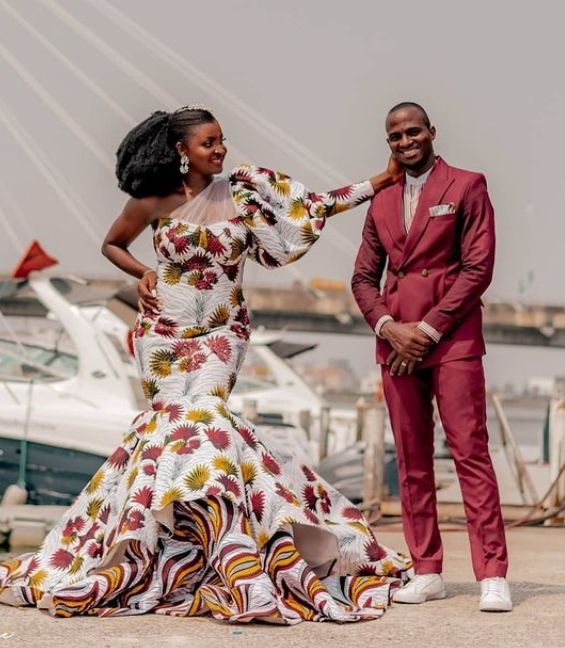 Chioma, a Nigerian fashion designer, decided to wow social media by going against the norm. She rocked an Ankara dress on her wedding day. Chioma's friends and former classmates shared the bride and groom's photos online.
As you would expect, it immediately went viral. The bride said her friend and colleague designed the beautiful Ankara wedding dress. What made the gown unique was the one-shoulder and lovely mermaid bottom. In an interview with BBC, the bride said the gown cost $340.
ALSO READ: Here Are Some Of Our Favorite People of Black Heritage At Prince Harry And Meghan Markle's Royal Wedding
#9. Sequin African wedding dress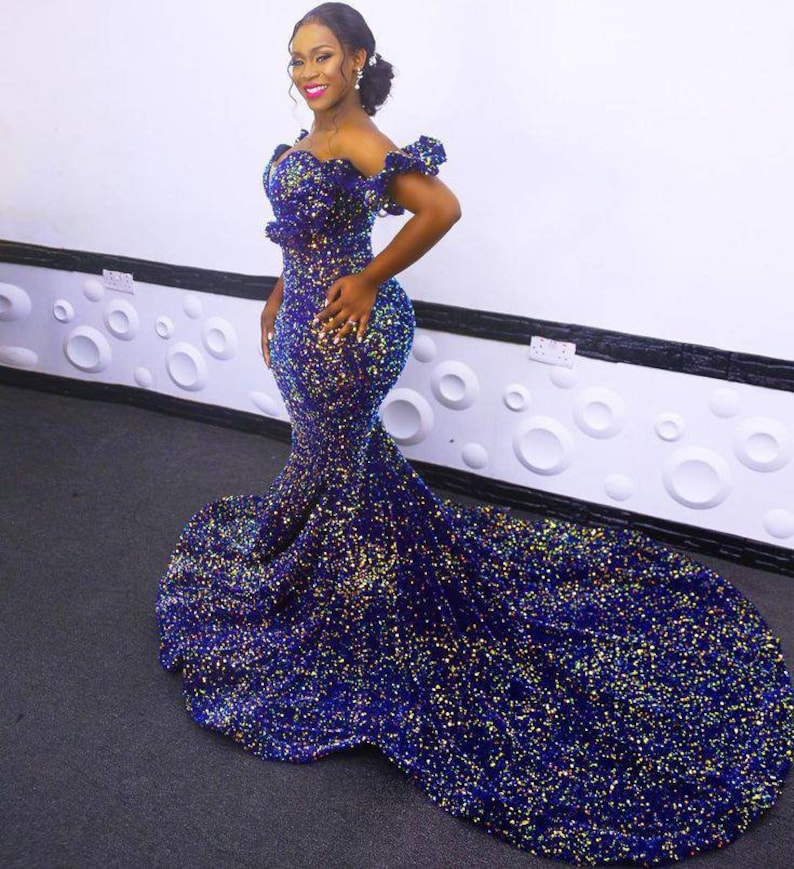 Turn heads with this gorgeous royal blue and gold wedding dress. We love everything about this dress. It is simple, yet so elegant. What makes this dress pop out and glitter is the golden sprinkles.
The dress cascades down into a beautiful mermaid gown giving you that hourglass silhouette. Does this fit into your dream non-traditional wedding gown? Share your thoughts in the comment box below.
#10. Xhosa wedding dress
This Xhosa bride looked gorgeous on her wedding day with this traditional Xhosa wedding attire. The Xhosa people have a way of dressing up their brides for their traditional ceremonies. They use white and black fabric to design wedding gowns. The beadwork is genuinely remarkable and reminiscent of the Xhosa culture. Isn't that cool?
#11. Isiagu African wedding dress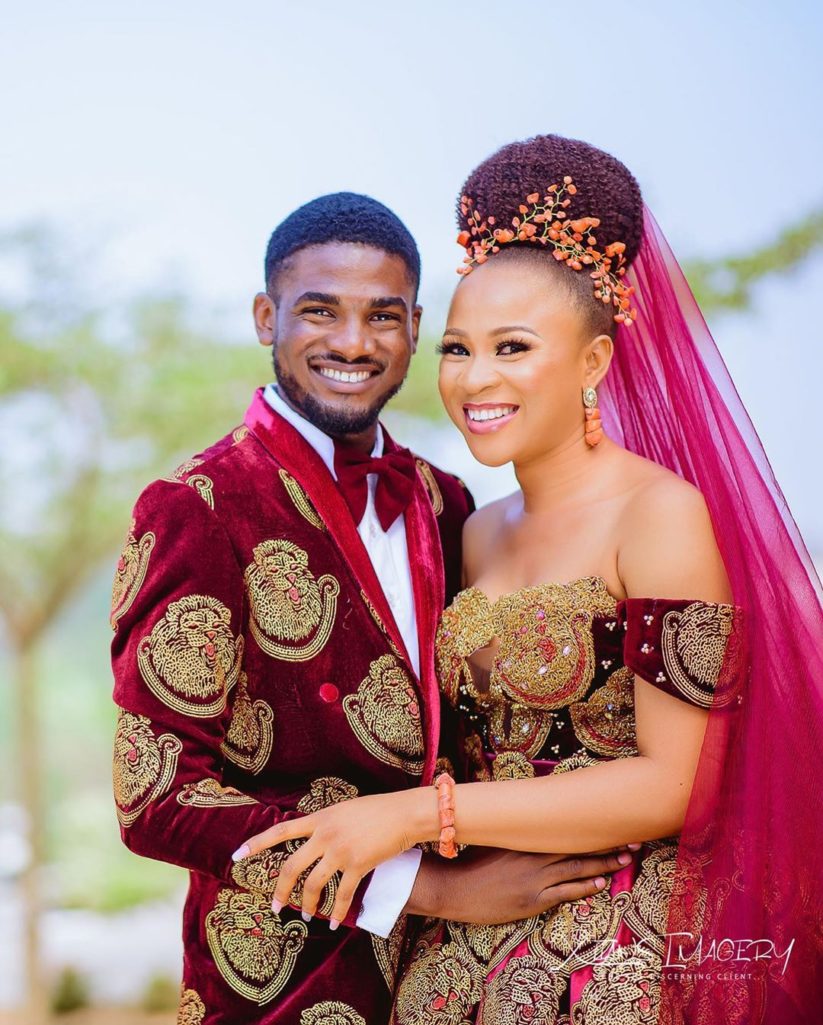 Isiagu is a traditional dress among the Igbo people of Southeastern Nigeria. This was a fabric synonymous with royalty and power. However, Nancy and her husband decided to give it a new identity.
The response and appreciation were massive. In no time, the couple headlined the front page of popular blogs in Nigeria and beyond. Arguably the most interesting feature of the wedding gown is the excessive use net veil to form a long trail. Also, the accessory jewelry smartly complete her divine appearance for her special day.
Conclusion
African wedding dresses come in different shades of colors, fabrics, and designs. They are usually more affordable compared to imported white gowns. Thankfully, African designers are taking up the challenge to make stunning wedding dresses using locally available fabrics. With more acceptance, this trend can help to revive Africa's ailing textile industries.
The ripple effect is that the huge foreign exchange spent annually on the importation of white wedding dresses will plunge. Thus, there will be more money available for the couple and better patronage of local designers.
Can you wear an African wedding dress on your big day? If you already did, what was the feeling like? Share your thoughts with us using the comment option below.