Afrosapeur Spotlight: What Do You Know About Mawuli Gavor Behind The Screen?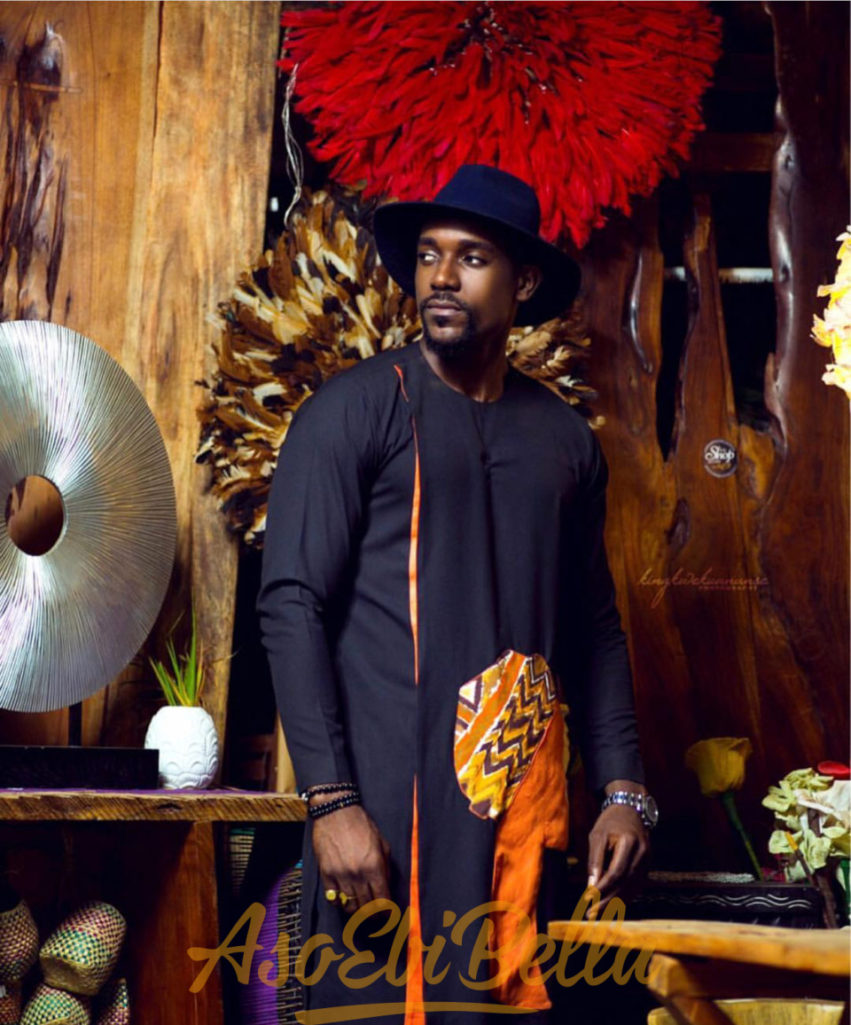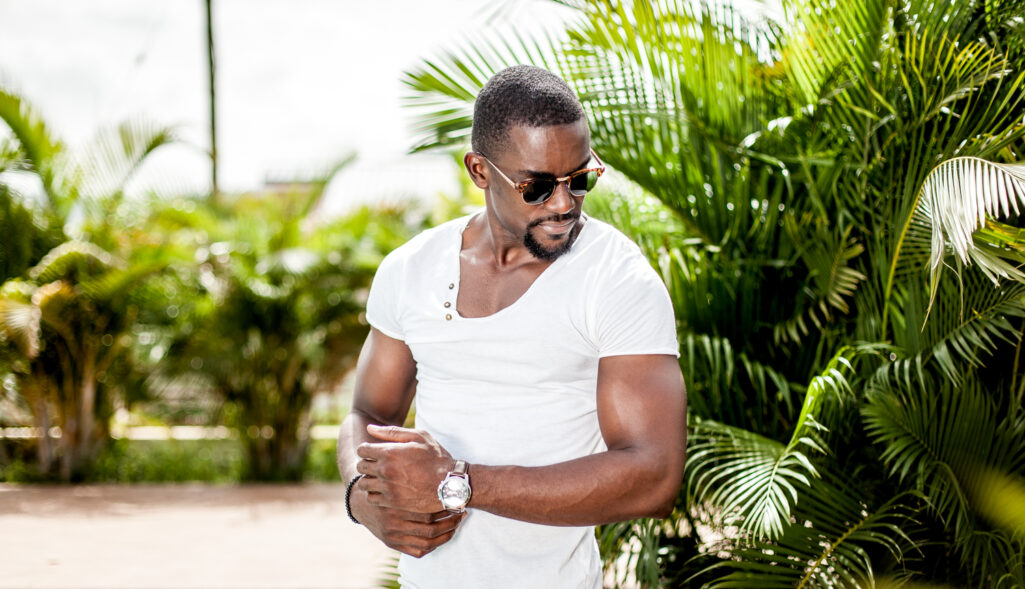 Our views of celebrities are often limited to what we see on our screen. However, some celebrity wants to live a normal life that does not need to be recorded for public knowledge. Sadly, to them, it is a privilege they have to fight for. Nevertheless, if you really care to know your celebrities more, you have to look behind the screen. Today, we shine our light on Mawuli Gavor to show you a part of him that fans don't always see.
The curiosity of the public is heightened when a celebrity has an attractive body. It is understandable to put up with the curiosity of fans. However, it is also prudent to realize that celebrities are humans who have inalienable rights to privacy. Nevertheless, only a few celebrities know how best to separate their lives from the camera. One of those prudent celebrities is Mawuli Peter Gavor.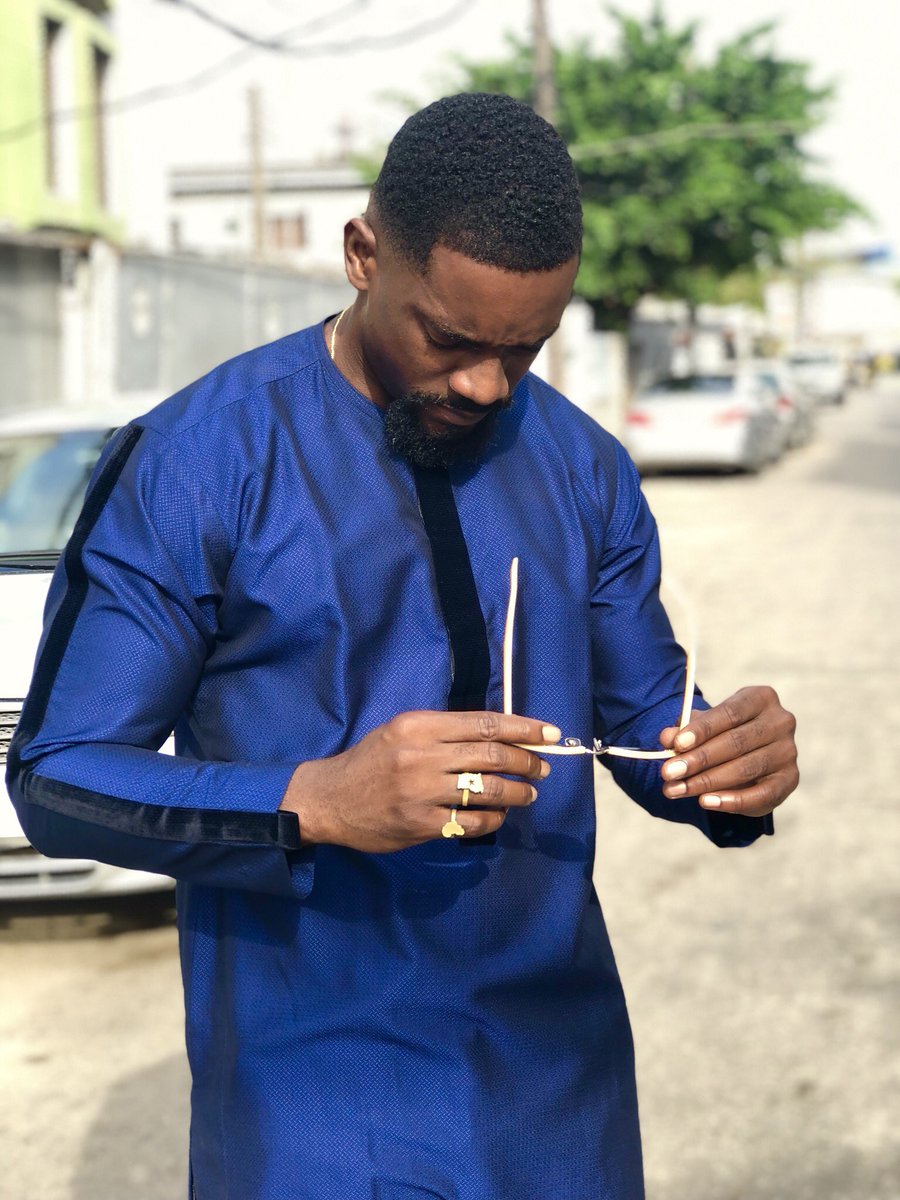 The Early Years of Mawuli Gavor
The cover star of the Moda Culture Magazine MC April-June 2021 edition is one of the most sought-after African celebrities. Leaving Ghana to work for some time in Nigeria, he has become acclimatized that he might be considering naturalization. Mawuli Gavor is a Ghanaian-born actor. He was born in Ghana on March 22 and raised in the United States.
Consequently, he studied Business Management and Finance at Franklin and Marshall College in Pennsylvania. After his graduation, he came back to Ghana and worked in the financial sector before he got into acting in 2015. His debut movie appearance was in the film "A Place called Happy".
Talented Media Personality
Considering the ease with which he played all his roles in movies, from Chief Daddy, Joseph, Obsession to Two Weeks in Lagos, and Sugar Rush, you would almost think that he has been acting all his life. He said that he knew how to play most musical instruments quite at an early age. Interestingly, he learned how to play guitar from a YouTube video.
Mawuli Gavor is an epic TV presenter to behold. Even though people with athletic figures are perceived as aggressive, it is contradictory in the case of Mawuli. He is always easy to talk to. If an interviewer feels unease, he would come up with jokes. He jokingly told someone that he has a Ph.D. in killing mosquitoes. His countenance has a profound way of calming nerves. It could be due to this innate attitude that prompted Yvonne Jegede to pour out her heartfelt gratitude to him on his birthday on Twitter.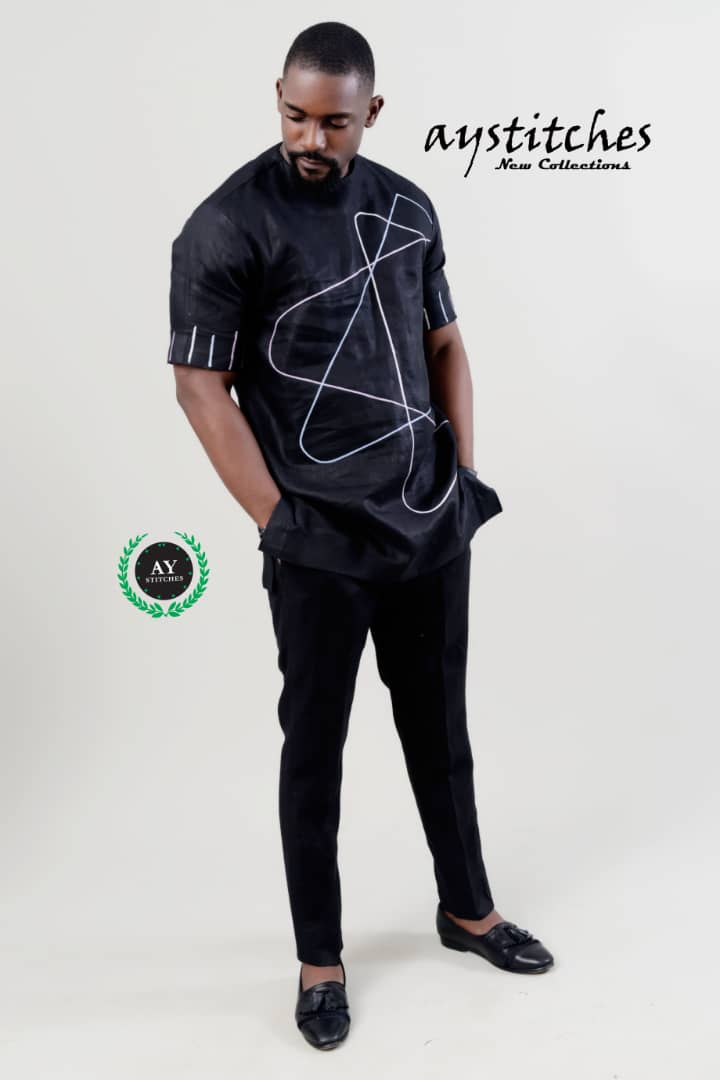 Behind the camera is a Fitness Enthusiast
Mawuli is a young man endowed not only with talents but also with good physical outlooks. His muscular chest, strong biceps, and six-packs don't come easy. They are a product of hard work. He came closer to Cynthia Nwadiora (Cee-C of BBNaija) due to his obsession with fitness. However, the story of their friendship will leave you in awe.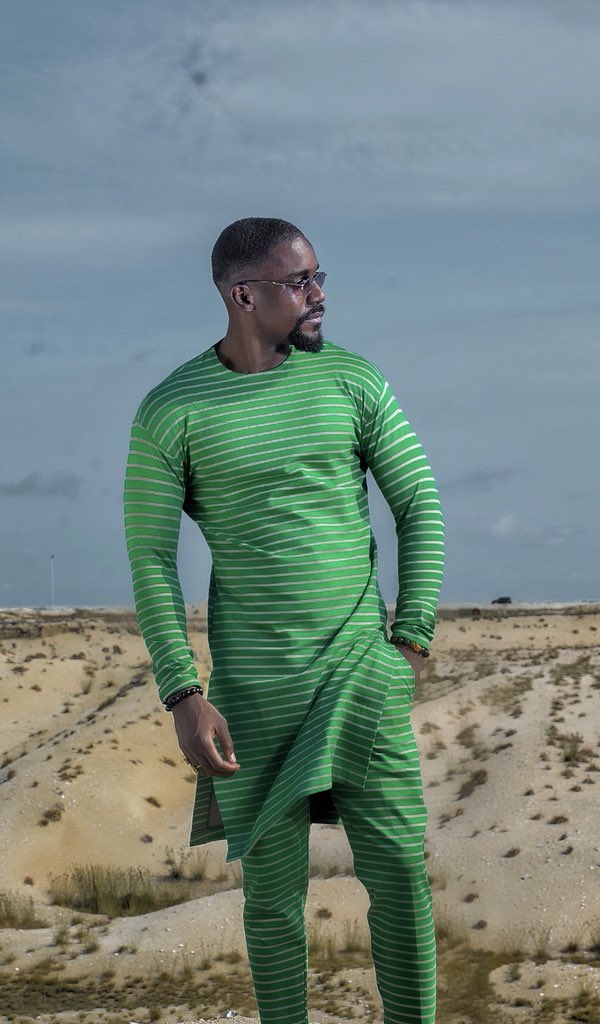 Cee-C opened a brand and needed a male partner. Gavor decided to help out. However, his good gesture and their subsequent friendship caused fans to raise eyebrows. There was a rumor that he was kissing Cee-C. Uti Nwachukwu had to ask him on Jara if he had anything romantic to do with Cee-C. He dismissed every insinuation that he is nursing feelings for her. He clarified that it was Cegar launching and they had to pose like intimate friends for a photoshoot.
Mawuli Gavor's Styles
Having been a model and now a TV show host for Mnet's Studio 53, he has sculpted into his subconscious mind fashionable attires to depict his authenticity. He is always the best in any outfit. He is currently worth about $500,000 but he seems to have just started his journey into wealth. The prolific personality actor has now produced two movies. He is reducing the number of romance roles he plays more physically engaging ones. When it comes to styles too, Mawuli is pretty versatile.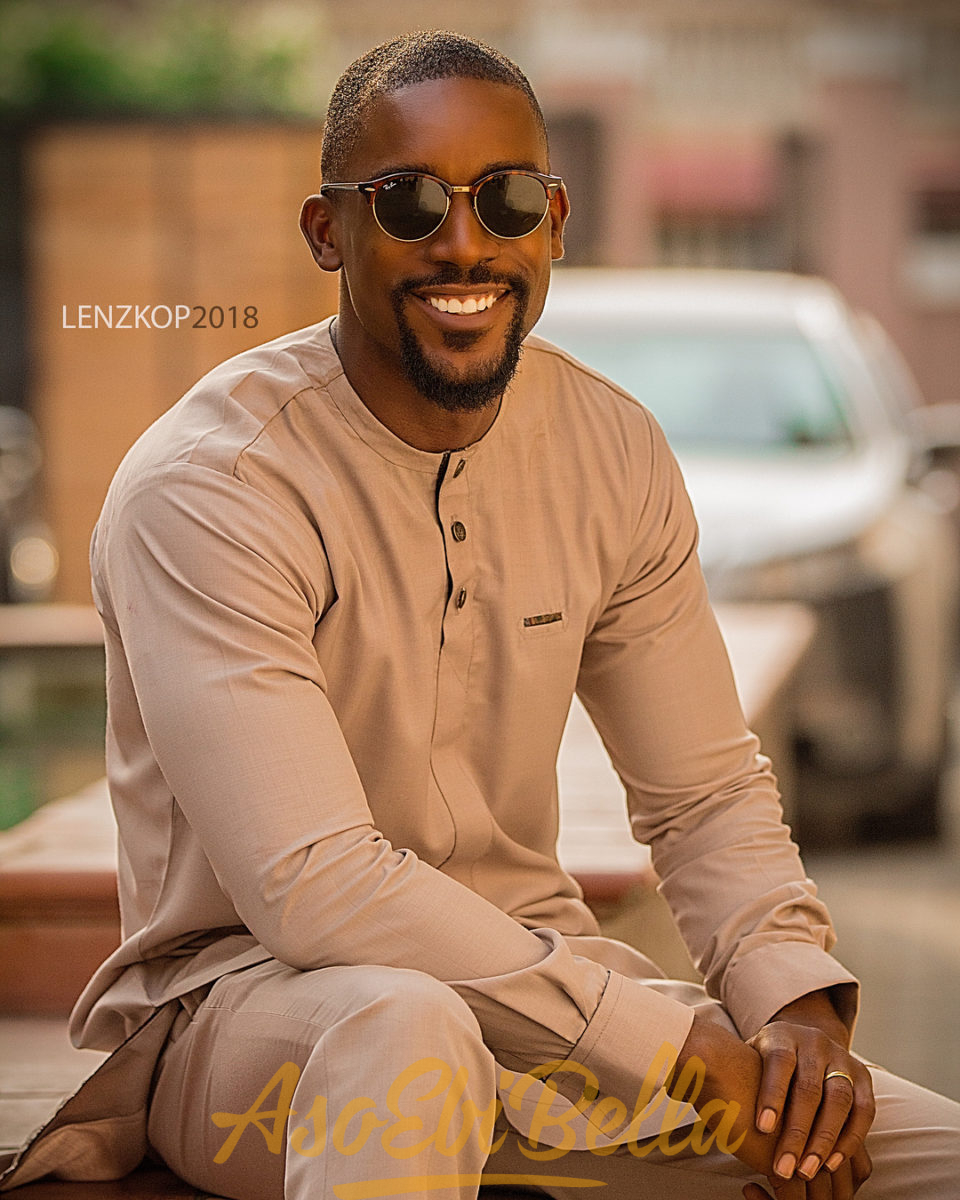 Mawuli Gavor is famous for regularly rocking diverse designs of the popular Nigerian senator wears. He often completes his look with a hat. However, in this case, he shows off his neat short hair.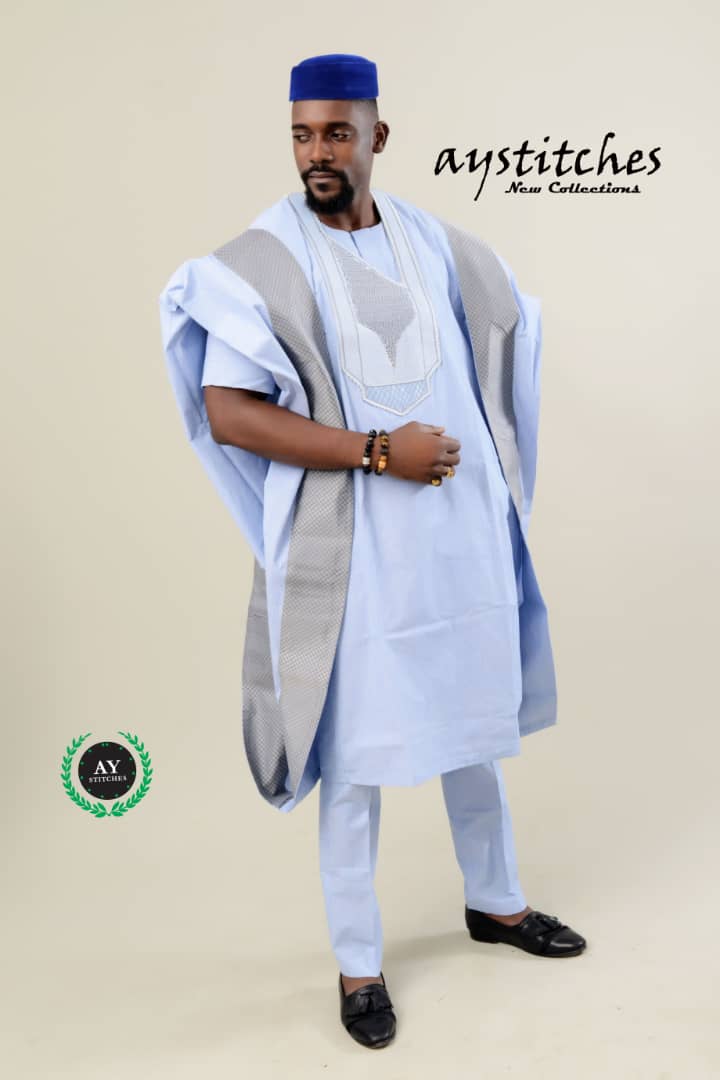 Gavor is looking fresh in a blue agbada with a matching cap. The three-piece attire is popular among Nigerian elites. The grey embroidery on the neck and sides of the agbada increases its appeal. He creatively pairs it with a black moccasin.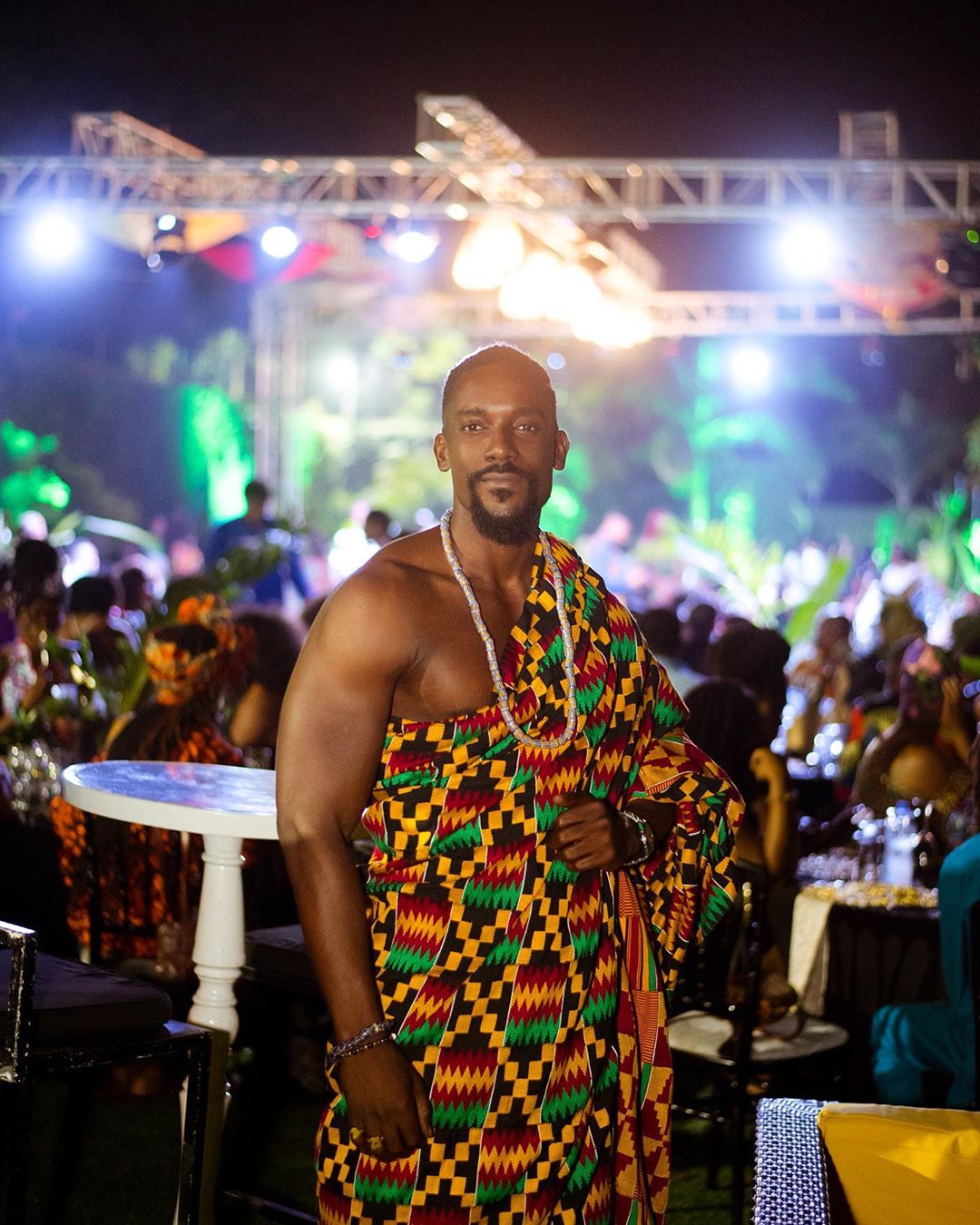 He flaunts his Ghanaian heritage, standing bold like a proud warrior. This time he is robed in the popular Ghanian Kente. He accessorized his look with local neck and hand beads.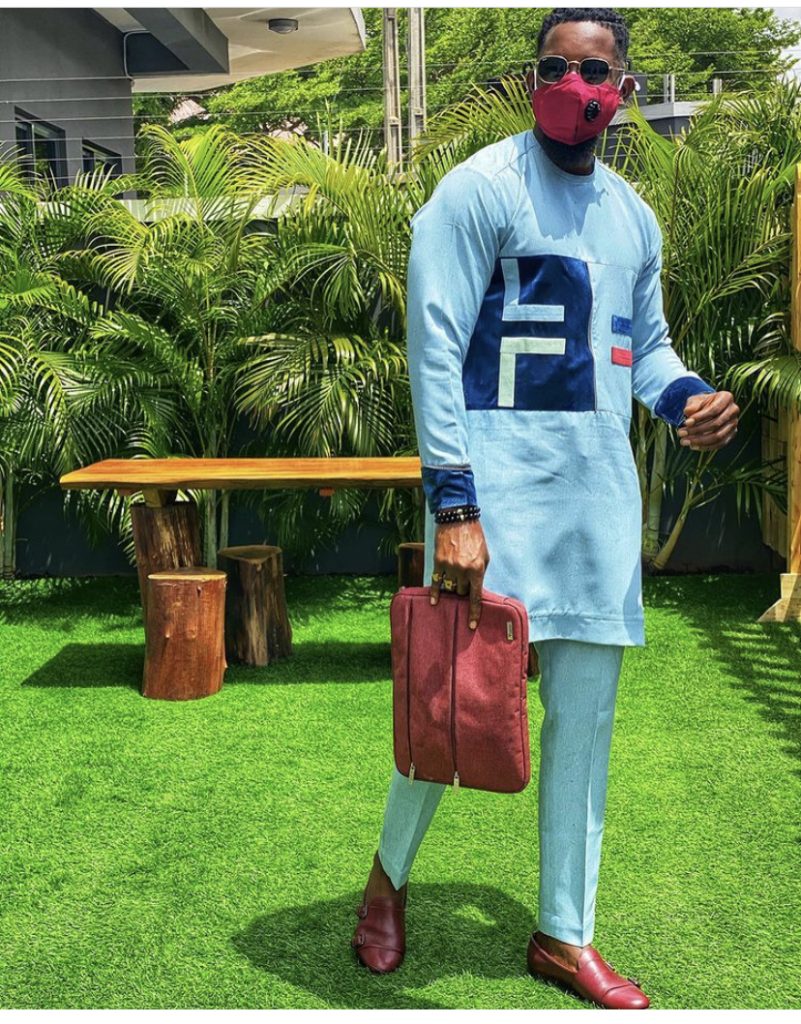 Here Mawuli Gavor shows that face masks can add to our fashion appeal. He rocks a sky blue senator with a creative royal blue pattern on the bodice. However, he makes sure that his face mask matches his show and bag in color.
Most epic looks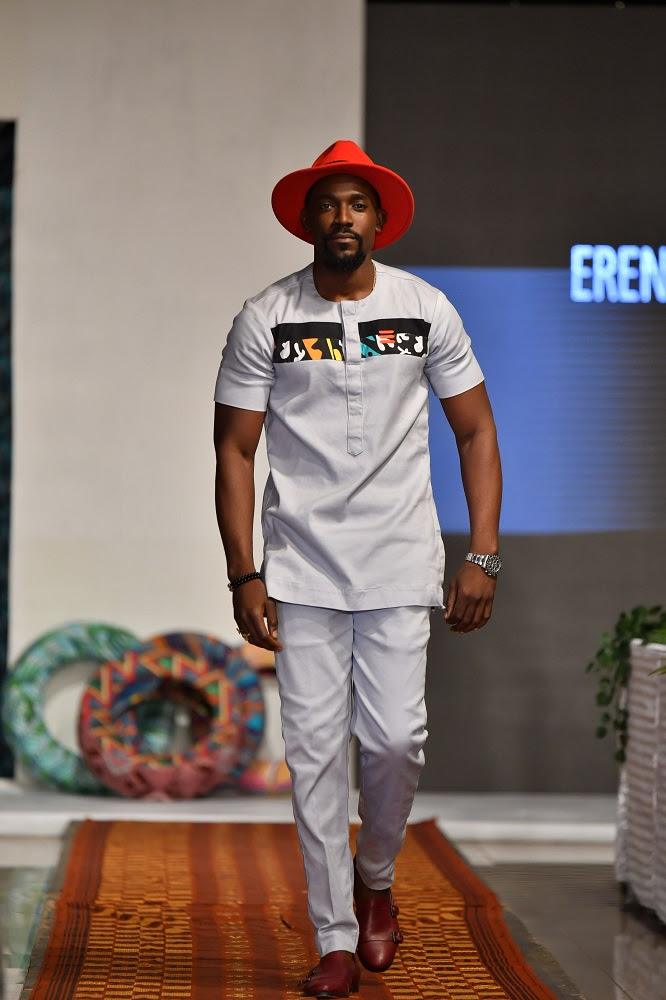 He is a whole lot of vibe as he walks the runway majestically in an ash senator. Obviously, Mawuli has come to fall in love with this Nigerian fashion—and there is no stopping him. Although his hat and shoes are not exactly the same color, they still don't contrast.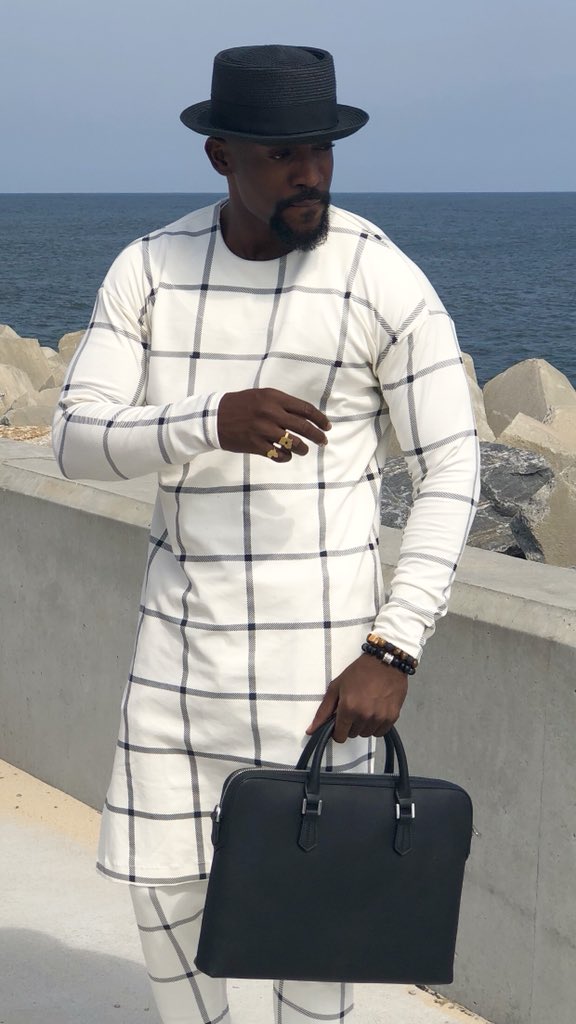 Mawuli Gavor shows off his physique in this body-hugging senator. He creatively rhymes the black pattern on the cloth with his bag and hat. One look and you can tell that he is definitely up to something.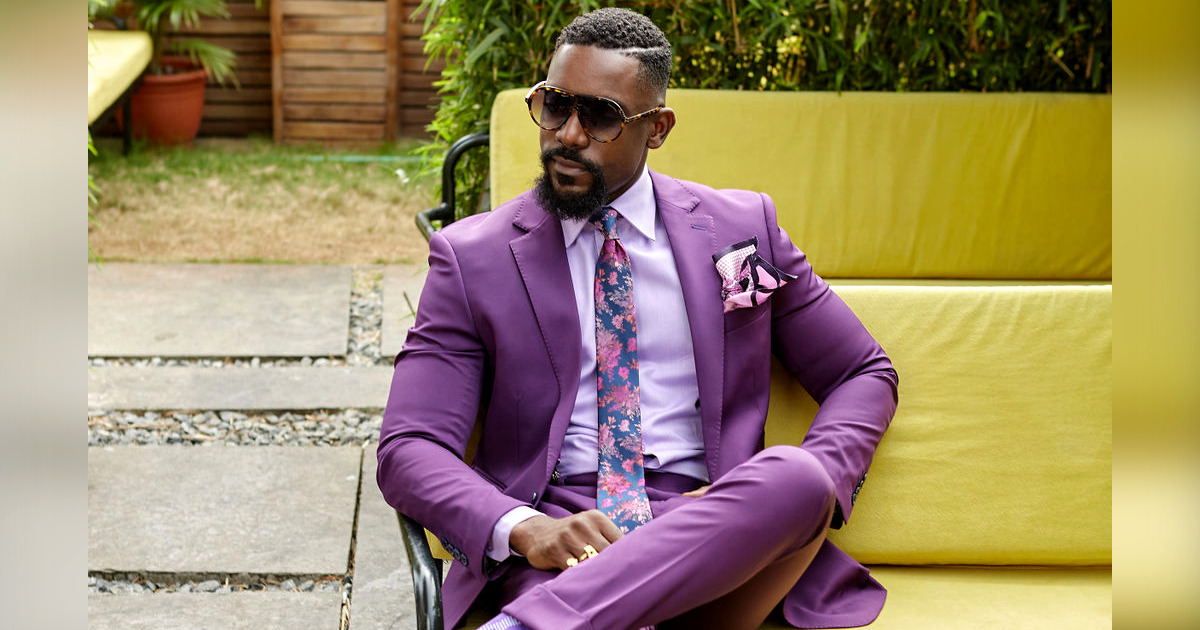 Once in a while, you will catch him looking formal. However, he usually doesn't go for the ordinary. This time he is rocking a purple suit with a beautifully patterned flower tie.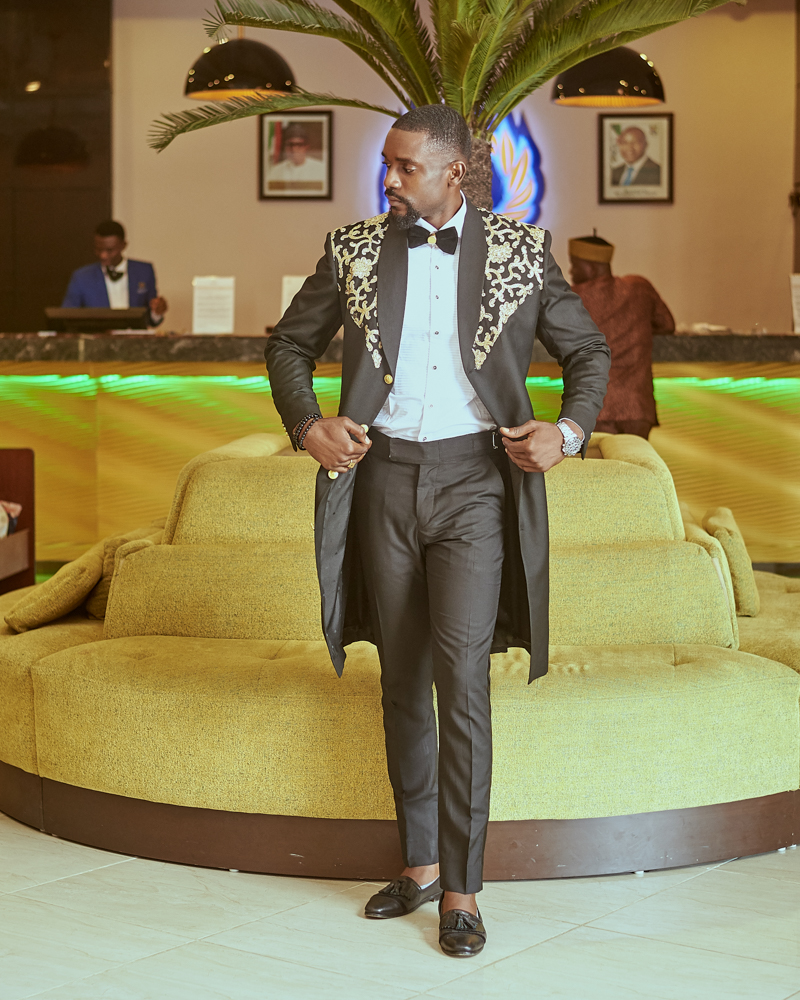 In this epic picture, he models for KochHouse, a menswear brand. The most remarkable feature of the suit is the long blazer and gold embroidery. He wraps it off with a matching mocassin and tie.
How Mawuli spends his time
Mawuli Gavor has never categorically linked himself to any girl. He often says that he has tons of projects to work on. However, we cannot tell if a stable relationship and possibly marriage are part of that project. He recently told Moda Culture that he is going to marry at the nearest possible time. Nevertheless, he wishes to keep his relationship private until the right time.
This popular crush of the female folks has tried as much as he can to keep his life as private as possible. Fortunately, it is working for him. He loves traveling and has declared his undying love for Cape Town, South Africa amidst all other places of relaxation. Mawuli knows how to live gracefully in Africa. He likes listening to Chike's "Running to You" and Joeboy's "Focus" among others.
Mawuli Gavor often watches basketball at night (probably because he is tall). Football is also at the top of his priority. Generally, he enjoys his solitude and would not mind staying alone while working on himself. He is working hard to maximize the opportunities Netflix offered to the African entertainment industry.
Conclusion
Although little is known about Mawuli, his fashion sense, confident demeanor and interactions with people show that he is constantly conscious of himself and his surroundings. He seems to know how to get a glimpse of his future and tries to follow unique paths. His ability to adapt between Ghana and Nigeria depicts his high level of social intelligence. So, what else do you know about Mawuli Gavor? Let us know in the comment box below.