These 13 African Celebrities Will Inspire You To Work Out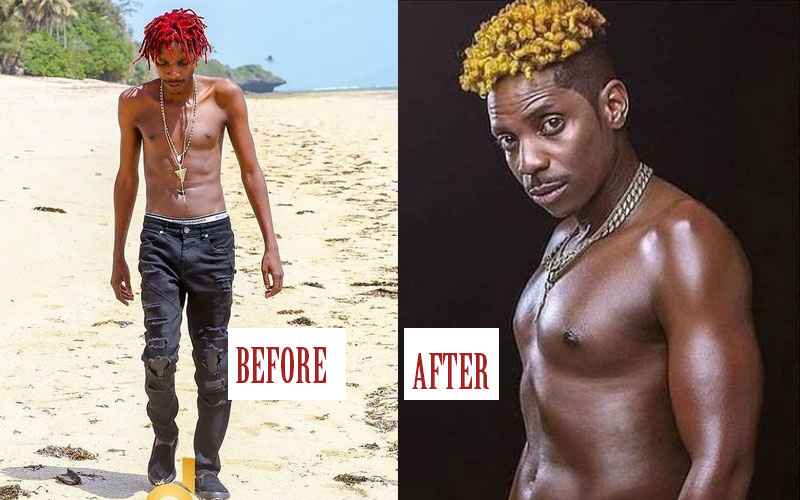 Celebrities are famous for fashion, controversy, or entertainment prowess. A few years ago, African celebrities were only famous on the continent. However, this is no longer the case. Today, African celebrities command respect beyond the shores of the continent. It is not surprising that many look up to them for trends or inspiration. Thankfully, some celebrities use their social media power to advocate for healthy living by sharing their fitness routines.
We see them working out or flaunting their ripped bodies. As a result, some of them have earned endorsements from top sporting organizations. This is inspiring the young population to keep fit or to look as desirable as their celebrity idols. Obviously, the lifestyle of a celebrity can make or mar their followers. By highlighting the celebrities creating a positive impact in the lives of their followers, we hope to get others to follow the footpath.
#1 – Boity Thulo – South African Celebrity and TV Personality
Boity is a popular public figure from South Africa. She is a TV personality, rapper, actress, and entrepreneur. She dropped out of university and ventured into media in 2010 as a commercial actor. In the following years, she has become a public sensation. Thulo has worked with SABC, SkyRoom Live, Migos, Sissy-Boy, and on other personal projects. Apart from media, Boity is an avid workout guru. On her Instagram, she regularly shares  the top fitness tips that have helped her achieve a sexy "beach body."
#2 – Didier Drogba – Retired Cote d'Ivore Football Star
Drogba is perhaps the most celebrated and famous African celebrity. Drogba played in top English Premier League clubs like Chelsea before retiring in 2018. He played the striker position in many clubs, including the Ivory Coast national team. His football competence has earned him accolades in several domains. To date, he continues to hold onto the legacy. Didier is a peacekeeper and community builder. Thus, Didier Drogba Foundation seeks to promote affordable healthcare in Abidjan. Also, he does frequent sit-ups or generally working out.
#3 – Refiloe Maele Phoolo (Cassper Nyovest) – South African Artist
Cassper is one of the most successful African rappers. His passion turned career started in 2008 when he moved to Johannesburg. Prior, he had tried forming hip-hop groups with his friends between 2004 and 2006. Unfortunately, these didn't work out. Since then, he has released several tracks and albums that have led to his popularity. Apart from music, Cassper is a famous workout junkie. He shares HIIT workout sessions and tips on his Instagram account. Surprisingly, Cassper has not always been the fittest he is now. After he suffered self-doubt, depression, and unhealthy weight, he decided to embark on a fitness journey. Consequently, he is inspiring his fans to workout and live a healthy life.
#4 – Eric Omondi – Kenyan Comedian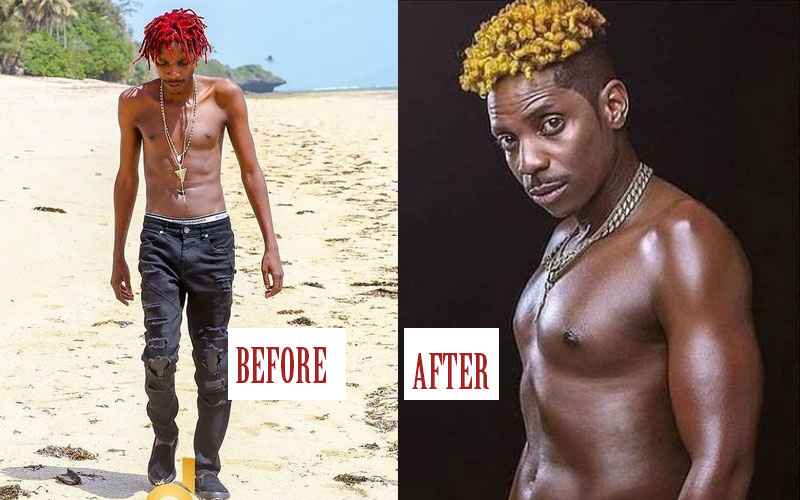 Many comedians are known for specific quirks or physical features. Eric Omondi, one of the funniest comedians in Africa, used to be known as a skinny man. But not anymore. Eric was born and raised in Kisumu County in Kenya. His comedy career started in 2006 when Daniel Ndambuki (Churchill) discovered his talent at an event. Subsequently, Eric has performed stand-up in many TV shows and parodies on his YouTube Channel. His exemplary performances saw him command an audience at Jimmy Fallon's show in 2017. All this time, Eric was known to be a skinny and underweight comedian. It wasn't until early 2020 that he decided to challenge himself and gain weight. Consequently, he ended up gaining 25 Kilos in 8 months. This transformation shocked everyone and inspired many to stay in shape.
#5 – Faith Nketsi – South African Celebrity and Public Figure
https://youtu.be/cDTegc1FtfU
Nketsi is a South African media personality and entrepreneur. She was born in 1994 in Johannesburg and continues to live there. At the age of 16, Faith joined Pro Twerkers, which marked the start of her dancing career. Consequently, she appeared in Cassper Nyovest's song some years later. In 2018, she launched a diet and workout program called Get Snatched. She went ahead and star in the HaveFaith reality TV show, which premiered on MTV Africa. Nketsi inspires most of her followers, especially ladies, to get in shape. She does this by regularly sharing her ripped and toned body on her Instagram account.
#6 – Corazon Kwamboka – Kenyan Advocate and Entrepreneur
Balancing lifestyle, social media, motherhood, and career is a superpower that Corazon possesses. Kwamboka has shared that it's not easy with several media outlets in Kenya. She is married to a fellow fitness enthusiast, Coach Frankie Kiarie. Frankie runs JustGymIt. The two are now fitness influencers and enjoying life as parents. What makes Corazon an inspiration to many is her ability to balance social life, career, and family. She does all this while still maintaining her fitness. Therefore, it proves that you don't have to sacrifice your normal lifestyle to maintain fitness.
#7 – Naseeb Abdul Juma (Diamond Platnumz) – Tanzanian Recording Artist
Diamond is undisputedly the king of Bongo Flava. This artist, philanthropist, and businessman has gone through a lot to achieve his current status. He was born in 1989 in Tandale, Dar es Salaam. After he finished high school, he started his music career. He did this without much help, save for his close family members. In 2007, he had it rough when raising money for a studio session. However, he persevered and slowly rose to become a sensational artist in Africa. At some point, Diamond was ridiculed by internet trolls for being skinny. Following the humiliation, he decided to work on his body. Nowadays, Diamond is fond of going shirtless on stage to exposes his six-pack abs and masculine upper body. Perhaps, this is his subtle way of replying the trolls.
#8 – Joselyn Dumas – Ghanaian Public Figure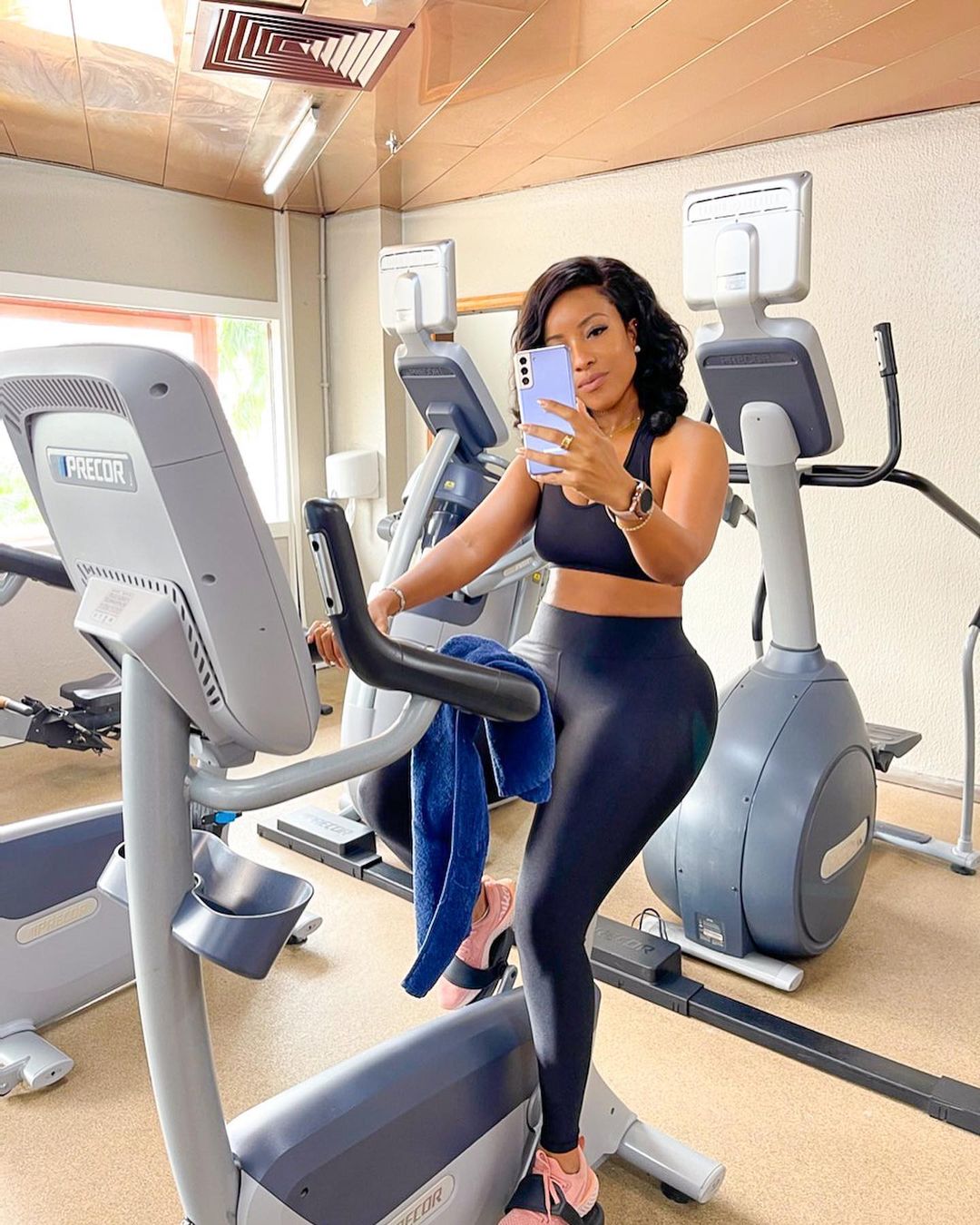 It seems popular women put in lots of effort to look good. Joselyn, an Actress and TV host, has maintained a beautiful body through fitness. Joselyn was born in 1980 in Accra. Before venturing into media and acting, she worked as a paralegal. Consequently, she has received several awards for her astonishing acts in films such as A Nothern Affair, Hottest Ghanaian Celebrity, and so on. Joselyn often shares pictures of her workout sessions on her Instagram page.
#9 – Djimon Hounsou – Beninese/American Actor and Model
It's demanding to maintain a certain level of physical fitness at 50 years. However, at 57, Djimon, a Beninoise Hollywood actor is at the top the fitness game. He started his career by appearing in music videos. A while later, he delved into acting. This made him star in legendary films such as Amistad, Gladiator, Guardian of the Galaxy, and more. Obviously, modeling and acting demands a fit body. Nevertheless, maintaining his killer physique at his age is inspiring. Hounsou is one of the middle-aged African celebrities encouraging his age mates to live healthier lives.
#10 – Tinotenda Chinyani – Zimbabwean Male Model
Everybody loves and craves to have sexy abs. What people fail to understand is that it doesn't come overnight. It takes hard work and determination to get there and maintain it. Tinotenda has mastered the secrets. Thus, he never hesitates to share workout tips on Instagram. Tino is versitile. He is an actor, TV host, and model. At 26 years old, this young African celebrity seems to have figured his life out. He has worked with big brands like Axe, Polo, and McDonald's on marketing campaigns. These features have propelled his modeling career.
#11 – Amanda du-Pont – South African Celebrity, TV Host, and Actor
The fitness industry in South Africa is at its highest. Amanda is one of the African celebrities contributing to this growth. She is a public figure known best for her performance as Senna in the Life is Wild drama series. She has gone ahead and worked on various projects that have strengthened her position in the public scene. Apart from work, Amanda is big into fitness. She is so ingrained into the lifestyle that she is now qualified to be called a fitness influencer. Thus, she has inspired many to adopt her fitness lifestyle.
#12 – Bohang Moeko – South African Celebrity, Actor, and Model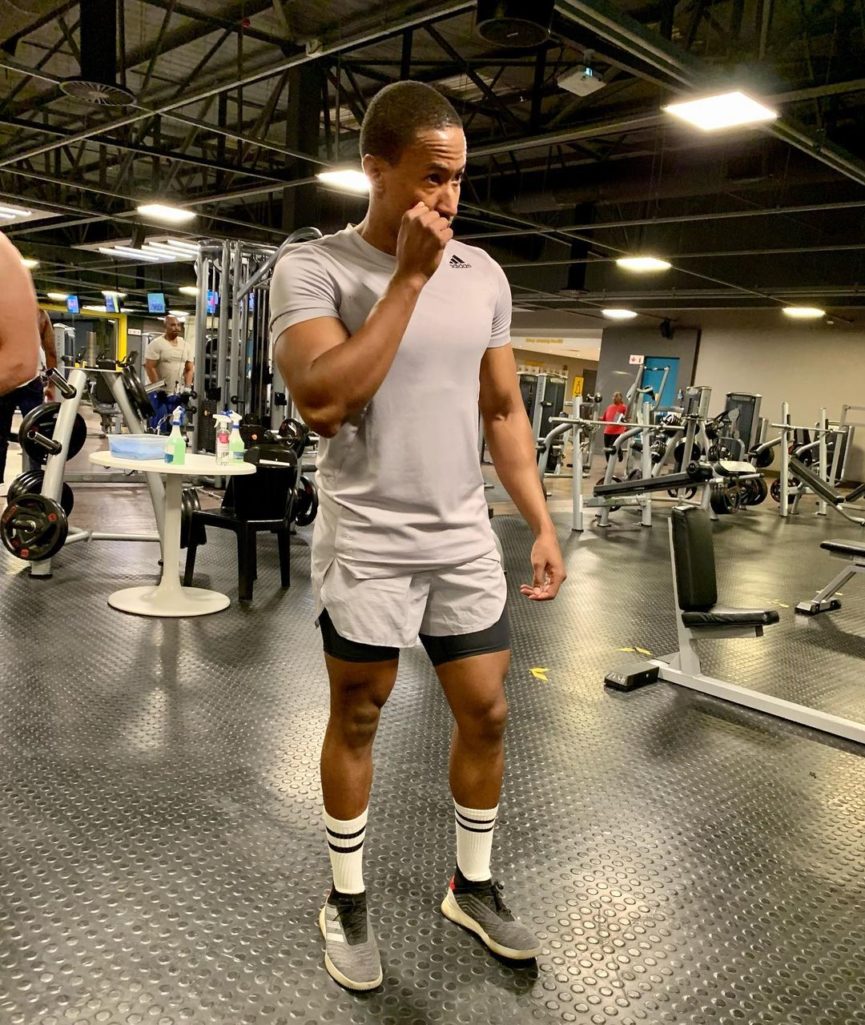 The list would be incomplete without this South African celebrity. Bohang is a Bachelor degree holder in quantity survey from the University of Free State in South Africa. Seemingly, construction was not his calling. Bohang moved to Johannesburg to study acting. He is popularly known for his role in Seriously Single, The Hot Zone, and Housekeepers. On top of acting, Bohang is known for his "shirtless Instagram posts" flaunting his ripped body. Undoubtedly, he is huge into the fitness lifestyle. Perhaps, his fiancée, Shantal, who is a fitness coach played some part in drawing him into fitness lifestyle. Regardless, he is an inspiration to many Africans for his work ethics and physique.
#13 – Kate Henshaw – Nigerian Actress
If you Google the fittest Nigerian actress, the first result is Kate's name. For reference, "Kate Henshaw was named the fittest & physically strongest Nollywood actress of all times". This is no coincidence. Kate is also a social advocate. Her performances in various movies have earned her awards. Apart from acting, Kate is famous for her love for fitness. On her Instagram page, you will find several posts of her primarily working out. She goes to the extent of sharing her workout routines and tips. If anything, Kate practices fitness as a mantra for her life.
Conclusion
Turning fitness into a habit can be hard maintain. This is worse if you don't have someone that inspires you. Thankfully, you can draw inspiration from some of our favorite African celebrities. Most of these celebrities sacrifice a lot to keep fit so that they can thrill their fans on stage. However, it also helps them to maintain their sanity and cope with the stressful nature of their job. Bret Contreras, Ph.D. said, "if you think lifting is dangerous, try being weak. Being weak is dangerous." Always keep that in mind.