5 Building Technologies Spurring Affordable Housing in Africa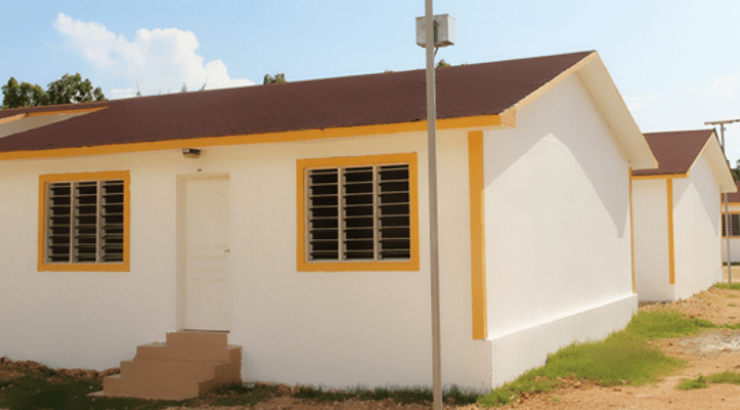 The housing deficit in most sub-Saharan countries, especially in urban areas, is a major concern for governments. In Nigeria for instance, the estimated housing shortfall is 22 million units while in Kenya it stands at 2 million units. Economists and urban planners agree that these statistics are a major cause of substandard housing policies that ultimately lead to the emergence of shantytowns. Most dwellings in these informal settlements are typically single-room structures with inadequate ventilation and amenities. Consequently, any government that wants to tackle this menace must create more affordable housing units. 
You will still find overpriced-houses with empty rooms in some of these cities. However, those who need sheltering cannot afford them. This further emphasizes the need for affordable housing. Different governments across the continent are taking steps to provide a conducive environment for innovative housing technologies to thrive. This will help in bridging the housing deficit while enabling lower-income earners to access decent affordable housing. Here are some building innovations that are likely to cause a paradigm shift in Africa's construction sector.
1. Expanded Polystyrene (EPS) Technology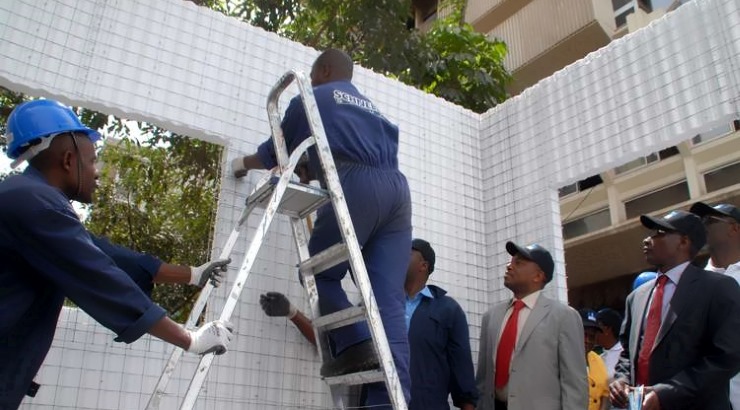 Housing contractors are opting for cost-effective ways to build homes and still maintain a high standard of workmanship. EPS panels are precast housing components made in factories and transported to building sites for assembly. This modern prefabrication technique is gaining popularity in sub-Saharan countries because of the obvious advantages for the builders and homeowners.
Key Benefits  
Quick Construction – Since all the panels are pre-made, the majority of the work on the building site involves the assembly of the components. This is a relatively easy task that can significantly cut down the construction time.
Cost-Effective – on average, the cost of building using EPS panels is approximately 25% cheaper than conventional brick and mortar structures. Thus, the end product will be more affordable housing.
Durable – Skeptics may doubt the quality and stability of EPS components. However solid research has proved that despite being lighter than bricks, EPS panels are sturdy. Their use is applicable in residential buildings, schools, office blocks among other structures.
2. Interlocking Stabilized Soil Bricks (ISSB)
This simple but effective modification of the popular mud bricks has the potential of increasing affordable housing units. The difference between ISSB and normal bricks is in the preparation process. Whereas conventional bricks have to go through an elaborate molding and kilning process, ISSB uses a simple compression machine and easily accessible ingredients. All that's needed is rich moist soil, some bags of cement and a pressing machine. With these few components, builders can make hundreds of bricks a day. The process requires some training to ensure the soil and cement are in a homogenous mix and in the right proportion.
Key Benefits
Ease of Access – Materials for this form of bricks are readily available.
Simplicity – Requires basic brickmaking training.
Reduces transport costs – Bricks can be made onsite.
Economically viable – Significant cut in cost and time in comparison to conventional brickmaking methods.
3. Klevabrick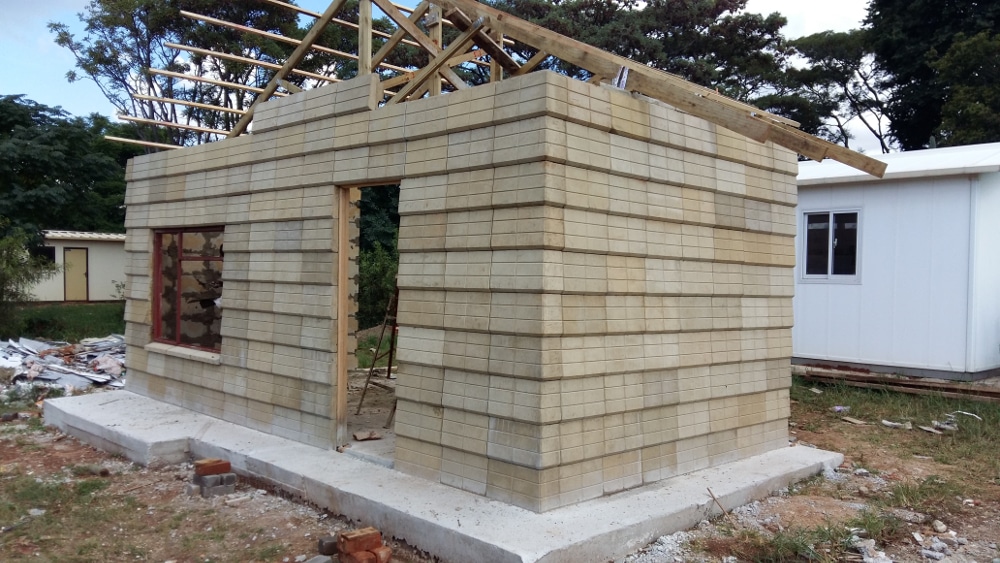 This one-of-a-kind building technology involves the use of specially crafted bricks that do not require mortar as a binding agent. During construction, the bricks are joined together using a proprietary bolting technology that facilitates wall construction. This affordable building option has taken root in South Africa and is spreading across the continent. 
Key Benefits  
Cost reduction – The absence of mortar and reduction in the workforce translates to more affordable housing units.
Reduces transport costs – Bricks can be made on-site.
Easy transfer of skills – Semi-skilled workers can easily be trained to build using this method.
Durability – The bricks are sturdy and crack-resistant.
4. Fiber Cement Prefabbing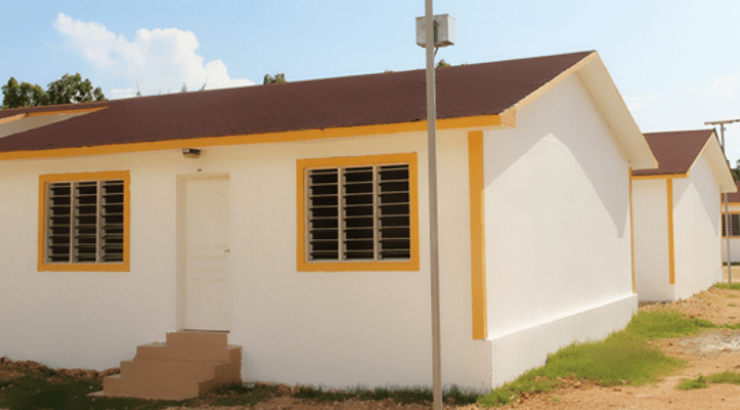 Fiber cement is a composite building material that is useful for both domestic and commercial construction. It consists of cement that is reinforced using cellulose fibers. Prefabricating companies are now using this material to manufacture pre-cast panels that are then fitted together at the construction site, resulting in a robust finished structure. 
Key Benefits
Reduces construction costs – This method significantly cuts down the costs and duration of construction. This leads to more affordable housing units.
Guaranteed durability – Fiber cement is sturdy and resistant to termites, fire, and rot.
Custom-made options – Can easily be customized to suit various preferences.
5. Light Gauge Steel Construction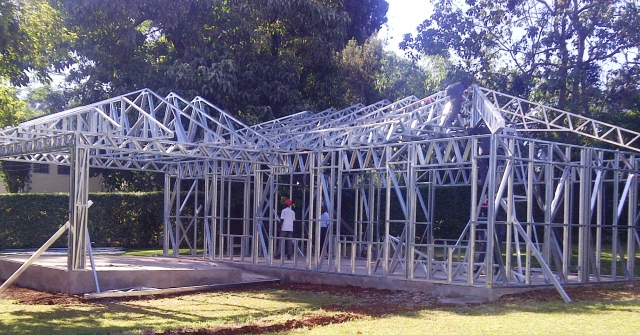 In most parts of Africa, building a modern dwelling requires plenty of wooden beams which can be costly to the environment. A cheaper and arguably more durable option is light gauge steel. They come in different sizes and shapes for the construction of housing frames, walls, and floors. This is also a more eco-friendly form of construction because it drastically reduces the pressure on timber use.
Key benefits
Time-saving – Significantly reduces the amount of time it takes to complete structures.
Guaranteed durability – The materials are solid, therefore, it can withstand human and environmental forces.
Eco-friendly – Encourages the construction of 'green' buildings.
Conclusion
No government can solve Africa's huge housing deficit problem in a day. However, by formulating policies that encourage the construction of affordable housing units using nonconventional materials, African governments can achieve this goal in the nearest future. While we talk about what the government should do, another important question comes to mind; will those that need sheltering accept these nonconventional housing units? We will love to hear your opinion in the comment box.