20 Really Cool Afrocentric Home Decor Items You Can Get On Amazon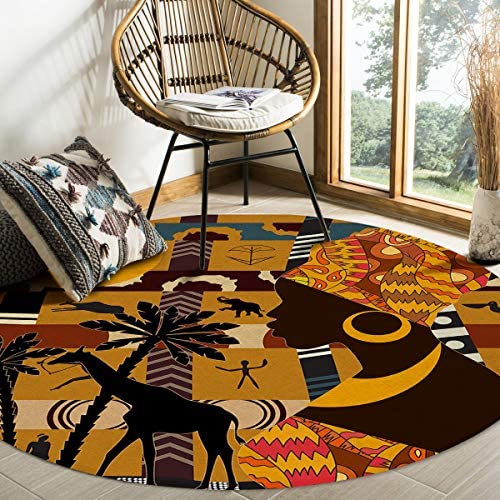 If you've thought about adding a touch of the afrocentric vibe in your home, here are 20 cool afrocentric home decor items that you can get from Amazon.
20 Authentic Afrocentric Home Decor Items On Amazon
There are lots of amazing Afrocentric home decors to choose from. From quality textile wall hangings to colorfully beaded gourds and everything for a perfect bedroom and living room, we have something to fit into different rooms. Keep scrolling to see which of them will catch your interest.
If you love animals, here is something that will work. This beautiful decor item is a carving of an elephant and its calf. It is made of a polyresin material, weighs 0.42 pounds, and has length, width, and height dimensions of 7×1.5×4.5 inches. Also, it represents the magnificent African fauna. You'll literally have a piece of the African jungle in your bedroom—or wherever you want.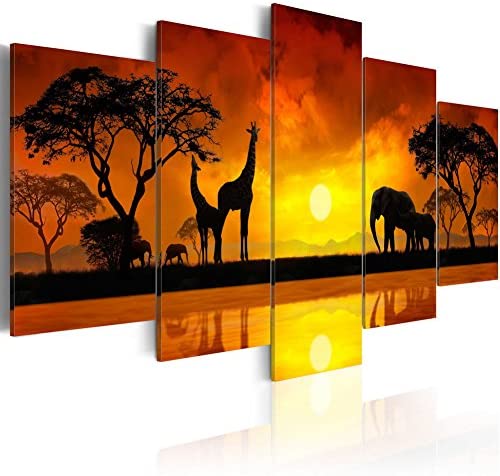 Here is one breathtaking piece designed for every modern Afrocentric home decor. It is a 5-panel wall art essentially in three-set sizes made for a living room or large bedroom. This item will also nicely fit a hallway or dining room. Its large and realistic nature will definitely turn an ordinary living space into something magical.
Having a tribal lady figurine serves as cultural appreciation. All in all, the art sculpture is a good reverence of typical African women. The 3-piece figurine is hand-crafted and painted resin black. It can be used as dining table decor or placed on a shelf.
A drinking giraffe wine bottle holder is a great concept for kitchen or dining table decor. It will definitely make a fun appearance at any party or family gathering. The cute and helpful Afrocentric decor is just 13 x 4 x 6.5 inches in LxWxH. What a way to lighten the mood and make your visitors feel at home.
A tribal tone can be accurately achieved in any sitting room using Afrocentric linen pillowcases. Aside from its warm African expression, the decor item is also made for comfort. The square throw pillowcase is durable and environmentally friendly as linen materials are scratch-resistant.
This vivid painting of a typical African tribal woman is epic Afrocentric home decor. Its imposing size, as well as its classic and realistic nature, makes it an important addition to the home. The decor item comes in canvas material with 5 different sizes to choose from.
This animal mask decor represents high-quality being made of crushed stone and durable resin design. It is the perfect decor if you are looking to bring the drama of the African savannah and grasslands to your home. The realistic nature of the item is attributed to its unique hand-painting with a faux weathered wood grain.
Here is a really useful decor item both for storing fruits on a center table and in the kitchen. The lidded food basket is small but handy. It is meticulously handwoven in Senegal with a sturdy and durable design. Basically, this results from the use of cattail stalks and strips of colorful recycled plastic.
This safari toilet tissue paper figurine proves an important point that Afrocentric home decor is not restricted to living rooms, dining rooms, or bedrooms. Moreover, the wall-mounted decor serves a dual purpose. It works first as a decorative item to bring an African charm to your bathroom, and then as a functional toilet paper holder. The hand-crafted item is made from cold cast resin.
Flowers are beautiful, but having one in any of these burlwood-finished flower vases will be simply stunning. The freestanding home decor item reflects top-quality raw materials, professional craftsmanship, and a suiting tan color. It is designed to accent home or office tables.
As with the safari toilet paper figurine, it is possible to fulfill both aesthetic and functional home decor needs with the hanging woven wall basket. This is because it can either serve as a fruit basket or jewelry holder, in addition to its primary use. Another advantage of the hanging woven wall basket is that it can be placed almost anywhere in the home. The special art piece was crafted by artisans in Rwanda.
Bathrooms can also be a place of romance and deep lovemaking. This beautiful and bright shower curtain is designed to set the mood. Also, its 100% polyester material ensures that the curtain remains water-repellant. Consequently, this Afrocentric shower curtain is easy to use and wash.
A beautiful window view should have this 2-panel Afrocentric ruby grey microfiber curtain. The curtain has a versatile design, bold colors, and a good length to fit anywhere in a home. Other great features of this item include the fact that it is machine washable and easy to install.
This Afrocentric king bedspread is an infusion of high-quality and warm African tones. In the first place, it is made of soft-spun polyester which is double-brushed and of high density. This means that it is soft and comfortable, hence it is perfect for cozy night rests. The bedspread is also printed with state of art digital technology. This guarantees that the material will retain its brilliant colors. Also, you can wash it with a machine. That is a huge relief, right?
At first sight, the African tribal totem imprinted on this decorative candle holder catches the eye. That is however not the only great feature of this decor item. Other stand-out points include the fact that this candle holder is scentless, rust-resistant, and durable. The polyresin material used to make the item is a major factor for these outstanding qualities.
Everyone will definitely love a cozy feel beneath their feet, a safe surface to walk on, and an African essence in the mix. This home decor foot rug brings it all together. It achieves this through a non-woven top side and a non-slip rubber bottom. In essence, it keeps kids and adults from slip or slide accidents in the home. There are 4 different diameter sizes available to choose from.
As the name implies, this home decor item sets an African stage for every family meal. In fact, it additionally portrays luxury. The folkloric tablecloth, made from 100% woven polyester and silky satin fabric, is a spectacular addition to the dining table. The material is machine washable and is suitable for both outdoor and indoor uses.
Spilled liquids are no good for kitchen counters and this home decor item acts as the perfect solution. Your beautiful coffee table will also last longer having one of these Afrocentric cup mats on it. The decor item features a water-resistant design. It is equally lightweight and easy to clean.
Having this black set of ceramic statues will inspire your meditation and prayers. The 4-piece home decor set appears in 4 classic yoga postures. This is a good reminder for your daily spiritual and mental routines and also a convenient table-top decoration.
Also worthy of mention here is something that will bring motivation while serving as wall art. It is a 13×18 inch poster that gives a snapshot of powerful and impactful words of great Black leaders. The item is fashioned out of thick, high-quality, and durable poster board with a heavy-duty finish.
Conclusion
Besides elevating the aesthetics of your home, some of the African decors we have on our list are inspirational. Looking at them every day can guide you towards attitudinal change which we all need to succeed. Furthermore, it will serve as a constant reminder of your root. An African proverb says, "No matter how high a bird flies, it returns to its nest". Likewise, you should never forget your root. Do you have links to other exciting African decors? please share with us in the comment box below.