A Peek At 13 South African Celebrity Homes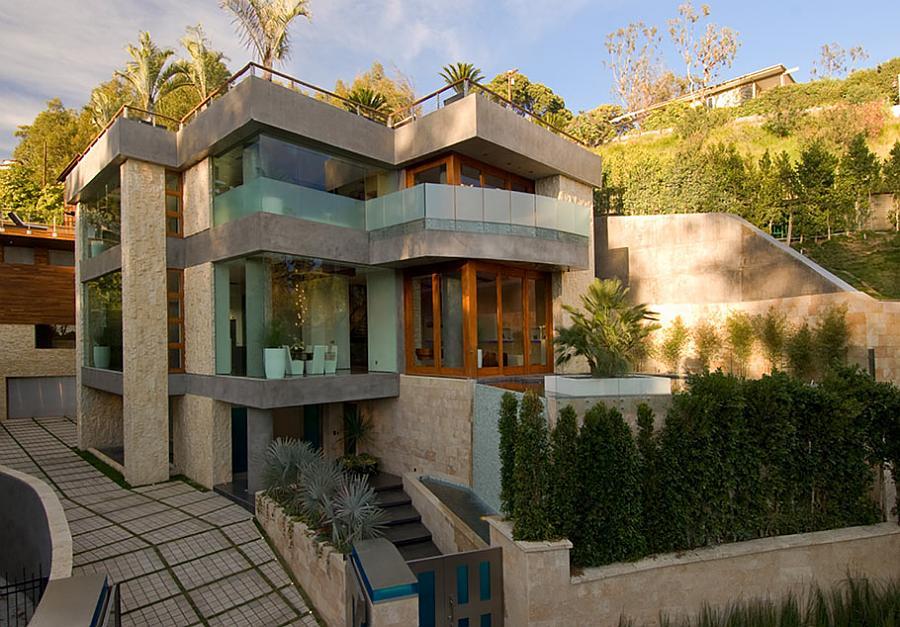 Celebrities all over the world live a flamboyant lifestyle. You can't blame them because society often pressures them into that. From designer clothes to flashy jewelry, and fast cars, celebrity lifestyle has become the aspiration of youths. Coming down to South Africa, celebrity homes is becoming a trend of some sort. South African celebrities are really trying to outdo themselves. In this post, we will take a peek inside 13 celebrity homes in South Africa—and you can't help but drool over them.
#1. Bonang Matheba
Fondly called Queen B, model and radio personality Matheba owns a luxurious home at the Waterfall Country Estate, Midrand, Gauteng. Note, this is the most expensive estate in South Africa. It was designed by Joane Reynolds and the interior is a mastermind of Jessica Hofmeyr. The wall is adorned with beautifully framed magazine covers bearing Bonang's portrait. The house was featured on Top Billing and features an exotic pool. It is speculated that the house cost her R14 million (approx. $826,000).
#2. Cassper Nyovest
Count the top ten rappers in South Africa and Cassper Nyovest must feature at the top spot. The 29-year old rapper owns a luxury home in Kyalami, Johannesburg. The house features a massive swimming pool and a stunning interior. It cost the rapper R10 million (approx. $590,000). It is one of the celebrity homes in South Africa you'll wish you owned.
ALSO READ: Here's How Some African Celebrities Are Supporting The Fight Against COVID-19
#3. Somizi Mhlongo
Somizi is one of the celebrities you will love to hate—but you simply can't. He is famous for his role in the Idols SA judging panel. However, he is an actor, choreographer, and radio personality. His luxury home is in Zimbali Coastal Resort & Estate in Kwazulu-Natal. The most stunning feature of the home is the gigantic designer kitchen. It is not a surprise because he loves to cook. The home is valued at R6 million (approx. $354,000).
#4. Sbusiso Leope (DJ Sbu)
Who would ever think that a time will come when African DJs will be among luxury homeowners? The music producer and radio host live in a home worth about R8 million (approx. $473,000). The most striking feature of the home is the inbuilt recording studio. Talk about luxurious celebrity homes in South Africa and you can't miss this stunner.
#5. Bernard Parker
The soccer star knows how to enjoy life with his family when he is not sweating it out on the pitch. He owns one of the luxurious celebrity homes in South Africa that has features on SABC's Top Billing. Hanging on the wall of the house are football memorabilia. Unfortunately, we have no clue regarding the cost of the home.
ALSO READ: 10 African Celebrity Breakups. Would You Have Handled Them Any Differently?
#6. Sophie Lichaba
The 'Generation' star was recently rushed to the hospital following some health complications. We are happy that she is doing fine. Sophie has been struggling with debt and has been dragged to court several times. However, her husband Max Lichaba bought her a home in 2019. The price of the home was not made public. Nonetheless, the pictures are simply stunning.
#7. DJ Zinhle
This South African DJ, businesswoman, and media personality has a slew of houses. Her latest acquisition was in 2019 and it is simply amazing. From the exterior design to the interior furnishing, every part of the building radiates glamor. It is one of the celebrity homes in South Africa that is suitable for a queen.
#8. Sonia Sedibe
Women have a classy taste when it comes to homes but Sonia takes it to a new height. The successful businesswoman and actress let media persons into her home and we are glad she did. It has a gold touch and glossy finish. The swimming pool and lawn provides the perfect spot for evening relaxation. Call it one of our favorite celebrity homes in South Africa and you won't be wrong.
ALSO READ: 10 Must-Visit Luxury Hotels In Johannesburg South Africa
#9. Minnie Dlamini
The businesswoman and TV presenter once owned a luxury home. Although she still stays in the home, it has been sold. However, the reason why she is still in the house is because of the lockdown which has made it possible for her to find a new home. She has been sharing her lockdown experience with fans as well as how she is adding sanitizers to her signature MD Skincare brand.
#10. Hlengiwe Twala
The home of former Mrs. South Africa and serial entrepreneur, Hlengiwe, will leave you gasping in awe. The stunning mansion is located in Hartbeespoort Dam, right next to the dam. The serenity is immaculate and definitely one of the celebrity homes in South Africa that is befitting of a queen.
#11. Tendai Beast Mtawarira
After playing rugby for over a decade and spending most of the season in hotel rooms, Tendai can't help but have his own luxury home. The mansion is located on the North Coast. The edifice is the architectural masterpiece of Tracy Levinson. Who knows, the three-story would have been higher if not for the estate's height restriction.
#12. Amanda Transkei
For many, growing without parents is almost a death sentence—but not for Amanda. She worked her way up the ladder to become a self-made specialist in I.T. Subsequently, she rose to the Chief Information Officer at a multinational bank before launching her own consultancy. Her home is simply stunning with a state-of-the-art kitchen and cozy sitting areas. Her success story is highlighted in her recent publication, 'Baked in Pain'.
#13. Nonhle Ndala
If you are a fan of Diski Divas, you probably know Ndala. In addition to being a TV personality, she is also a fitness trainer. The latter is what has earned her the most recognition including featuring in the Bootcamp Mzansi's Celebrity Edition. Her home is a marvel with an indoor pool and a personal spa. The dining walls are made of glass allowing you to enjoy the pristine view of the outside while you munch. It has other specs that you can only wish to have.
From footballers to musicians, and business people, there are many more celebrity homes that did not make this list. However, we wanted to highlight a few names that struck us for one reason or another. If you have the chance, which celebrity's home will you visit first? Leave your answer in the comment box below.