15 Jaw-Dropping Airbnb Homes In Nairobi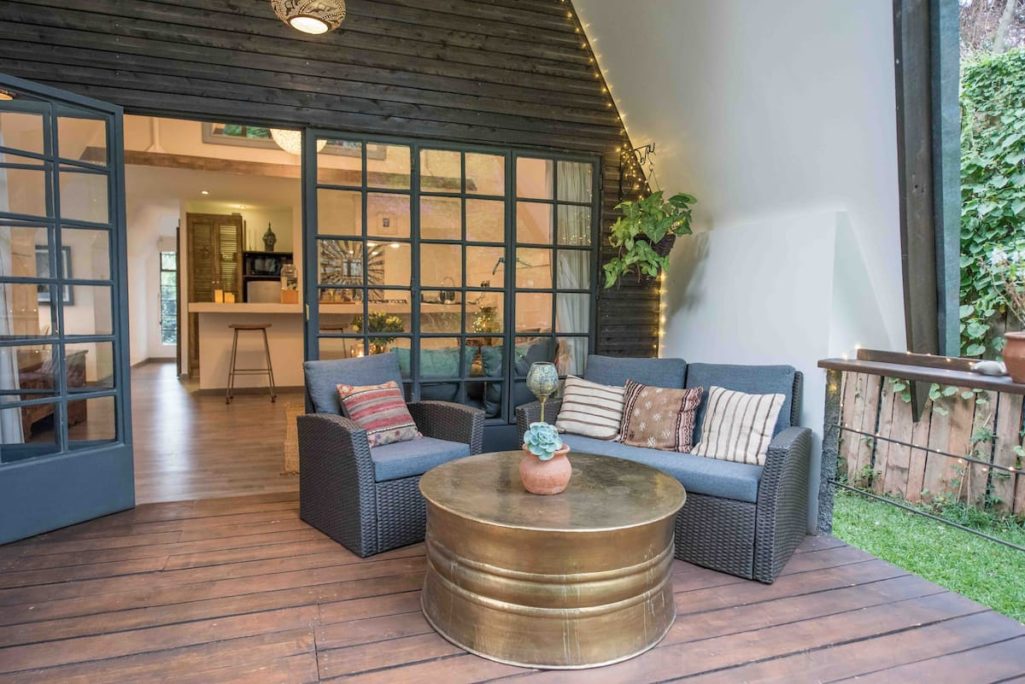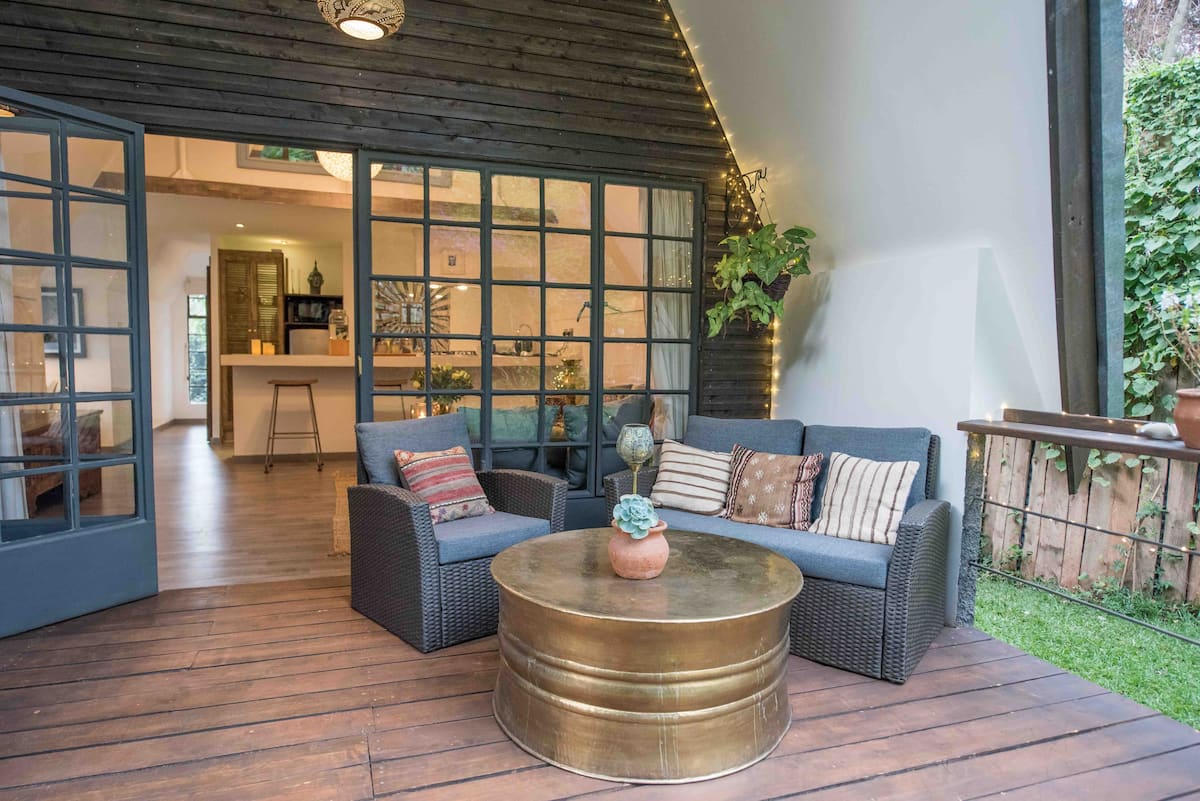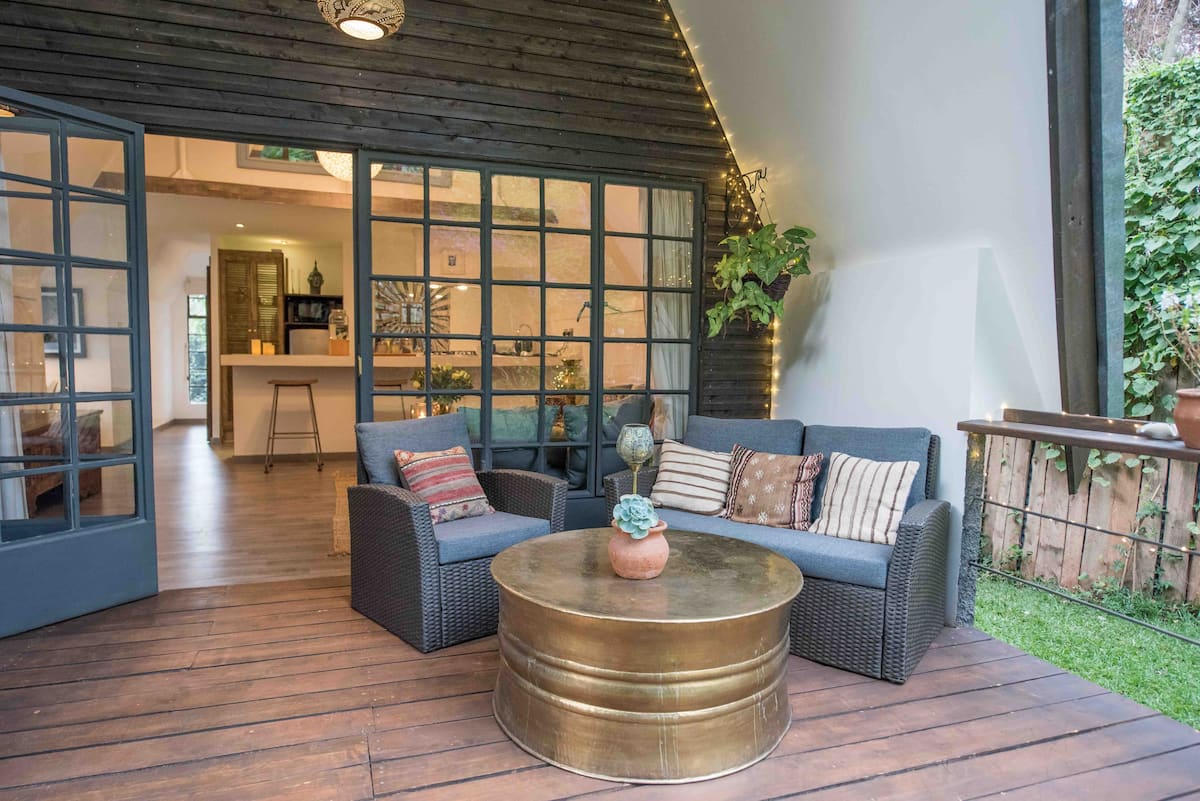 Mention the word ''Kenya'', and the name evokes visions of striking landscapes and abundant wildlife roaming on vast grasslands. However, the capital city of Nairobi is also a unique, vibrant destination worthy of exploration. What's more, there is a wide variety of accommodation available. For example, there are jaw-dropping exquisite Airbnb homes available in Nairobi to suit all tastes. Here is an overview of available options.
The Growing Popularity of Airbnb Accommodation
The introduction of the Airbnb concept in 2008 sent shock waves to the hospitality industry worldwide. This is because Airbnb is an attractive and convenient alternative to hotel stays. For example, if you are planning a visit to Nairobi and you opt for an Airbnb, it will enhance your visit on several levels.
Why stay in an Airbnb Home in Nairobi
A stay in an Airbnb home in Nairobi will enable you to sample life in an upmarket neighborhood. This is especially true if you choose one of the exclusive homes in such locations. Whilst there, you will also have the unique opportunity of interacting with the residents and cook your own meals.
Suppose you are attracted to the bright lights and prefer to be near shops and restaurants, there are contemporary Airbnb homes in Nairobi to accommodate your preference. They come equipped with all modern amenities. Are you seeking a hideout away from the hustle and bustle of the city, perhaps with a view of the iconic Ngong Hills thrown in? There is no shortage of such retreats. Here are descriptions of 15 strikingly beautiful Airbnb homes in Nairobi.
#1. The Jungle Oasis Studio Apartment – Nairobi County (Rate from US$105)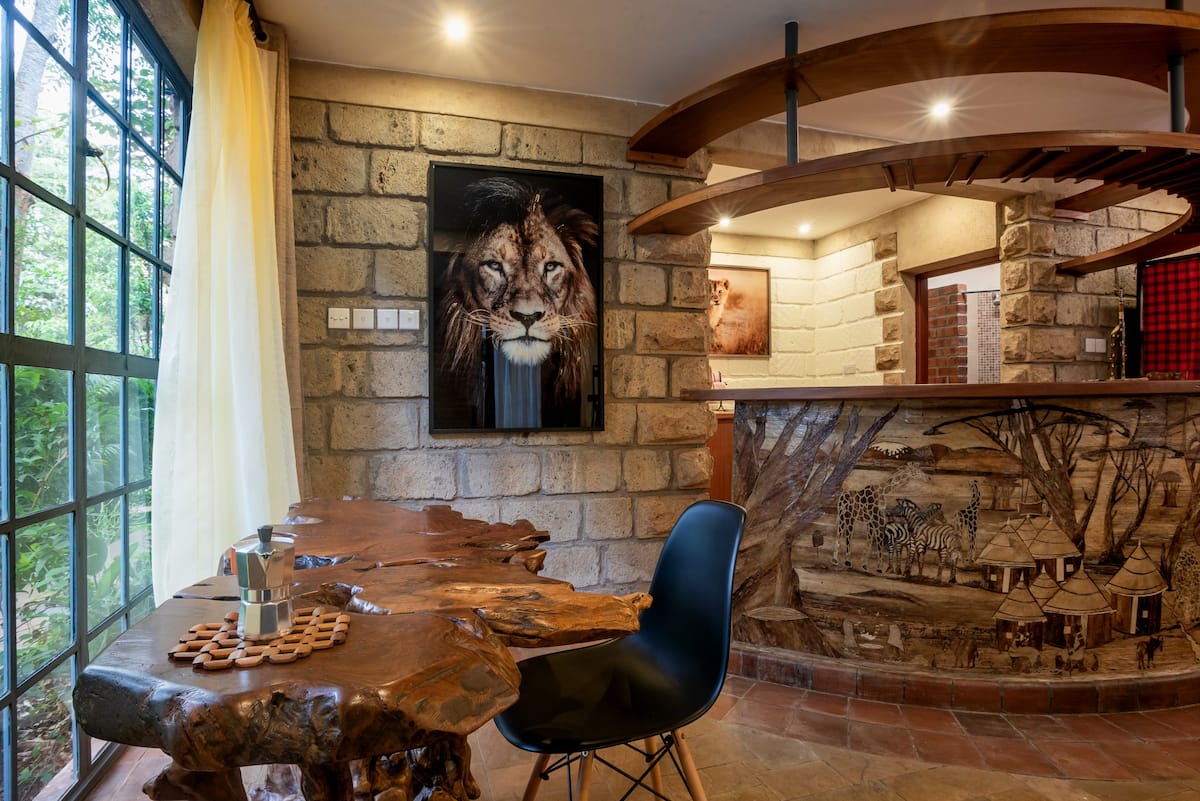 Are you a solo traveler in search of a comfortable, cozy, hideaway? The Jungle Oasis ticks all the boxes. It is not only stylishly decorated but also set in a serene, lush compound. Soak in the lovely surroundings as you sip a cup of coffee on the private wooden patio. For exercise, take a refreshing dip in the pool at this unique rustic property.
#2. The River Cottage, Karen (Rate from US$63)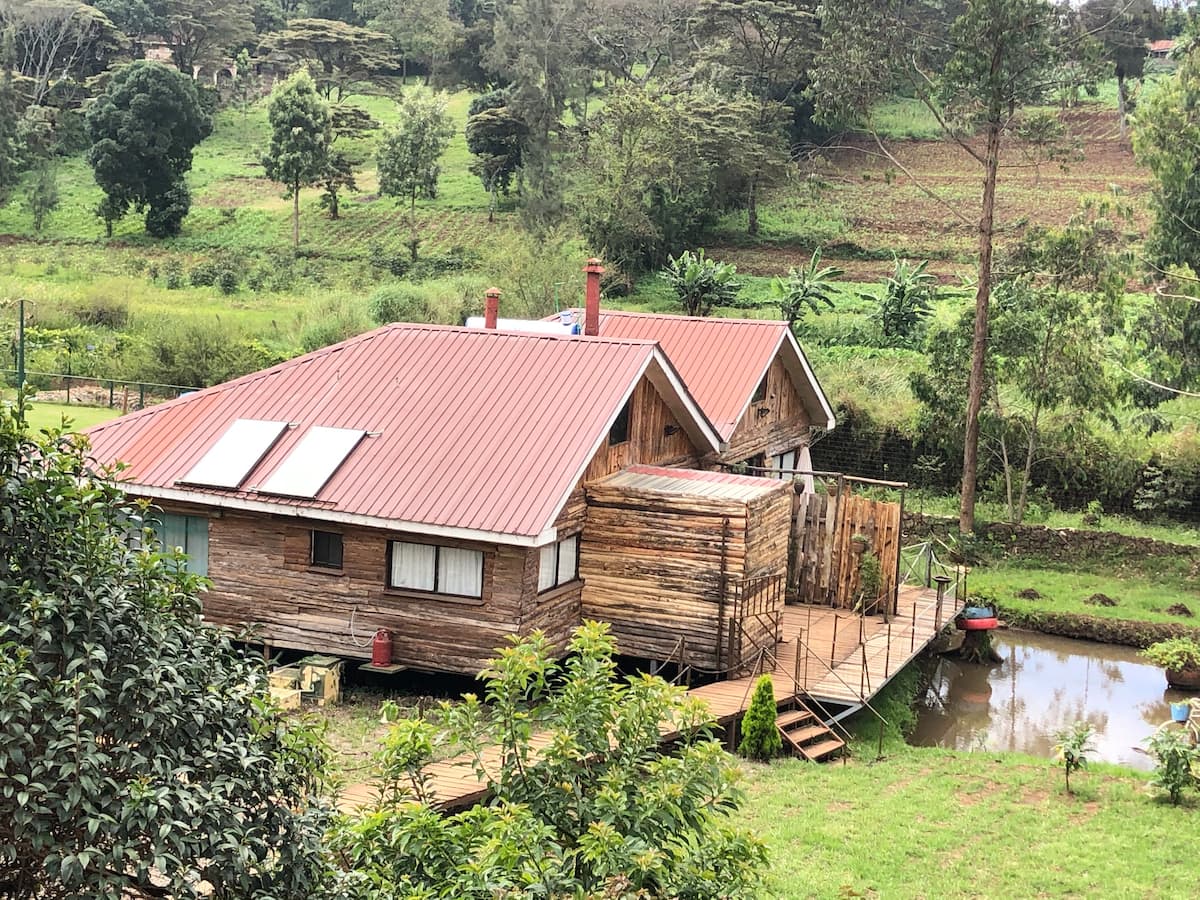 Is it your cherished wish to stay in a log cabin? This Airbnb home in Nairobi, River Cottage offers rustic living at an idyllic location, complete with calming views over a private lake. The 2-bedroom cottage lies in a spacious garden with a river running underneath it, and it has a fully equipped kitchen. Pets are allowed in the compound and you can light a fire to keep you warm during those cool evenings. The Karen Blixen Museum is nearby, and so is the Karen Shopping center for all your grocery needs.
#3. The A-Frame, Windy Ridge, Karen (Rate from US$117)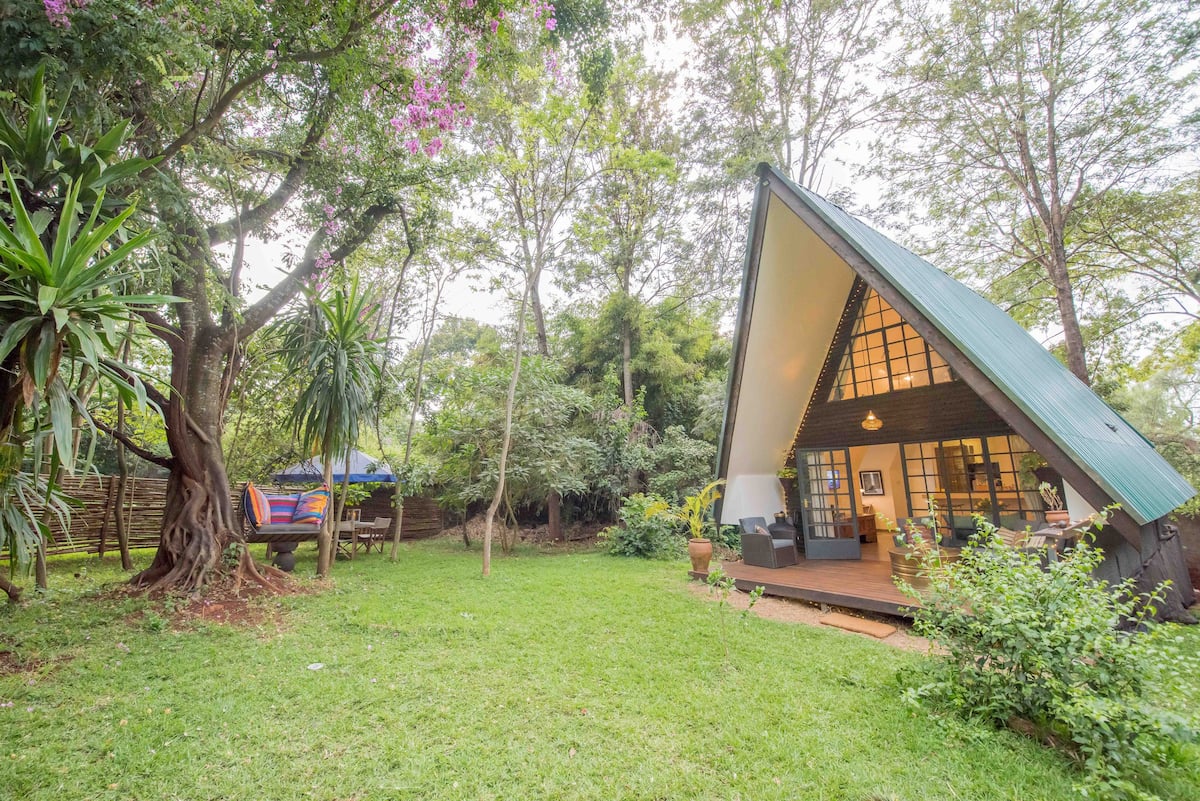 An ideal hideaway for a couple, this uniquely designed cottage is set in an expansive garden offering a perfect home away from home. The cozy retreat has a large king bed, an open-plan kitchen that offers a constant supply of safe drinking water. Spend memorable evenings chilling on the wooden deck as you sip sundowners. The property boasts Wifi and a 32'' HDTV with Netflix.
#4. Stylish, Modern Apartment in the heart of Westlands (Rate from US$105)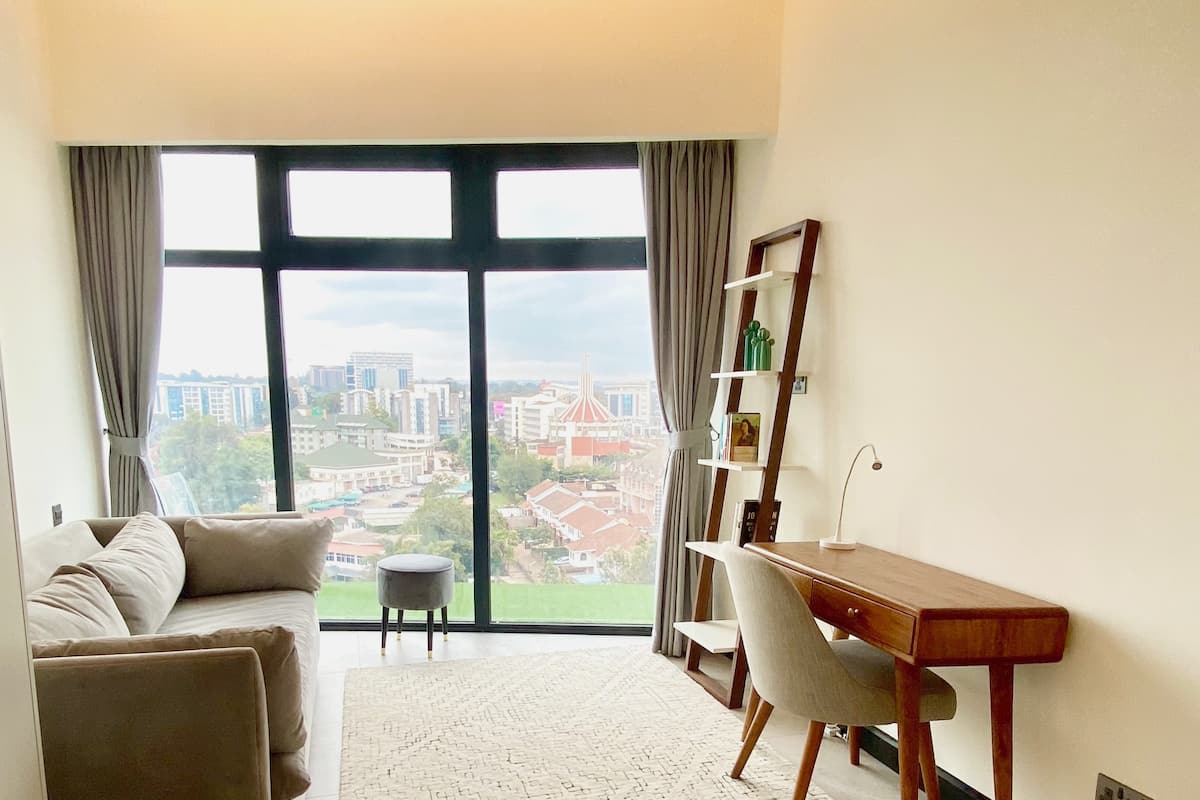 Do you have a passion for crisp, clean lines and minimalist décor? Then, you will be impressed by this contemporary 2-bedroom condominium with elegant, high-quality furniture. This Airbnb in Nairobi is located in a modern building in the suburb of Westlands. It has a kitchen island with modern appliances and floor-to-ceiling windows that present breathtaking views of the city skyline.
#5 Luxury 3-bedroom duplex apartment with pool, Nairobi county (Rate from US$110)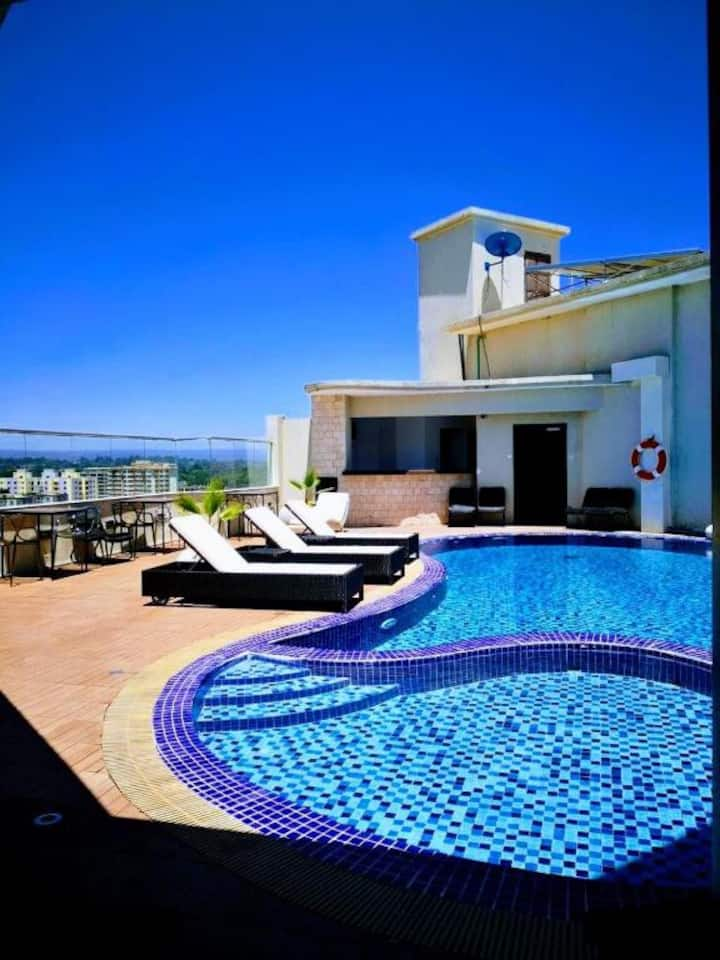 Are you planning a holiday with your closest friends and family? Family time is to be treasured, but personal space is also valuable. Hence, a duplex apartment is perfect as it offers your family accommodation under one roof without crowding you. This neat serviced apartment is not only spacious but also has a heated rooftop pool, hot tub, and sauna. Best of all, it offers Wifi and shopping centers within walking distance.
#6. Pretty Cottage Near the Giraffe Center in Karen (Rate from US$100)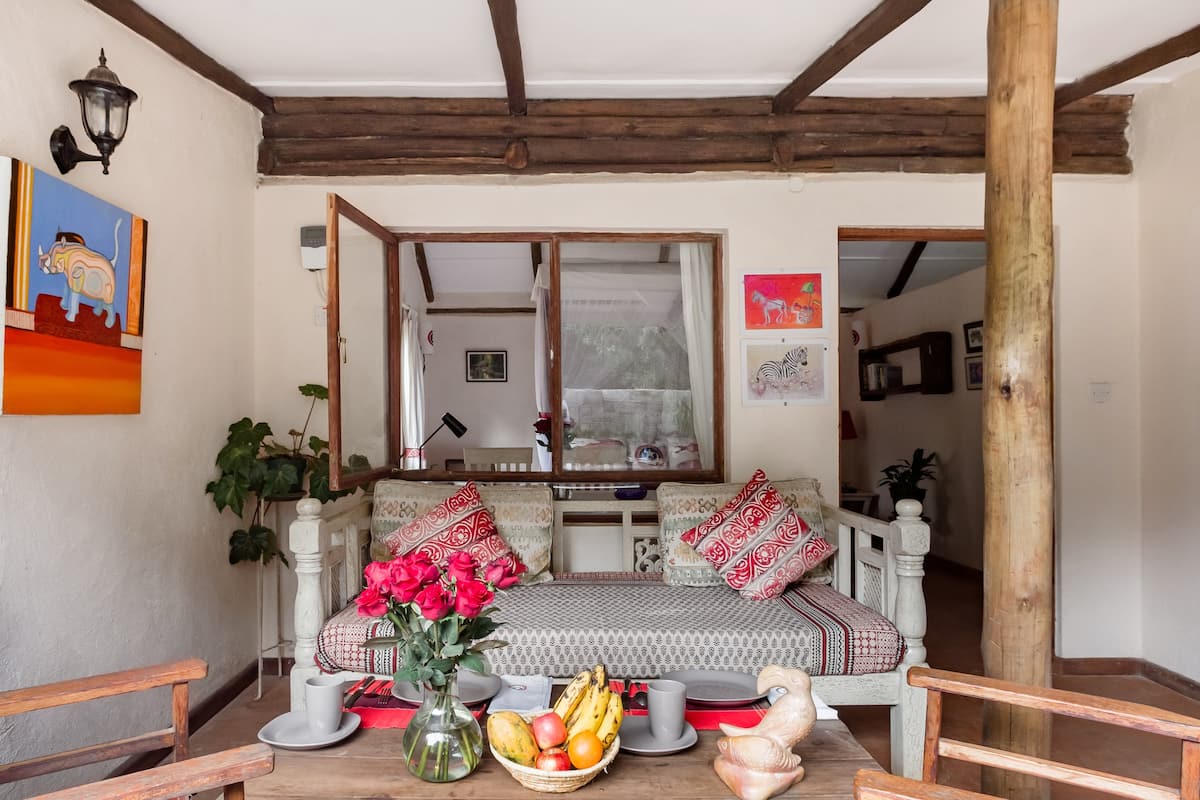 To experience the true essence of this safari destination, plan to stay on the outskirts of the city. This lovely cottage lies in a secluded environment where it is not unusual to catch sight of wildlife in the garden. This picturesque cottage sleeps 2 and is the perfect retreat away from the city. It is cozy, has a pool to take dips in, and has a private outdoor sitting area for relaxation. There is a pretty kitchenette where you can prepare meals for al fresco dining.
#7. Upmarket Executive Apartment near the United Nations complex (Rate from US$107)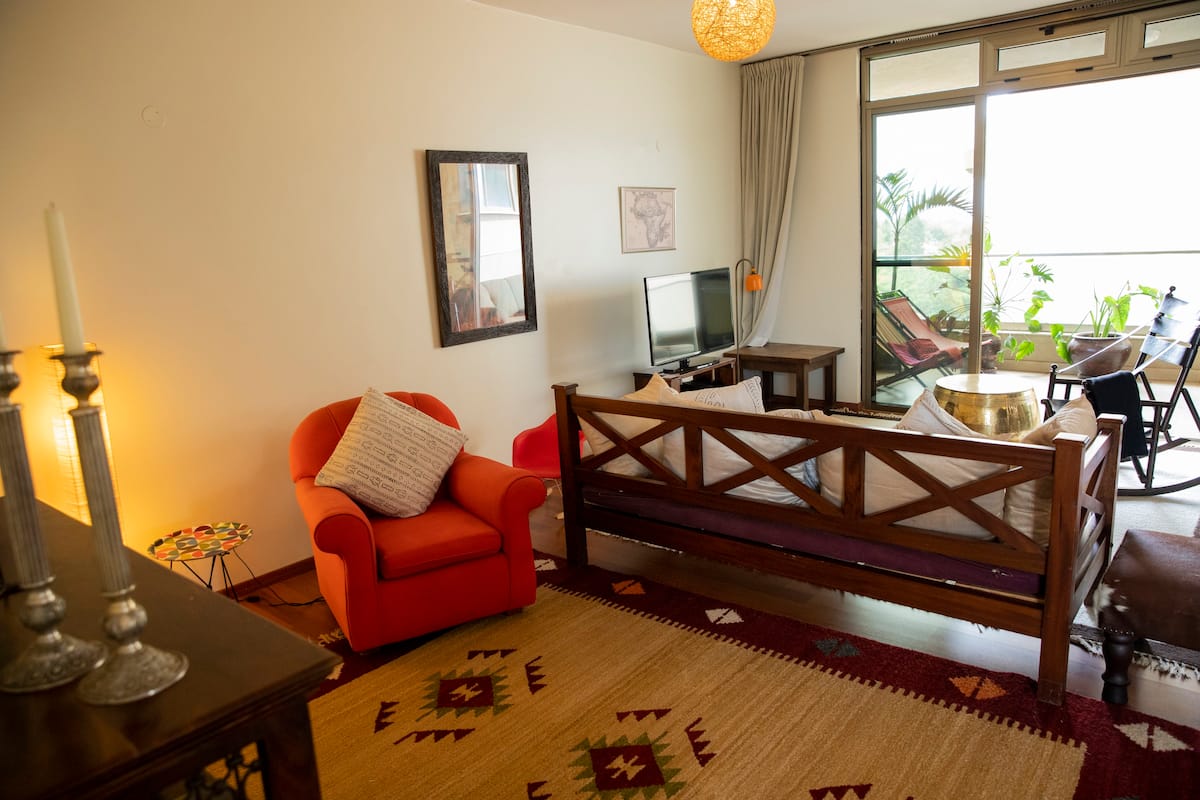 For an exclusive stay in an upmarket neighborhood on the fringes of Nairobi, check out this tastefully furnished 3-bedroom apartment located in a secure complex. Light floods into the apartment from floor to ceiling windows and you can look forward to spending lazy hours on the balcony enjoying picture-perfect views of the nearby Karura forest. The amenities include a heated indoor pool, Jacuzzi, sauna, and in-house Cafeteria.
#8. Fourways Junction Villa Hibiscus (Rate from US$149)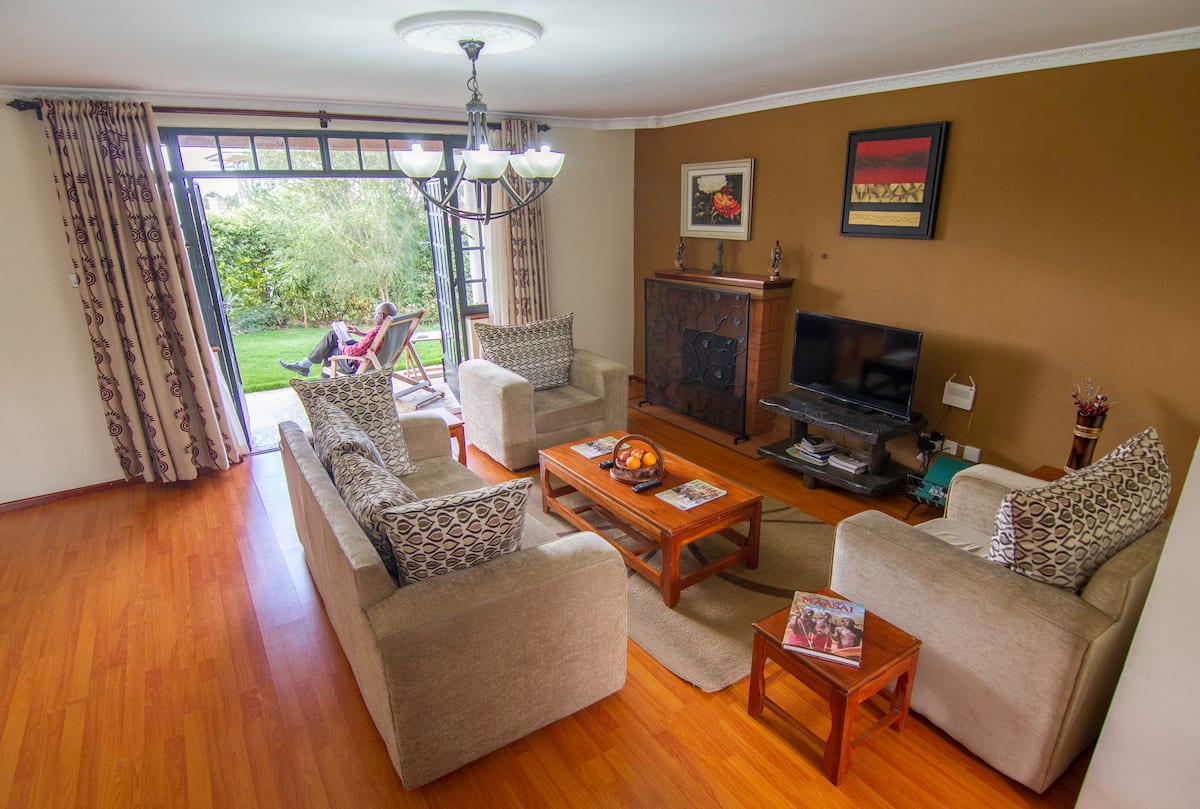 Apartment living is not for everyone. Perhaps, this conveniently located exclusive villa is what you require. This villa is in a gated community, home to people from different nationalities. It is a serviced, family-friendly residence that is luxuriously furnished. It offers all creature comforts, and the surroundings are serene and secure. In addition, there are several leading malls in the area.
#9. A Historical House with a garden and cook near The Junction (Rate from USD $207)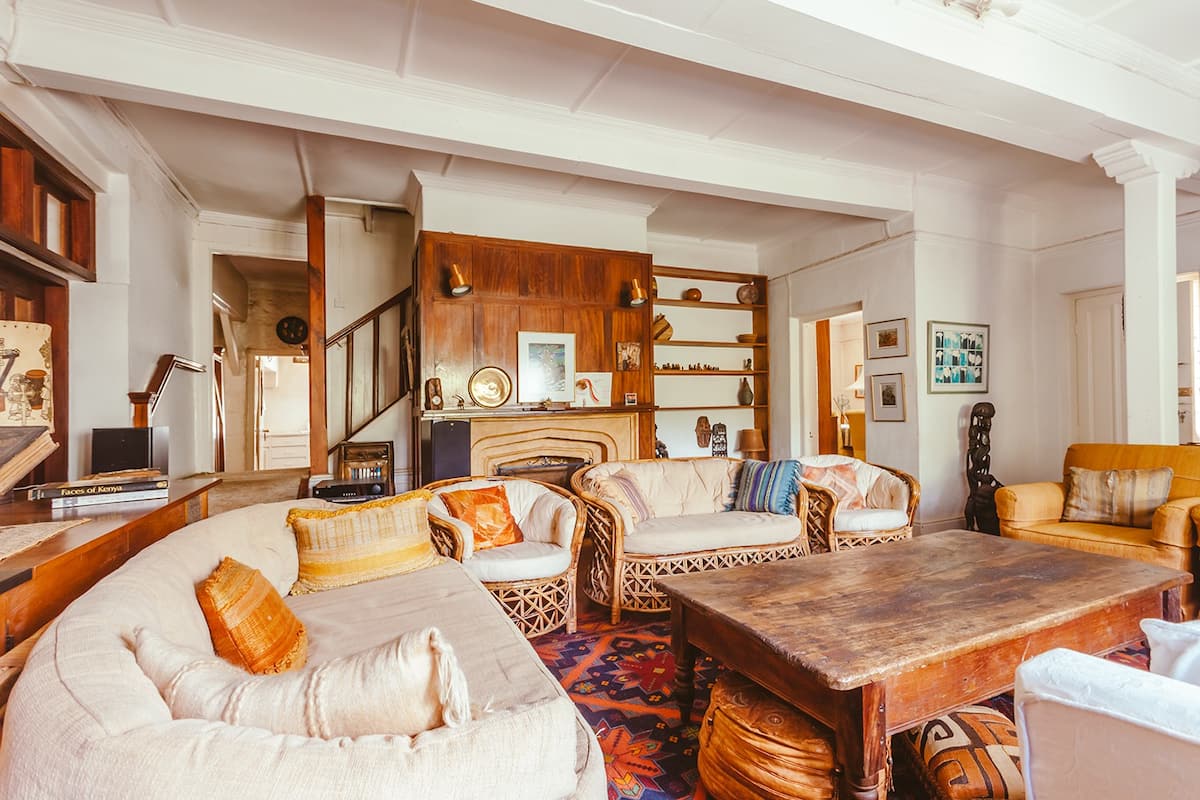 Discover a hidden gem that is close to the city but does not compromise on peace and tranquility. This historical residence is located in a compound that has a secluded air about it. It has tons of atmosphere and history. Set in a beautiful spacious garden the home is great for families with children. You can also relax on the rooftop as you take in views of the surrounding area. Best of all there is dedicated staff to take care of all your needs.
#10. Hazel Comfort House, Kiambu County (Rate from US$100)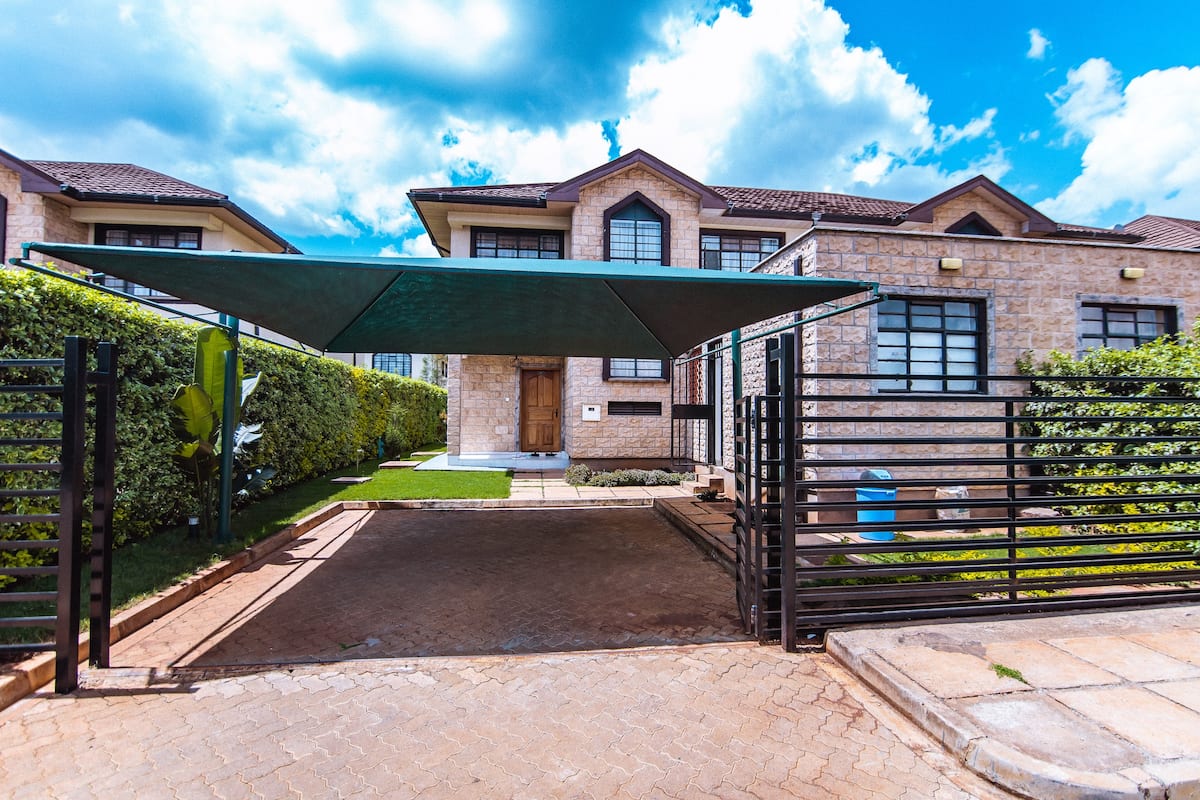 Vacation in style, when you stay in this elegantly furnished modern home. The townhouse is located in a lovely, secure neighborhood. The house is situated in a fully fenced compound with a neat private backyard. There is a TV and Wifi, and the house is ideal for families in a setting that is beautiful both inside and out. It comes with a modern kitchen and washer.
#11. Nairobi Dawn Chorus, Nairobi County (Rate from US$150)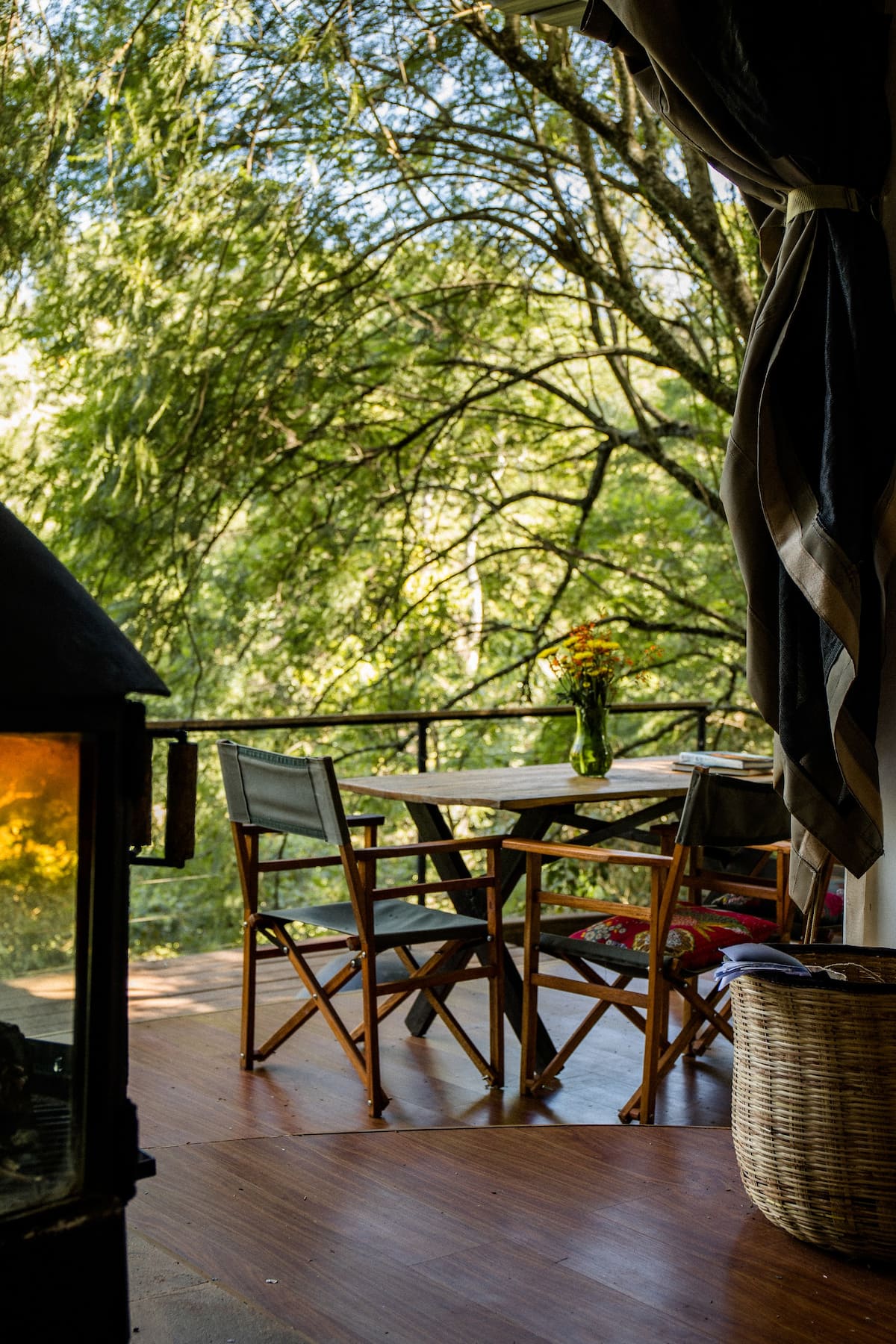 How cool would it be to wake up to a bird chorus? Head for an enchanting treehouse that overlooks a river valley and you may just enjoy that experience. Why not bathe under the stars in the outdoor bathtub, stroll in the spacious gardens, and have a refreshing swim in the pool. There is Wifi and an overall sense of utter peace and tranquility at this special hideout.
#12. 4-bedroom bungalow one a Private Estate, Limuru Town (Rate from US$268)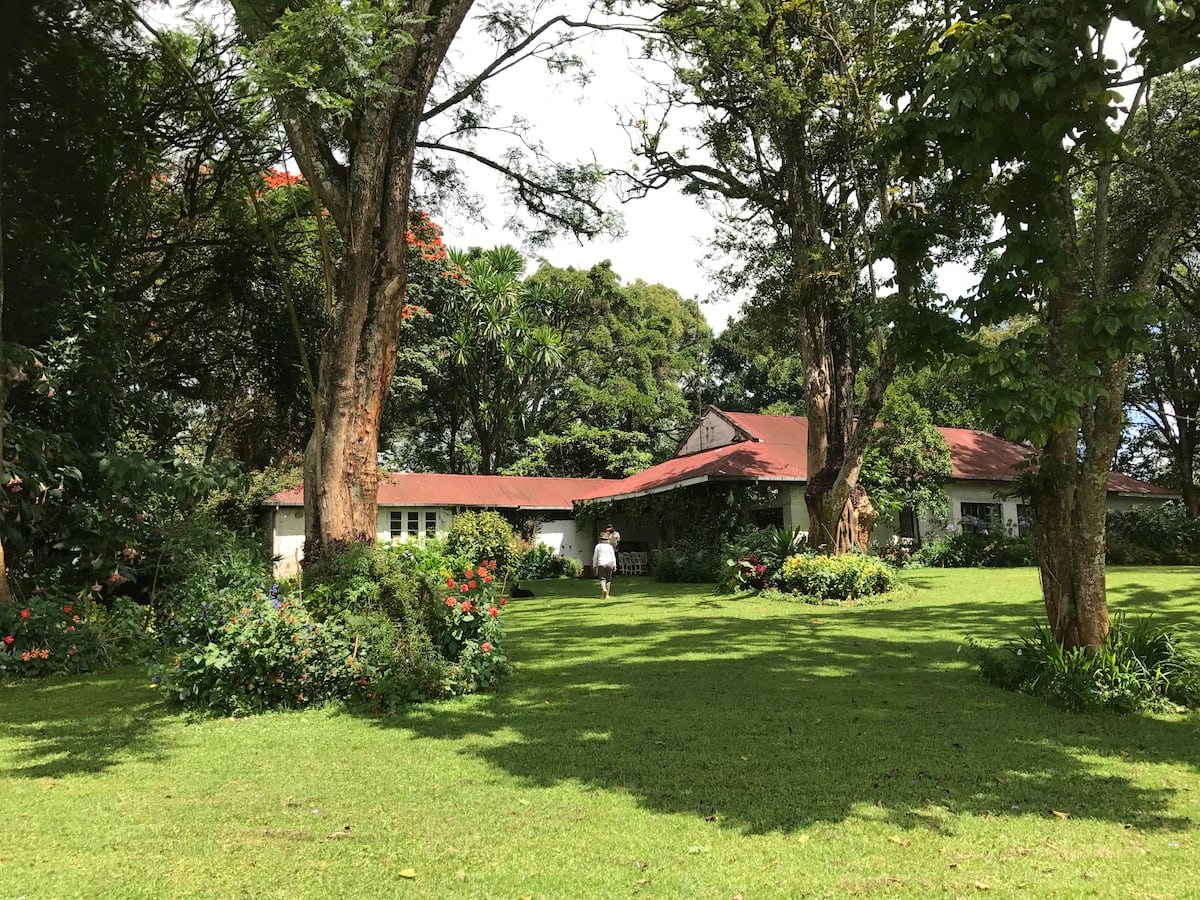 Travel back in time to the colonial era when you stay at Kawamwaki Farmhouse. This historical home was built in the 1920s and it overlooks a picturesque meadow. The living room has a rustic fireplace that you can cozy up to on cold evenings, and you can sip tea on the verandah as you take in the spectacular views. There is Wifi, a TV, and a washer, plus there are 40 acres to explore either on foot or horseback.
#13. City Views from a Modern Airbnb home in Nairobi County (Rate from US$180)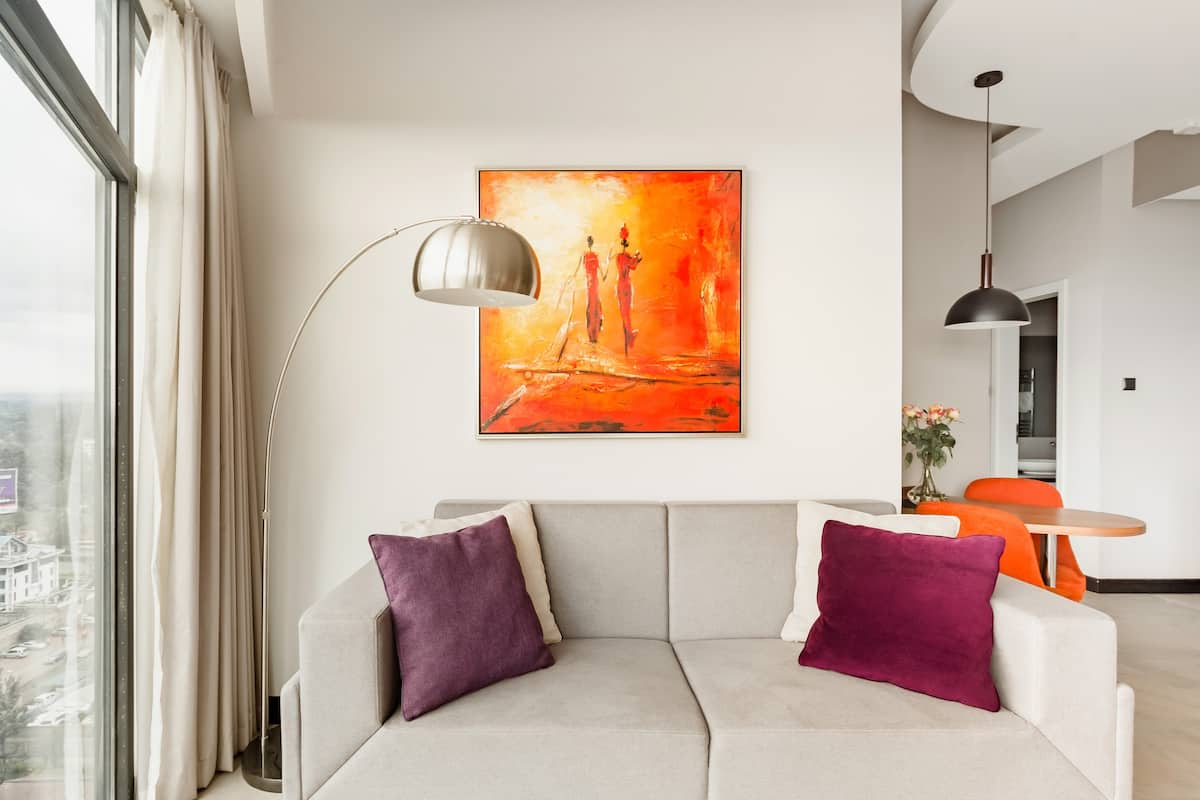 This is a modern, beautifully furnished 2-bedroom apartment with unmatched views that sounds too good to be true. This gem is located near the city, with spacious rooms that are full of light. There is a yoga studio on the top floor and a gym that are available at a fee. The apartment boasts a breakfast nook and a well-equipped kitchenette. There is also a washer, dryer, dishwasher, and wifi.
#14. Mugumo Balcony Suite, Limuru (Rate from US$90)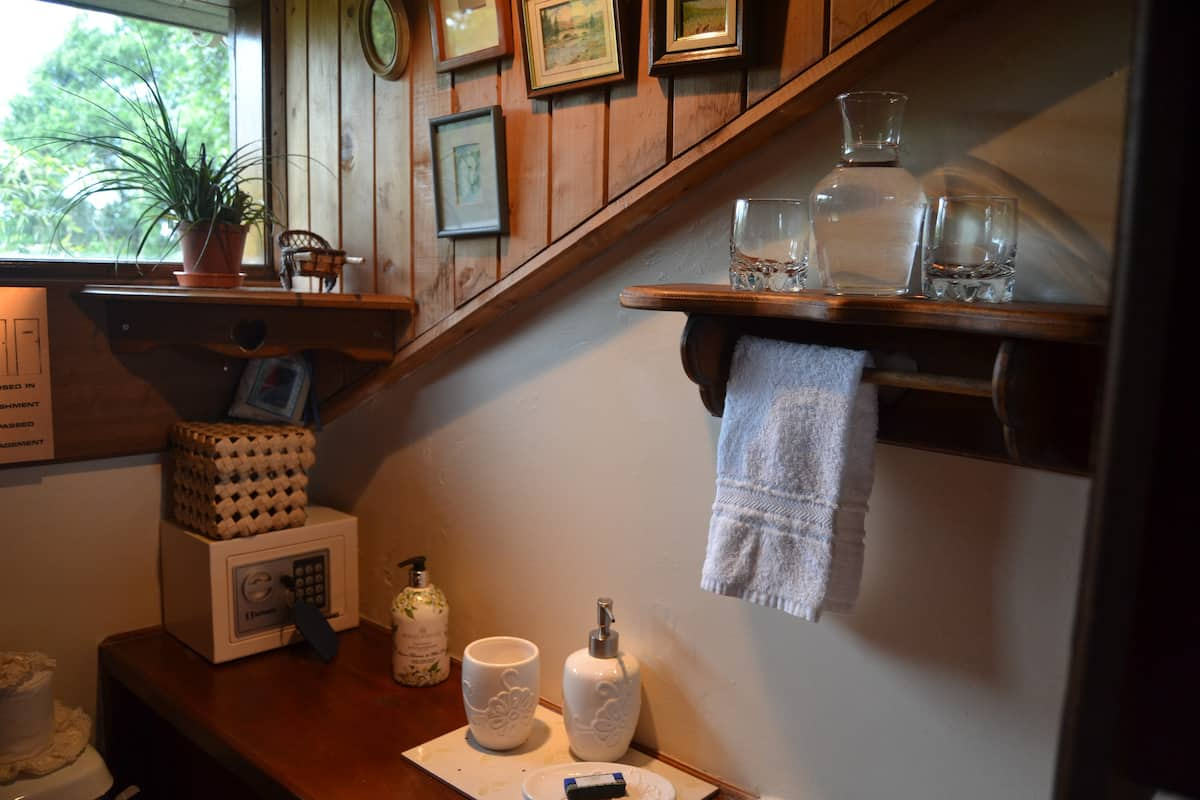 Experience a holiday with a difference when you take up residence in a private room on a farm located in the midst of tea fields. Feel the stress melt away as you relax on the balcony that looks down on the pool area. In addition to access to the pool, you can also use the breakfast room. Also, there is a pleasant restaurant nearby where you can have your meals if you so wish.
#15. Serene and spacious Loft with Open Air Shower, Westlands (Rate from US$90)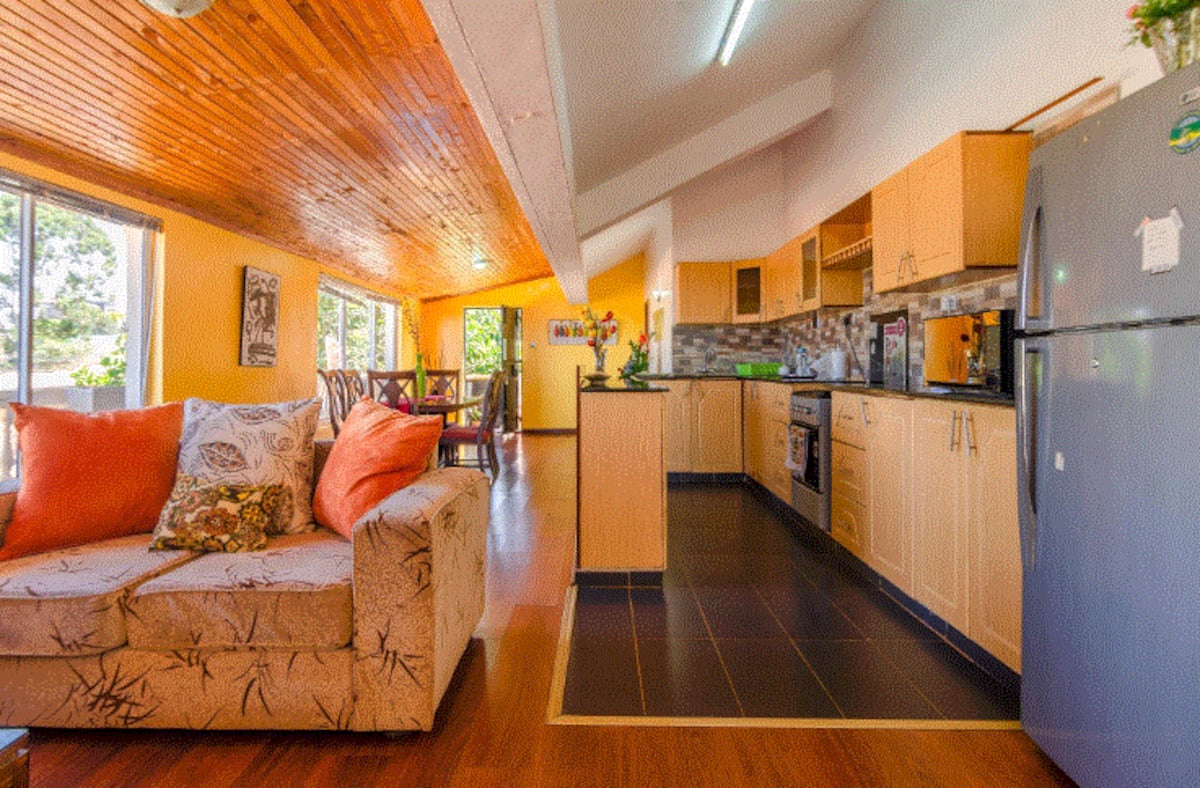 Plan a stay in an exclusive, airy loft in a lovely part of Nairobi. This unique 3-bedroom property has a rooftop garden from where you can watch the sun go down. If you are an early riser, you will also get to enjoy memorable sunrises too. There is an open-air shower and a fully equipped kitchen. In addition to that, malls and excellent eateries are in close proximity.
Conclusion
There are indeed some jaw-dropping Airbnb homes in Nairobi. However, what makes the city special is the warmth of its people, its food, and its culture. Why not experience this vibrant city for yourself? The Swedish author Charlotte Eriksson once said,
''There's a whole world out there, right outside your window. You'd be a fool to miss it.''