Egypt Wants Their Rosetta Stone Returned. Here's How People Responded😲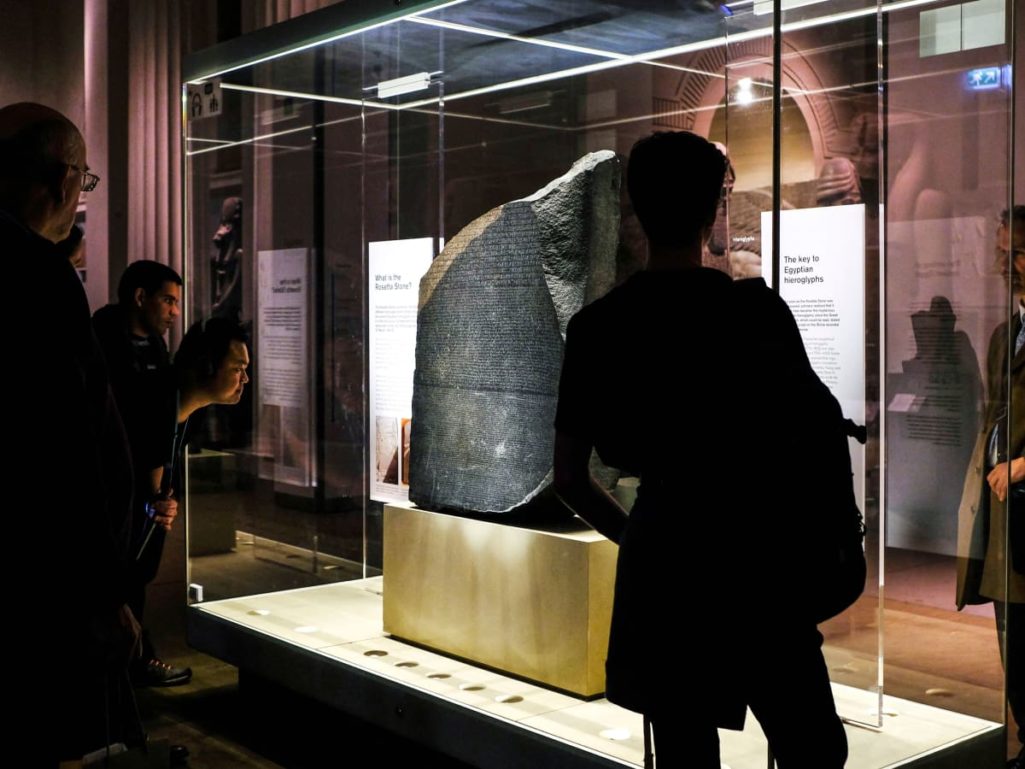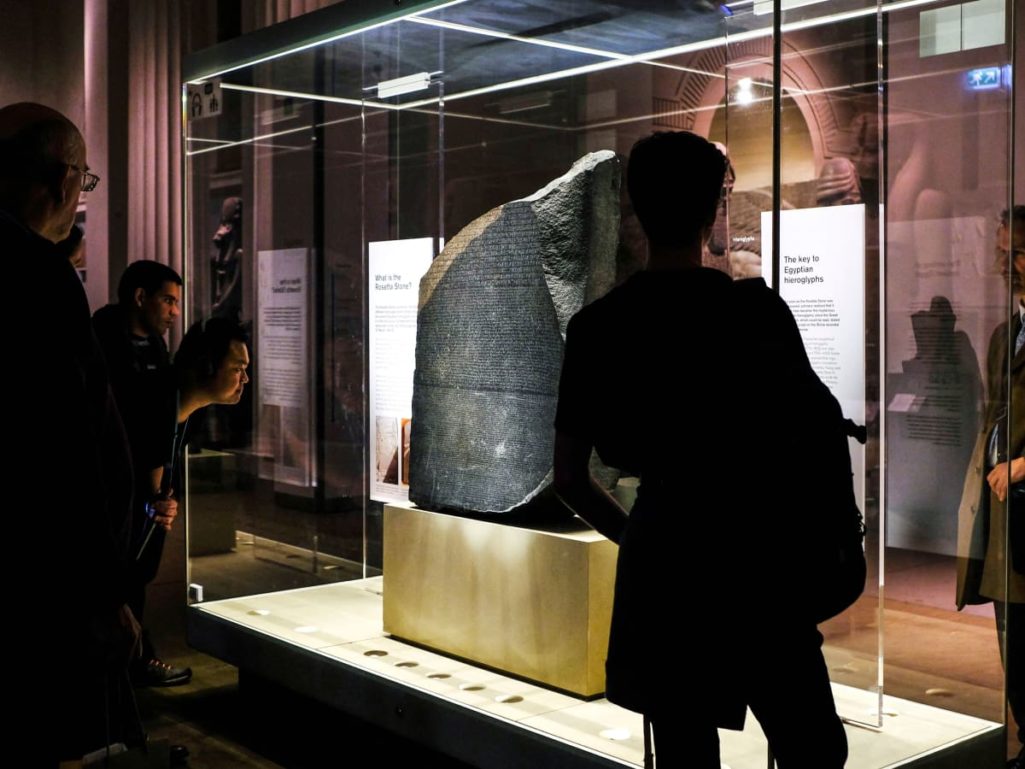 The Rosetta Stone helped scientists crack the Egyptian hieroglyph code about 200 years ago. However, since Napoleon gave it out in 1801 as part of the Treaty of Alexandria, it has remained in British hands.
Now, Egyptians in their thousands want the Rosetta Stone returned to their country as well as any other artifact stolen from the country which now rests in the British Museum. An online petition launched by a team of 19 prominent Egyptian archeologists has garnered over 2,600 signatures.
The archeologists have mandated Egyptian Prime Minister Mostafa Madbouly to use legal and diplomatic means to retrieve the artifacts. There is a changing attitude towards colonization but a lot of people still cling to the old ways. This is evident in the responses that trailed the renewed call for the return of the Rosetta Stone.
Stolen artifacts rob Africans of their culture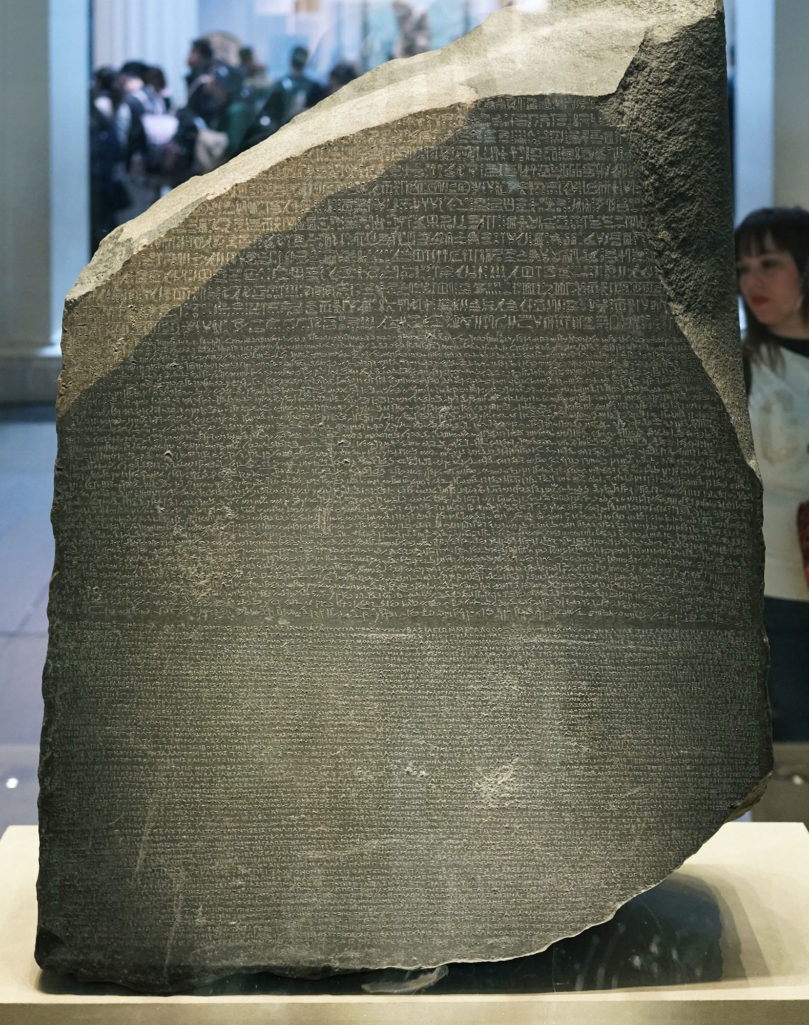 The Rosetta Stone and some other stolen artifacts are so unique that they can no longer be found on the continent. So, young Africans can no longer access and learn from them. Also, the continued public display of such artifacts in European institutions is a gross insensitivity to colonialist pillaging.
Speaking at the Humboldt Forum in 2021, famous Nigerian author, Chimamanda Ngozi Adichie made a case in support of the return of stolen African artifacts. Beginning her speech, she used an anecdote that shows the deep spiritual and symbolic meanings of some of the plundered African sculptures.
Adichie reminded the dignitaries at the event that every country has a part of its past that they are not proud of. ", it takes courage to say we were wrong. The courage to say art acquired illicitly are not ours. Tell us what to do with it."
She further called on the forum to take the courage to act now rather than engage in endless talk and planning. According to Adichie, while western countries cannot change their past, they can change their blindness to their past.
"The Rosetta stone was undeniably a spoil of war and an act of plunder that was outlawed in the 17th centuries," part of the petition read. "The presence of these artifacts in the British Museum to this day supports past colonial endeavors of cultural violence…".
Previous calls for Britain to return the Rosetta Stone
Egyptian antiquities professional, Zahi Hawass, told NPR in Nov. 2010 that he was doing all he could to get the Rosetta Stone repatriated back to Egypt. Hawass' comment came after New York's Metropolitan Museum agreed to return King Tut's tomb and 19 other artifacts to Egypt.
"I want these unique artifacts back and will put in a fight to see that they are returned," Hawass told NPR. "Every stolen artifact should be returned to Egypt".
ALSO READ: 3000-Year-Old King Tut Statue Is Up For Auction In London. But Was It Stolen?
Several hundreds of stolen artifacts have been willingly returned to the continent. However, thousands more remain on display in British museums. While some are willing to return such artifacts to their origins in Africa, legal bottlenecks continue to stall the process.
Why the Rosetta Stone and other stolen artifacts should not be returned
When NPR shared the news on their social media platform, over 1.5 thousand people went to their comment section to express their views on the topic. They were two (maybe three) categories of people in the post's comment section; those calling for the expedited return of the Rosetta Stone to Egypt and those who think it should not be returned.
The third category was the fun-seekers that made light the topic. Interestingly, nearly everyone that took the topic seriously left a sentence or two to backup up their opinion. However, one view that resonated the most among those that think the Rosetta Stone and other stolen artifacts should not be returned to Africa was the security of the artifacts if they are returned to Africa.
Dave Zielinski who was among the first to comment said "The Rosetta stone and other ancient antiquities are entirely too valuable to be placed in a condition where their security cannot be guaranteed."

Putting it differently, Drake Ledbetter said, "In this case, it's too culturally significant to western civilization to return it…as it provides a bridge between languages. The Brits can protect it whereas Egyptians cannot."
However, not everyone that said the Rosetta Stone should not be returned thinks the Egyptians are not capable of taking care of it. Christopher Billington thinks returning the Rosetta Stone is a dumb idea because " sold out their own history when it was taken, and now that it's worth money they want it."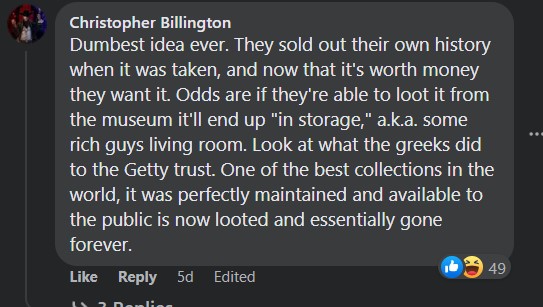 ALSO READ: France Returns Stolen 19th Century Artifact To Senegal
While Alex Sala supports the repatriation of stolen artifacts, he also believes "the Rosetta Stone is not strictly "Egyptian" in origin since it was created during the reign of the Greek Ptolemaic kingdoms in the region. At least, that makes it a multicultural artifact and a strong link between Mediterranean Europe and Egypt."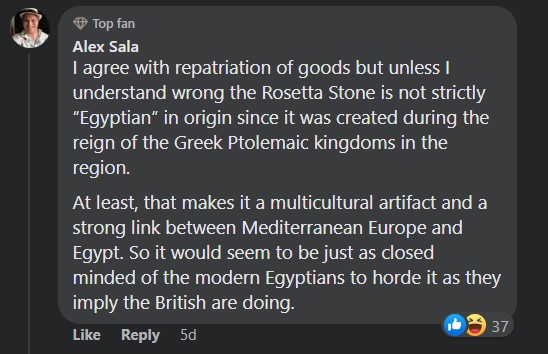 Carlos Federico Vidal said the Rosetta Stone may be destroyed in one of Egypt's political upheavals if it was returned. Therefore, it should stay where it is. Another interesting view was by a Facebook user that goes by the name Chris Brown. According to him, "If every museum returns all their artifacts, we will have nothing to go and see to learn from."

The Rosetta Stone belongs to Egypt and should be in Egypt
For those that think the Rosetta Stone should be returned, the idea that Egypt was not capable of protecting it was simply lame. Sebastian Rothwyn refuted this argument, "People are talking 'it should be returned when there is safety'… but it was stolen. Clearly, it's not safe with the thieves."

Amanda Sadra, an Egyptian living in the United States reminded critics that she has been to her home country several times and that "Egypt takes the preservation of its rich and unique history extremely seriously".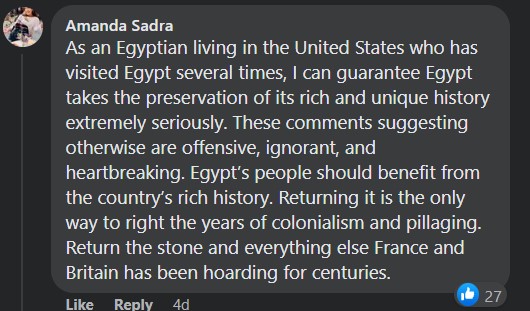 Instead of keeping the stolen artifacts in the British Museum, Nikki Lynn suggests that they should be returned to their country of origin. Afterward, Britain can work out a sharing agreement with Egypt.

Suggesting a solution that may work out for both parties, Jennifer Diamond gave an analogy using what is currently ongoing at the Burke Museum in Seattle which also houses a vast collection of Native American artifacts. According to Diamond, " is working with local native crafters to create replicas in the same style to stock the museum, and they're returning the older pieces or arranging with the tribes to hold them on loan/trust."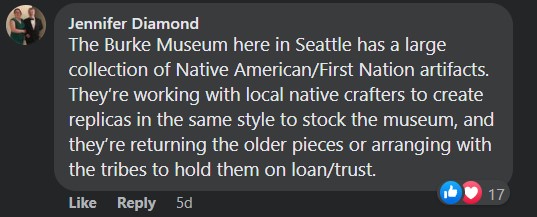 Conclusion
From a moral angle, if you steal from someone or hold an item that was stolen from someone, you should return it back to the owner if they ask for it. Also, as some of the commenters pointed out, holden on to plundered artifacts is a continuation of colonial dominance over the country where the artifacts rightfully belong.
ALSO READ: Benin Is Getting Back 26 Of Its Looted Artifacts from The Colonial Era. Will Others Follow Suit?
There is another argument that European scientists were the ones who discovered the value of the Rosetta Stone and various artifacts. Francesco Carpini and Marta Barbachano believe that Egyptians wouldn't have known what to do with it if it was left in their care.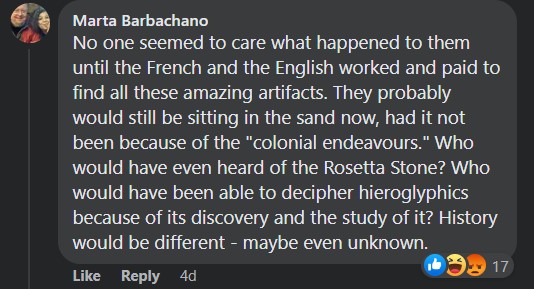 There is also the genuine concern from Jonathan Wicker about the safety of transporting artifacts from one part of the world to another because of their delicate nature.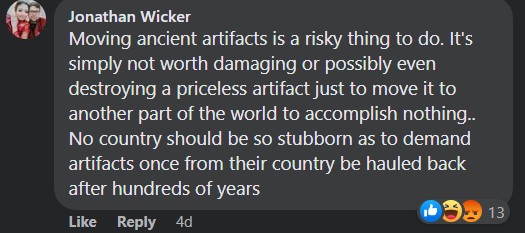 Which part of the argument do you support? If you support the repatriation of the Rosetta Stone or are against it, tell us your reasons in the comment box below.
Join African Vibes Community for more positive African news, exciting tips, and discussions.