Designer Spotlight: Yohannes Sisters Take Ethiopian Fashion To The World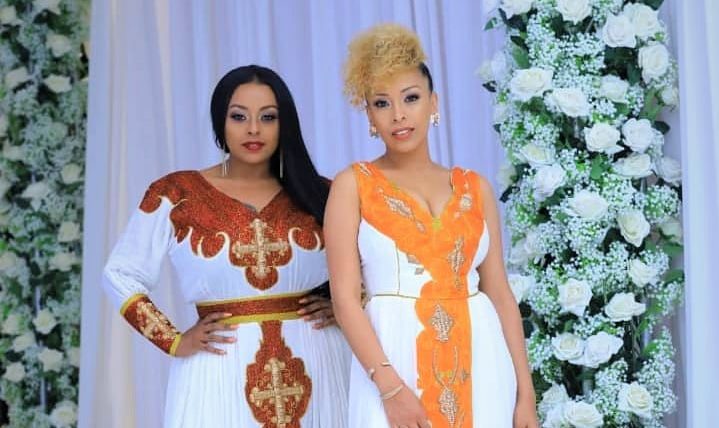 Africa is rich in both natural resources as well as deep cultural values. Traditionally, cloth in Ethiopia was made using cotton. Long strips of cotton were woven together to make white cloth for making attires. This still happens today and it takes many work hours to complete a dress. Lilly and her sister Zeze Yohannes, popularly known as the Yohannes Sisters are pushing Ethiopian fabrics beyond the shores of the continent.
Their desire to see the Ethiopian traditional fabric worn in other parts of the world grew into a fashion label. The idea, coupled with a great passion for fashion design, earned them a place among the best fashion designers in the world. This article seeks to shine a light on the Yohannes Sisters and their contribution to the fashion industry.  Something good can actually come out of Africa!
Yohannes Sisters Background
Lilly and Zeze Yohannes were born to the late Mr. Yohannes Debas and Mrs. Elfinesh Abraha. Interestingly, their love for fashion did not crop up as a reconsideration after their studies. They were passionate since they were kids and started making their dream come true in their teen years. However, they faced various challenges when it came to dressing the African women who are naturally curvaceous. The body sizes of African women also vary immensely.
At this point, they decided to custom make each dress by hand and with love. Hence the birth of the Yohannes Sisters' Couture which they named after their late father. They say that their father was their hero and mentor. They learned to be determined achievers from him. By the age of 35, their father had trained as a Jet Aircraft Technician. Also, he had received numerous certifications, traveled around the world, and spoke 5 different languages.
A glimpse at Yohannes Sisters Glowing Career
Lilly and Zeze Yohannes started out their career unexpectedly. They had just returned home for a short vacation. However, that vacation never ended since they did not go back abroad. Eight years later, they started their successful fashion and design company.
The company was born out of their love for the Ethiopian fabric which they felt needed to be known all over the world. Their first designs were Ethiopian traditional attires called Habesha Kemis. The attire is basically a long dress made of cotton fabric. The dress is mostly worn by women from Ethiopia and Eritrea during holidays and important events.
However, Yohannes Sisters upgraded the attire by adding Western fabrics to their designs. This creativity brought about a refreshing look to the dresses. The attires later graduated to elegant wedding and evening gowns. It may surprise you to know that all their outfits are handmade.
They have dressed prominent people and celebrities in their country and beyond. Some of them are Wayna, an R&B and Soul artist and Zeritu Kebede, an Ethiopian singer and actress. In 2017, their Royal Ethiopia Collection turned heads at the New York Fashion Week.
The Yohannes Sisters have launched various collections throughout their career. The first collection was dubbed 'Lioness Arising' and was opened at the African Origin Summit. The second was 'Enat Collection' launched at the US/Africa Energy Summit. The 'Queen in Me' was their third collection which debuted at the Dutch Embassy Fashion Show.
A look at Some of the Yohannes Sisters  Most Innovative Pieces
Family Attire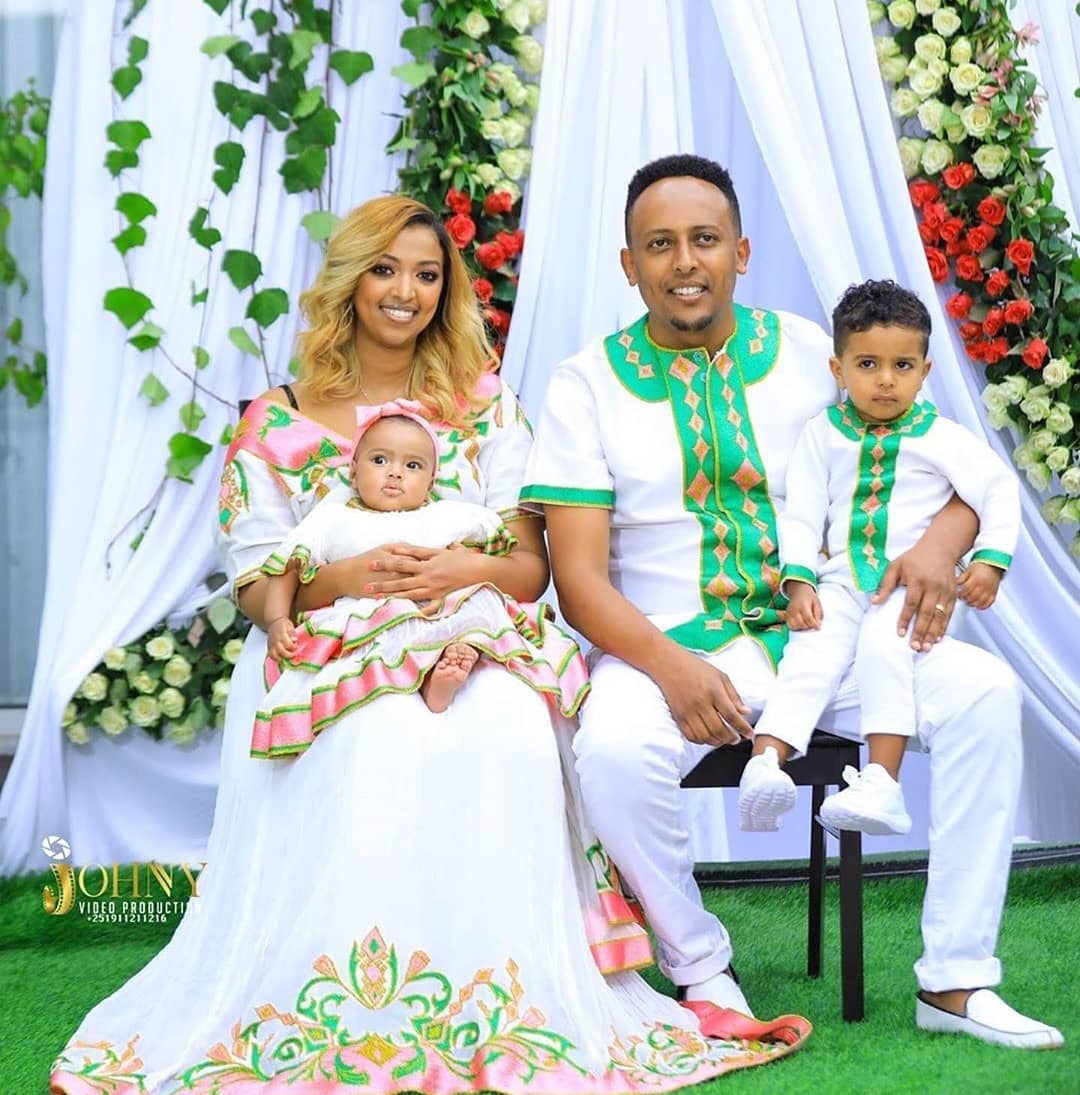 These amazing attires were custom-made by the Yohannes Sisters for a family of four. The pink and green details on the dresses are breathtaking. Also, the green finishing with a touch of pink on the shirts exudes class and style.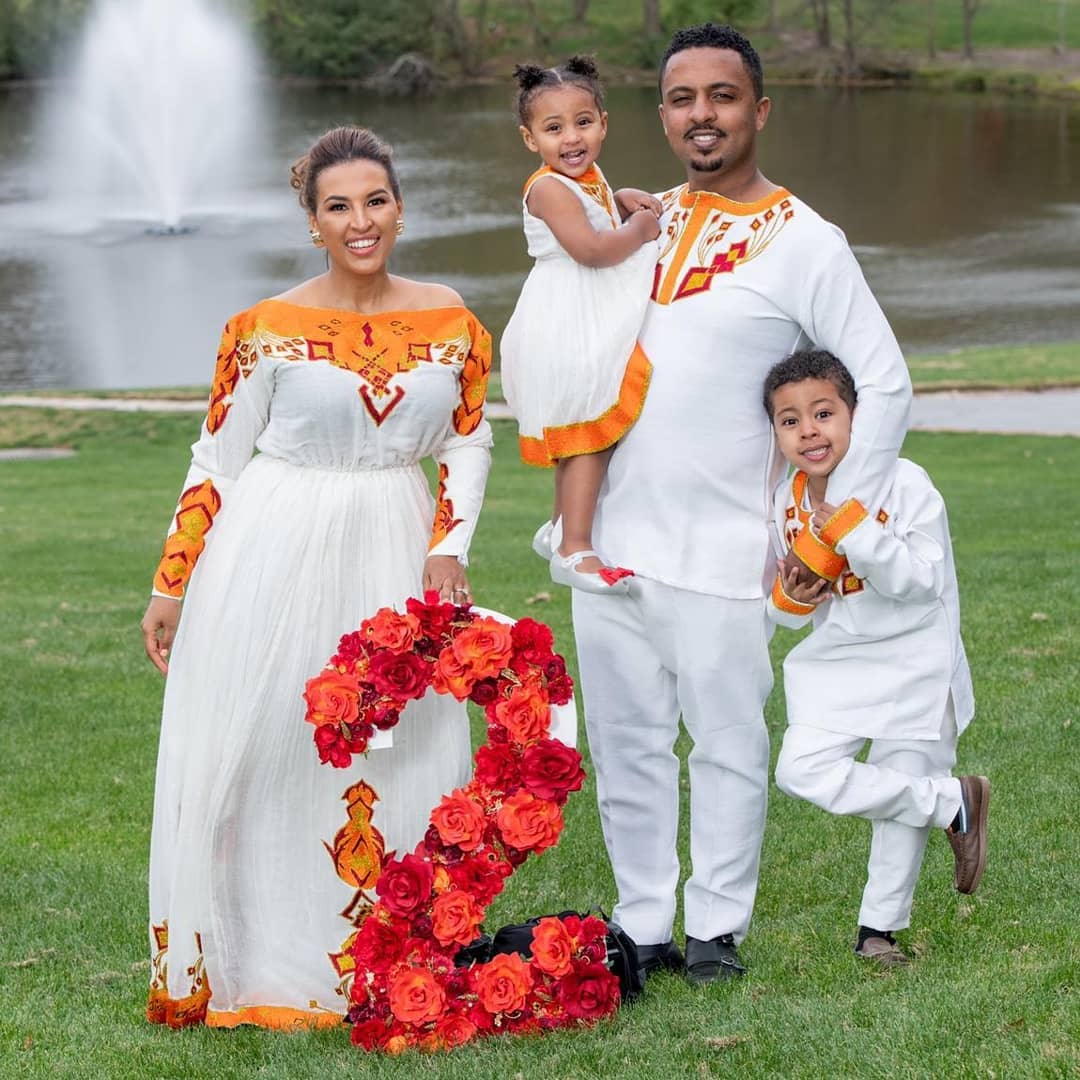 The amazing thing about custom-made products is that they are personalized just for you. This family looks stunning in their outfits. The golden yellow with a touch of red brings out the joyful atmosphere portrayed on their faces and their surroundings. Apparently, it looks like someone is celebrating two years of something.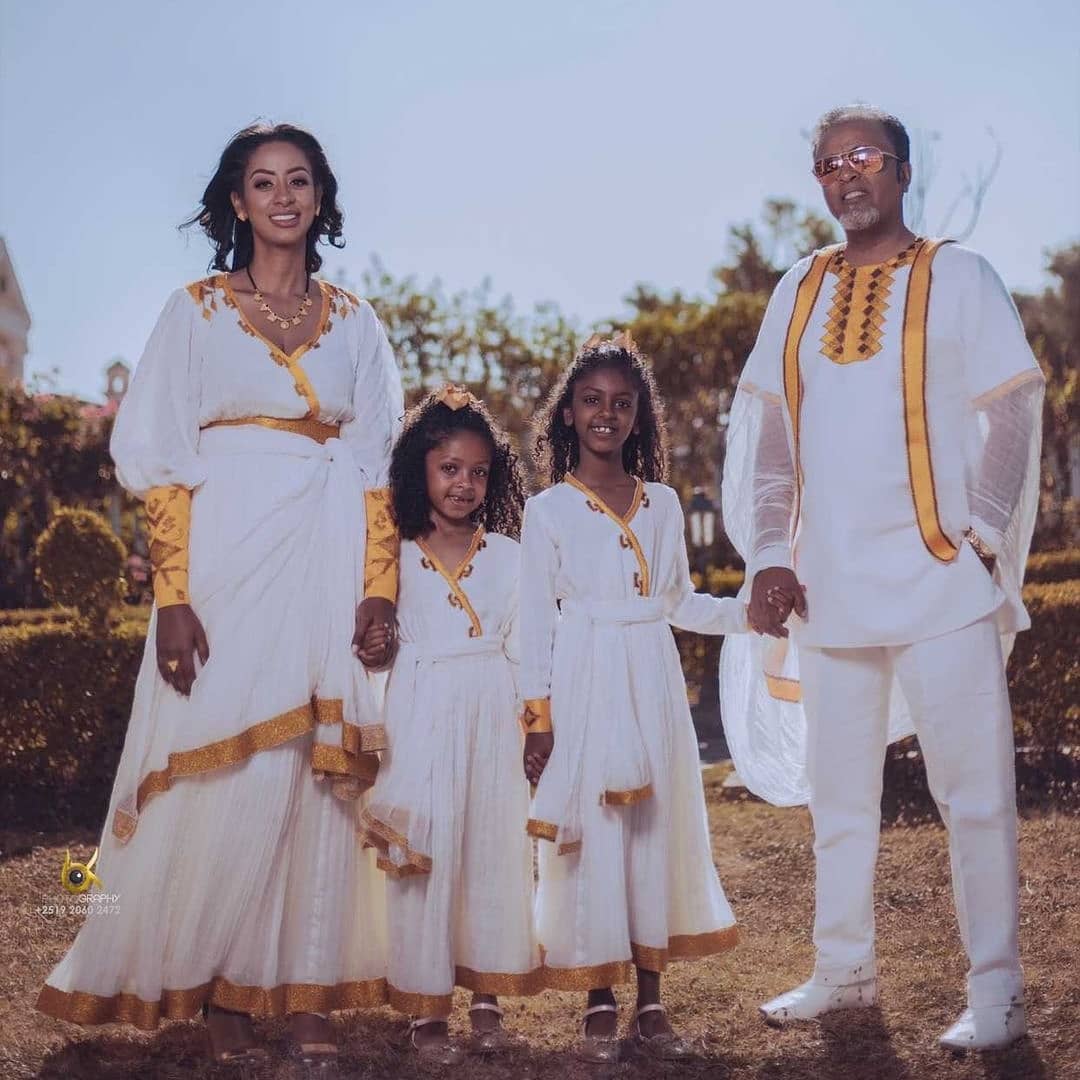 The smiles on each member of this amazing family tell it all. The golden and brown decorations on these attires blend faultlessly with the surrounding environment. The dad's shirt has an interesting cape that you don't see every day in men's fashion collection.
The yellow decorations with brown floral details bring out the elegance of these attires. The dry leaves on the ground blend in so well ensuring that the beauty of our nature is not left behind.
Some of the Celebrities Dressed by Yohannes Sisters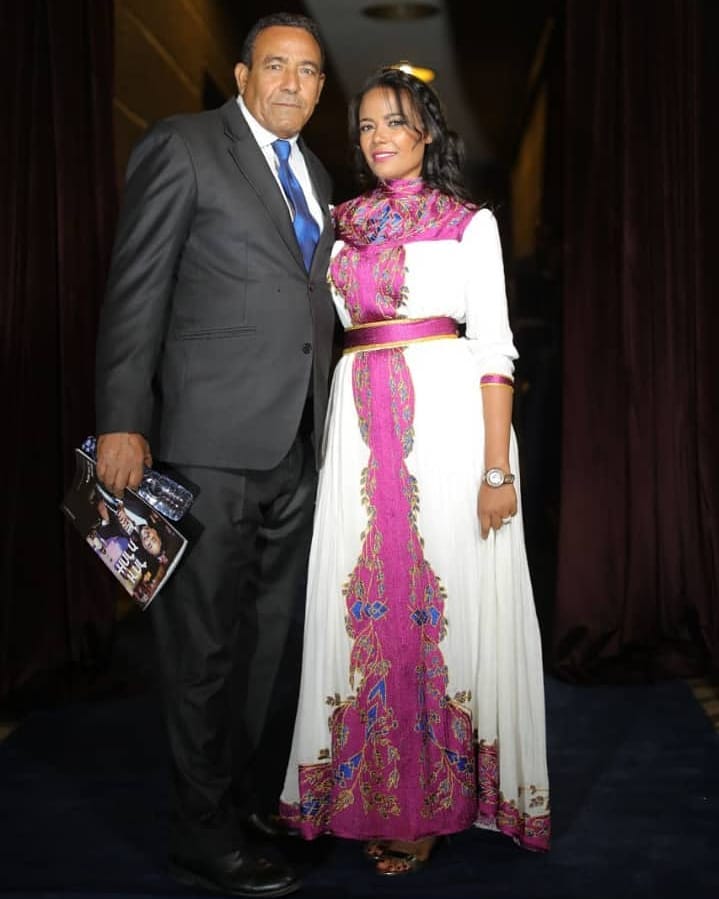 Clearly, this gown is making a bold statement and the wearer seems quite bold and confident in it. The purple decoration with a touch of blue and gold makes the gown stunningly beautiful. No wonder it had to feature on the red carpet.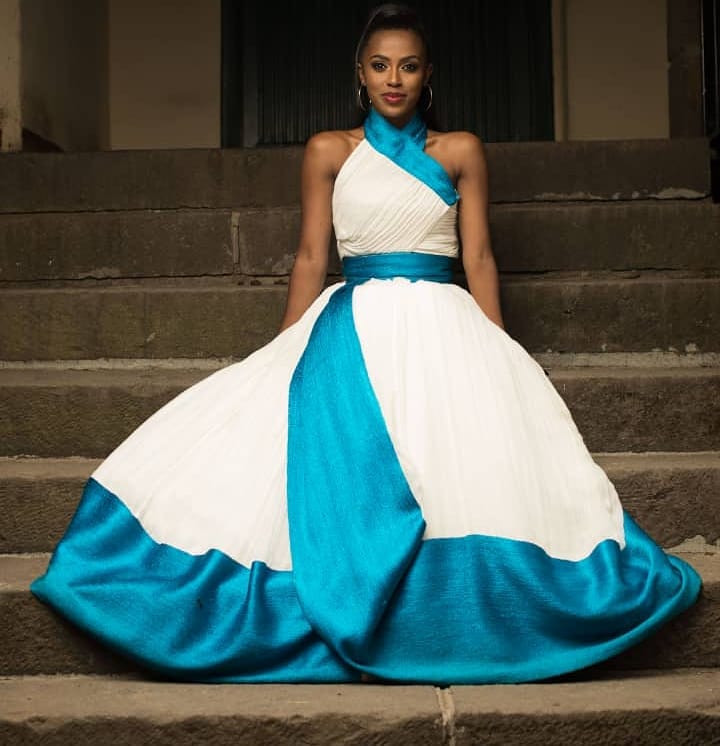 The turquoise blue finish makes this gown look unique and intricate. It brings out the vivacious nature of this beautiful songstress.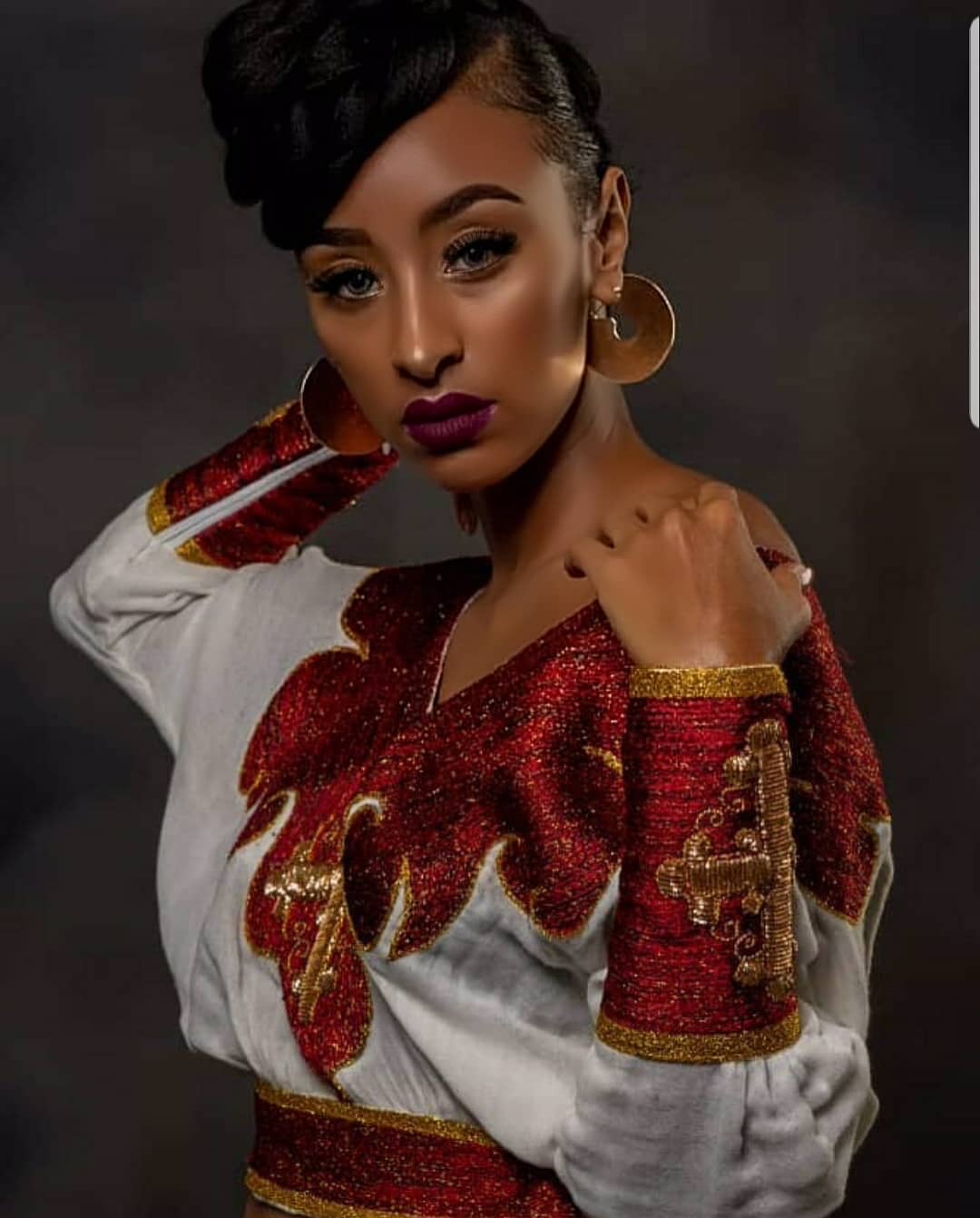 Although most designers specialize in creating evening dresses, Yohannes Sisters have gone a step further to launch a new Evening Tops line. This spectacular evening top with elaborate ruby red and golden brown embroidery is one of the limited editions.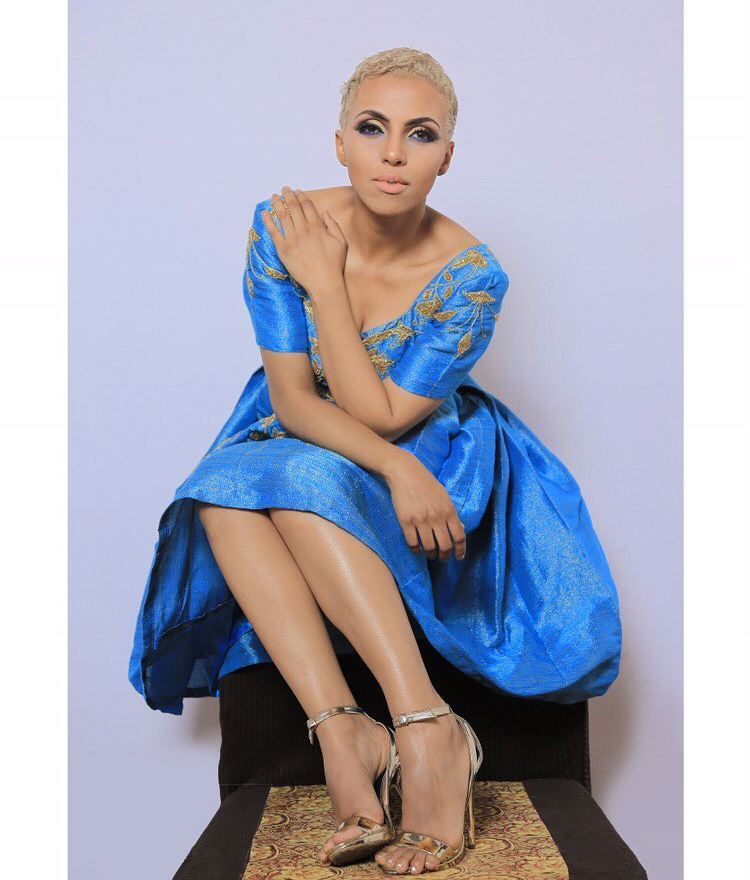 The classic look of this vintage dress is beyond words. The golden embroidery completes this elegant, yet, simple dress that is in a class of its own. The fabric veers off from what we have come to know the Yohannes Sisters for.
Intricate Bridal Creations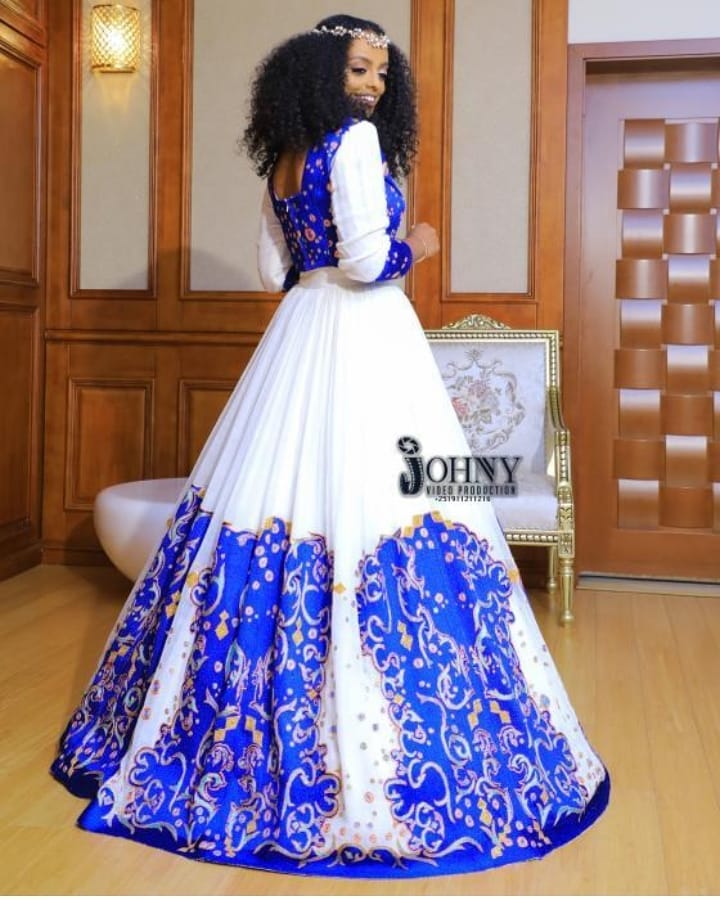 This beautiful bride looks amazing in this custom-made 2 piece gown. As a matter of fact, the gown's royal blue with golden floral decorations is intricately hand embroidered. Will you try this for your big day? Let us know in the comment box below.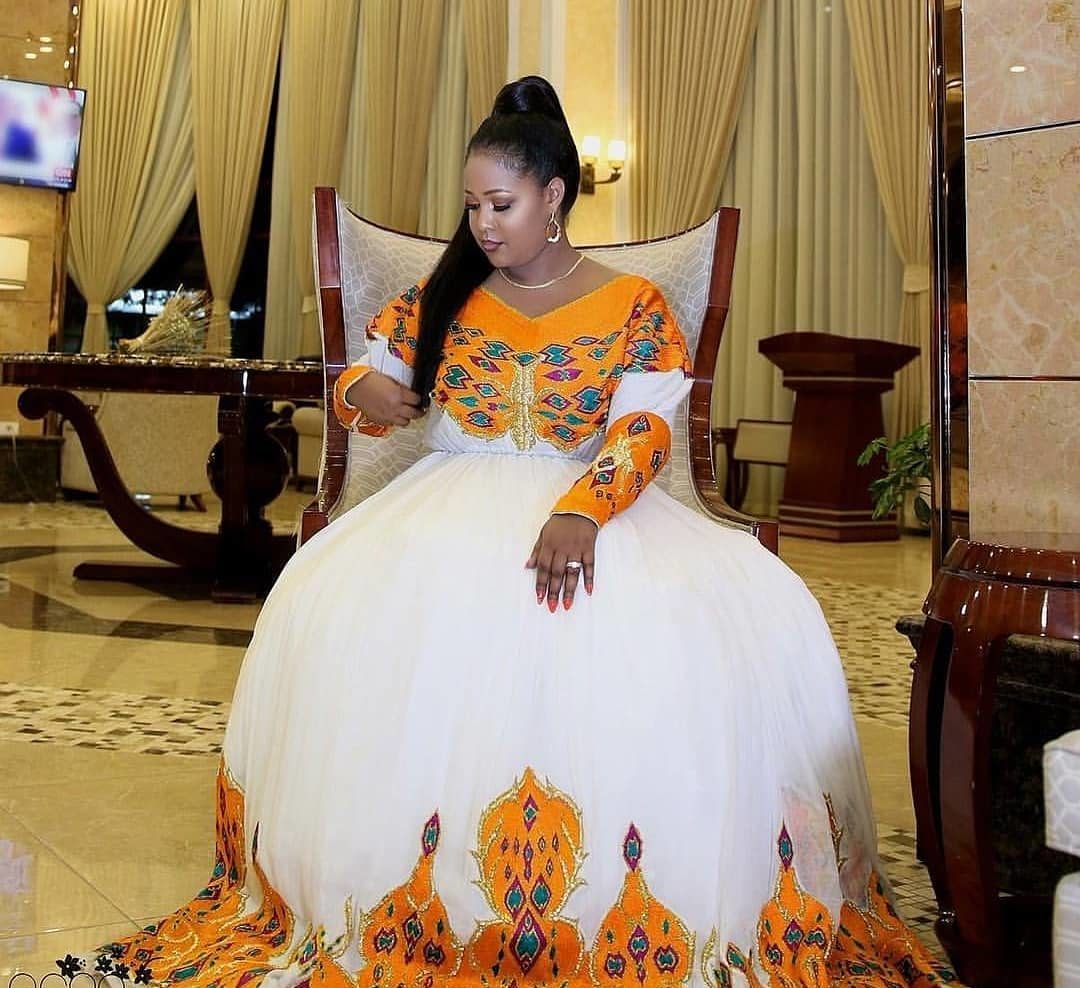 If you are looking for a really customized wedding outfit, this is it. This limited design is all hand embroidered and it is one of the Yohannes Sisters' favorite bridal attire. The featured bride radiates glamour and oozes confidence in this white gown with orange and a touch of green and red decorations. It almost looks like she is on fire.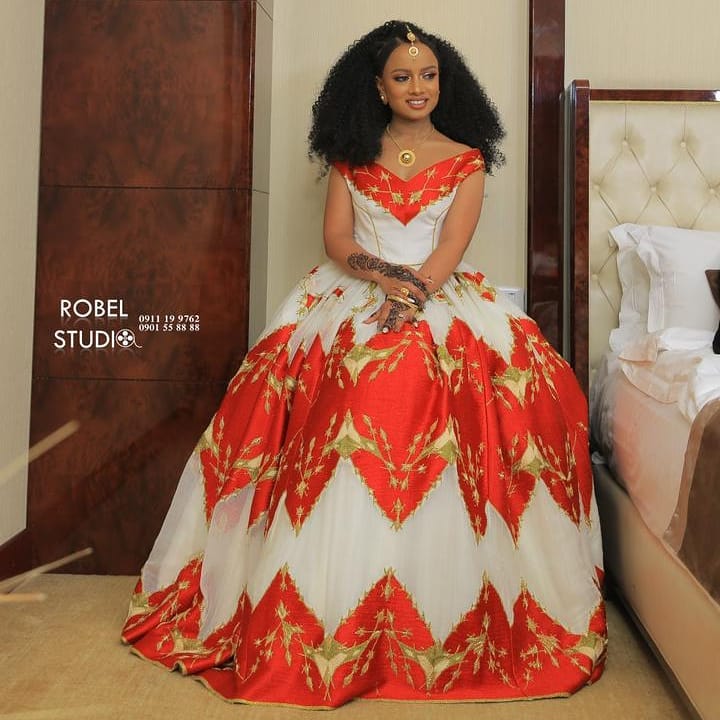 The creative acumen of the Yohannes Sisters ensures that any color you choose for your attire brings out your personality. At the same time, they convey the mood of the occasion with such clarity. Such is the case with this white, red and golden wedding attire making the bride shine bright.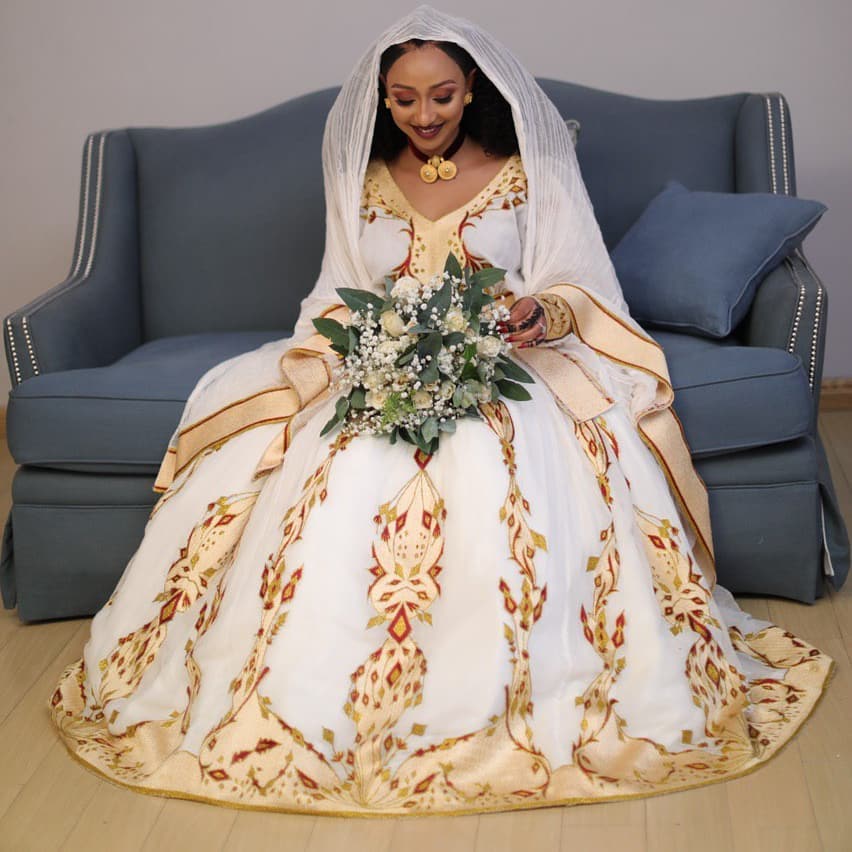 With Yohannes Sisters, you will never go wrong, whether you choose traditional or modern wedding attire. Either way, your outfit will be outstanding as evident in this white, beige, and brown non-traditional wedding dress. This bride looks stunningly beautiful in it.
Couples at Their Best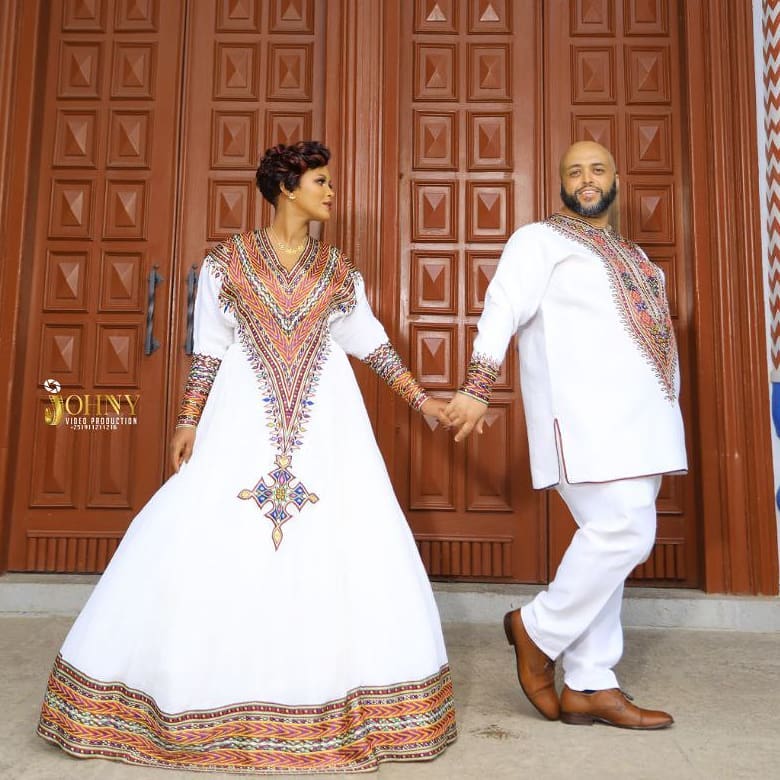 When this couple approached Yohannes Sisters with a not-so-common order for their wedding outfit, the sisters did not let them down. With their creative abilities and patience, they finally replicated this 1860 intricate wedding gown worn by Her Majesty, Queen Turunesh.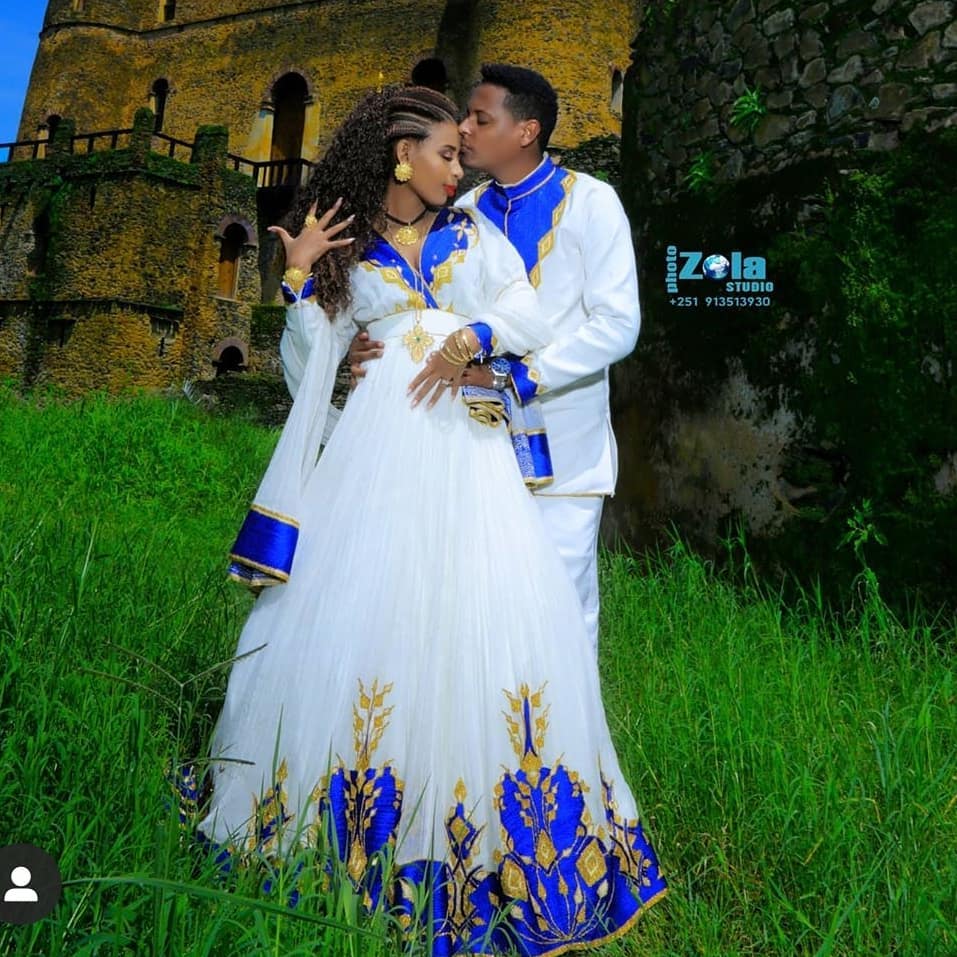 As passion fills the air so does the alluring royal blue with golden embroidery attract our eyes. The background plays its role to enhance the beauty of this custom-made attire in such a unique way. This outfit is just perfect for the couple.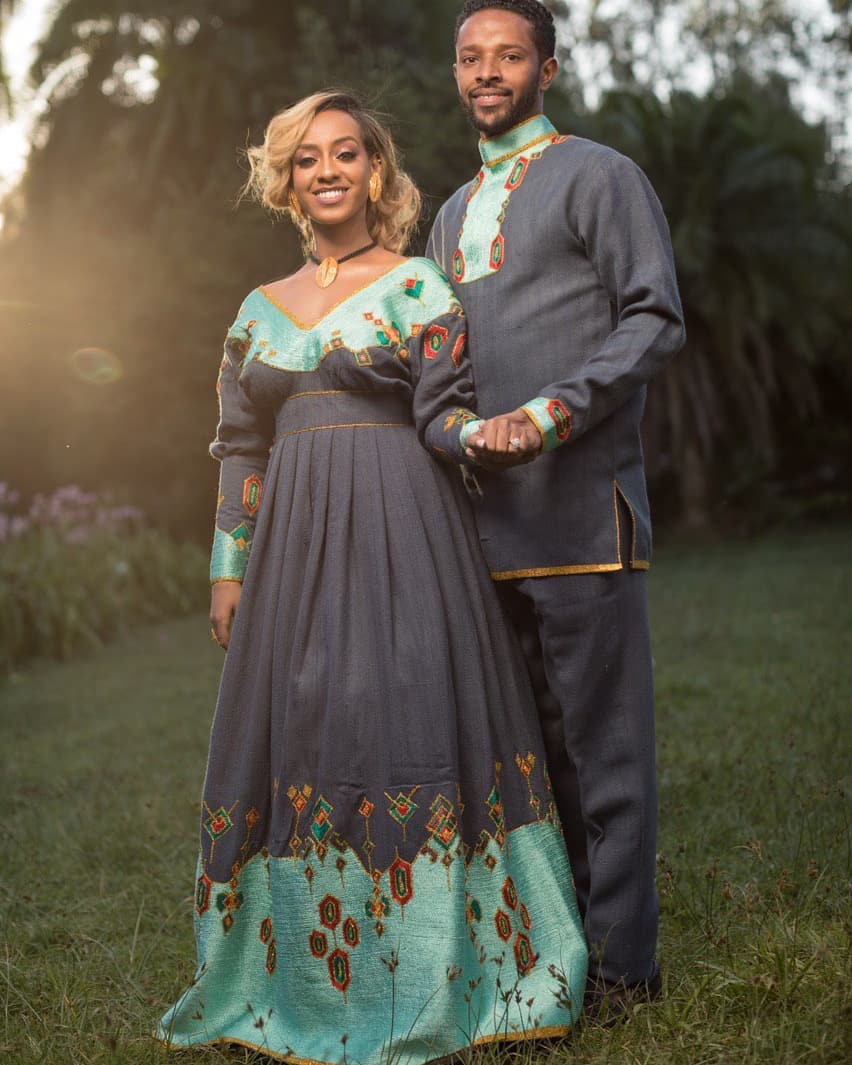 This exclusive creation was made from traditional hand-woven material. That is why Yohannes Sisters took pride in being the first designers to use modern hand embroidery on this kind of material. Away from the usual white woven material, this dark grey outfit with green and red embellishments is striking.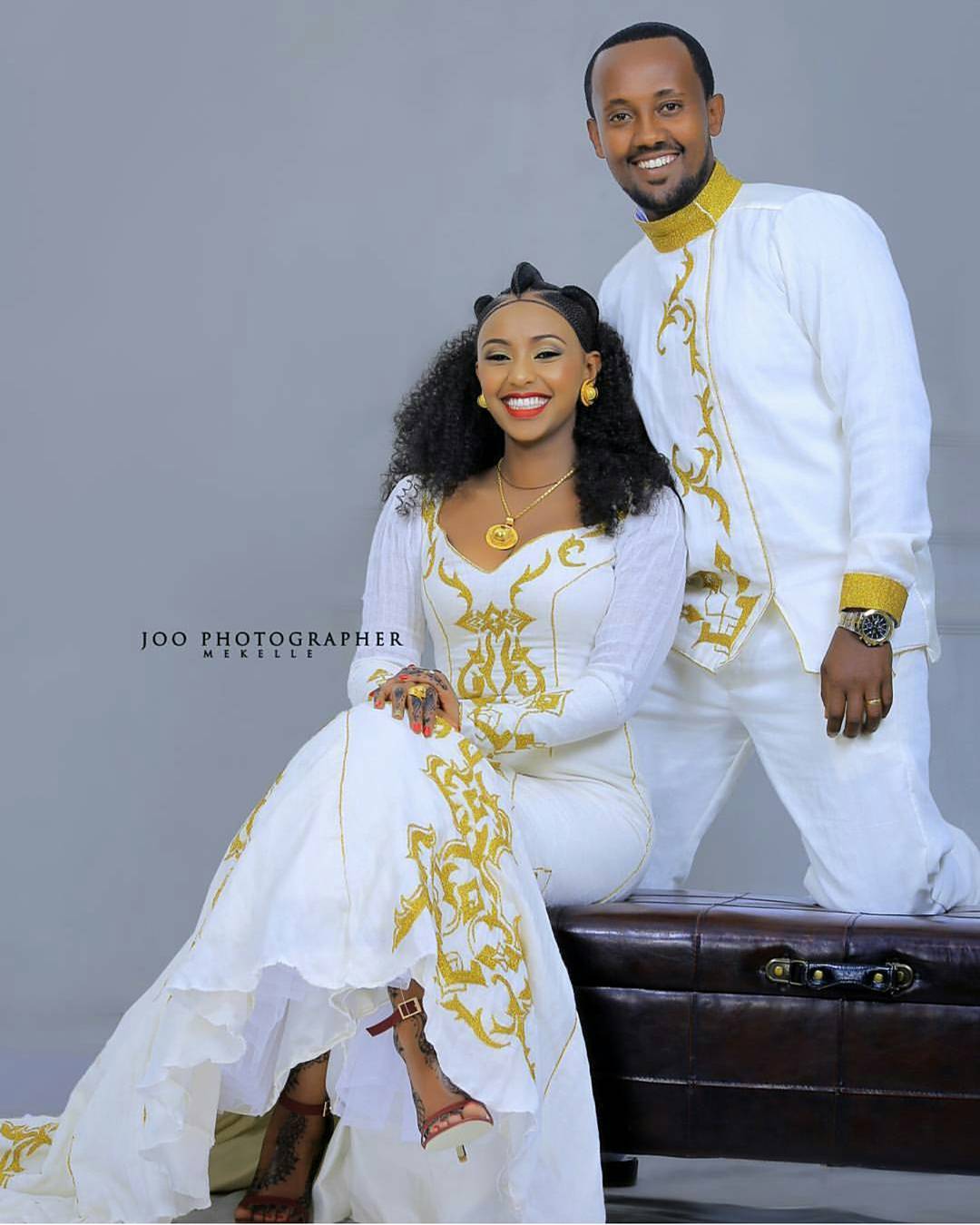 The golden floral embroidery on this outfit brings out the bubbly nature of this gorgeous couple so clearly. The tight stitching highlights the bride's curves.
Conclusion
Despite all the success that they have had on the red carpet and other global platforms, the Yohannes Sisters cannot forget the challenges that they have had to overcome. For this reason, they encourage all aspiring entrepreneurs to never give up on their dreams. After all, challenges are always there for a reason which is to offer a lesson. The Aim Magazine quotes them saying,
"Nothing comes easy so hard work, determination and perseverance are key characters to success. If you don't have passion for what you do, it is not worth wasting your time for it."