Designer Spotlight: Safae ibrahimi Presenting Moroccan Caftan To The World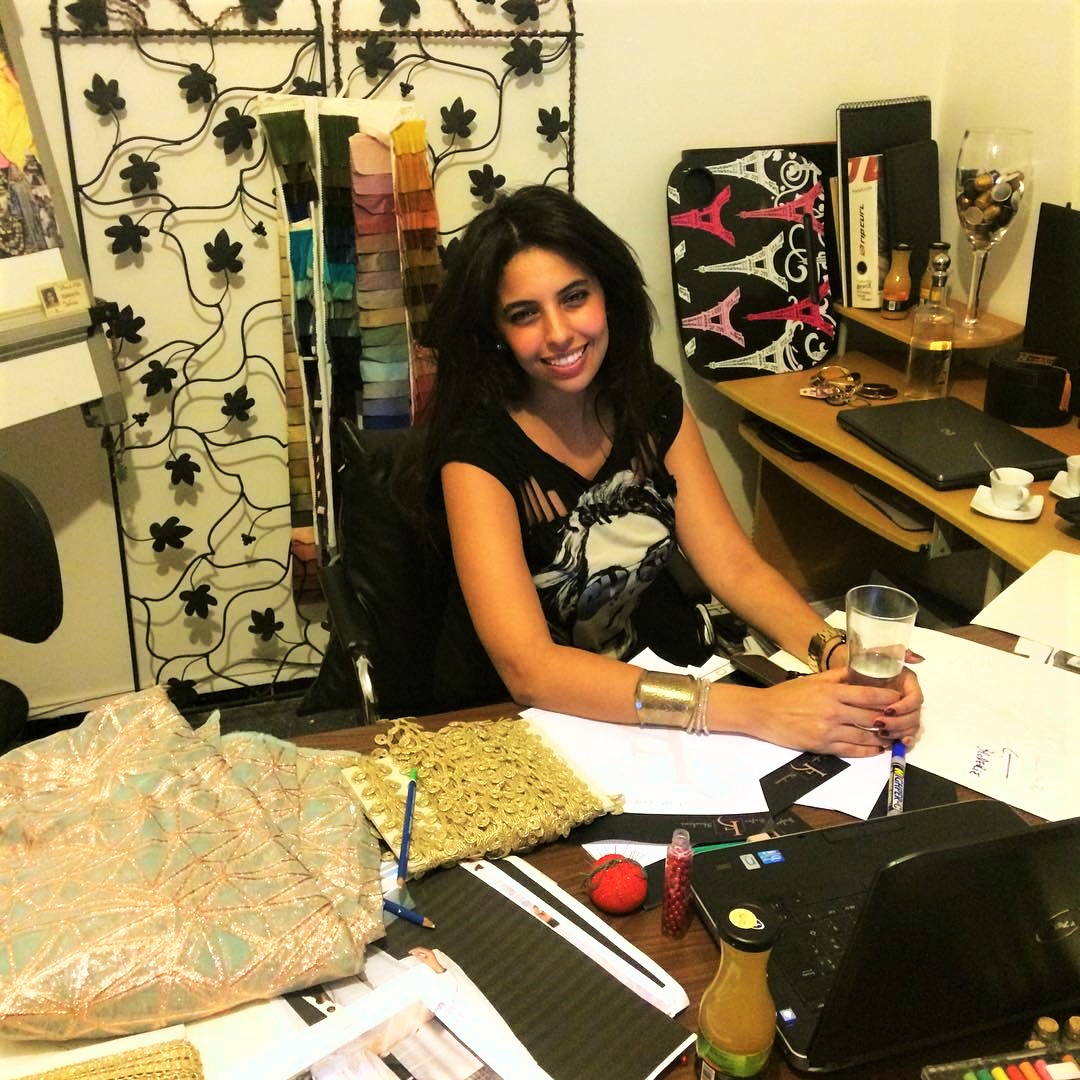 What is your opinion when you think of elegance and Africa in the 'same sentence'? Well, maybe you have never thought about it. Or, if you have, nothing really good came to your mind. Africans have always thought that elegance and class can only be imported. However, in our designer spotlight section today, we intend to prove to you that elegance and class are available right here at home.
Thanks to our very own multi-talented fashion designer Safae ibrahimi, we can export our glamorous attires to other parts of the world as well. Enjoy the read as we look into some of the best designs she has created so far. But before we do so, who is Safae ibrahimi and how did she start her career journey? Read on to find out.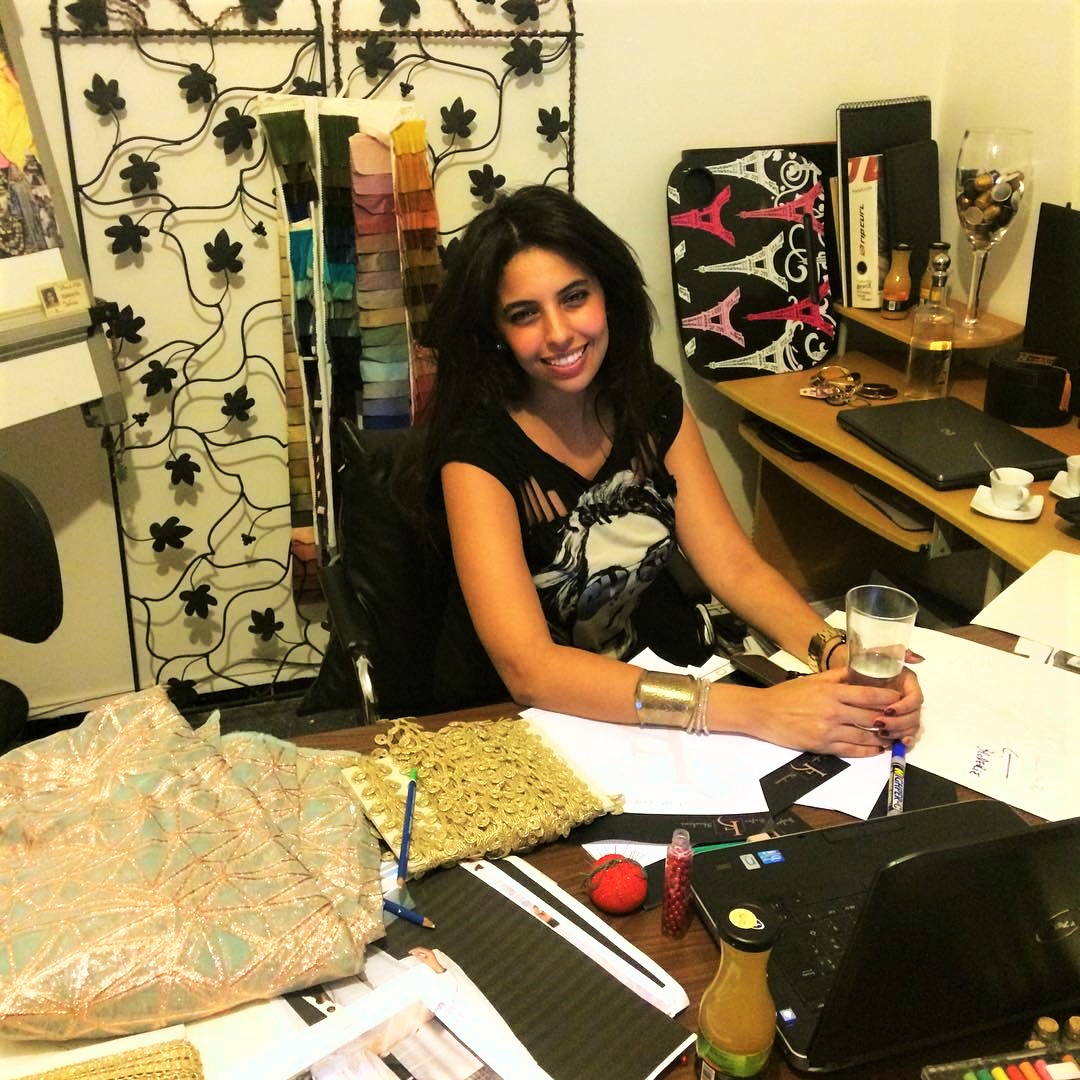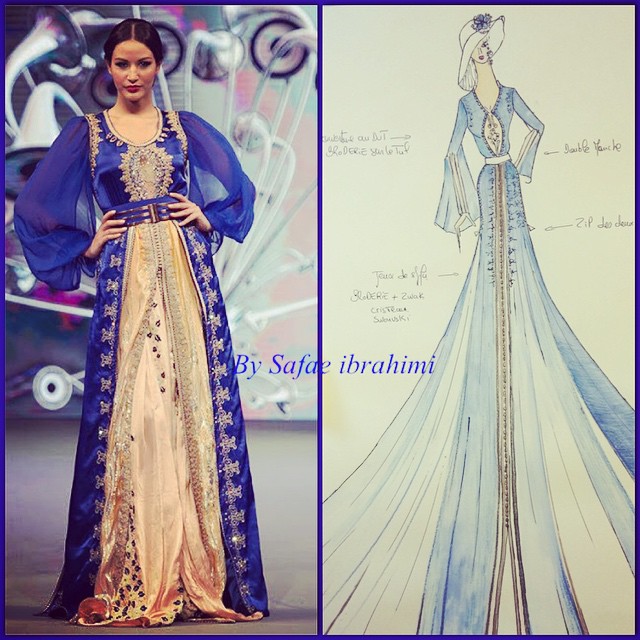 Safae ibrahimi is an embodiment of creativity. Prior to creating her pieces, she usually makes a sketch of them on paper. Carefully and delicately, she transforms these sketches into a masterpiece. Have a glimpse of her work below when she started out as a fashion designer in 2012.
Who Is Safae ibrahimi In A Nut Shell?
Safae ibrahimi is a young lady born and brought up in North Africa, Morocco. Her childhood years were fun to say the least. Interestingly, she loved painting and drawing ever since she was young. She also had a chance to accompany her father as he traveled to different parts of Morocco. This enabled her to experience the different traditions of the Moroccan people.
The diversity of the Moroccans is evident in the number of major languages that they use as a country. The two main languages spoken in Morocco are Arabic and French. However, Moroccan Arabic and Spanish are also widely used. Lately, English has also caught up slowly but surely since it started being taught in schools in 2002.
Her love for fashion and design led her to the runway where she has showcased many creations of her own. After finishing her degree, she immediately joined a fashion design school. Watching the Haute Couture International and Moroccan Caftan fashion shows gave her the final push that she needed to make up her mind on following her heart on becoming a fashion designer. She says her mum is her greatest support and partner in her venture. She is the strength behind the luxury brand that meets simplicity.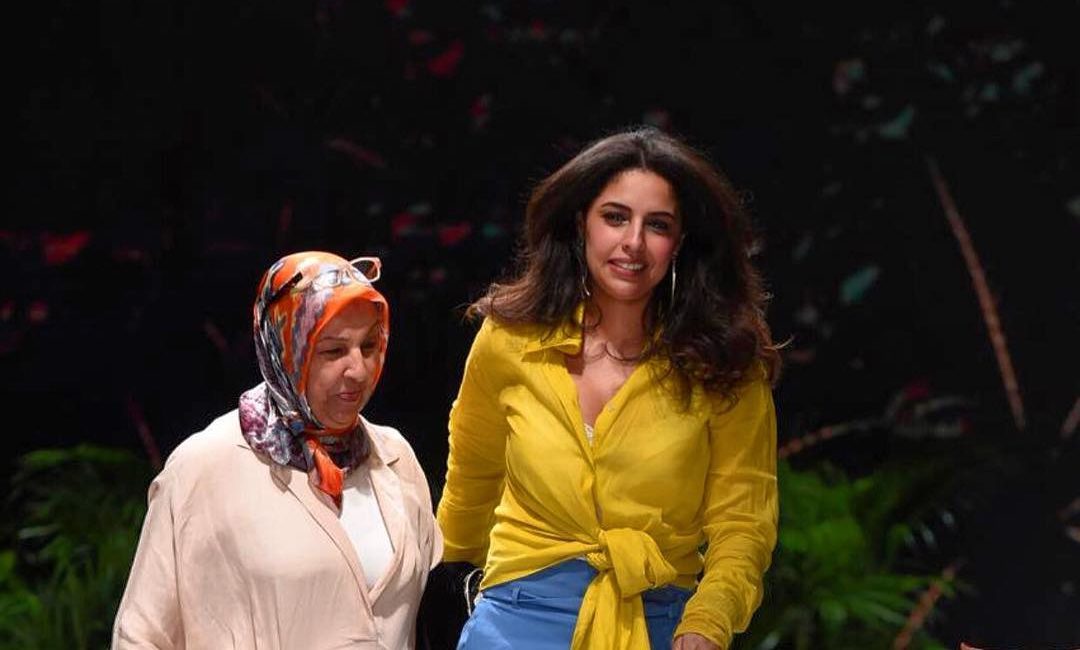 What Did It Take Safae To Become A Star?
As the old adage states that practice makes perfect, Safae embarked on a journey to put into practice her talent. She started out in the textile industry and worked as a junior designer at DALI group. Later on, in 2010, she joined 'Moroccan touch' of SMADEC. Her skills as a stylist and designer grew quickly and she went ahead to become a designer at Diamantine, an international fashion house. It did not take long before her star started shining followed by a streak of success stories. At Diamantine, she managed the artistic collections which were showcased and sold internationally.
After working on and understanding her design style, she decided to grow her career further. The trust and partnership she acquired from companies like Soft Group and Fashion TV Morocco, ushered her into an exciting path of starting her own brand. Safaeibrahimidesigns, which aims at presenting glamor and elegance in fashion design, was born. She is determined to keep on rising and nothing will put her down.
Stars Dressed By Safae ibrahimi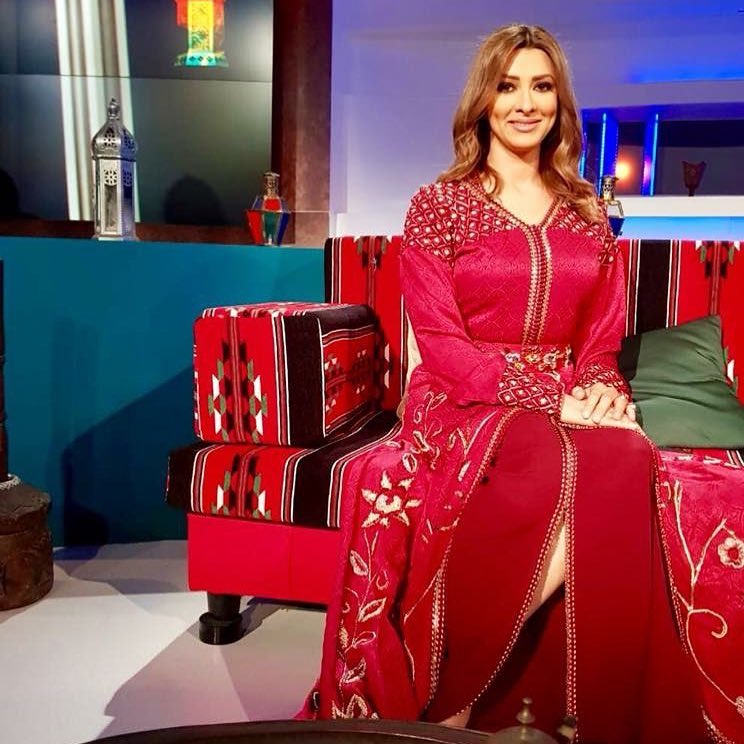 This red glamorous haute couture designed by Safae ibrahimi brings out the natural beauty of journalist and TV presenter
Heba Shehadah
. The gold decorations on this dress are on point and the surroundings blend in so well.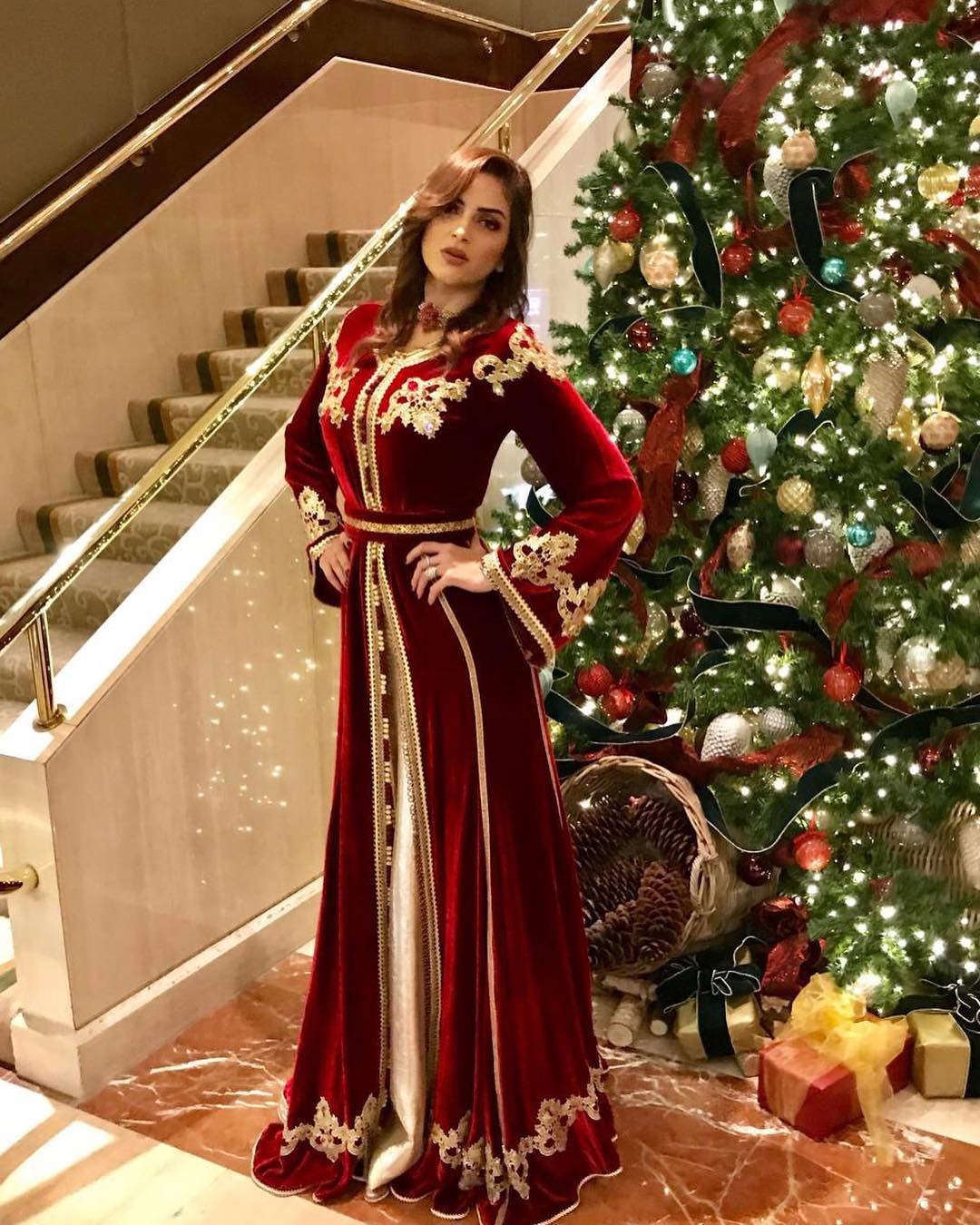 Stunningly beautiful is all we can say about this gold-decorated red velvet caftan. The dress no doubt brings out the beauty of actress Samira Magroun in totality. What do you think?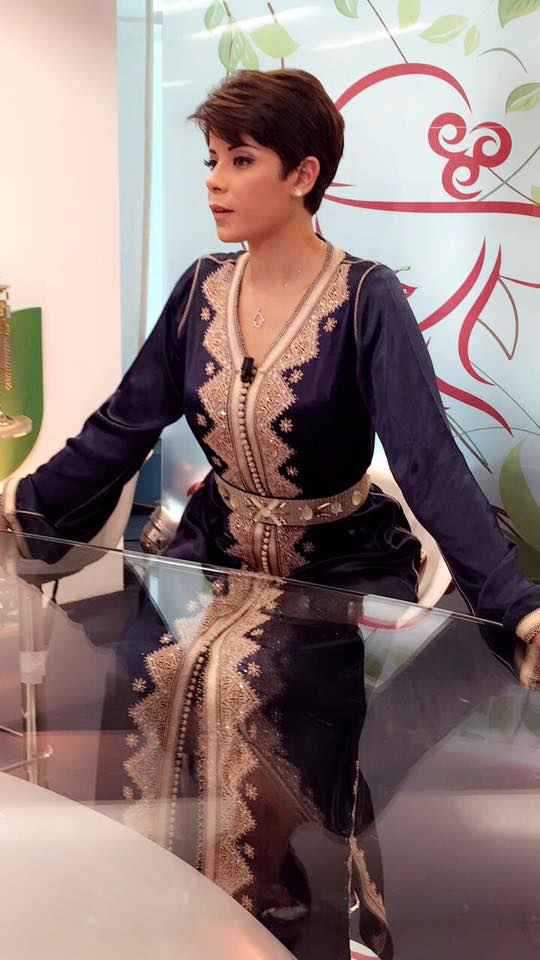 Simple and elegant is the perfect description for this navy blue caftan. The crystal embellishments complete the design which looks so good on artist, model, TV presenter, and fashion designer
Leila Hadioui
.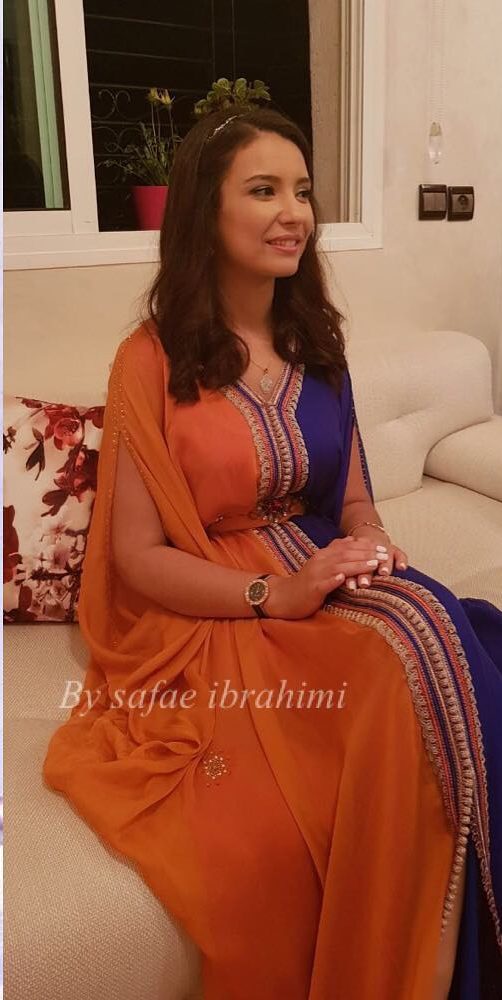 Color blue and orange looking so good together. Safae Ibrahimi ingenuity in fashion design is presented for all to see in this piece of work. This beautiful bride looks joyful and stylish at the same time.
Some Of Safae ibrahimi's Favorite Throwback Caftans
Safae ibrahimi has always been on top of the game since she started her journey as a fashion designer. As a matter of fact, she is not in this field to try her luck but to offer the very best. Let's see some of her earlier caftan designs in this throwback section.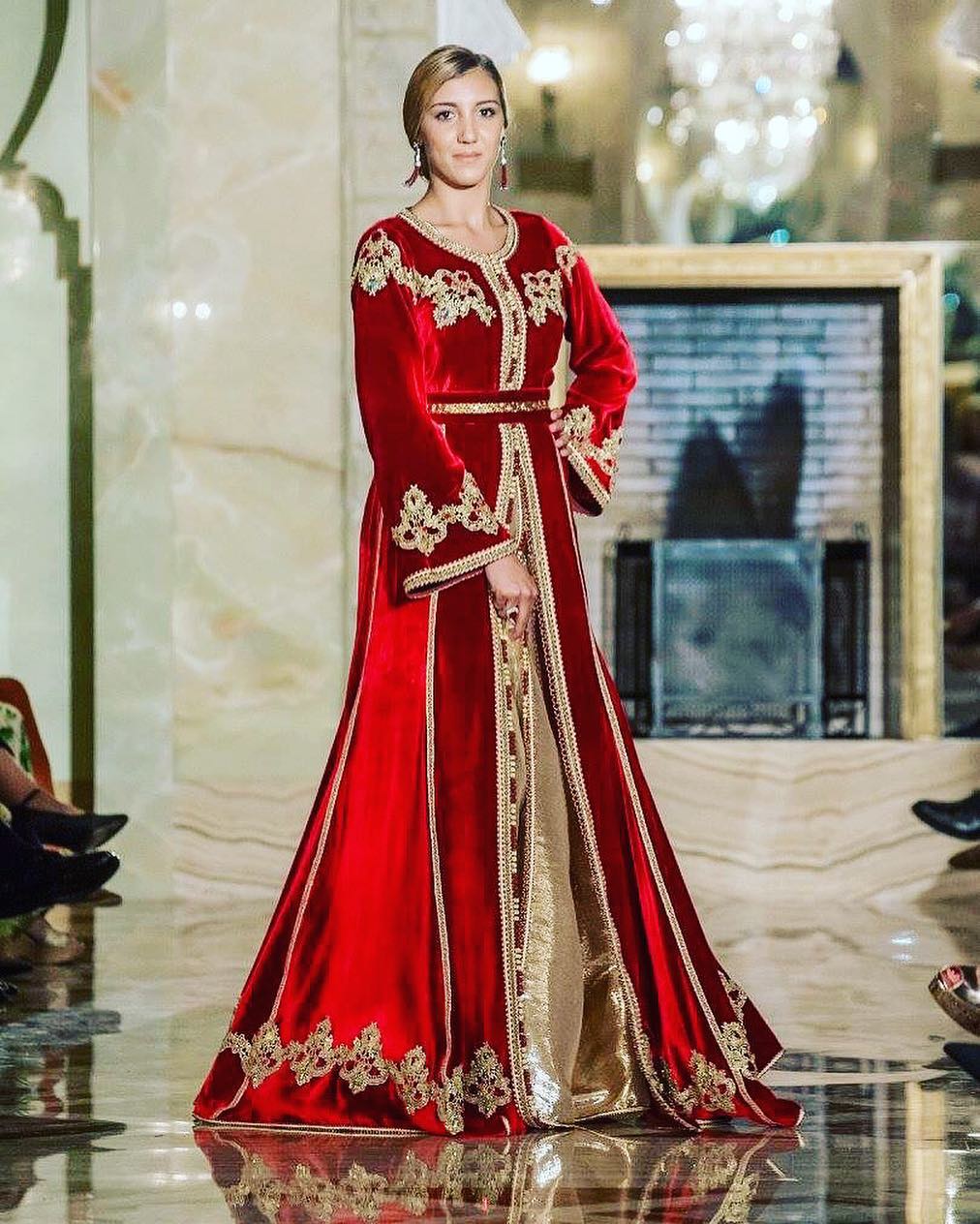 Red is a wonderful color that is most often used to show love. This elegant red velvet dress with golden decorations is the perfect gift for a dear one.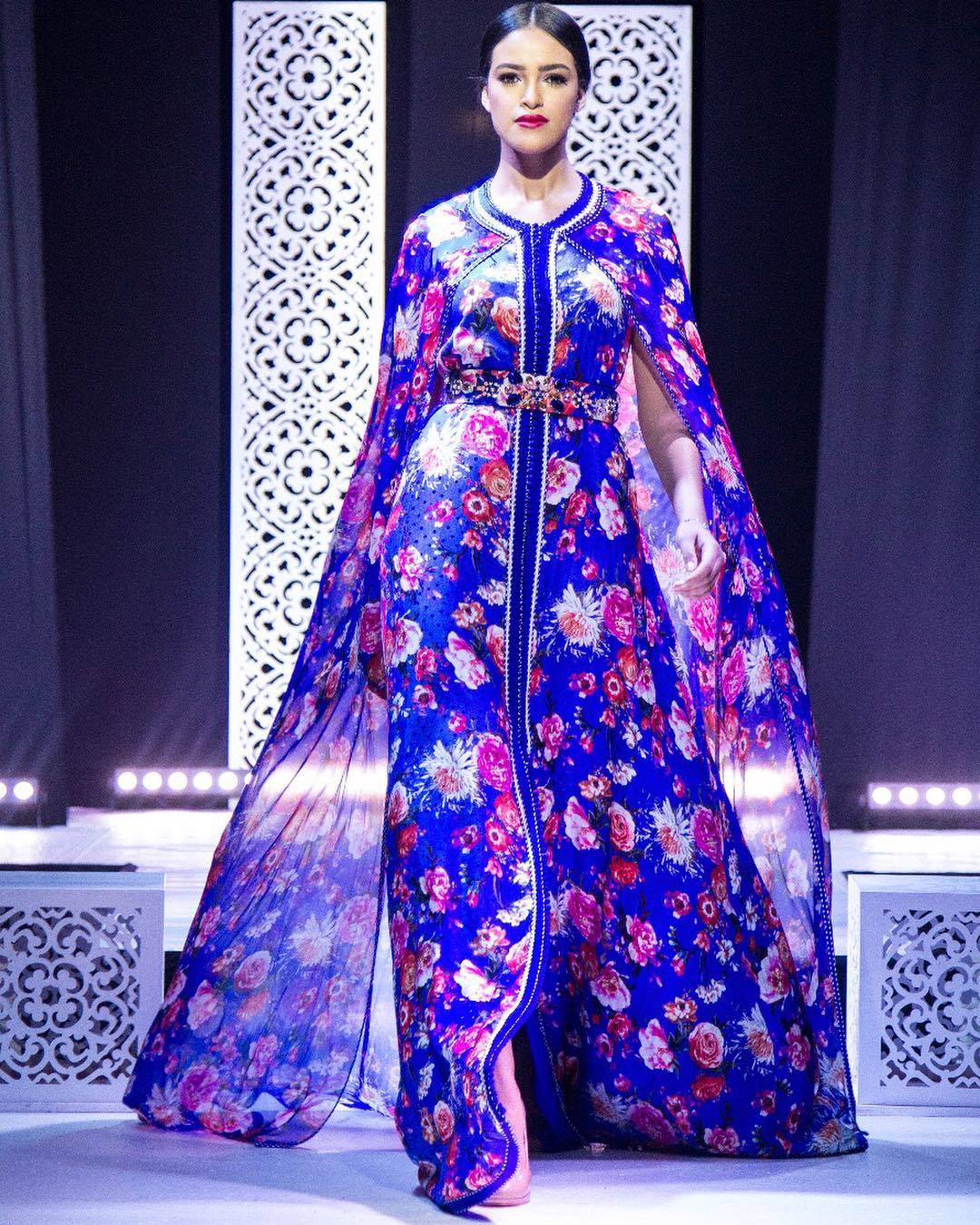 Flowers give a feminine feel and that is why this dress is so cute. The blue color combined with an assortment of pink flowers gives this dress vibrancy and glamor. The belt adorned with blue and red crystals grant a perfect finish to this dress.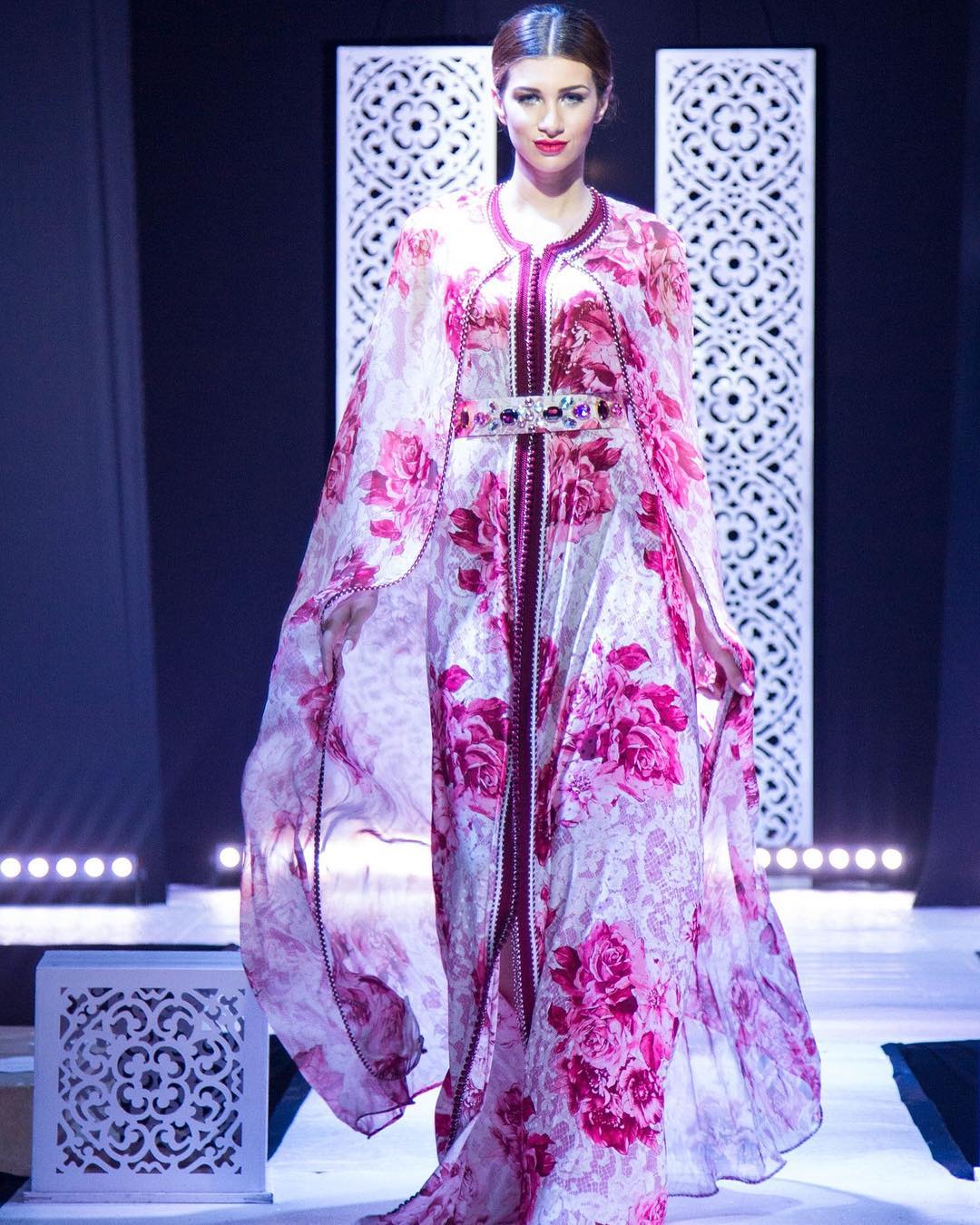 Roses are favorite flowers for many and a stylish rosy dress is a worthy addition to your closet. This unique dress is ideal for special occasions during summer due to its light material and beautiful colors. The pink and blue crystals on the belt give this dress a touch of elegance.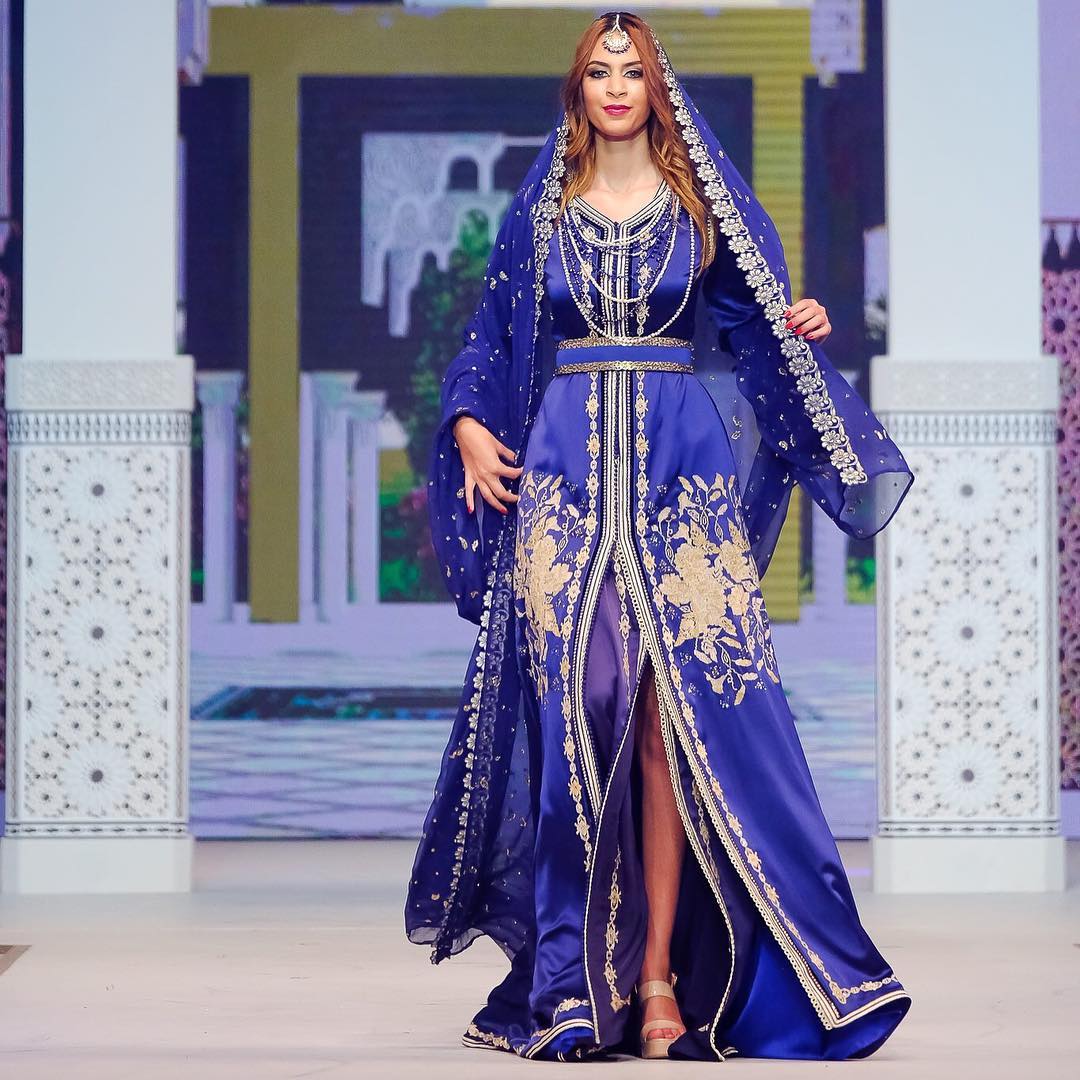 If you are looking to add continental-themed attires to your wardrobe, then this is a perfect caftan dress for you. Safae made this Indian-themed blue dress with great care and passion. The embroidery decorations on the dress and the belt combined with the beautiful pearls give this dress a princessy look.
Elegance Meets Simplicity At safaeibrahimidesigns
Safae Ibrahimi describes her fashion designs as where elegance meets simplicity. Do you agree with her?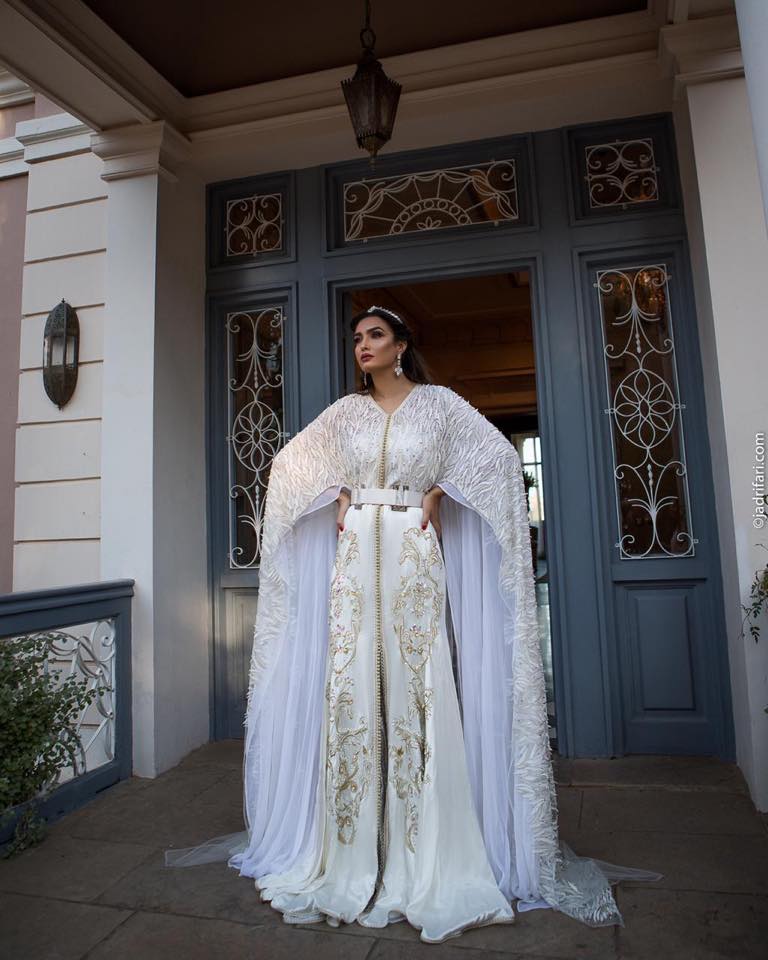 If white is your color and you are looking for something out of the ordinary, then look no further. This white gown exudes elegance and class on another level. The decorations and the white belt perfectly complete this haute couture.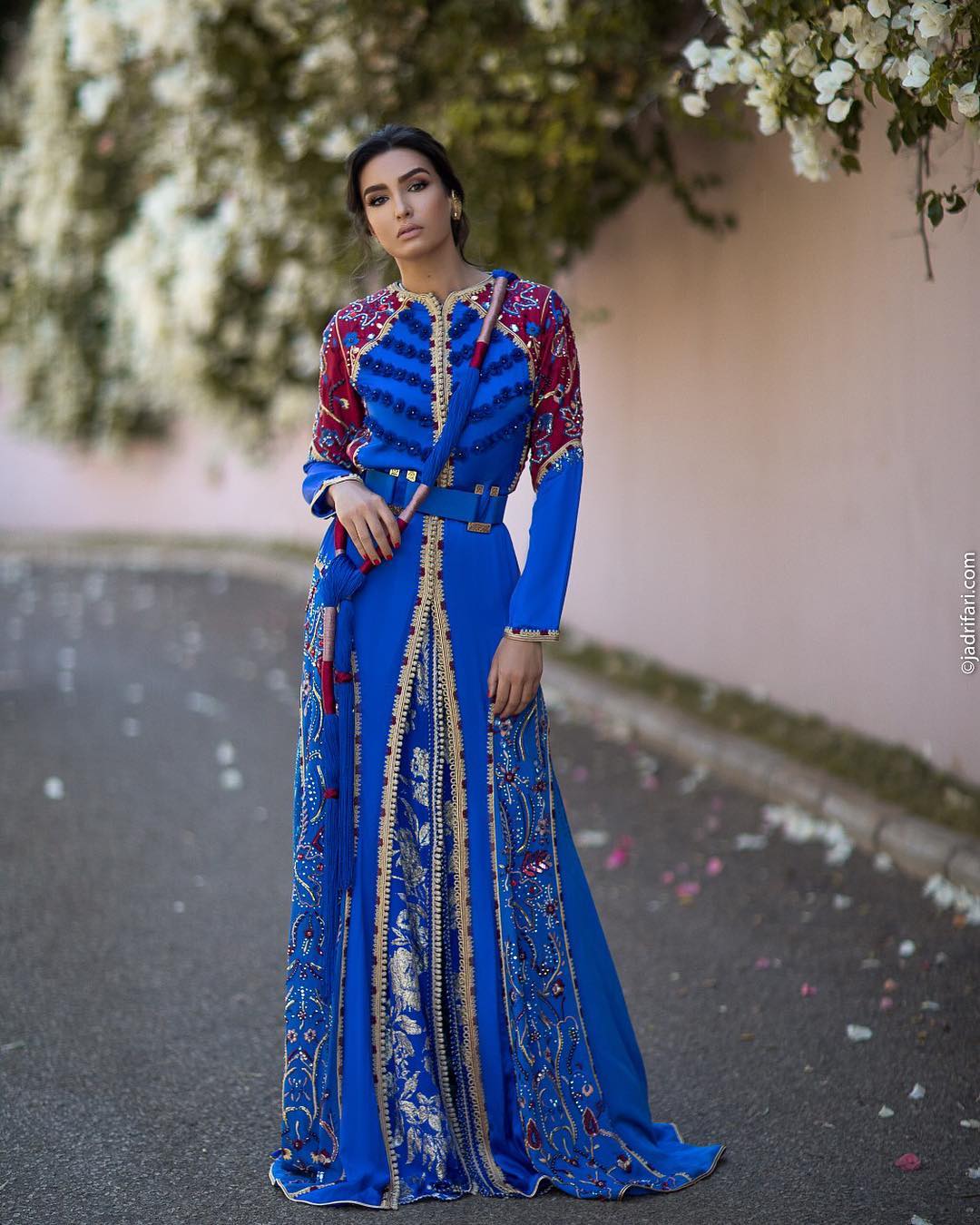 Who would have thought that a combination of blue and maroon colors could make such a stunning caftan dress? Well, there you have it. The embellishments give this attire a fine touch that is rare to find.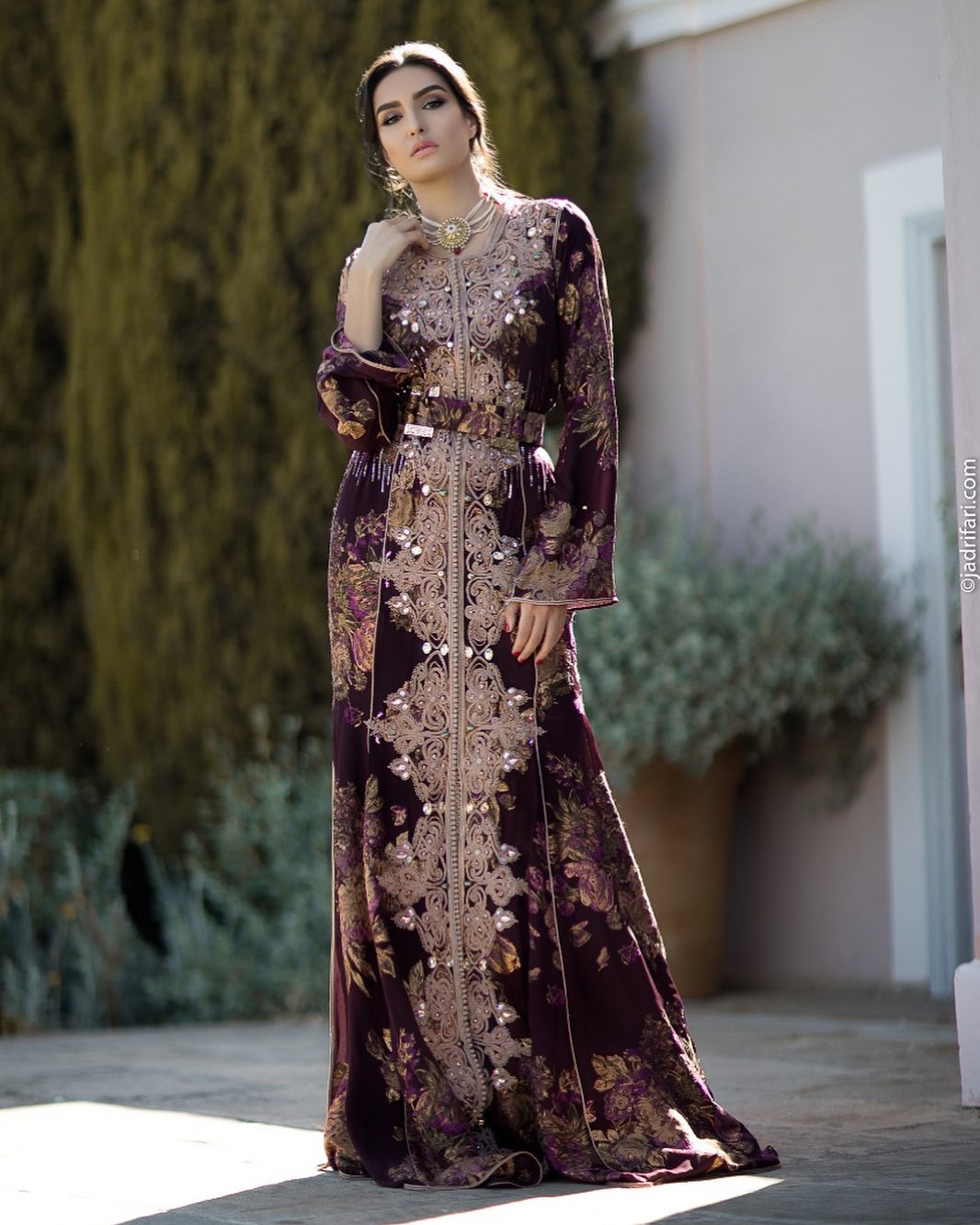 Maybe maroon is not your favorite color but this floral caftan dress is irresistible. The golden pearls and embroidery give this dress a touch of glamor and style.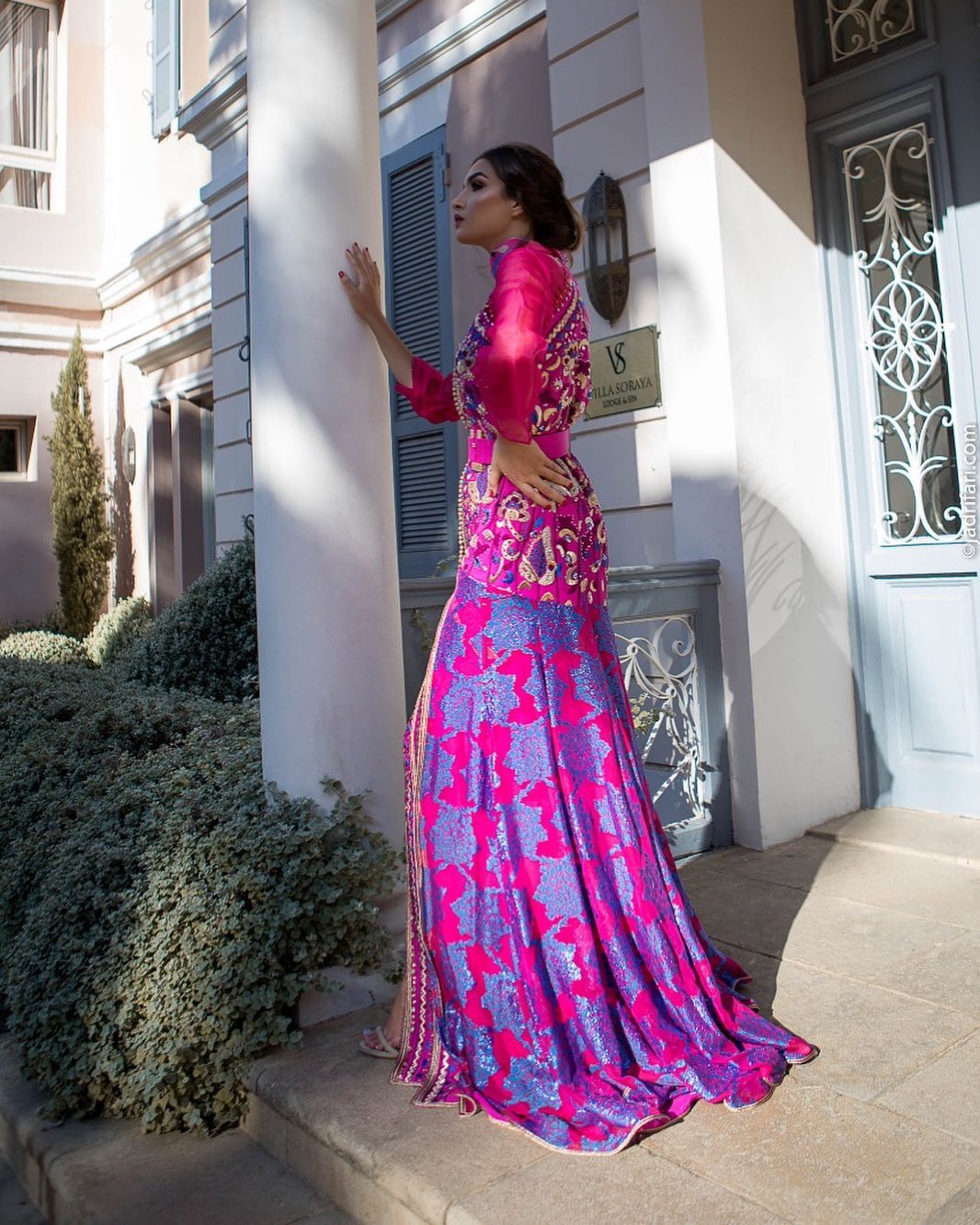 This pink dress with blue and gold decorations is stunning for lack of better words. The elegant finish made by hand makes this haute couture ideal for very special occasions.
Sizzling Hot Safae Ibrahimi's Designs of 2021
Having looked at some of the previous breathtaking designs that have not lost their taste over the years, it is only fair to also have a look at her latest inventions. Safae has very recent designs that are barely months old. Which one would you want to have in your closet?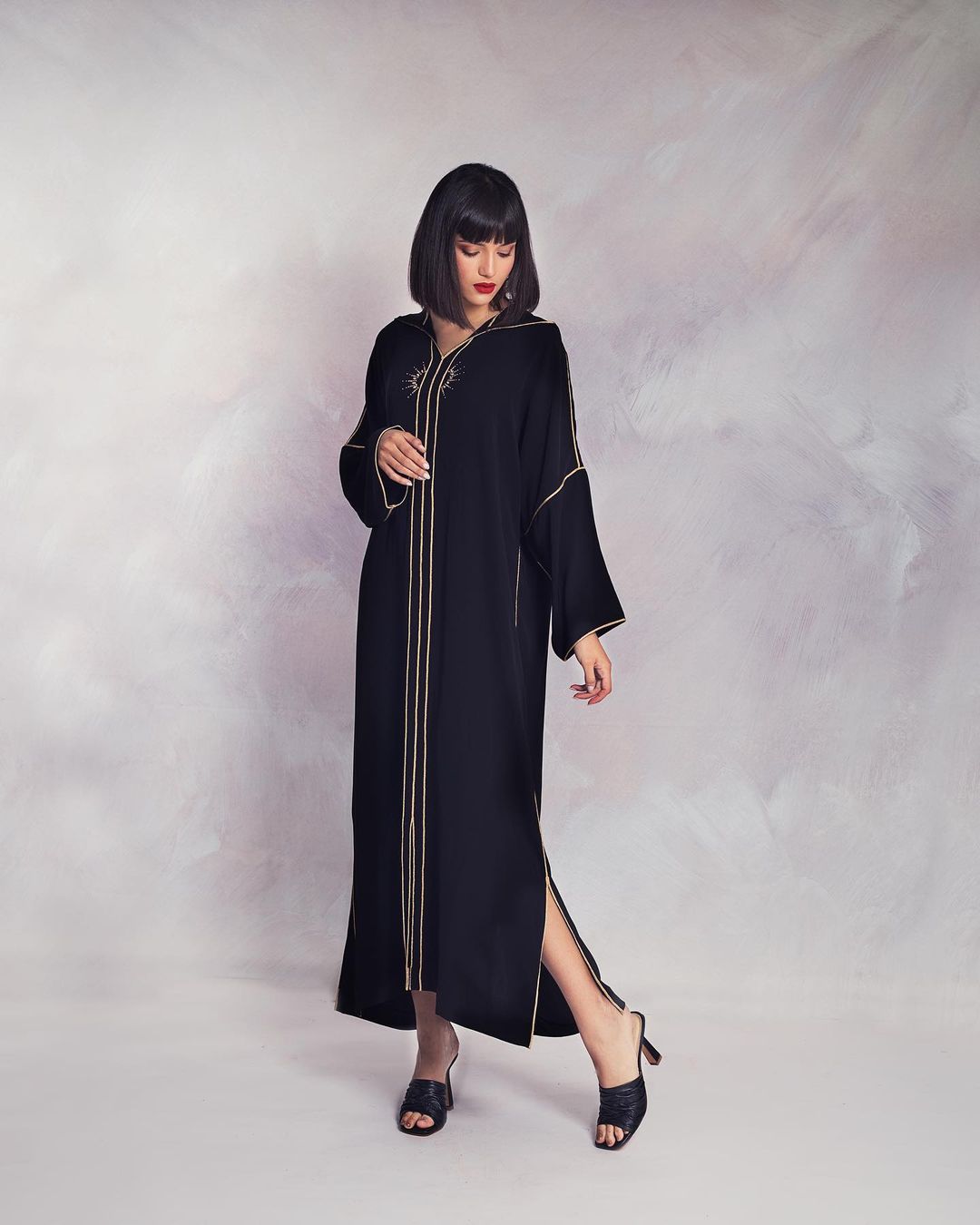 One look at this dress and you see simplicity and elegance put together. The saying that you can never go wrong with black is a perfect description of this beautiful dress.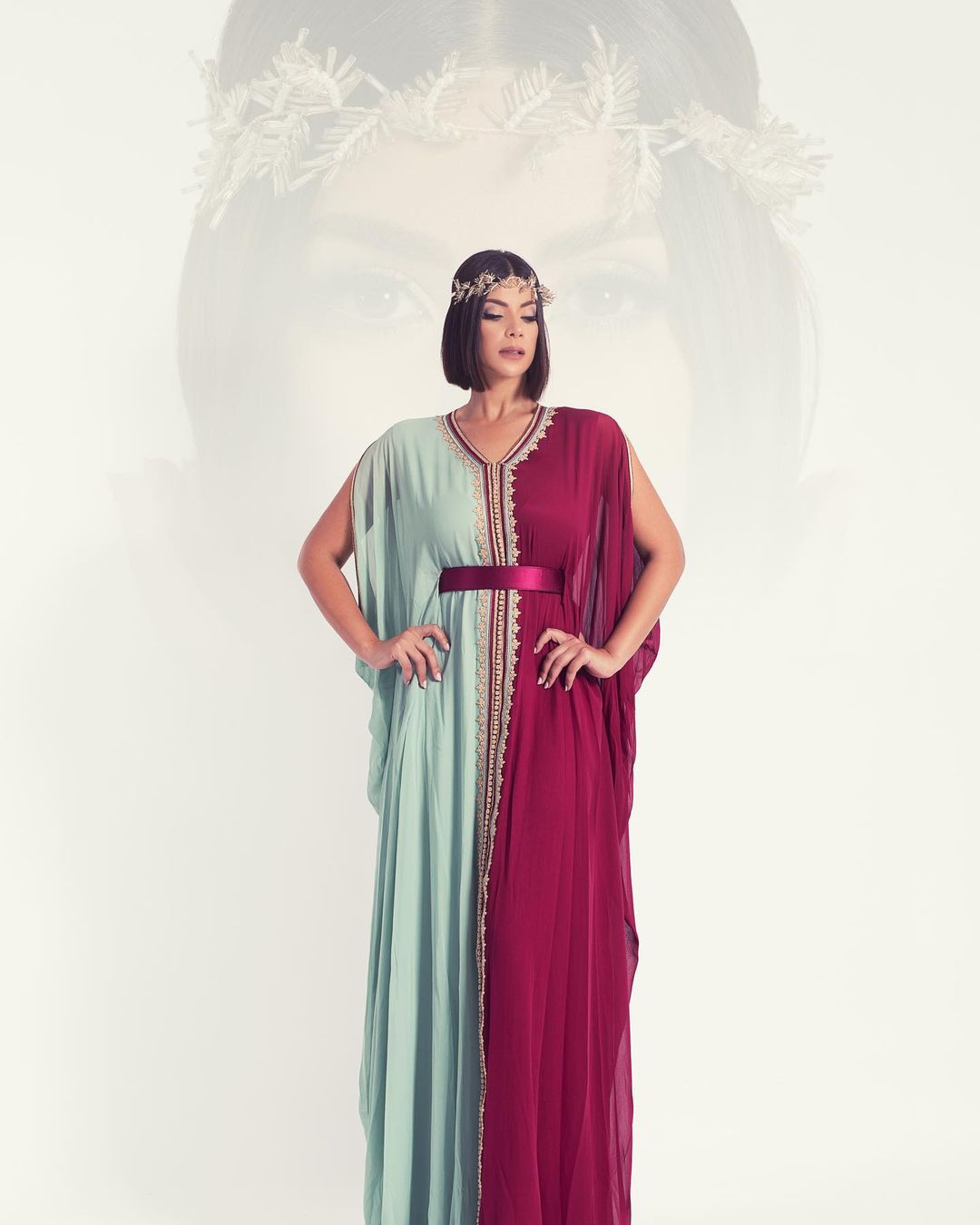 This elegant beautiful dress is ideal for summer events due to its light material. The intricate yet simple decorations coupled with the maroon belt complete the look of this caftan.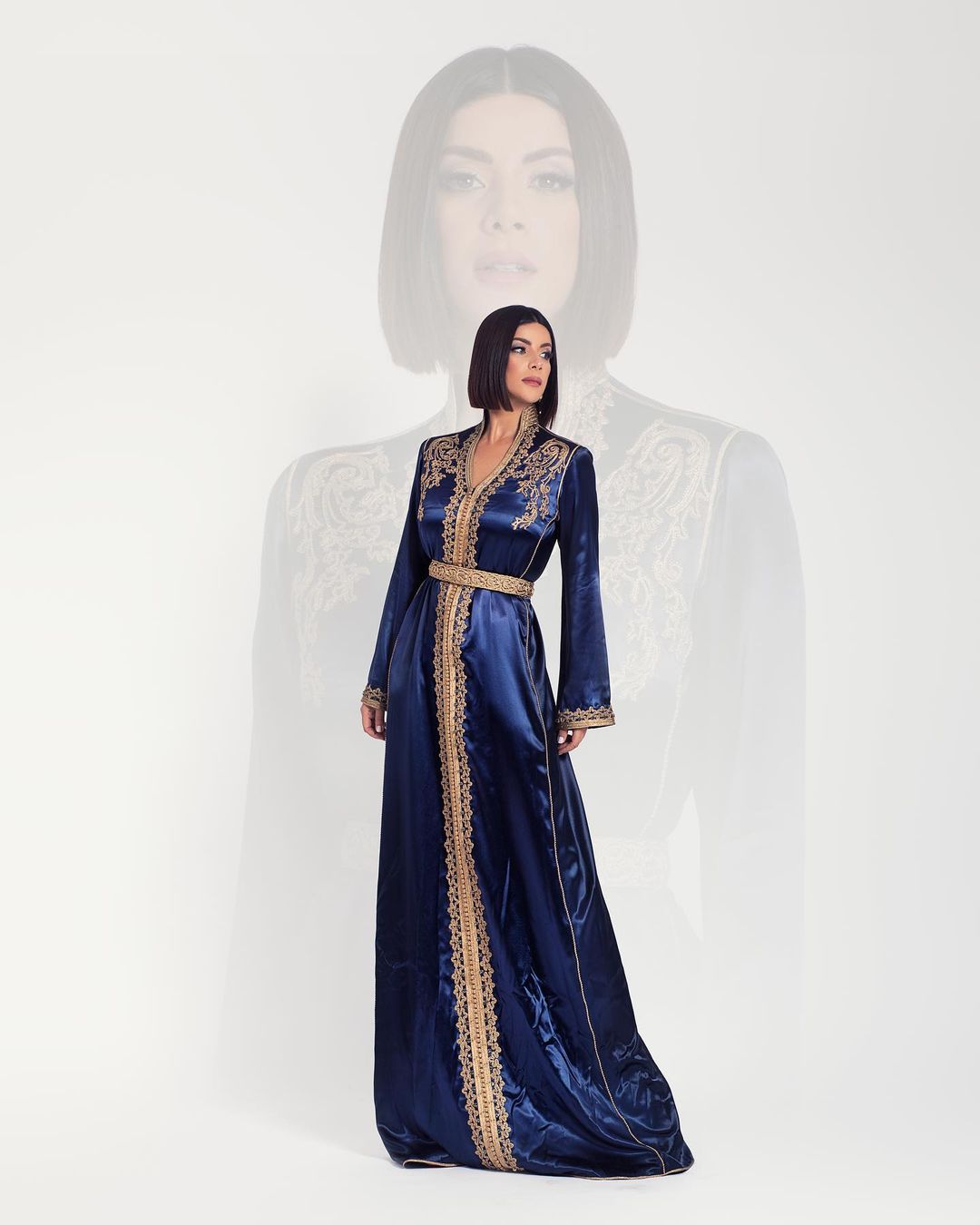 You will agree that shiny ensemble shows class as portrayed by this trendy shiny blue dress. The elaborate golden decorations and the nicely done golden belt give this caftan dress the elegance it deserves.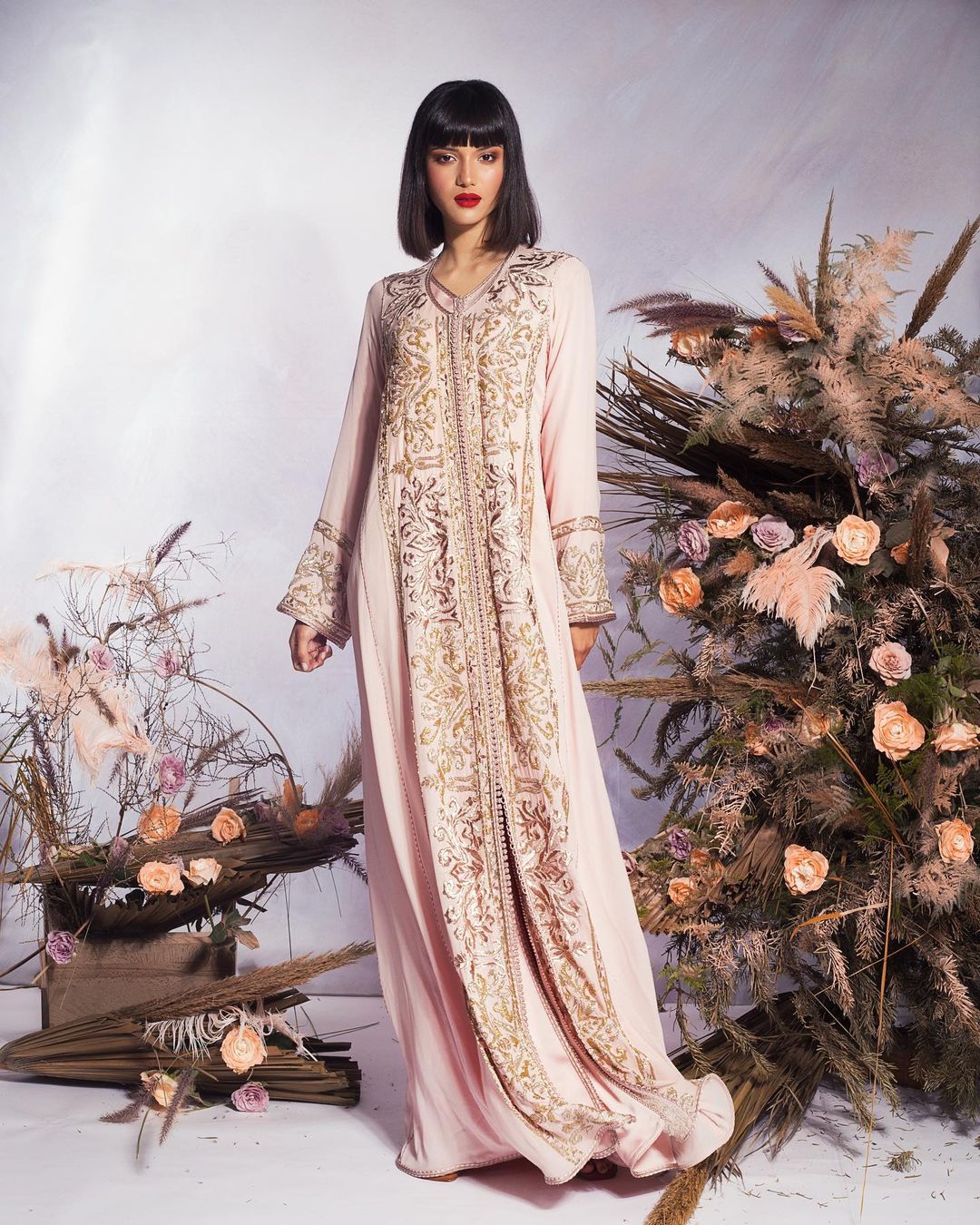 Glamor and style are what this haute couture displays. The beautifully done golden embroidery looks so good on the baby pink dress. The background does its best to bring out the splendor of this caftan in its entirety.
How It Was
At PLITZS New York City Fashion Week
Modern And Trendy Wedding Caftans
By skillfully and artistically working on the traditional Moroccan caftan, Safae ibrahimi has managed to come up with modern and really fashionable wedding outfits.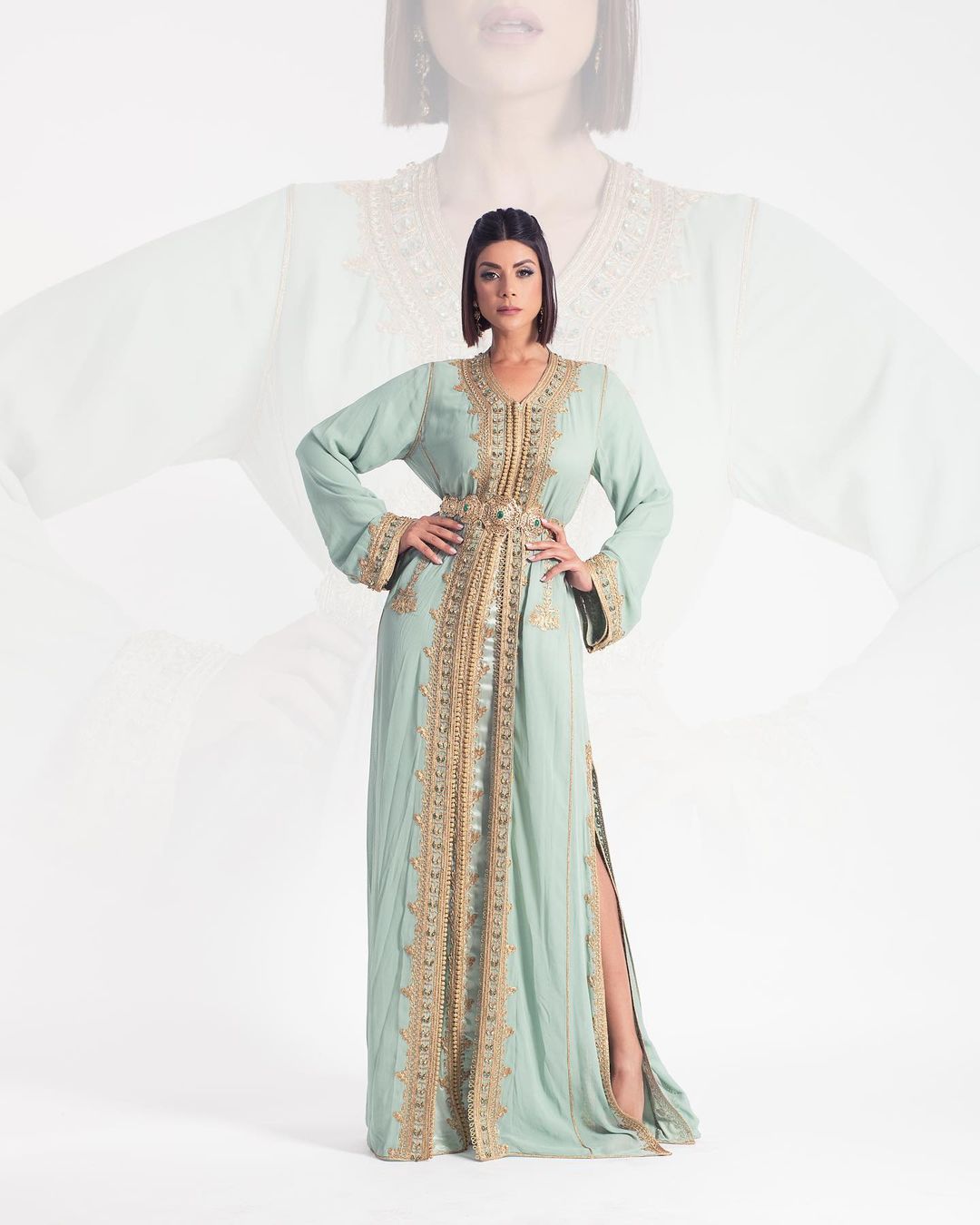 Wedding attires never looked so modern and stylish thanks to Safae Ibrahimi designs. This light blue dress radiates glamor in a unique way. The beautiful golden embroidery together with the golden belt embellished with green pearls completes the design so well.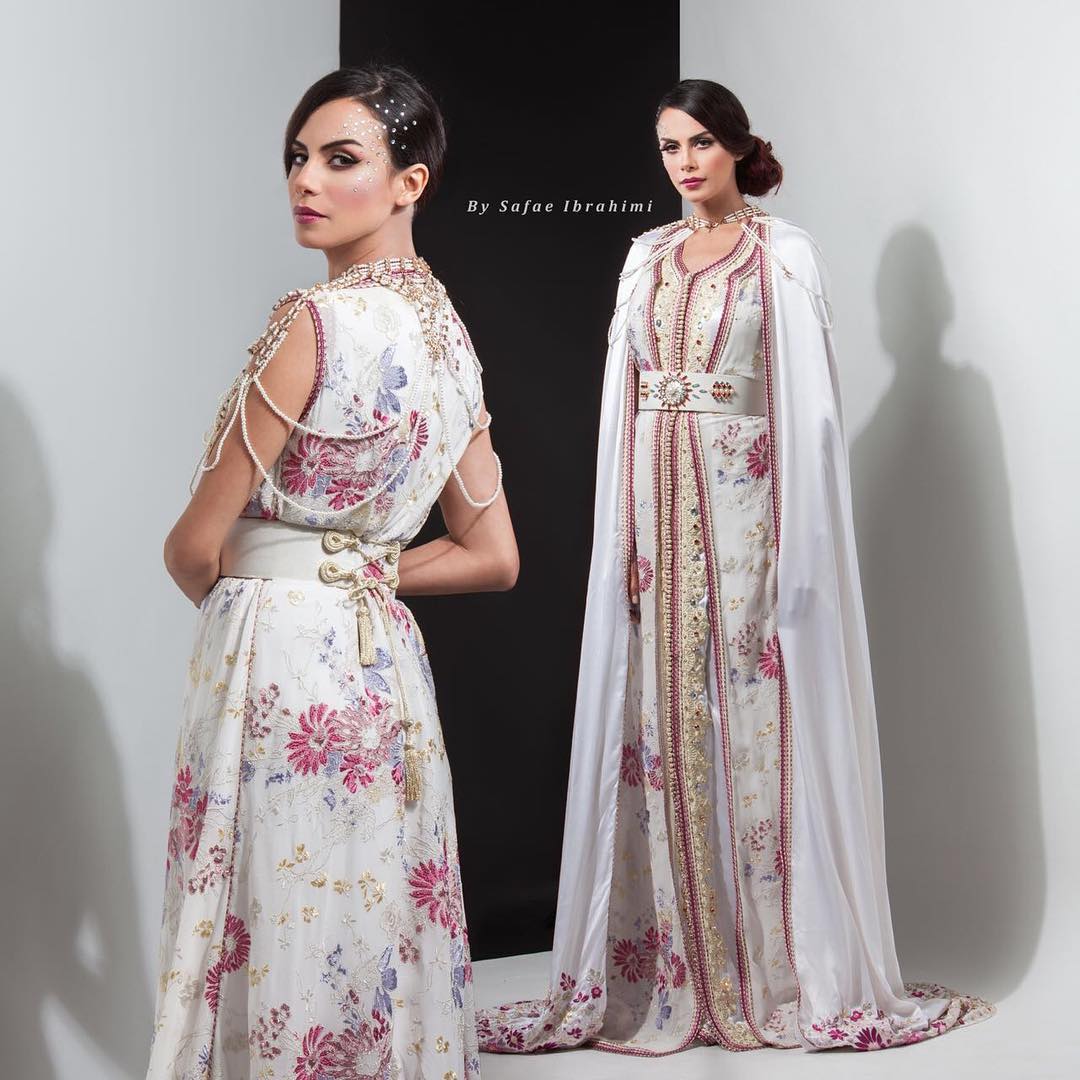 Simple and classic is how this dress, from an earlier collection, can be described. The red and gold decorations ensure that this caftan dress does not portray the casualness of white color. Nevertheless, it is still stylish despite being designed several years ago.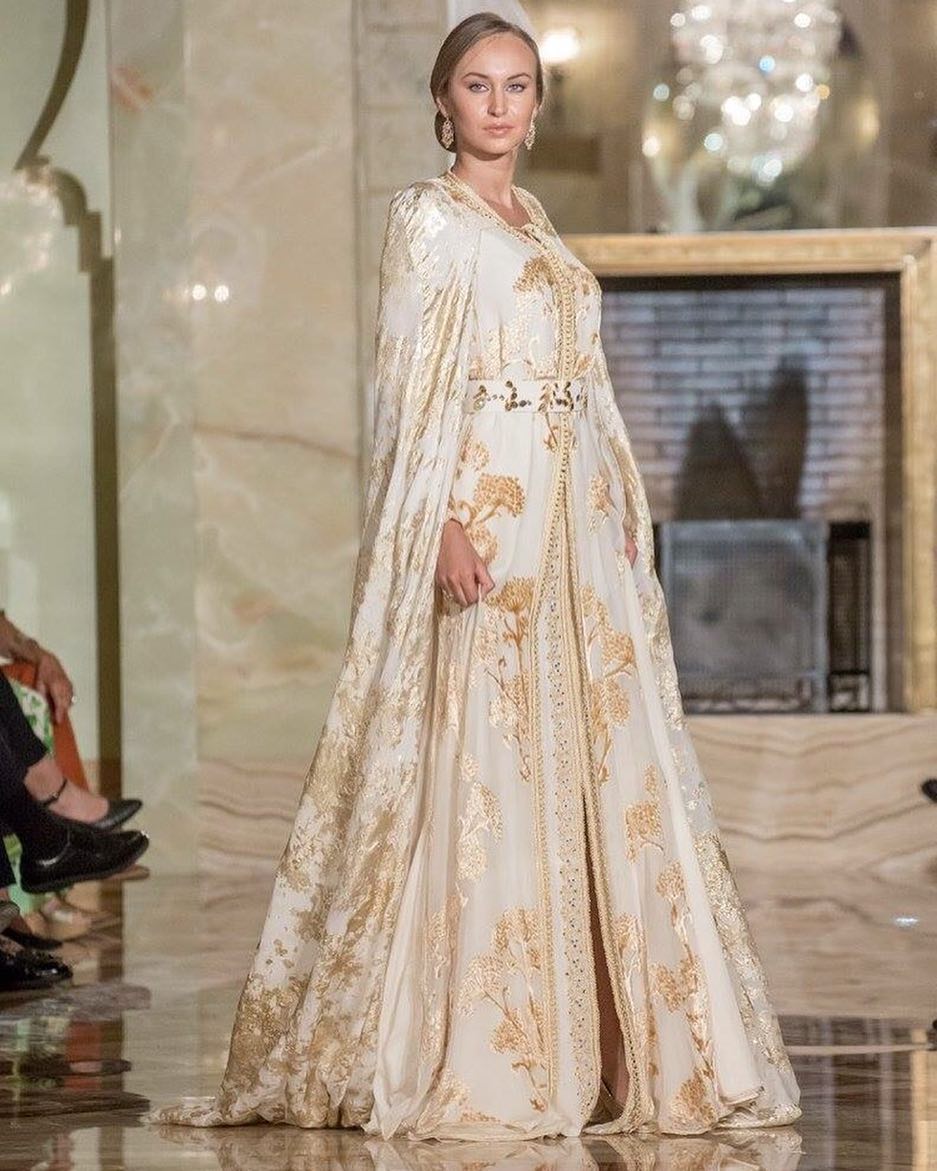 Another glamorous wedding caftan dress straight from the archives. Despite Safae designing this dress several years ago, it is clear that it has not lost even a bit of its beauty. Beige and gold are colors that never go wrong together as plainly portrayed on this elegant dress.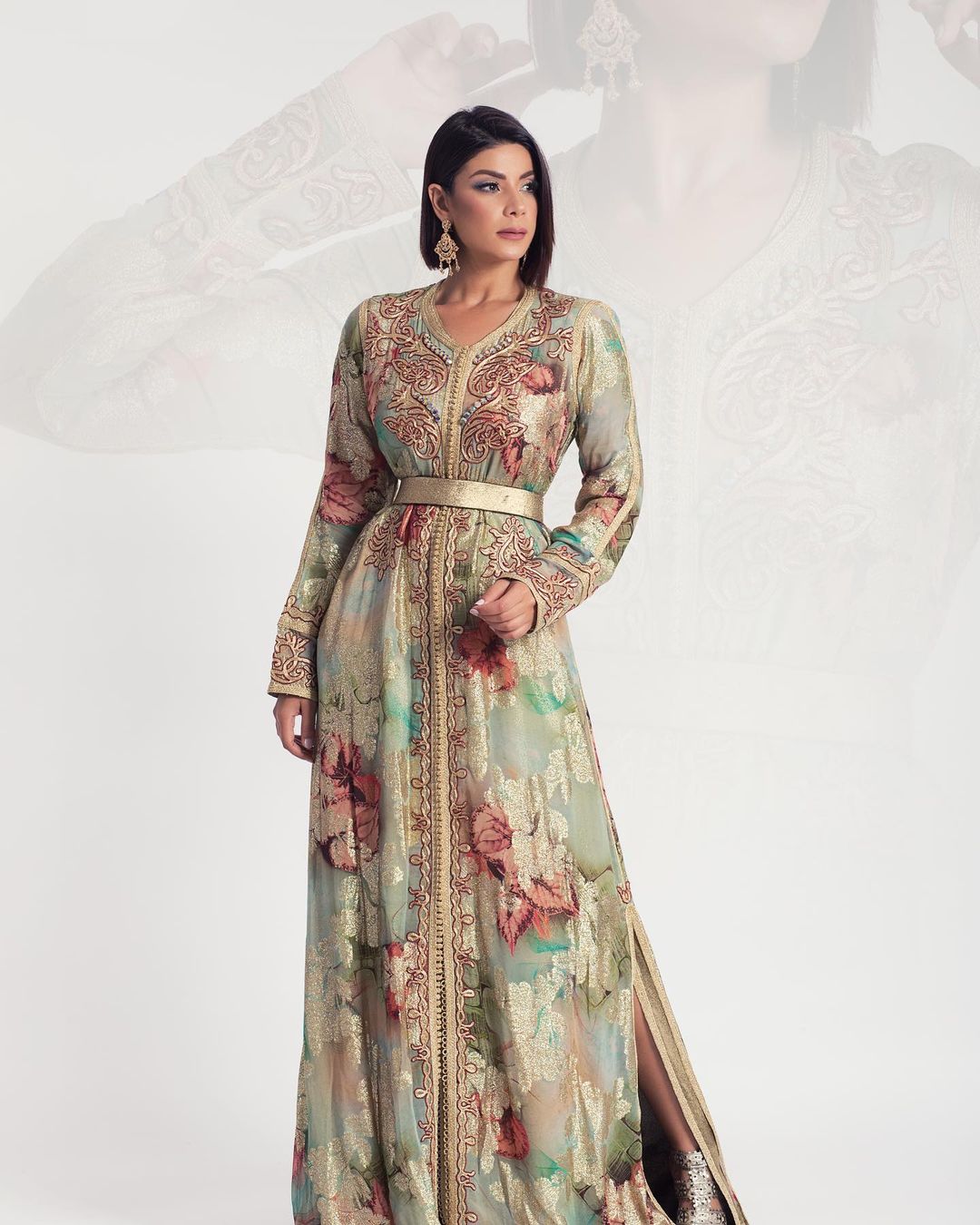 Simple yet stylish spring and summer caftan dress straight from Safae's latest designs. All the colors blend so well and the golden decorations and belt give this dress the perfection it deserves.
Conclusion
Safae ibrahimi has shown Africa's potential in the fashion industry. Her passion, persistence, and sheer determination have taken her this far. Consequently, the experience she has gathered can only propel her to greater heights. Perhaps, that is why she never stops talking about fashion. In one of her interviews, she said,
"If you allow your passion to become your purpose, then it will one day become your profession."