Designer Spotlight: Libyan Designer Amjad Khalil Successfully Marries Western And Traditional Style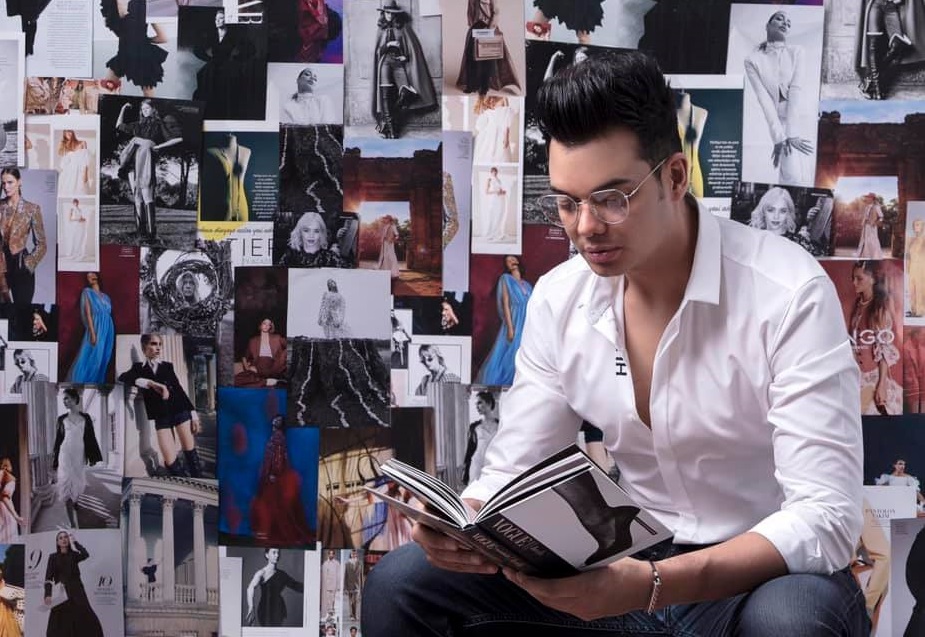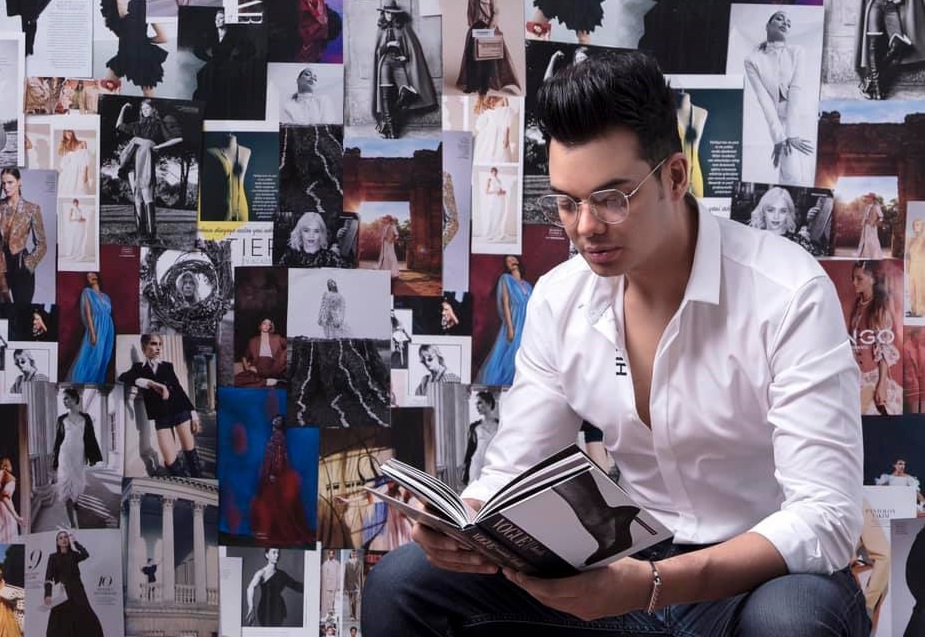 Do you find it difficult to see a connection between Amjad Khalil's luxurious brand AK and the traditional Libyan clothing? AK is Libya's first Haute Couture brand for evening and bridal wear. Also, AJ Haute Couture is all about glamor and cutting-edge style. Perhaps, this is why you are wondering if it is really possible to marry luxury with Libyan traditional wear.
Amjad Khalil proves that it is possible. This is because colorful clothing made out of luxurious fabrics resonates with Libyan traditional wedding gowns. Firstly, they are extravagant and richly embellished with embroidery, beads, silver, and gold thread. AK creations, especially his bridal jackets are equally lavish, but with a modern touch. Here is an insight into Libyan wedding traditions and how echoes of traditional bridal wear can be seen in AK collections.
Libyan Wedding Traditions
Libyan culture is a rich blend of Berber, Turkish, Tuareg, African, and Arab cultures. Hence, wedding traditions and customs are equally diverse depending on the region. In the past, Libyan weddings were long happy celebrations that last up to 7 days. Consequently, the bride changes her attire daily according to the custom.
Libyan Bridal Costumes
The first day of the celebrations is set aside for the bride and her friends to go to the Turkish baths. The traditional outfit for that day is a pink gown. On Tuesday or Wednesday of that week, the bridegroom's family arrives bearing gifts. Again, to receive them, the bride-to-be is required to wear a silk robe and trousers accessorized with gold jewelry.
On the actual wedding day, she wears baggy silk trousers and a blouse with rich gold and silver thread embroidery.  Also, a toga-like dress goes on top and is held together with a silver brooch. Just like Amjad Khalil's designs, this traditional bridal gown is costly. This is because they are made from the best quality fabrics and a lot of time goes into the intricate details.
Amjad Khalil's Early Years
Amjad Khalil was only 9 when he began to show interest in fashion. His family lived near an upholstery shop, so he would go there to collect remnants of fabrics. The reason he did that was to make costumes for the Primary School theater students. Everyone was impressed by his efforts.
However, when Khalil joined the University, he opted to study Business Administration. Interestingly, it was after he graduated that he decided to take the bold step of following his dream. Subsequently, he enrolled himself in a design school in London.
Transition into Fashion Design
Upon completion of the design course, Amjad Khalil started out in his new career in 2011. Thereafter, he presented his first collection in 2013. After gaining the necessary experience, he launched AK in 2018. Although Khalil is a new kid on the block, his star is rapidly rising. On 2nd December 2020, the award-winning Egyptian actress Elham Shahin wore one of his creations when she attended the Cairo International Film Festival.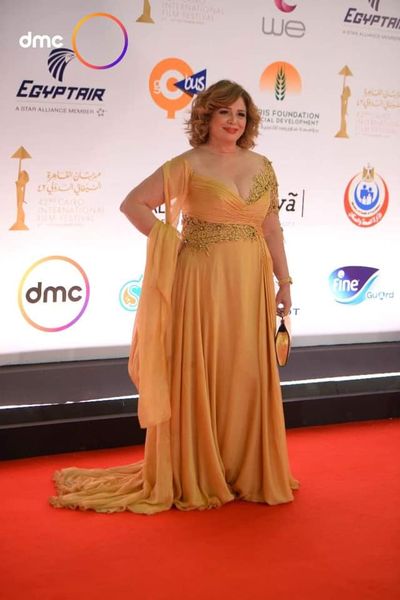 During the same year, he gave a private showing of his 'Silent Love' collection in Paris during the fashion week. This is a collection of sleek and chic evening gowns in electric colors. In November of 2020, he participated in a photo shoot with a popular beauty and fashion influencer. Featuring on social media pages with Fatima Al-Tayeb will no doubt give him the visibility that he needs to grow his followership. Below are some of Amjad Khalil's most memorable creations.
Dreamy Wedding Gowns
A dreamy blush pink taffeta creation with spaghetti straps and tiny pearl buttons at the back is simply divine. It is reminiscent of the pink gown that Libyan brides wear on the first day of the ceremonies.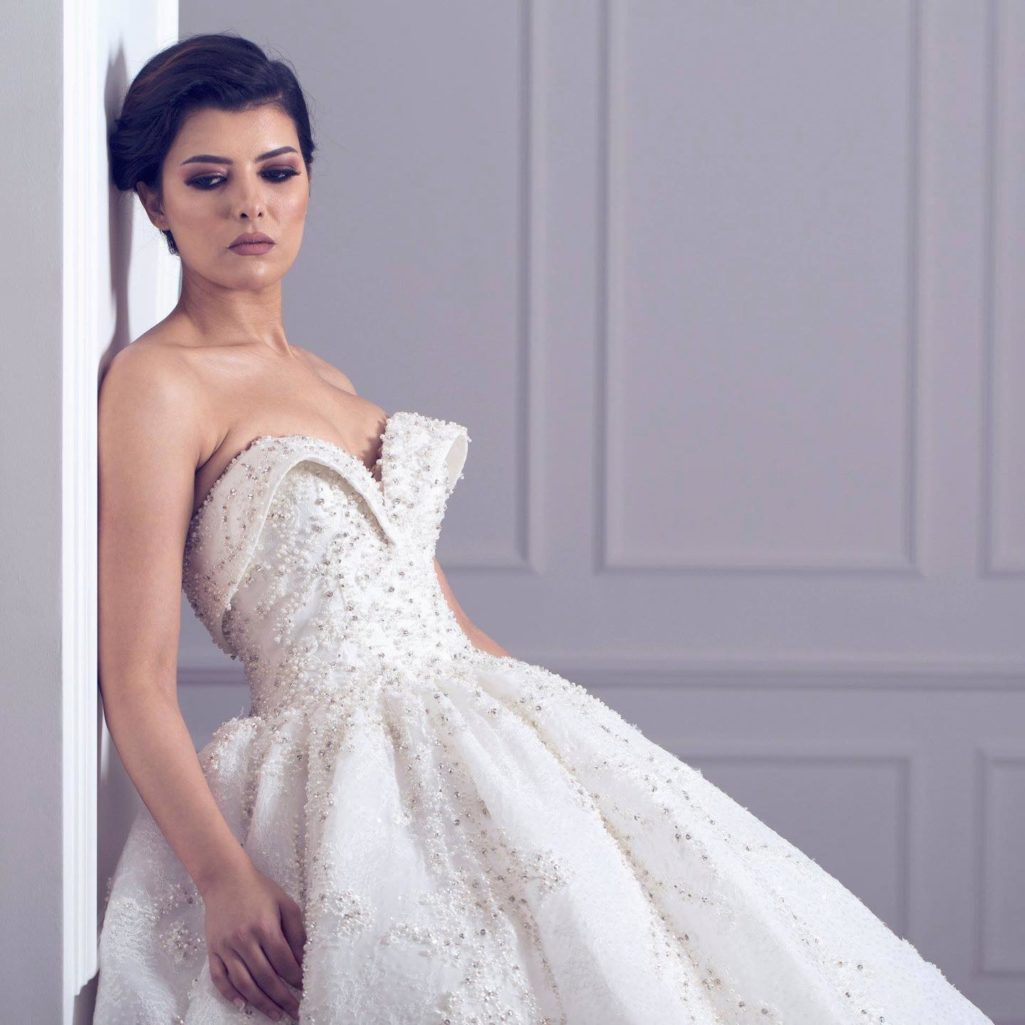 AK Couture has excelled in the design of this intricately beaded creation. It has a fitted bodice and an off-the-shoulder neckline with crisp lines. the gown flares out in elegant folds from the waist.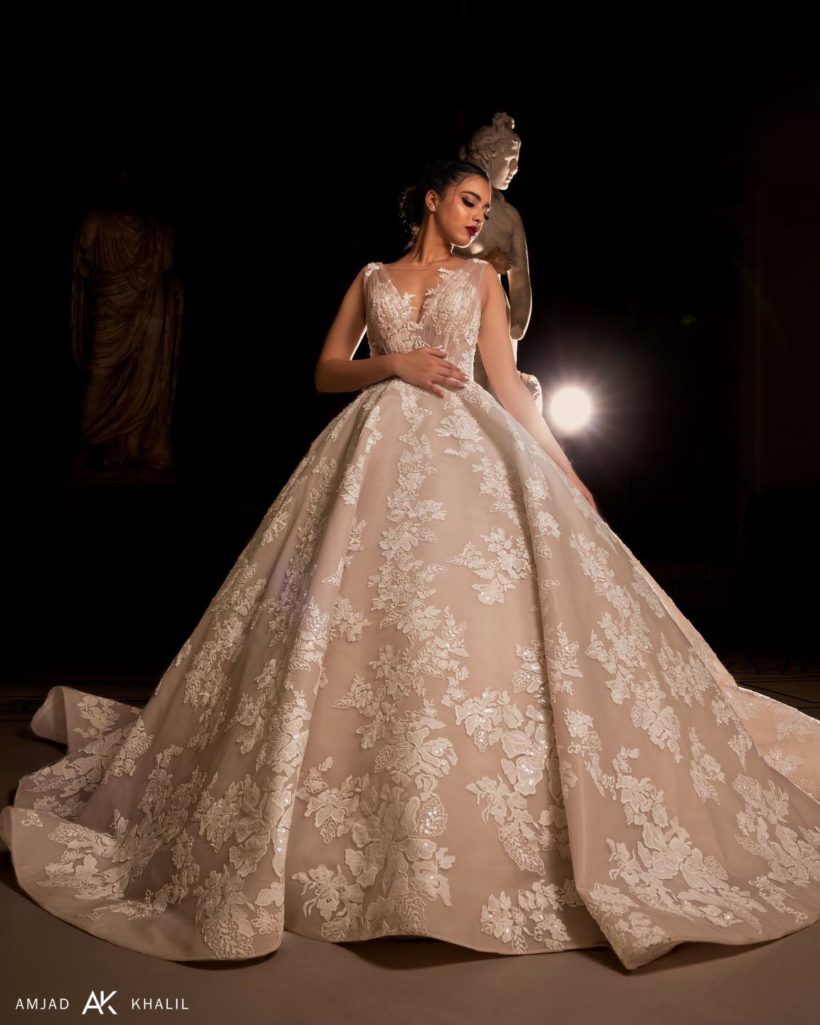 The above outfit is the ultimate traditional Cinderella gown that all girls dream of. The pale pink inner layer is overlaid with delicate white lace that is perfect for a princess.
It's all in the Details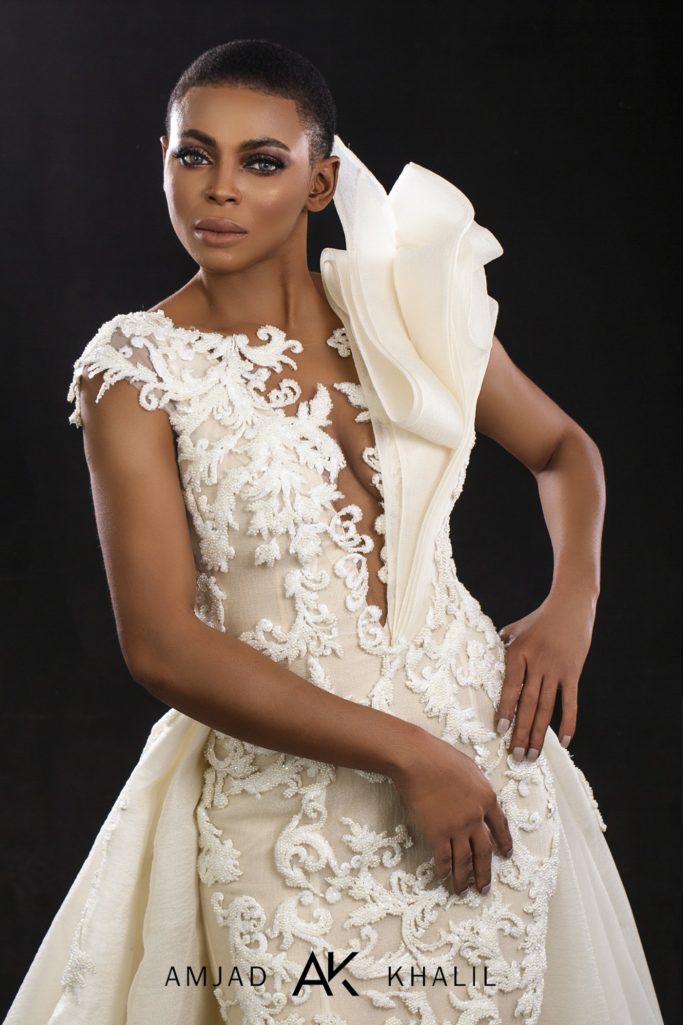 This exquisite creation demonstrates the care that goes into making the wedding gowns and attention to detail. A similar effort is put into the making of Libyan traditional bridal gowns.
Sophisticated Evening Gowns by Amjad Khalil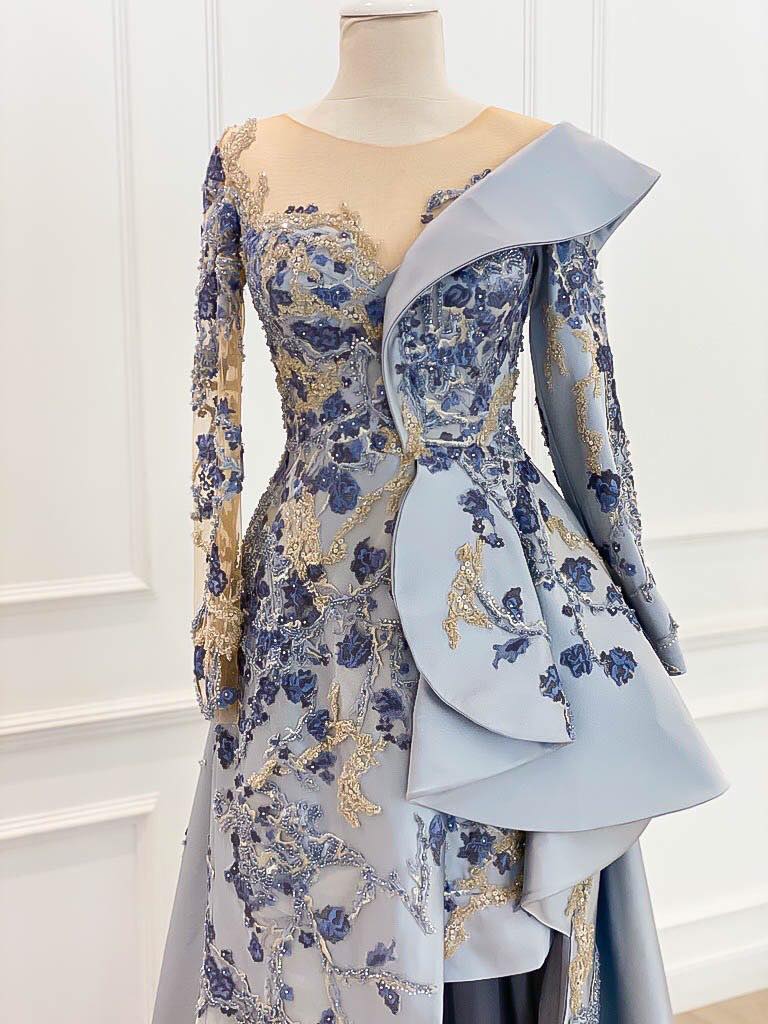 Navy blue and baby blue blend enchantingly in this ensemble. It has an illusion bodice, and the gown is inlaid with beaded embroidery and sequins. One side has a unique peplum silhouette.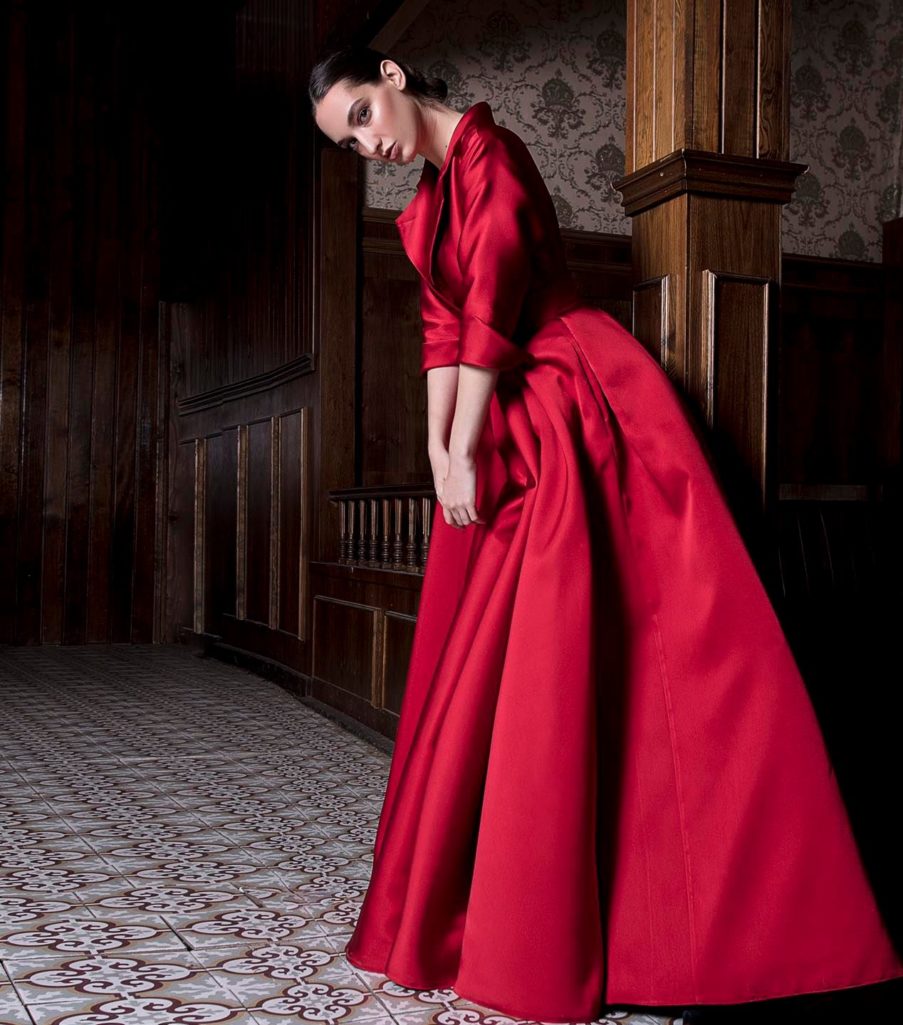 Everything about this gown screams rich and fabulous. The color is a striking maroon and the heavy fabric has an attractive sheen to it. The collar and three-quarter sleeves are demure, giving it a vintage look.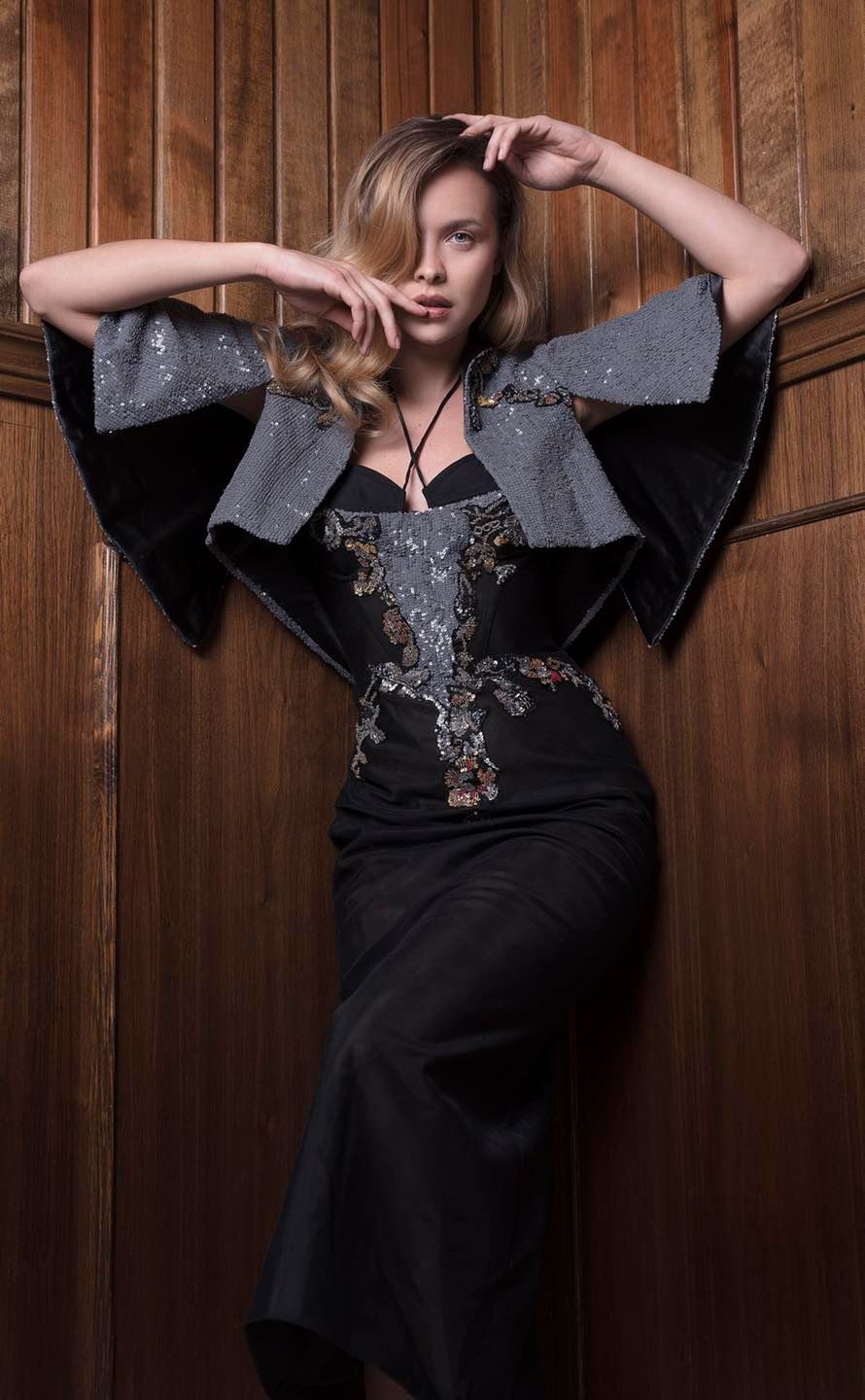 Echoes of Libyan traditional wear can be seen in the elegant glittering cape and the rich embroidery on the bodice. The outfit combines traditional and contemporary looks.
Amjad Khalil's Exquisite Capes
A beautiful quilted cape that was part of AK's 'Silent Love' collection. Amjad Khalil presented his collection during the Paris Fashion Week in 2020.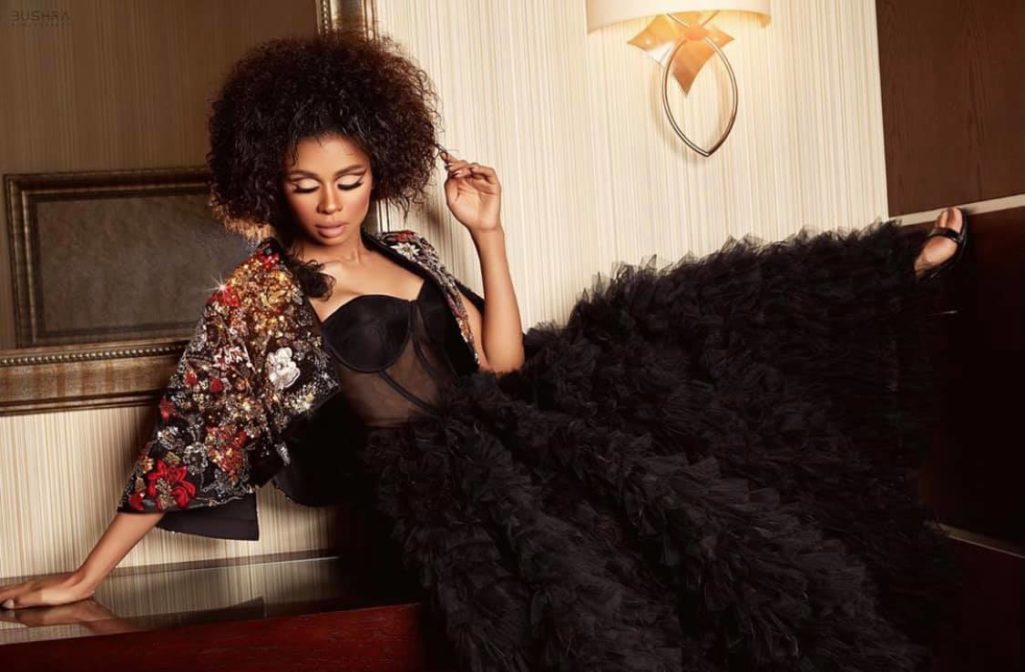 Another stunning creation for the Paris fashion week. The embroidered cape is cleverly matched with an extravagant black ruffled evening gown, making it the last word in cutting-edge elegance.
Conclusion
On the home page of his website, Khalil describes what motives him:
"Passion, in fashion, is limitless. It is all about details, and I aim for perfection. Your personality is the secret of my inspiration and your wedding day is a new successful journey for me."
This young designer is clearly on the right track. Moreover, he echoes the sentiments of T.S Elliot who said,
"Nothing is as important as passion. No matter what you want to do with your life, be passionate."