Designer Spotlight: Maki Oh Exposes the Secret Language of Prints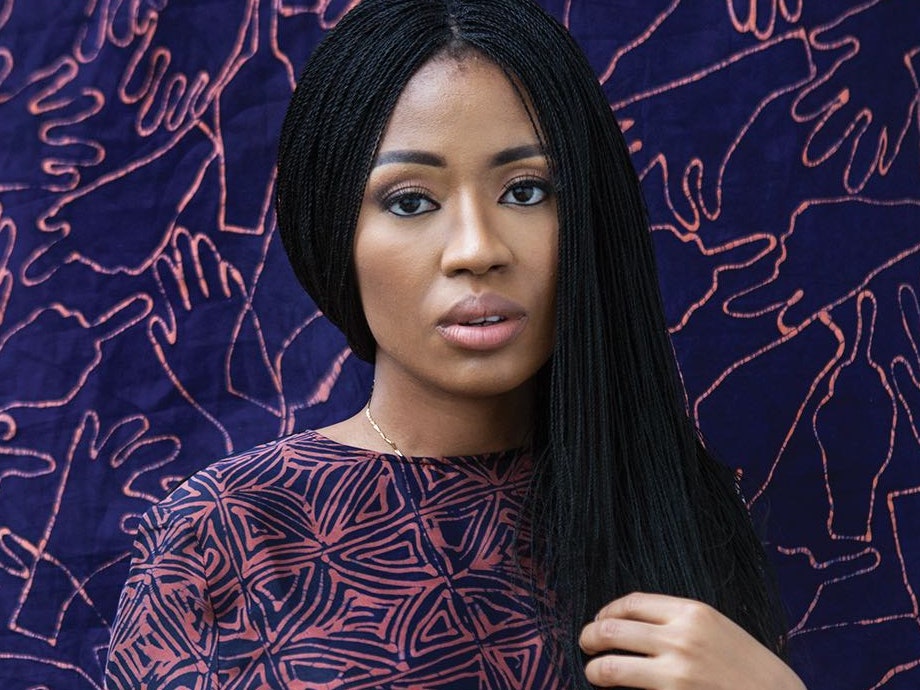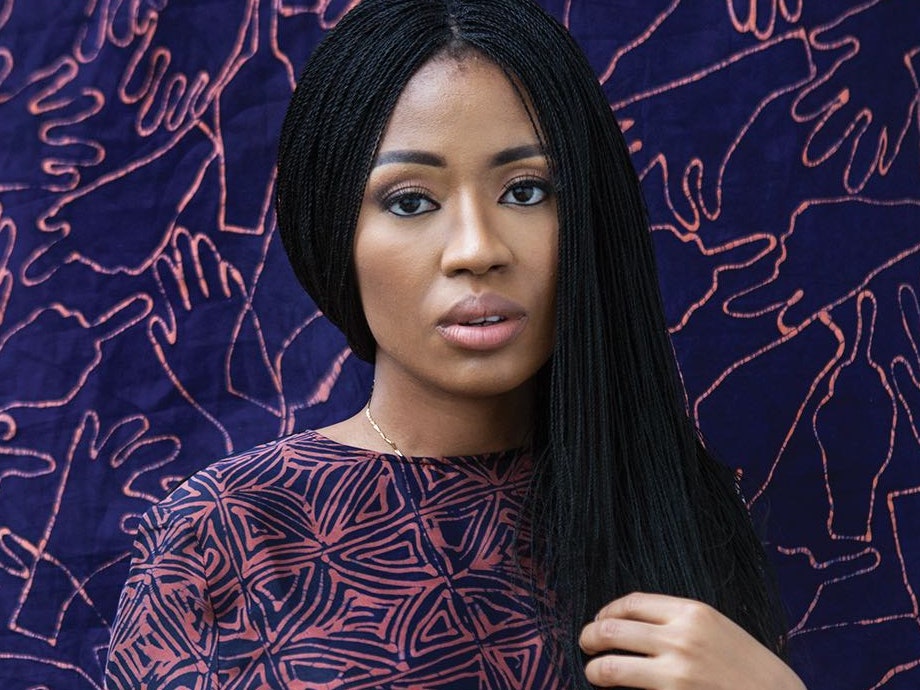 Fashion speaks! In other words, it portrays ideas and beliefs without the need for speech. This is true of Amaka Osakwe's creations, the founder of the globally acknowledged brand 'Maki Oh'.
Maki Oh's designs provide a glimpse into the vibrant beauty that is found on the African continent. Osakwe's traditional looks tempered with modern cuts have intriguing prints that run consistently through her collections. This is a tale of a modern designer and her use of traditional motifs to tell stories.
The 'Buka Special' collection from Maki Oh
Maki Oh's 2019 spring collection was unique. It was inspired by 'Bukas' from Osakwe's hometown. Bukas are street food vendors, usually female, and their stalls are meeting points for friends.
The women vendors are strong, simple, and down-to-earth. Additionally, they are vulnerable due to their hand-to-mouth existence. The Maki Oh collection narrates their story.
ALSO READ: Designer Spotlight: Meet Rich Mnisi The Owner Of One Of Africa's Most Expensive Luxury Brands
Firstly, through the knots and gathers that feature in the pieces. These symbolize the mode of packaging used for the food. Secondly, the lines are kept simple, cool, and easy to wear. The most prominent accessories are open-toed sandals. Interestingly, the accompanying top bear graphics from the street food vendor's menu.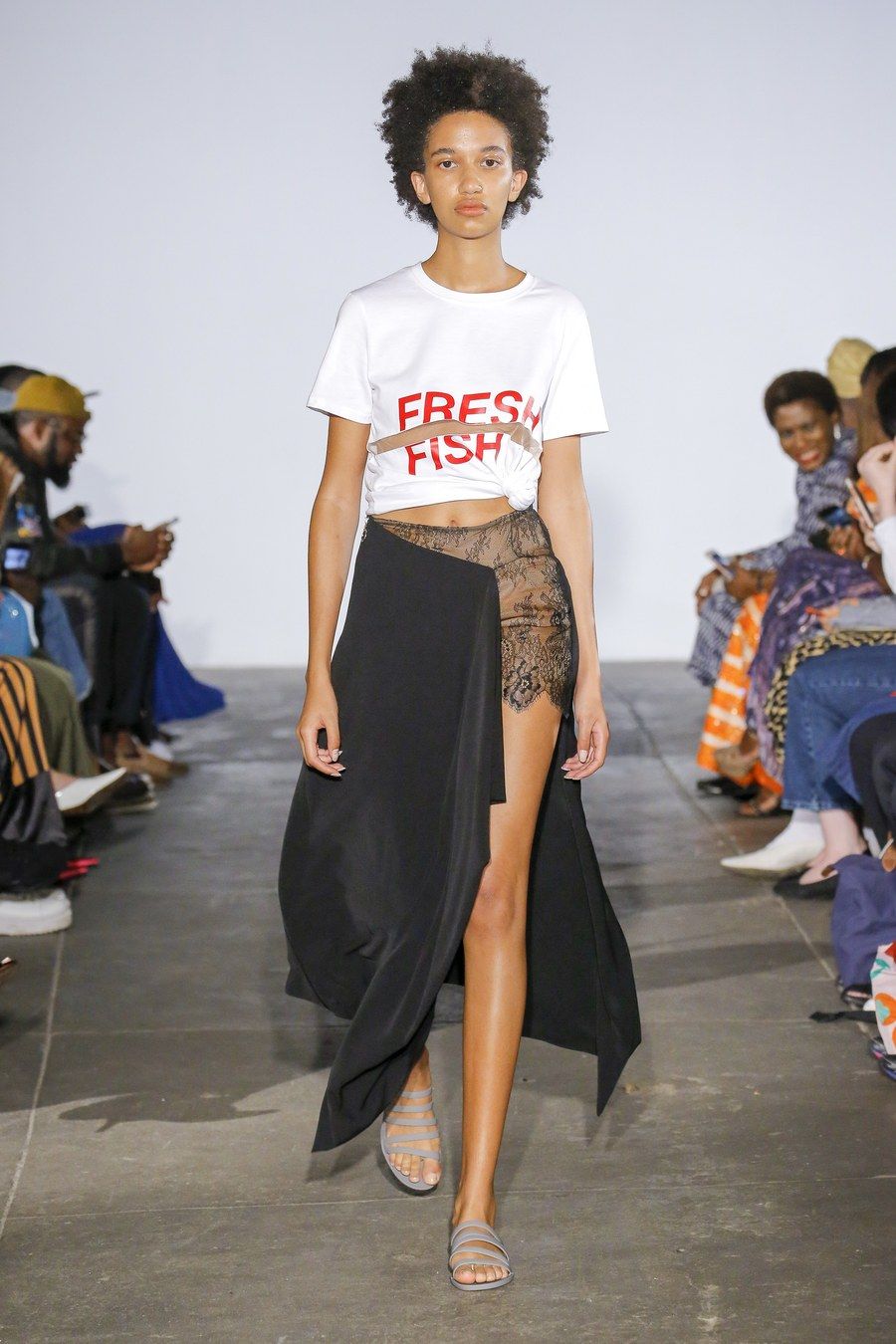 Furthermore, the Bukas have an unstable income. This is symbolized by the asymmetrical skirt that is partially open, revealing the model's inner clothing. Additionally, the distinctive Indigo-colored prints that weave in and out of the collection are hard to miss. These are echoes of Osakwe's cultural background.
Amaka Osakwe's uncanny love for Adire fabric
Amaka Osakwe has a passion for everything 'adire'. This was ignited when she was at the Arts University in Bournemouth, UK. Whilst in college, she interacted with students from other cultures.
Consequently, she came to learn about the indigo dyeing culture in Japan. This prompted her to reflect on Nigeria's Adire technique.
The history of Adire
Adire means 'tie and dye' and the art of indigo dyeing can be traced back to the 19th century. The cloth has distinctive white and blue patterns. In the olden days, each ethnic group had a unique pattern that was passed down from generation to generation.
ALSO READ: Designer Spotlight: This Is What Sally Karago Thinks About African Fashion
Adire motifs tell stories. For example, the symbols used can signify the status of the wearer, or his/her qualities, such as wisdom, calmness, and flexibility. Among the motifs that appear in 'Maki Oh' pieces include a mat, which is a wish for a bridal couple to have many children, and a comb motif which represents a woman's anger.
Amaka Osakwe's early years
Nicknamed 'Atawewe' or small pepper in Yoruba, Osakwe was an independent, feisty child. She was born in 1987 and grew up in Ikoyi, a suburb of Lagos, Nigeria. Her parents were both lawyers, and her mother was the owner of a chain of jewelry shops.
Osakwe displayed an interest in design. Hence, at the age of fourteen, she was enrolled in a pattern-cutting class. A few years later, she decided to pursue fashion design as a career. After some persuasion, Osakwe's parents, who were not pleased with her choice of career, sent her to Oxford.
There, she completed a 2-year course in dressmaking. Subsequently, she enrolled in the fashion program at the Arts University in Bournemouth where she attained a BA.
The launch of Maki Oh
Upon her return to Nigeria in 2010, Osakwe launched the fashion label Maki Oh. Her first collection was a celebration of the 'dipo' ceremony. This is a coming-of-age event held by the Krobo tribe in Ghana.
Maki Oh presented creations crafted out of broken calabash pieces and striking gauzy tops. Although the collection elicited mixed responses, it generated lively conversation and propelled Maki Oh to the limelight.
ALSO READ: Designer Spotlight: See How Lynette Diergaardt Is Presenting Namibian Fashion Through Arts
Maki Oh receives celebrity endorsement
Amaka Osakwe's beautifully crafted unique creations that celebrate the feminine body have captured the attention of celebrities such as Lady Gaga, Lupita Nyong'o, Rihanna, Beyoncé, and the former First Lady of The United States, Michelle Obama.
Soon after Michelle Obama wore a Maki Oh blouse on a trip to South Africa, she invited Amaka Osakwe to attend an event at the White House in October 2014. The event, 'Celebration of Design', was a workshop organized to impart insider fashion industry knowledge to fashion students.
Wearing an iconic piece from her 2015 collection, Osakwe mingled with top designers and fashion editors at the White House.
The Maki Oh style
Osakwe designs clothes for artistically minded, sophisticated, edgy women who are willing to pay for quality. Maki Oh pieces are hand-dyed and painstakingly crafted. As she said in an interview with Alexis Okeowo of The New Yorker,
"When we go on about 'hand-painted, hand-dyed,' it's real. It takes months and months. That's why we stick to the fashion calendar and nothing else."
Celebrities showcasing Maki Oh designs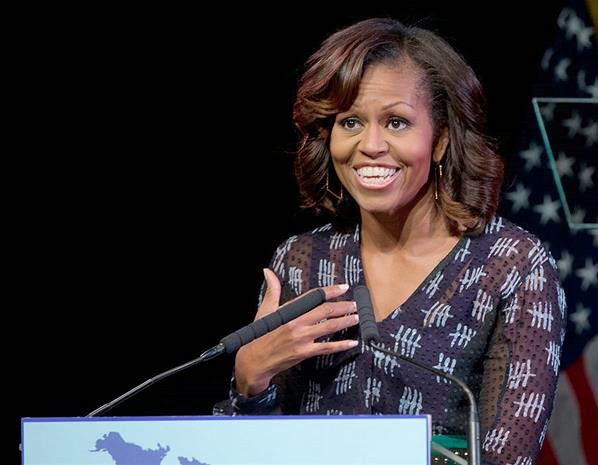 Michelle Obama wore this stylish chiffon blouse from Maki Oh's Spring/Summer 2013 collection during her visit to South Africa. It is in the signature navy blue and white colors of Adire.
ALSO READ: Designer Spotlight: Anisa Mpungwe Creates Modern Designs From A Neo-African Point Of View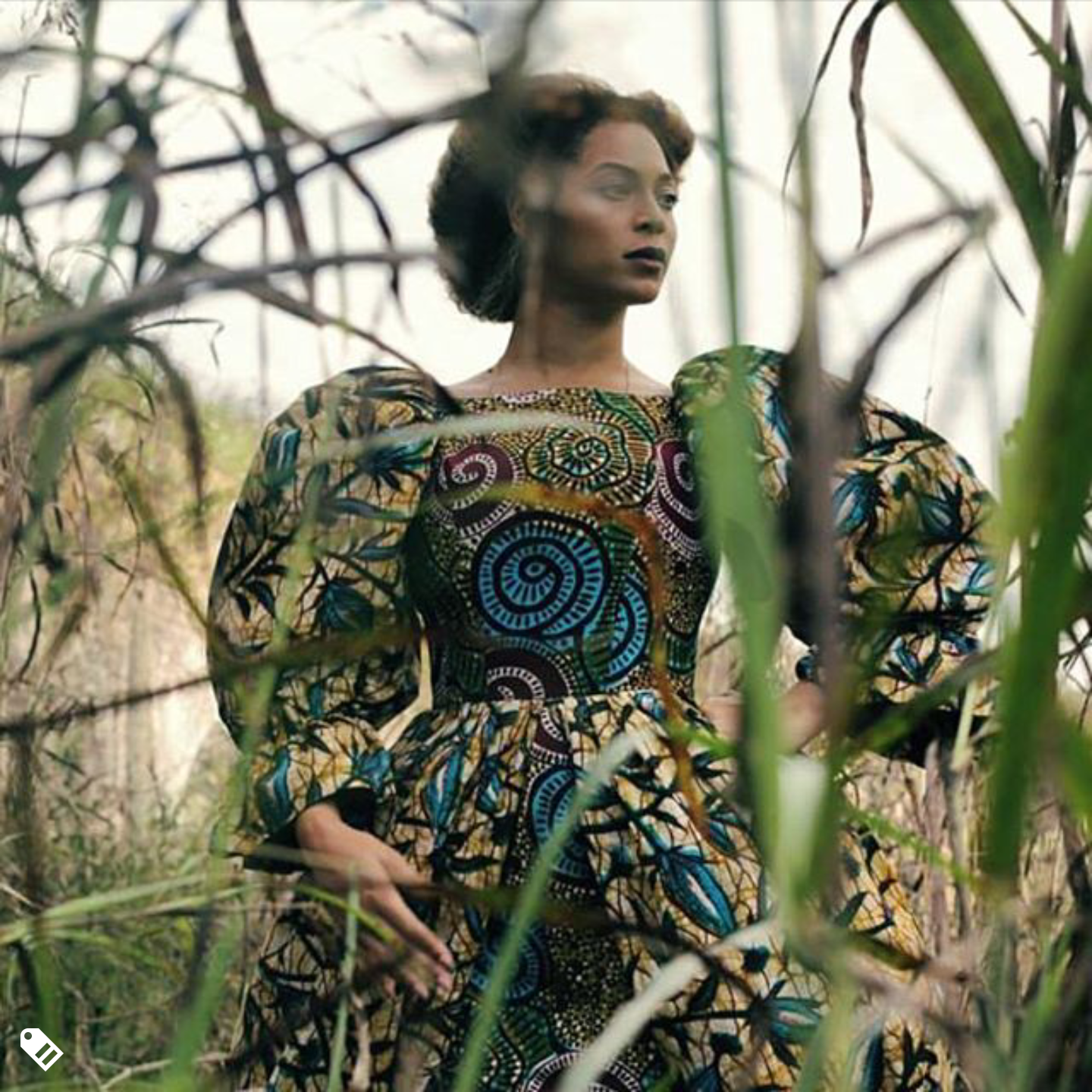 Beyonce is looking regal in the 'teardrop' Adire gown by Maki Oh. She wore it on the television special that was aired to mark the launch of her album "Lemonade'. This feminine gown has balloon sleeves and a full skirt.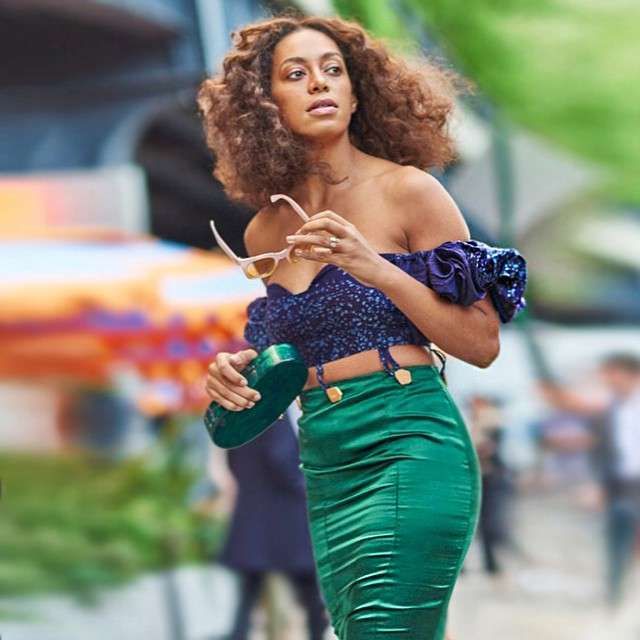 Solange is looking stunning in a minute off-the-shoulder Adire top with ruffled sleeves and a sleek emerald skirt to match. She styles the look with a trendy emerald clutch purse.
Maki Oh Autumn/Winter 2015 Collection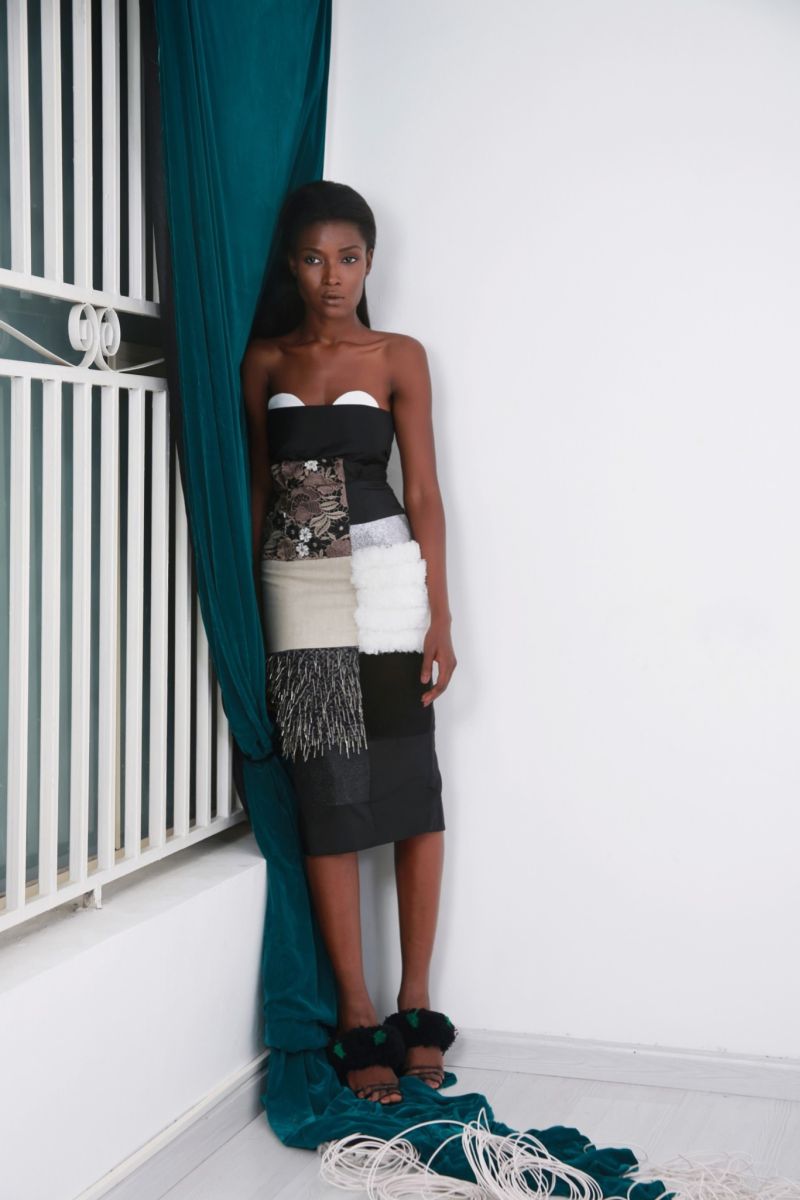 The Maki Oh impeccable tailoring can be seen in this tube outfit that fits like a glove. The creation has an array of textures ranging from fur and fringes. A floral piece adds a tantalizing accent at the waist.
A beautiful example of the Maki Oh Adire designs. This is a conservative piece that attains cutting-edge elegance through mixed prints and textures. Also, the sleeves have a striking satin adornment at the cuff.
ALSO READ: Designer Spotlight: Safae ibrahimi Presenting Moroccan Caftan To The World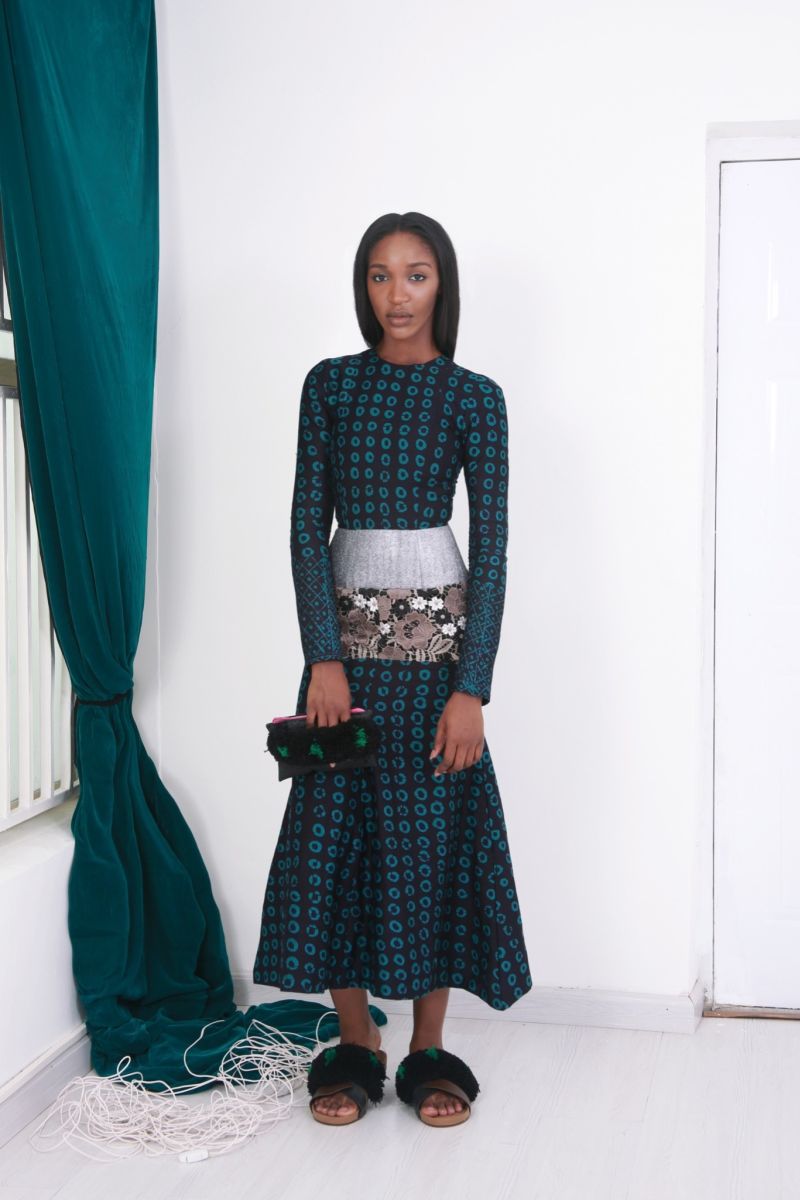 The severity of the cut of this gown is relieved by the silver accents of the contrasting fabric from the waist down. This is followed by a swathe of floral fabric. The unusual clutch matches the open-toed furry sandals to a tee.
Maki Oh Spring 2019 Collection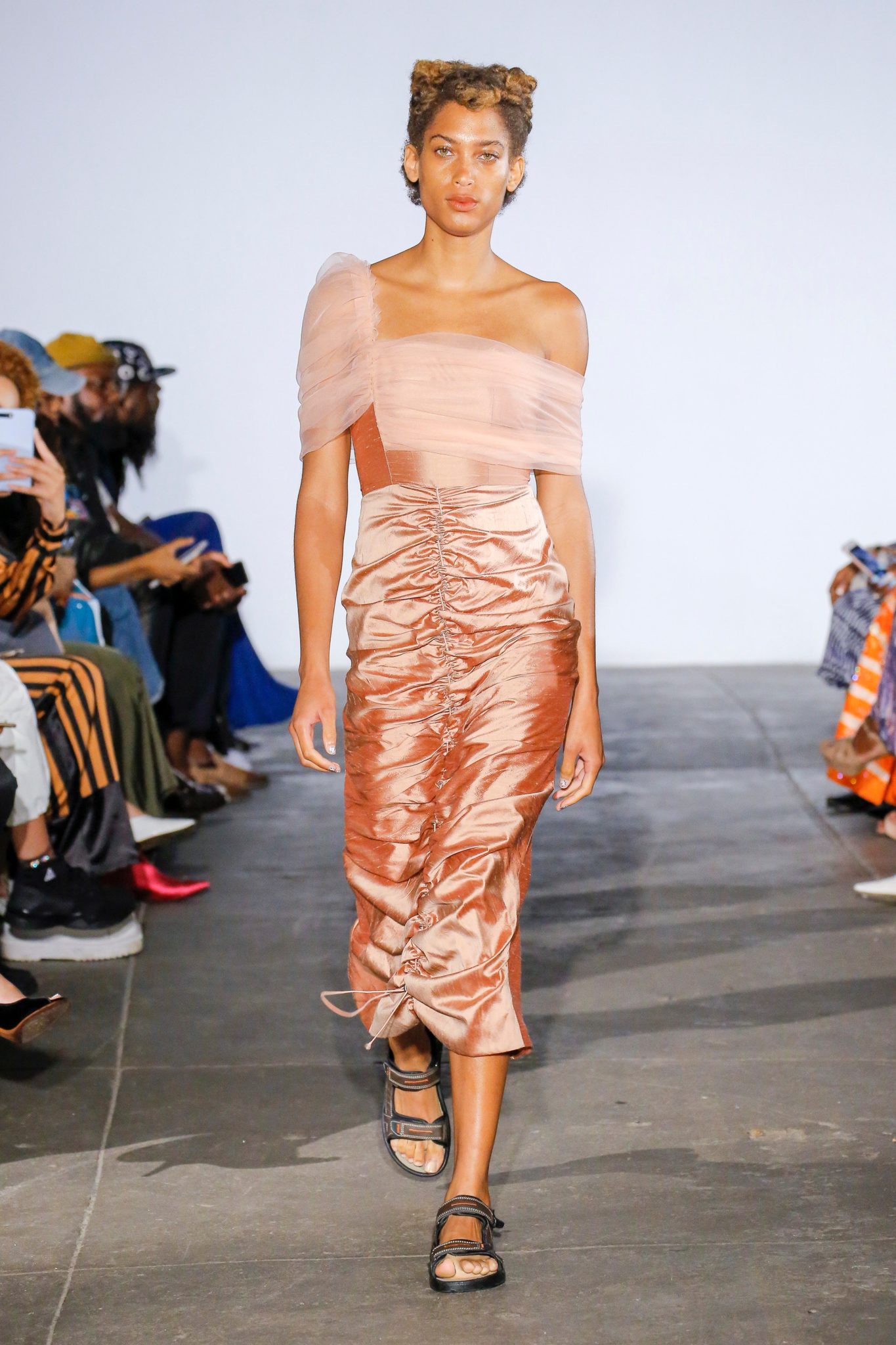 The vulnerability of the Buka vendors is evident in the delicate tulle top of this creation that leaves one shoulder visible. The satin skirt has a drawstring running through it, symbolizing the packaging for the takeaway food.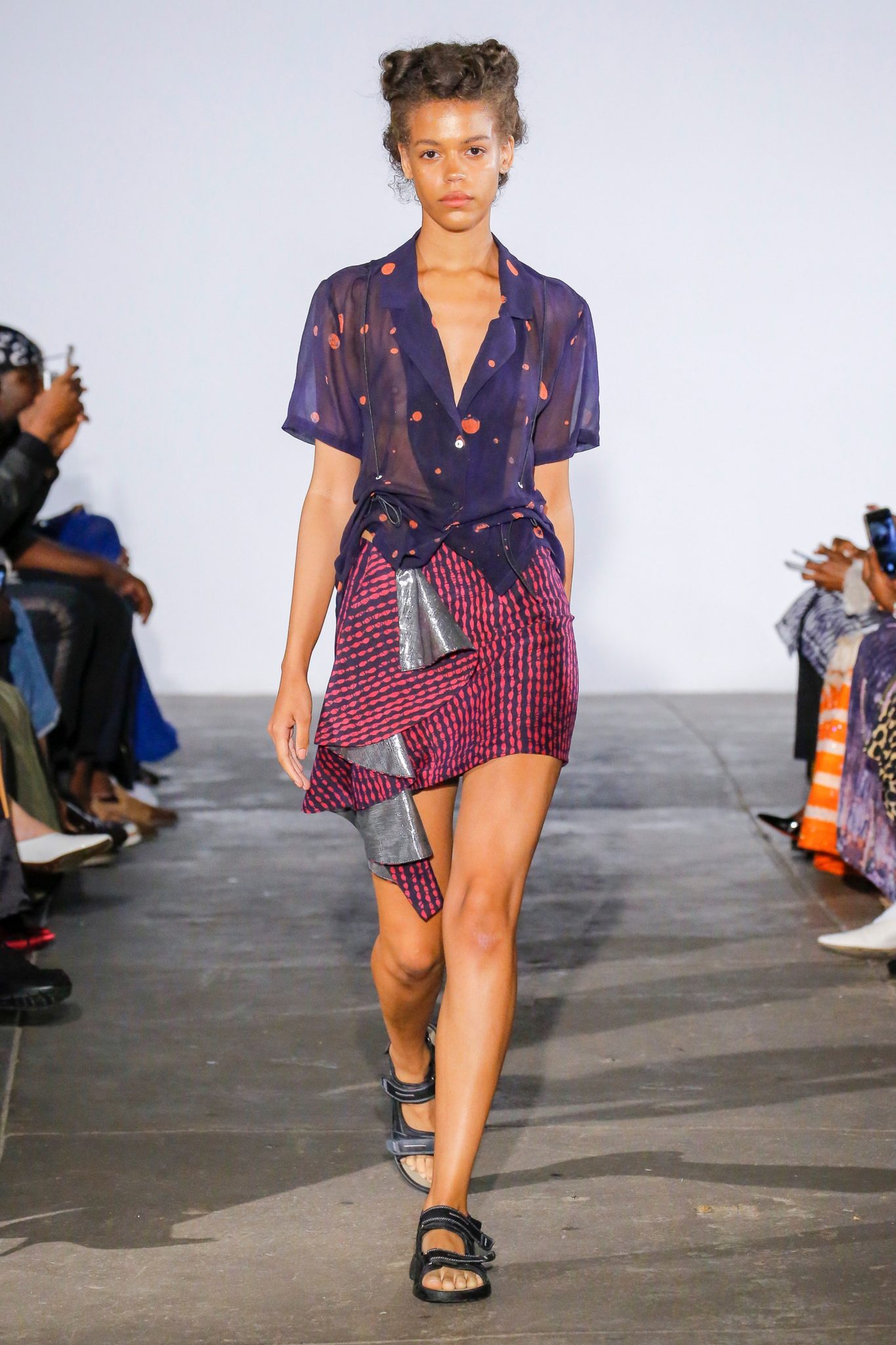 The Buka women dress simple in loose-fitting clothing and wrap around their waists. The open-toe sandals are comfortable and easy to move around in. Maki Oh presents runway looks that are not only attractive but also comfortable to wear.
A Vision in Pink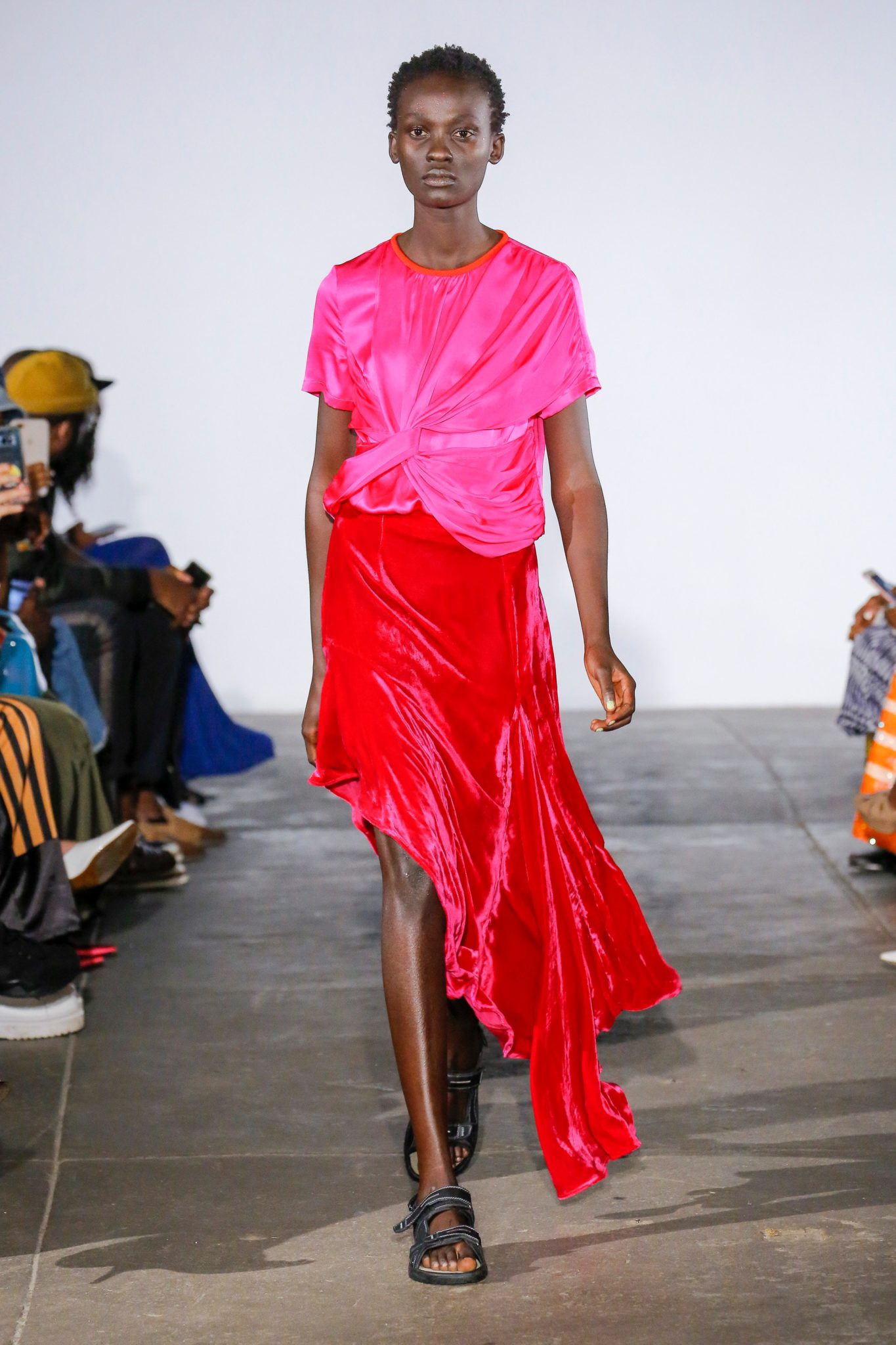 More knots are visible here signifying the takeaway parcels. However, the bright pink shows that not all is doom and gloom. The rich fabrics complement the bright hues resulting in a trendy urban look.
Maki Oh Spring 2020 Ready-to-Wear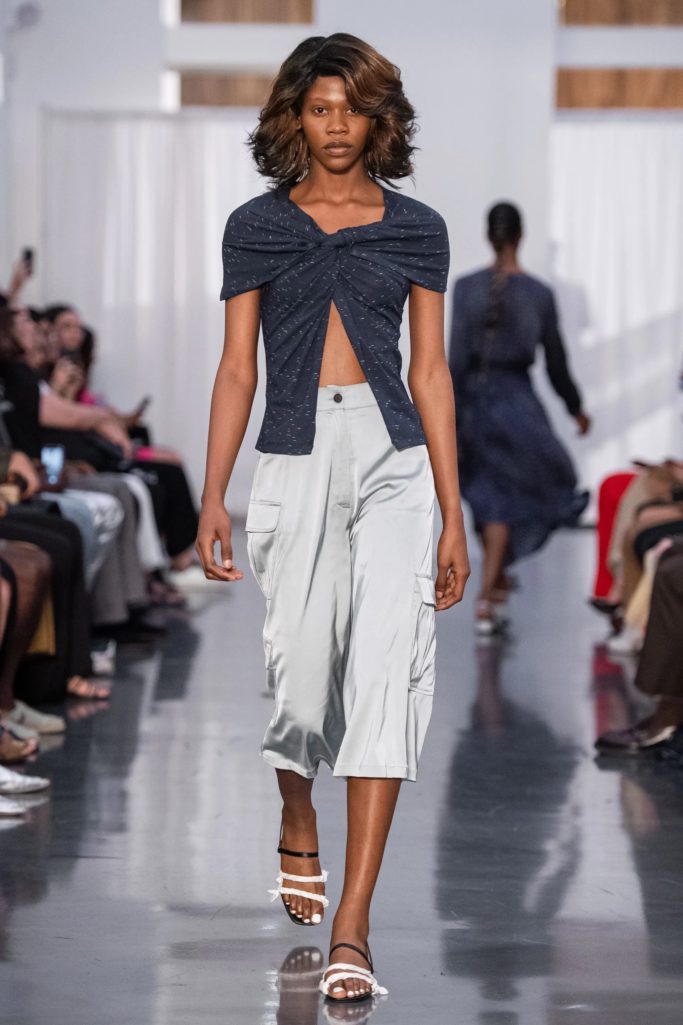 After a short break from the fashion scene, Amaka Osakwe returned with Spring 2020 ready-to-wear classics. The designs were slightly different from the signature her followers have come to know and love about her. However, she still stuns in her newly-found inspiration.
Conclusion
Amaka Osakwe is part of the generation of young designers driving the revival of age-old textile art. The success of her brand and celebrity following indicate that these crafts are treasured by those who discern their value.
However, in her interview with The New Yorker Osakwe laments that it takes a foreign following to obtain recognition at home.
"It's sad to say, there was a huge importance on getting international recognition. Because of colonialism, Nigerians have always seen what comes from the West as better."
Join African Vibes Community for more positive African news, exciting tips, and discussions.