51 Must-Read Books by Black Authors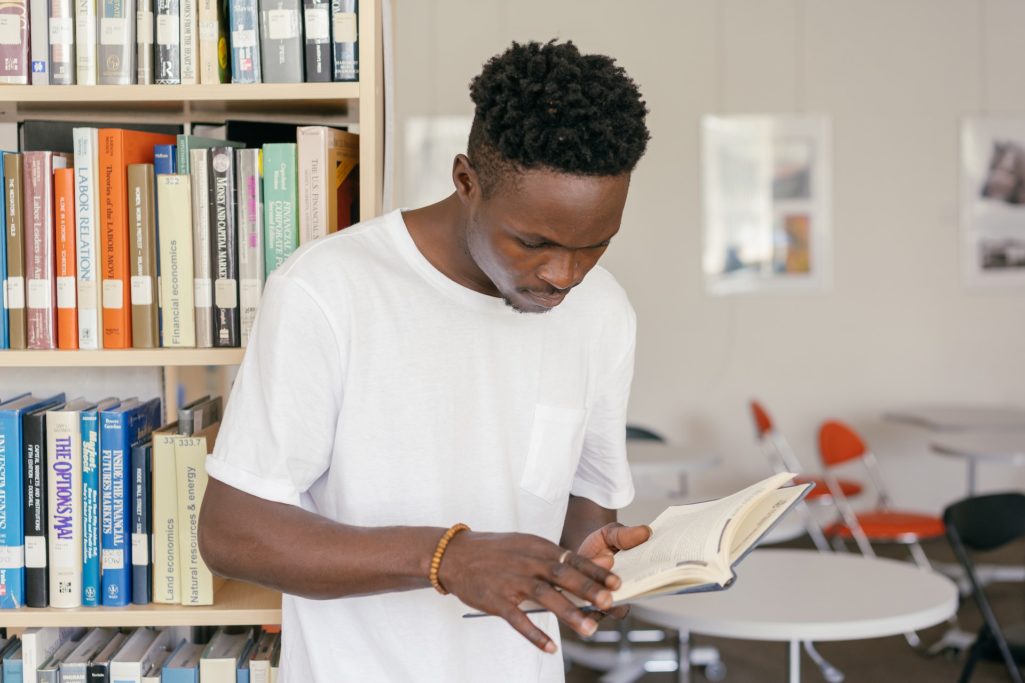 The worlds of American and international literature are full of well-known titles, both fiction and non-fiction. But a closer look at books written by black authors reveals a trove of entertaining, provocative and necessary stories that command our attention.
Here's a look at 51 must-read books by black authors (listed alphabetically by the author's last name).
1. They Can't Kill Us Until They Kill Us by Hanif Abdurraqib
They Can't Kill Us Until They Kill Us is a collection of essays by Hanif Abdurraqib, one in which he ponders the threat to the lives of black Americans through the prism of music. His powerful writing provides a glimpse into what it's like to be young, black and Muslim in the 21st century.
2. Things Fall Apart by Chinua Achebe
Things Fall Apart is the first installment in Chinua Achebe's African Trilogy, a trio of novels that dramatize the African continent's clash with European imperialism. Things Fall Apart takes place in the late 19th century, and it describes one native's resistance to the loss of land, tradition and way of life as British forces take over.
3. Americanah by Chimamanda Ngozi Adichie
In Americanah by Chimamana Ngozi Adichie, young lovers Ifemelu and Obinze leave the martial law of Nigeria for the United States and Great Britain, respectively. Ifemelu excels academically in America as Obinze leads an undocumented existence in London. They reunite years later in a newly democratized Nigeria — and begin their relationship anew.
4. The New Jim Crow by Michelle Alexander
Michelle Alexander takes on modern and systemic racism in The New Jim Crow, her book about how mass incarceration, the war on drugs and the legal system in the United States are designed to relegate blacks as second-class Americans.
5. I Know Why the Caged Bird Sings by Maya Angelou
In I Know Why the Caged Bird Sings, the classic memoir by Maya Angelou, readers follow the life of a young girl as she experiences abandonment, prejudice, loneliness and violence. The story also connects the power of reading and words to a hope that can cut through past tragedies.
6. What it Means When a Man Falls from the Sky by Lesley Nneka Arimah
What it Means When a Man Falls From the Sky is a collection of stories by Lesley Nneka Arimah. Each story is a compelling, fascinating look at various human experiences and emotions, including a title story in which experts discover how to "fix the equation of a person" in a tumultuous world.
7. Go Tell it on the Mountain by James Baldwin
Go Tell it on the Mountain is an American classic written by James Baldwin. First published in 1953, this coming-of-age story follows the life of a teenage boy struggling to discover who he is and where he fits into a place called "America."
8. Soar by David C. Banks
David C. Banks is the founding principal of Eagle Academy, and he uses the pages of Soar to describe how the Academy's students find success — and how the school's model can be used to create otherwise inaccessible opportunities for students.
9. The Sellout by Paul Beatty
The Sellout by Paul Beatty is a satirical that tracks the narrator's hum-drum existence on the outskirts of Los Angeles through hope of a better life dashed by his father's death straight through to a desperate plan that lands him in from of the Supreme Court. The Sellout is heartbreaking and hilarious all at once.
10. The Mothers by Brit Bennett
Another novel set in Southern California, The Mothers by Brit Bennett is a story about a secret that forces a grieving high school girl to grow up far too quickly. The Mothers is a story that shows how youthful mistakes can have lasting consequences.
11. Kindred by Octavia Butler
In Kindred by Octavia Butler, a modern-day black woman is transported to the antebellum South where she is asked to save the drowning son of a white plantation owner. She is transported back through time to the same plantation time after time, with each visit growing longer and more dangerous.
12. What We Lose by Zinzi Clemmons
In What We Lose, the debut novel by Zinzi Clemmons, a young woman feels caught between times, places and identities. She is part black and part white, part American and part South African. When her mother dies, she is sent reeling and searching for an anchor in her uncertain world.
13. We Were Eight Years in Power by Ta-Nehisi Coates
In We Were Eight Years in Power, Ta-Nehisi Coates draws troubling parallels between the eight years black politicians ruled during Reconstruction (followed by white supremacists taking control of the South) and the eight years of the Obama administration (followed by the election of a white nationalist president who brings racists out of the woodwork).
14. Women, Race & Class by Angela Davis
Angela Davis is a legendary activist and advocate for the rights of the oppressed. In Women, Race & Class, she studies the women's liberation movement and how the biases of its leaders held back the push for equality.
15. Narrative of the Life of Frederick Douglass by Frederick Douglass
First published in 1845, the Narrative of the Life of Frederick Douglass tells the powerful story of the slave who would become the leading abolitionist of his time, recounting terrible stories of cruelty as a slave in Maryland — as well as the accompanying hope for a better life that pushed him to greatness.
16. The Souls of Black Folk by W.E.B. Du Bois
Many say that The Souls of Black Folk by W.E.B. Du Bois should be required reading for American students because of the unprecedented way in which it brings to life the experience of African-Americans living in American society. It's considered one of the earliest and best books written within the field of sociology.
17. Invisible Man by Ralph Ellison
Invisible Man by Ralph Ellison spent 16 weeks on the bestseller list and won the National Book Award. A nameless narrator tells the story of growing up in the South, attending college, moving to New York and escaping violence by hiding in a basement that he thinks of as the lair of an "invisible man."
18. Hunger by Roxane Gay
Roxane Gay's Hunger is a memoir on self-image, one that addresses food, weight and learning about self-care while balancing the need to feed physical hunger. This book is an open and honest expression of struggle and how we use consumption and pleasure to paper over anxieties.
19. Homegoing by Yaa Gyasi
Homegoing by Yaa Gyasi tells the story of half-sisters who are separated, one sold into slavery and the other married off to a British slave trader. The story covers 300 years, and, in doing so, unearths the profound consequences the legacy of slavery leaves us even today.
20. Roots by Alex Haley
Roots by Alex Haley is the epic story of one family told over six generations, including life in Africa, life as slaves, life as free men, life as farmers and tradesmen, life in lumber mills, life as lawyers and architects, and, finally, life as the author writing the book itself.
21. Little Leaders by Vashti Harrison
The lives of both well-known and obscure women in black history are brought to life with both words and illustrations in Little Leaders by Vashti Harrison. Readers learn about abolitionists, pilots, scientists, poets, filmmakers and many others.
22. Not Without Laughter by Langston Hughes
Langston Hughes is one of the best known and most loved black writers in history, In Not Without Laughter, he tells the story of a black family struggling to survive in rural Kansas during the Great Depression. The book shares the family's highs and lows, and it vividly demonstrates what it was like growing up in a racially divided setting.
23. Their Eyes Were Watching God by Zora Neale Hurston
Zora Neale Hurston unwinds a Southern love story in Their Eyes Were Watching God, one of the first books to highlight a strong black female character as its lead. After going out of print, this book was reissued in 1978 — and become one of the most highly acclaimed novels in black literature.
24. A Brief History of Seven Killings by Marlon James
A Brief History of Seven Killings by Marlon James takes readers deep into the danger and political upheaval of Jamaica in the 1970s. The story follows the lives of several characters in the decades that follow on a fateful night in December 1976 when gunmen attack Bob Marley in his own home just before the country's general election.
25. The Mother of Black Hollywood by Jennifer Lewis
In The Mother of Black Hollywood, Jennifer Lewis shares memories of life growing up in the Midwest all the way through her role as co-star of the sitcom Black-Ish. The story is one of humor, survival and ultimate success, with plenty of lessons learned along the way.
26. March by John Lewis
John Lewis was one of the leaders of the Civil Rights movement that brought change to the United States of America. Today, he is a member of the U.S. House of Representatives, but, in March, he shares about those early years when the struggle for equality included multiple arrests and countless moments of violence against him and fellow members of the movement.
27. Sister Outsider by Audre Lorde
Sister Outsider is a collection of essays and speeches in which Audre Lorde address prejudice of all kinds, including racism, sexism, homophobia, ageism and more. While the substance of these essays and speeches is pointed, the underlying theme of each is hope for a better future.
28. Waiting to Exhale by Terry McMillan
Four women turn to each other when the men in their lives disappoint in Terry McMillan's Waiting to Exhale. This story is one of friendship and shared struggle, as well as the power of realizing a unique identity that only friends can help one discover.
29. Beloved by Toni Morrison
In Toni Morrison's Beloved, a slave escapes to freedom of Ohio — but struggles to get away from the psychological shackles of bondage. Beloved is a fantastical, suspenseful and unforgettable story that has achieved worldwide acclaim.
30. Twelve Years a Slave by Solomon Northup
Twelve Years a Slave is Solomon Northup's own story as told to and edited by David Wilson. It shares the story of how Solomon was kidnapped from his freedom and sold into slavery. He spent 12 years in bondage on a Louisiana plantation before his rescue in 1853. Each detail is remarkable, from the slave markets to the plantation itself.
31. Dreams from my Father by Barack Obama
Dreams from my Father is the compelling memoir that captured the nation's attention and helped launch Barack Obama on a path to become the first black president of the United States. The book starts with news of the death of his father, which leads the future president on an emotional journey through his past and his ancestry.
32. A Moonless, Starless Sky by Alexis Okeowo
Modern Africa is on display in the four narratives that drive A Moonless, Starless Sky by Alexis Okeowo. Each of the narratives highlights ordinary people who are doing extraordinary things, some by their own drive, ambition, desperation and hope, and others due to circumstances beyond their control.
33. Akata Witch by Nnedi Okorafor
Sunny, the main character in Akata Witch by Nnedi Okorafor, struggles to find her place in the world. She was born in the United States, but she now lives in Nigeria. She is black, but she's also albino. She's an incredible athlete, but her skin condition prevents her from playing sports in the sun. Sunny soon discovers that there's far more to her story.
34. The Misadventures of Awkward Black Girl by Issa Rae
The Misadventures of Awkward Black Girl by Issa Rae is a hilariously refreshing look at what it's like to be an introverted black woman in a world that emphasizes coolness above all else. This book shares stories of navigating work, friendships and romantic relationships.
35. Flight to Canada by Ishmael Reed
Flight to Canada by Ishmael Reed is a parody of classic anti-slavery novels. Taking place in modern day, the story follows three slaves who are running from bondage in hopes of finding freedom in Canada. Along the way, readers discover historic characters like Abraham Lincoln reimagined in the 21st century.
36. You Can't Touch My Hair by Phoebe Robinson
Comedian Phoebe Robinson outlines how black woman today still deal with aging prejudices and absurd situations, like security guards following her around stores and strangers asking to touch her hair. In You Can't Touch My Hair, she explores these issues and gives tough advice on how to address the challenges of today.
37. Promises to Keep by Sharon Robinson
Promises to Keep is the story of Jackie Robinson as told by his only daughter, Sharon Robinson. She shared memories of her father, not just on the baseball field, but also as a family figure and a Civil Rights activist. Ultimately, she describes the impact he made in every realm of his life, including within his family and on his country as a whole.
38. Assata by Assata Shakur
Assata is the autobiography of Assata Shakur, a member of the Black Panthers who was imprisoned for four years of a life sentence after an accomplice to murder conviction before she escaped and eventually settled in Cuba. In the book, Assata describes how she came to a life of activism, as well as shares thoughts on why the Black Panthers and other revolutionary groups eventually dissipated.
39. Teaching My Mother How to Give Birth by Warsan Shire
Teaching My Mother How to Give Birth is a short collection of poetry by Warsan Shire, one that fights against the preconceptions of Islam and how faith interacts with other aspects of life. This collection is Warsan Shire's debut, and it augurs a bright future for this compelling voice.
40. Loving Her by Ann Allen Shockley
In Loving Her by Ann Allen Shockley, Renay takes her child and leaves alcoholism, abuse and violence to start a new life with a wealthy white man. Renay and her child explore a new and strange existence, and they hope for insulation from the violence of the past.
41. Don't Call Us Dead by Danez Smith
Don't Call Us Dead features the groundbreaking poetry of Danez Smith, including an opening sequence that imagines an afterlife for the black men who have been shot dead by the police. Don't Call Us Dead addresses a range of difficult subjects and it at once praises and sharply criticizes the United States.
42. White Teeth by Zadie Smith
Zadie Smith's White Teeth is the post-World War II story of two unlikely friends who start families amid the racial and societal transformations of London. This novel brings to life the comedy of everyday existence, and it closely examines the reality of Britain's former empire in the modern world.
43. Just Mercy by Bryan Stevenson
Bryan Steven founded the Equal Justice Initiative, a law practice that serves the most vulnerable and desperate people in our criminal justice system, when he was a young man. In Just Mercy, Bryan Stevenson vividly describes his work and the many lives he's been able to touch through it. He also brings into contrast the aims of our criminal justice system and the utter injustice that so many in it experience.
44. Roll of Thunder, Hear My Cry by Mildred Taylor
Mildred Taylor's Roll of Thunder, Hear My Cry is the story of a family struggling to maintain its autonomy and dignity during the height of the Great Depression in Mississippi. At the heart of the story is Cassie, a young girl who grows up quickly as she comes to grip with just how desperate her family's situation is.
45. The Hate You Give by Angie Thomas
The Hate You Give by Angie Thomas is the story of a teenager caught between the poor neighborhood where she lives and the upscale prep school that she attends. Worlds collide when she sees her unarmed friend killed by a police officer. As the community and national media jump to conclusions, only one person witnessed what actually happened.
46. The Color Purple by Alice Walker
Alice Walker's The Color Purple is an American classic. In it, two sisters are separated on different sides of the world, one living as a young wife in the Deep South and the other serving as a missionary in Africa. They remain close, their sisterhood serving both distance and long periods of silence.
47. Salvage the Bones by Jesmyn Ward
In Salvage the Bones by Jesmyn Ward, a family in turmoil prepares for a hurricane's imminent arrival in their small town along the Mississippi coast. The story covers 12 days, sharing the tale of an unforgettable family that reaches a dramatic conclusion.
48. The Man Who Cried I Am by John A. Williams
The Man Who Cried I Am by John Williams uses the fictionalized perspectives of leading African American intellectuals to analyze a post-World War II world. Readers are brought into the minds of figures like James Baldwin, Malcolm X, Richard Wright and others as they contemplate the hope and disappointment of their era.
49. Another Brooklyn by Jacqueline Woodson
In Another Brooklyn, Jacqueline Woodson captures the harsh and illuminating transition from being a child to early adulthood. She unwinds a story of young girls filled with hope for the future and a belief in their Brooklyn neighborhood, and then contrasts it against another part of the borough that becomes all too real far too soon.
50. Black Boy by Richard Wright
Richard Wright shares the story of his life in Black Boy, a story that begins in Mississippi with a suspicious child who hangs around taverns drinking all day and who ponders the cruel whites on his one side and the resentful blacks on his other. The tale emerges years later as one that reflects on human suffering and that decries social injustice.
51. The Autobiography of Malcolm X by Malcolm X
The author of The Autobiography of Malcolm X needs no introduction, and his book first published in 1964 contains the story of his life and a description of how his movement grew and became unavoidable during the Civil Rights ear.