15 Must-Have African Print Dresses For Spring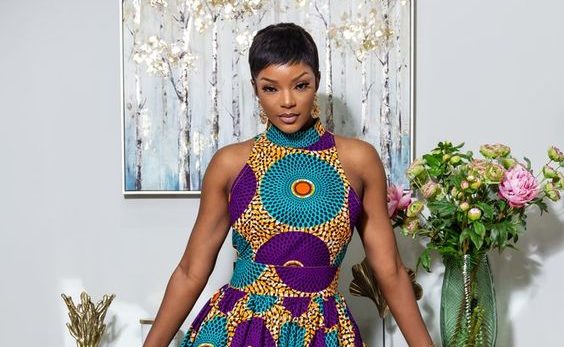 For 124 years, the vernal equinox takes place on March 20th of each year. This also marks the beginning of  Spring. However, that tradition ended in 2020 when the equinox arrived 18 hours earlier. Now, 2021 has set a new record as having the earliest arrival of Spring. One of the creative ways you can announce the arrival of this lovely season is by wearing African print dresses. If you are a fashion enthusiast looking for a way to make a statement this spring, this post is for you.
You need to get yourself attires that are made from linen, cotton, or tropical wool. These kinds of fabrics easily absorb sweat. Also, they allow the free flow of air, giving you that fresh feeling during the hot days. In this post, we have listed cute Spring outfits made from African print. Whether you want an outfit for a party, work, or just a dress for lazing around, we got you covered!
1.Ankara Maxi Dress
We kick start our list with this elegant Ankara maxi dress from Twiga African apparel. This Ankara print is perfect for the bold and fierce fashionista woman. The dress has a v neckline, a well-fitted waistline, and a high thigh slit set to steal the show. This epic piece is ideal for date night, weddings, or even red carpet events. Just make sure you can handle stirs and cameras.
2. Turtleneck Dashiki dress
Why don't you serve it hot this spring season with this dashing turtleneck dashiki dress? The dress has stunning sleeveless shoulders and a thigh-high slit that brings the bold and sexy side of you. The slit gives you ample leg space and allows cool air to graze through your supple skin. Perhaps, this dress perfectly defines sexy yet conservative. Make sure your designer has the skills to pull it off.
3. African print long-sleeved wrap dress
One word we can use to define this dress is 'Bold'. This African print dress is simple yet classy. It is perfect for those spring weddings, graduation, or a night out with your girls. Whether petite or plus size, be sure you can rock this look any day of the week. You can complete this look by wearing your favorite pair of black heels.
4. Mermaid infinity dress
Every woman should feel like a queen. That's how you will feel once you get yourself this gorgeous mermaid infinity dress. What's more, this dress will outline all your curves bringing out that feminine side. The dress also has a seductive neckline that doesn't reveal too much. It is made from cotton material and has a nice yellow beautiful pattern perfect for those sunny days.
5. African print dress with velvet
This African print dress is a clear definition of classy and chic. The dress is designed with a mixture of popping yellow, red, blue, and purple colors. The velvet and tulle fabric makes the dress stand out, making it a must-have in your fashion wardrobe for spring. Also, this dress is comfortable to wear, and you can easily accessorize it with a sling bag and a matching pair of shoes.
6. Amaka African print bodycon dress
This African bodycon dress is irresistibly beautiful, and it's perfect for the warm days ahead. The blue and tan print makes this bodycon dress a show stopper. The dress has a unique design around the neck. It is mid-length, just enough to show off those sexy legs. This African print dress will change what everyone around you feels about spring.
7. Off-shoulder maxi dress
We are heads over heels in love with this vibrant off-shoulder maxi dress. The dress has a high low cut at the bottom, giving it that elegant feel. You can rock this dress for all your corporate and casual appearances. Also, you can accessorize the dress with beautiful earpieces and stylish heels. The inviting nature of this dress will make you the center of attraction for lustful eyes.
8. Multicolor short-sleeved wrap dress
On those days when you are so happy that you feel like flying away, this is your go-to African print dress. It's high time you let your attires do the talking for you. This dress is what you need to get ready for that summertime fun. It is vibrant, stunning, and perfect for all your casual functions.
9. Kente mimic dress
At first glance, you may mistake this to be a kente. However, when you look closely, you will see the difference. This particular design and tailoring will allow you to show off your curves. Elegant and fabulous is all we can say about this kente dress. The dress has seams in all the right places. The most emphatic statement is the neckline which cuts down to the tummy and exposes the cleavage.
10. African print midi dress
This breathtaking African print midi dress caught our attention. It has an intricate high round collar design and flaps on one side. The front part is made using three fabrics kente, lace, and plain material. This dress is fun to wear during the sizzling hot days ahead. You can pair it off with matching high heels or sandals. Although tightly fitting, the material allows ample air through your skin.
11. Pinky party dress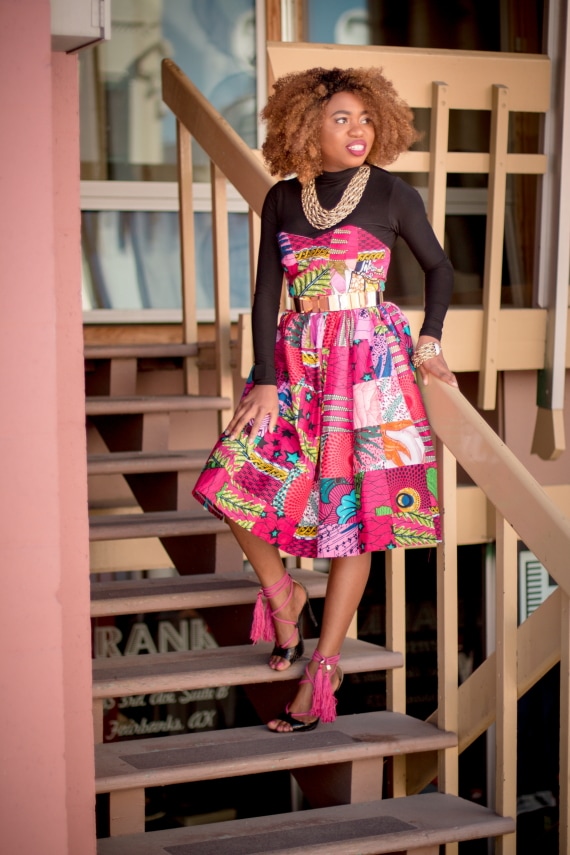 This flirtatious pink party dress will leave people tongue-tied. The dress has a unique design at the front and a bodacious flare skirt at the bottom. You can add in a golden belt to highlight your waistline. What makes this one a Spring favorite is the loose fitting. It is definitely one of the African print dresses you should have in your closet.
12. Button-down kasinma maxi dress
As ladies, we always try to convince ourselves we'll stop shopping once we find that ideal dress. However, with African print, it's a vicious cycle. This button-down and belted dress is what you need to bring out your A-game this Spring. What we love the most about this dress is its multipurpose nature. You can wear it as a jacket, kimono with a black dress or wear it as a button-down dress.
13. Nadia African kimono
African print kimono is a must-have in your wardrobe. You can't go wrong with these statement pieces, and you can get them in various colors and prints of your choice. Also, you can style it as you desire with a dress, leggings, or a pair of jeans.
14. Detachable sleeves dress
One question that came to our minds is why do African dresses have to look so damn pretty? This detachable sleeves dress will have you waiting impatiently for your next paycheck. The dress has a unique design at the front. Also, the dress has detachable sleeves. What an innovative way to look different all the time.
15. Lace bodycon dress
The white lace combined with the African print makes this dress super fabulous and classy. The upper and lower part of the dress is designed with white lace while the middle part has Ankara print. You can also use black lace and still get that sexy yet reserved look.
Conclusion
As a woman, you always want to stay on top of things when it comes to fashion. Spring season is a time to change your wardrobe with new and unique designs. It is one of the seasons that allows you to show off your fashion prowess without wearing huge jackets and sweaters. We hope you have enjoyed all our selected pieces. Which of the dress will you want to try out first? Tell us in the comment section below.