Afronista Of The Week: 15 Fashion Ideas From Sara Lalama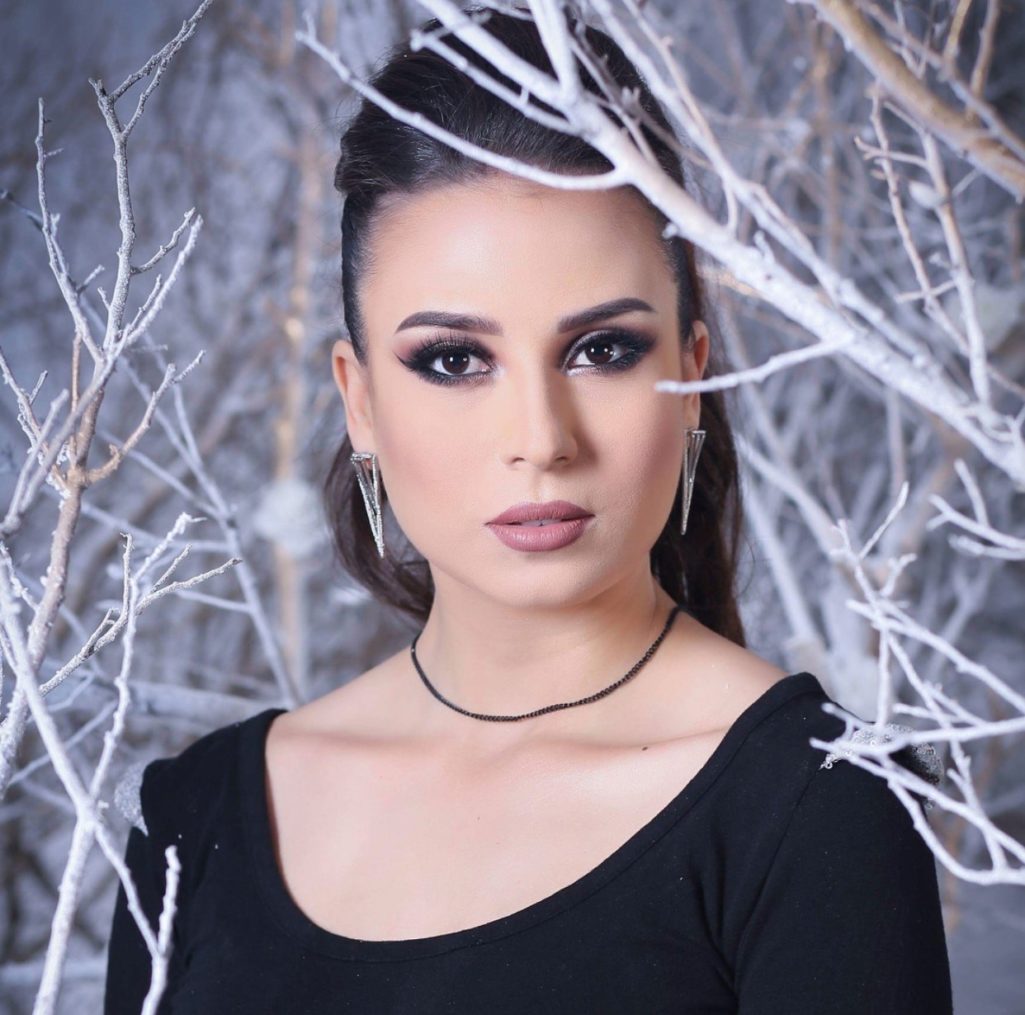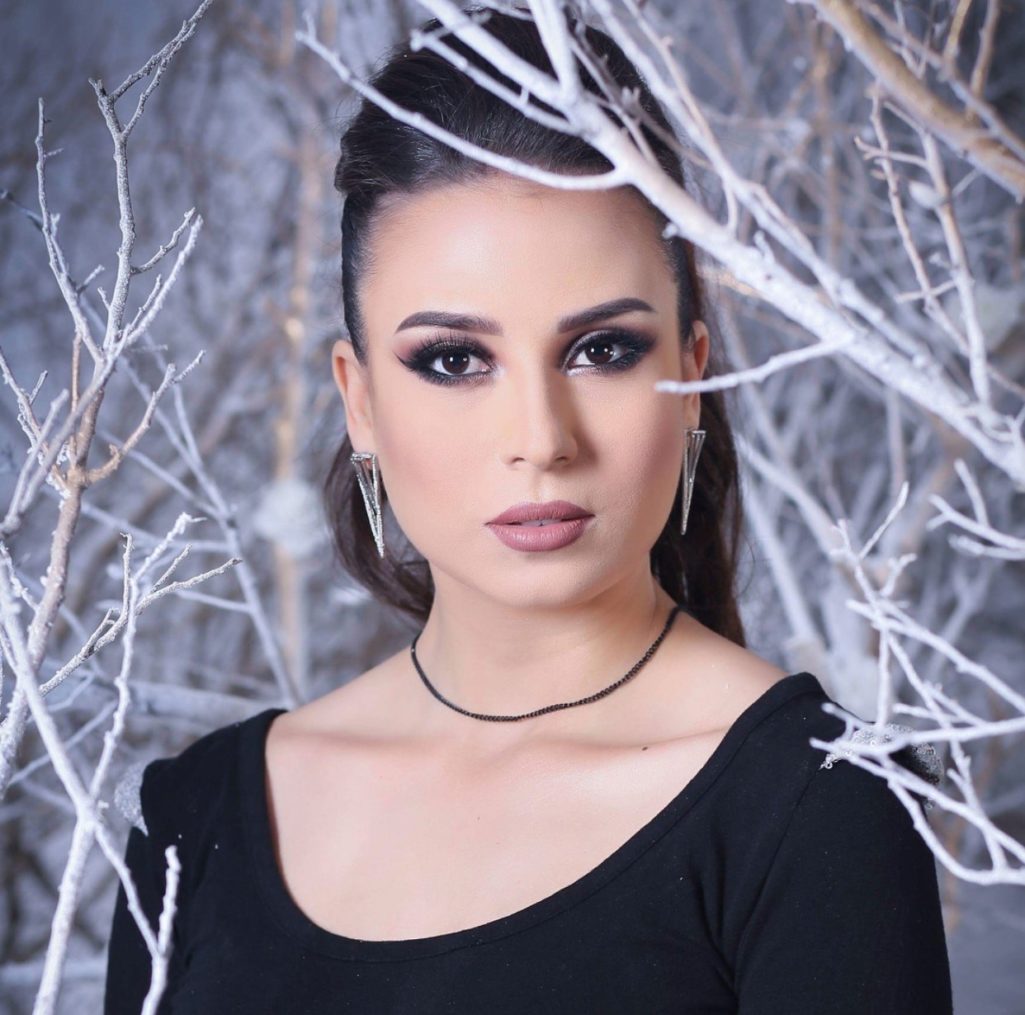 Our Afronista of the week is Sara Lalama, a beautiful television actress from Algeria. Algeria is the biggest country in Africa located in North Africa along the Mediterranean sea. This vast land has myriad attractions including a multitude of well-preserved Roman ruins, cave paintings, and stunning beaches.
However, one of their biggest assets is the warm and friendly people. Algerians have a reputation for being kind and hospitable while remaining true to their culture. Sara Lalama is not only highly talented but also a leading fashion influencer. She sets trends and at the same time remains true to her cultural and religious values.
What is a Fashion Influencer?
According to ''Trend hero','  a fashion influencer is a renowned personality who creates fashion content on social media. Firstly, the individual has to have a cutting-edge style. Secondly, it is important that the influencer's content is unique. Most sites contain tips and the shopping habits of influencers. Consequently, like-minded followers stay informed and get motivated to change their purchasing habits. The success of an influencer depends not only on the number of followers but also on the income group they belong.
The Role of Fashion Influencers in the Industry
Influencers play an important role in the fashion industry. Their activities generate data that brands can study. Based on the information they derive from it, they pay influencers to wear their clothes or sponsor their posts. Thus, they have a unique way of marketing directly to their target audience.
Sara Lalama's official Instagram account has 1.3 million followers. The analytics report on Hype Auditor.com shows that 86% of her audience has an interest in fashion. This explains her ranking as a high-level fashion influencer.
The Algerian Traditional Dress
The Algerian traditional dress worn by women has remained fairly the same over the centuries. It comprises loose-fitting pants and the El Hayek or Algerian veil on top. A symbol of modesty, the El Hayek is a veil-like fabric that covers a woman from head to toe. Therefore, it also serves the useful purpose of shielding a woman from the hot sun.
In Algeria, it is a common practice for women to cover their heads. This is because the majority are Muslims. The headdresses that the women wear are exquisite with rich embellishment. Another garment that is commonly worn is the 'Karakou'. An embroidered velvet jacket, the Karakou is paired with either trousers or skirts. Also, an ornate festive dress called 'Djeba' is a popular bridal costume.
Sara Lalama the Television Star
Sara Lalama was born in 1993 in the Constantine province of Algeria. Subsequently, she trained for her art in France, at the Regional Conservatory of Toulon. Lalama took her training very seriously. She recognized that to excel, she needed a sound foundation. In an interview with Arabika24.com she explained,
"I understood that I needed a solid training that could structure this passion to be able to make it my job, so I joined the Toulon conservatory in France and spent four years, during which I learned the basics of playing on stage, but what I learned the most is to face the most extreme situations in groups especially, to manage stress, to be able to improvise all the subject.''
Her career as an Actress
Lalama began her acting career when she appeared on Algerian television in 2013. Below are the productions that she is famous for;
2013 – Asrar el Madi
2014 – Miss Dounia in 'La classe'
2015 – Yasmine in 'Love in the dock'
2016 – Qoloub Tahta Ramad
2019 – Zahra in Machaer
Sara Lalama is still single. Although she was born on Valentine's day, she has never celebrated one. In fact, she is intent on focusing on her acting career without distractions. Her dedication has paid off as her net worth is about $1.5 million. Here are 15 of Lalama's most striking looks.
Cultural Vibes
#1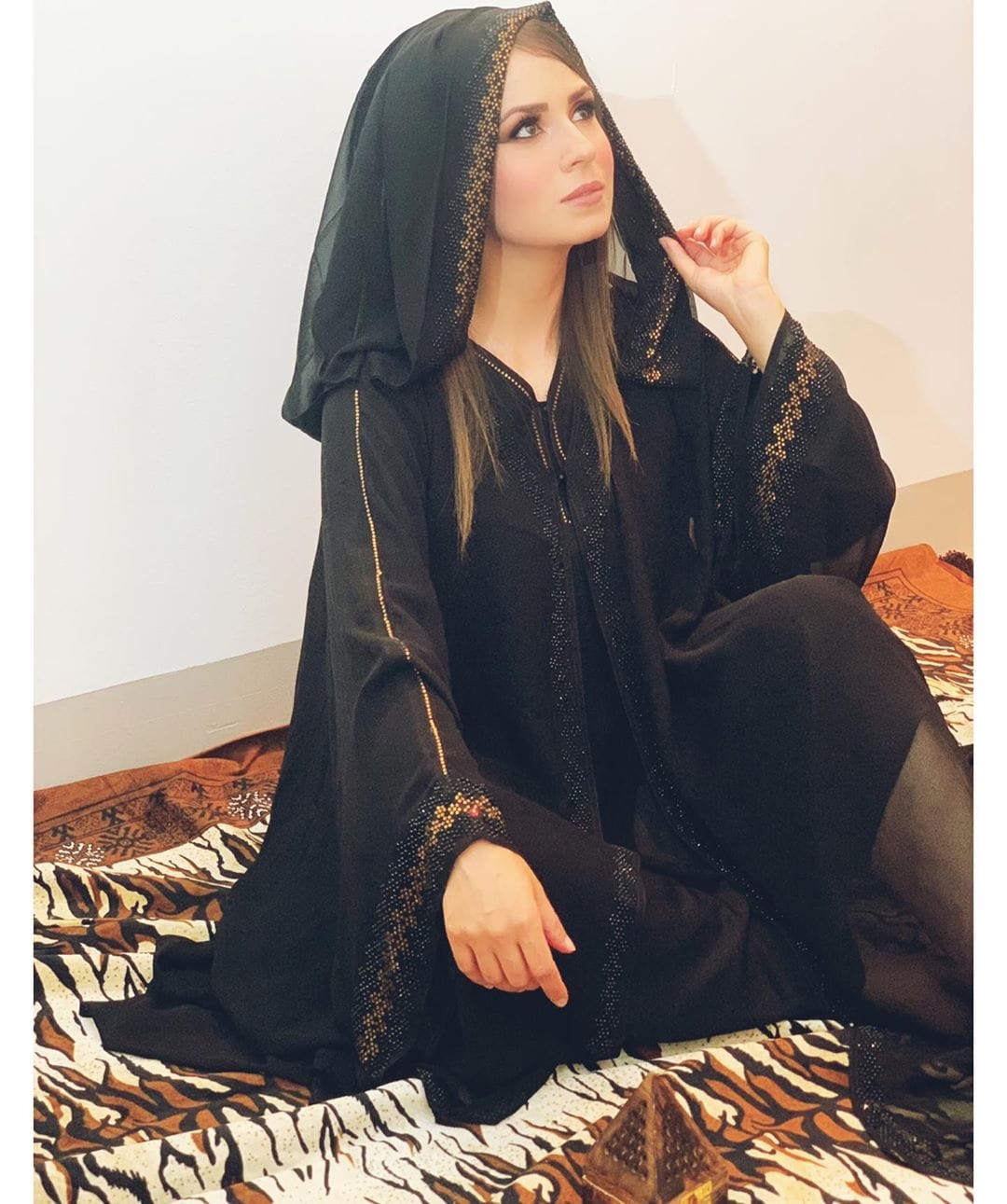 The actress is looking serene in the Algerian traditional dress. This gown has an outer cloak that consists of black veil-like fabric with an embroidered edge. It comes with a modest hood.
#2
The above dazzling gown has a spectacular embroidered jacket that echoes the traditional 'karakou' jacket. However, this version is crafted out of sheer delicate fabric instead of the traditional velvet one.
#3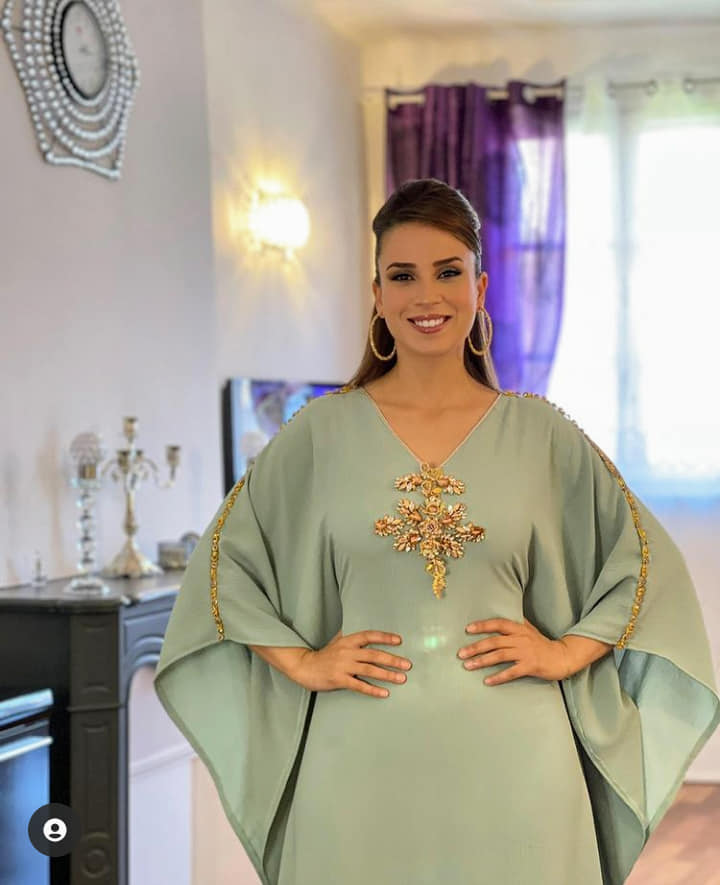 Kaftans are popular in this part of Africa, and this cool green design is fresh, with clean lines. It is embellished with gold embroidery at the neckline and along the flowing sleeves.
Traditional Headdress
#4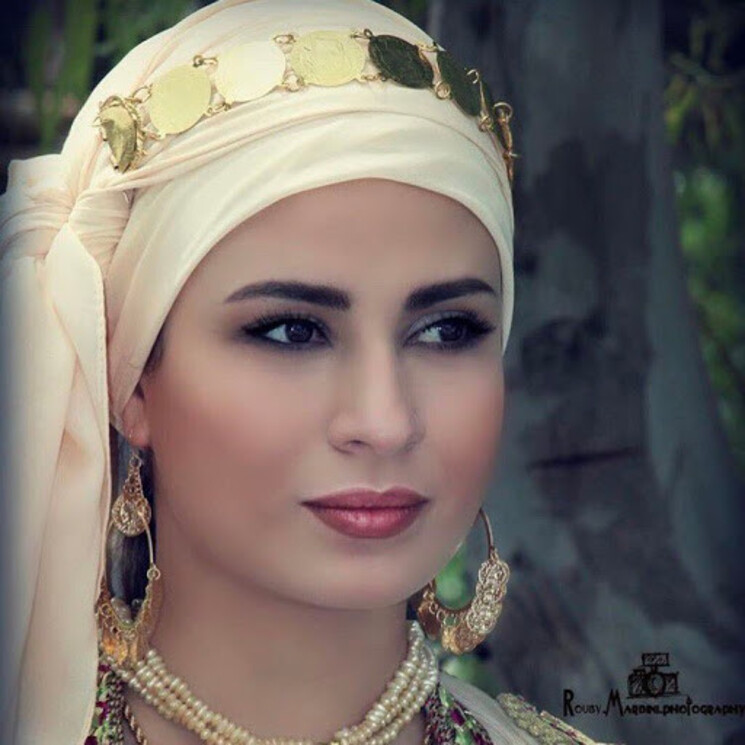 Traditionally, Algerian women cover their heads. Usually, headdresses are richly embellished. The above headdress is exquisite. She matches it with a gold chain and gold loop earrings.
Exquisite Embroidery
#5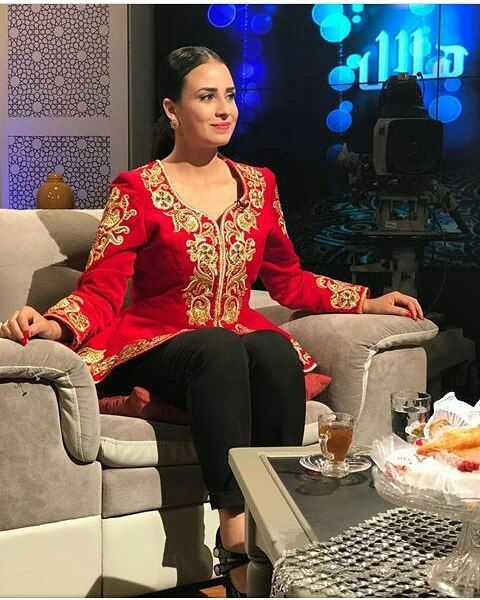 The detailing on traditional Algerian garments is outstanding. Sara Lalama is in a ruby brocade fitted jacket that is heavily embroidered with gold thread. She matches it with a simple pair of black trousers.
Contemporary Flavor
#6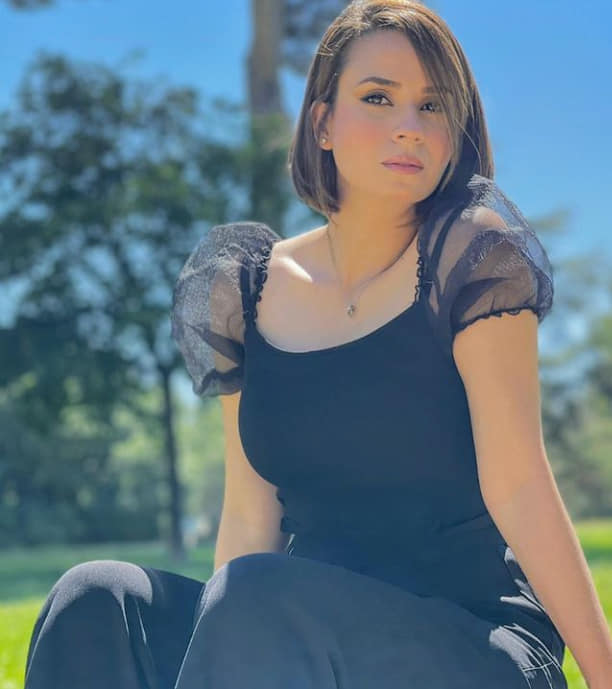 How do you add a touch of romance to a simple pair of trousers?  By adding a chic top like the one above. It has delicate chiffon puff sleeves and Lalama adds a simple silver chain and pendant to round off the look.
#7
Nothing is more striking than a velvet outfit. This double-breasted coat dress accentuates the waist and has eye-catching gold buttons. You can see the richness of the fabric in the full skirt and matching unusual dangling earrings.
#8
This is an elegant, single-sleeved monochromatic number that is form-fitting. A pair of chandelier earrings add drama to the and the actress carries a simple black clutch. This is definitely a red carpet look.
Sara Lalama Casual Look
#9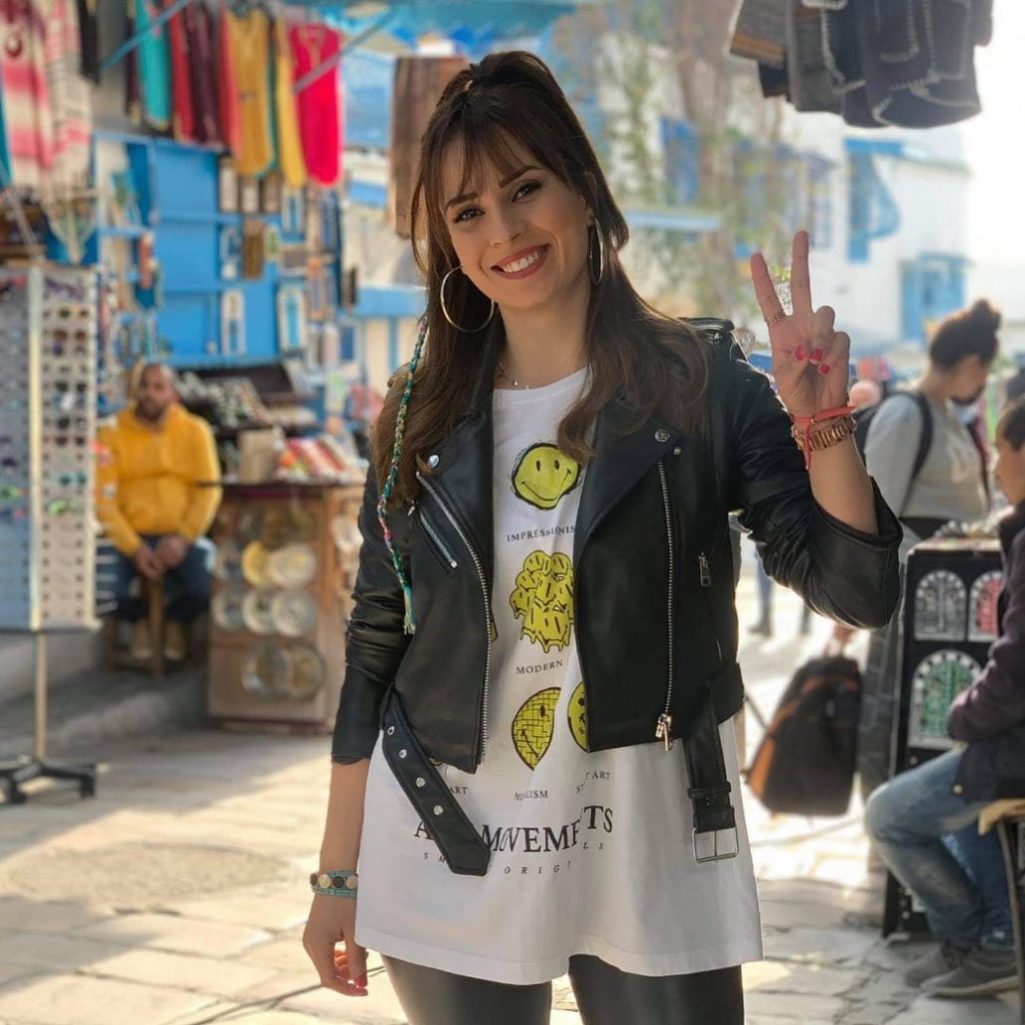 A leather jacket is great for achieving a 'laid-back' look. Lalama has chosen a cropped jacket and worn it over a longer tee-shirt. Leather leggings complete this 'fun' look.
Nailing the 'Smart Casual' Look
#10
Here the actress has nailed the smart-casual look by balancing an elegant embroidered black top with dark jeans. This is the perfect look for a night out. Call it a blend between tradition and contemporary and you won't be wrong.
#11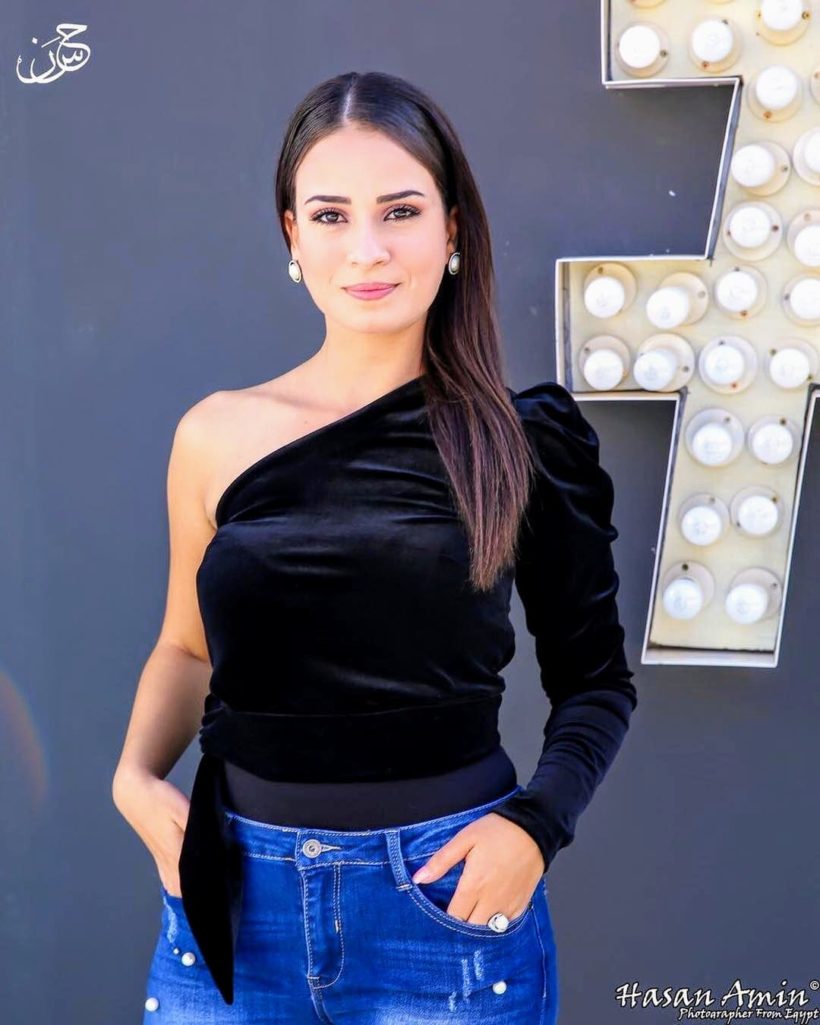 Another version of a smart casual look appears above. This time the actress pairs a pair of jeans with a chic, single-sleeved black velvet cropped top. The ensemble has an attractive simple elegance.
Sara Lalama Fierce in Leather
#12
Lalama embraces boho chic with this daring leather-look ensemble. This is sportswear with a difference. Plain black leather trousers tone down the dazzling shade of the jacket. The overall look is bold and edgy.
Sara Lalama's Red Carpet Looks
#13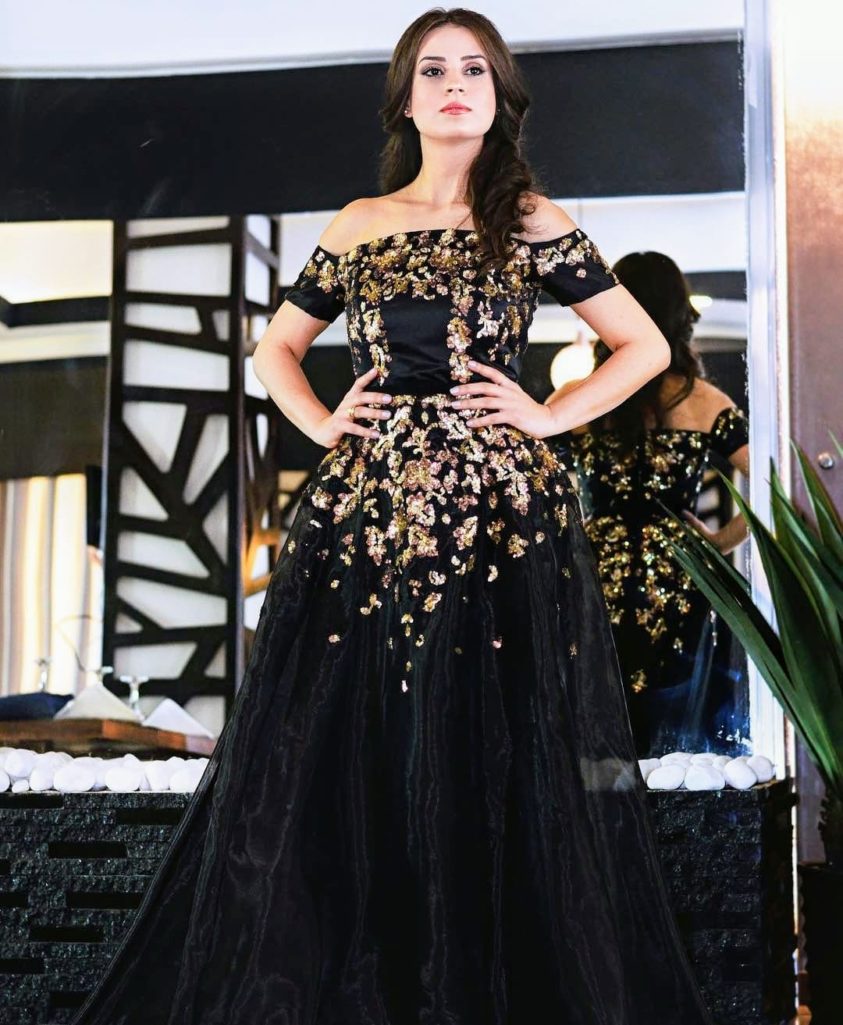 Sara Lalama looks enchanting in a luxurious black organza creation. It has an off-the-shoulder neckline and rich gold embroidery on the bodice and the top half of the full skirt.
#14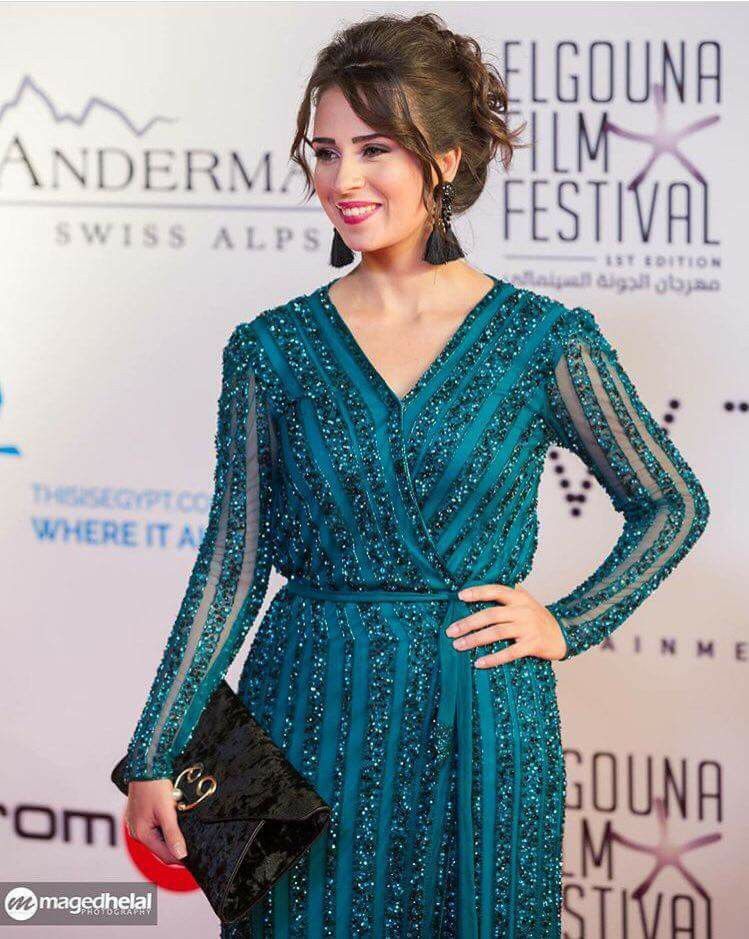 Another glamorous red carpet look from Lalama is a form-fitting sea-green beaded ensemble with a vee neckline and long fitted sleeves. It is the type of dress you wear on days you want exaggerated attention.
#15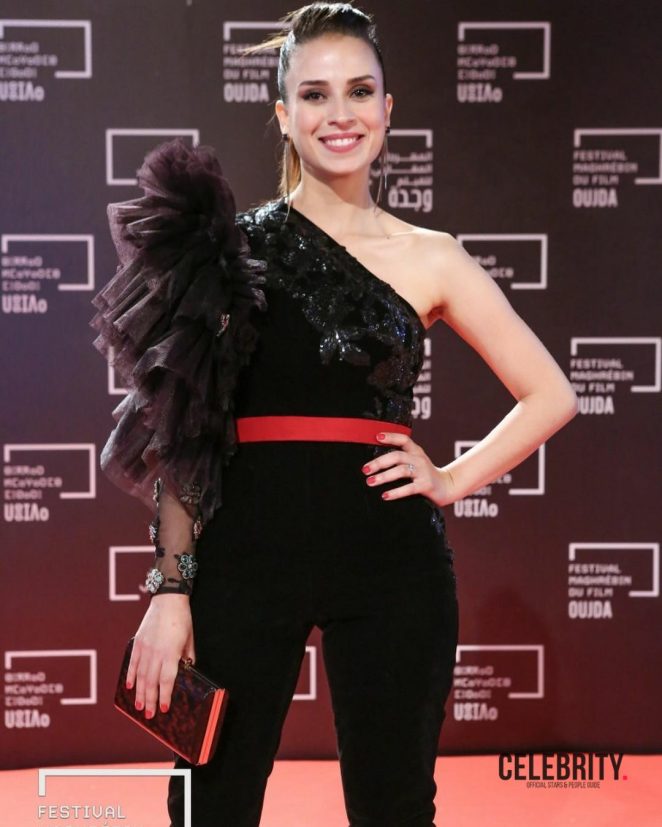 This daring one-sleeved creation is uniquely designed with a cascade of tulle ruffles running down one arm. The other side of the garment has ornate beadwork, and a crimson belt adds a splash of color at the waist.
Conclusion
Sara Lalama is not only a trendsetter but also a dedicated and focussed artist. Her commitment to attaining the necessary skills is admirable. It echoes the sentiments of the actor Will Smith who said,
"The separation of talent and skill is one of the greatest misunderstood concepts for people who are trying to excel, who have dreams, who want to do things. Talent you have naturally. Skill is only developed by hours and hours and hours of beating on your craft."