Designer Spotlight: Sofia El Arabi Is Using Fashion To Reclaim Her Arab Identity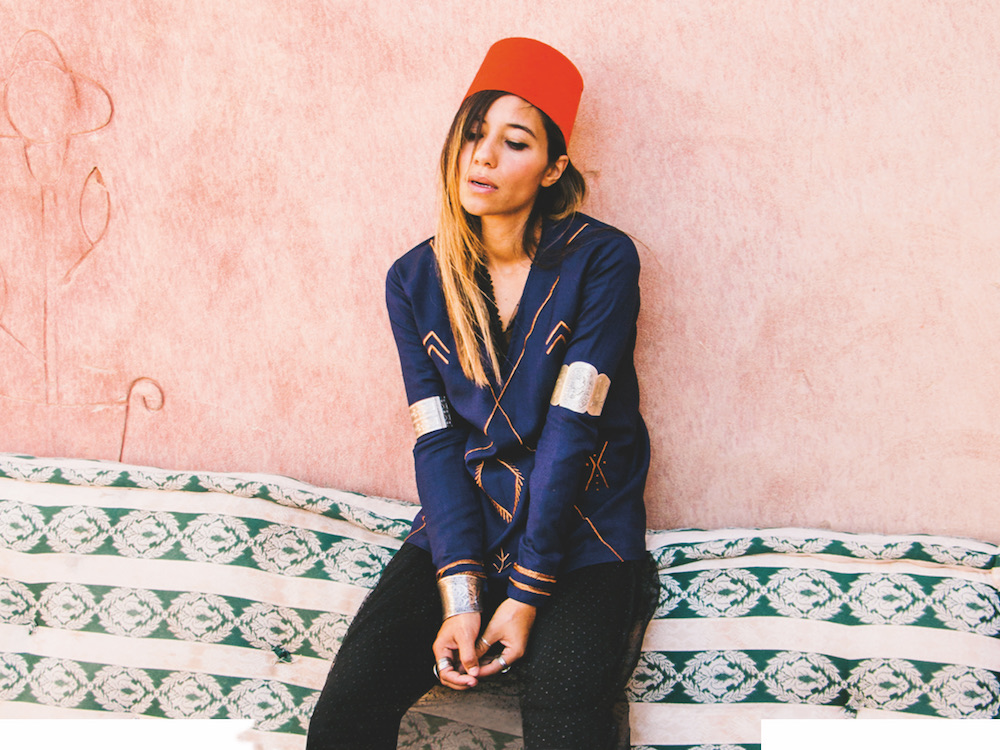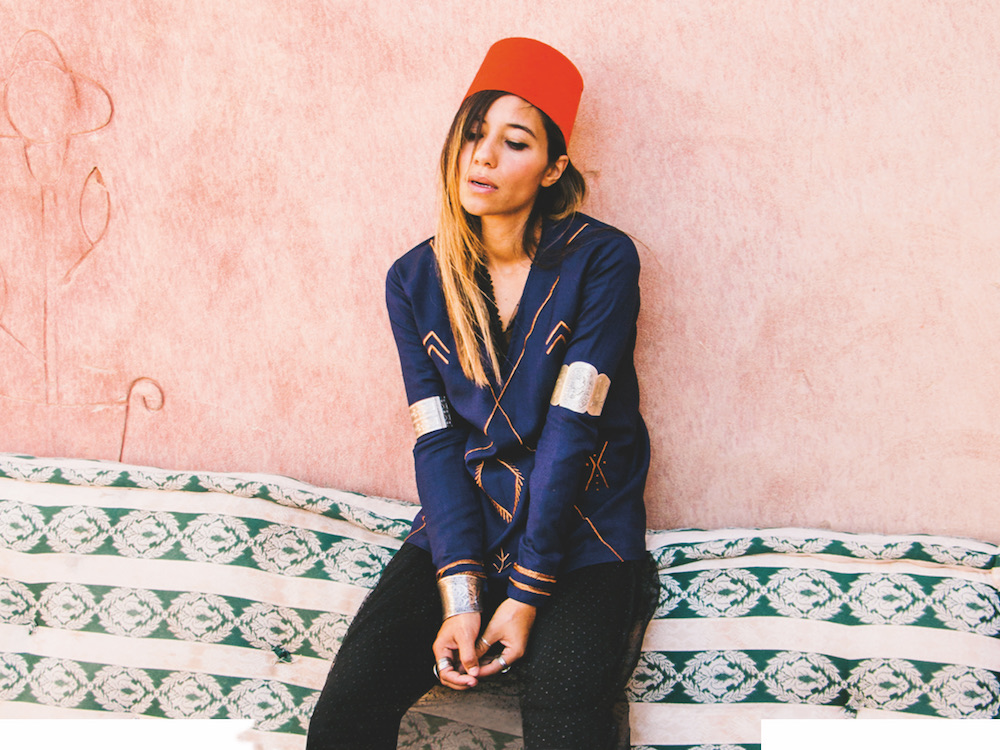 Is there a way of satisfying contemporary fashion lovers without losing your Africa heritage? This is a serious challenge that many African designers have to deal with on a daily basis. Sofia El Arabi is not an exception. However, she refuses to sacrifice her identity to please the contemporary world. Rather, she is using fashion to reclaim her Arabic identity. 
Our designer spotlight falls on this talented young designer. She grew up in a Western-oriented home. However, she has succeeded in bringing together Arab and Western culture in her designs. Sadly, there is often a negative sentiment around the Arab world. Sofia El Arabi is using fashion to rewrite the narrative. 
How Sofia El Arabi Reclaimed Her Arab Identity
Sofia El Arabi belongs to an elite group of Arab designers. These talented designers are making a mark in the fashion arena. When interviewed by Liana Satenstein of Vogue magazine, she described how her journey began.
"My own identity has been divided between something Eastern and Western so I tried to find a way between these two worlds. I really wanted to show the world that being Arab doesn't mean being violent, or all of these clichés that you can watch on TV."
Subsequently, the designer embarked on a study of Arab history. This helped her to extract the best ideas to use in her craft. Moreover, it is El Arabi's belief that clothes are living pieces of history.
El Arabi the Vogue March 2018 It Girl
In March 2018, Vogue Arabia named El Arabi the It Girl of the month. She received recognition for her skill in merging old and new designs. El Arabi obtains old kaftans from friends and relatives and creatively transforms them. She revives them by adding ''poetry'' in the form of embroidery and other embellishments. This way she adds a modern element. As she explained to Nouriah Al Shatti of Vogue,
"But it's just a symbolic way to shake tradition. We are not going to be buried with all our clothes, I might as well make them live again."
Recognition during The International Women's Day 2019
The organization "Plan-It Morocco" observed International Women's Day in a special way in March 2019. It took the initiative to celebrate outstanding women who are experts in various fields. They recognized women who excelled in sports, commerce, medicine, architecture, and others. El Arabi received an accolade for her efforts to preserve her heritage in the field of design.
The Bakchic Brand
Sofia El Arabi launched her fashion brand "Bakchic" in 2012. This launch marked her entry onto the Moroccan fashion scene. Bakchic favors a bohemian look inspired by street fashion. The essence of the brand lies in the blend of Arab and Western cultures. In other words, Bakchic showcases traditional garments such as kaftans and embroidered dresses and adds a contemporary twist.
For instance, you will find liberal use of fabric-covered traditional Moroccan buttons. Also, the design house favors the use of handmade Moroccan embroidery. Bakchic designs were an instant hit with bohemian style lovers who appreciate culture.
Consequently, the design received international recognition. For instance, publications such as Velvet Magazine, Vogue USA, and Vogue Arabia have featured their designs. Going forward, it is El Arabi's goal to promote their clothing as a daily wardrobe choice. That way the wearers will not reserve traditional wear for special occasions only.
El Arabi's Early Life
El Arabi was born and raised in Casablanca. Her father was an artist/painter who was strict when it came to education. For example, he placed importance on good grades. Interestingly, El Arabi did not have a conventional upbringing.
Her family spoke English and French at home. Also, she attended a French-speaking high school. Among the subjects, she excelled in were music theory, piano, and judo. After high school, El Arabi went to college in France. She returned home and joined a French television station.
Sofia El Arabi Develops an Interest in Fashion 
It was upon her return that her interest in Moroccan traditions developed. The young returnee had a desire to make Arab style cool. She embarked on this by making custom-made caftans for her family. Soon, she gave up her job to launch her brand. El Arabi is now a leading design influencer with over 100,000 followers on Instagram
The Challenges of Promoting Traditional Wear
African designers face common hurdles in their move to promote traditional wear. Truly, there is a growing global appreciation for African culture and design. However, African designers find it hard to penetrate the local market. This is because their luxury brands are out of reach for many. There is also another hurdle as El Arabi confessed to Vogue magazine.
"There is a challenge of making Arab style cool again. People are more attracted to the universal culture, which is Western. Universal culture is easier to access. It's a style that people understand so you don't really take a risk wearing different clothes."
As a result, El Arabi's biggest supporters are from countries like the United Arab Emirates, the United States, France, and Spain. Like other African designers, she is achieving greater success internationally.
The Bakchic Look
El Arabi describes the Bakchic girl as a cool and feminine individual who wears the clothes, rather than the other way round. Here are samples of her best looks.
Blending Old and New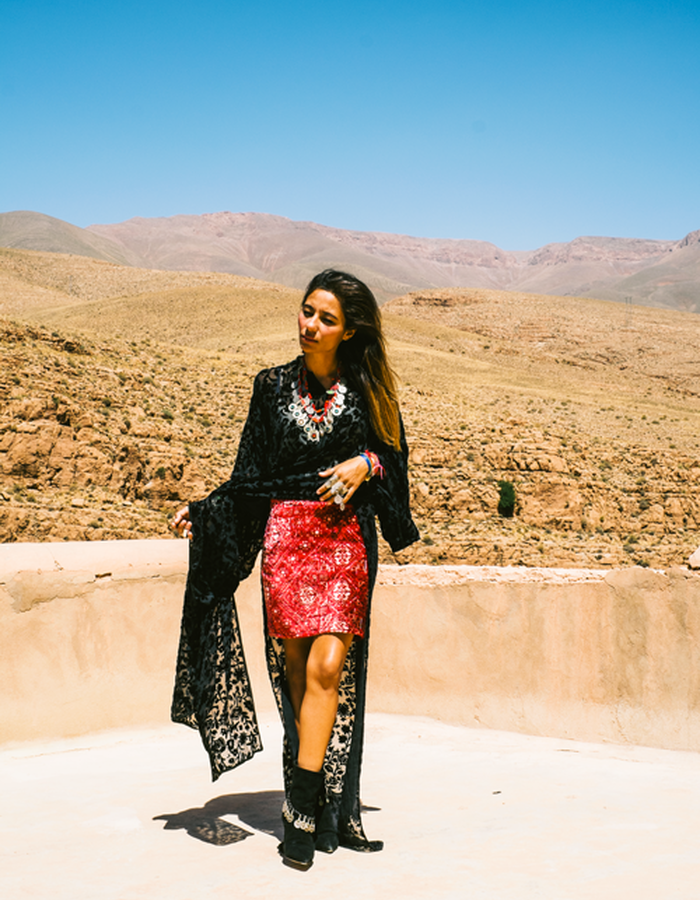 The designer combines a richly embroidered traditional kaftan with a similarly embroidered scarlet mini. She daringly tucks in the front of the kaftan into the skirt creating a bold but iconic look. A further cultural touch appears in the silver-plated chain hanging from the boots.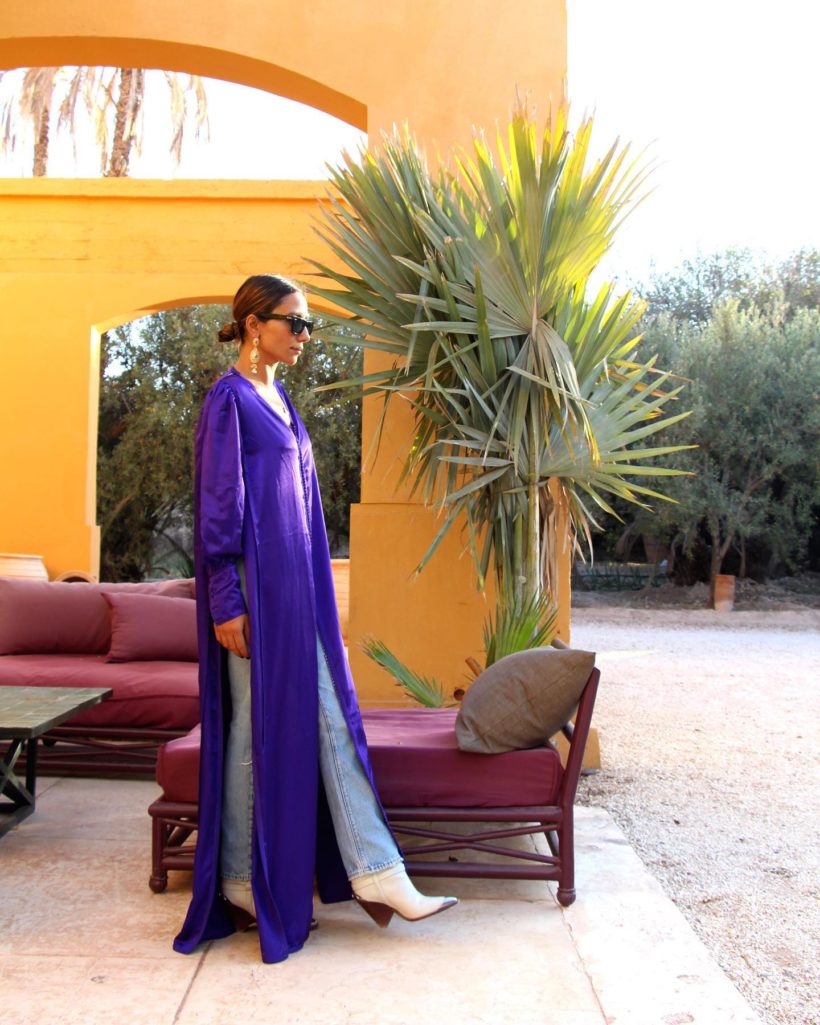 In another unique look, a royal blue kaftan made out of a shimmering silk satin fabric flows over a pair of faded blue jeans. Cream cowboy boots complete this original outfit. With Sofia, there is no difference between western and traditional.
It is easy to add traditional accents to everyday casual wear by adding ethnic jewelry. The embroidered cotton-blend jersey is livened up by silver-plated traditional jewelry.
Sofia El Arabi's Bohemian Accents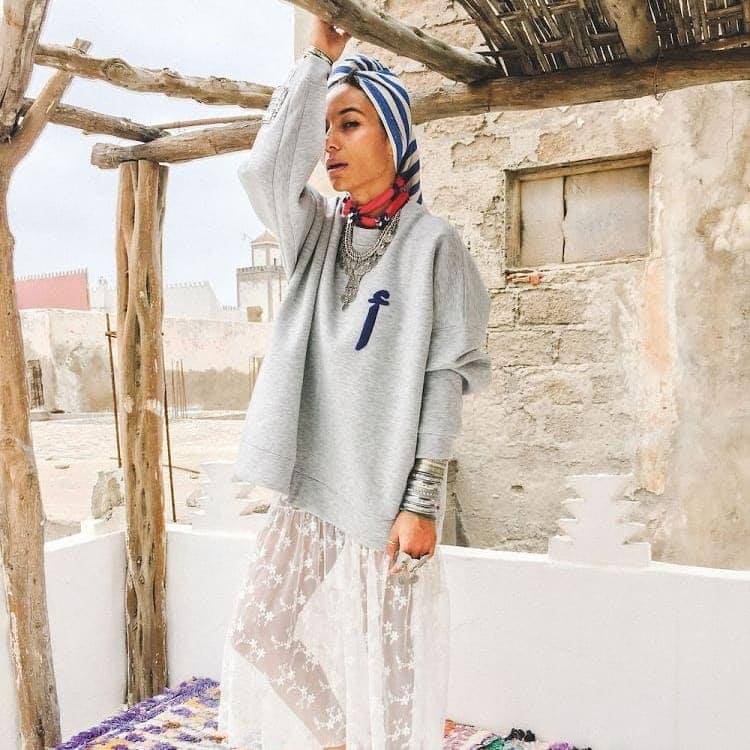 El Arabi is adept at putting together unusual textures. Here, she combines a sky blue cotton-blend jersey sweatshirt with a floaty, sheer voile skirt. Topped with a striped turban and silver jewelry, the end result is a daring, provocative look.
Bakchic's popular cotton-blend sweatshirt reappears in white, edged with red embroidery. In this look, the designer adds a trailing red silk satin skirt. The signature old silver jewelry and ankle ornaments lend an exotic touch to this look.
Sofia El Arabi pairs a plain white vee-necked cardigan with a red and white striped ethnic wrap. Topped with a simple straw hat, she achieves a daring chic look.
Traditional Vibe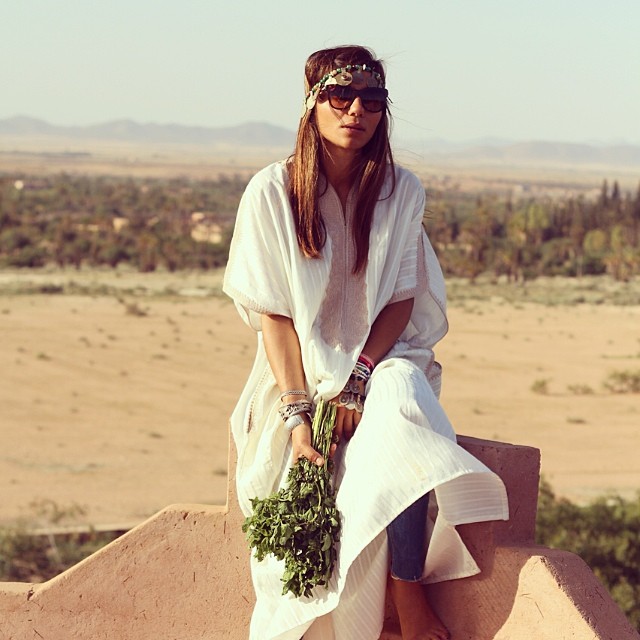 On the surface, this appears to be a charming, romantic look. But, the denim pants underneath add a special twist and elevate the creation to cutting-edge levels.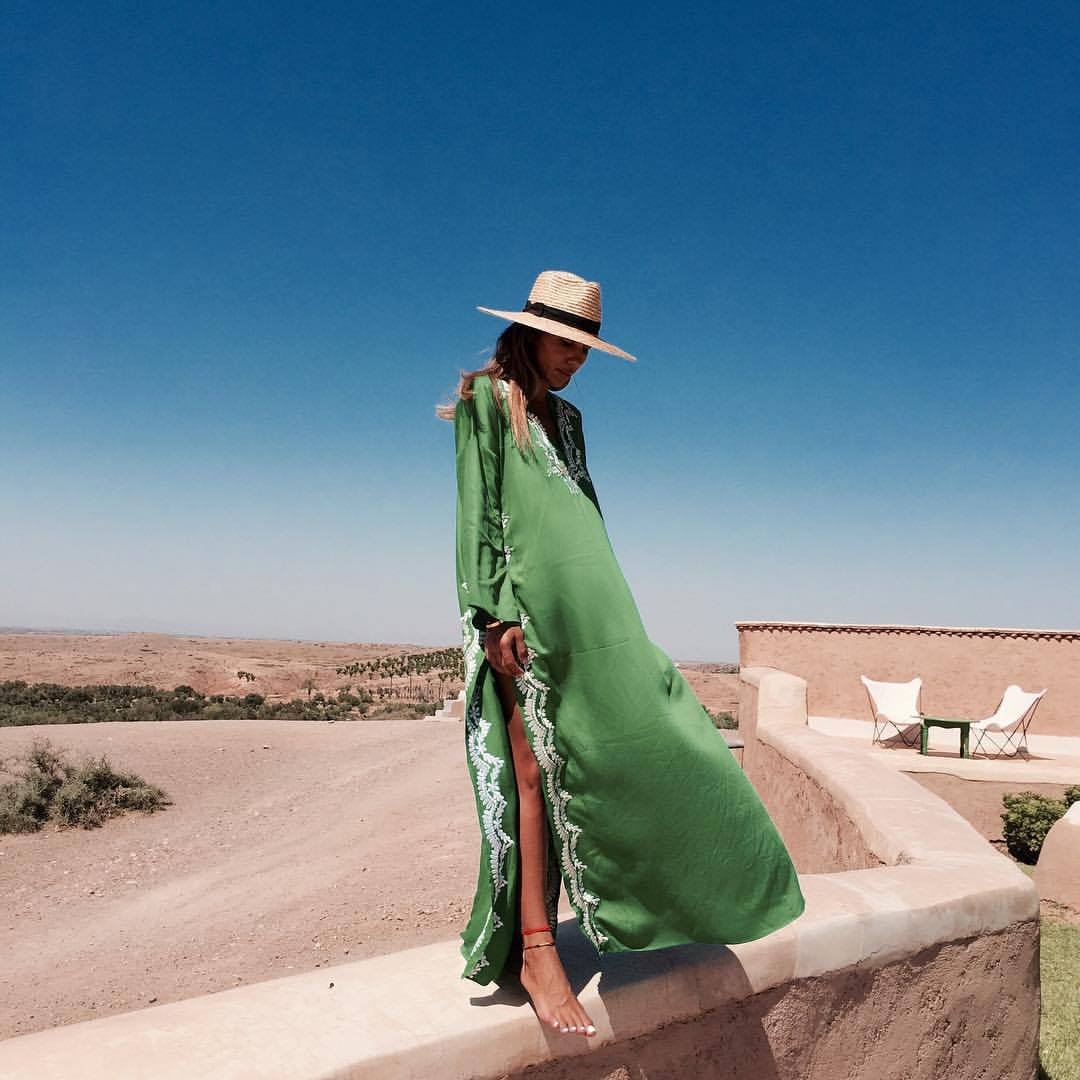 A beautiful kaftan in a flattering green color edged with intricate white embroidery is a stylish way to let the air in on a hot day. The straw hat perched on top of the head adds a contemporary touch to the look.
A Splash of Color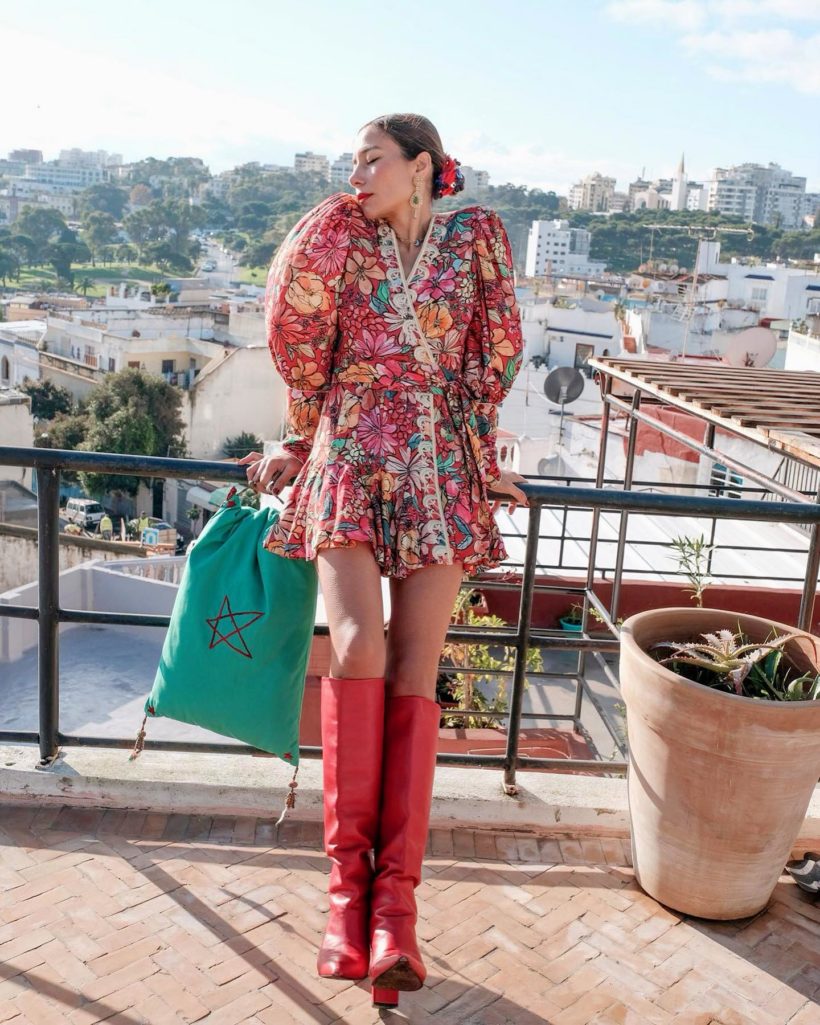 There is nothing like a splash of color to brighten the day. This cotton voile embroidered wrap mini is fresh and sophisticated at the same time. The floral number has a flirty hemline and the bright red knee-high boots add the perfect accessory to finish off the look with style.
Above is another flirty floral outfit, but this time the bright colors are set on a black background. This gives it a tropical vibe and sophisticated air.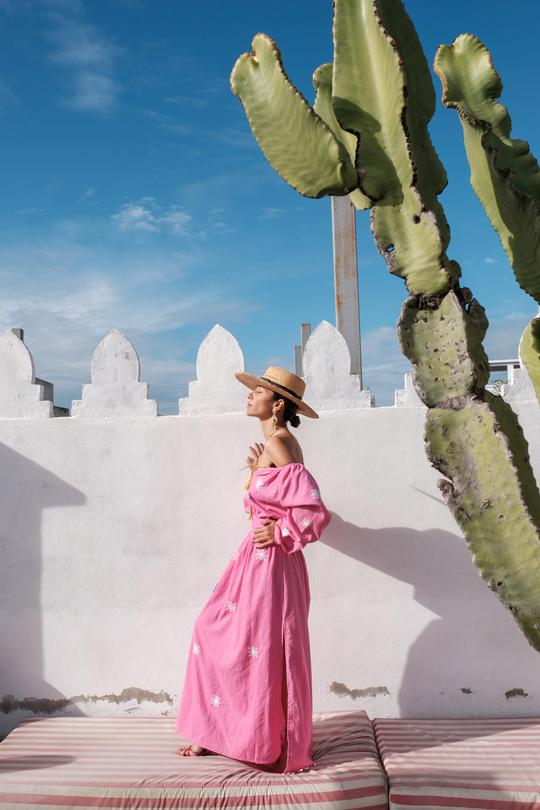 The above is lovely linen pink ensemble with white embroidered detailing. It is off-the-shoulder, just perfect for hot summer days. To top it all, its lines are clean, chic, and modest.
Conclusion
When Sofia El Arabi began her journey, her goal was to make Arab style cool. She has succeeded in meeting that objective. Firstly, her brand has attained international acclaim. In addition, her fashion house Bakchic supports sustainability in fashion. It promotes responsible consumption and ethical production. Above all, El Arabi is passionate about the adaptation of traditional clothing for use in daily life. Perhaps that is an idea other African designers should ponder.