Afronista Of The Week: Hamisa Mobetto, The Good, The Bad, And The Ugly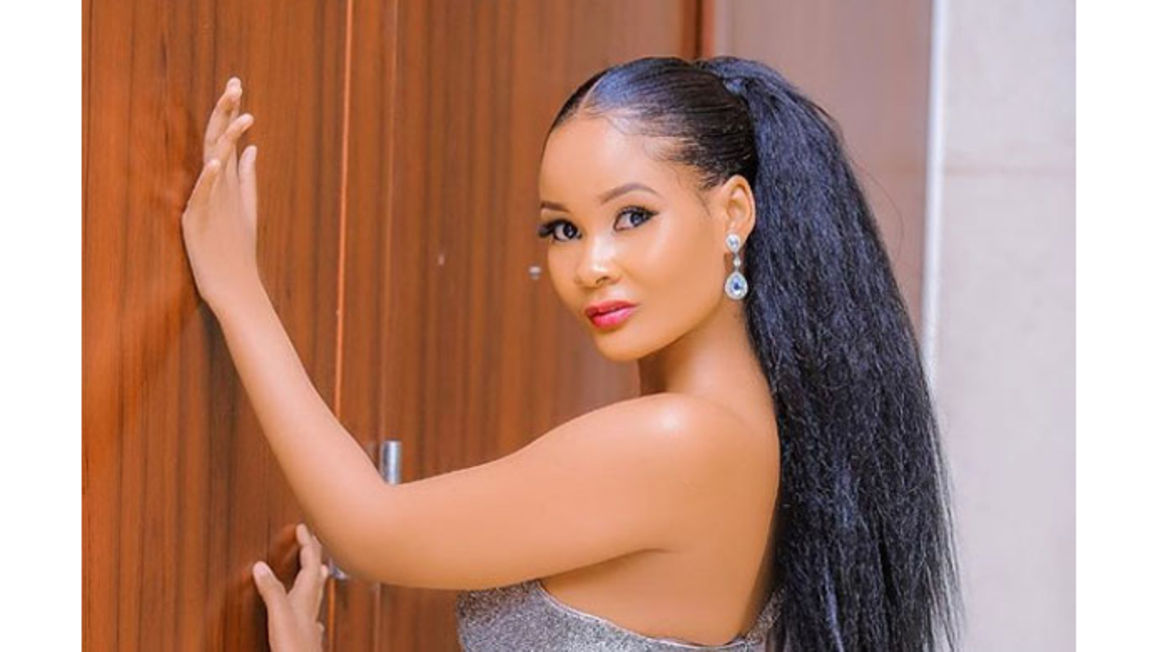 African fashion has come a long way, from simple traditional attires to stunning runway matchups. The African attire commonly known as Ankara comes in different varieties and flavors. Over the years, Ankara has become increasingly popular.  One reason for this is that African celebrities and social influencers use these attires in making "Fashion Statements". We call these fashion influencers "Afronistas", and here we talk about their lives, work, and impact on African fashions.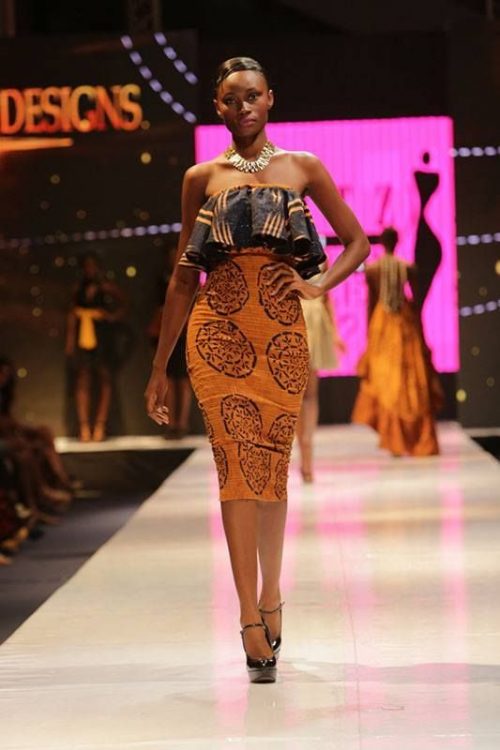 Our Afronista of the week is the Tanzanian model and socialite, Hamisa Mobetto. Hamisa is a fashion influencer and style celebrity. She is well known for her impressive Ankara designs, sensational Instagram photos, and, well, scandals. Follow us as we take a look into the life of Hamisa Mobetto, her good, bad and ugly sides.
Who Is Hamisa Mobetto?
Hamisa is a native of Mwanza, a lakeside city in Tanzania. Prior to her fame, little was known of the 27-year-old model, actress, singer, and entrepreneur. She attended Mabatini Primary school and later, St. Kayumba Secondary School in Dodoma, Tanzania. Hamisa Mobetto's early life gave no clue of the glamorous lifestyle she is presently known for.
Hamisa Mobetto's Journey To Stardom
Modeling
Hamisa came into the public eye after winning the Miss XXL Back to School Bash by Clouds Radio Media in 2010. This event was a stepping stone for the young damsel who found a passion for modeling. She also took part in the Miss Indian Ocean and Miss Kinondoni pageant. Although she came second in both events, her modeling career was already gaining momentum. Young miss Hamisa was unstoppable as she began doing the catwalk on more elaborate stages. Her poise, charm, and beauty won her the heart of several admirers.
Entertainment
Shortly after her modeling career kicked off, Hamisa Mobetto was coaxed into the entertainment industry. Indeed she hit the ground running as her first appearance was with no other than Tanzania's King of Bonga Flavor, Diamond Platnumz. In the video, Salome, Hamisa wore regal apparel truly befitting of a queen. It immediately sparked rumors that she was dating Diamond Platnumz who was with Zari Hassan at the time. And you know the saying "where there is smoke, there is bound to be fire".
Controversies Surrounding Hamisa Mobetto
As it turned out, the rumors were true. Hamisa got pregnant and delivered a baby boy, Dylan. According to her,  Diamond Platnumz was the child's father. However, there was a controversy about the true father of the child. Most people believe that she, Hamisa, was lying about her child's paternity in order to rip off Diamond Platnumz. In an interview with Wasafi FM, Hamisa revealed that a DNA test confirmed that Diamond was indeed Dylan's father.
She now has two children, having previously given birth to a baby girl, Fantasy Majey. If her name rings a bell, it could be because the baby's daddy is Majizzo, CEO of Tanzania's popular radio station E-FM. More controversy brewed around Hamisa when she featured in the video "DODO" by Alikiba in 2020. Critics refuted Alikiba's decision to use Hamisa as a vixen. This was understandable since Alikiba and Diamond are considered enemies in the industry.
More Troubles For Hamisa Mobetto
The model/artist who by now is not new to controversies is yet in another. Early this year, the internet broke with reports of an alleged sexual escapade involving 18-year-old Paula. Paula is the daughter of Kajala Masanja who is said to be in a relationship with Harmonize, a Tanzanian artist with the Wasafi record label. According to the mother, Hamisa took permission to take her daughter out. Kajala claims that Hamisa was taking the daughter to meet with Rayvanny. A video of Rayvanny kissing 18-year-old Paula was uploaded to the internet.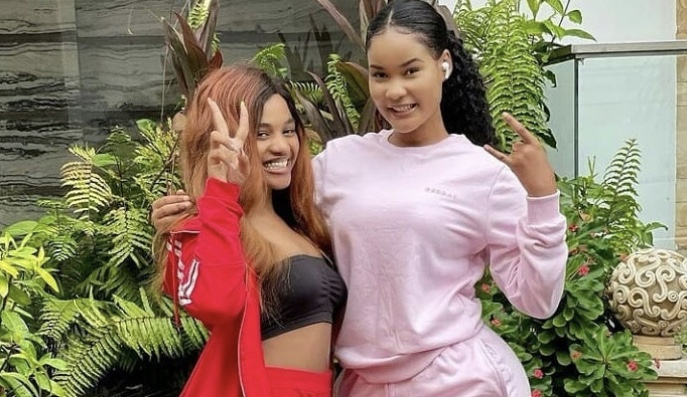 Although the video has been deleted, Kajala blames Hamisa for the incident and demands an apology. However, Hamisa denies having anything to do with the incident and threatens to sue Kajala. We are yet to see the end of this as events continue to unfold.
Hamisa Mobetto's Fashion Style
Looking beyond the controversies and scandals, you would agree that Hamisa is a true inspiration. She single-handedly made a good career for herself. Among her many titles, Hamisa also added "entrepreneur" to her name.  Although one can easily see the straight line between modeling and owning a fashion line. This doesn't make it an easy feat. Becoming an entrepreneur of any kind requires hard work, discipline, and brains. Hamisa's success proves beyond doubt that she is both beauty and brains.
Her fashion line, Mobetto styles, was launched in 2018. It is now one of the biggest fashion lines in Tanzania. Hamisa personally models some of her impressive outfits and her Instagram page is full of captivating photos of her in them. Her love for Ankara fashion is admirable, which is one reason why she is our Afronista of the week. Here are some pictures of Hamisa Mobetto rocking some trendy Ankara outfits.
 #1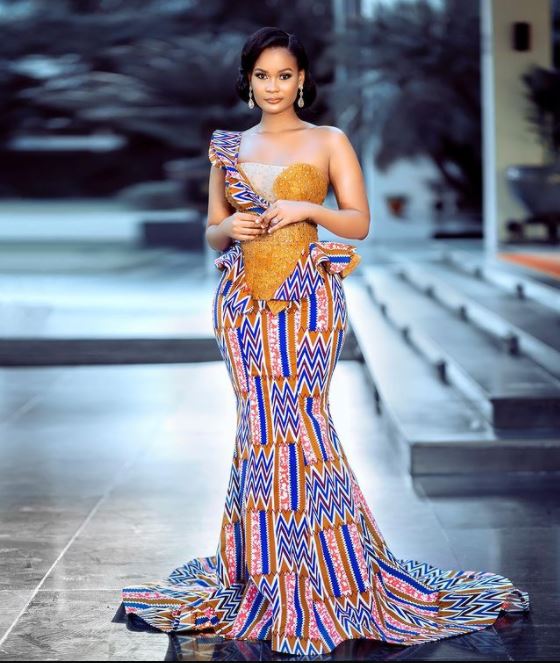 Topping our list is a recent picture of Hamisa in a fishtail gown, having blue and gold patterns. Hamisa looks stunning in this single strap Ankara gown that emphasizes her curves. The fashion model looks relaxed, clearly showing that she's as confident in Ankara as she would be in any English wear.
#2
Hardly will you see a more perfect combination of the Kente. This strapless tube outfit by Mobetto styles is a great choice for most formal occasions. The interlude of the red color material and intricate patterns of the kente creates a beautiful continuity. Most Kentes are sewn as a single piece of material. However, in this design, Hamisa goes a step further by adding a second piece of material. The result is a unique-looking dress that is nothing short of a masterpiece.
#3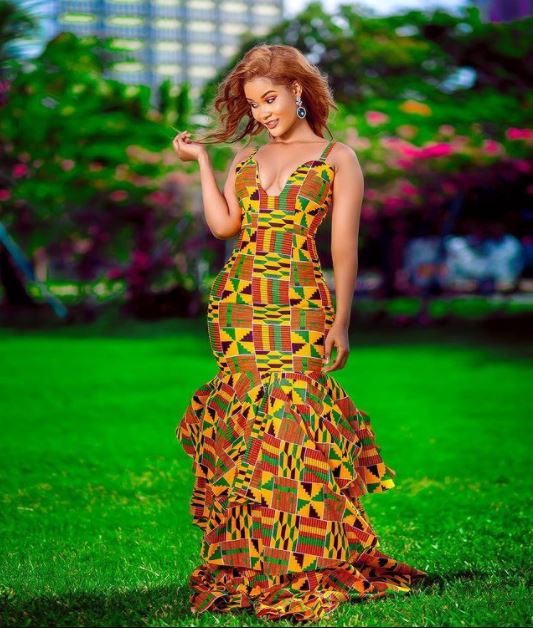 Again, Hamisa looks stunning in this strapped kente gown. One thing is sure, the model/entrepreneur knows how to design. The overflowing rosy bottom and V-neck design give it a blend of English and traditional flavor. This makes the dress thread the lines between a formal and an informal outfit.
#4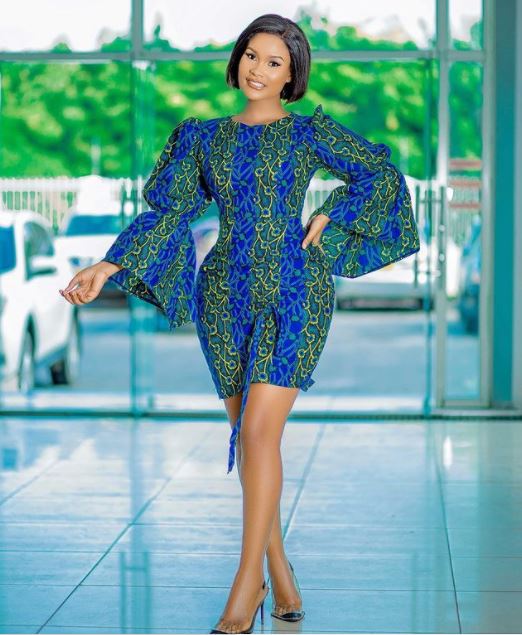 If you're looking for the right Ankara style for a workplace, then you can't go wrong with this. It's just the right length, fully covered with a simple design that says I'm here for business, but still trendy".
#5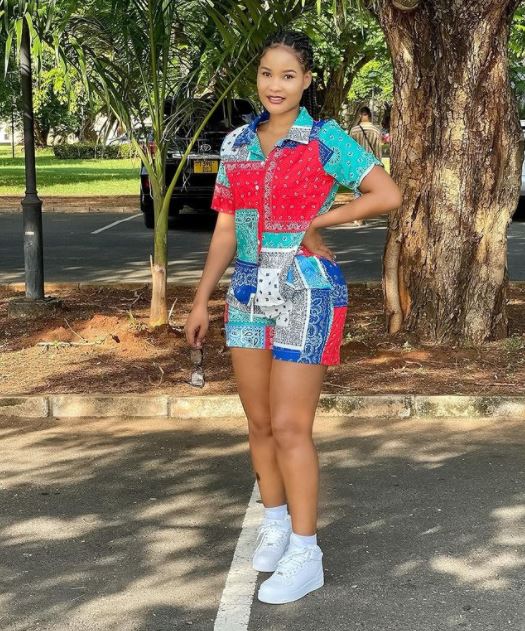 Ankara shirts and shorts are now commonplace. Obviously, not all Ankara will fit this purpose. It takes a skillful designer to know what Ankara combination to use for this casual outfit.
#6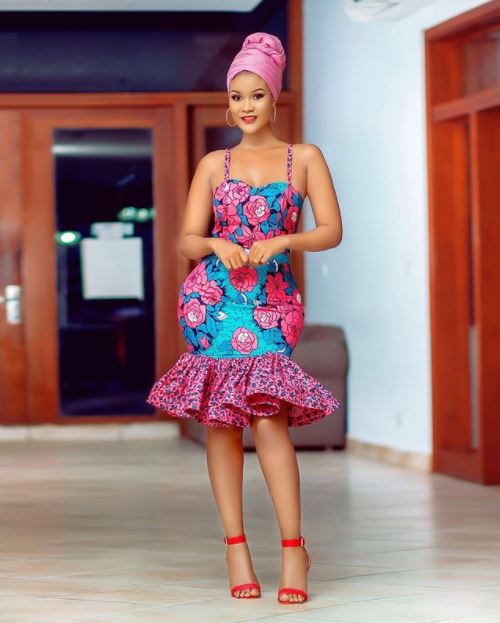 The fashion statement is about getting the right combination. The good thing about Ankara is that they come in different colors and patterns. This means you have many possible combinations to choose from. Here is where creativity comes in. This picture is a perfect blend of design creativity and excellent fashion sense. On its own, the gown may seem like any ordinary Ankara gown, but combine it as Hamisa did and you have yourself a head-turner.
#7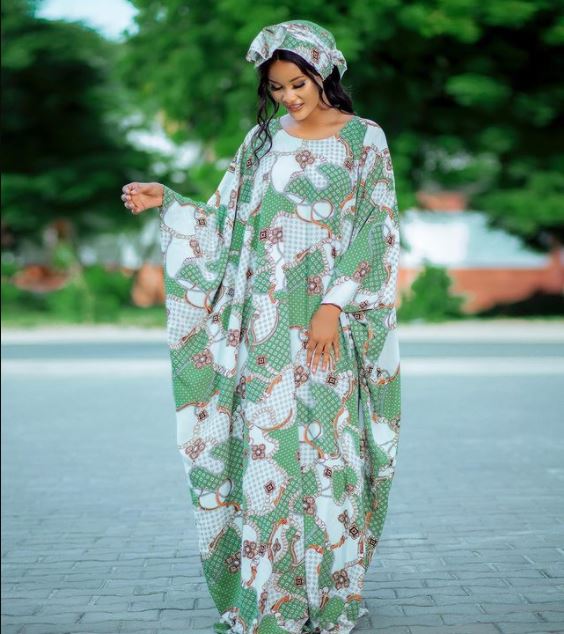 Yet another style that is neither formal nor informal. Yes, not every occasion will befit this dress. But, it is a perfect pick for events like a wedding, despite its understated look. Make sure you back it up with the right accessories.
#8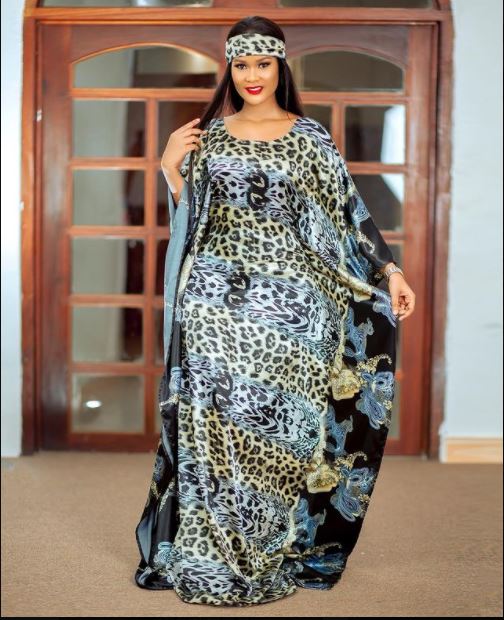 This leopard print has a unique and outlandish look. Well, not everyone can pull this off. Many designers prefer a short butterfly winged gown to a long one. And it's easy to see why. But, whether you're going short or long, don't forget to spice things up with the right accessories.
#9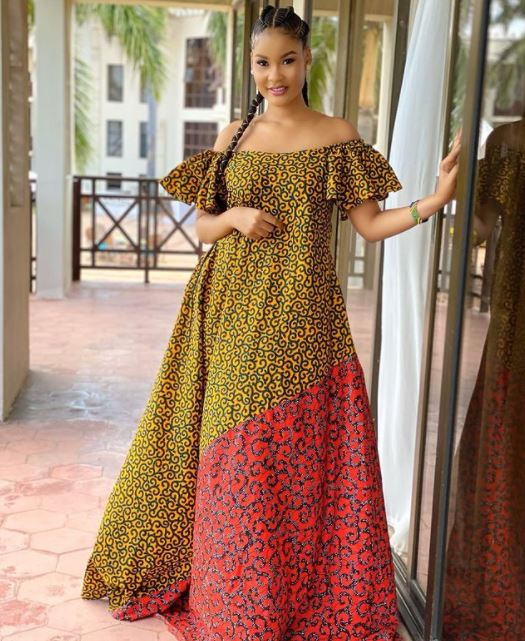 It's the simplicity of this Ankara gown that is alluring. The colors are not so loud and its large size leaves much to the imagination.
#10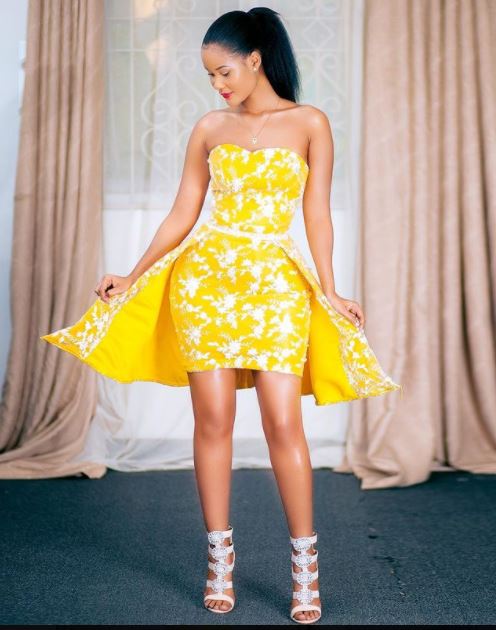 Finally, we'll cap our list with this colorful picture of Hamisa. This dress is a regular tube gown except for the extra flap on the waist. Its white pattern matches the white heel shoes that the model is wearing. The bright colors of this dress make it selective and it can only go well with specific types and colors of accessories. Overall, this is a stunning look.
Conclusion
Hamisa Mobetto's story is both regaling and inspiring. She's an epitome of beauty, with a passion and talent for her craft. As an influencer, Hamisa is using her position to popularize African traditional attires. Her fashion line, Mobetto styles keeps dishing out something new for her fans to feast their eyes on. To see more of her Ankara designs, visit @mobettostyles. Like Hamisa, they are several other African Fashion influencers out there. If you know of any, drop her name in the comment box below. Who knows, she might just feature as our next Afronista.