AFRONISTA OF THE WEEK: The Personal Secret Of Chimamanda Adichie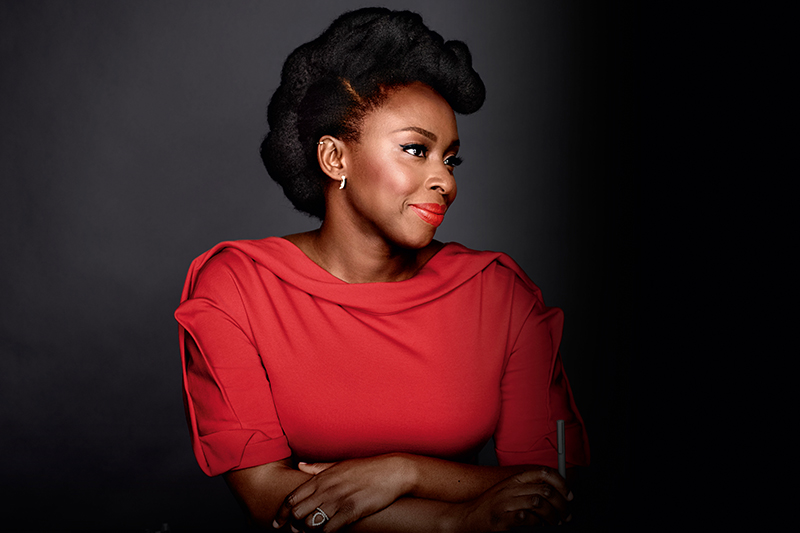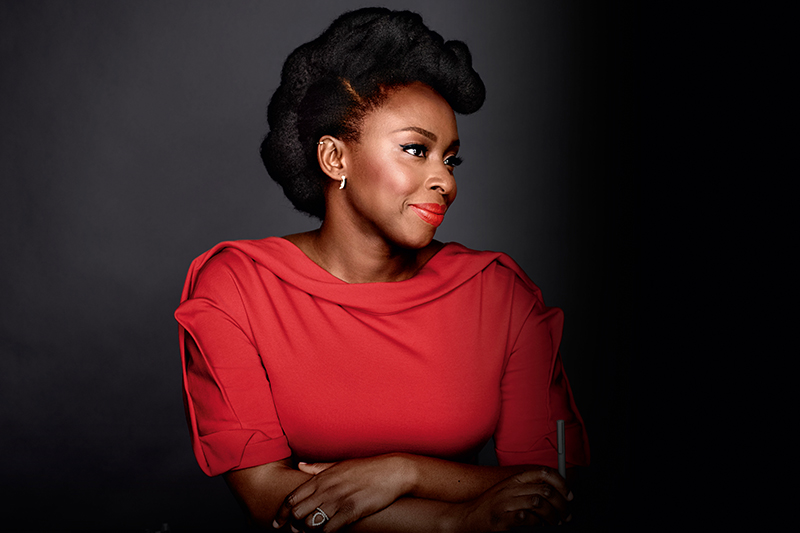 Our Afronista of the week is Chimamanda Adichie, an author who has touched thousands through her epic literary works. Her books have awakened interest in African Literature, particularly among the younger generation. However, besides are awe-inspiring books, she also joins a league of celebrities who grace prestigious events with fabulous African attire. But, she has a personal secret that you probably don't know. Read on to find out.
The Origin of the Name Chimamanda
Chimamanda Adichie recently caused a stir when she revealed her secret. In an interview on 'The Black Box' in January, Adichie confided to Ebuka Obi-Uchendu that Chimamanda was a name she gave herself. According to the author, she chose the name Amanda when she was confirmed in the Catholic Church. However, when she moved to the United States she added 'Chim' in front of it so she could stand out.

The Author's Early Years
Adichie was born in 1977 into a close-knit Igbo family in Enugu, Nigeria. Later, the family moved to the University town of Enugu, Nigeria, where she grew up. Consequently, Adichie attended the University Of Nigeria Secondary School. Upon graduation, she joined the University to study medicine. However, after a year and a half of medical studies, she dropped out and proceeded to the USA to study communication. She graduated from Johns Hopkins University with an MA in creative writing. Thereafter, she was awarded a Master of Arts degree in African Studies by Yale University.
The Birth of an Author
Chimamanda Adichie was an avid reader as a child. Chinua Achebe's work 'Things Fall Apart'' made a big impression on her. This is because she saw her life in it and realized that it was possible to have novels with black characters. In an interview with the Image Journal, she confessed that her journey as an author began in childhood.
''I wrote from when I was six. Even then, I knew that this was something that truly mattered to me. When I was ten, though I had a lot of friends, I remember looking forward to when I could go up to my father's study and be alone and write. It was considered something odd for me to want to do when it was sunny outside. Now, as an adult, I realize it's what I care about. It gives me a sense that this is what I am meant to be doing.''
What is Chimamanda Ngozi Adichie known for?
The books that Chimamanda Adichie writes are about African men and women. She describes their colonial heritage and the events that shaped Nigeria's history. The first book she wrote was 'Purple Hibiscus', published in 2003. She was awarded the Commonwealth Writer's Prize for this outstanding book.
Chimamanda Adichie's Second Book
'Half of a Yellow Sun' was her second novel. It is an intense, vivid story about the events surrounding the Biafra war. The book was published in 2006 and later adapted into a movie that was released in 2014. Chimamanda Adichie won the  Orange Broadband Prize for Fiction for this memorable book.
Next came Chimamanda Adichie's novel 'Americanah' in 2013 and it was a tremendous hit. It resonates with scores of women, particularly African women living in the diaspora. The book chronicles the efforts of an African woman to come to terms with race relations as defined in the United States. Also, it spotlights the challenges of African returnees as they struggle to settle in.
Is Purple Hibiscus a True Story?
Readers often wonder whether 'Purple Hibiscus' is the story of Adichie's life. Adichie did indeed grow up as a Catholic in Nsukka, but the similarity ends there. She had an idyllic childhood with a loving father. This is unlike the father figure portrayed in the book.
What does Half of a Yellow Sun mean?
The title of Chimamanda Adichie's second book also elicits debate on the meaning behind it. The official symbol of the Biafra movement was half of a yellow sun. The dominant Igbo tribe of southeastern Nigeria has been fighting for an independent state. For the optimists, it symbolized the hope of a glorious future. The image, however, depicts a sun that is neither rising nor setting. Hence, it can also signify the precarious position of a movement with no future.
Occasions when Chimamanda Adichie Rocked the African Look
Most writers appear serious with distasteful attires. Certainly not Chimamanda Adichie. She began to emerge as a fashion icon when she initiated a campaign in 2017. She named it the 'Wear Nigerian Project'. Her goal was to support the Nigerian fashion industry by featuring their designs on her Instagram page. Below is a selection of some of the most striking designs she has showcased.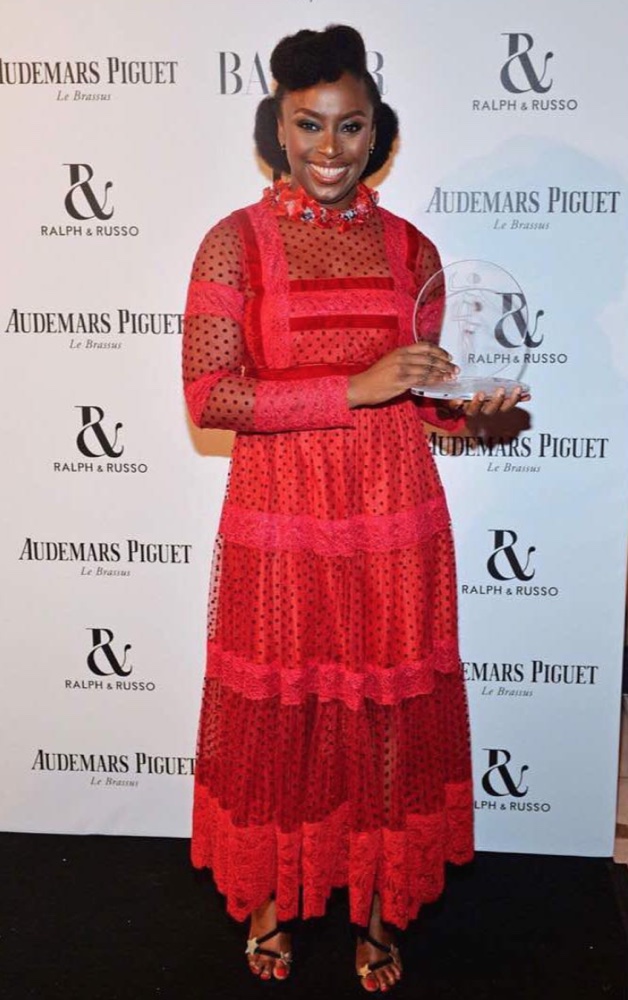 Chimamanda Adichie stuns in a red multi-layered chiffon creation. The gown is demure, yet enticing with a unique neckline crafted out of lace ruffles.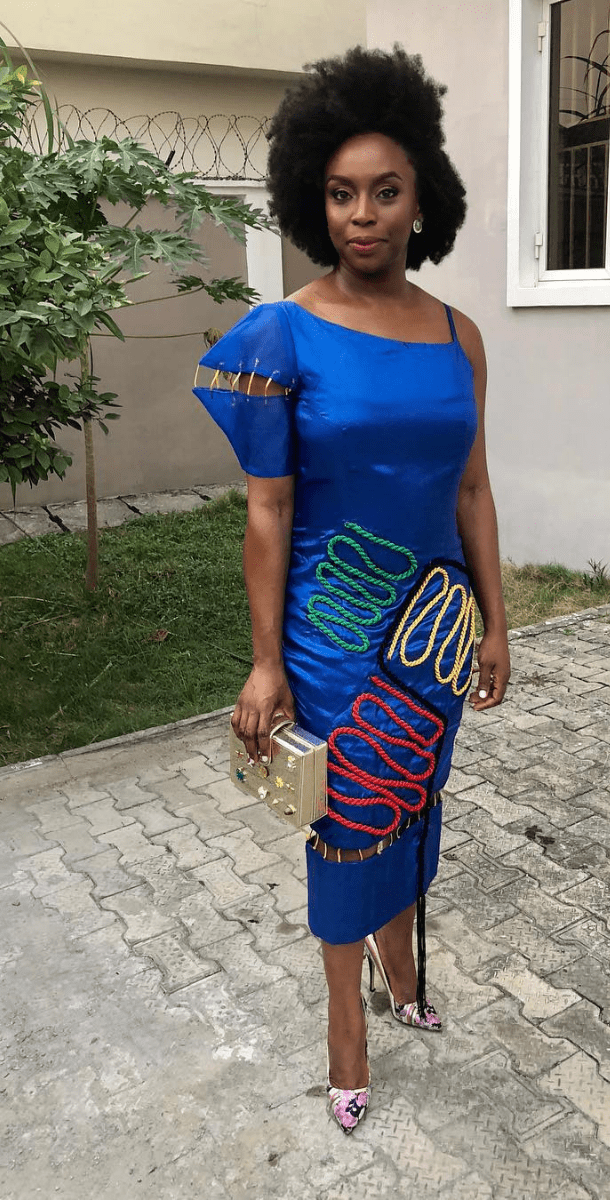 A form-fitting royal blue with multicolored embroidered motifs. Notice how the black embroidery runs out of the dress like 3D. This one-shouldered garment represents bold, cutting-edge fashion.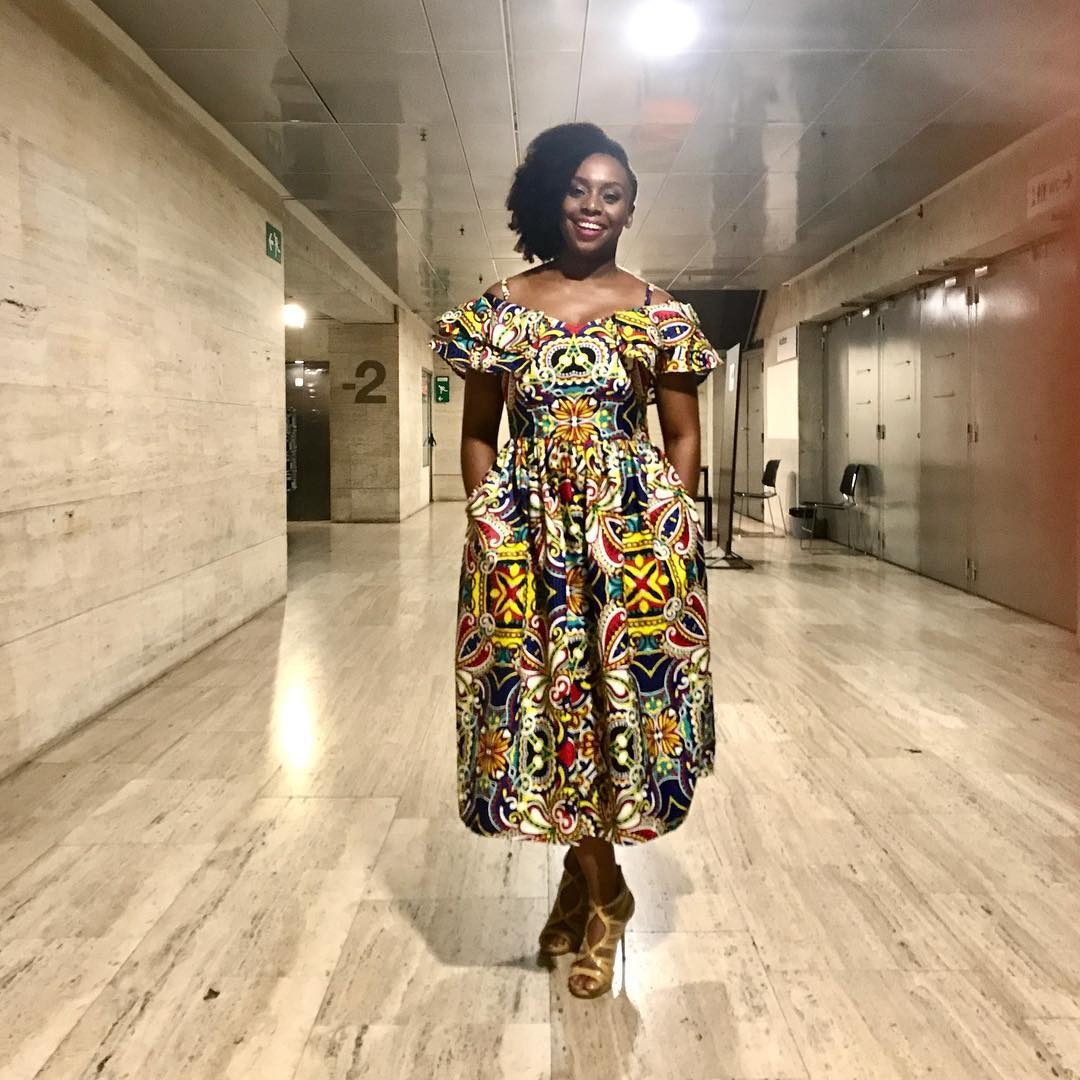 Chimamanda Adichie rocks this full-skirted vibrant outfit. The floral print is in a mix of bold jewel colors. The off-shoulder neckline is enticingly feminine.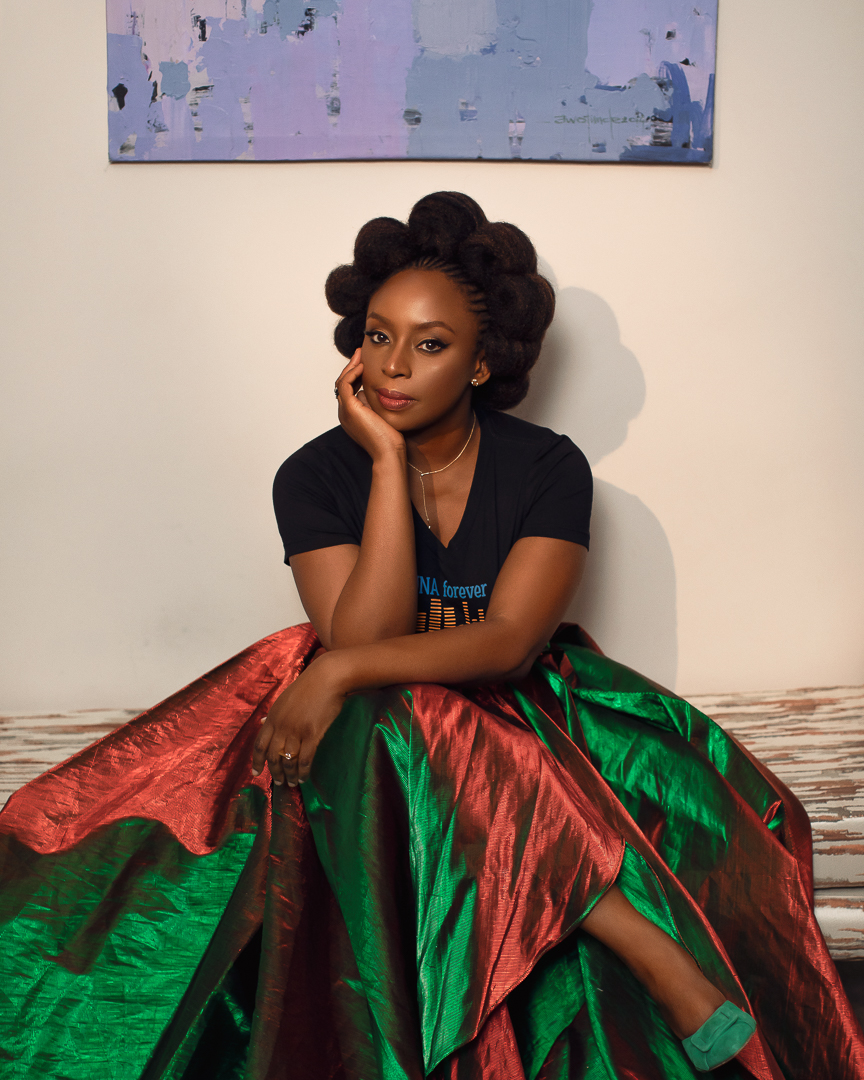 The striking green and rust tones of this full-skirted creation are stunning. The fabric has a rich, smooth texture and the matching velvet shoes are on point.
Chimamanda Adichie's most daring looks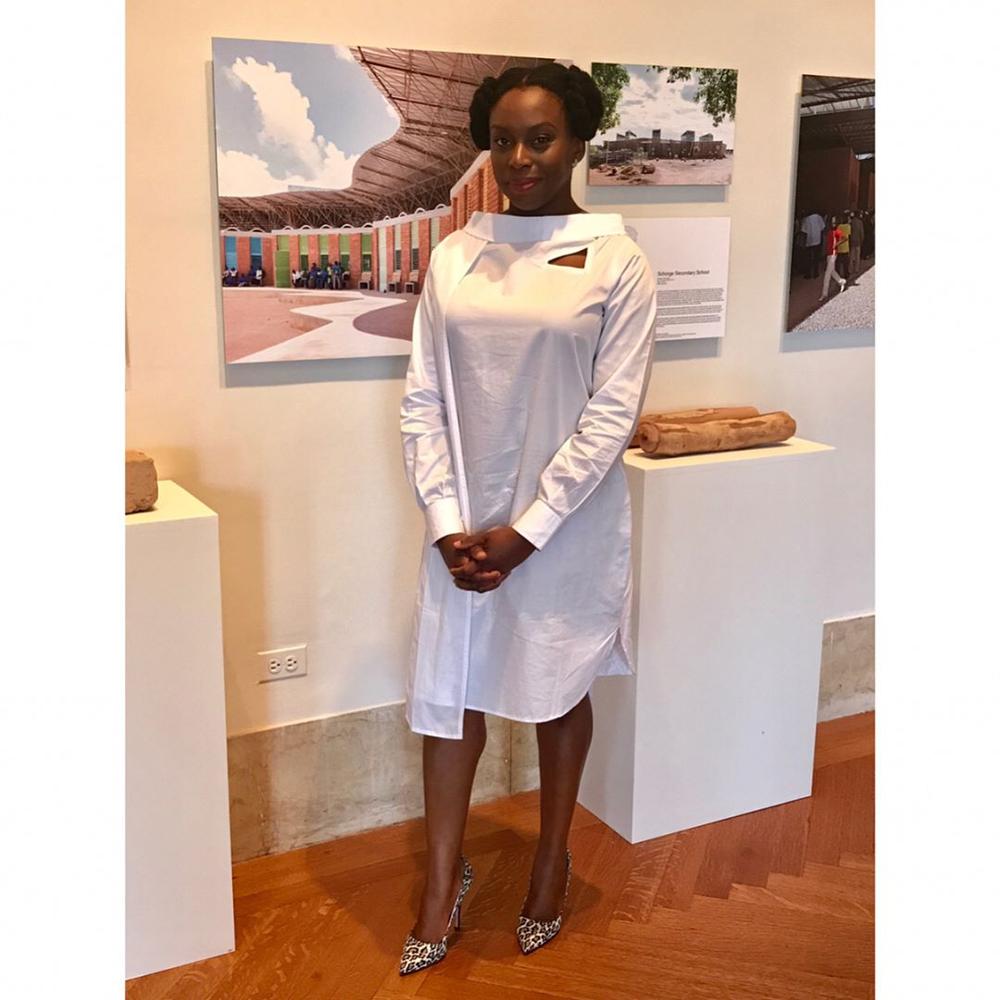 This linen creation has an elegant boat neck and a relaxed fit that ends in an asymmetrical hem. The jaguar print shoes give the appearance African undertone.
Chimamanda Adichie wore this stunning outfit to the Dior Haute Couture show in Paris in 2020. The lovely tulle skirt is from Dior. Chimamanda paired it with a blouse from a Nigerian designer.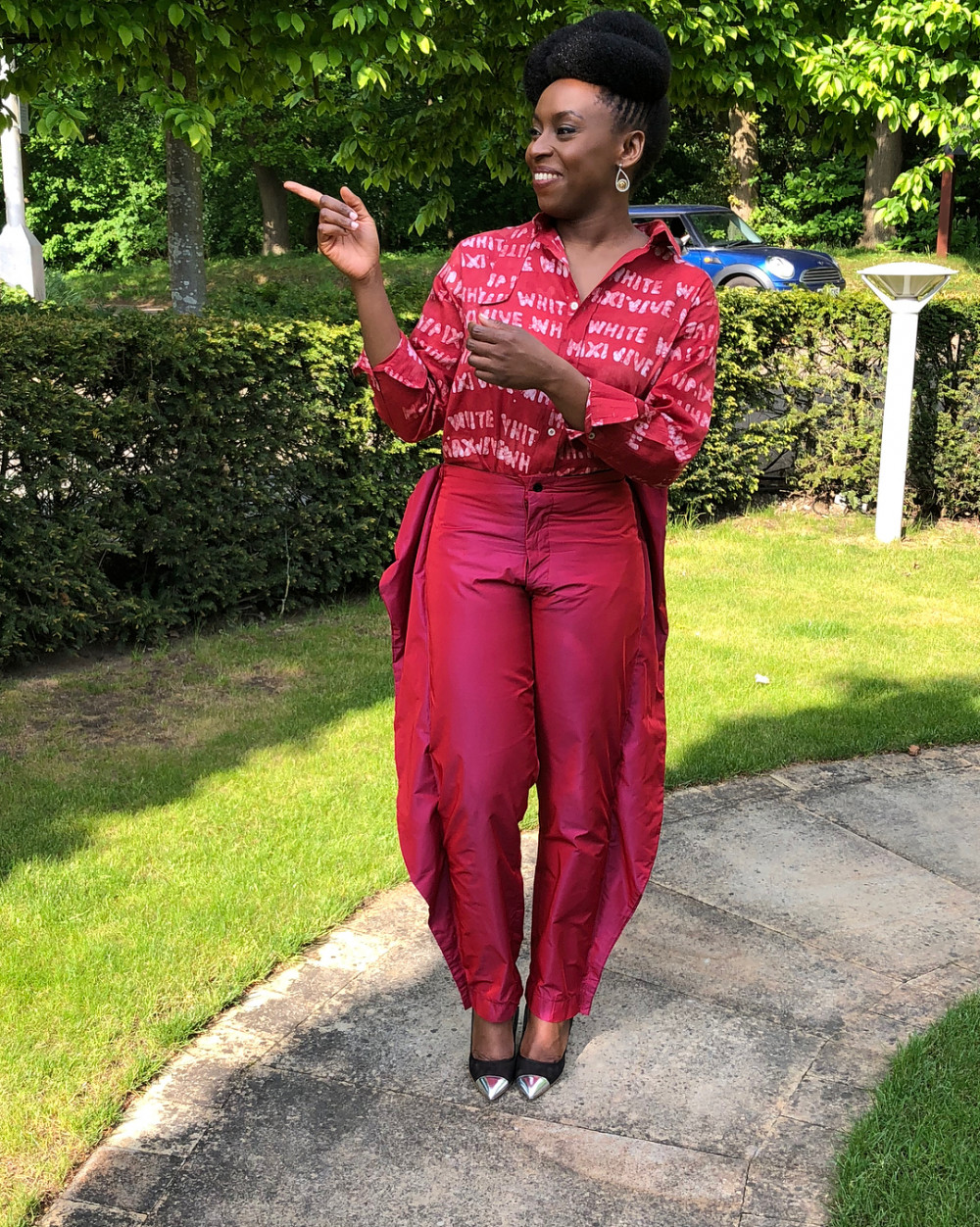 A bold look that features edgy pants that resemble harem pants and a matching top with white motifs. This is a fun, laid-back look, perfect for the weekend.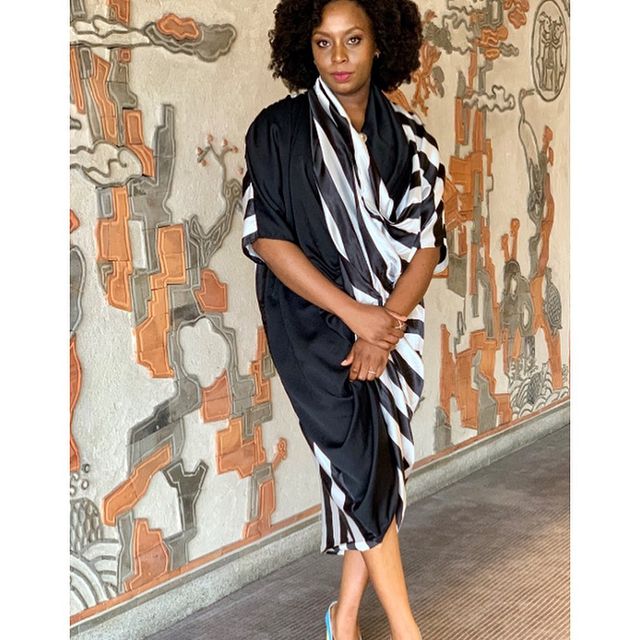 A monochromatic flowing robe that perfectly blends black and white colors to create a timeless, classy look.
Conclusion
Chimamanda Adichie has enriched lives through her books. She has brought history to life for the young generation. As Maya Angelou once said,
"You can't really know where you are going until you know where you have been."
Also, the author's efforts to support Africa designers are worthy of commendation and should be emulated. How many of her books have you read? Share your thoughts with us in the comment box below.