10 African Couple Outfits That Make A Bold Statement
Love is a beautiful thing! This is probably one of the phrases you've heard over and over again—but it will never become cliché. One trend that is prevalent in African communities is the couple matching trend. This is where a couple wear matching attire as a way of celebrating their unit.
It is a practice that is often seen in formal occasions. Sometimes this trend goes beyond just the couple and they dress to match as a family.
We have compiled a list of 10 attention grabbing couple outfits. Which of the outfits is your favorite? Feel free to share your thoughts in the comment box below. Also, if you have a picture of you and your partner in matching outfits, share it with our fans and readers.
#1. Upbeat Cultural Wine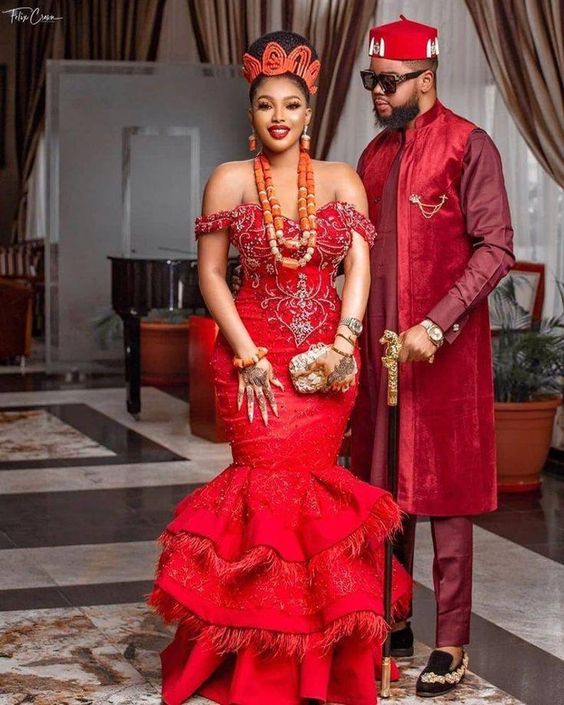 Fine wine is a blend of different ingredients. Likewise, there is a subtle mash of cultures on display here—but you probably missed it. The man is putting on a cap that is native to the Igbo people of southeastern Nigeria while the lady is wearing henna on both hands. This temporary tattoo is popular among the Fulani people of northern Nigeria. However, the lady wraps herself in beads that are famous with Benin people of southern Nigeria. Their outfits bleed different shades of red which is hard to miss in any gathering. Looking for a couple's goal this Valentine? This couple should be your muse!
#2. Ankara's Dark Side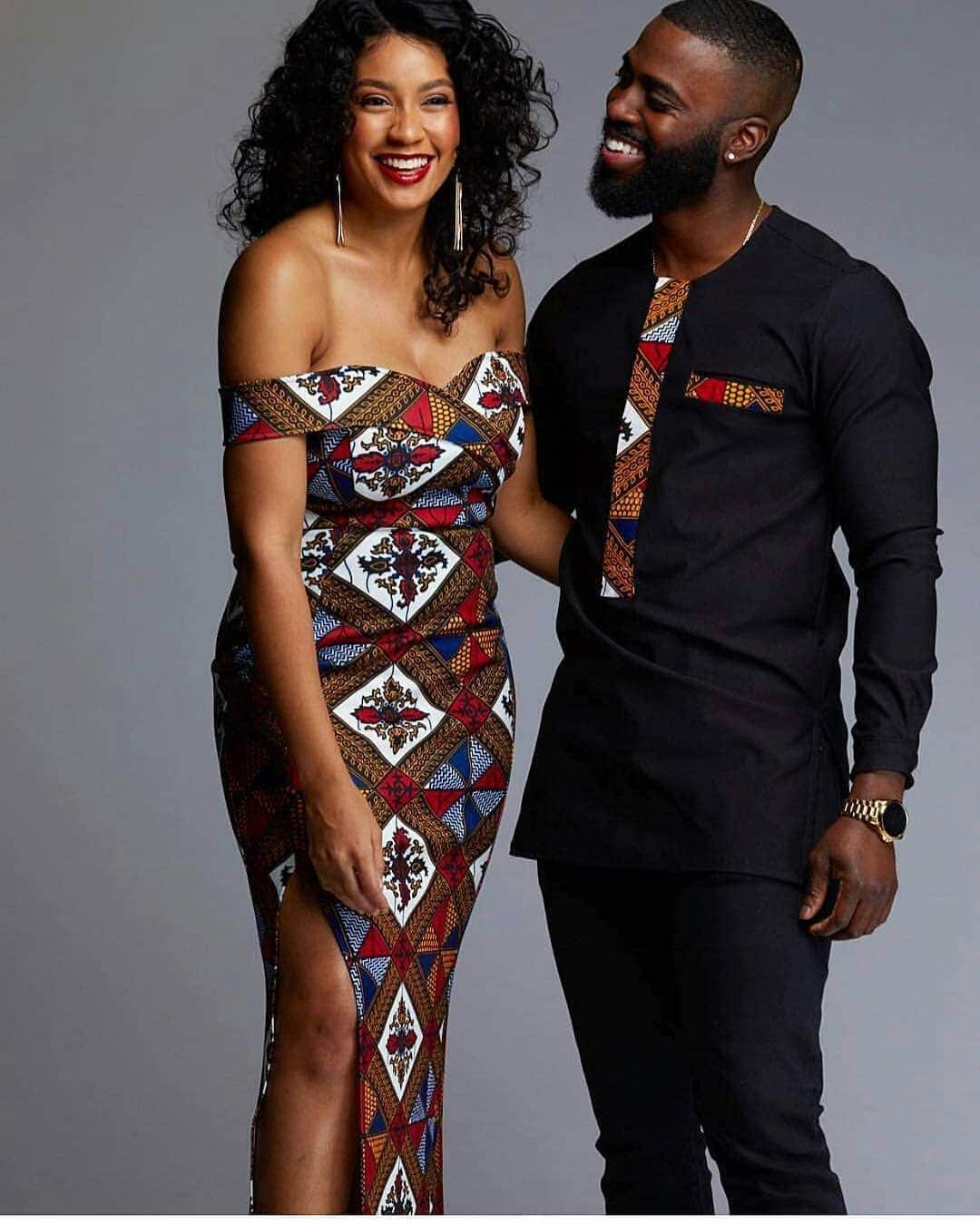 We all know that Ankara is versatile but this couple takes it to a whole new height. The girl is rocking an Ankara off-shoulder gown with a long slit to the thigh. However, someone may tease that the guy used the leftover fabric to touch up his chest line and pocket. Nevertheless, this African couple is dripping with awesomeness. Their smile is really infectious. Guess you are smiling too.
#3. Neville and Nelly's World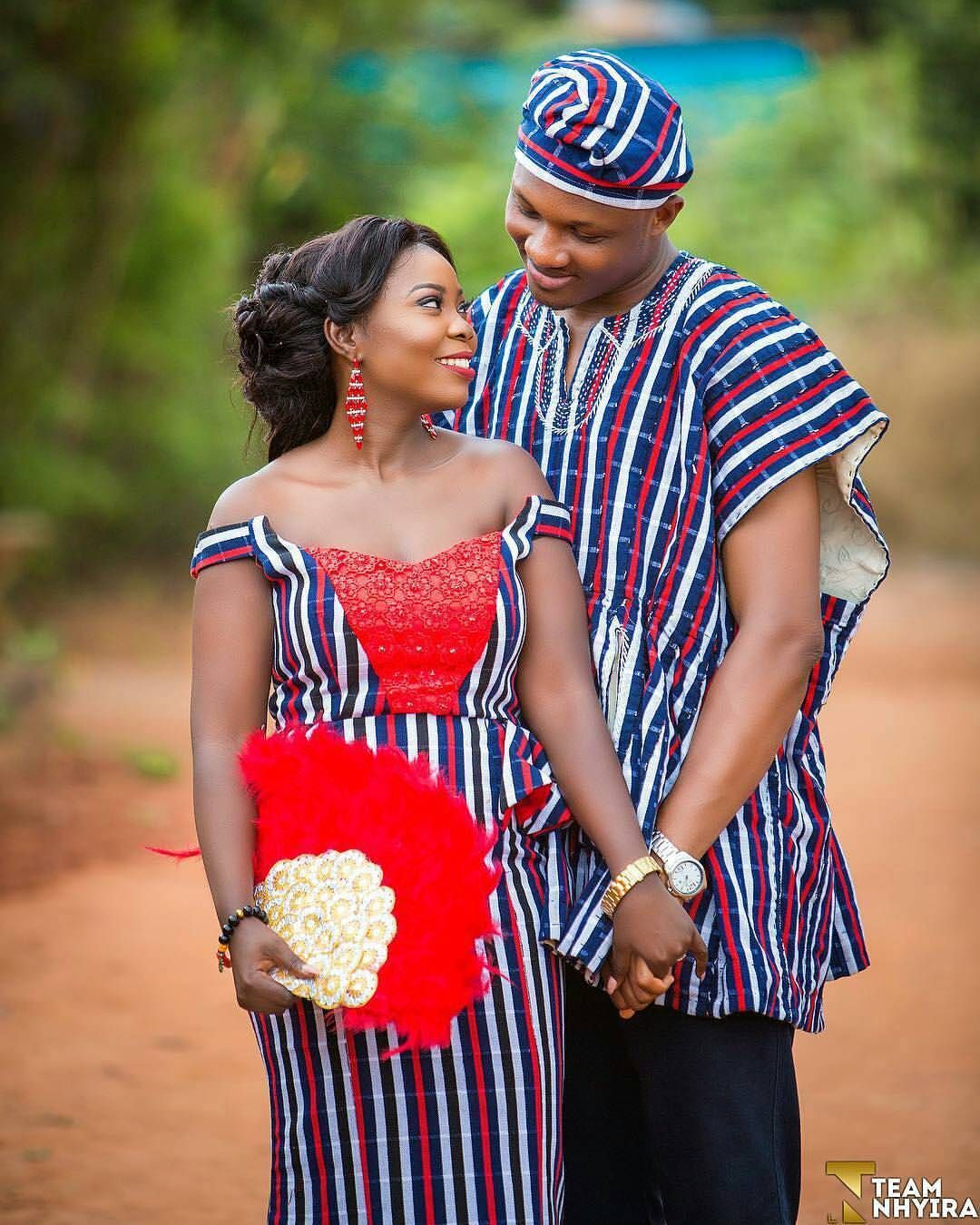 Welcome to the world of Neville and Nelly. These young doctors want to show you that they know more than prescriptions and injections. This time they are prescribing fashion—and we don't care if we get the overdose. Rocking beautiful Ghanaian native attire, this African locks hands and eyes in a romantic way that will get lovers tearing. Not even the beautiful red and gold hand fan can get your eyes off these lovebirds. Another couple and career goal right here.
#4. Snow White and the Kente Slit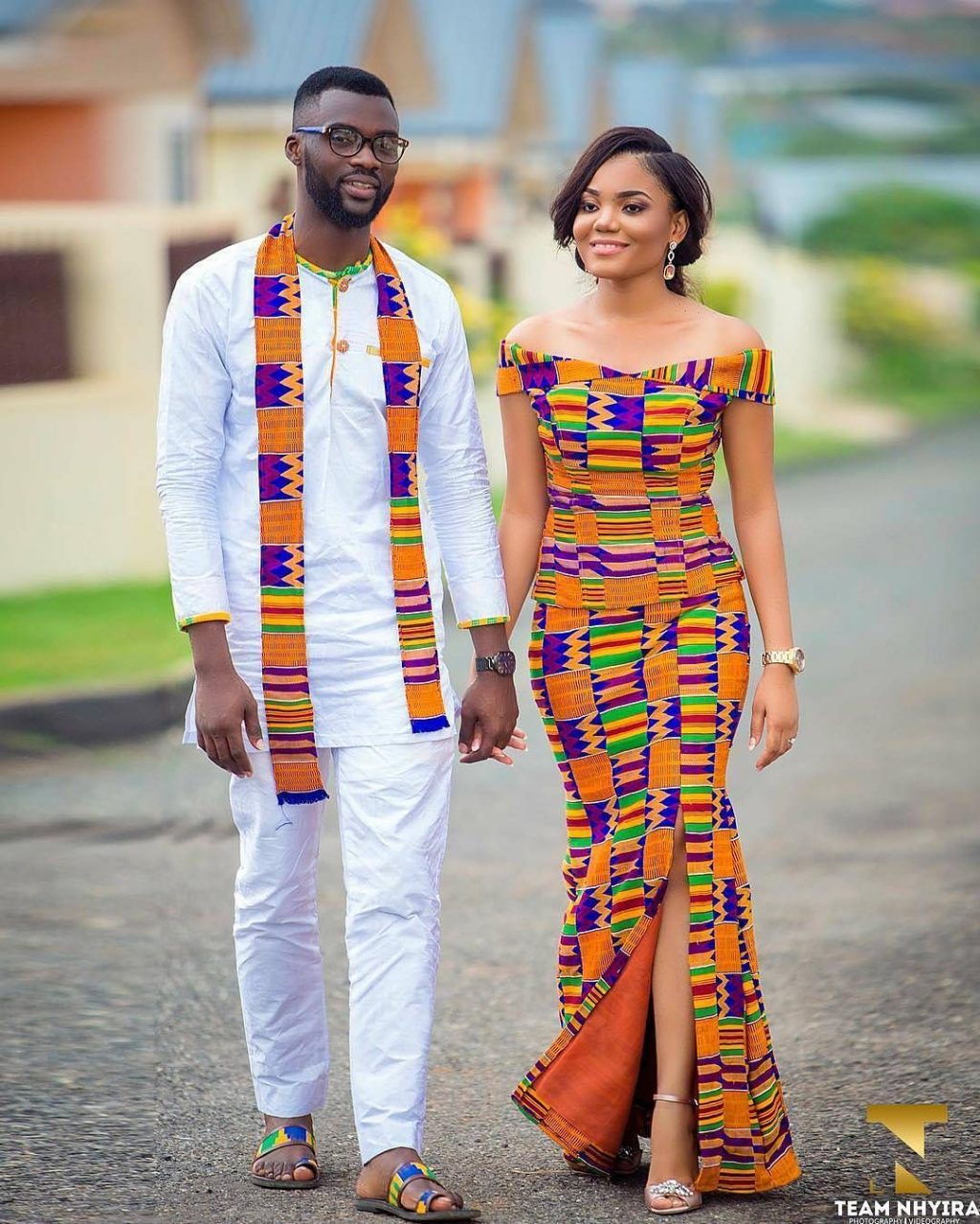 This is another combination that will leave you thinking, "Why on earth haven't I thought of this?" The lady is wearing a skirt and blouse made totally from Kente. This fish-tail skirt has a slit that runs to the knee close to the center. Although the man is wearing a white shirt and trousers and a kente muffler. If you look closely, you will discover the man also has a flipflop with Kente design. This African couple will easily steal the show wherever they go.
#5. Perfect Ankara Match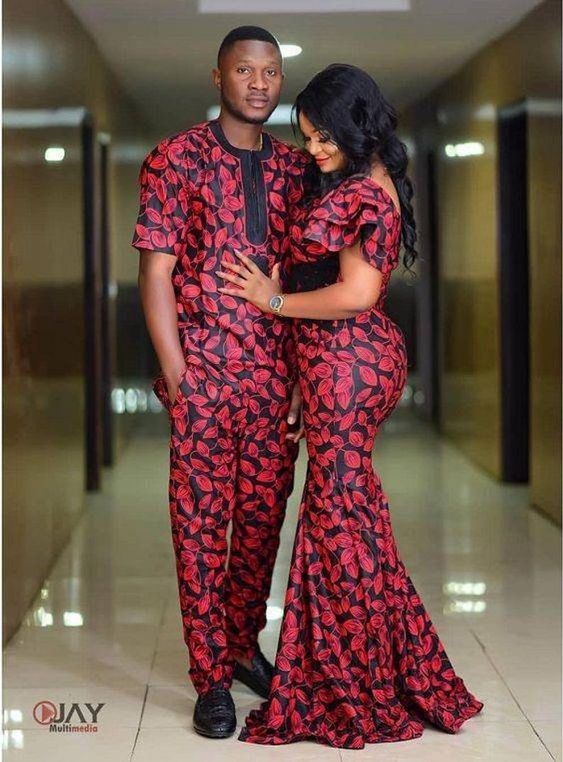 For most couples, the lady will wear the Ankara while the guy will just use a small part of it to embellish his plain white or black outfit. This lovely African couple begs to differ. Both of them are completely wrapped in this glowing red and black leaf-patterned Ankara. The look in their eyes tells their beautiful love story. Their outfit is also a reminder that love don't cost a thing.
#6. Deep Blue Love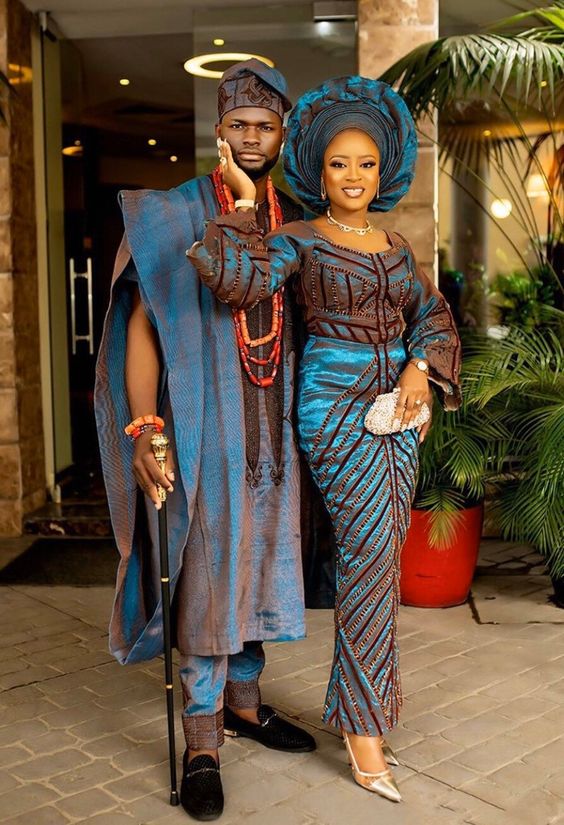 Inasmuch as Aso Oke can trace its root to the Yoruba people of southwest Nigeria, it has now become the property of the world. This lovely couple kicks the admiration a notch higher with matching accessories. If you are already planning towards a chinwagging wedding, this outfit should be at the top of your list. Guess what you'll get when you blend fashion with beauty and handsome? This couple!
#7. Couple's Golden Era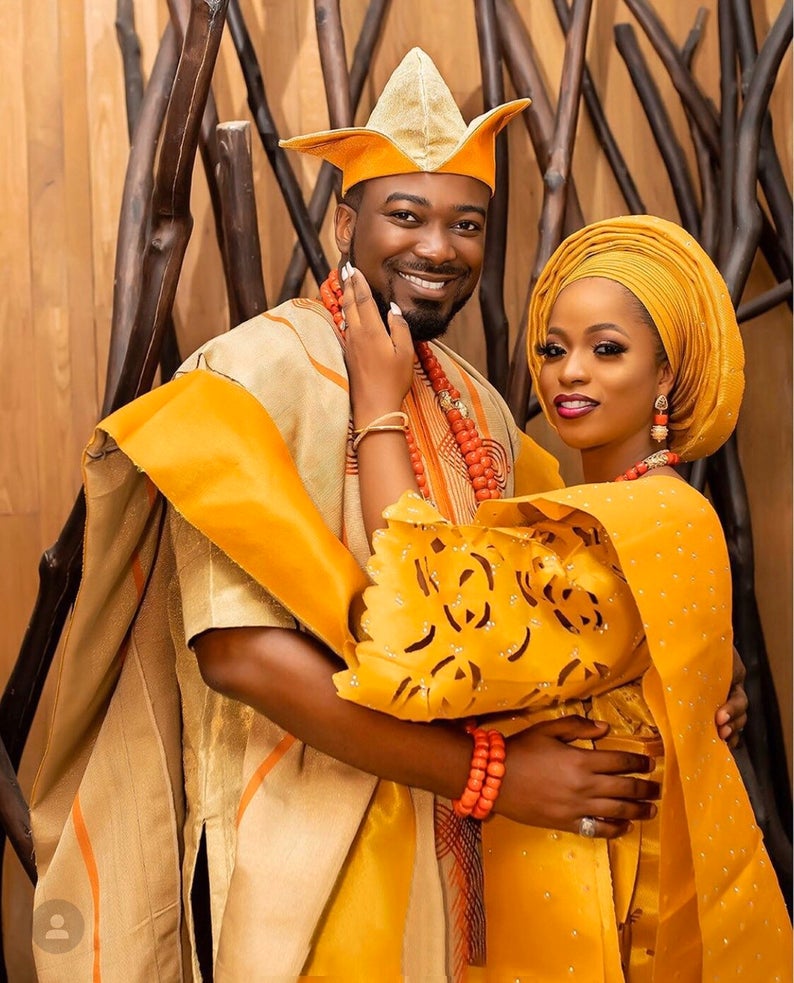 Source: Luciano World
No, it is not their golden jubilee. However, this African couple stuns in their golden Aso Oke. The only thing that is more beautiful than their outfit is their lovely smile. You must salute the designer of the female's dress for taking the time to add the stony design. Obviously, not everyone can pull this off. So, expect to pay a little extra if you want this beautiful design to be yours.
#8. Leagues of Xtraordinary Kente Couple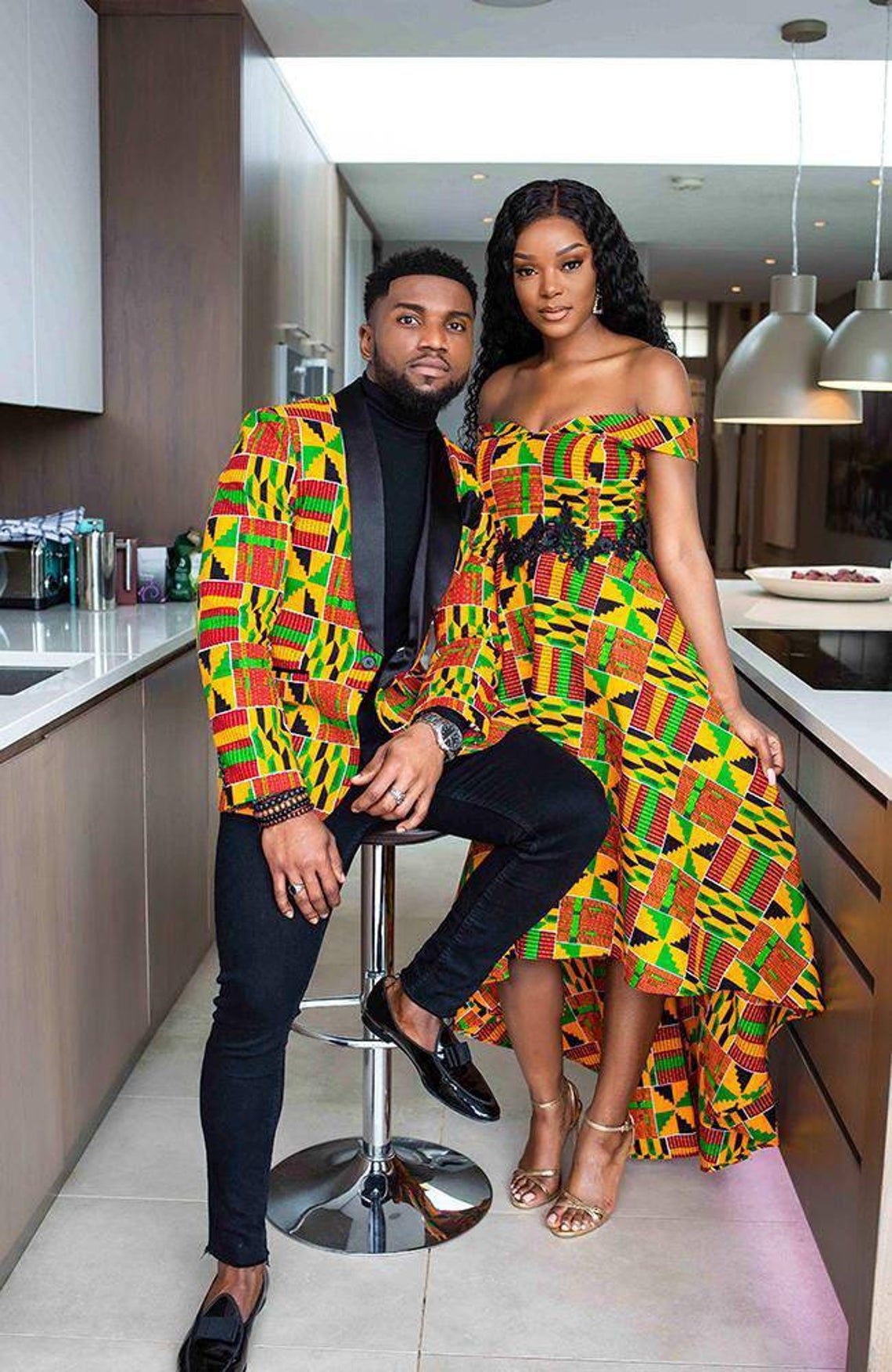 It is a rare occurrence to find an African print made into a suit. This couple pulls it off. This could pass as attire for walking down the aisle—if Africans can embrace the mindset that a wedding must not be done with a white gown. The lady rocks a Kente off-shoulder with a peplum. Her man, on the other hand, makes the Kente into a jacket which he wears over a long-sleeve sweater. Well, the best we can do is wish it was us.
#9. Ankara Dinner Wear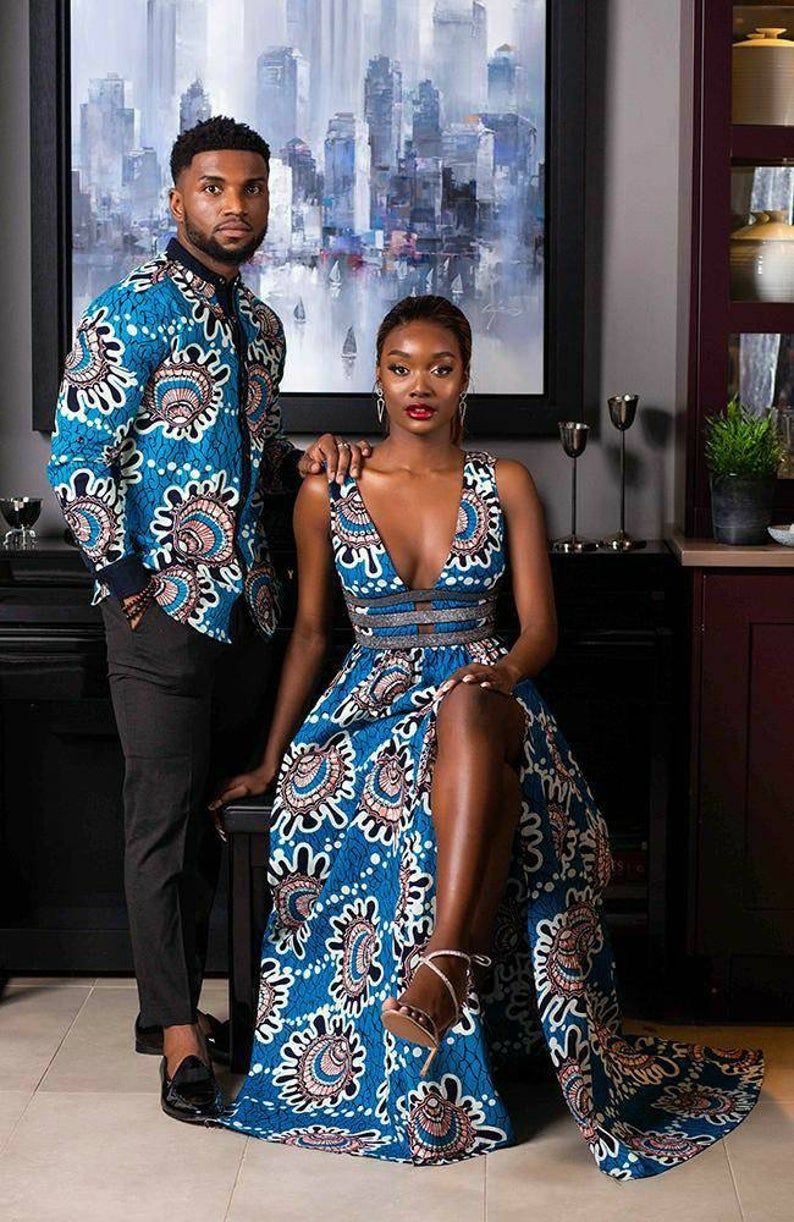 This cute couple is probably heading for dinner. While we do not envy them, we pity the ill-prepared couples that will be in the same arena with them. For the guy, this is a pretty simple shirt and trousers. However, things begin to get a little complex and you move to his partner. Obviously, she is not afraid of baring her cleavage. Tell us what you think about this couple in the comment box below.
#10. To the Bride and Groom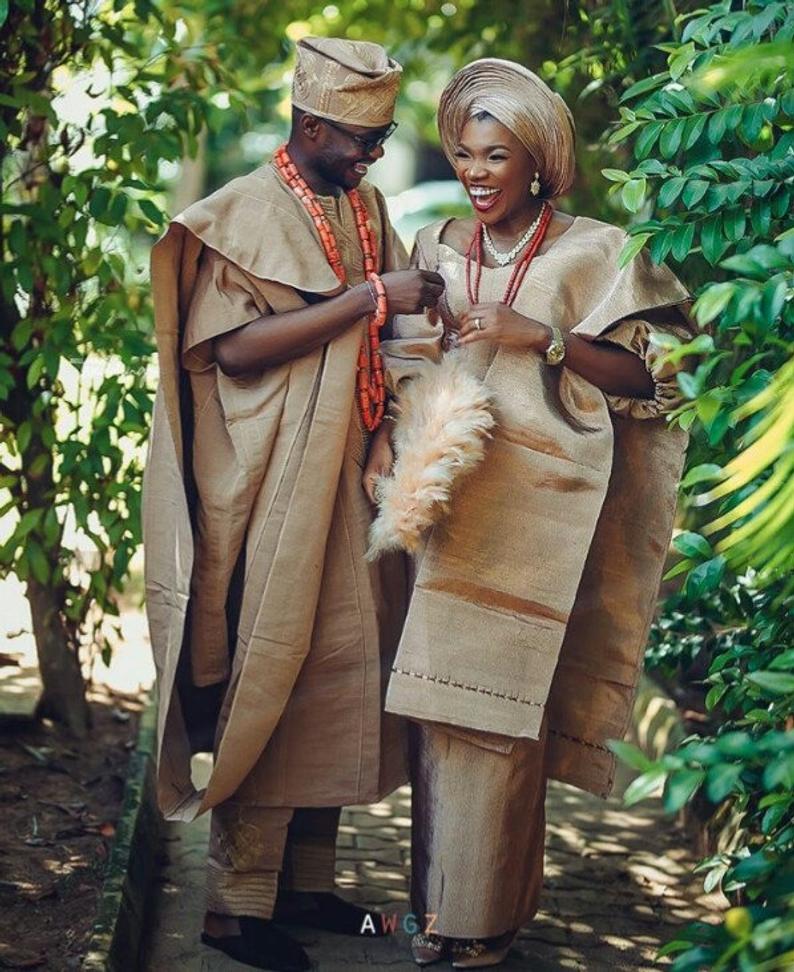 Although the last on this list, this African couple is far from the least. Their fashion sense is simply incredible and is next to their infectious laughter. If you are already admiring this beautiful African couple's outfit, the first thing you should know is that it gulps lots of material. Well, nothing can be too much for love, right?
Conclusion
There is a popular saying that a picture can say a thousand words. Really, we often lack words to describe some of the lovely African couples in our picture. However, we hope their pictures will say what is in our mind. Do you have a cute picture of yourself and your partner like the ones we profiled? Feel free to send them to us.