How Uganda's Silent Café Is Changing Deaf Culture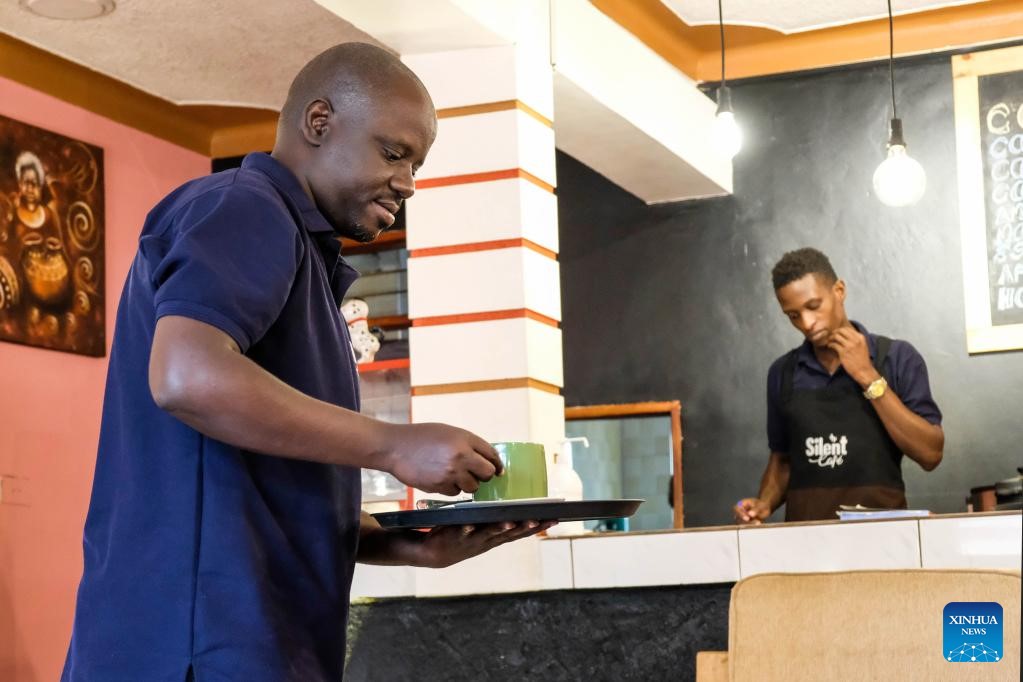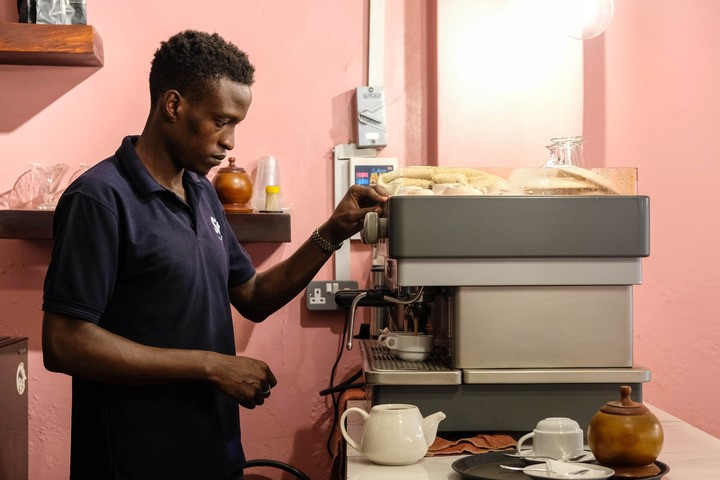 In most African countries, people living with disabilities still face discrimination and are often considered unemployable. About 3.4% of Uganda's population lives with several degrees of deafness. In plain figures, that is over one million people.
In reality, this figure could be higher considering the inadequacies in data collection. This is made worse by the fact that deafness is not something you can see.
Sadly, they are the most excluded minority groups in the country. The negative deaf culture in Uganda makes it hard for people living with deafness to live a normal life. Some of them are condemned to the street where they have to beg for survival.
ALSO READ: Signs TV Uganda Is Bringing Vital News To The Deaf Community
Surprisingly, a large number of Uganda's deaf population were not born deaf. Some only turned deaf due to childhood sickness. One of them is Nasser Ssenyondo who became deaf at the age of 10. Seeing the absurd deaf culture in Uganda, he decided to open 'Silent Café' to challenge the deaf culture in the country.
Silent Café opened on December 3, 2021, which coincides with the international day for people living with disabilities. As of September 2022, the café had five staff on its employment roaster and only one of them is without hearing impairment.
A sneak peek into Uganda's Silent Café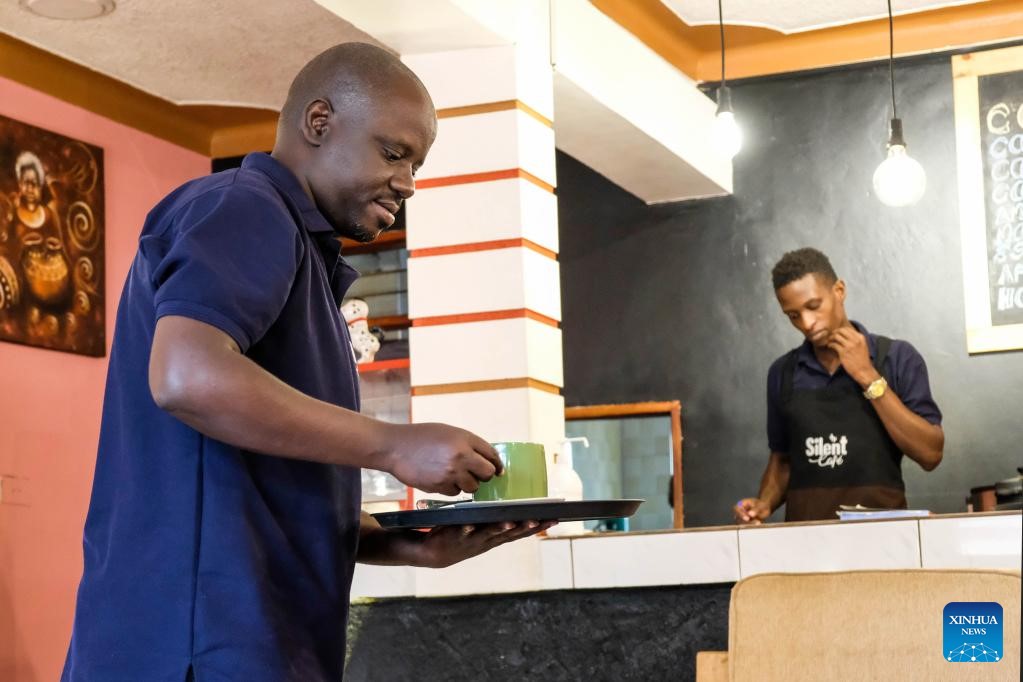 Silent Café sits by a corner in the noisy and dusty town of Nankulabye on the outskirts of Kampala. Walking into the coffee shop, you will be greeted by two large paintings on both sides of the sliding door. You will also find big black bowls containing live plants and pieces of furniture made from polished wood.
As you walk right through the door, a strong coffee aroma fills your nostrils. Silent Café is an eatery operated entirely by deaf people. The owner, Nasser Ssenyondo, wants to change the deaf culture by encouraging everyone that walks into the shop to get acquainted with sign language.
Consequently, a sign language board hangs on one side of the wall. Behind the counter, there is another board where the menu and prices are inscribed. Besides the occasional hum of the expression machine, the glass doors isolate you from the noise of the busy street.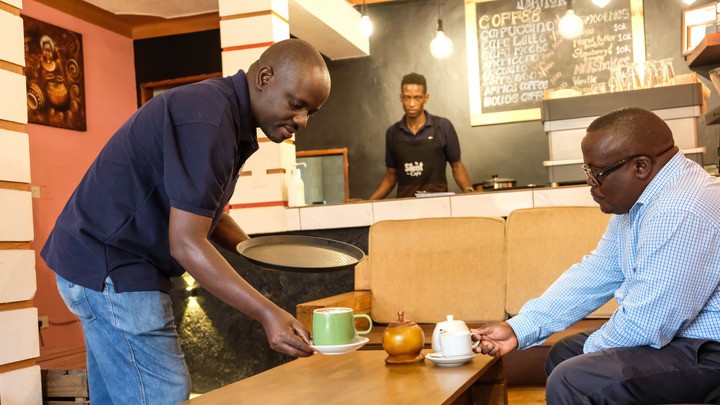 The manager and barista, Roy Rusa, welcomes customers with a broad smile and sign gestures. Those that don't understand sign language can easily point at the menu or write it down on paper. Silent Café is a miniature description of what a disability-inclusive society should look like.
"We are working towards building an inclusive society. Silent Café is my contribution towards solving the challenge of unemployment facing deaf people," Ssenyondo said in an interview with Xinhua.
 "My love for coffee started a long time ago. My parents were coffee farmers and used the money to get me through school. Coffee has literally cared for me through thick and thin".
The motivation behind Silent Café
According to Nasser Ssenyondo, the proprietor of Silent Café, the reason behind the restaurant was to change people's attitude towards deaf people. In other words, he was tired of the deaf culture that discriminated against people of his kind.
Apart from changing the deaf culture, Ssenyondo is also using the restaurant to offer employment to people with hearing difficulties. Consequently, he is helping them to realize that they were capable of doing anything like every other able-bodied people. He clarified this goal in an interview with Xinhua.
ALSO READ: Preliminary Exploration Reveals Shocking Gold Deposit In Uganda Worth Over 12 Trillion USD
"My goal is to take actions with socio-economic impact for people living with disabilities. There is a need for their inclusion. It is crucial for society to realize that life is not a contest, but rather a collaboration. We are all equal."
An unlikely path to deaf activism
Now in his thirties, Nasser Ssenyondo was born in the central Ugandan district of Masaka. He turned deaf after suffering from meningitis. Notwithstanding the negative deaf culture at that time, his parents who were coffee farmers saw him through school.
Nasser Ssenyondo has a master's degree in business administration but has turned to social work to help people living with disabilities. According to Ssenyondo some communities in Uganda see deaf children as a curse. People don't want to interact with them and this makes their childhood tough.
Some students end up dropping out of school due to discrimination. However, he believes the root cause of the discrimination and negative deaf culture is ignorance. It is this ignorance that he is working hard to change.
Changing one stereotype at a time
Since the setting up of Silent Café, the deaf culture in the community has improved. Chris Mugaya who dines frequently at the restaurant attests to this. Firstly, he notes that the environment of the café encourages business and social networking.
"I used to see deaf people doing sign language but wasn't sure of how to respond. That has changed. I now know how to interact with them. Silent Café has built a bridge between deaf people and people that speak".
ALSO READ: Non-Profit Spotlight: Chioma Ohakwe Is Shining Light For Blind People Through Bethesda Home For The Blind
Working in Silent Café has also changed the life view of the deaf staff. For example, Roy said working in the restaurant has helped to restore his confidence. He now interacts more with hearing people and even dreams of becoming a trainer someday.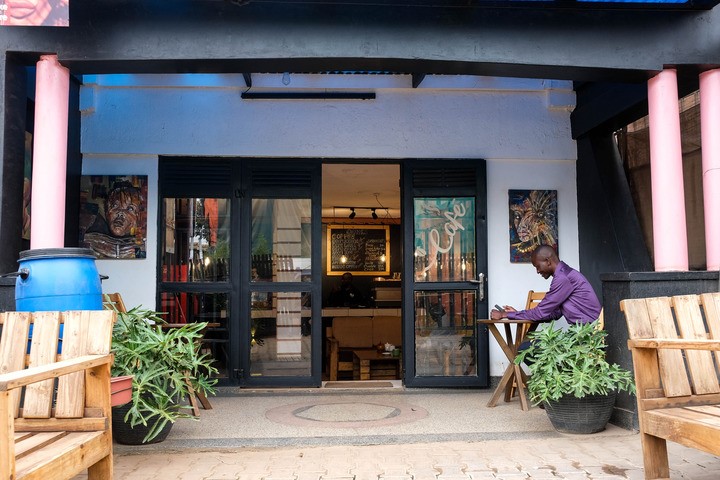 Moses Atwaro, the only hearing employee of Silent Café, said it was a new experience. However, he said that they are gradually getting along. He said he interacts with the other staff members and they always ask each other for clarification on anything they don't understand.
Silent Café has also inspired another restaurant Endiro Coffee to set up a sign language café. As of 2019, 47% of people living with disability in Uganda were not part of any economic activity. The Ugandan government is often blamed for not doing enough to ensure the equality of people living with disabilities.
However, Bumali Mpindi, the Chairperson of the National Union of Disabled Persons of Uganda (NUDIPU), is working hard to have the government sign a 5% quota agreement for persons with disability. Although that is not enough, it will certainly be a starting point toward social integration.
Join African Vibes Community for more positive African news, exciting tips, and discussions.