Designer Spotlight: Mzukisi Mbane Is Building Afro-Futuristic Fashion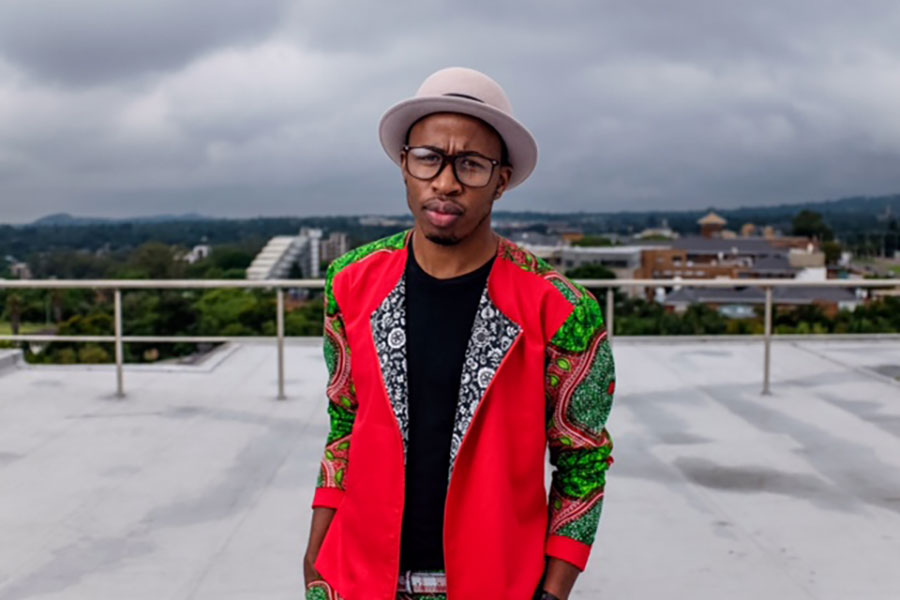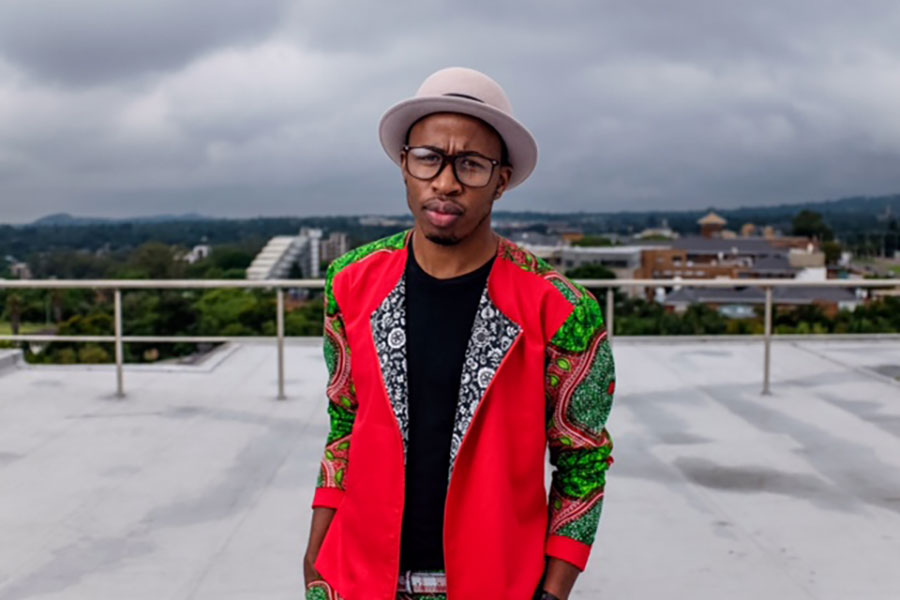 Our designer spotlight is on Mzukisi Mbane, the African designer and founder of the luxury fashion brand 'Imprint ZA'. This creative entrepreneur believes that fashion is a force for change. Also, he has the conviction that it can be a platform for influencing reforms. As a result, it will achieve a better future, free of inequalities. Mzukisi Mbane's label produces outfits that are fashion-forward, with streetwear nuances and a liberal element of cultural vibe. His creations are a hit with fashion lovers. As a matter of fact, notable publications such as Vogue, Elle, and GQ have run profiles on Imprint ZA.
The Most Beautiful Object in South Africa
Design Indaba is a South African design event that started in 1995. For the last two decades, it has promoted and celebrated all creative sectors. Moreover, they have accomplished this both within Africa and globally. Its focus has been on transforming the design field into one that improves the quality of life and gives dignity. It has been instrumental in encouraging local talent to venture into global markets.
Each year Design Indaba asks cultural influencers to choose 10 pieces that they consider extraordinarily beautiful. In 2019, Mzukisi Mbane was among the nominees for his 'African Bridal Dress'. The gown is a vintage, non-traditional wedding gown created with a mix of ethnic prints. Uniquely, it has bright colors and the Victorian silhouette renders it outstandingly beautiful.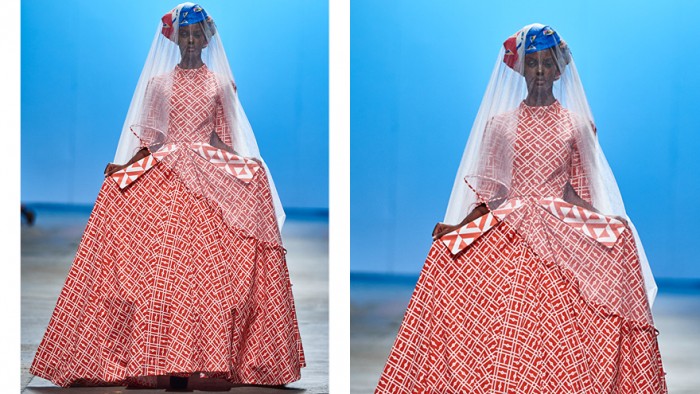 Mzukisi Mbane a Design Indaba Emerging Creative
The Design Indaba's Emerging Creatives program selects innovative designers from around the country to attend the annual festival in Cape Town. During the event, they get to showcase their work. This once-in-a-lifetime opportunity gives new designers invaluable exposure and has launched many careers. Mbane was part of the 2015 Emerging Creatives program, about which he said to Design Indaba,
"That space of being an Emerging Creative for those few days transformed my business to the next level,"
His Early Life
From a very young age, Mzukisi Mbane knew that he had the marking of a designer within him. He was born and brought up in a Township known as Khayelitsha near Cape Town. His mother was a seamstress, and his grandmother a fashionista. Subsequently, it was his mother's sewing machine sitting on the kitchen counter that awakened Mbane's love for fashion because he started teaching himself how to sew.
After his Matric, he joined the university and qualified as an Accountant with BCom Accounting. He took a sabbatical during his final year to pursue design.
Mzukisi Mbane Transitions to Fashion
Mbane's first brand was 'Swagger Diarez'. However, he later rebranded to the 'Imprint ZA' label. The word 'Imprint' is significant as it embodies his vision, i.e to 'leave a mark'. Thus, Imprint ZA is all about celebrating cultural roots with a futuristic nuance. In addition, Imprint ZA creations have structure, texture, and bold prints to make a memorable impression. Mzukisi Mbane uses traditional prints and motifs which evolve with each collection.
Milestones in his career
2015 – Indaba Emerging Creative
2015 – South Africa Men's Wear (SAMW) presented a ready-to-wear menswear collection
2016 – Ghana Fashion and Design week
2017 – Mercedes Benz fashion week in Cape Town
2018 – Africa Fashion International's Johannesburg fashion week
Below are some of his outstanding pieces.
Resplendent in Red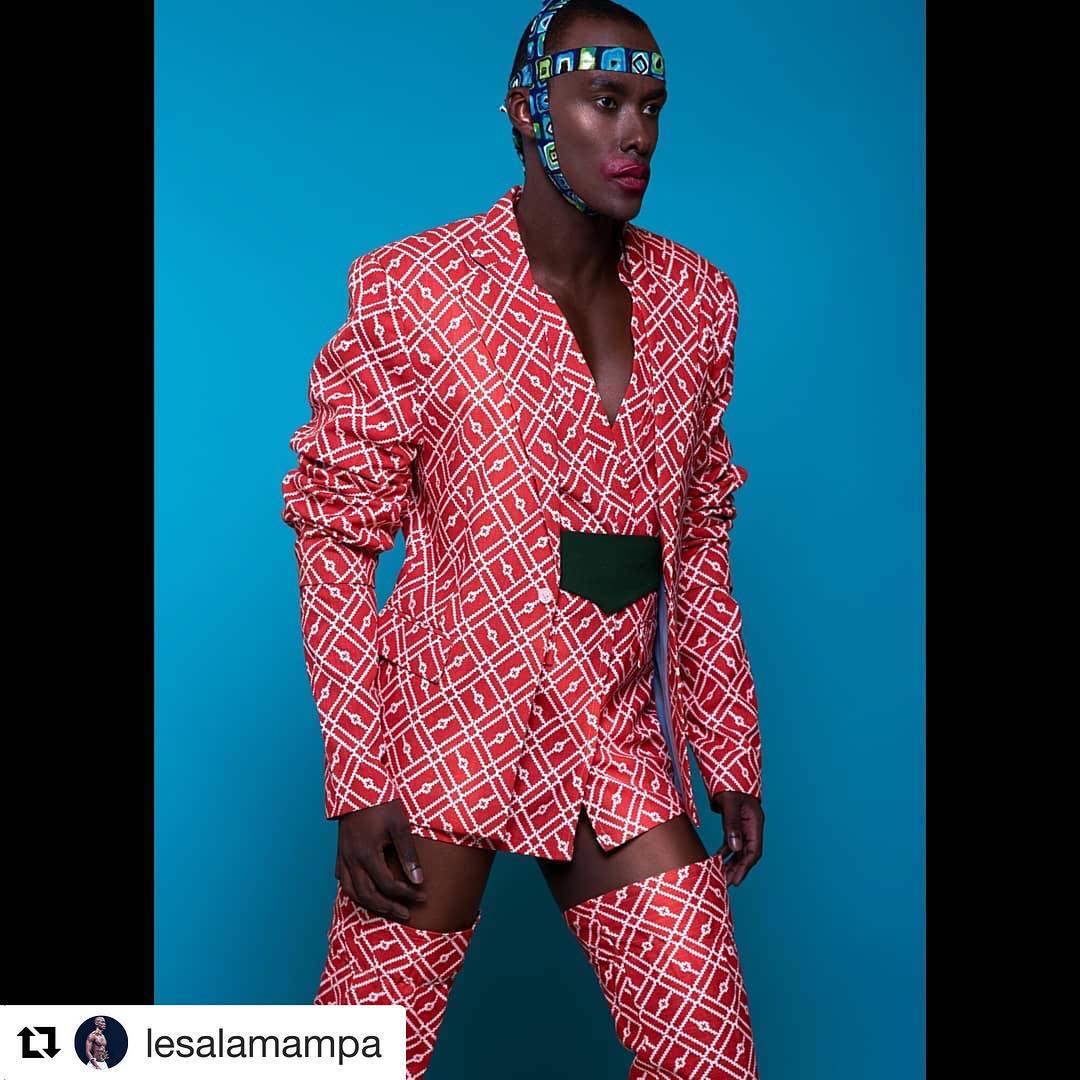 Mzukisi Mbane is an African designer who does not believe that clothing is gender-specific. This is evident in the above futuristic creation featuring a matching shirt and a splendidly cut coat. It is in a distinctive red and white print that is featured prominently in the collection. This is a symbol of Mbane's version of a modern man.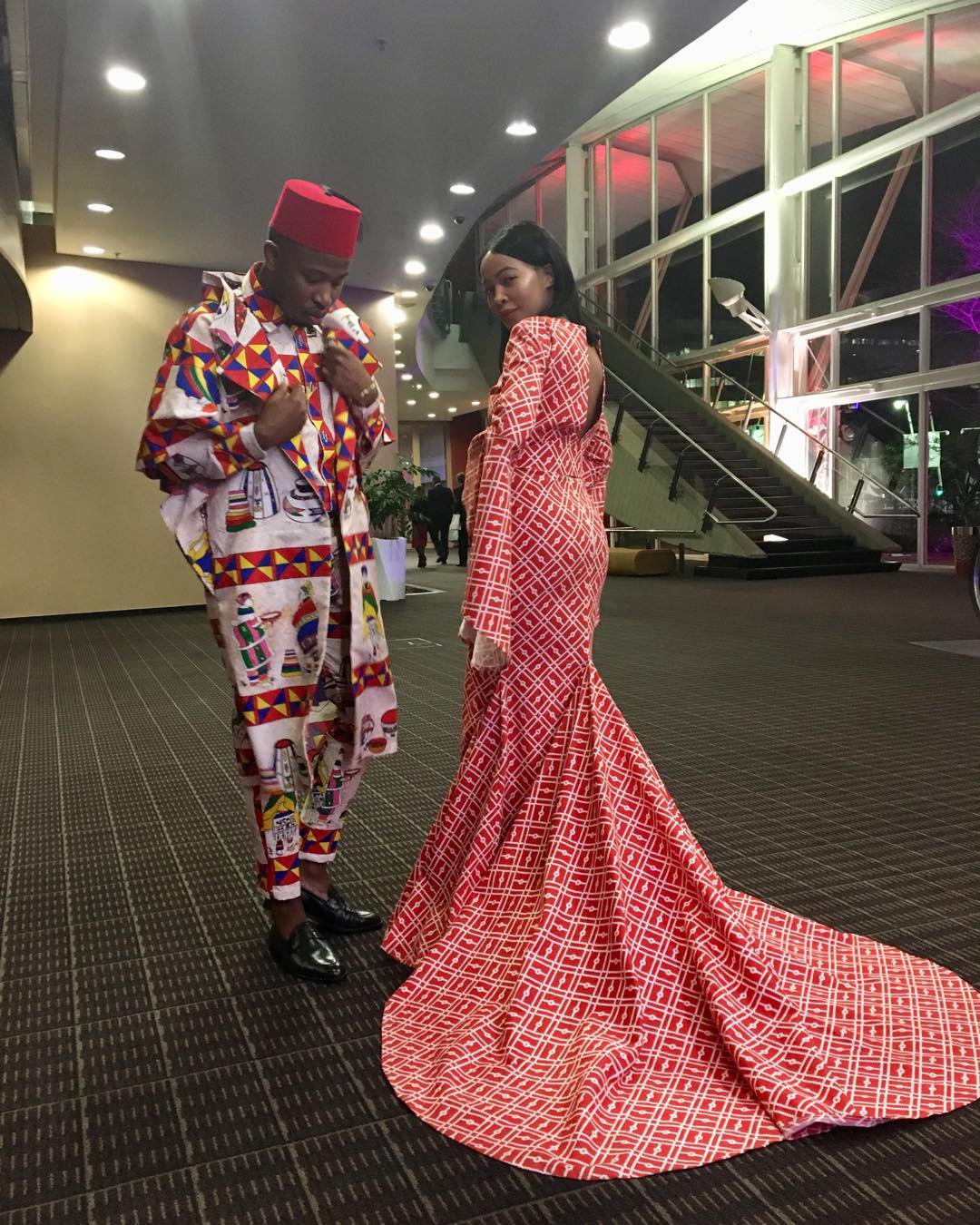 Imprint ZA collections comprise bold prints and colors that weave in and out and evolve. Above, the red motif reappears in the form of a majestic mermaid silhouette floor-length gown with a vee at the back and unusual vintage look sleeves. It is perfect for the belle of the ball.
Monochrome Chronicles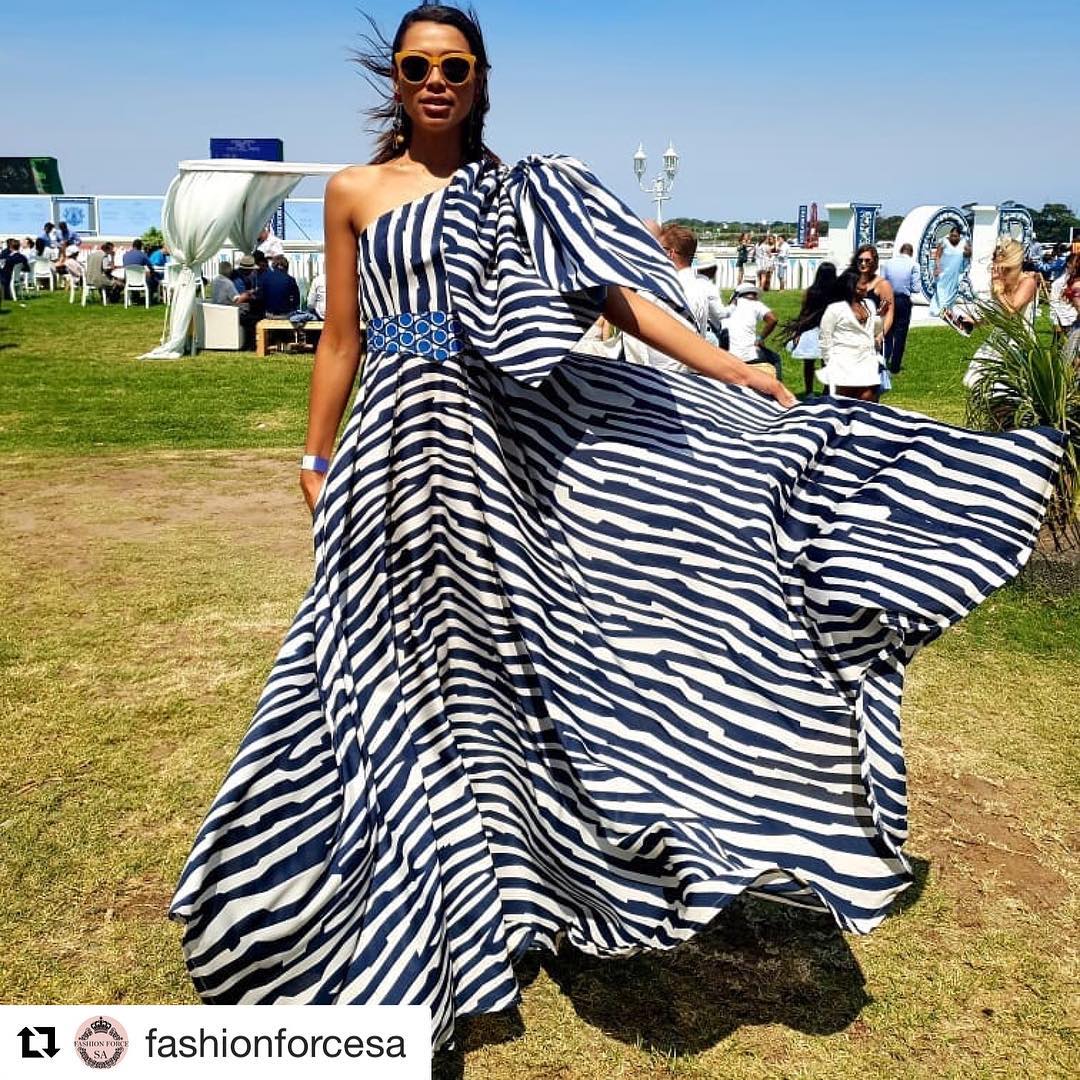 Mbane is an African designer who is inspired by all things African. For example, this flowing zebra print gown embodies the free African spirit. The grand single sleeve is a double-layered circular cap with asymmetrical edges. They depict a bird about to spread its wings.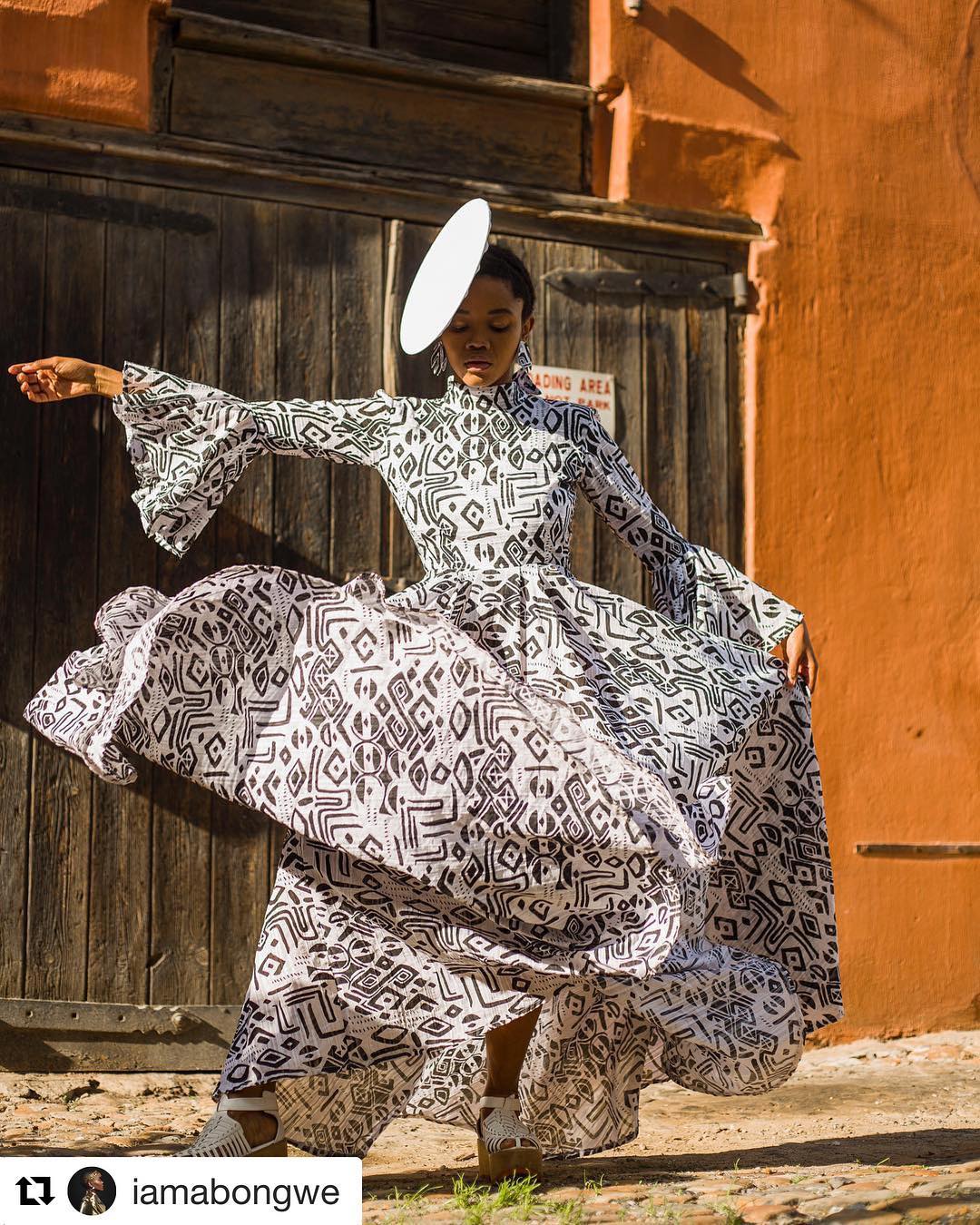 Imprint ZA excels at working with bold African prints, and this monochrome number is a masterpiece. It has a demure Victorian collar, flowing bell sleeves, and flares out from the waist in folds of fabric. The headgear adds a whimsical futuristic flavor.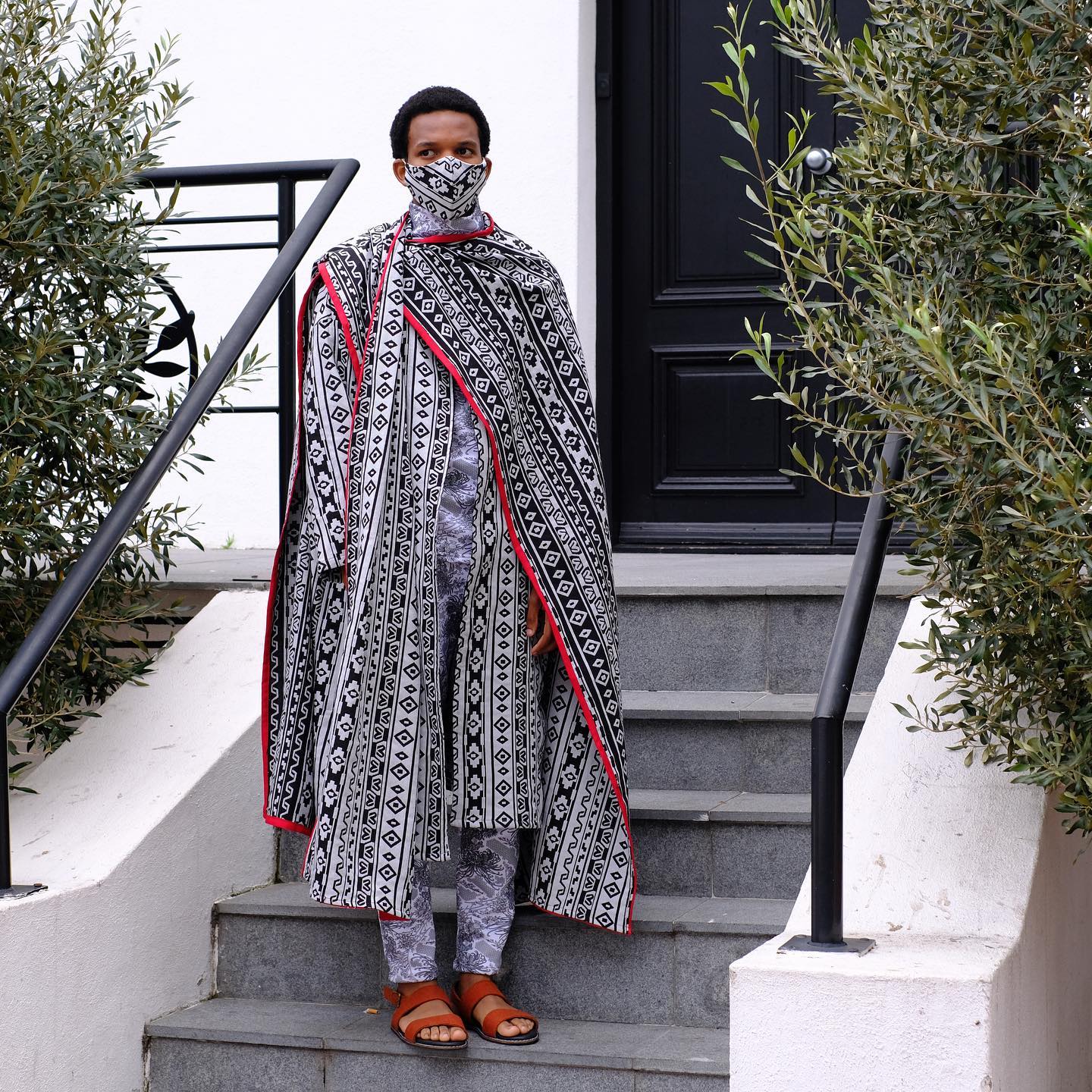 This vision of bold African motifs in shades of black, white, and gray with red trim make up a popular Imprint ZA scarf. It is rapidly sold out as soon as it hit the stores. The shawl can be worn in several different ways, and it is a trendy way to keep warm.
Zebra Kaftan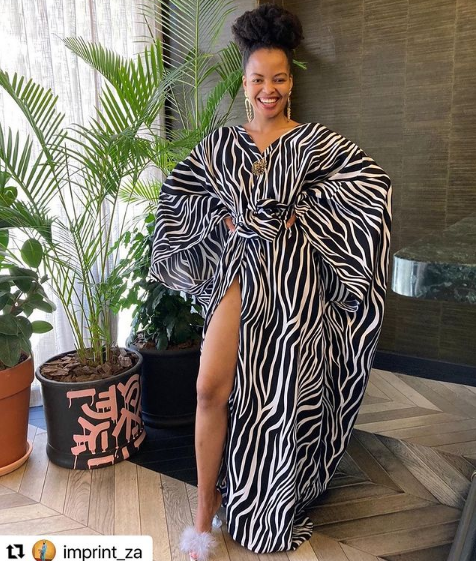 A Kaftan does not have to be boring. Here is one with a youthful, modern vibe. A wide sash tied at the waist adds form to the outfit and it opens up tantalizingly on one side. Sparkly dangling earrings and pretty mules complete the stylish look.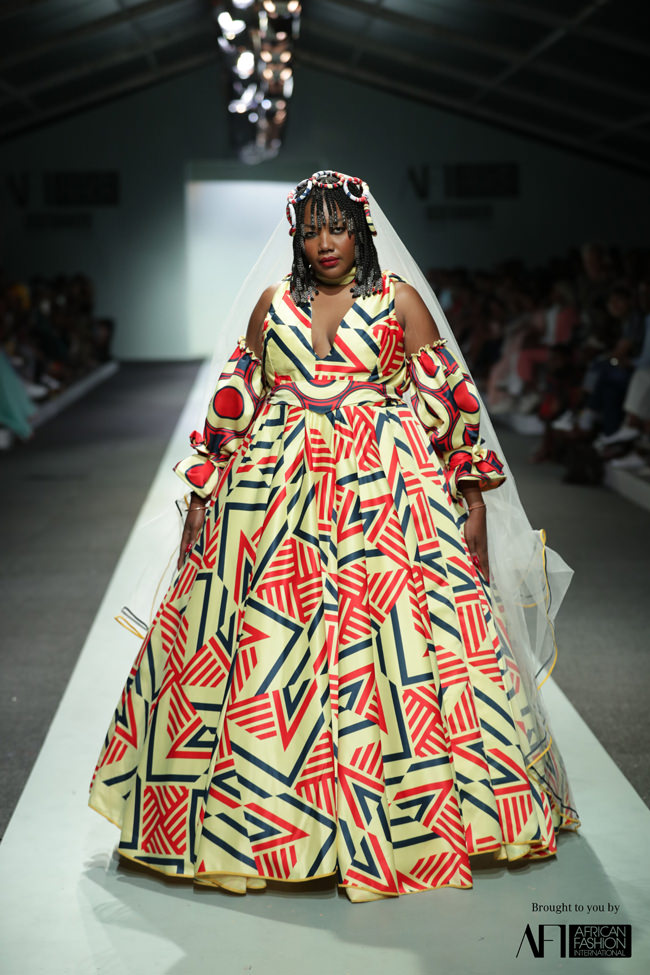 Mzukisi Mbane has a great love for heritage. The above is a traditional wedding gown for the modern bride. It features a blend of different bold African prints that come together delightfully. The cold shoulder sleeves end in pretty ruffled cuffs, and the veil flows from a crown that matches the motifs on the gown. Obviously, Mbane is one of the most daring African designers of our time.
Cool Accents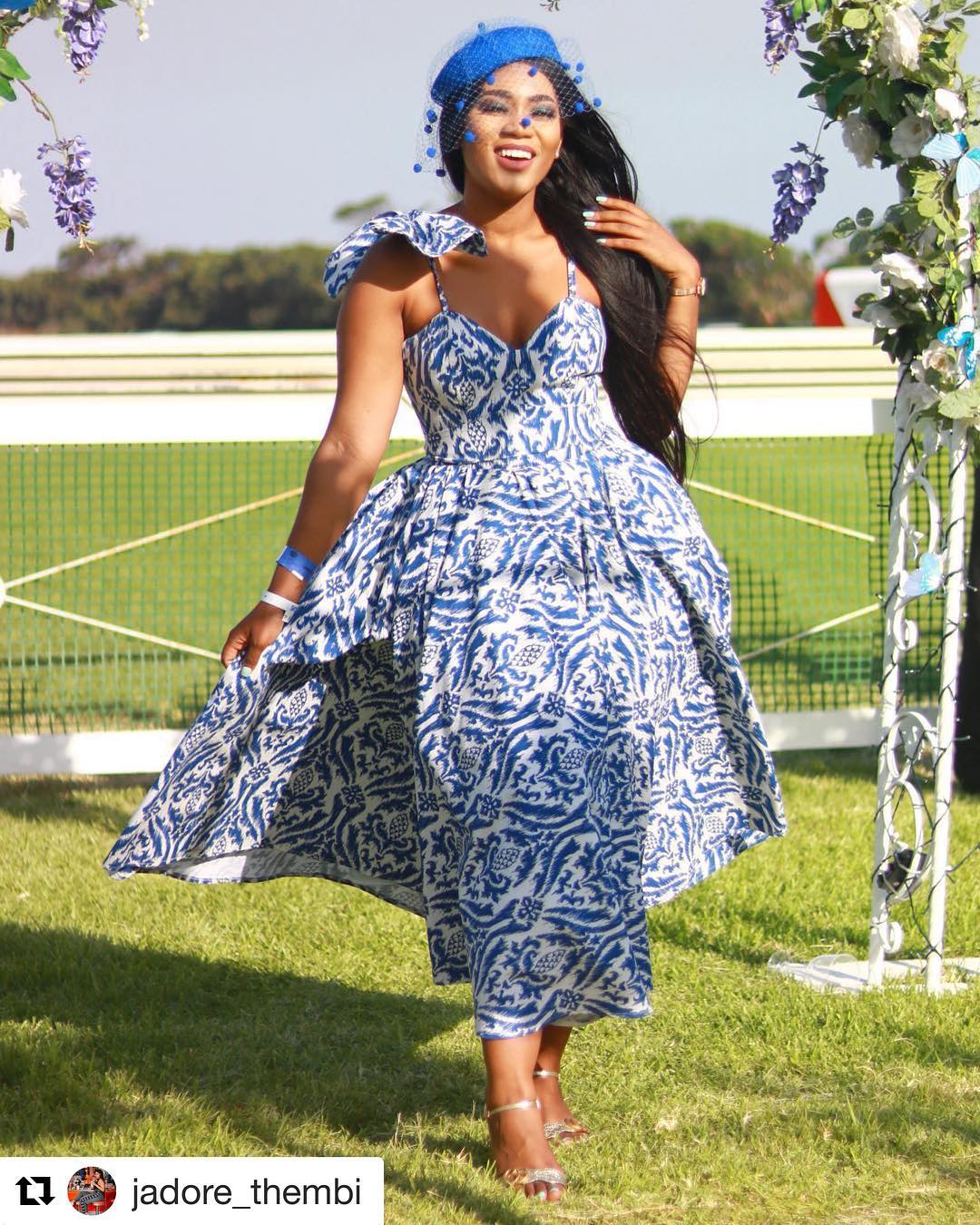 Imprint ZA is renowned for playing with prints—and this is a refreshing example. The cool royal blue and white tones of this feminine creation are elegant and chic, perfect for a garden event.
Vision in Pink
Another charming example of the play on prints. This girlishly charming pink creation consists of yards of beautiful fabric with a single dramatic sleeve. The vivid hues and expansive silhouette are unmistakably African, and they are fit for a queen.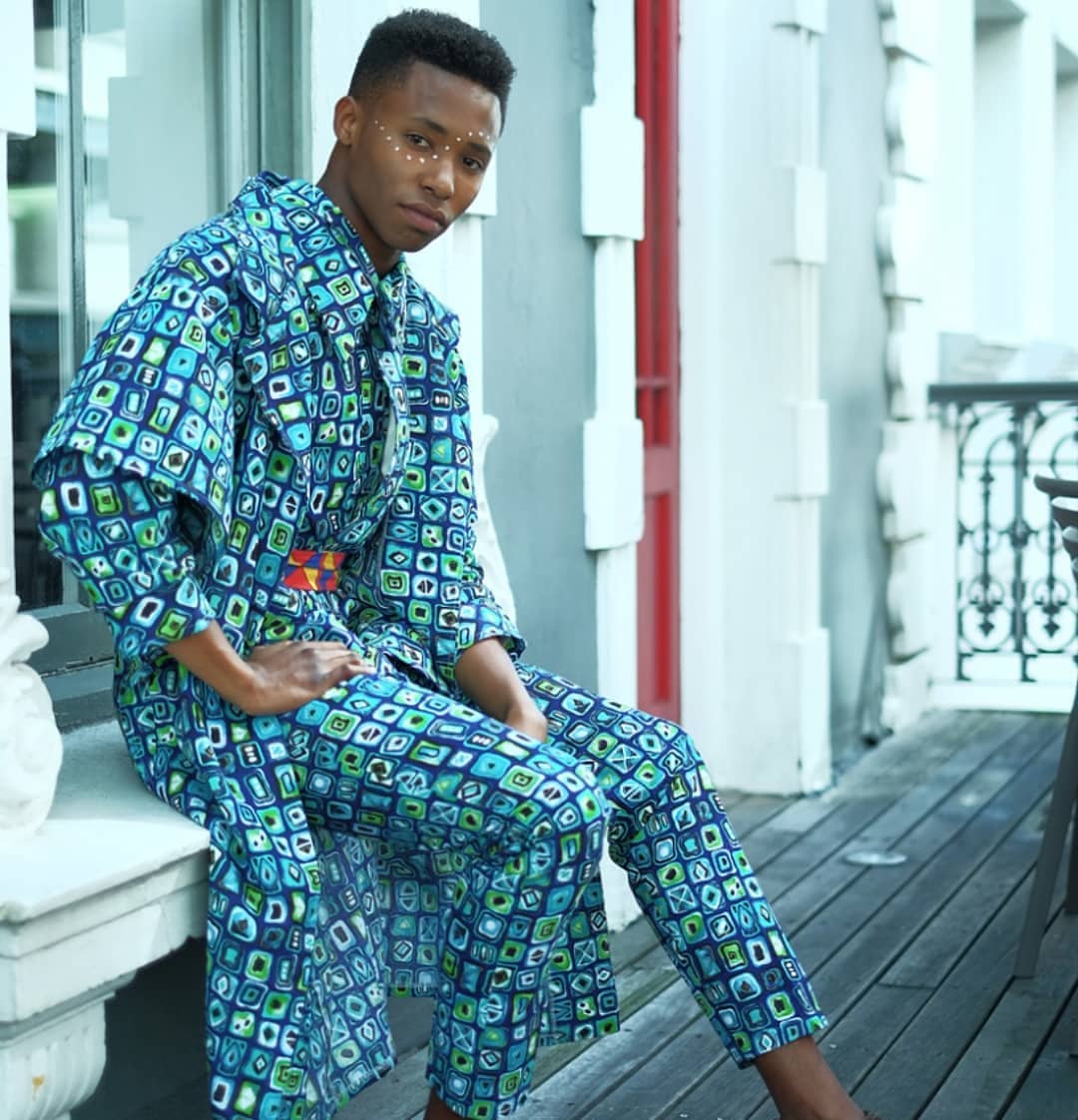 Mbane uses his designs to tell stories, and he derives his inspiration from the streets. There is certainly a story in this futuristic streetwear combo with cultural nuances. The combination of blues and greens in the print is sedate, and the colorful contrasting belt catapults the outfit to cutting edge style.
Conclusion
This young African fashion designer Mzukisi Mbane has achieved great accomplishments in a short period of time. However, he recognizes that the struggle continues for African designers to attain recognition globally. Thus, when speaking to Nothemba Mkhondo of Sowetan live, he said,
"We need to find glamour in our own identity, stories, and heritage. The only reason why these brands appropriate our culture and make fashion from our heritage is that we are not taking pride and ownership. So they take it from us, mass produces it, then sell it back to us."