DESIGNER SPOTLIGHT: MaXhosa by Laduna Knitwear Brand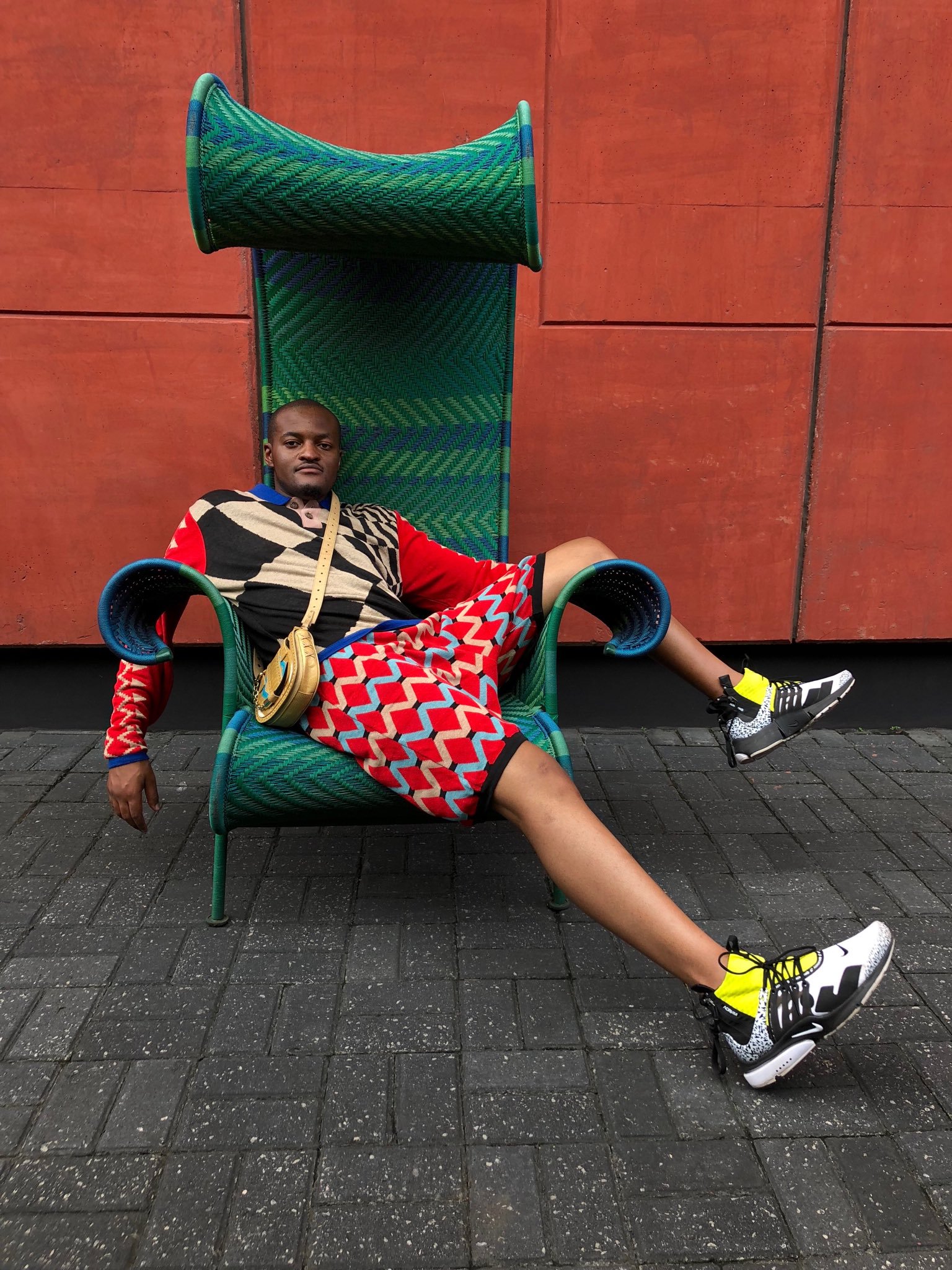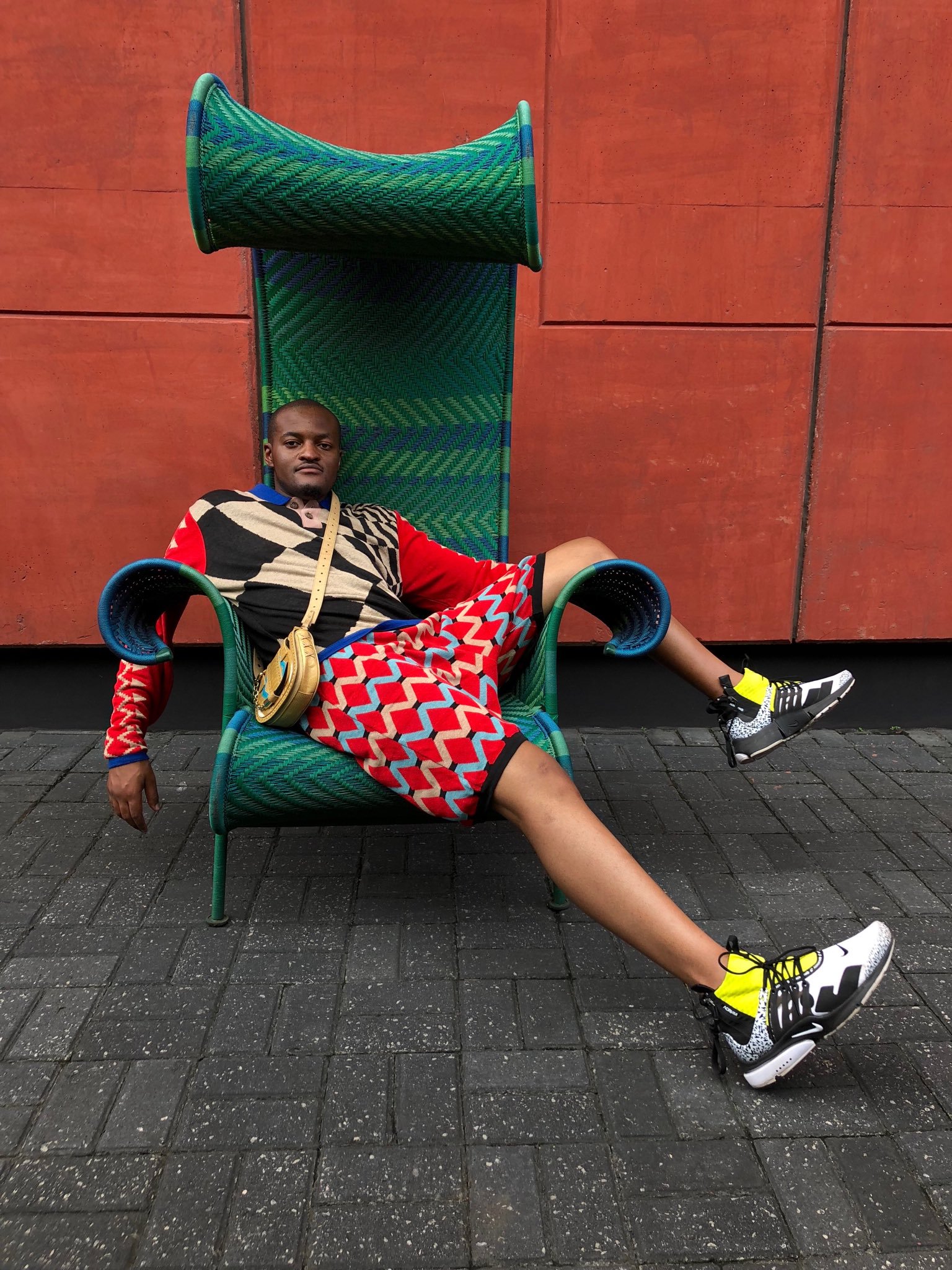 Africa's fashion industry is evolving rapidly. For instance, new and upcoming designers continue to appear on the scene. They boldly showcase their innovative, authentic creations on runways around the world. Laduma Ngxokolo, the brain behind the MaXhosa by Laduma Brand. However, he is not a newcomer in the industry. He is a brilliant designer who has set the fashion world ablaze with his luxurious knitwear brand. Today, we want to throw more light on his knitwear brand and its impact on Africa's image.
The Growth of the MaXhosa by Laduma Brand
Launched in 2011, the MaXhosa by Laduma Brand has just hit a 10-year milestone. The name of the brand reflects Ngxokolo's desire to pay tribute to the beauty and elegance of the Xhosa people. Also, his goal is to keep his culture alive as he shares it with others. Examining Ngxokolo's designs, it is clear that he has remained true to his culture.  Firstly, he replicates the colors and motifs of traditional Xhosa beadwork. Secondly, he works with luxurious mohair strands to incorporate the geometric patterns that are often found in Xhosa traditional attire.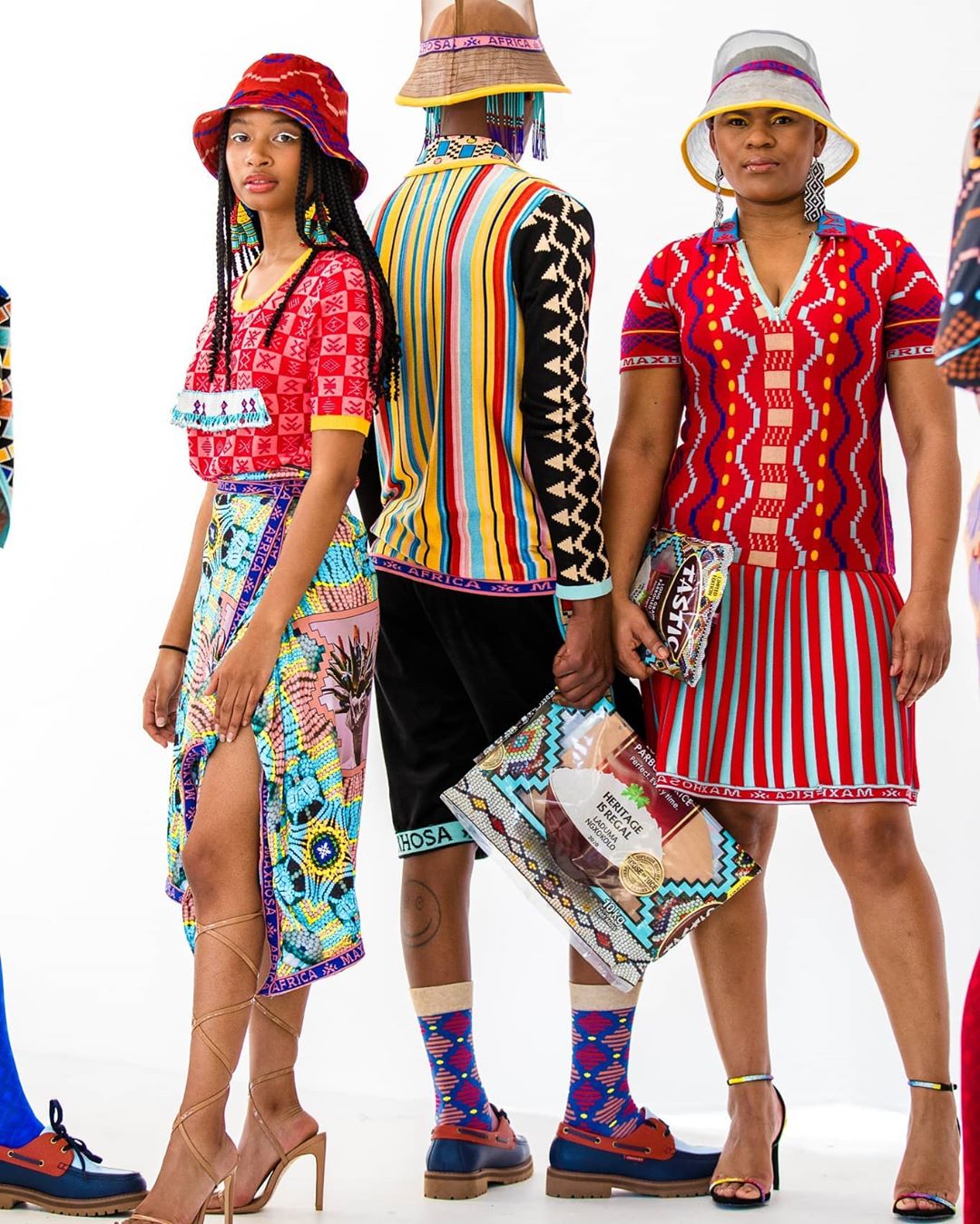 Laduma Ngxokolo's culturally inspired signature designs are authentic and embrace contemporary looks. In other words, the MaXhosa brand gently infuses ethnic vibes into modern society. Another thing that this knitwear brand has been able to achieve is to preserve the dying African knitting culture. It is this fine distinction that has earned Laduma Ngxokolo a place on the global stage.
The making of Fashion Masterpieces
Laduma Ngxokolo is passionate about involving South African hands throughout the production process to promote his country's economy. MaXhosa's creations are made from locally sourced raw material, the main element of which is mohair. Mohair is soft silky wool from the hair of Angora goats. South Africa is the leading producer of mohair in the world.
Ngxokolo's materials are ethically sourced. This means that it is procured from establishments that observe sustainability protocols. In other words, they are mindful of animal welfare and the preservation of the environment. Also, there is no place for toxic dyes in MaXhosa creations.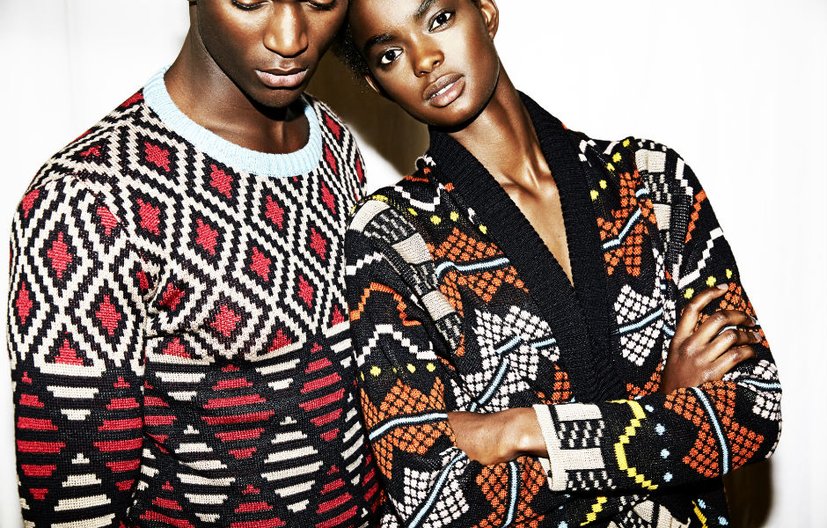 The above is an excellent example of the use of traditional Xhosa geometric patterns. It gives a contemporary look that is elegant and edgy.
The Merging of Traditional Skills with Modern Technology
Ngxokolo studied textile design up to the Master's level at the university. This equipped him with the relevant skills he needed to apply innovative methods in design. He has been able to merge old and new technologies to achieve impeccable craftsmanship. Unlike the locals who knit their fabric using manual method, Laduma Ngxokolo uses machine. Thereafter, they are meticulously hand-stitched.
The resulting designs are bold, trendy, and distinctive. Ngxokolo's designs are exported to Nigeria, France, Japan, Switzerland, the United States, and other parts of the world.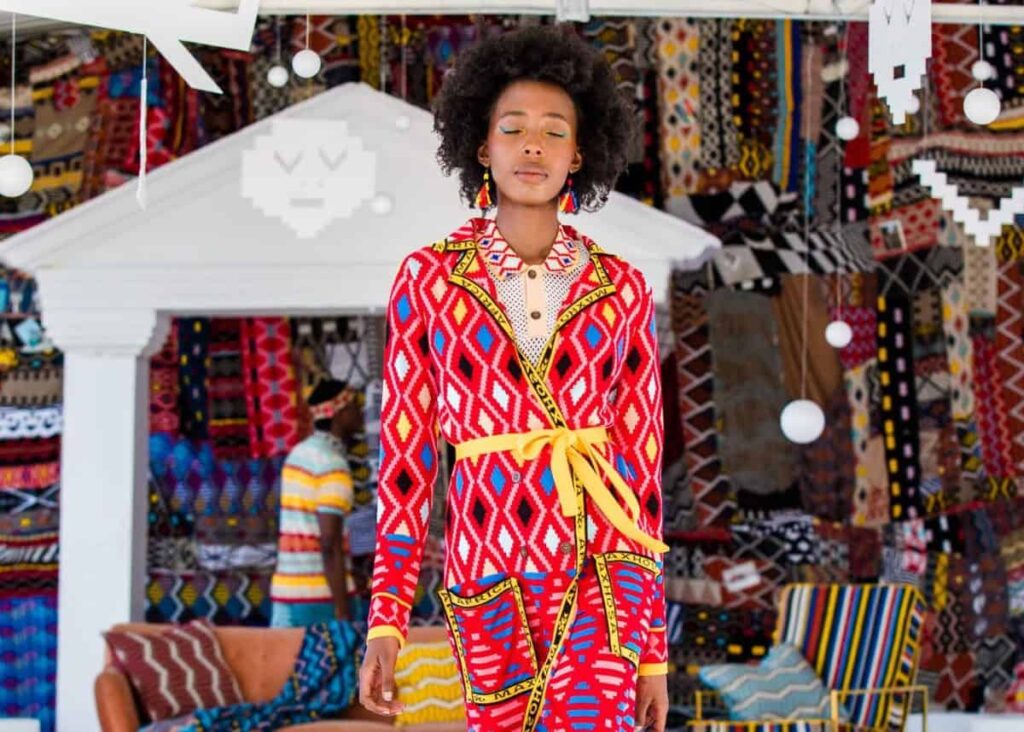 Well-known personalities such as Beyoncé and Alicia Keyes are among celebrities who have worn Laduma Ngxokolo's creations. However, in an interview with Nicky Willemse of Mail and Guardian, this is what Ngxokolo said,
"What fascinates me the most is not that we dress the celebrities but that we dress the ordinary people across cultures in South Africa. Some of my clients are Basotho, amaZulu, vhaVenda … We're trying to position ourselves as an African brand, not only for amaXhosa."
MaXhosa by Laduma –An Award-Winning Brand
Laduma Ngxokolo has been the recipient of several prestigious awards such as:
2010 – International Representation Award
2014 – Africa Fashion International Emerging Designer of the Year Award
2015 – Vogue Italia Scouting For Africa Prize
2017 – Pride of Africa: Africa Fashion Week Barcelona Awards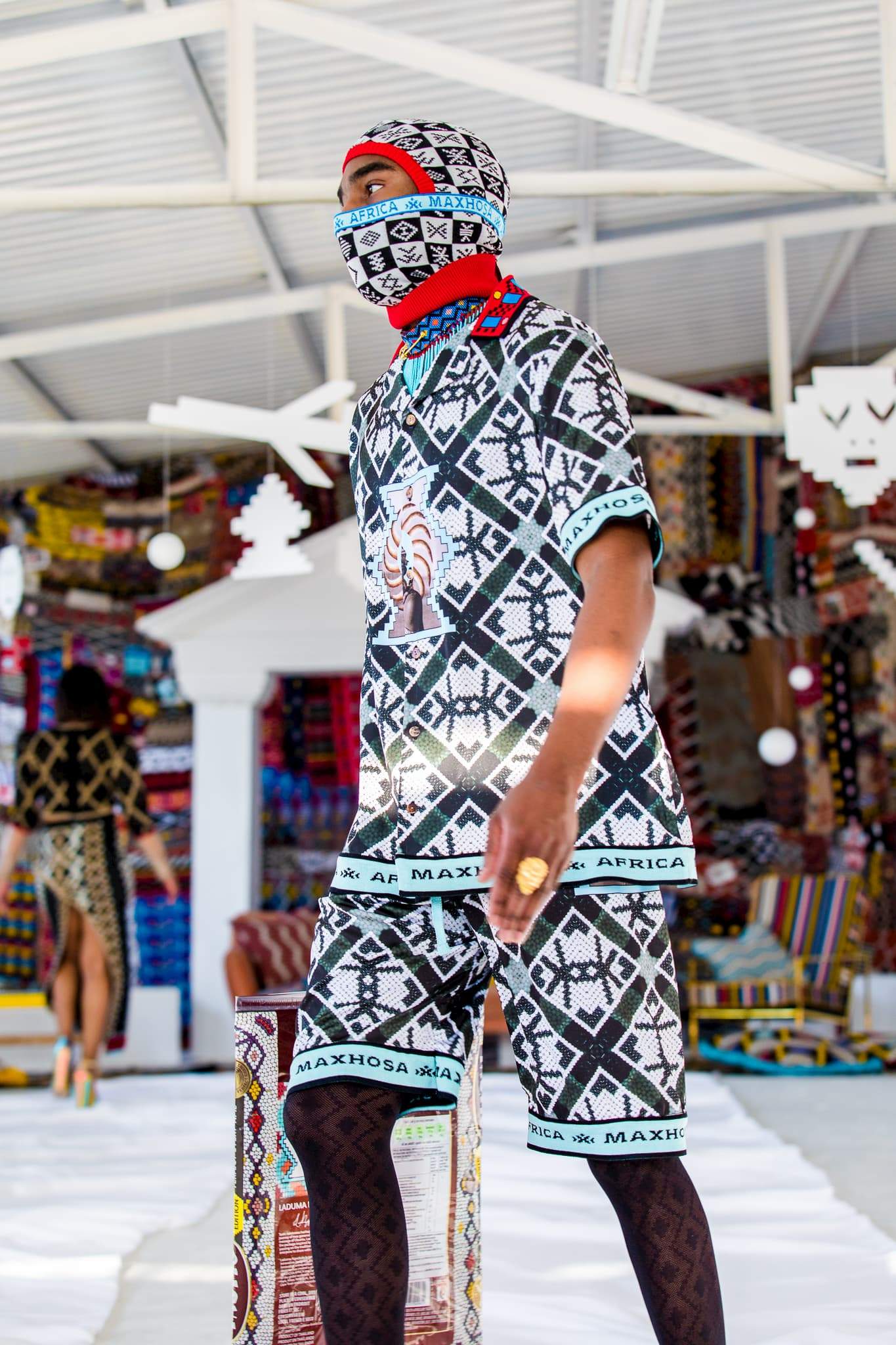 This is a modern silhouette with an African flavor that showcases Laduma Ngxokolo's bold distinctive style. The geometric pattern is an unapologetic adherence to his roots.
Laguna Ngxokolo's Early Years
Ngxokolo developed an interest in knitting through his late mother Lindelwa. This happened when she brought home a second-hand knitting machine. Ngxokolo was curious about it, and tried to figure out how the machine worked. What fascinated him was the manner in which the knitting machine created fabric. His mother taught him how to knit when he was 15. Consequently, he designed his first sweater when he was in high school.
Ngxokolo and his siblings learned valuable skills from their mother. Ultimately, these came in handy when she died. It was through selling the crafts that they made what they used to support themselves. Ngxokolo sold scarves that he knitted to his school friends. Ngxokolo's interest in design led him to Lawson Brown High in Port Elizabeth where he studied textile design. Later he advanced to Nelson Mandela University. The move was made possible by bursaries earned through diligence and his excellent performance.
Laduma Ngxokolo's final year project was inspired by Traditional Xhosa beadwork patterns displayed during Xhosa male initiation ceremony. He created a unique men's knitwear collection entitled 'The Colorful World of the Xhosa Culture'. This won him a design award in London, marking the start of an illustrious career in the fashion world.
Conclusion
Sustainability is an important word in the fashion industry today. Laduma Ngxokolo's kitwear brand is commendable for playing his part to preserve the South African knitting culture for future generations. Also, his creation will help to sustain the livelihood of mohair farmers. Speaking to Nothemba Mkhondo of the Sunday Times, Laduma Ngxokolo said,
"Craft is a form of cultural preservation, as it is a skill handed down from one generation to the next. These skills are also tied to the story of the people as well as their lineage. Vast cultures across the continent work with craft to remember who they are and where they come from. Culture goes beyond language – it is in the food, and even the colors."