How African Designer Loza Maléombho Is Afronizing Women's Clothing And Footwear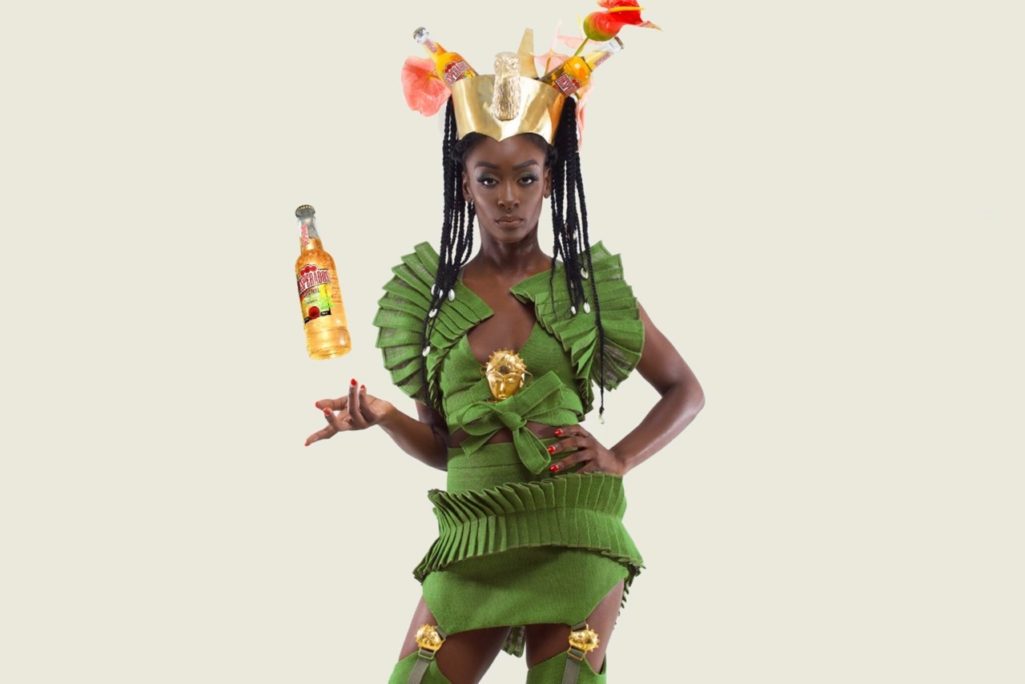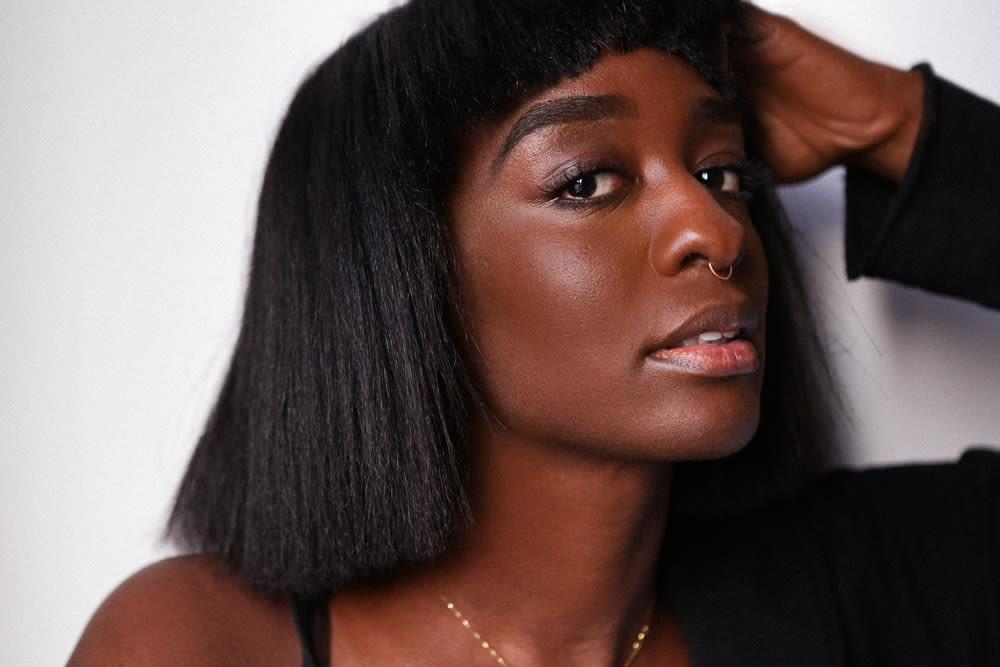 When Beyoncé appeared in the 'Black is King' video, one of the outfits she wore was from this remarkable African designer. As a result, it generated so much interest that her website crashed. Beyoncé's unique black and white outfit with a striking geometrical design were adorable in every respect.
It was an instant hit. For Loza Maléombho, this was a momentous achievement. Consequently, this talented designer from Côte d'Ivoire saw a 300 percent spike in her business. However, what people now appreciate took years of grit and resilience to build. This you will quickly realize as you join us in her backstory.
Loza Maléombho's journey to becoming the most famous African designer
The Loza Maléombho brand is not new on the African fashion scene. In 2009, when the designer was still living in New York, she launched her label. She wanted to establish a sustainable enterprise that would empower and support local artisans in the long term.
ALSO READ: Designer Spotlight: Meet Rich Mnisi The Owner Of One Of Africa's Most Expensive Luxury Brands
It is this high regard for traditional craftsmanship that ultimately led her to move production to Côte d'Ivoire. In an interview with Vogue magazine, she explained without mincing words her vision and drive.
''I needed the entire process to have a purpose and didn't just want to make clothes. I wanted to create a sustainable space, which allows for the creation of jobs and opportunities for Ivorian artisans and which inspires younger locals into entrepreneurship. It was important for me to have a higher purpose than just creating a clothing line.''
The early years
Loza Maléombho was born in Brazil and raised in Abidjan. In 2000 she moved to the United States for studies. Her exposure to different cultures at a young age played a major role in enhancing her creativity.
After she graduated from the University of the Arts of Philadelphia in 2006, Loza worked with several fashion houses in New York as an intern. She also worked in retail and undertook 'buyer' jobs to get familiar with the trade. Three years later, she moved back to Côte d'Ivoire to pursue her vision. She says the quality of life there is better and inspires her the most. 
Loza Maléombho's vision was different
Loza Maléombho believes that each piece should be meaningful and identify with several cultures. Thus, her prime source of inspiration is West African Royalty. The Loza Maléombho label is a mix of contemporary and traditional culture with a fresh approach.
A good description of the highly successful brand is urban wear with tribal nuances. Loza has showcased her collections at the Boston and New York fashion weeks as well as similar events in Johannesburg and Lagos.
ALSO READ: Designer Spotlight: See Why Ugandan Kaijuka Abbas Was Recently Honored In Nigeria
This African designer is also famous for her unique shoe designs. Her footwears are also breathtakingly beautiful with cutting-edge fashion imprints. The tribal touches that she incorporates in the form of tiny African masks transform her shoes into a rare, one-of-a-kind masterpiece. Most importantly, she makes all her wares locally.
Loza works with local artisans whose trade has been running for generations. Perhaps, this is one of the reasons behind the warm reception of her brand. Moreover, it is this African designer's vision to empower her workforce.
Therefore, she does not impose her methods and ideas on the craftsmen. In other words, she identifies their strengths and works to incorporate that into her designs. Below are some of her most remarkable and original pieces.
Alien Edits: A Creative on the Move
Loza's creative juices continue to flow as seen in her innovative selfies on Instagram. These can be likened to a pictorial diary through which she shares her thoughts and beliefs. The initiative, 'Alien Edits', draws on historical characters, cultural references, and other sources for inspiration.
For example, in one of Loza's posts, she appeared as the Egyptian queen Nefertiti. In another, she appeared with a laptop on her head and a calabash in another. This unique method of engaging in the social commentary has garnered tremendous interest and encouraged others to create personal 'Alien Edits'. On Nataal, Loza Maléombho explains her aim for doing this. 
"My aim is to raise awareness of things I believe in and let other people express their beliefs too. I was in New York and felt a wave of deep frustration and depression. Those events were degrading for me on a personal level. I had to do something positive that would cultivate pride in order to stop those feelings from eating me up. My first selfie was of me wearing a crown of flowers, which evoked a sense of royalty and elegance."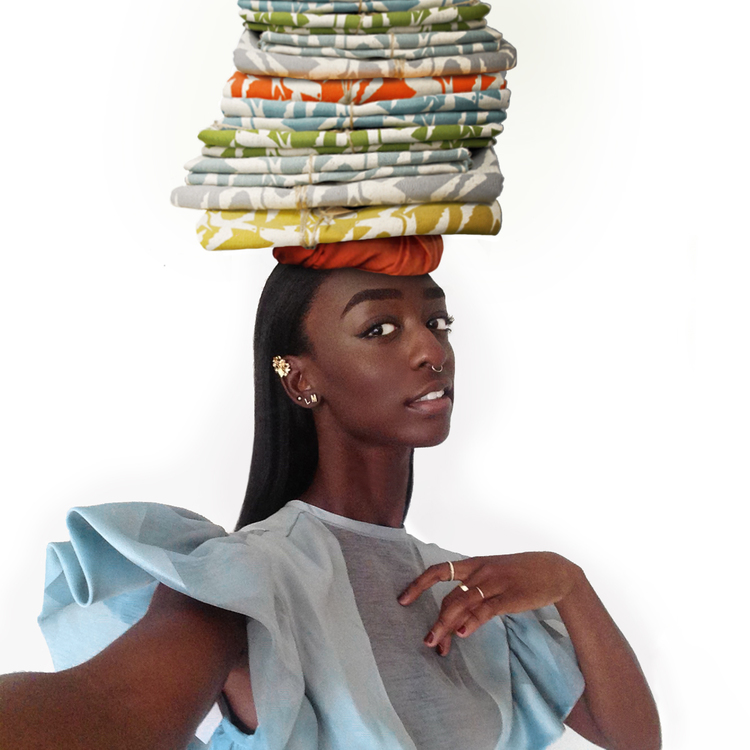 Loza Maléombho most iconic clothing designs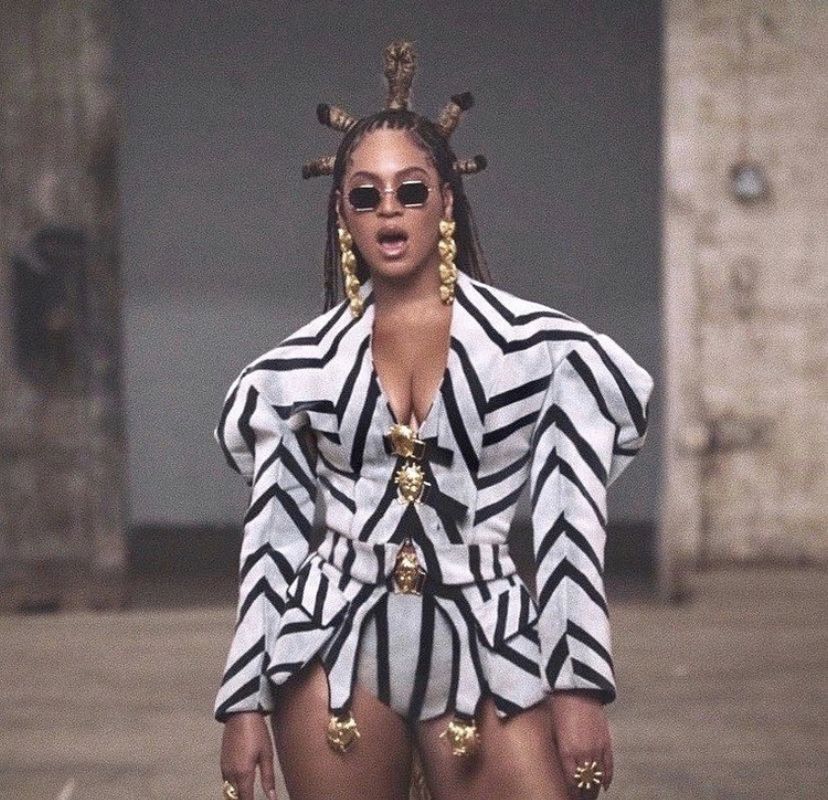 This is the outfit that caused such a frenzy on social media. Tribal chic at its best, the dramatic black and white stripes mimic zebra's hide. The broad shoulders are a striking contrast to the fitting bodice that flares out on the sides in a partial peplum shape.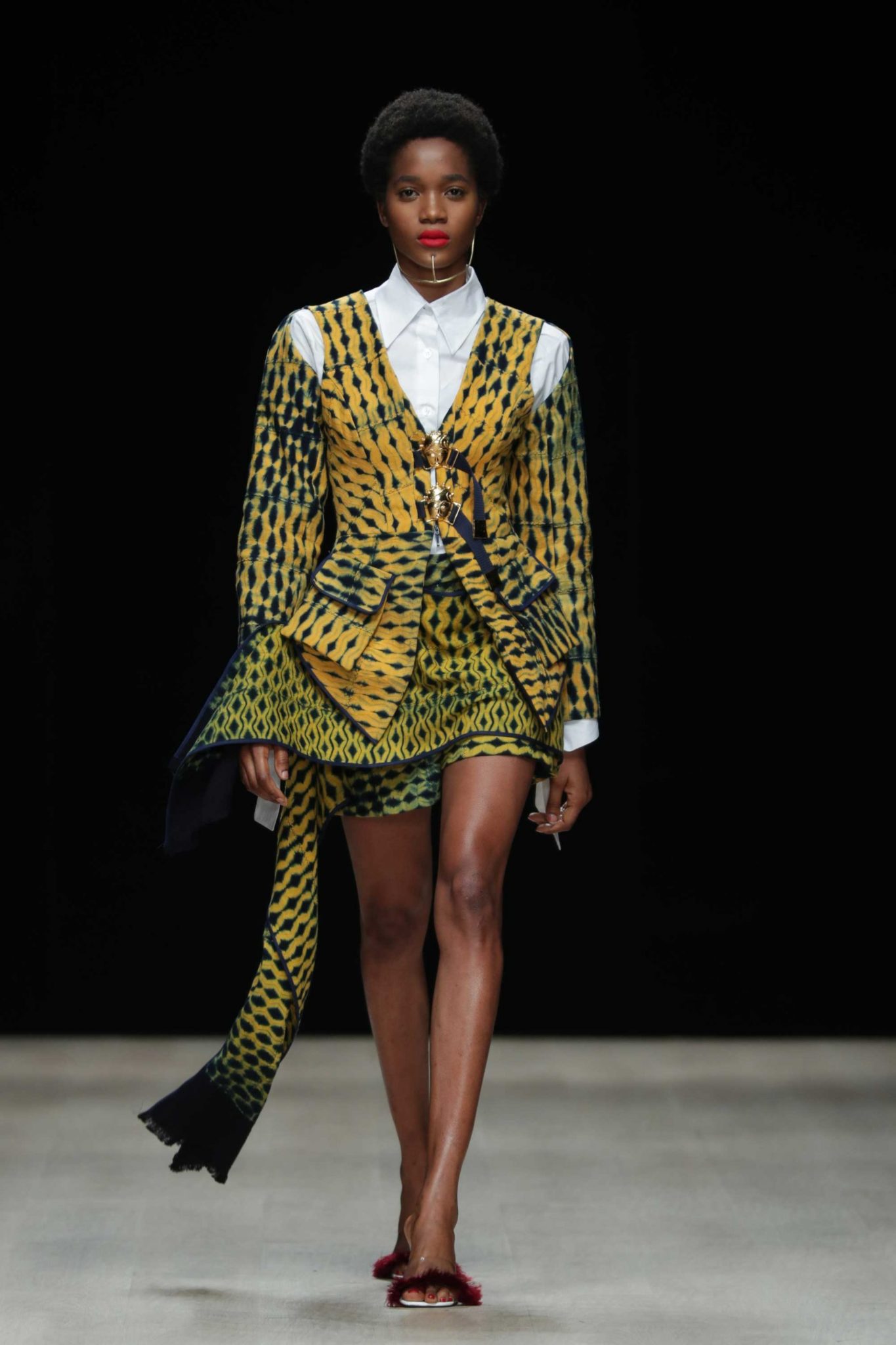 This is a contemporary Ankara creation with a difference. The layered look is accomplished by the use of complementing prints of yellow and navy shades. The body-conscious cut of the bodice emphasizes the waist and the overall look is clean but retro.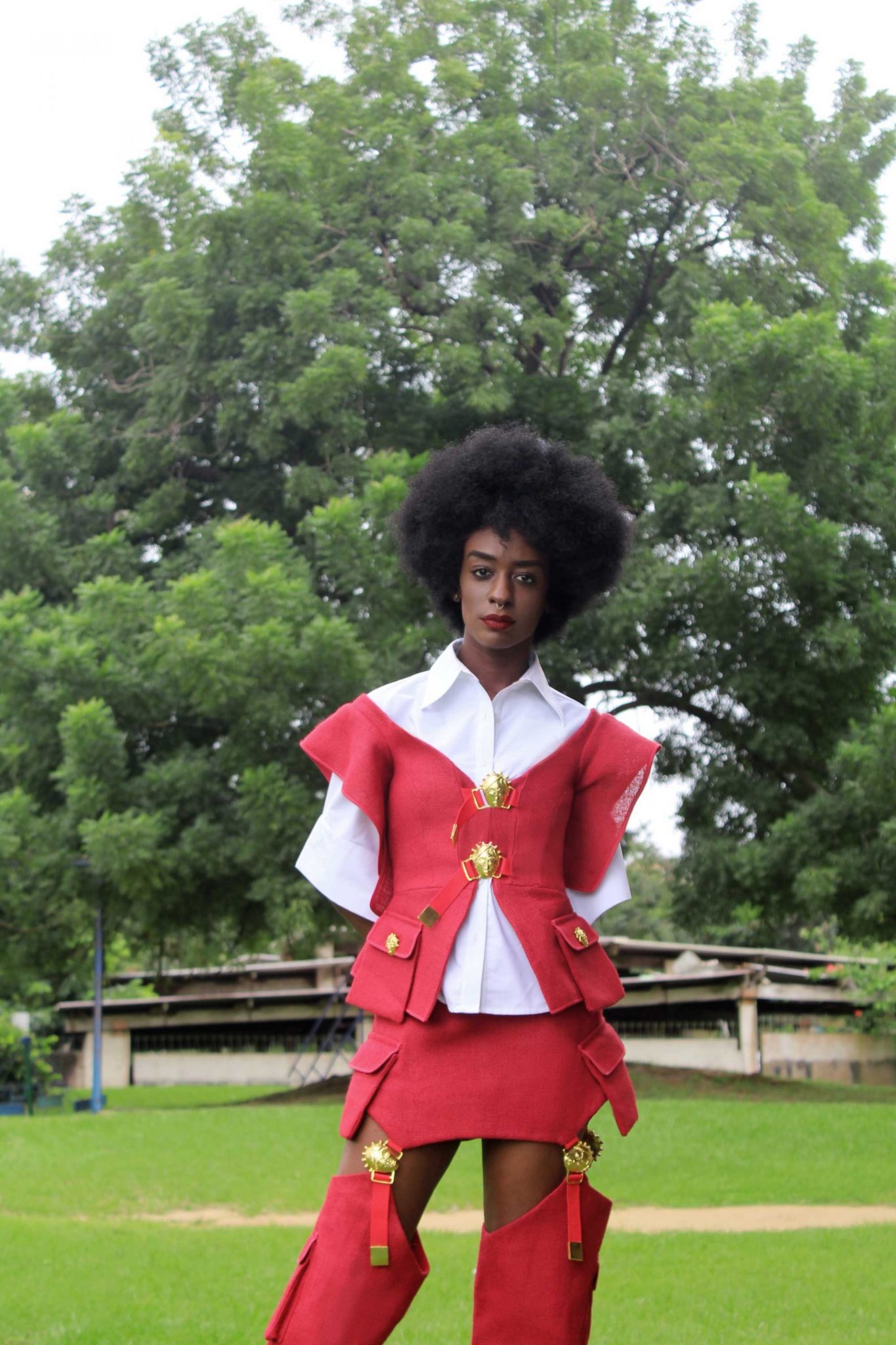 An attention-grabbing suit closely resembles the one worn by Beyonce with its square pockets and gold buckle. The white shirt is styled with a hot pink exquisitely-cut jacket with a fitting silhouette and a short skirt that daringly branches out into trousers.
The gold mask buckles linking the skirt and the trouser extension have become this African designer's trademark. 
ALSO READ: Designer Spotlight: This Is Why Chris Seydou Is Regarded As The Father Of African Fashion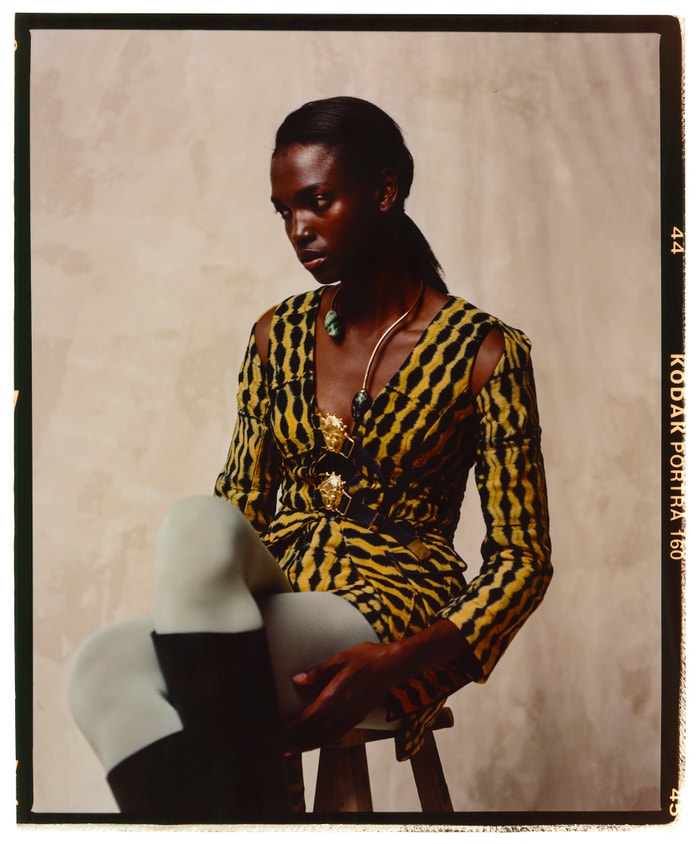 This ensemble can be described as leisure chic. The form-fitting jacket has bold-shoulder cutouts and a deep vee neckline. Golden African tribal masks add the finishing touch to this iconic creation.
Footwear by Loza Maléombho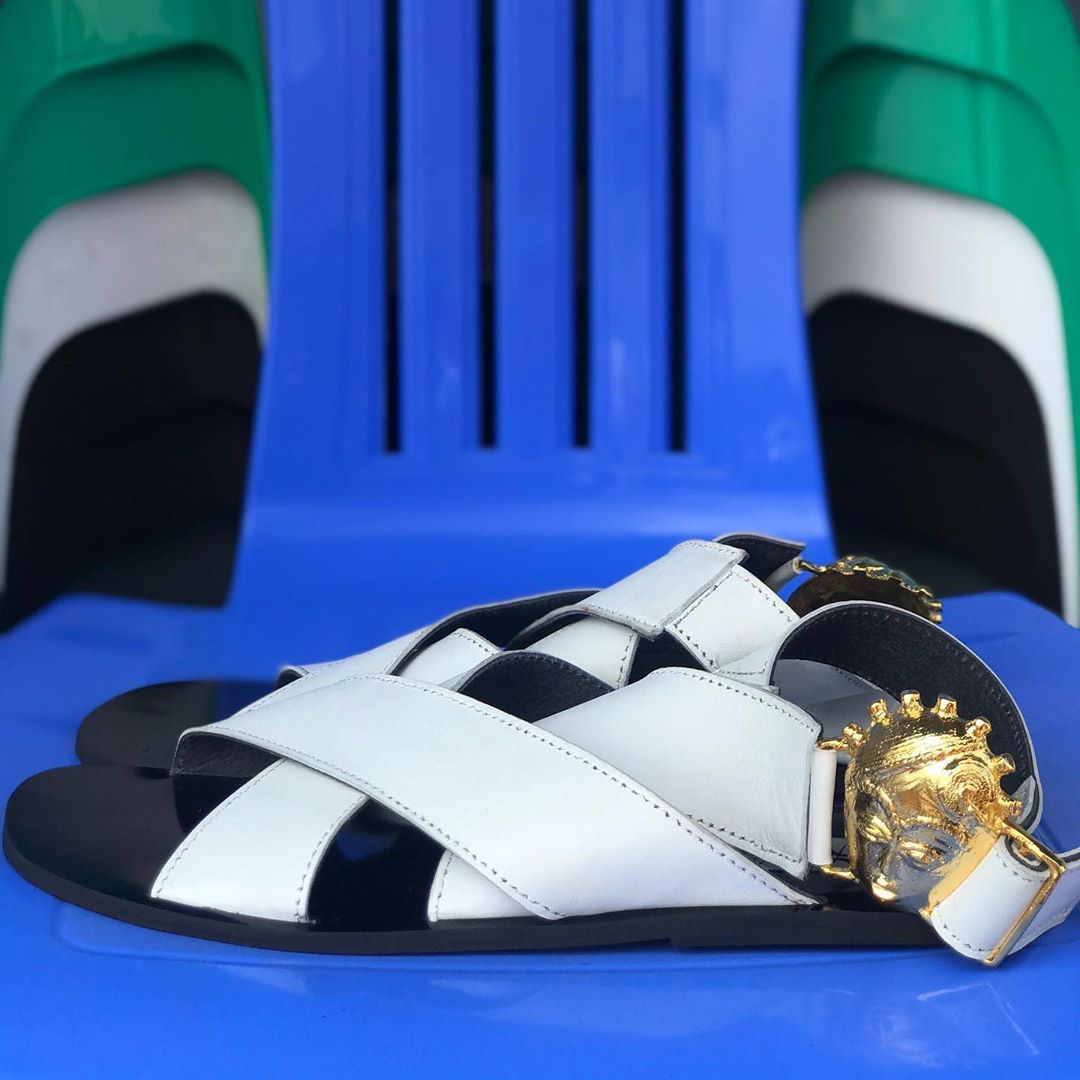 Neat, white, clean-cut leather sandals adorned with the signature golden African mask buckle. The transition of the iconic buckles from clothes to footwear is simply remarkable. The open-toe design stylishly lets in some air to keep your feet cool.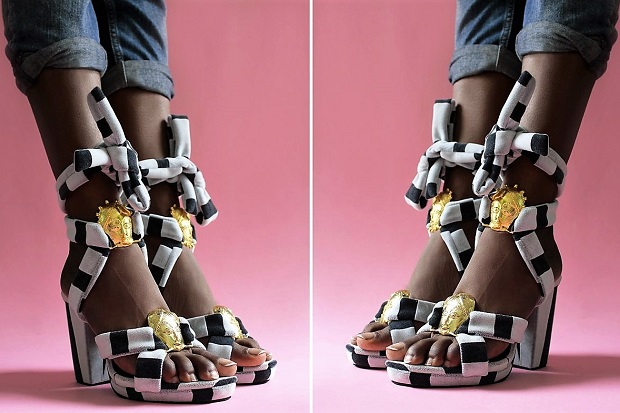 These edgy, high-heeled ankle sandals in color-blocked black and white are by far the most daring footwear design by Loza Maléombho. Notice the gold African mask detailing. The outsized bows add a striking finish to this glamorous pair of sandals.
Loza Maléombho and Desperadoes collaboration
In June 2022, Maléombho appeared in a not-so-surprising collaboration with Desperadoes beer. A month earlier, Desperadoes announced the return of its 'Desperadoes Collective'. They invited rising artists from all over the globe to participate in their new advertising campaign. The intention of the project was to experiment with new mindsets, experiences, and ideas.
For Loza Maléombho, such collaborations have become an avenue to reclaim her cultural heritage. Therefore, she displayed accessories, clothes, and shoes that retell forgotten stories. After the collaboration, HypeBeat sat down with Loza Maléombho to discuss her career and inspiration. Read the full interview here.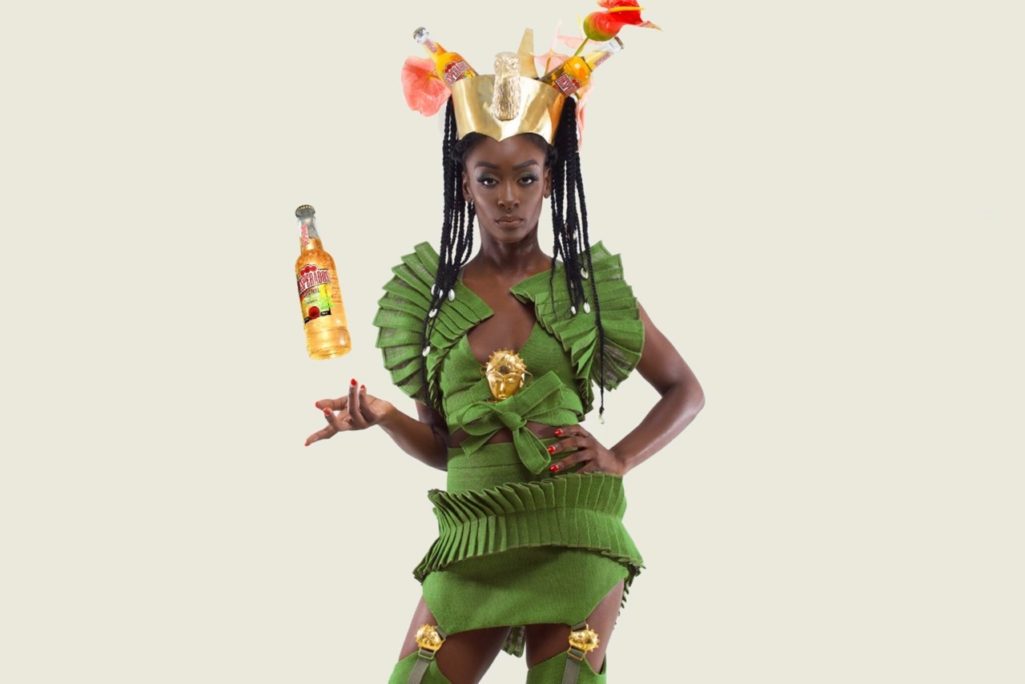 Conclusion
This African Designer is finally making headway and commanding respect on the global platform. Nevertheless, in her interview with Vogue magazine, she makes a case for the place of the government in all of this. She said, 
ALSO READ: Designer Spotlight: Where Is Togolese Designer Grace Wallace?
"Governments need to support the textile industries of their respective countries with initiatives. Designers should be encouraged to use local textiles with tax exemption incentives. Textile weavers need intellectual property protection. All of this would promote local consumption"
Subsequently, we all need to play our part in supporting local designers and local artisans for the fashion industry to continue to flourish. What do you think about Loza Maléombho's designs? Do her designs inspire you to give the brand a try? Let us know your thoughts in the comment box below.