African Vibes Holiday Décor Guide For Christmas Shoppers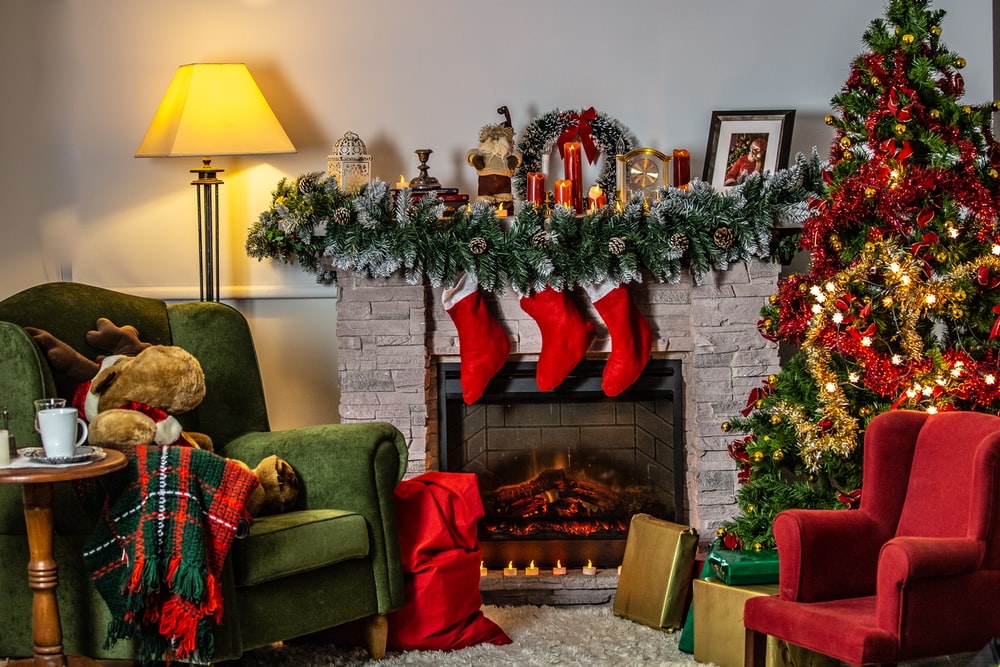 To many—including all of us at African Vibes—Christmas is the most wonderful time of the year. The sharing and caring in this period is simply out of the world. However, what tells you that the Christmas holidays are around the corner is the Christmas décor. From the Christmas tree to the flashing lights, holiday décor is a sight of hope. Ironically, they get little or no accolades.
For everyone trying to shop for holiday décor to bring out the spirit of the season, this is for you. This list of holiday décor was carefully curated such that every décor item included here is symbolic. Without further chitchat, let's dive in.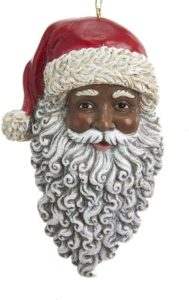 Santa needs no introduction but a Black Santa is definitely going to get everyone thinking. This should make a good décor for your Christmas tree.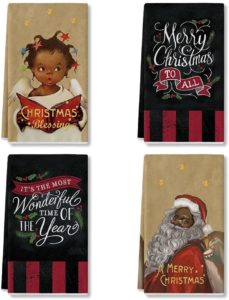 Kitchens are mostly neglected when decorating homes for Christmas. Ironically, that is where most of the goodies shared during the holidays come from. This Christmas towel should bring the holiday spirit right into your kitchen.
#3. Christmas Nutcracker (Get it Here)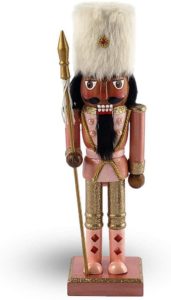 There is no better décor for your sitting room than this African American nutcracker with a white fur hat. Your kids will find this 10-inch figure amazing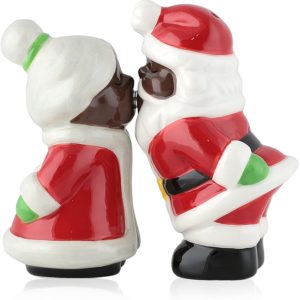 Need an amusing décor that captures the spirit of African Christmas? Look no further. This Mr. and Mrs. Santa miniature sculptures will be your personal favorite.
#5. City Souvenirs Ornament (Get it Here)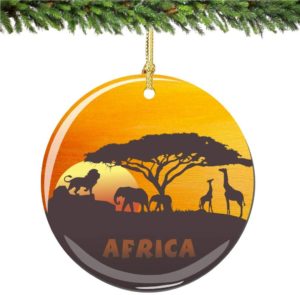 This season, make your Christmas tree more colorful by hanging this African Christmas ornate on it. It is also the perfect way of keeping connected to your African roots when you can't physically travel.
#6. Inflatable Santa Claus (Get it Here)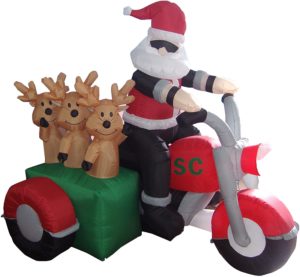 This 6-foot long inflatable Santa riding a bike will make a perfect décor for your lawn. It can be plugged into an electrical outlet to light up your lawn with a nostalgic feeling.
#7. African America Dancing Santa (Get it Here)
This life-size dancing Santa has speakers that fill the entire house with Christmas melodies. The most important symbol of this décor is the idea of a racially-inclusive Christmas
#8. Santa Claus Throw Blanket (Get it Here)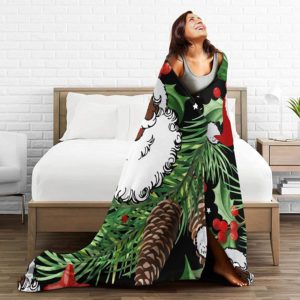 This Santa-themed blanket can drape over your chairs or cover your bedroom. Either way, you will always wake up with good tidings.
#9. African Santa Pillow Case (Get it Here)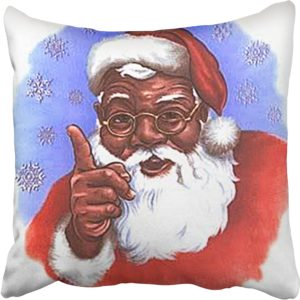 This Santa pillowcase will not only bring you good tidings but is also breathable and hypoallergenic. It can help you to fight bead sweats and reduce facial wrinkling. Want to know if it works? Place your order today.
#10. African America Santa Worships (Get it Here)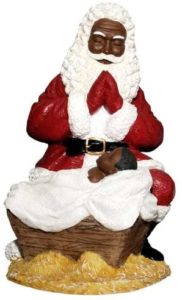 Have you seen an African American Santa praying? Now, this is one-holiday décor that will definitely get everyone talking—especially your kids.
#11. Black Girl Magic Ornaments (Get it Here)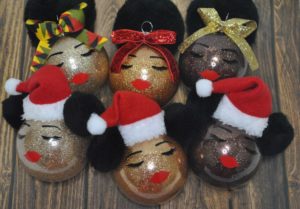 Black is beautiful. This year, bring the black beauty to your Christmas tree by decorating it with the black girl magic ornaments. Interestingly, there are many shades to choose from.
#12. South Africa Christmas Ornament (Get it Here)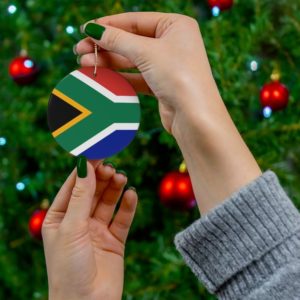 If you are from South Africa and unable to travel home, one of the ways of keeping home close to your heart is by adding this South Africa flag ornament to your Christmas tree. A picture they say is worth a thousand words.
#13. Ankara Christmas Ornament (Get it Here)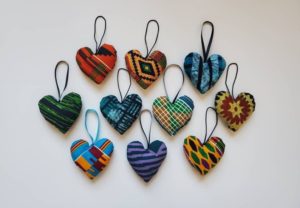 These heart-shaped Ankara Christmas ornaments will add flavor to your Christmas tree. It is an indirect way of expressing your love for everything African.
#14. Black Ballerina Christmas Ornament (Get it Here)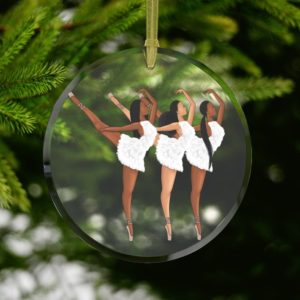 Variety is the spice of life. This year, having a variety of African-themed Christmas ornaments hanging on your tree will not only show your intent but also make your tree glow differently. Whether your tree is outdoor or indoor it will get tongues wagging.
#15. Kente Ornaments (Get it Here)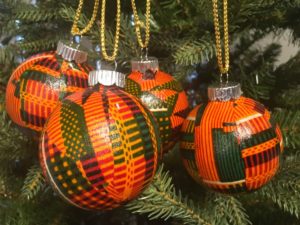 With the omicron variant, it is obvious many people may not get the opportunity to be with their family this year. However, this Kente ornament can be the link that keeps you close to home.
#16. Ankara Print Ornaments (Get it Here)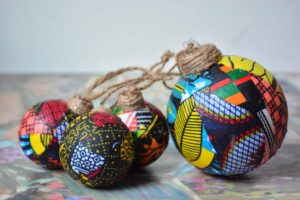 Toss one of these Ankara print ornaments on your Christmas tree and see how it brightens the mood of the celebration this season. There is no better way of having a Christmas with Africa close to your heart.
#17. African Angel Ornament (Get it Here)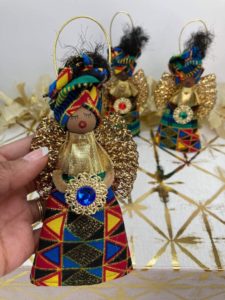 White angels are popular but not black angels. This year, show the world how lovely African angels can be with this cute ornament hanging on your Christmas tree.
#18. Black Family Ornament (Get it Here)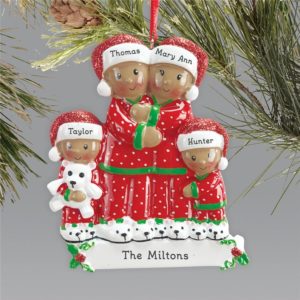 The things in front of us are the things that we are usually blinded to. This year, reminisce on the beauty of family by putting up this black family ornament on your Christmas tree.
#19. Hand-Carved Calabash Ornament (Get it Here)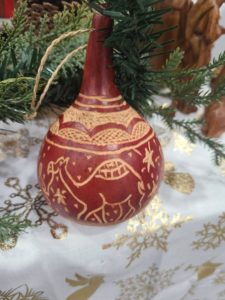 Calabash is symbolic in most African communities. If it signifies something in yours, why not add it to your Christmas décor this season? It will serve as both a reminder and beautifier of your home. Don't you think so?
#20. Afro Puff Christmas Ornament (Get it Here)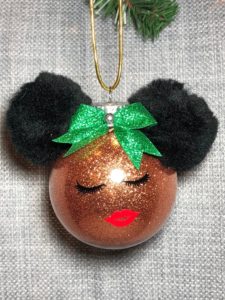 This Afro puff will change the way you look at your Christmas tree. You can even hang it in your car to carry the holiday spirit with you wherever you go.
#21. Black Santa Candy Dish (Get it Here)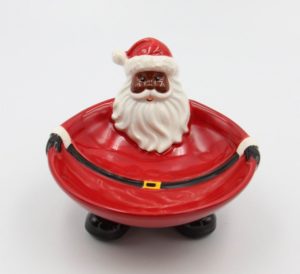 This ceramic bowl can be used for serving candies to the kids. What will it feel like to dine with Santa? The only way to find out is to add this Black Santa candy dish to your list of Christmas décor.
#22. Kente Doll Ornaments (Get it Here)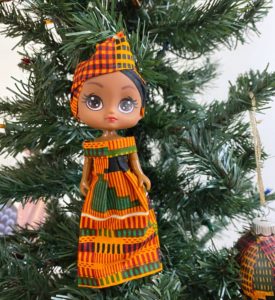 Give your Christmas tree a facelift with this gorgeous Kente doll with bulgy eyes. Your kids will definitely love it. Also, it is a great way to stay connected to your roots.
#23. First Christmas Boy (Get it Here)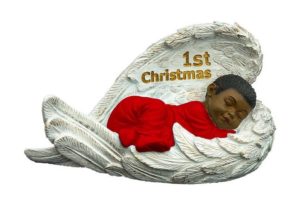 Perhaps you just had a baby that will be celebrating his or her first Christmas. This Christmas décor is a great way to make that announcement to whoever cares to see. What do you think?
#24. Black Christmas Angel Ornament (Get it Here)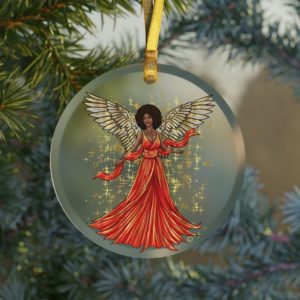 Here is another ornament that can add color to your Christmas tree. This ornament comes with a gold-colored ribbon for hanging anywhere around the home. You can send this as a gift to a loved one and they will definitely cherish it for life.
#25. Obsessed African Print Ornament (Get it Here)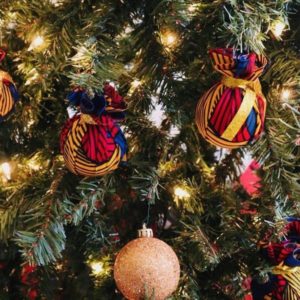 This beautifully colored African print ornament will make a great addition to your Christmas tree. You can also hang it in different parts of the house to spread the holiday spirit around.
#26. African Fabric Christmas Tree Ornament (Get it Here)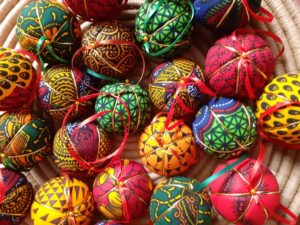 These balls are covered with colorful African prints and embellished with gold or silver braids. Furthermore, it has a ribbon for hanging it to your Christmas tree. You just have to love it.
Conclusion
If there is something to learn or a message to pass using these holiday decors, it is the fact that Christmas is for all. African Americans have the duty of keeping their kids connected to their roots all the time. Also, let your kids know that people with their skin color have a place in the Christmas story. Happy holidays to you.