DISCUSSION: President Hakainde Hichilema's Successful Inauguration A Sign That Africa's Democracy Has Matured?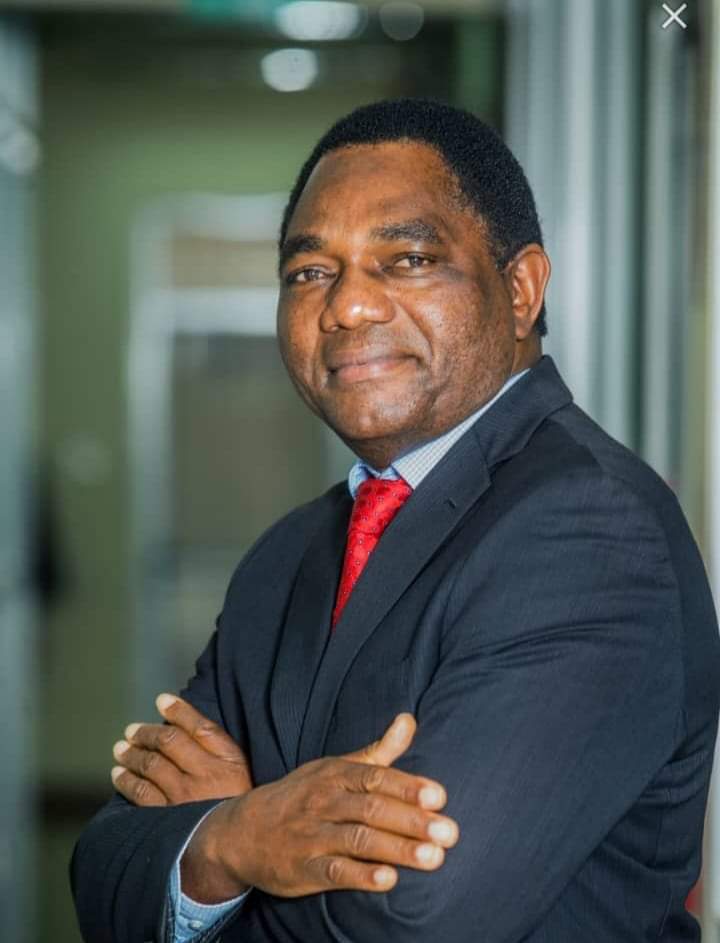 Unlike what happens in developed nations, African presidential elections rarely usher in a change in ruling parties. In 1967, when incumbent Aden Abdullah Daar lost to Abdirashid Sermake in the Somalian Presidential election, it sent shock waves all over the continent. This loss marked the first-ever time an incumbent President had lost in a presidential election all over Africa.
Ever since, this 'unusual scenario' has occurred only 21 times across the 54 African nations. About 45 African nations have never experienced a change in ruling parties. In Zambia, however, this trend does not hold true. There have been two cases where the incumbent President lost to an opposition candidate—in 2011 and now in 2021.
On August 13, 2021, Zambian voters took to the streets in celebration, having given the Presidential mandate to Hakainde Hichilema, a candidate of the opposition United Party for National Development. At the polls, 59-year-old Hichilema beat incumbent President Edgar Lungu by more than a million votes in a spectacular landslide victory. In this post we ask, can Zambia's "cattle boy" lead the nation to the promised land?
Who is Hakainde Hichilema?
Hakainde Hichilema was born in Monze District in a small village in what was then Rhodesia, in 1962. After attending school locally, he secured admission to the University of Zambia on a government bursary where he studied and graduated in 1986 with a Bachelor of Arts (BA) in Economics and Business Administration. He later obtained an MBA in Finance and Business Strategy from the University of Birmingham, UK. 
Following his university education, Hichilema ascended to top positions in Zambia's corporate world. Afterward, he landed prestigious jobs including CEO of Coopers and Lybrand at 32 years old, from 1994 to 1998. He also later served as CEO of Cooper's successor, Grant Thornton, from 1998 to 2006.
Hichilema was the biggest local shareholder in two foreign-owned companies including Barclays Bank Zambia Plc. Hakainde Hichilema won the presidency of the UPND in 2006 following the death of its leader, Anderson Mazoka, his business mentor, tribesman, and close friend. Since then, he had sought, unsuccessfully, to become Zambia's president five times before his electoral victory in 2021.
Large Youth Turnout: The Secret to Hakainde Hichilema's Success
Observers agree that massive youth turnout made the difference at the polls. According to CNN's local observers, there was a huge turnout of mostly young people, some of who came dressed in their academic robes to protest lack of employment after graduation. While speaking, Joseph Kalimbwe, a youth representative of Hichilema's UPND party, said,
"Young people gave us the vote. Four million young people between the ages of 18 to 24 registered to vote. It was a huge turnout, and it was very personal to them. They want to ensure the mistakes of their parents were corrected. They have voted for our leader on the basis he has better policies and ideas and can strengthen our state institutions." 
What influenced the choice of the youths?
One major selling point for Hakainde Hichilema and the UNDP was their message of hope, peace, and prosperity. Thus, they were rewarded with a huge proportion of the young people's vote. More impressively, the youths came out, ready to defend their votes against electoral malpractices in an African political climate that uses brute force to silence dissent at the polls. It is left to see if Hakainde Hichilema can repay their faith with the dividends of democracy.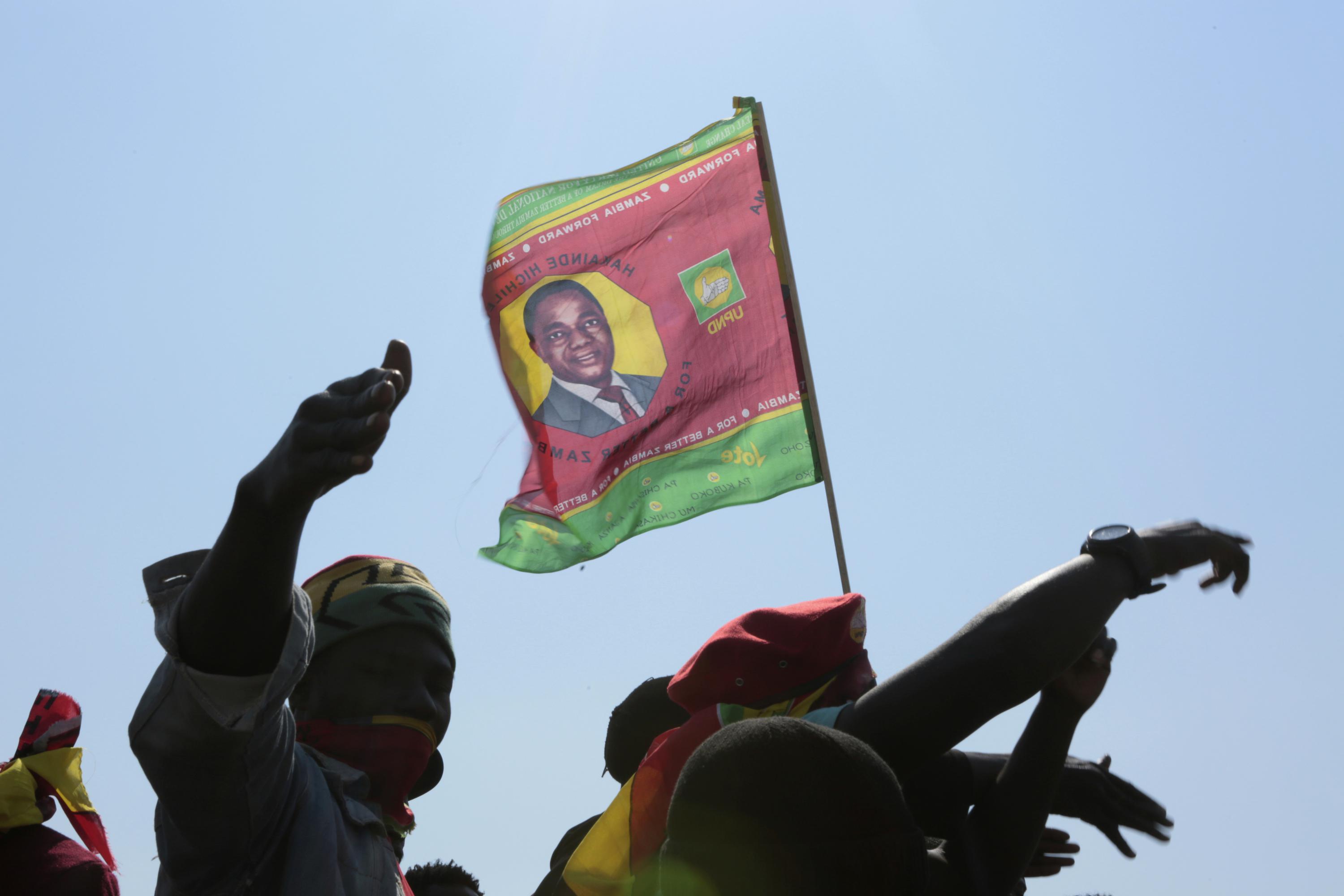 Similarly, Africa's development can only kick off when youth understand the power they have in deciding their leaders. According to the UN, Africa has the highest population of youths all over the world. However, it is surprisingly the common trend to find the youth sit out the polls when government policies affect them the most. Youths must engage more with the electoral process by running for office, turning out to vote in larger numbers, and defending their votes.
What Zambians and Other Africans are Saying About Hakainde Hichilema's Victory?
As it was when Muhammadu Buhari defeated incumbent Goodluck Jonathan in Nigeria in 2015, positive reactions filled the air online. Many Africans from other countries offered superfluous congratulatory messages, hoping for the best for the Southern African nation. However, others called for cautious optimism, as other transitions from incumbent to the opposition did not yield positive results. Below are some of the reactions on Twitter.
Good morning friends, when I look out the window and see the newly installed Zambian flag, flying over our residence, I thank God for this beautiful country. I'm reminded that I'm a mere servant of the people and it is to them that I'm answerable. Happy Friday! pic.twitter.com/JU7QAw77Fm

— Hakainde Hichilema (@HHichilema) August 20, 2021
Hakainde Hichilema: Zambia's new president inspires African opposition leaders https://t.co/y8S2phKAxO

— BBC News (UK) (@BBCNews) August 24, 2021
Arrived in Lusaka, Zambia for tomorrow's inauguration of President-Elect @HHichilema.

It will be a great day for the people of Zambia and Africa as a whole to witness a seamless transfer of power as envisaged by democratic processes. pic.twitter.com/mBDgqRyKjk

— Raila Odinga (@RailaOdinga) August 23, 2021
Just like we did online for our President-Elect Hakainde Hichilema here in Zambia. We will do it the same way for MDC President Nelson Chamisa come 2023 in Zimbabwe. We just want to urge our colleagues the electorates in Zim to turnout in large numbers and register as voters!

— Archie Mulunda (@MulundaArchie) August 22, 2021
Hakainde Hichilema's Inauguration: A New Dawn for Zambia?
Many Zambians go into the Hakainde Hichilema era hopeful of better fortunes for the only country they call home. On August 24, dignitaries from all parts of the world converged on the Hero Stadium, Lusaka, to witness the inauguration of Hakainde Hichilema. Because of the COVID-19 pandemic, many Zambians were not present to usher in their hero. Nevertheless, their message resonated loud and clear: "We are witnessing a new era".
In his inauguration speech, Hichilema said,
"To the jobless youths, a new dawn is here where you will be skilled and find an opportunity to work or do business in an economy that we will revive. For all mothers struggling with the high cost of food, a lower cost of living will soon be a reality. To the entrepreneur seeking capital, an investor, and a better operating environment, a government is here that understands your challenges and knows exactly what you need in order to thrive. To all citizens of Zambia, this is truly your moment!"
Is it truly a new dawn for Zambia? Will Hichilema tow the path of incompetence, like many African leaders? Or will he bring in technocrats that will help transform the fortune of the country? Only time can tell. Here are pictures from the event.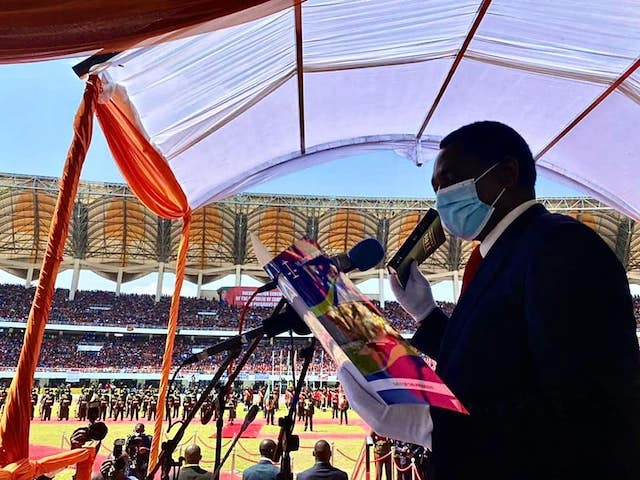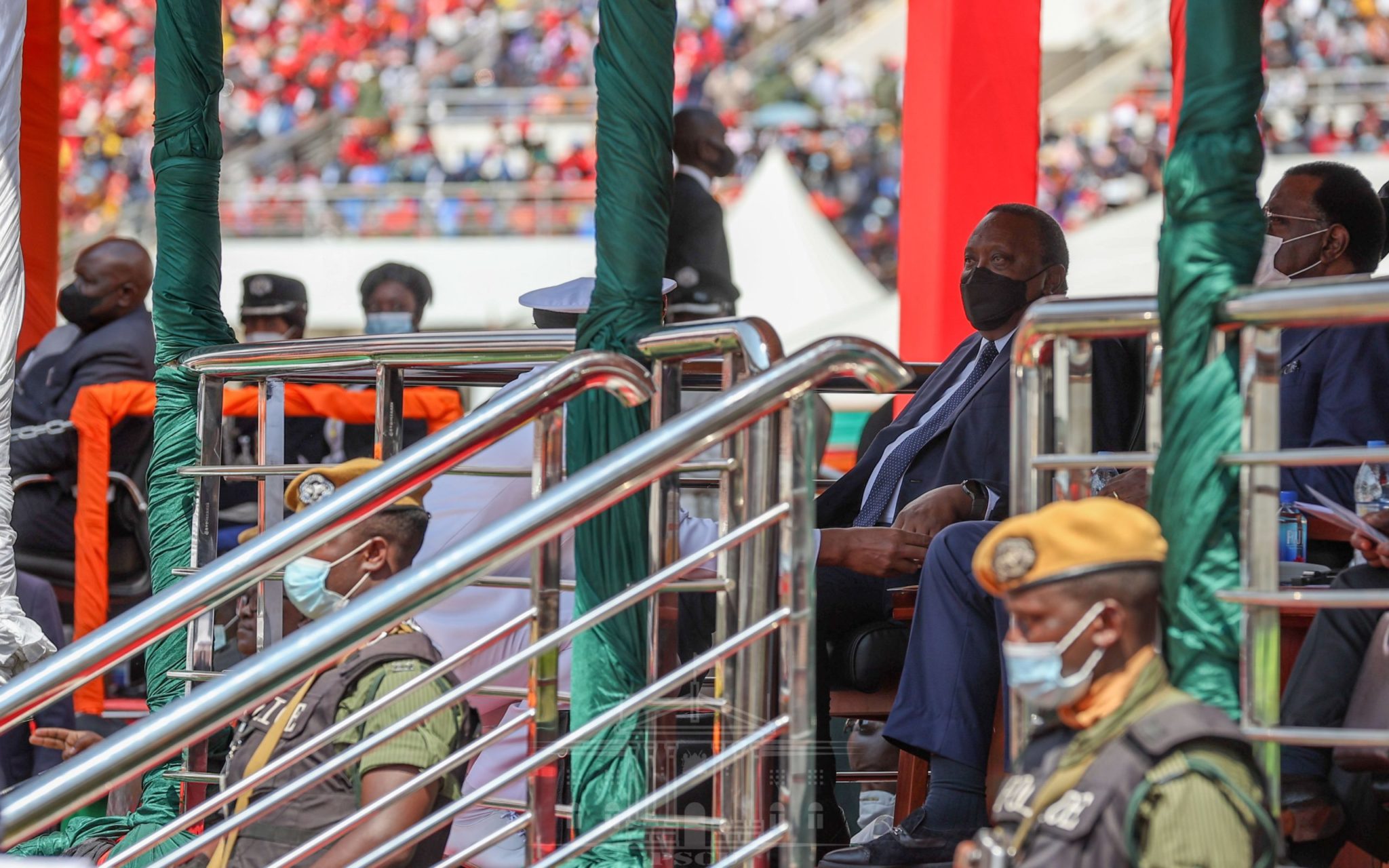 President Hichilema inspects a guard of honor.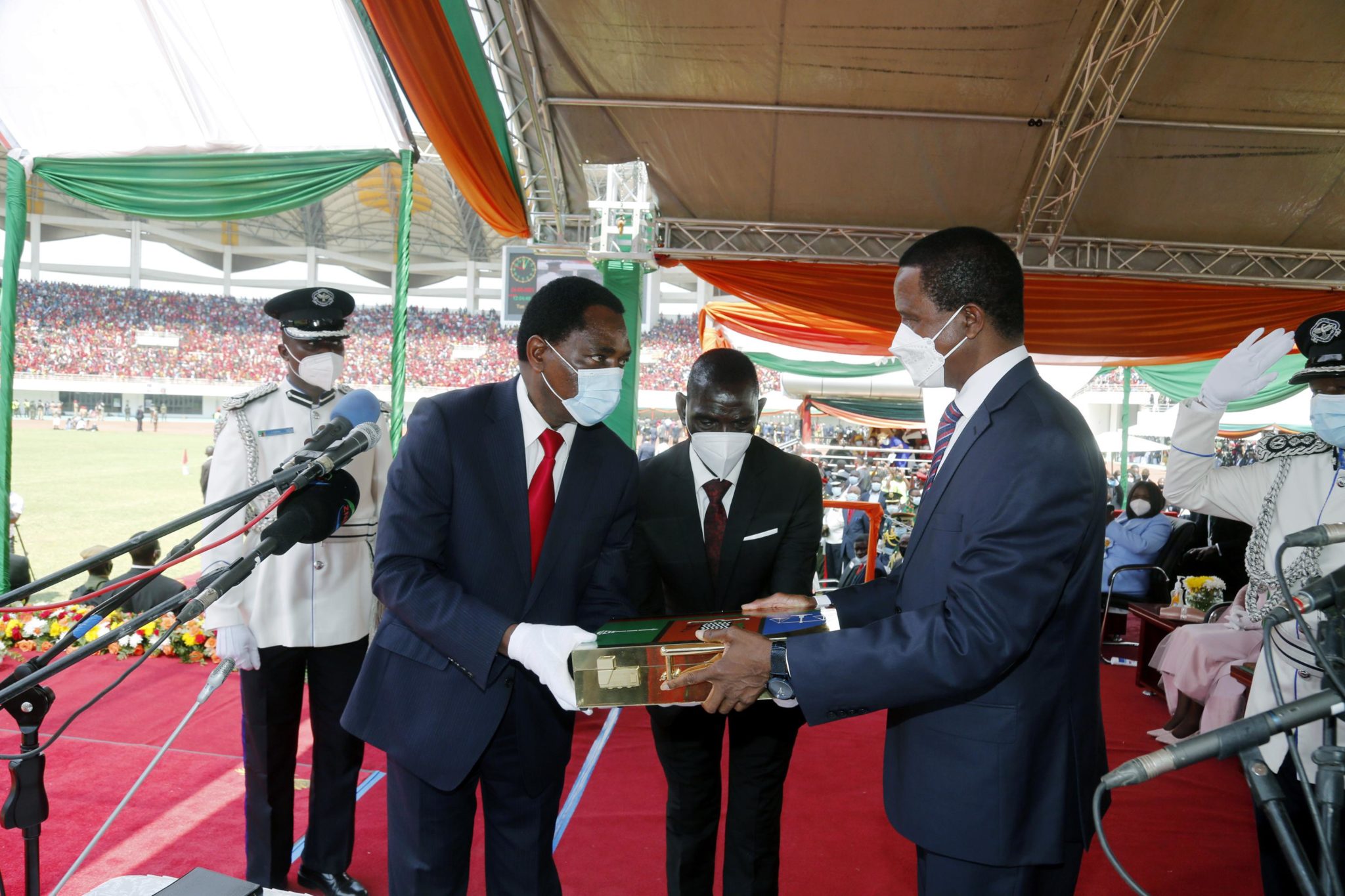 Edgar Lungu hand over the mantle of leadership to Hakainde Hichilema.
How can African Nations Improve the Electoral Process?
In a continent where the incumbent-opposition transition has happened only 21 times overall and 13 times in the 21st century, there is an obvious need for electoral reform. All over Africa, elections are usually rife with allegations of voter intimidation, illegal thumb printing, and violence.
Sometimes, voters in the hundreds—and sometimes thousands— lose their lives during elections because of electoral malpractices. With the status quo, this ugly occurrence will remain in the African political scene. Below are some of the ways to change the trend.
#1. Integrating Technology into Elections
The first step towards getting it right with African elections is gradually broadening the use of Information and Communication Technology (ICT) tools in future elections. Many African elections are prone to manipulation because of their analog nature. If Africans go digital with electoral process, the incidence of electoral malpractice will reduce.
#2. Massive Voter Education
Reforming the electoral process cannot be meaningful without adequate voter sensitization. Therefore, Africans must understand the importance of their vote, the need to shun electoral malpractice, and the consequences of apathy. Consequently, citizens can make better electoral choices, and make electoral fraud more difficult.
#3. Strengthening Institutions
Furthermore, one of the weakest points of the African electoral apparatus is the weak institutions used to execute elections. Many times across the continent, voters find that security agents are as compromised and partisan as electoral umpires. Thus, improving the electoral process in Africa cannot succeed without just and fair institutions.
Conclusion
Hakainde Hichilema's victory at the polls gives Africans hope that their continent is on the right democratic trajectory. With better elections and willing citizens, African leaders can do better jobs, knowing that failure will see them kicked out. If you are reading this post, what is that one thing you will want the new president to do? Share your thoughts in the comment box below.