Ten-Year Old Kenyan Artist Impresses Ugandan President With Portrait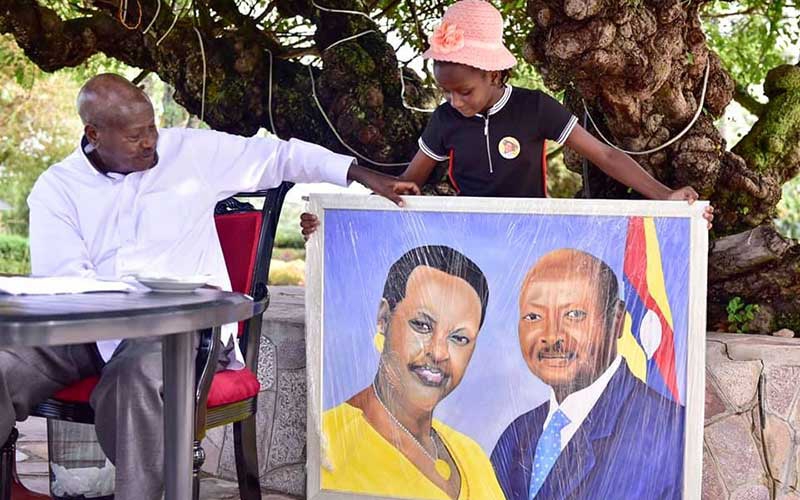 Ten-year-old Kenyan artist, Sheila Sheldone Charles first met President Yoweri Museveni of Uganda in March during his 2-day visit to Kenya. Consequently, President Museveni invited her and her mother to Uganda. The ten-year-old genius described the first meeting as a wish come true. During the meeting, Sheila presented President Museveni a portrait she made for him.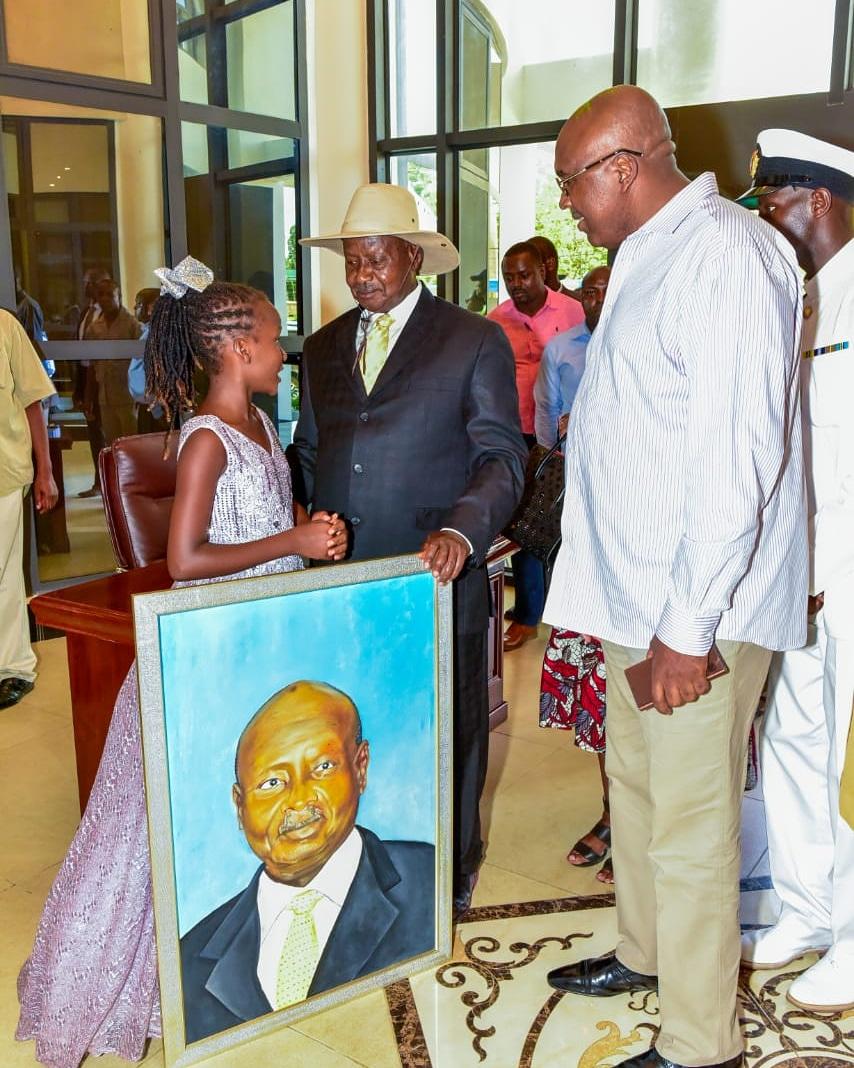 Following the meeting, President Museveni invited her to Uganda. A few weeks ago, Sheila was in Uganda at President Museveni's hometown, precisely Rwakitura farm in Western Uganda. President Museveni confirmed he had invited the ten-year-old to Uganda. The president's message through a Facebook post read,
"My mwizikulu (granddaughter) from Mombasa, Sheila Sheldon Charles, visited me in Rwakitura with her mother as we agreed she would when I met her during my recent state visit to Kenya. Her mother told me she was born at 8 pm, therefore the Luo name we agreed to give her is Atieno. [Consequently] I thank President Uhuru Kenyatta for supporting her education that her parents were unable to. Talent of whatever form should be nurtured alongside formal education. I thank her for the gifts she brought me."
Sheila Sheldone presents a rare portrait to President Museveni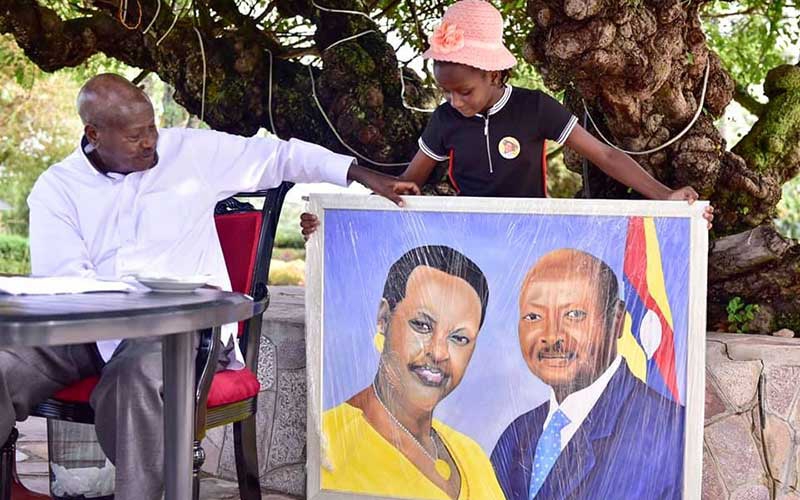 While at President Museveni's hometown, Sheila Sheldone presents him another portrait. Accompanying Sheila Sheldone to present the portraits are her mother and Kenya Police Service' Sergeant Vivian Otieno. When Sheila met President Museveni the first time on March 27 at the Nyali Golf Residence (NGVR), she presented him a portrait of himself. However, this time it was a portrait of the president and the First Lady, Janet. She also presented him with a portrait of a lion.
Sheila Sheldone is a grade five pupil at Light International School. However, she is currently studying on a Presidential Scholarship courtesy of President Uhuru Kenyatta. The president awarded her the scholarship after her display of artistic prowess.
Achievements and awards
Sheila Sheldone started drawing at the age of five. However, her paintings have attracted local and international admiration. According to the multi-talented artist, her favorite painting is the portrait of the lion. Sheila Sheldone is also a dancer, poet, model, and designer. Some of her prominent paintings are Nelson Mandela, Barack Obama, Oprah Winfrey, and Martin Luther King. In a BBC documentary, she said,
"I started drawing when I was five years old. My favorite drawing is the lion. Most tourists come to Kenya to see lions. I draw women because they suffer a lot. Like my mum, she has been suffering."
Last year, Sheila Sheldone was invited by Tese Foundation to teach a painting class in California USA. Consequently, she received the 'Tese Foundation Youngest Lioness Award'. The young lad has also featured in local and international media.
https://www.instagram.com/p/BtG9z1xhr4c/?utm_source=ig_embed