How Ghana's Virgil Abloh Rose to Become Louis Vuitton Men's Artistic Director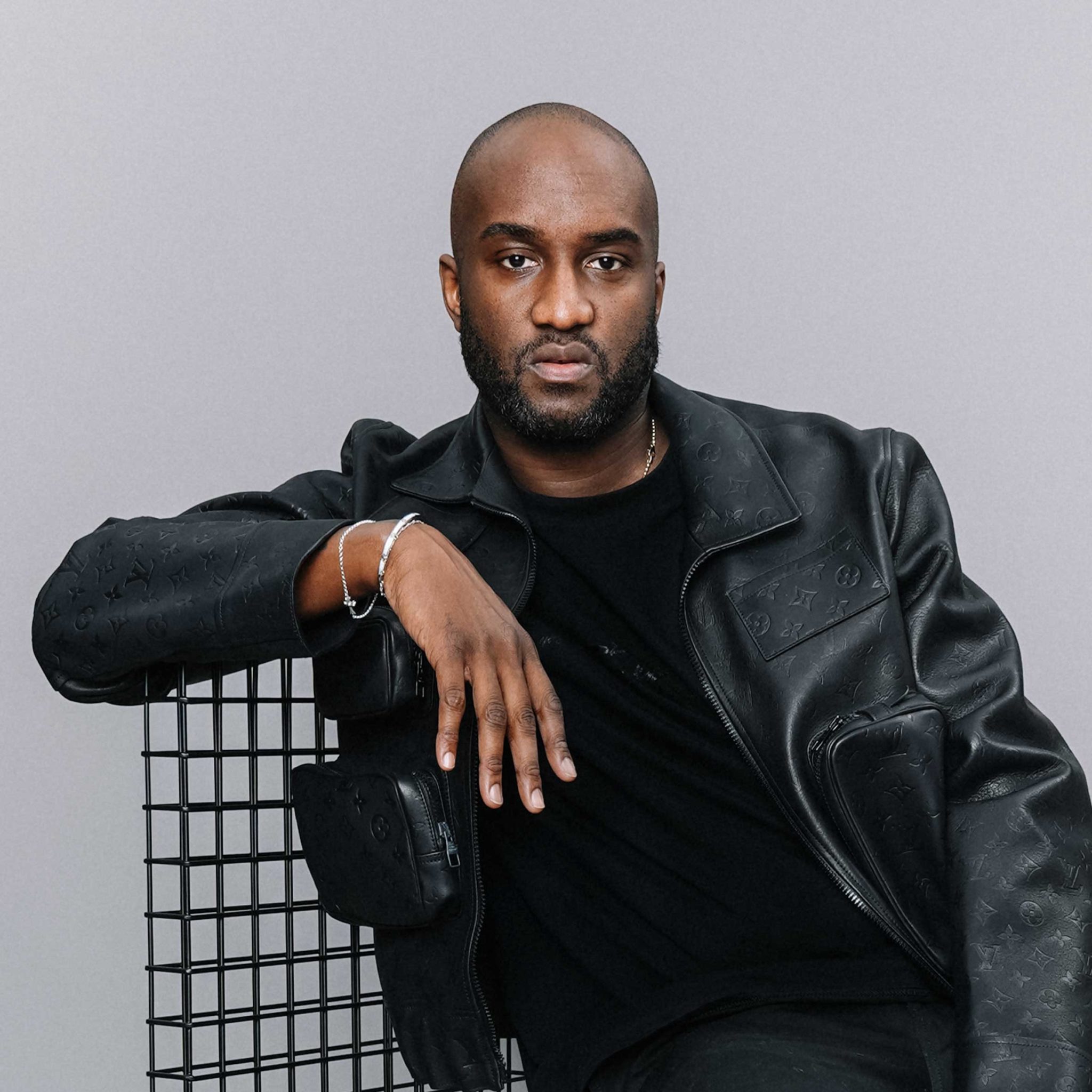 Experience has shown that it takes diligence, focus, and initiative to attain your goals. For Virgil Abloh, the founder of the fashion label 'Off White,' and Louis Vuitton's Men's Artistic Director, it took all that plus the bonus of having a celebrity connection. This is a story of how the son of two Ghanaian immigrants excelled to achieve prestige and fame.
Virgil Abloh's appointment as Louis Vuitton Men's Artistic Director
In March 2018, Louis Vuitton made an announcement that caused a big stir in the fashion world. Abloh, a well-known artist, architect, creative director, and designer was appointed the Men's Artistic Director for Louis Vuitton. Thus, he was the first designer of color to attain that position.
Louis Vuitton is a legendary brand that was launched in 1854. It is considered one of Europe's great institutions. Abloh was first exposed to the brand as a teenager. This was when he saw the monogrammed merchandise displayed in stores. Interestingly, now he will play a role in contributing to its growth.
What the Appointment Signifies
The appointment of Virgil Abloh, a popular promoter of pop culture to such a position has great significance. It is a sign that fashion houses are accepting Streetwear and Hip Hop as legitimate expressions of fashion. Also, it indicates that contemporary culture has finally found a place in the fashion industry.
According to Mario Abad in his article in Forbes, Abloh's appointment is a great opportunity for the fashion house to 'attract a new generation of streetwear enthusiasts'. It is of note that Abloh's role at Louis Vuitton runs parallel to his position as head of his fashion label 'Off White' in Milan.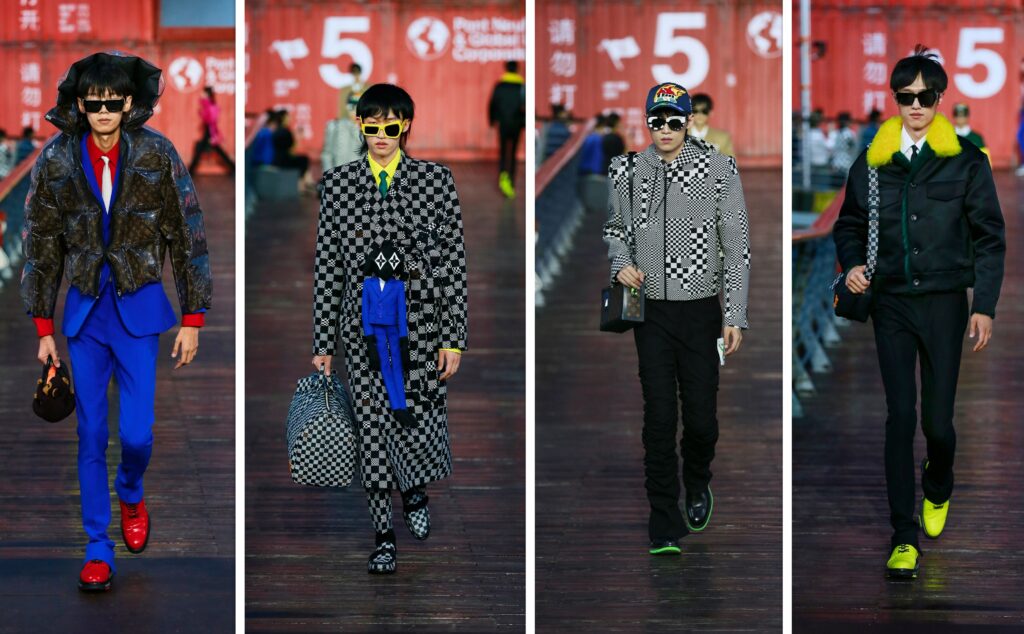 This is a snap-shot taken from the Louis Vuitton Spring 2021 Menswear Collection. Virgil Abloh is a designer who is not afraid to stretch boundaries. This is evident in the monochromatic looks with touches of bold colors, such as the electric blue suit, and the yellow fur collar on one of the suits. Nevertheless, the Louis Vuitton monogram is woven in and out throughout the collection.
Where it all began
Abloh was born in Rockford, Illinois. His mother was a seamstress and taught him how to use a sewing machine. Hence he began designing T-shirts from the time he was a boy. However, Abloh followed his father's advice and studied Civil Engineering in College. In 2002 when he graduated from the University of Wisconsin, he met the renowned musician Kanye West.
Virgil Abloh as the Protégé of Kanye West
Kanye West recruited Abloh to design his album covers and merchandise. Abloh's diligence is seen in that whilst working for Kanye, he continued to pursue his architectural studies. In 2006, he received his Master's degree in architecture. Subsequently, in 2010, Kanye appointed him as his Creative Director.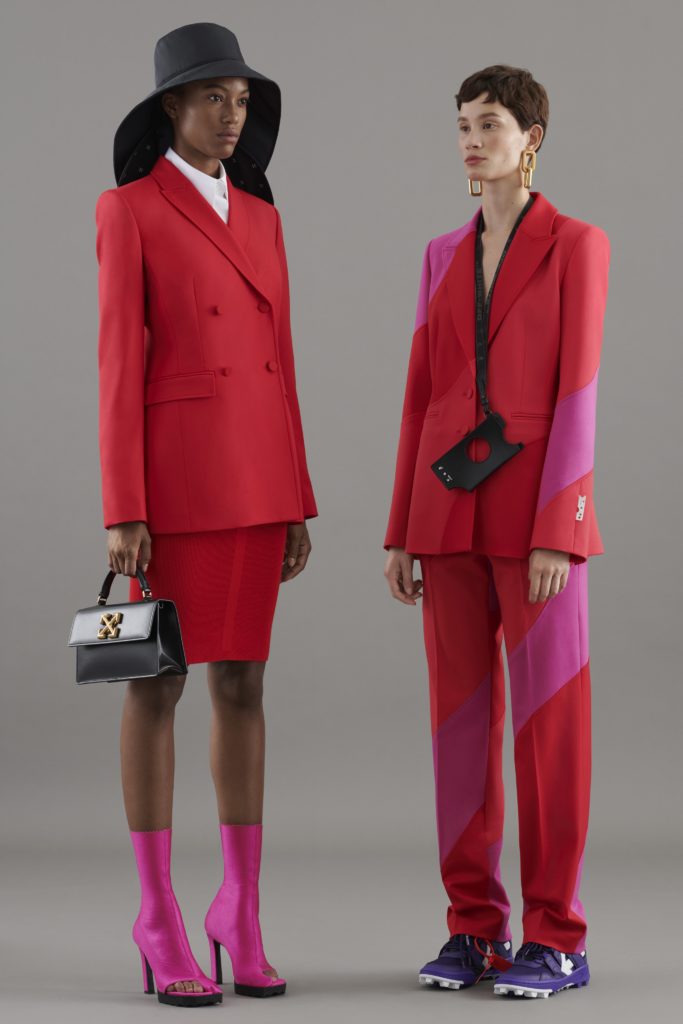 The above ensembles are part of the 'Off White' Resort 2021 collection. The look is partly formal and partly casual as is evidenced by the footwear. This is a playful way of demonstrating that life should never be too serious. The floppy hat adds a touch of elegance. The hot pink boots should clash, instead, they elevate the outfit to 'cutting-edge' levels.
The Transition into the World of Fashion
Kanye West had an interest in the fashion industry, therefore, he decided to pursue it by becoming a fashion designer. With that goal in mind, he arranged for an internship for both Abloh and himself at Fendi, a well-known Italian fashion house. The two served as interns for 6 months.
In 2012, Abloh opened his first store 'Pyrex'. His creative mind and innovative skills came to the fore. He purchased dead stock from Ralph Lauren, revamped it, and sold it at his boutique. This venture was highly successful inspired him to form his famous label 'Off White'.
Virgil Abloh Launches The 'Off White' Label
A quirky, distinctive brand, 'Off White' is a combination of Street and High-End fashion. Its creations have been enthusiastically received. As a result, Abloh's fashion lines stand out at the annual Paris Fashion Weeks. Subsequently, in 2015, the 'Nike' brand brought 'Off White' on board to redesign some of their pieces.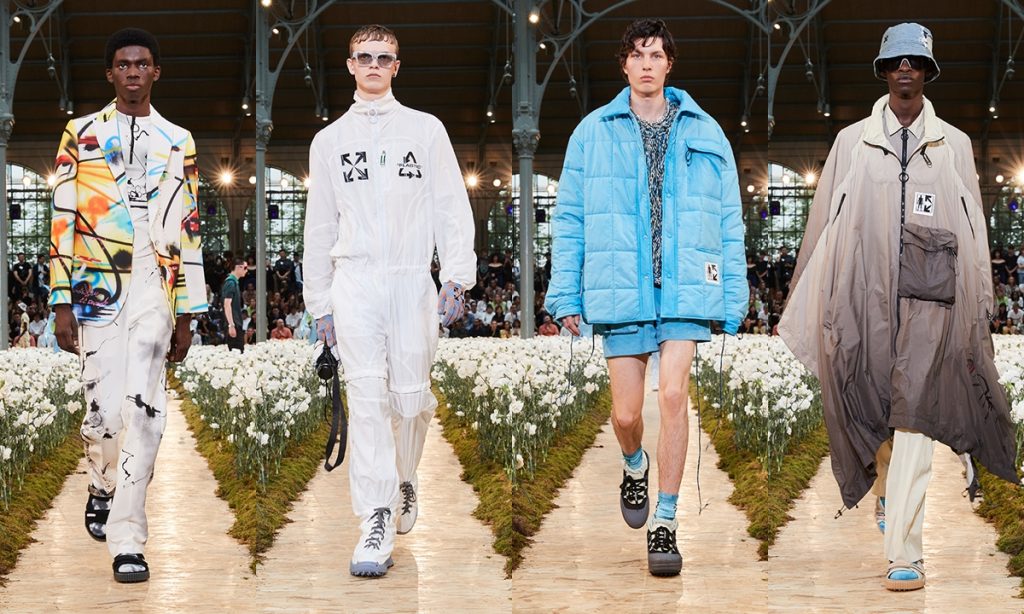 The 'Off White' spring/summer 2020 fashion line did not disappoint. Displaying futuristic urban wear at its best, the relaxed 'laid-back' look has a calculated harmony. For example, the cornflower blue tones of the down jacket are picked up in the socks.
According to the e-commerce platform 'Lyst', 'Off White' has overtaken well-known labels such a Balenciaga and Gucci. It is now the top brand in the world. However, this ranking is not based on revenue, but social media analysis.
Nevertheless, Virgil Abloh is on the right track. This is because statistics indicate that the market for luxury streetwear is booming. Frederica Levato from the Marketing Consultancy Bain & Co is reported by Associated Press news as saying that customers are becoming younger. As a result, fashion houses now classify millennials as their prime target market.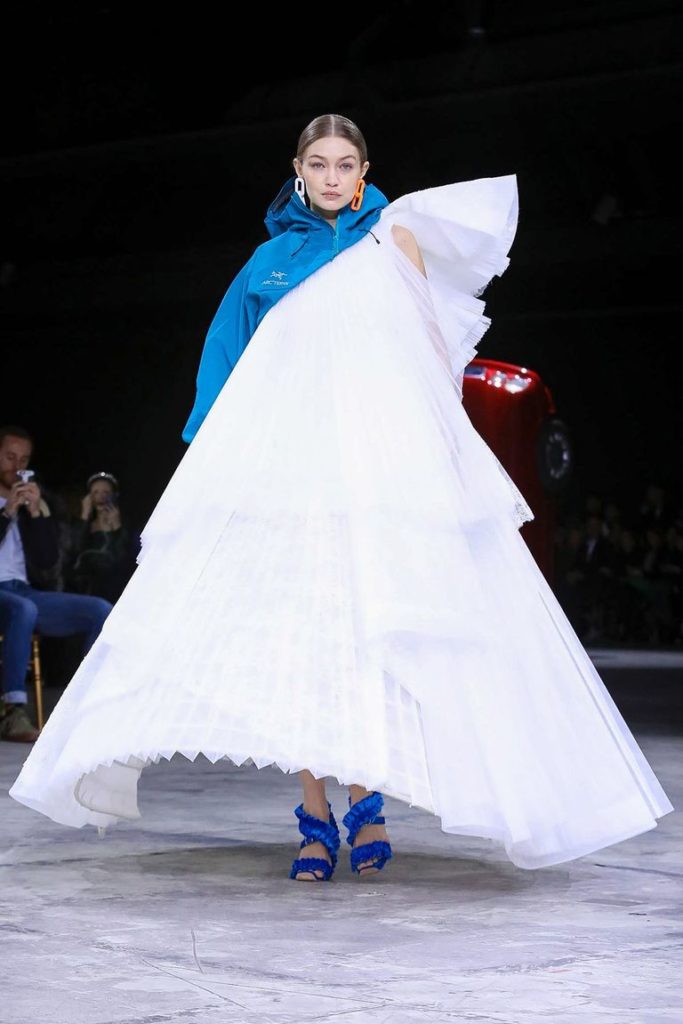 A glamorous look from 'Off White' at the Paris Fashion Week Fall/Winter Collection 2020. This flowing white multilayered gown is dressy and feminine, with a glimmer of streetwear. The bodice is asymmetrical, and one side ends in a hoodie. Once again the electric blue of the hoodie is picked up in the elegant high-heeled sandals for a harmonious finish.
The Source of  Virgil Abloh's Inspiration
Abloh draws inspiration from his heritage. In an interview with Sarah Mower of Vogue, he said,
"When I grew up, my father wore Kente cloth, with nothing beneath it, to family weddings, funerals, graduations. When he went to an American wedding, he wore a suit. I merged those two, celebrating my Ghanaian culture. Add LV patterns to the cloth, drape it, then pair and compare it again with tartan checks, and the result is indeed something new.''
This was evident when he launched his Luis Vuitton collection in January 2021. It featured, amongst other things, wraps that had a distinctly African flavor. Below are samples of Abloh's creations for the Louis Vuitton Fall/Winter 2021 collection. Abloh's cultural roots are evident in the Kente wrap.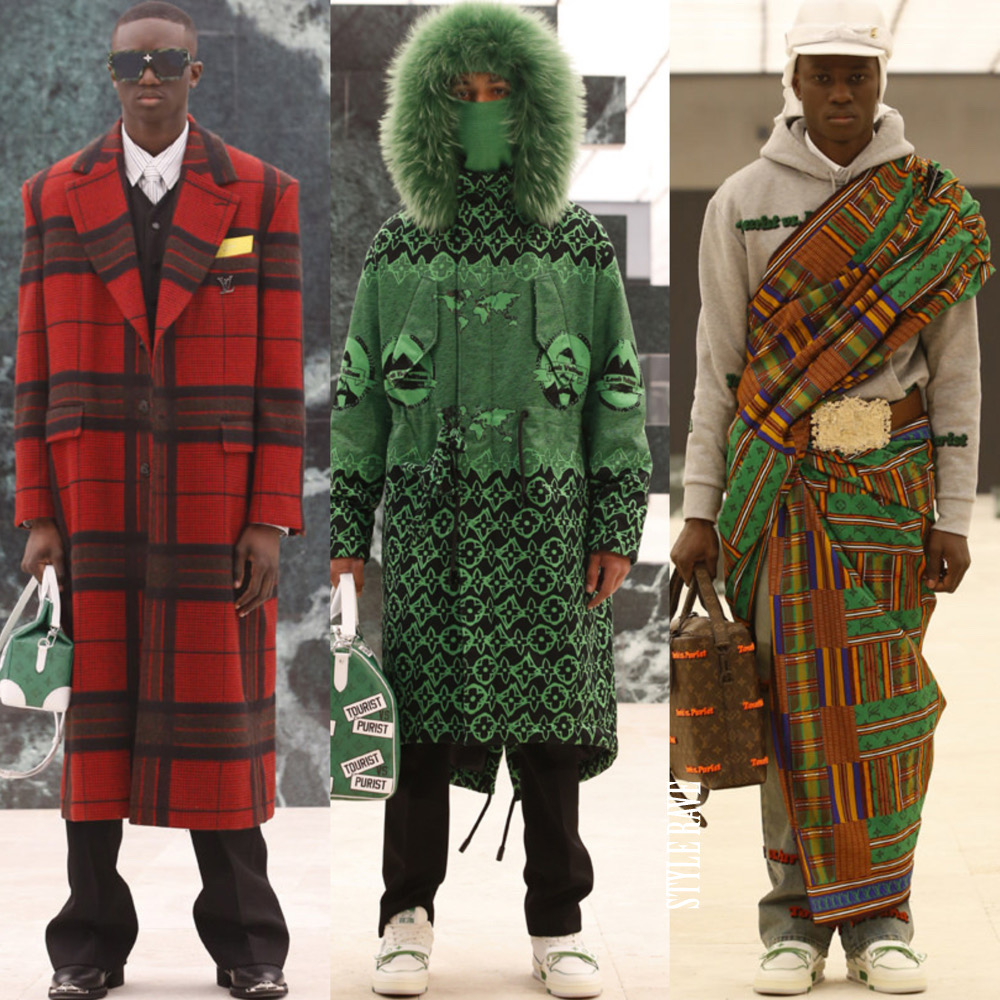 Conclusion
For a Ghanaian-American to rise to the pinnacles of the high fashion world is an achievement worthy of applause. In addition to holding that prestigious position, Virgil Abloh is at the helm of 'Off White' one of the world's hottest labels. Abloh's association with Kanye West may have opened doors. However, his appointment at Louis Vuitton was purely on merit. It was in recognition of his immense talent and creativity. This proves that there is no substitute for diligence and hard work.