15 Must Visit Airbnb Homes In Africa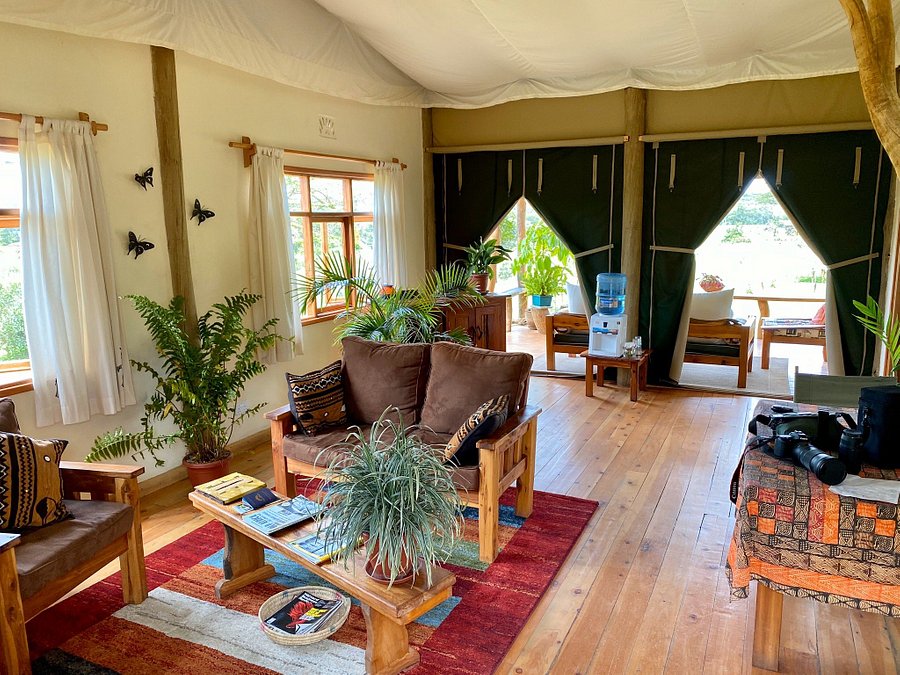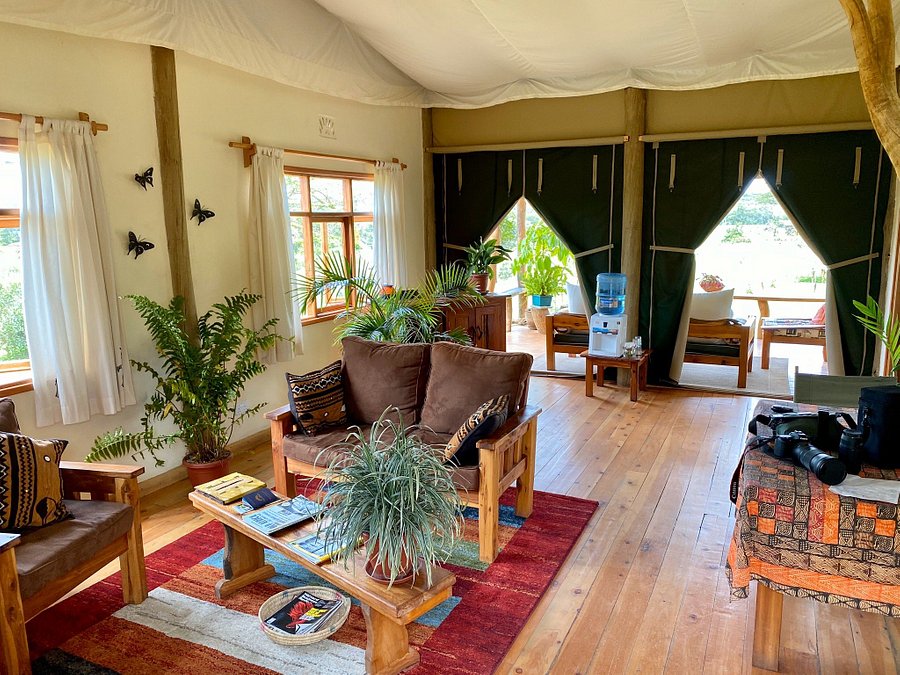 Have you always dreamed of an African adventure? Is a visit to Africa at the top of your bucket list? If so, you will be spoilt for choice when it comes to accommodation. The African continent offers a wide variety of comfortable, affordable accommodation. Also, you will be pleased to know that there are Airbnb homes in Africa to suit all budgets and tastes.
Firstly, there are homes with a rustic colonial vibe and traditional English gardens. In addition, others are sleek, modern, ultra-luxurious apartments. Still, others offer barefoot luxury by the sea. As a matter of fact, Airbnb has listings that cover almost all corners of Africa. But, are they really worth it? Read on to find out.
Are Airbnbs Better Than Hotels?
The main advantage of Airbnbs is that they are lower priced than hotels. This is especially true for group and family travel. Besides Budget, Airbnb accommodation is usually roomier and most homes come with a fully equipped kitchen. This is useful as it gives you the option of dining at home which results in a saving. Also, when you stay in an Airbnb you get a chance to interact with the locals. Subsequently, it gives you an idea of how life is for the residents.
How Do You know if an Airbnb is legit?
As is the case with other online transactions, you need to exercise caution. For example, if you are in doubt, perform a reverse image search on Google on the featured pictures. If the images of the property appear on random sites, it may be a scam. Check the host's profile and if he is a 'Superhost', that is a good sign. It is evidence of his experience. Also, it indicates that the property has received high ratings. Therefore, it is important to pay attention to the reviews posted by previous guests.
Do I have to clean the Airbnb?
A good guest will observe a little etiquette when renting an Airbnb. This will include washing dirty crockery before leaving. It is also a good practice to wipe down the counters, take out the trash, and empty the fridge. However, hosts usually include a cleaning fee in the rate. Therefore, no heavy cleaning is necessary.
The 'Must Visit' Airbnb Homes in Africa
#1 Ol Pejeta Safari Cottages, Nanyuki, Kenya – $150/night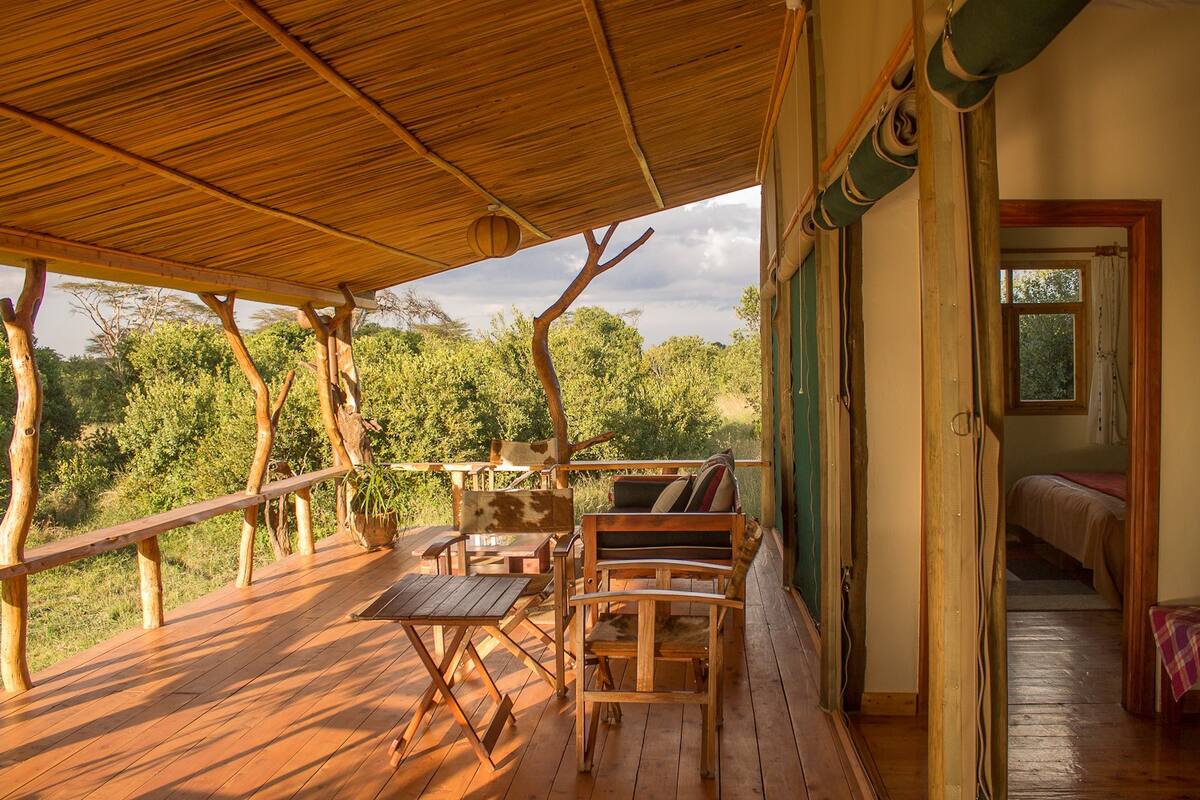 Located in Nanyuki, Kenya, these private luxury cottages lie within a wildlife conservancy. The two-bedroomed cottage 'Mbili' is built of recycled wood and has a rustic feel about it. Both bedrooms are ensuite and have access to a large picturesque verandah that overlooks the river. It is not unusual to see herds of elephants pass by. The spacious open-plan living area has a fireplace that you will no doubt enjoy sitting around in the cool evenings. This facility offers the option of full board accommodation inclusive of drinks.
#2 Private Beach Apartment 'Moja' Ocean Front View, Zanzibar, Tanzania – $352/night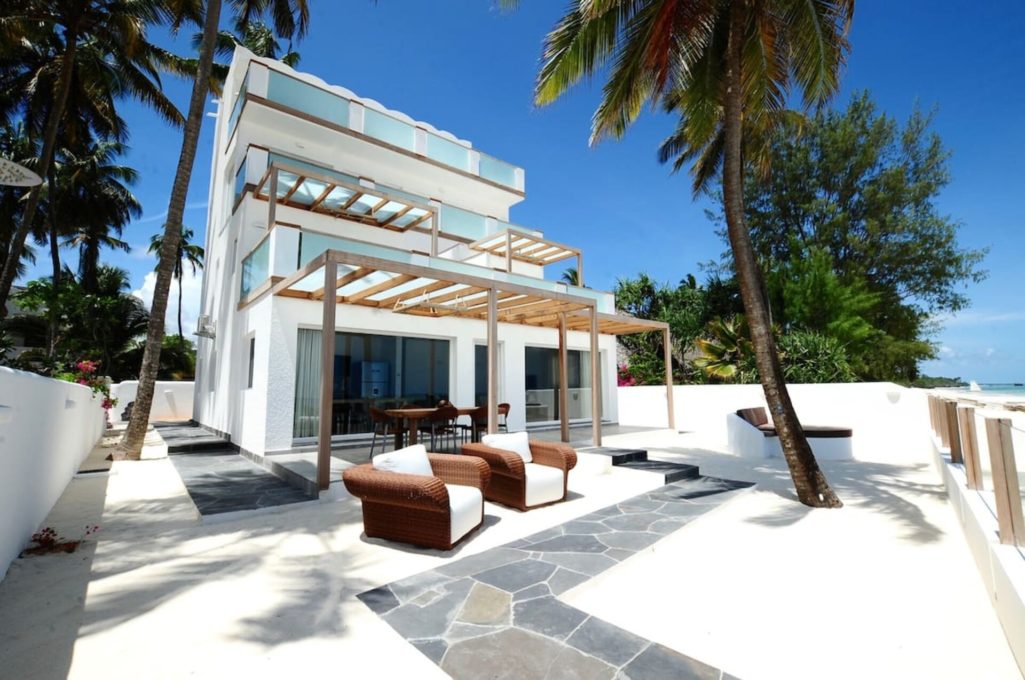 A must-visit Airbnb home in Africa is this enchanting contemporary apartment. It is located in the North-East part of Zanzibar, Tanzania. It faces the sparkling white sands of Kiwengwa beach. The ground-floor apartment has a fused Afro-Italian décor with a private beach and garden. It accommodates 6 guests in three bedrooms and has Wi-Fi and air-conditioning.
#3 Pumbai House, Lamu, Kenya, a must-visit Airbnb home in Africa – $380/night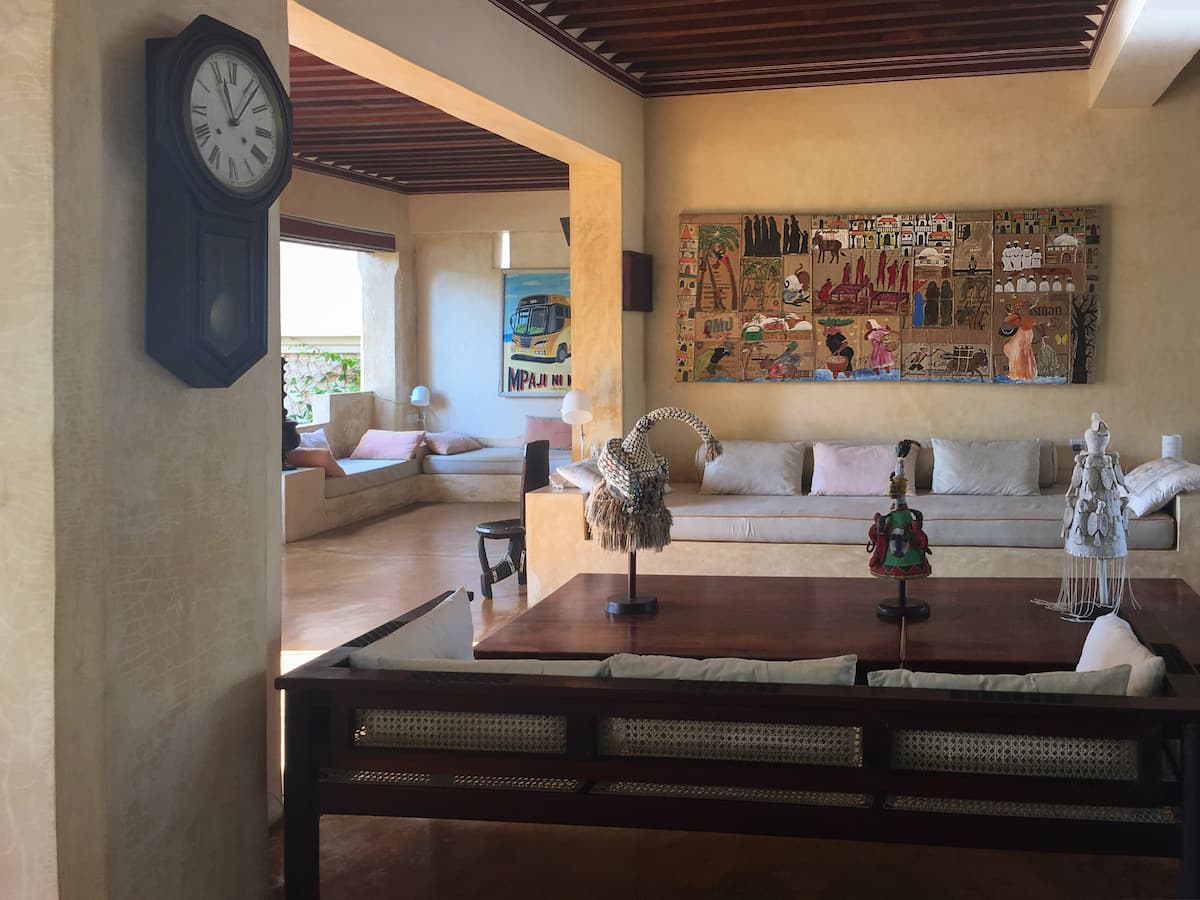 You will find Pumbai House in the village of Shela. This is on the beautiful island of Lamu in Kenya. This exquisite villa is a mere 2-minute walk away from the beach. It has a private swimming pool and an upper terrace that offers spectacular views of the sea. The 5-bedroom villa can accommodate 10 people and has an open-air feel about it. It is decorated in Swahili style with elegant furniture and unusual artwork.
#4 City Penthouse in Central Cape Town, South Africa – $74/night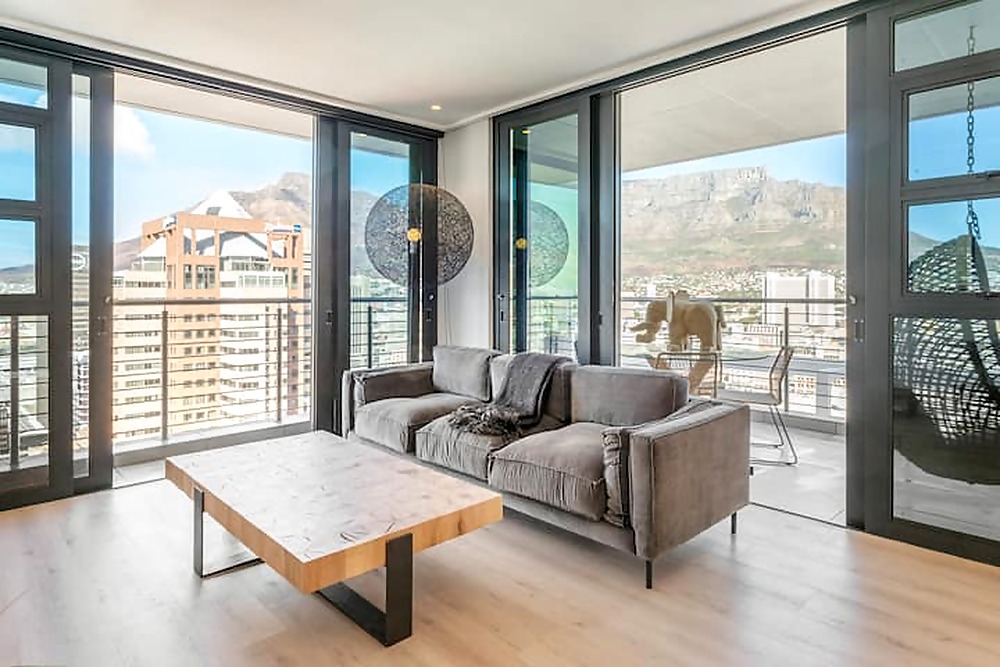 A stunning open-plan penthouse, this centrally located gem has floor-to-ceiling windows. They offer striking views of Table Mountain. What makes this one of the must-visit Airbnb homes in Africa is that the penthouse has a Jacuzzi at the patio. From there, you can view the sunset. There is also a fully equipped gym on the same floor. The penthouse is conveniently located near museums and coffee shops and the Victoria and Alfred Waterfront (V&A) is also in the vicinity.
#5 Beach House on the Rocks, Cape Town, South Africa – $903/night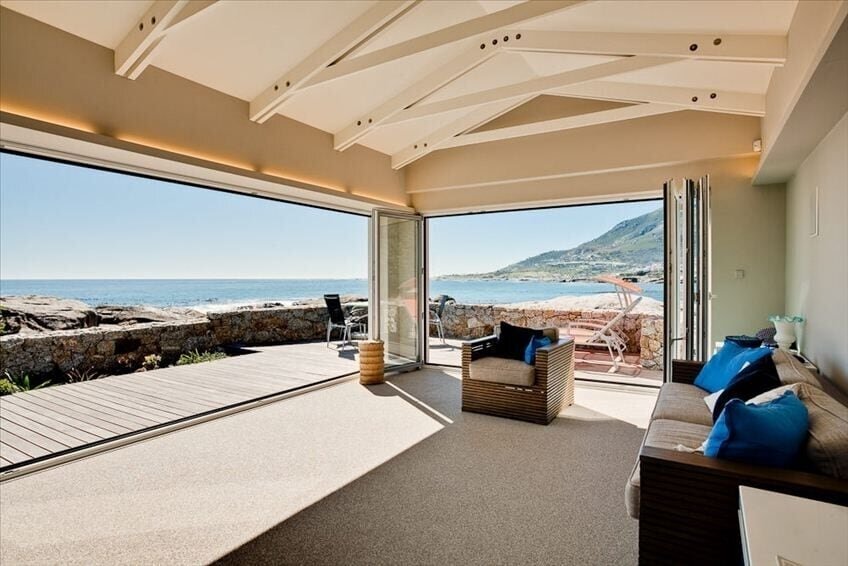 The last word in luxury is a beach bungalow with a difference. It has a hot tub Jacuzzi, flat-screen satellite TVs in all rooms, and an outdoor shower. The 3-bedroom house accommodates 6 guests and offers beach access. You will sleep to the sound of the ocean and enjoy breathtaking 360-degree views of Table Mountain. In addition, restaurants and shops are just a stone's throw from the apartment.
#6 The Cave – Romantic Getaway on Champagne Ridge, Kenya -$88/night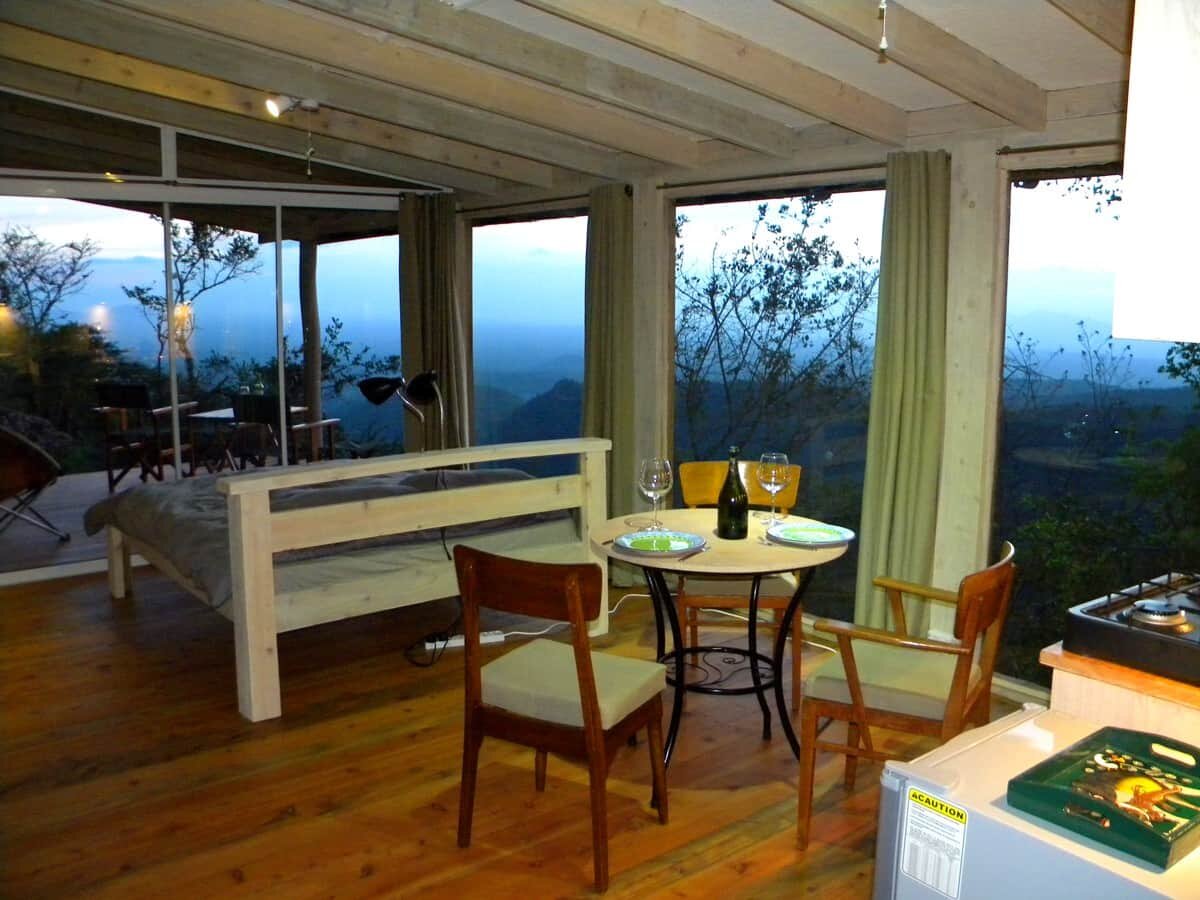 Warm and cozy, this is the ideal location to celebrate that memorable milestone. The Cave is located in the middle of Maasai land in Kenya, built against the natural rock. It is a special hideout for couples only. A little piece of heaven, the cave offers gorgeous views of the surrounding countryside and the sunsets are unforgettable.
 #7 Full Home Local Maroc Experience in Heart of Chaouen, Morocco – $91/night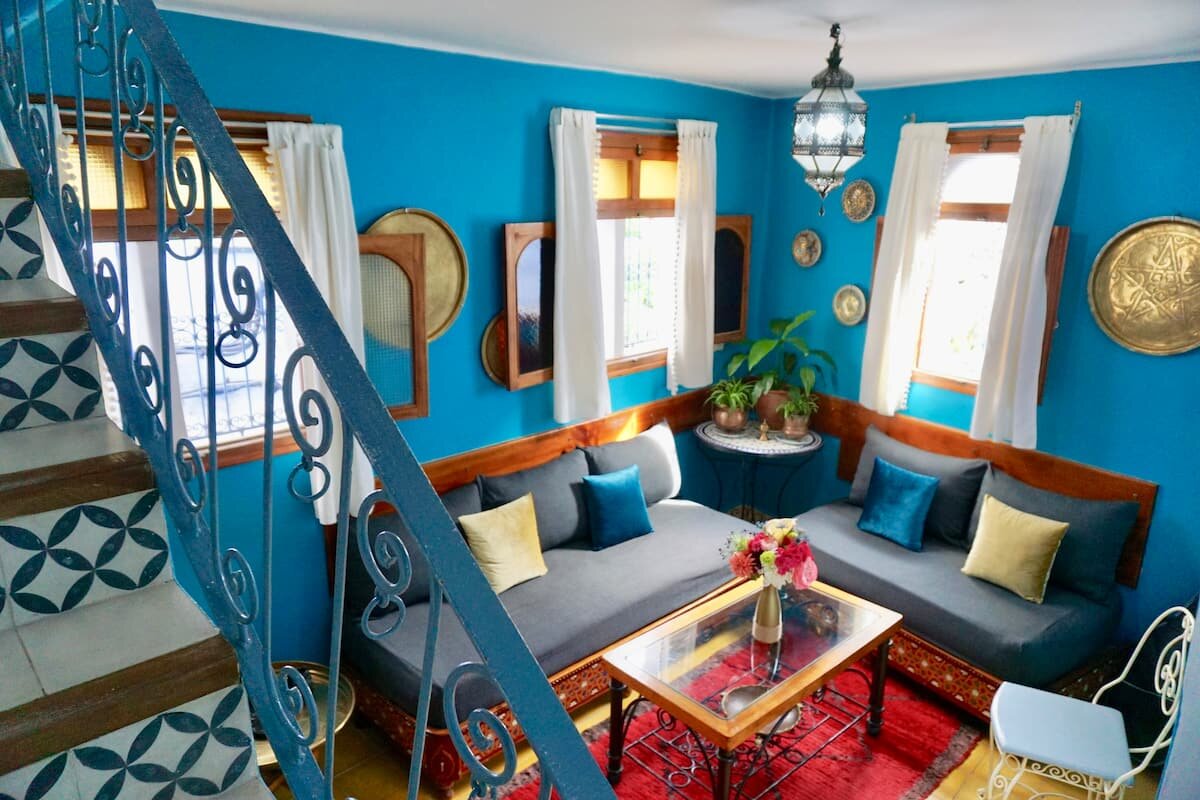 This charming home is at the center of the Medina in the beautiful city of Chefchaouen, Morocco. The four-storied home sleeps 9 guests comfortably. It has the traditional Moroccan style decoration with modern touches. The home is a walking distance away from the old town square, a buzzing center of restaurants and shops. There is Wi-Fi, air-conditioning and a balcony to relax in.
#8 Still Waters Cottage by Lake, Mantasoa, Madagascar – $70/night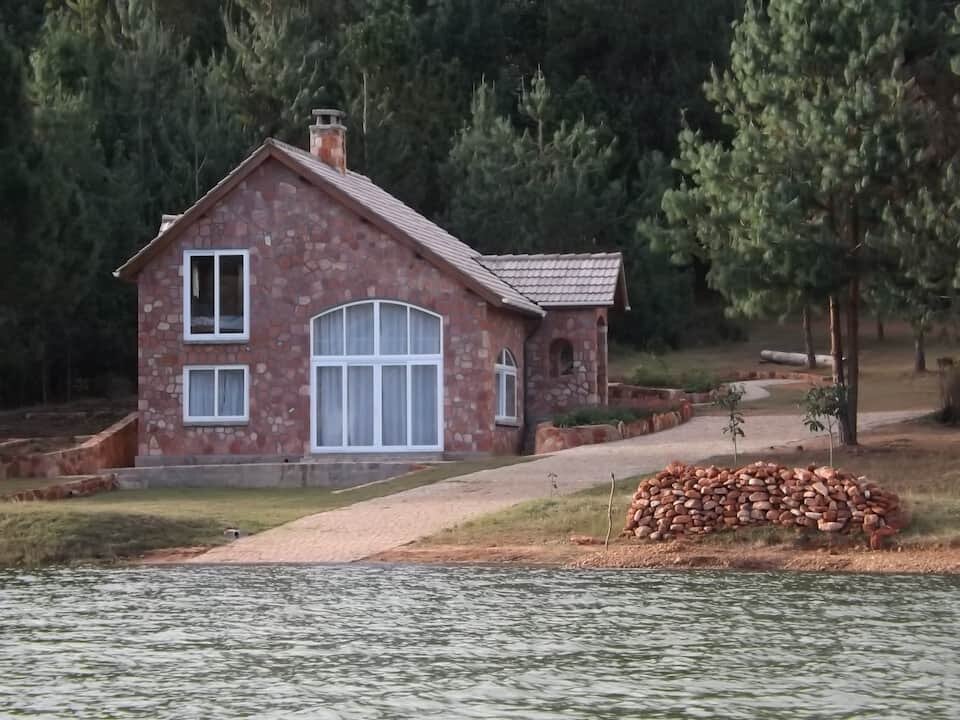 Located in Mantasoa, the cottage is a two and a half drive from Antananarivo. It offers a tranquil retreat away from the hustle and bustle of the city. The lovely cottage is right on the water. Its major pluses are the stunning views, spacious surroundings, and a fully equipped kitchen. It has 2 bedrooms that accommodate 4 guests, and there is a warm fireplace for cozy evenings.
#9 Villa Montazah – Sharm el-sheik, Egypt – $278/night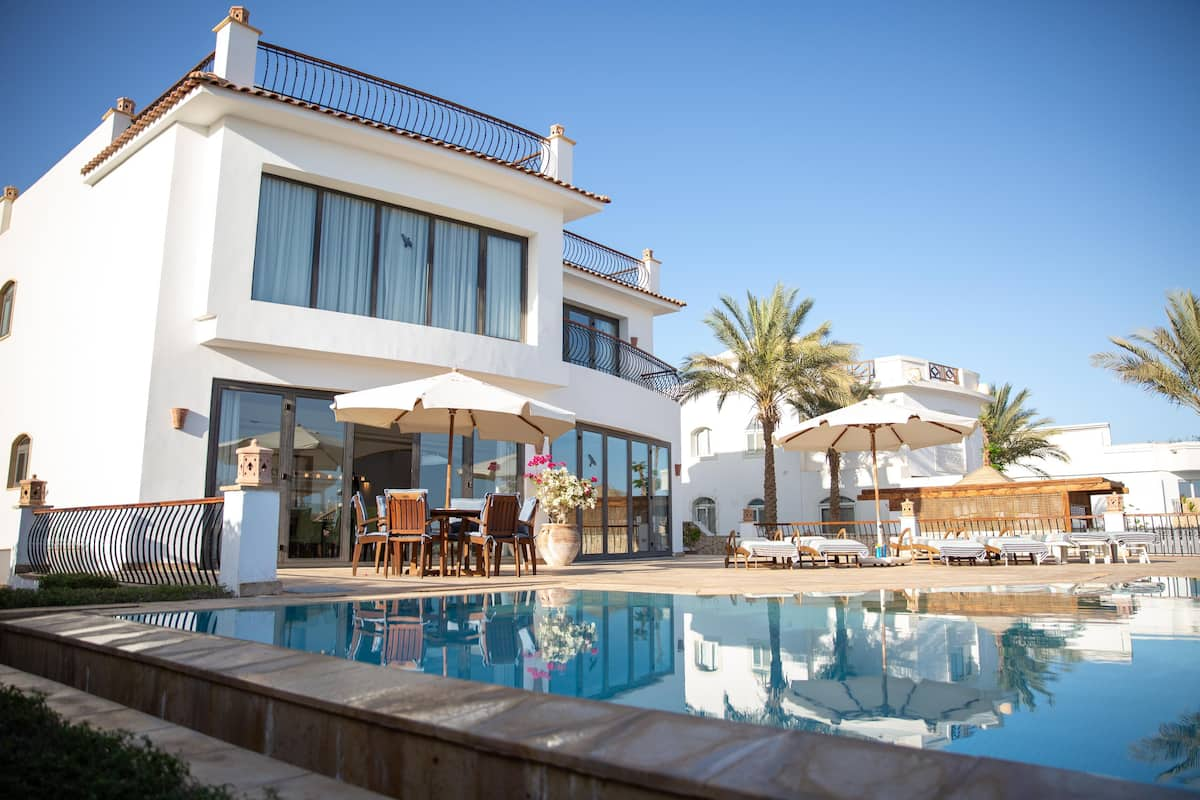 Located in South Sinai, Egypt, this luxurious beachside villa has space for ten. It is set on beautiful grounds, has a private pool, and easy access to diving and snorkeling. The décor is modern with a Spanish vibe. It is fully air-conditioned with free Wi-Fi. On the Seaview side, there are full-length windows with enchanting views. Finally, the villa is in a good location near SOHO square and the old market.
#10 Birdsong Hideaway, Western Cape, South Africa – $50/night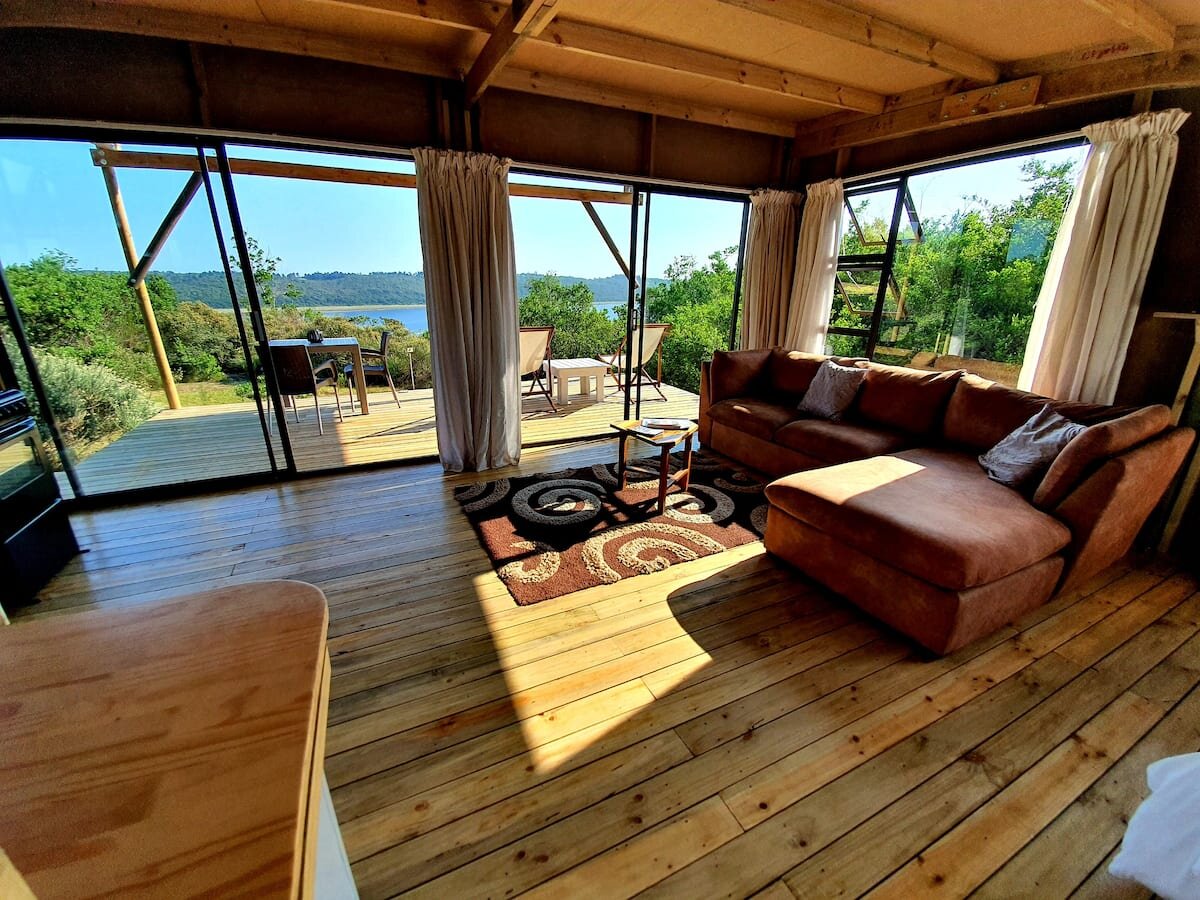 Perfect for nature-lovers, this rustic retreat is another must-visit Airbnb home in Africa. It is located in the rural Garden Route National Park in the Western Cape, South Africa. It is a special place to relax and unwind without compromising on comfort. You will enjoy waking up to birdsong and a beautiful view. In addition, there is a patio from where you can savor your morning coffee as you soak up the beauty around you.
#11 Zanzi Blue Tangawizi Oceanfront Private Villa, Tanzania – $621/night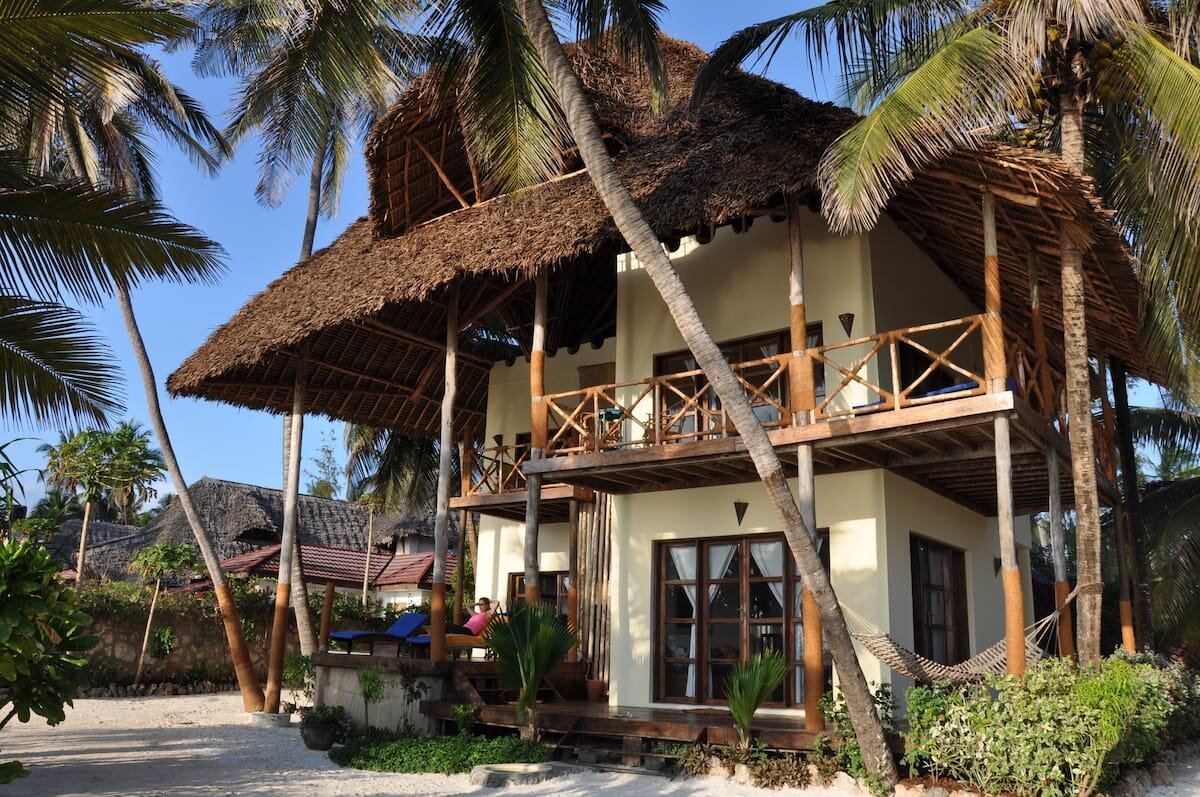 Located at Matemwe in Zanzibar, Tanzania, this is a stylish Zanzibari villa. It houses 8 and sits on an amazing white sandy beach. Nautical sports such as kite surfing and deep water fishing are easily accessible. Not only do you get to enjoy the privacy of your own beach, but you also have a driver and chef at your disposal.
#12 Garden Cottage on Stunning Property, Mahe, Seychelles – $167/night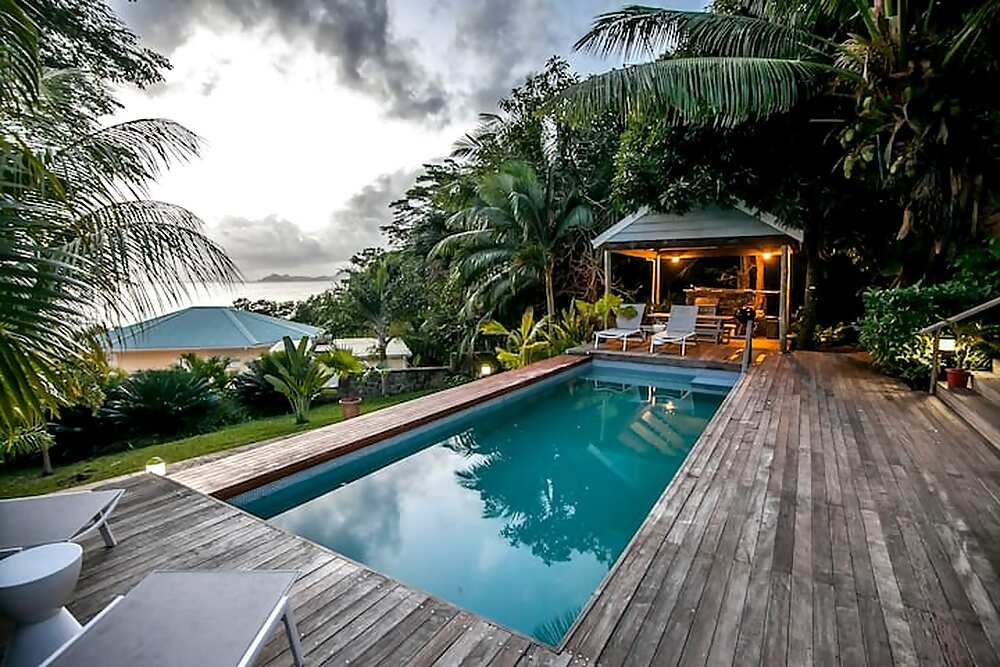 This is an intimate cottage for 2, located on a lovely part of Mahe. This cozy retreat is near beaches, shops, and 5-star hotels. It lies in the midst of landscaped gardens and there are amazing views to be enjoyed as well as a swimming pool and BBQ area. There is a fully equipped kitchen for the nights you opt to dine in and huge windows that allow lots of light to flood in.
#13 Acacia Lodge, Lake Kariba, Zimbabwe – $120/night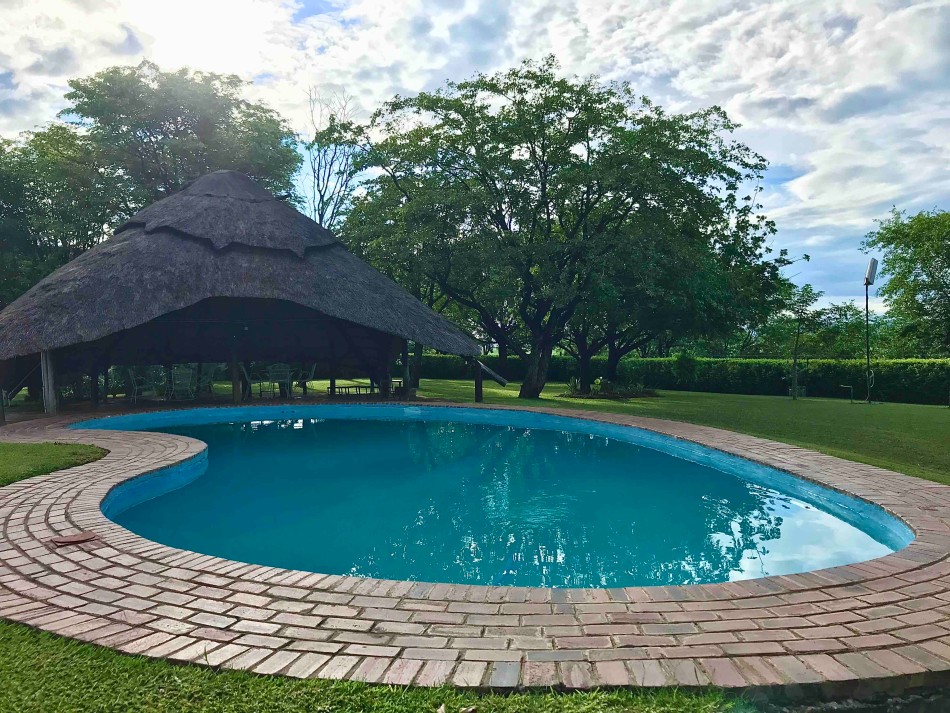 A perfect location to indulge in a spot of fishing, this lodge sits on the shores of Lake Kariba. It doesn't only offer excellent fishing but also prolific wildlife. This is due to its location within a national park. Activities to be enjoyed here include game walks and birdwatching. Also, there is a private splash pool and a bigger one within the complex. The lodge is a comfortably furnished home away from home. It is fully equipped with kitchenware and other amenities and houses 6 guests.
#14 Luxurious Comfortable Home in Trendy Norwood, Johannesburg, South Africa – $115/night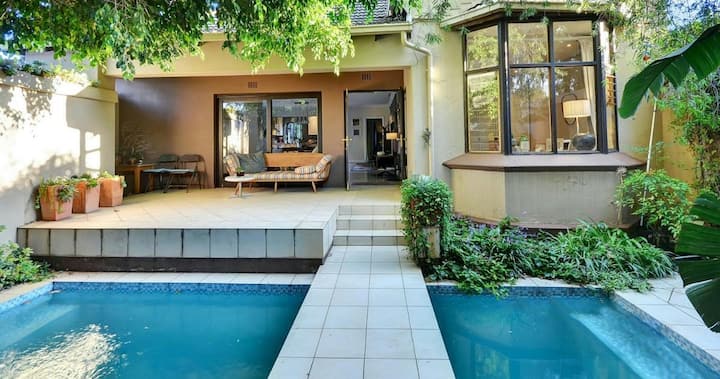 This stylish 3-bedroomed home houses 6 guests and is located in the Norwood area in Johannesburg, South Africa. The home is full of character and has a spacious lounge overlooking the patio and pool. It has an open-plan kitchen with an island, but above all, it is in a fabulous location. You will enjoy exploring the neighborhood area as it has amenities such as an antique store, book shop, and grocery stores. There are also numerous dining options.
#15 Explorers Paradise at Lake Kivu, Kibuye, Rwanda – $95/night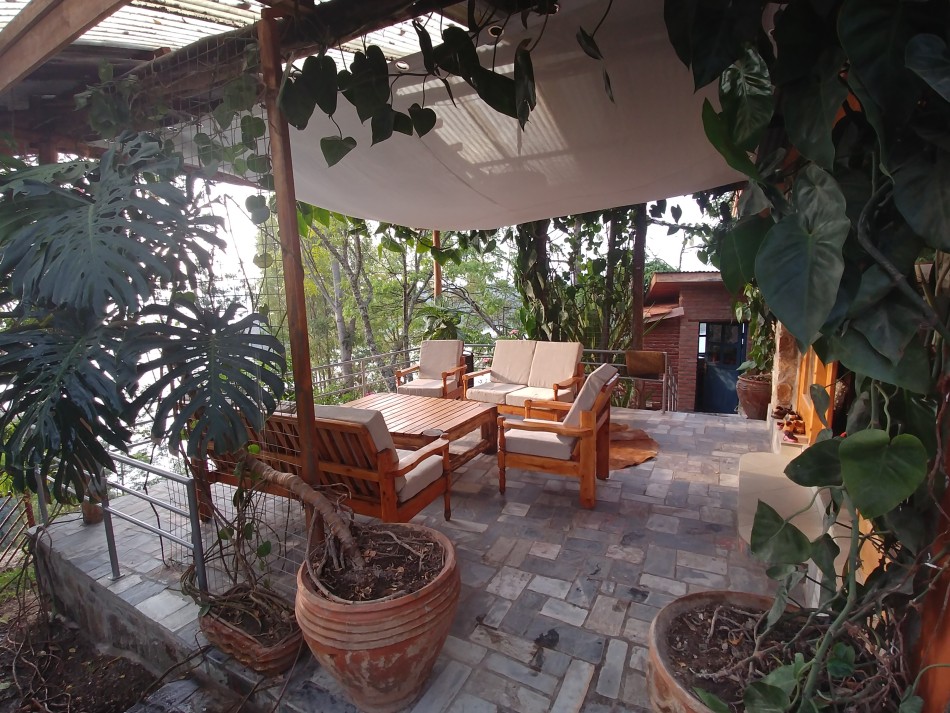 This gem is tucked away in the Western Province of Rwanda. The 2-bedroomed cottage houses 4 guests and was recently renovated. A glass sliding door separates the sitting room from a spacious verandah. The verandah is the perfect vantage point from which to soak in the stunning views of the lake. The house is elegantly designed, comfortable, and offers a relaxing atmosphere. Furthermore, there is no need to interrupt your peace as groceries can be delivered as required.
Conclusion
Wherever your passion lies, whether it is to frolic in clear warm waters or to catch a glimpse of the game, there will be a perfect Airbnb home for you in Africa. Moreover, travel is enriching. As the American physician and poet Oliver Wendell Holmes once said,
"A mind stretched by a new experience can never go back to its old dimensions"