Late Maya Angelou Becomes First Black Woman To Appear On A U.S. Coin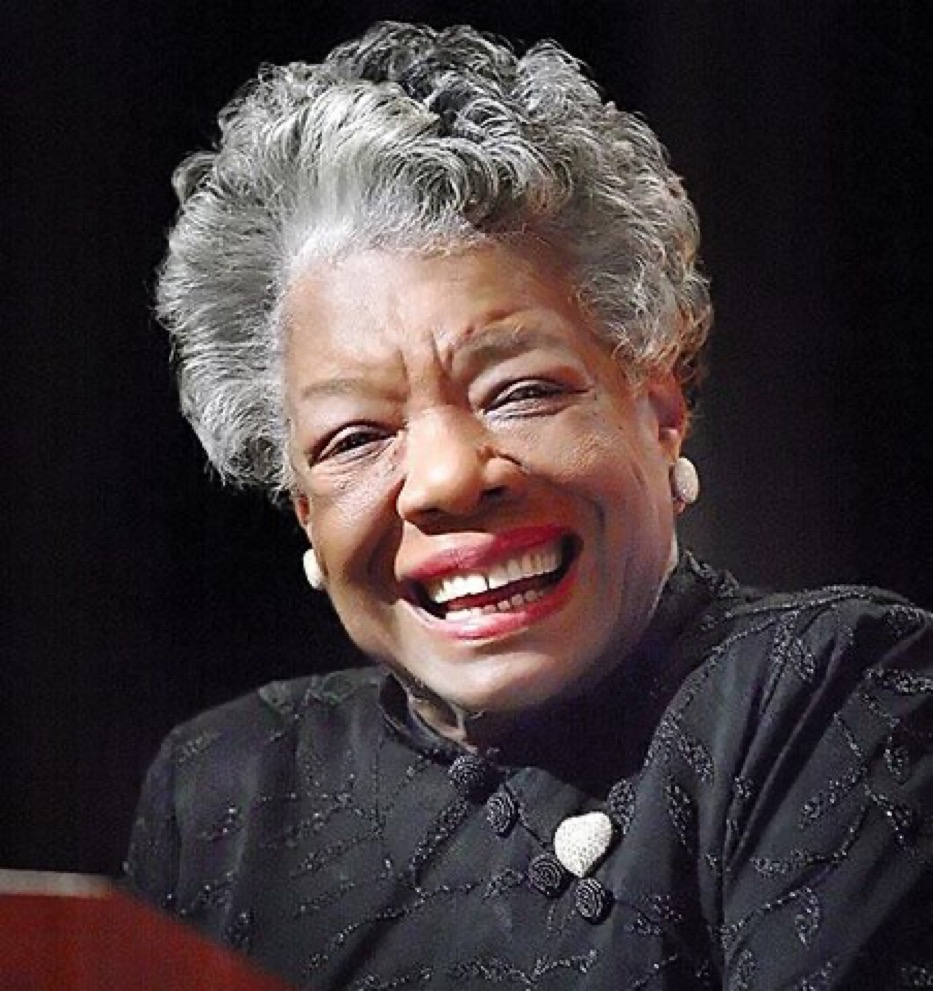 American Poet Dr. Maya Angelou is the first black woman to appear on the US coin. The new 25-cent coin known as the Quarter began circulating in the US on Monday, January 10, 2022, according to a press release by the US Mint. Maya Angelou is the first among five women honorees in this year's American Women Quarters (AWQ) program. The other women are Dr. Sally Ride, Wilma Mankiller, Nina Otero-Warren, and Anna May Wong.
Who Is Maya Angelou?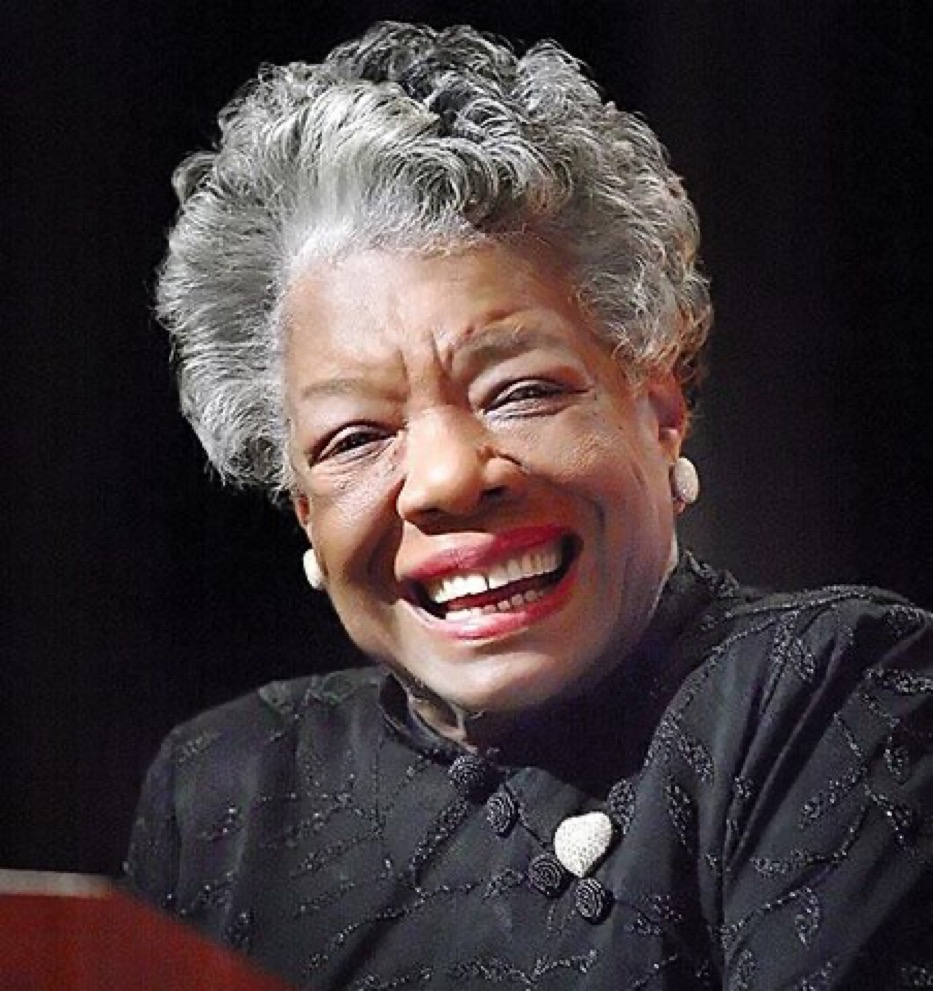 Maya Angelou (birthname Marguerite Annie Johnson) was born on 4th April 1928 to Bailey and Vivian Johnson in St. Louis, Missouri. She spent most of her childhood days shuffling between St. Louis, Missouri, and Stamps, Arkansas where her grandmother lived. In her prime, Maya was many things, an activist, a singer, dancer, lecturer, actress, director, and producer. However, writing and poetry were her forte. Prior to all these, Angelou had a first love and that was to become a streetcar conductor and at 16 years she became the first Black female streetcar conductor.
ALSO READ: Sizani Ngubane Bags Global Human Rights Award Nomination. Her Story Will Leave You In Tears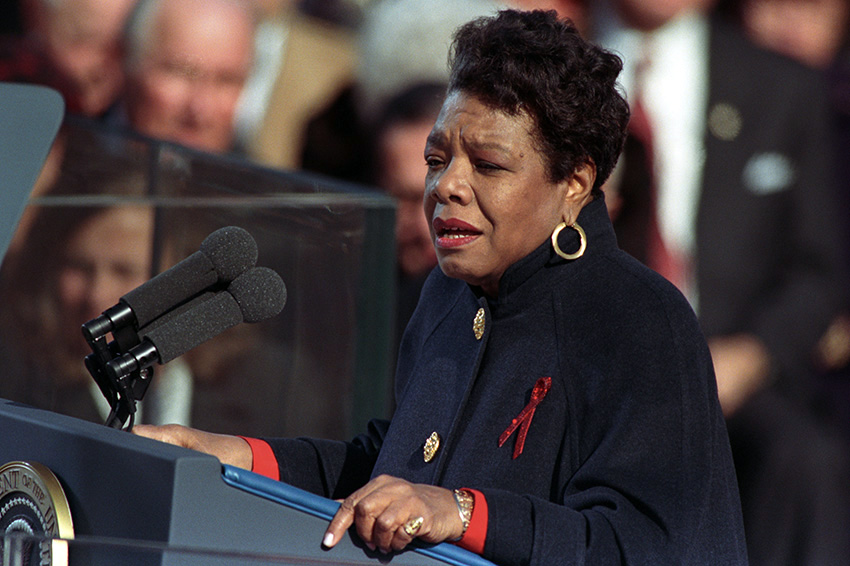 Dr. Maya Angelou's Career, Awards, and Recognition
Angelou gained international recognition in 1969 after her poem "I Know Why the Caged Birds Sing" was published. From then on, Maya authored several books on poetry, essays, autobiographies and also featured on tv shows and movies. She has more than 30 best-selling titles and is also a recipient of several honorary degrees and awards.
Top among these are three Grammys which she received for her spoken word albums, the Presidential medal of freedom, the Literarian Award, and a lifetime achievement award from the Conference of Minority Transport Officials tagged "Women Who Move the Nation".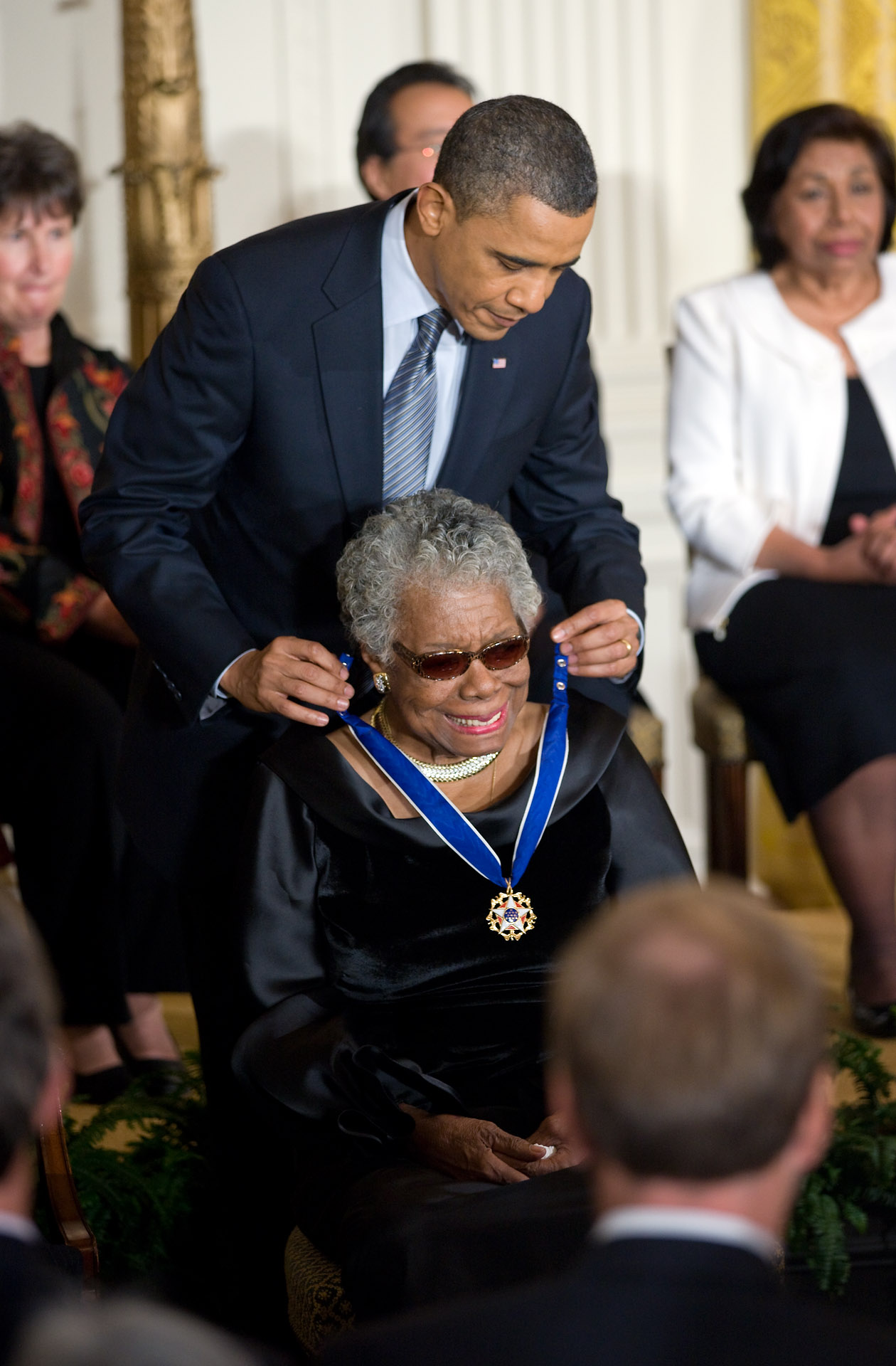 Angelou's career is marked by a series of firsts. She was the first Reynolds Professor of American Studies at Wake Forest University. In 1972, she wrote the screenplay for the movie "Georgia" making her the first Black woman to produce a screenplay. Maya Angelou is also the first Black woman director in Hollywood and the first Black woman to recite a poem during the inauguration of a U.S. President.
In addition to these is her post-humous milestone as the first Black woman to appear on the US coin as part of the American Women Quarters program. Angelou died on May 28th, 2014, and among those who paid her tribute were former US presidents Barack Obama and Bill Clinton.
ALSO READ: Dr. Sian Proctor Becomes First Black Woman To Pilot A Spacecraft
The American Women Quarters Program (AWQ)
The Quarters program aims to celebrate the contributions of women in U.S. history. It is a four-year program that will run from 2022 to 2025. Each year, five women will feature on the Quarter coin. The women honored during the course of the program will hail from different races, ethnicity, and geographical backgrounds. The selection will also take into consideration a wide range of accomplishments and fields including humanities, politics, arts, and science. The AWQ program was created by the Circulating Collectible Coin Redesign Act of 2020.
Maya Angelou's Quarter Coin
The Maya Angelou Quarter features Angelou with her arms stretching out on both sides. Behind her sculpture are depictions of a flying bird and a rising sun. These are symbolic of her work, "Why the Caged Bird Sing". According to Ventris C. Gibson, the Mint Deputy Director, it was inspiring and uplifting. Gibson said,
"Each 2022 quarter is designed to reflect the breadth and depth of accomplishments being celebrated throughout this historic coin program. Maya Angelou who featured on the reverse of this first coin in the series used words to inspire and uplift."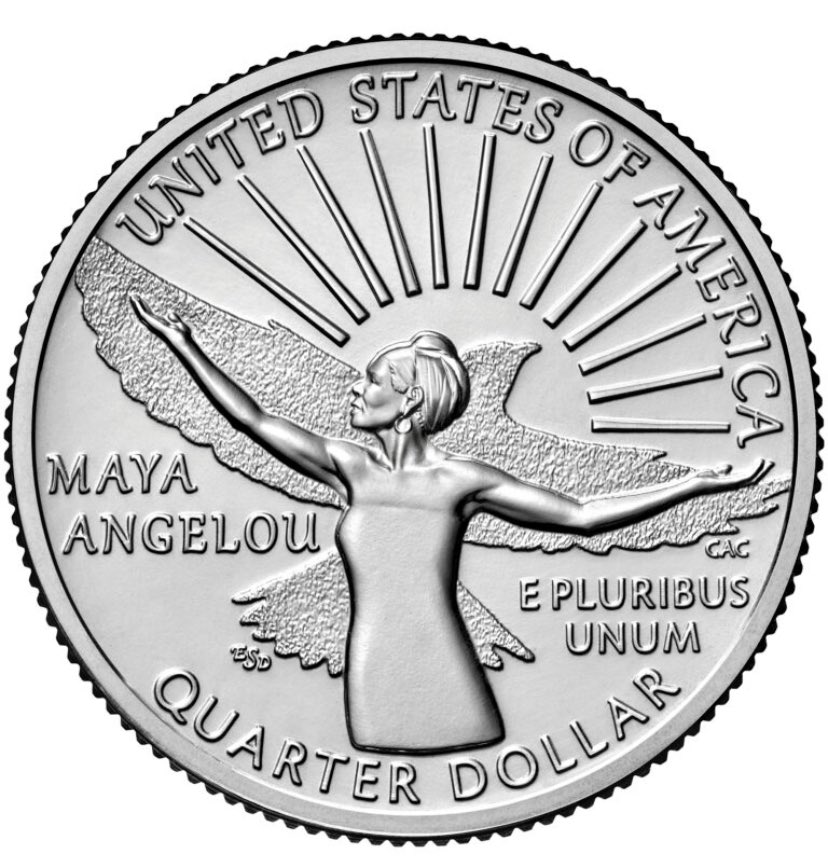 "Each time we redesign our currency, we have the chance to say something about our country, what we value, and how we've progressed as a society," Janet Yellen, the U.S. Secretary of Treasury said. "I'm very proud that these coins celebrate the contributions of some of America's most remarkable women, including Maya Angelou."
On the obverse side of the coin is a portrait of the First President of the United States, George Washington. As with the women featured on the Quarter, each year will spot a unique portrait design of the former U.S. president. The design and sculpting of Angelou's depiction on the Quarter were done (respectively) by Emily Damstra and Craig Campbell of the US Mint. While the portrait of George Washington was designed and sculpted by Laura Gardin Fraser.
Reactions Trailing Maya Angelou's Appearance on the U.S. Quarter
There were both positive and negative reactions on Angelou's appearance on the U.S. Quarter. Commenting on the event, Catherine Cortez Masto who is a U.S. Senator and also the Senate sponsor of the bill said,
"Maya Angelou's writing and activism inspired countless Americans and her legacy helped fuel greater fairness and understanding across our nation. She is exactly the type of leader I had in mind when Senator Fischer, Representative Lee, and I wrote our bipartisan legislation to create a series of quarters honoring the contributions of American women. This coin will ensure generations of Americans learn about Maya Angelou's books and poetry that spoke to the lived experience of Black women."
Here are some positive tweets about the honor bestored on Maya Angelou.
Each time we redesign our currency, we have the chance to say something about our country — what we value, and how we've progressed as a society. I'm very proud that these coins celebrate the contributions of some of America's most remarkable women, including Maya Angelou. https://t.co/agda4G2gv1

— Secretary Janet Yellen (@SecYellen) January 10, 2022
A woman of grace and a way with words that touched your very soul. Tremendous and well-deserved honor for Maya Angelou. https://t.co/LKYOlsmbXd

— Dwight Evans (@DwightEvansPA) January 11, 2022
The wonderful poet snd friend Maya Angelou becomes the first black woman ever to adorn the US quarter (25 cent piece) A very special moment for a truly exceptional woman.

— Jon Snow (@jonsnowC4) January 11, 2022
ALSO READ: Egyptian Woman Who Has Lived As Man For 40 Years Voted As "Best Mum"
Not Everyone is Postive about the News
We have a Maya Angelou coin. An Ida B Wells barbie doll yet poor Black women are experiencing the brunt of this pandemic and overall societal collapse. Representation feels like nothing but a bandaid placed over a bullet hole

— Daniel Kaluuya If You Are Reading This I Swallow (@WrittenByHanna) January 12, 2022
maya angelou being on a quarter ain't doing shit about black women suffering the most from maternal mortality. they performing in our face. and the quarter ain't even cute

— god tier hoochie ❤️‍🔥 (@_benjvmins_) January 12, 2022
Maya Angelou's image is on the back of a coin that still features a slaveowner on the front. Huh.

— Renée Graham 🏳️‍🌈 (@reneeygraham) January 11, 2022
Finally
Dr. Maya Angelou lived a truly remarkable life. Through her words and action, she made such an impact that long after she's gone, her words are still alive and her deeds still speak for her. She was not afraid to talk about her horrid past nor was she afraid to speak up in the face of injustice. Here's one of our favorite quotes by her,
"There is no greater agony than bearing an untold story inside you."