Afronista Of The Week: The Versatile Career Of Lupita Nyong'o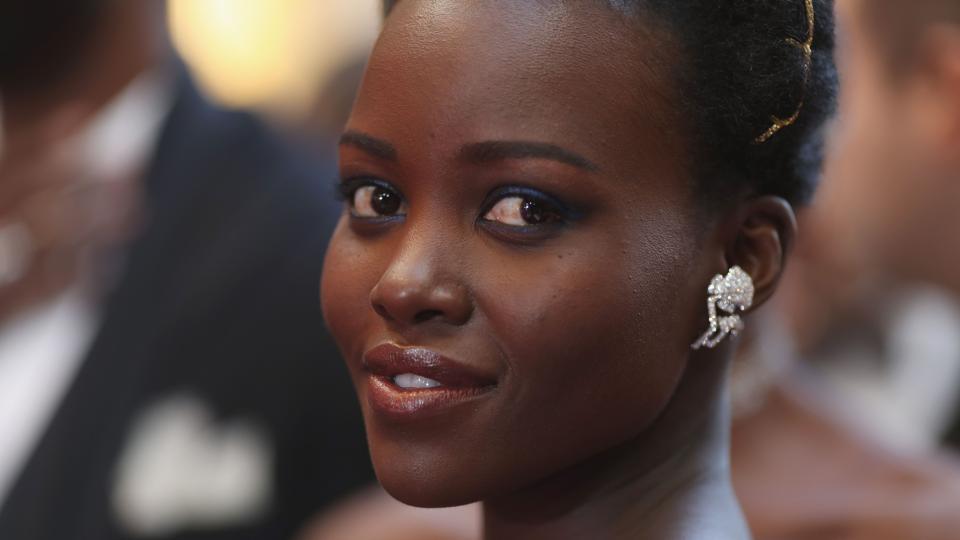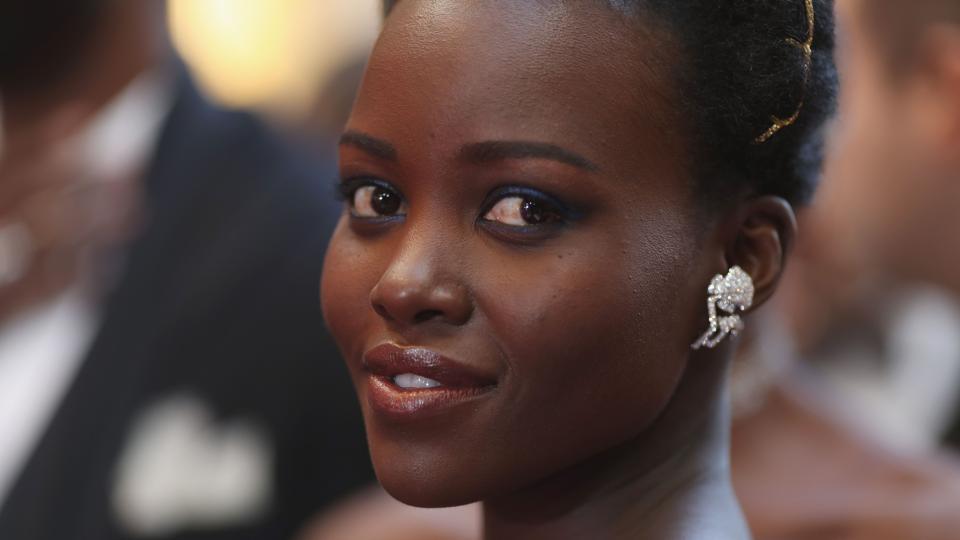 When the name Lupita Nyong'o is mentioned, the first thing that comes to mind is her role as 'Patsey' in the period drama '12 Years a Slave'. Also, we remember her Academy Award win for Best Supporting Actress, the first black African to win that award. But our Afronista of the week is more than an actress.
She is a multi-talented star who is an author, playwright, and activist. She has not only appeared on the silver screen but also received accolades for her role in a Broadway play. Lupita Nyong'o rocked a natural hairdo when she received the Oscar, and she has continued to promote African fashion and celebrate the natural look. Here is the story about her journey to stardom.
Lupita Nyongo's Broadway Debut in 'Eclipsed'
'Eclipsed is a play by the Zimbabwean-American actress and playwright Danai Gurira. It premiered at the John Golden Theatre on Broadway on March 6, 2016, and ran until June 19, 2016. Set in Liberia in 2003, it is a story about 5 Liberian women and how they prevailed using their wits and their humor during the 2nd Liberian Civil War.
Nyong'o played the part of a semi-literate teen who became the captive wife of a rebel warlord. She received glowing reviews from publications such as 'Deadline' which lauded her for 'lighting up the play. She was nominated for a Tony Award for 'Best Actress in a Play'. The play was also notable as the first Broadway play to be written, directed, and performed by an all-black female cast and crew.
Nyong'o, a Successful Author
In 2019, Nyong'o released a children's book entitled ' Sulwe' which means star in 'Luo'. Nyong'o's family comes from the Kenyan tribe that bears the name. She refers to the book as a 'liberal autobiography'. In it, she relates the experiences she went through as a child.
Nyong'o has often spoken very candidly about her struggles with colorism. For example,  when she was a child, she would pray every night for lighter skin as did the character in the book. The book provides insight into what others go through and encourages dark-skinned girls to learn to love themselves. 'Sulwe' became a number-one New York Times best-seller.
Lupita Nyong'o's Role in Wildlife Conservation
Lupita Nyong'o accepted the role of a WildAid Global Ambassador in 2015. WildAid is a non-profit body whose goal is to end the illegal wildlife trade specifically by reducing the consumption of wildlife products. The organization works with celebrities and media partners to spread its message. Nyong'o carried out her assignments with enthusiasm and dedication. In 2019, WildAid presented her with the award for Wildlife Champion of the year at their annual fundraising gala. While receiving the award, she said,
"I really can't imagine a world without elephants. It seems incomprehensible to me that we would drive to extinction this big, majestic animal just to trade its ivory. That's why the work of WildAid is so important because it's a reeducation, a reorientation of the value of nature to us. What they're doing is making a huge difference in raising awareness on behalf of elephants, on behalf of wildlife, on behalf of human beings, as well. It's for our own good."
Where it all Began
The actress was given a Spanish name as she was born in Mexico. Hence she has dual Kenyan and Mexican citizenship. When she was born in 1983, her father was a visiting lecturer in Mexico City. The family returned to Kenya soon after where Nyong'o had a middle-class upbringing. She attended the Rusinga International School followed by St Mary's School where she attained an IB Diploma.
Nyong'o obtained her first degree from Hampshire College in the United States. Later, she joined the Yale School of Drama and pursued a Master's degree in acting. It was soon after she graduated that she landed the role in '12 Years a Slave', marking the launch of her career.
Who are Lupita Nyong'o's Parents?
His Excellency Professor Peter Anyany Nyong'o, Lupita's father is a Kenyan politician who is currently the governor of Kisumu County. He was previously heading the Ministry of Planning and National Development. His wife Dorothy Nyong'o is the Managing Trustee of the African Cancer Foundation.
What is Nyong'o's net Worth?
Nyong'o's net worth is in the region of $10 million. Apart from her role in the award-winning movie '12 Years a Slave', she has also acted in notable productions such as 'Black Panther' and 'Us'. In addition, she was the narrator of the Discovery Channel documentary series "Serengeti."
Lupita Nyong'o's Style
Nyong'o has an edgy fashion sense that is not only refreshing but also delivers an element of surprise as is seen in her most striking looks below. She is adept at styling her natural hair in myriad eye-catching ways, and she also dons traditional headgear with style.
Rocking Natural Hair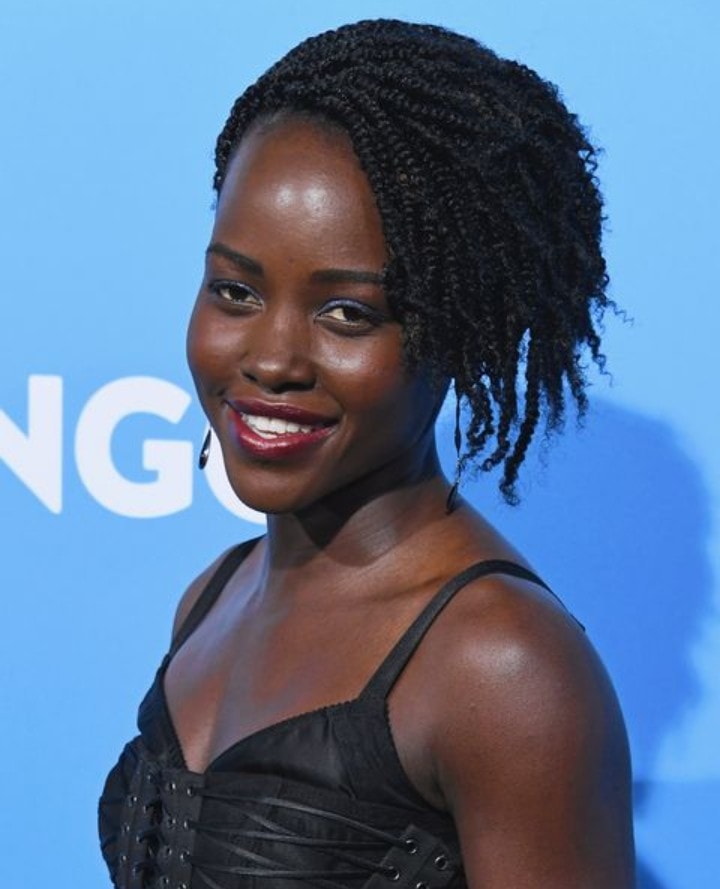 The star is looking immaculate in Senegalese twists. This is a great option if you are natural-haired and are seeking a change from box braids. It's a low-maintenance style that you can wear in a variety of styles.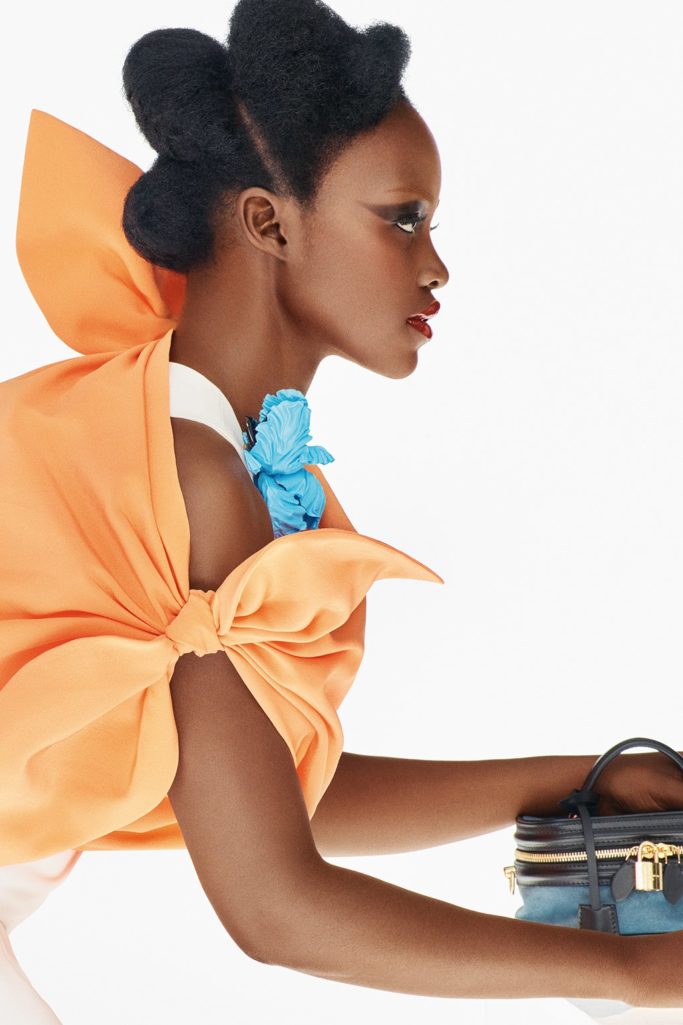 Nyong'o is looking chic in coiled natural hair. Black, thick, natural hair is tamed in a smooth, stylish manner to suit a special occasion.
Lupita Nyong'o Looking Elegant in African Headgear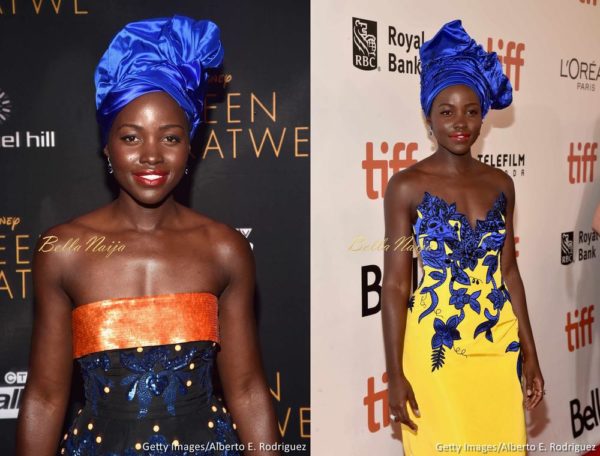 An African headwrap is a perfect way to add a pop of color to an outfit. It's also a bold and powerful accessory. Evidently, its most important appeal is the myriads of ways you can style.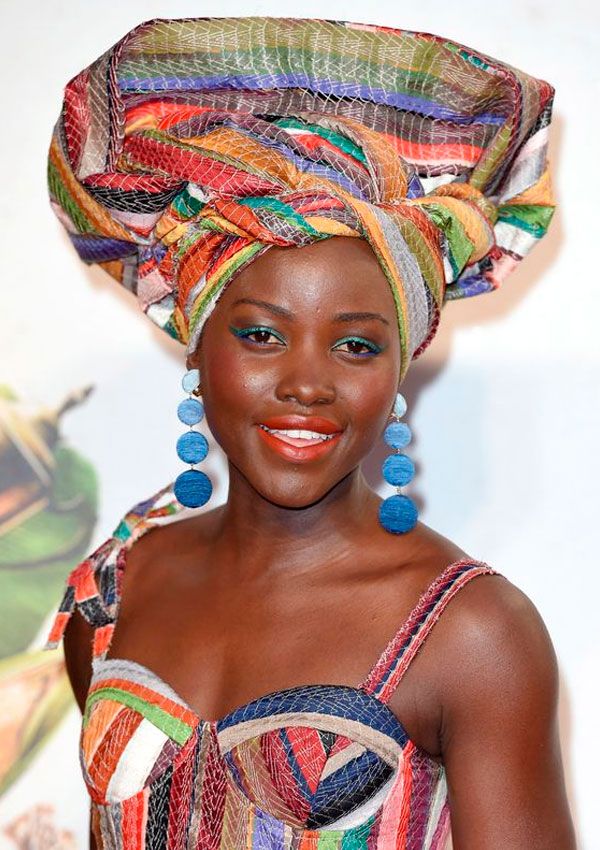 Lupita Nyong'o looks stunning in a rainbow-colored spaghetti strapped gown with matching headgear. African headwraps work well for both casual as well as formal looks. She accessorized the outfit with dangling sky-blue earrings.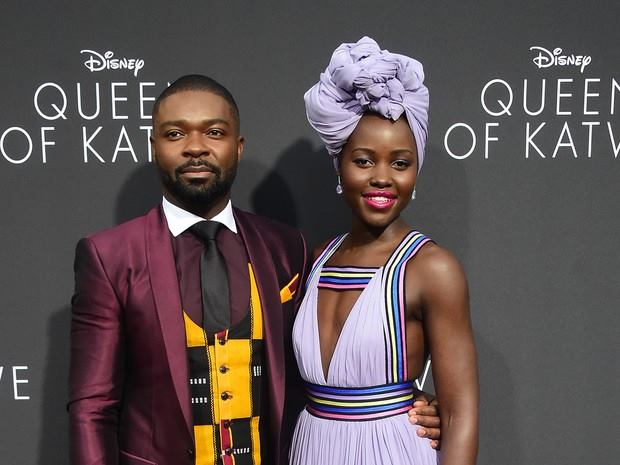 Nyong'o looks royal in the above look. Her African headgear adds a touch of sophistication to the Greek tonga-styled gown. It is also a symbol of pride and celebrates her cultural heritage.
Rocking the Cultural Vibe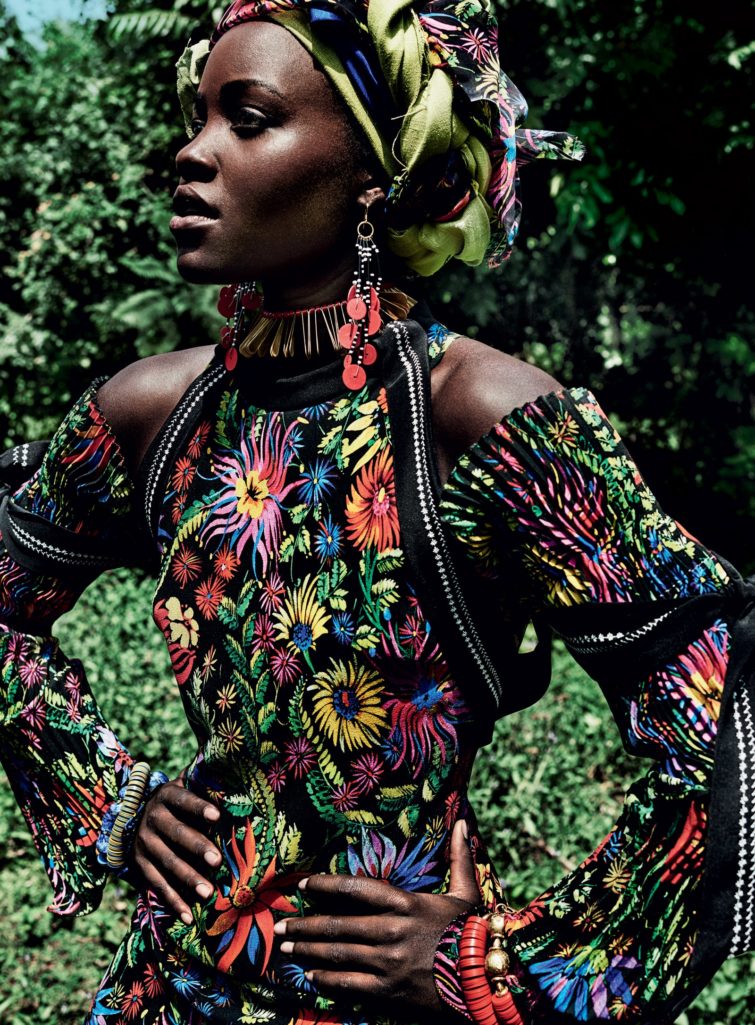 Lupita Nyong'o looks stunning in the halter neck, cold-shoulder should ensemble in a colorful jungle-print. The sleeves have tiny pleats, and she tops off the look with her signature African headgear.
Lupita Nyong'o – Every Inch The Star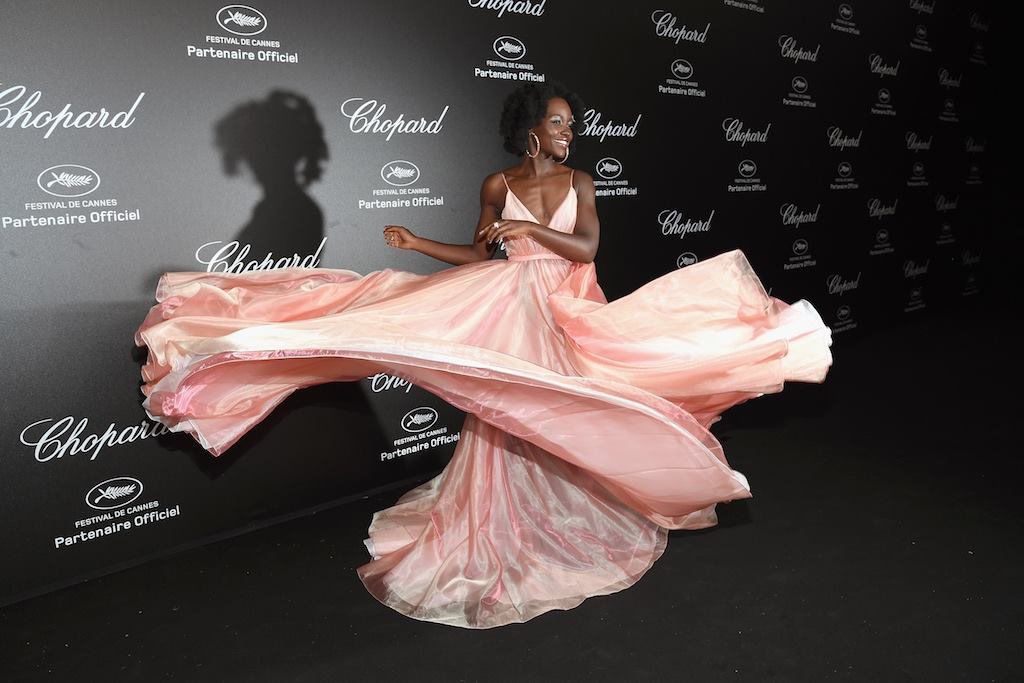 The swirly pink satin number that Nyong'o wore to Cannes was feminine and the last word in glamor. The large hoop earrings make up the solitary accessory for this ensemble, and they emphasize the star's striking figure.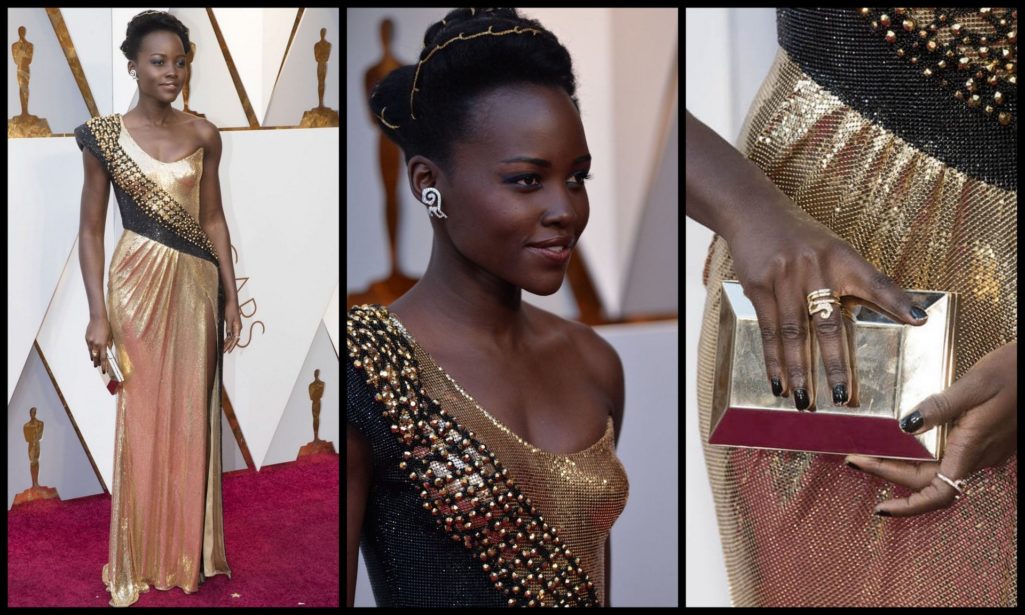 Nyong'o did justice to this single-shouldered Versace gown. The gown was crafted out of gold gauze with a black and gold beaded band that extends from the shoulder to the waist. She accessorized it with a chic gold clutch bag.
Conclusion
When Nyong'o received her Oscar, she gave an acceptance speech that resonated with hordes of young ambitious people throughout the world. She said,
''When I look down at this golden statue, may it remind me and every little child that no matter where you're from your dreams are valid.''