Afronista of the Week: Ghana's Second Lady Samira Bawumia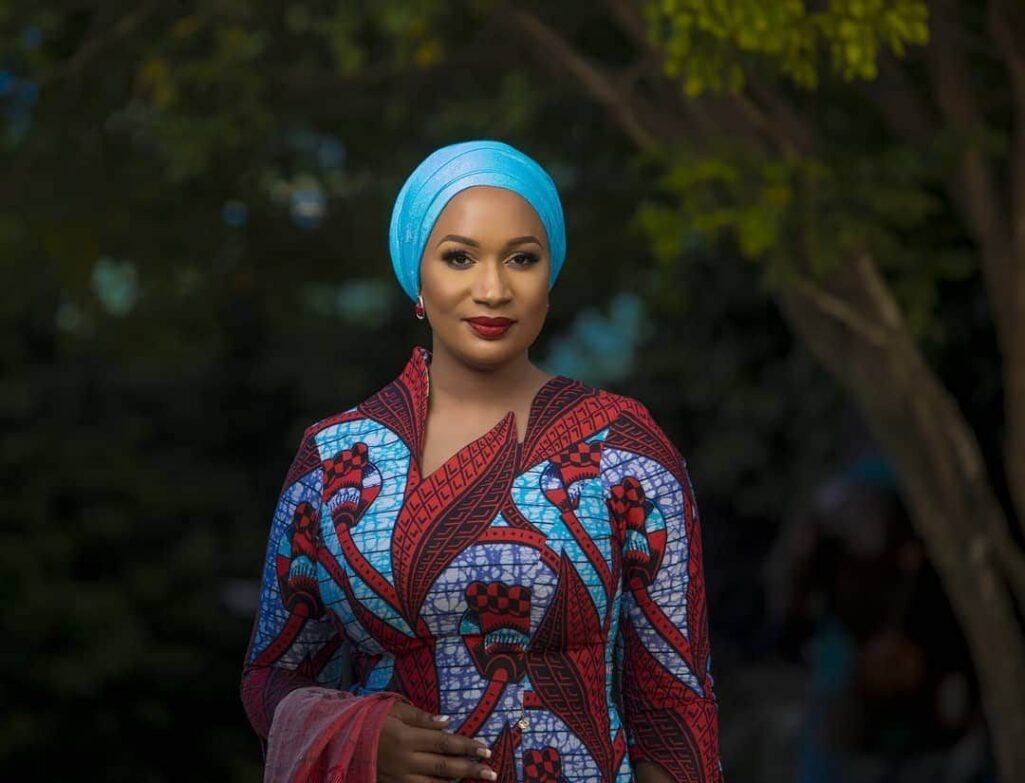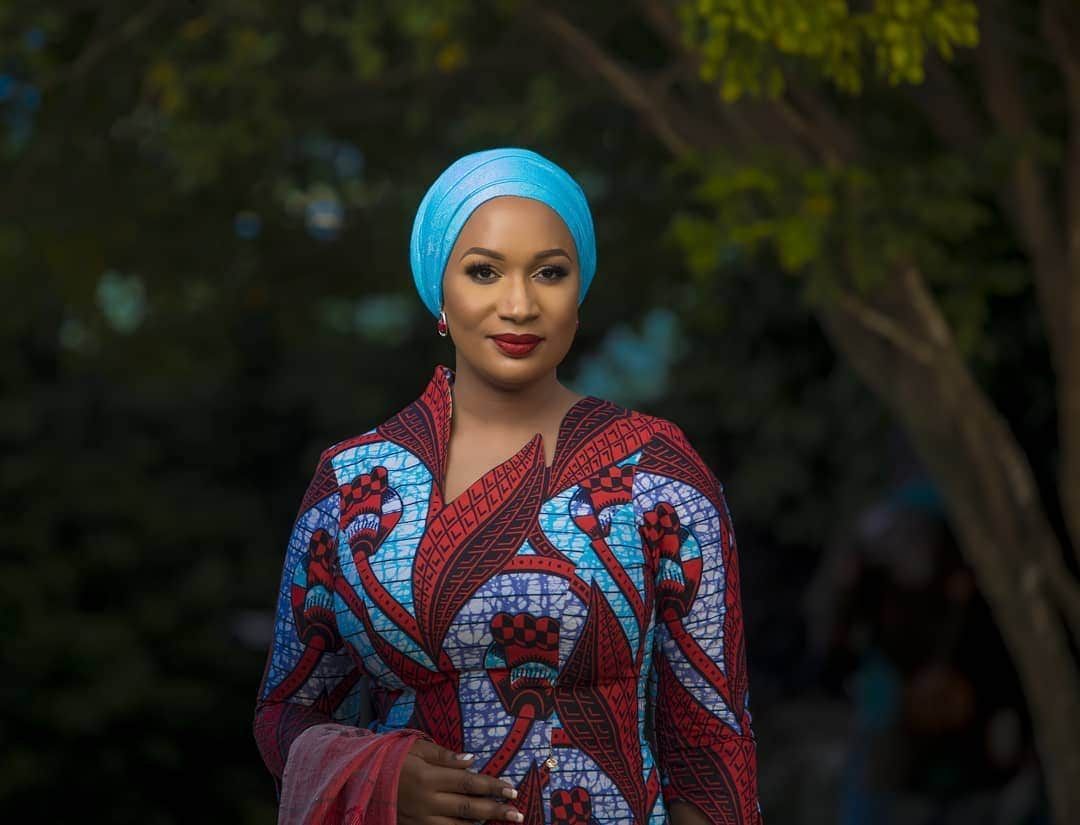 Political spouses play an important role. Firstly, they uphold the image of their partners, and secondly, they offer them the moral support they require. This puts them in the limelight which might at times attract criticism regarding their choice of wardrobe and other actions they may take.
However, that is not the case with Ghana's second lady, Her Excellency Samira Bawumia. Her beauty and astute fashion sense are a credit to her husband. It is fitting, therefore, that her elegant African attire often features the royal kente cloth.
Samira Bawumia's Early Years
Ghana's second lady Samira Bawumia is a member of the minority Fulani tribe. She was born in 1980 into a political home. Her father Ahmed Ramadan was a politician before retirement. He was the chairman of the Peoples' National Convention (PNC). Samira was the only daughter in the home. She's a graduate of the Kwame Nkrumah University of Science and Technology. Samira obtained her master's degree from the Ghana Institute of Management and Public Relations.
Through the years, the part played by political spouses has changed. For instance, they now take on more active roles rather than acting as just spectators. Wives of politicians no longer stay in the background. On the contrary, they make powerful contributions to society. Likewise, Samira Bawumia is no different.
Involvement in Politics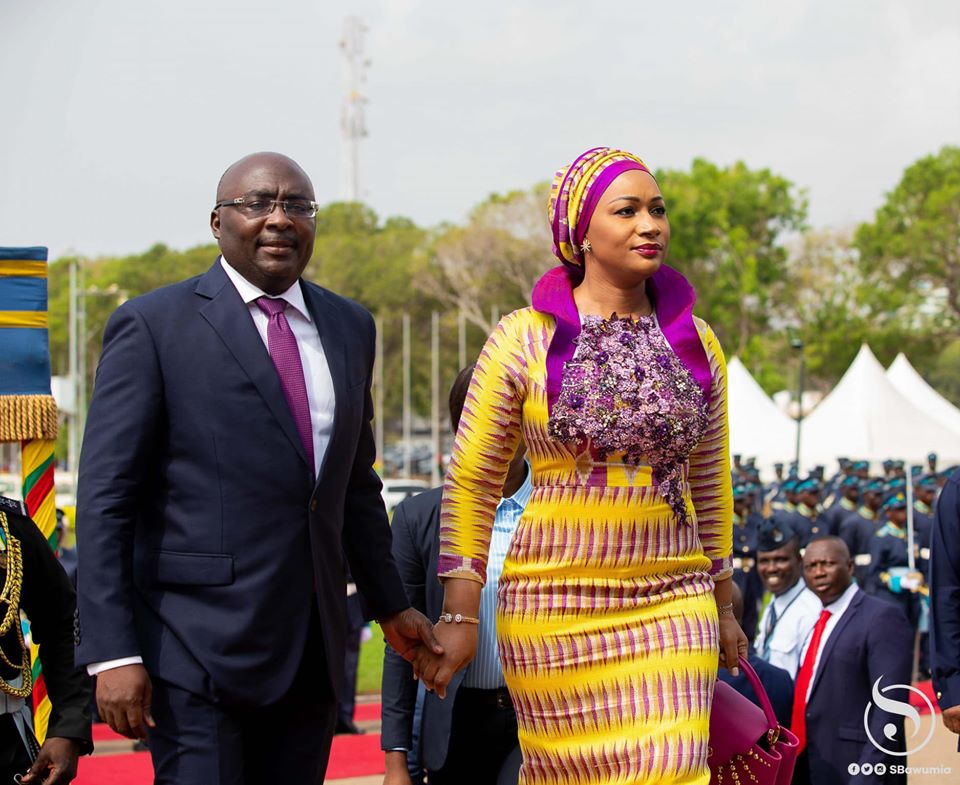 Samira Bawumia's involvement in politics comes as no surprise. This is in view of the home she grew up in. In 2016, she was actively involved in the election campaigns for the Ghanaian Parliamentary and Presidential elections. The election victory marked her move into public life as the wife of the Vice President.
Samira Bawumia – The Philanthropist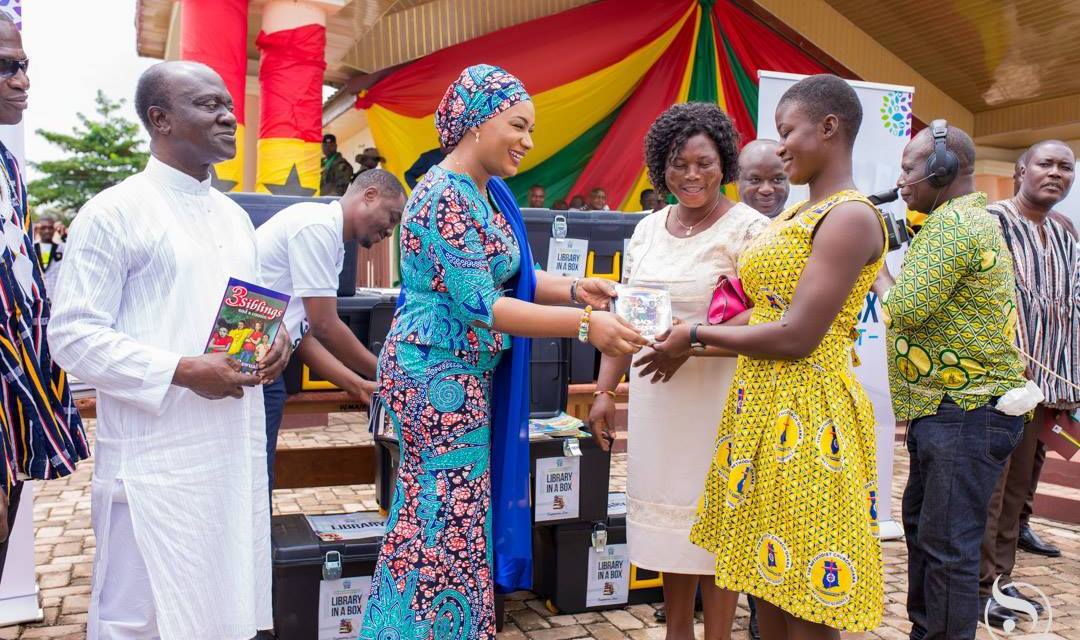 Samira is a champion of women's rights, gender equality, and child education. She is the founder of a non-governmental organization 'Samira Empowerment and Humanitarian Projects' (SEHP). This NGO was instrumental in boosting literary levels by involving school children in the 'Let's get reading' campaign. 
During the campaign, SEHP distributed large quantities of books to schools in a bid to encourage reading culture. The NGO has also worked to improve the quality of medical care in rural areas. Samira and her team have donated a  significant amount of medical supplies to hospitals and medical facilities.
The Clean Cooking Alliance
Ghana's second lady Samira Bawumia is a front runner in the move toward sustainable energy. She is the global ambassador for the 'Clean Cooking Alliance'. This organization promotes clean cooking solutions. When clean cooking is achieved, it will contribute to the preservation of the environment. Also, it will empower women and the population to live healthier. They aim to achieve this by fostering a move away from traditional sources of fuel such as charcoal, kerosene, coal, and others.
In 2019, Samira was named a Seven for 7 honorees, one of 7 global leaders that were honored. She was recognized for her efforts in promoting the use of clean cooking fuels and for her committed support to underprivileged members of society. The celebration is the brainchild of 'Sustainable Energy for all' (SEforALL), an international organization based in Vienna. Their goal is to achieve sustainable and reliable energy for all by 2030.
The Fashion Icon
Samira Bawumia has an impeccable sense of style that is a tribute to African womanhood. Most importantly, it demonstrates that working women can also embrace traditional African wear in their day to day life. Many of Samira's distinctive outfits are made from Kente cloth, a historically significant fabric. The Ashanti were the weavers of Kente cloth. In the past, only kings and their courts could adorn themselves with it. Kente cloth consists of woven strips of fabric that are sewn together. Their colors hold symbolic meanings.
Samira Bawumia' Most Iconic Looks
Samira's elegant headgear not only conforms to her religious beliefs but is also a celebration of African tradition. Historically, African women kept their hair covered. The headgear of the wearer signaled wealth, marital status, or ethnicity. Below are some of Samira's most iconic looks.
An exquisitely crafted cool royal blue and white creation. The bottom of the skirt flares out in a mermaid shape. The royal blue headwrap adds the perfect finishing touch to the look.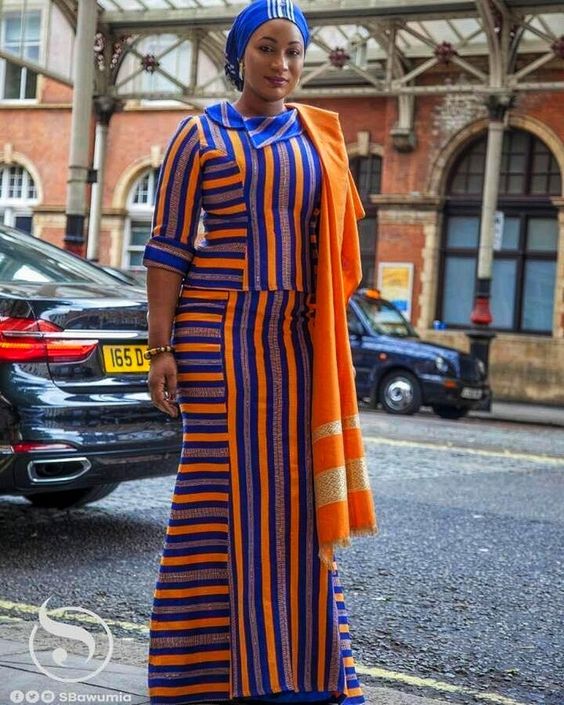 The epitome of elegance, this 2-piece ensemble is designed using striped fabric that is expertly stitched in panels that show off the figure to the best advantage.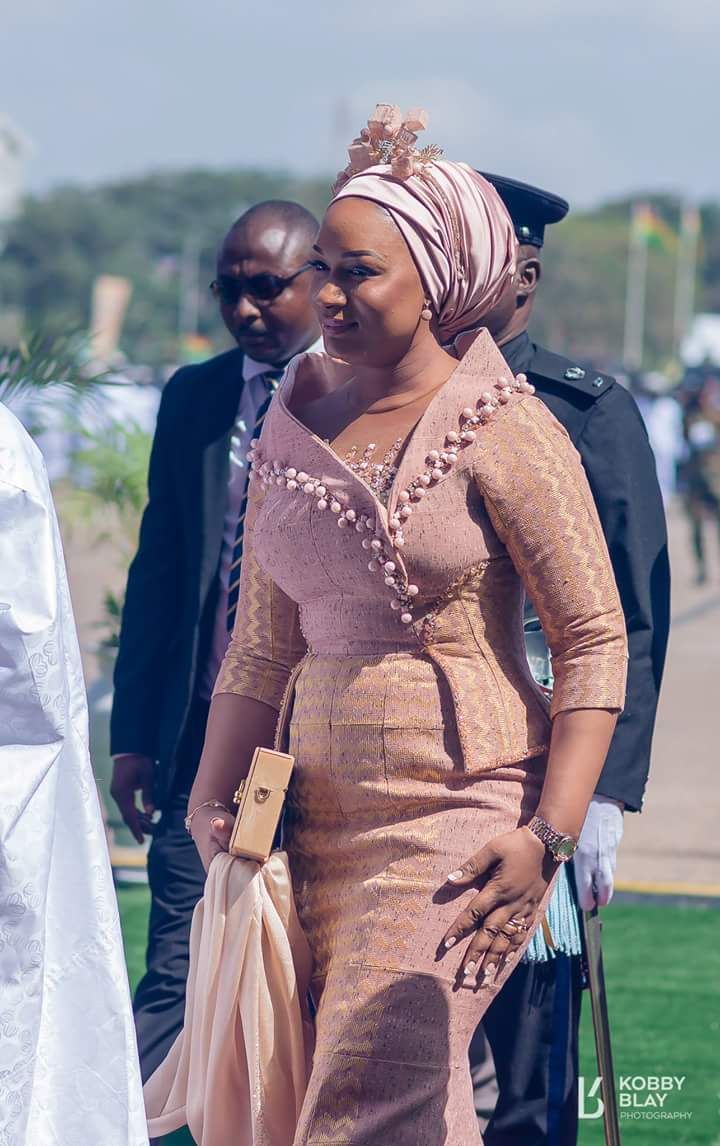 This beautiful pastel gown made headlines when Ghana VP's wife wore it to the 61st Independence day celebrations. The slim-fitting outfit with a peplum bodice has three-quarter sleeves and matching headgear in the same hue.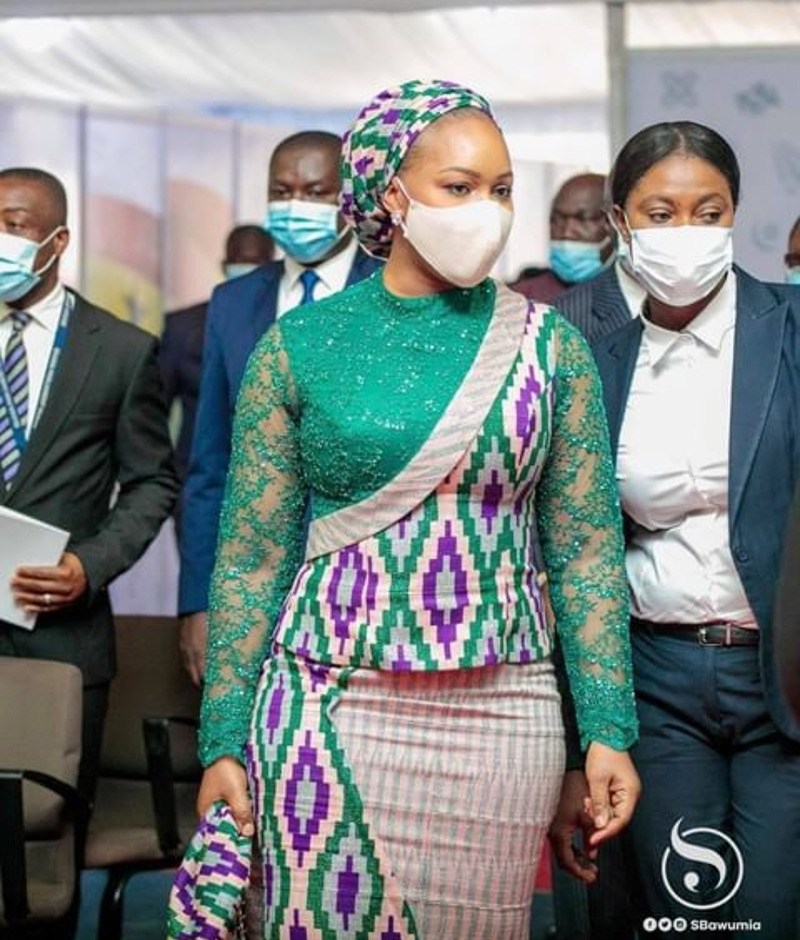 This is a striking green and purple kente creation with a tailored silhouette. The green lace accents lend femininity to the overall look. Her characteristic headgear tying pattern is also hard to miss.
3 Times Samira Bawumia stunned us
A fabulous kente creation with bold orange, purple, maroon, green, and yellow hues. The bodice has an asymmetrical cut, and the sleeves are crafted from beaded lace. At a glance, the entire fashion sense exudes royalty. However, what is most important is the merging of her African heritage and religion in a single attire. 
An exquisite creation made out of Ankara appliques layered on embroidered georgette. The headgear pattern has become a form of her identity. She has a way of perfectly replicating it regardless of what she is wearing. Perhaps, this will be the first time that you will see the seamless blending of three different fabrics. This artistic creation deserves all the attention and is a testament to Africa's ingenious mind. 
A glamorous hot pink kente creation with a unique stand up collar. The sleeves are beaded at the wrists before they flare out. The simplicity of the headgear adds a touch of class to the overall look. This is one fashion style that only a few designers can replicate.
Conclusion
A bon mot says, 'looking good is good business'. Ghana's second lady Samira Bawumia is an excellent example of a woman who discharges her duties with class and elegance. She is proof that traditional African clothing is not only feminine but chic. African fashion is versatile and can fit into different environments; work, play, party, etc. Her actions are subtly encouraging Ghana's clothing trade. Also, it supports local craftsmen and provides employment for the local designers. Leave a kind word for this fashion icon.