See The Women-Led Production Company Empowering African Kids With African Cartoons
The majority of African children fall in love with cartoons as they grow up. Unfortunately, they don't get to see characters who resemble them on mainstream and social media. In other words, the majority of the cartoons only represent Caucasian races. Thus, as these kids grow, some of them begin to question the color of their skin.
Consequently, in their adulthood, some bleach their skin in an effort to fit in. This is because they have been led to believe that they are imperfect in their own skin. Luckily, some African are working hard to change this narrative. A women-led production company is empowering kids with African cartoons.
Importance of Empowering African Kids through African Cartoons
🌍 🌍 Dance it out with Super Sema!!

She's a maker, creator, a super technovator. Who is this girl who's going to change the world! 🎵 It's Supa Supa Supa Sema! 🎵 #SuperSema #TimeToChangeTheWorld pic.twitter.com/s9w8LDn7rh

— Super Sema Official (@supersemakukua) July 21, 2021
The innovation of having black animation characters is really important for African kids. It is something to make them believe that something good and magical can still come out of them despite their skin color. It's a reminder and encouragement for them to embrace who they are, believe that they also can do great things, and be creative in whatever way possible.
Watching relatable characters helps them see that they can also become ambassadors of positive change in their communities. The main character of the animated series is an embodiment of a helping hand, creativity, and determination. These are qualities that every child should aspire to have. What better way to empower African kids than through a cartoon series they relate with?
About the Series Production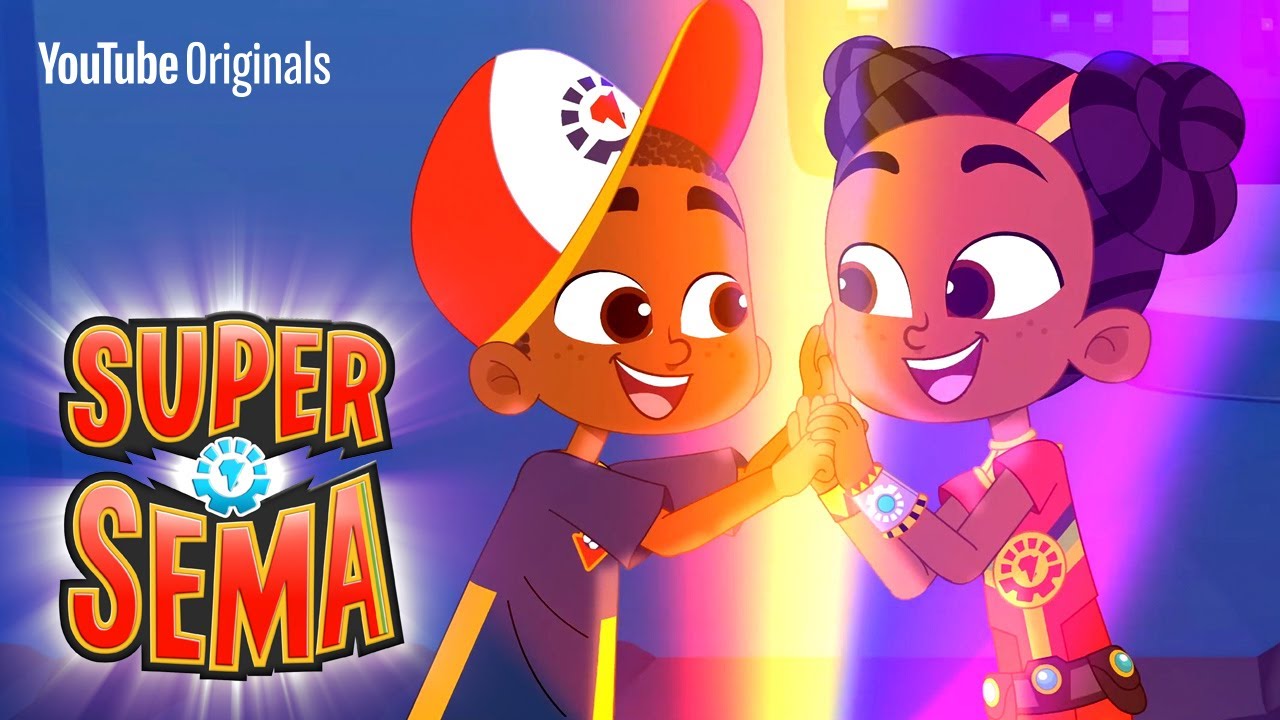 The animation is called the "Super Sema" series. This series features a 10-year-old animated African superhero with powers, innovation, and creativity. The African superhero unleashes her tech magic alongside her brother. Together they solve challenges facing their community. It received up to 15 million views during the first month. Interestingly, half of the show's viewership is from outside Africa.
The innovation was led by African women, with the award-winning Lupita Nyong'o as the executive producer. A Kenyan computer scientist known as Clara Njeru is the head of the production for the show. This team has definitely made some groundbreaking moves in an industry dominated by males and Whites. Furthermore, the "Super Sema" show challenges gender stereotypes popular in other children's animated shows. The show's setting is in an Afro-futuristic world.
The Motivation Behind Creating African Cartoons
According to Clara Njeru, Super Sema show Head of Productions, there was almost no animated content that she found relatable as a young African girl. She further adds that African cartoons are a great way for African children to see themselves represented. Therefore, the production team saw the need to create something that would encourage the young children to have faith that they can be anything they want to be and do whatever they want to do without fear of judgment because of their skin or gender.
This is perfectly portrayed in their show, "kukua". The show hopes to fill the gap of few black role models in arts and STEM. Moreover, there are even fewer who are African. It does this perfectly, going by the show's mantra, "at Kukua, we believe that if you see it, you can be it." Therefore, the motivation for the show was powered by the desire to change the narrative and give African children something to believe while being entertained.
Conclusion
To empower African children through content they can relate with, more regional producers should consider doing more African cartoons. This should be done in the spirit of promoting the African culture while empowering and motivating our young children.
Achieving this means focusing more on African content rather than foreign content. Several African productions of the same genre have done commendably well by promoting African content. Such shows include Mopey Monsters and Mama K.