Kehinde Wiley Questions History With New Sculpture At Times Square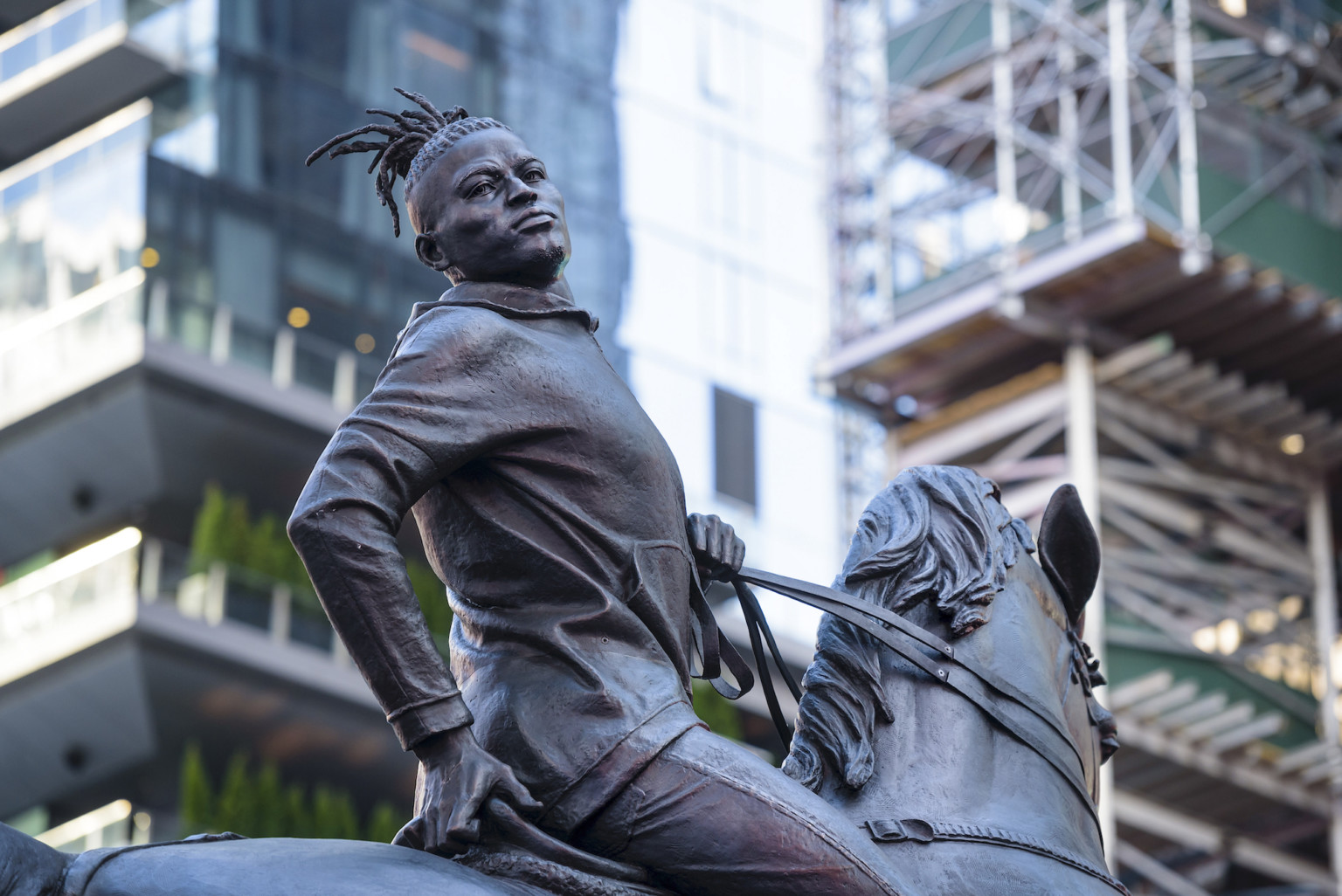 Nigerian-American Kehinde Wiley became the favorite of many after his portrait of Former United States President, Barack Obama. However, on the 27th of September 2019, a silver slipcover was pulled away to reveal the artist's first work of public art titled 'Rumors of War'. The huge sculpture sits in the center of Times Square at Broadway Plaza between 46th and 47th Streets. Wiley's statue was inspired by the statue of General J.E.B. Stuart located over a mile away.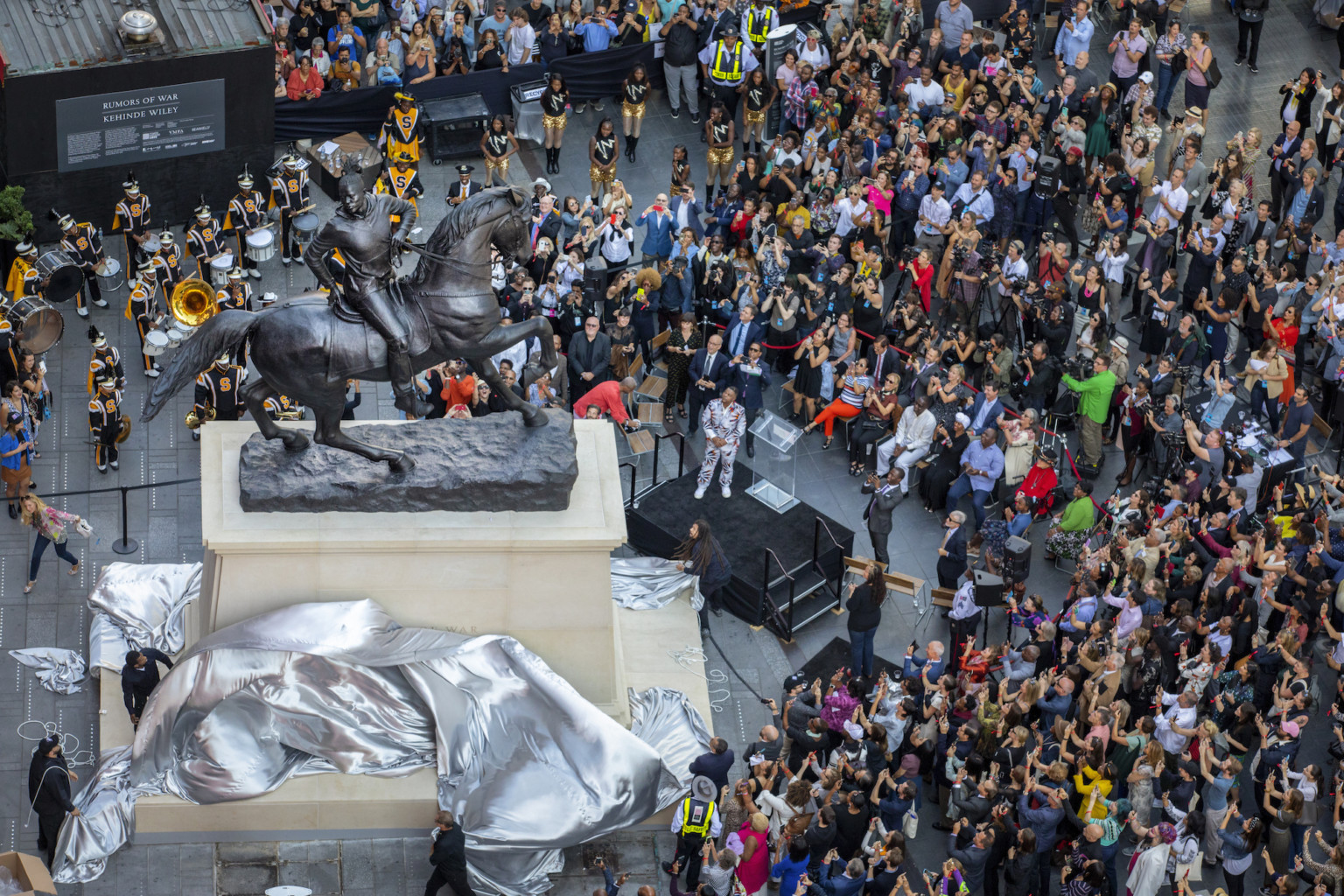 Towering 27 feet and 16 feet wide, Wiley's sculpture resembles Stuart's half-turned pose and horse stride. However, the bronze sculpture is Mr. Wiley's largest sculpture to date. The sculpture will leave Times Square in December to be permanently installed in Richmond on Arthur Ashe Boulevard. At the unveiling ceremony, Kehinde Wiley said,
"The story starts with going to Virginia, of course, and seeing the monuments that line the streets. But it's also about being in this black body. I'm a black man walking those streets, I'm looking up at those things that give me a sense of dread and fear. What does that feel like physically, to walk a public space and to have your state, your country, your nation say 'this is what we stand by?' No! We want more, we demand more. We, creative people, create more, and today we say yes to something that looks like us, we say yes to inclusivity, we say yes to broader notions of what it means to be an American."
The symbolism of 'Rumors of War'
Mounted on a stone pedestal, Kehinde Wiley's 'Rumors of War' follows typical equestrian sculpture rules. However, unlike similar sculptures that feature either a war hero, a king, or a well-known elite, Wiley's sculpture is an African-American man wearing urban streetwear, jeans, and a knot of dreadlocks. The African-American holds onto the bridle with his left hand while his right hand grabs the back of his saddle. The horse appears to be in motion with one hoof off the ground. 'Rumors of War' is part of Kehinde Wiley's series of paintings depicting men of color in powerful positions.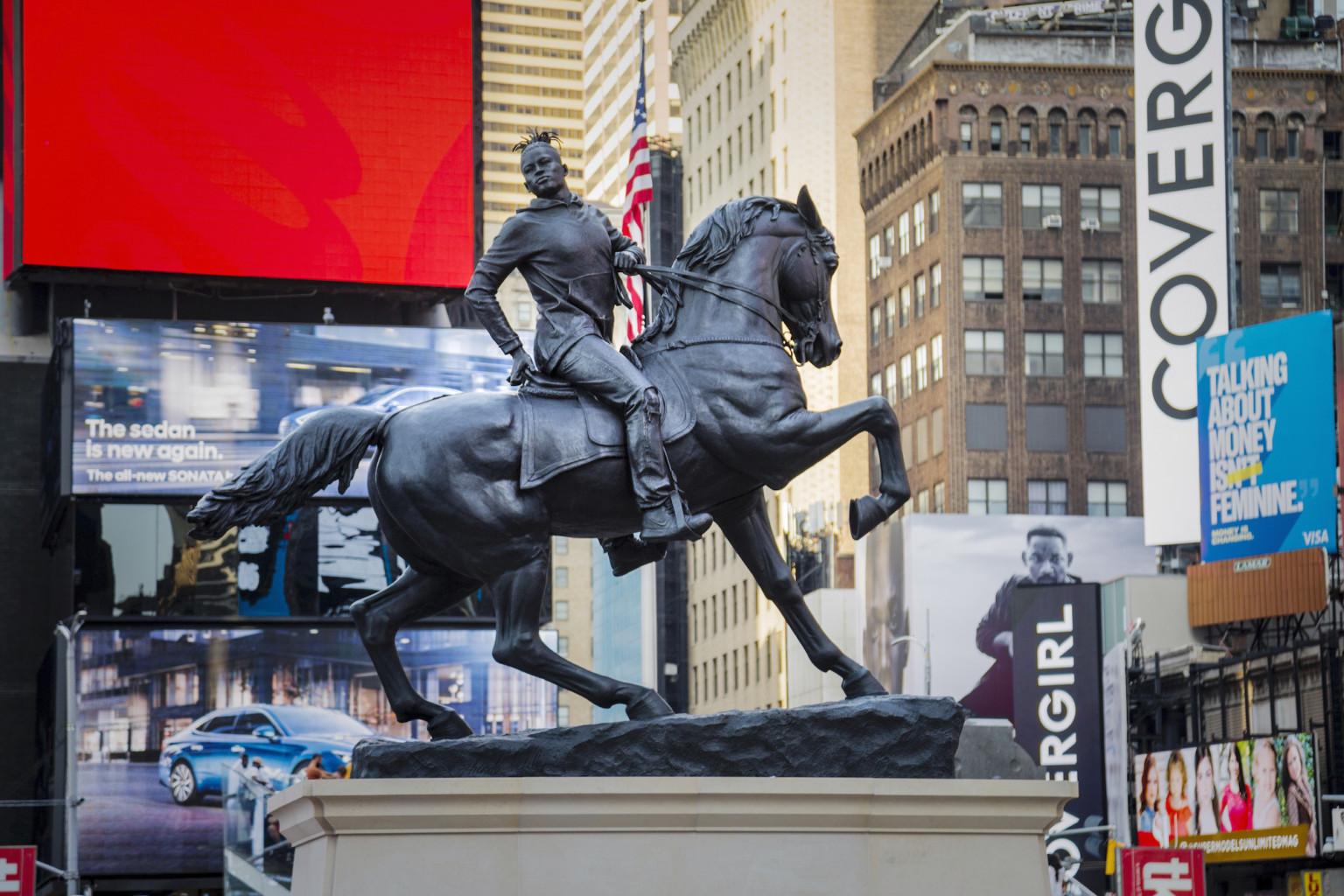 For many centuries, equestrian portraits have played an important role in art politics. In Ancient Greece and Rome, it was reserved for noble members. However, it later featured high-status sitters and military figures—including Confederate soldiers in the United States. Kehinde Wiley hopes the statue will change the narrative on what the nation should memorialize. The director of the Virginia museum, Alex Nyerges said,
"The oppression of African-Americans is still pervasive in our society. But if anyone is going to take on the mantle of trying to change the conversation and make things better for the present and the future, I can think of no better place to start."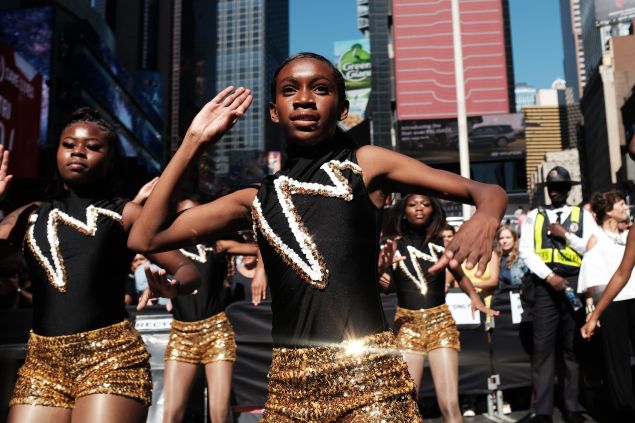 Adding glamor to the celebration were members of Malcolm X. Shabazz High School band in Newark. The marching band performed before and after the unveiling of the sculpture. Also in attendance was a huge crowd of journalists, artists, and board members.
About Kehinde Wiley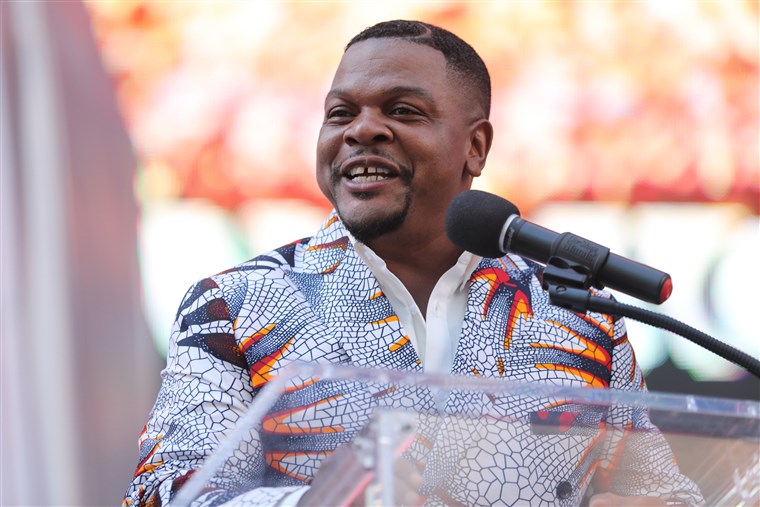 Kehinde Wiley is a Nigerian-American painter based in New York. He is most famous for his highly naturalistic, brightly colored paintings of black people. In 2017, he was commissioned by the Smithsonian National Portrait Gallery to paint the picture of former U.S. President, Barack Obama. The category of his painting is Identity Politics. He sometimes draws inspiration from historic images to create works that critique historic norms. His past exhibitions include;
'Tahiti' at Templon, 28 Grenier Saint-Lazare, Paris (18th May to 20th July 2019)
'Trickster' at Sean Kelly, New York (6th May to 17th June 2017)
He was also part of the following art fairs
Art Cologne 2019 (11—14 April 2019)
FIAC 2018 (11—21 October 2018)
Art Basel in Miami Beach 2017 (7—10 December 2017)