Kansas City Chiefs End 50-Year Super Bowl Wait. Meet The African Players That Made It Happen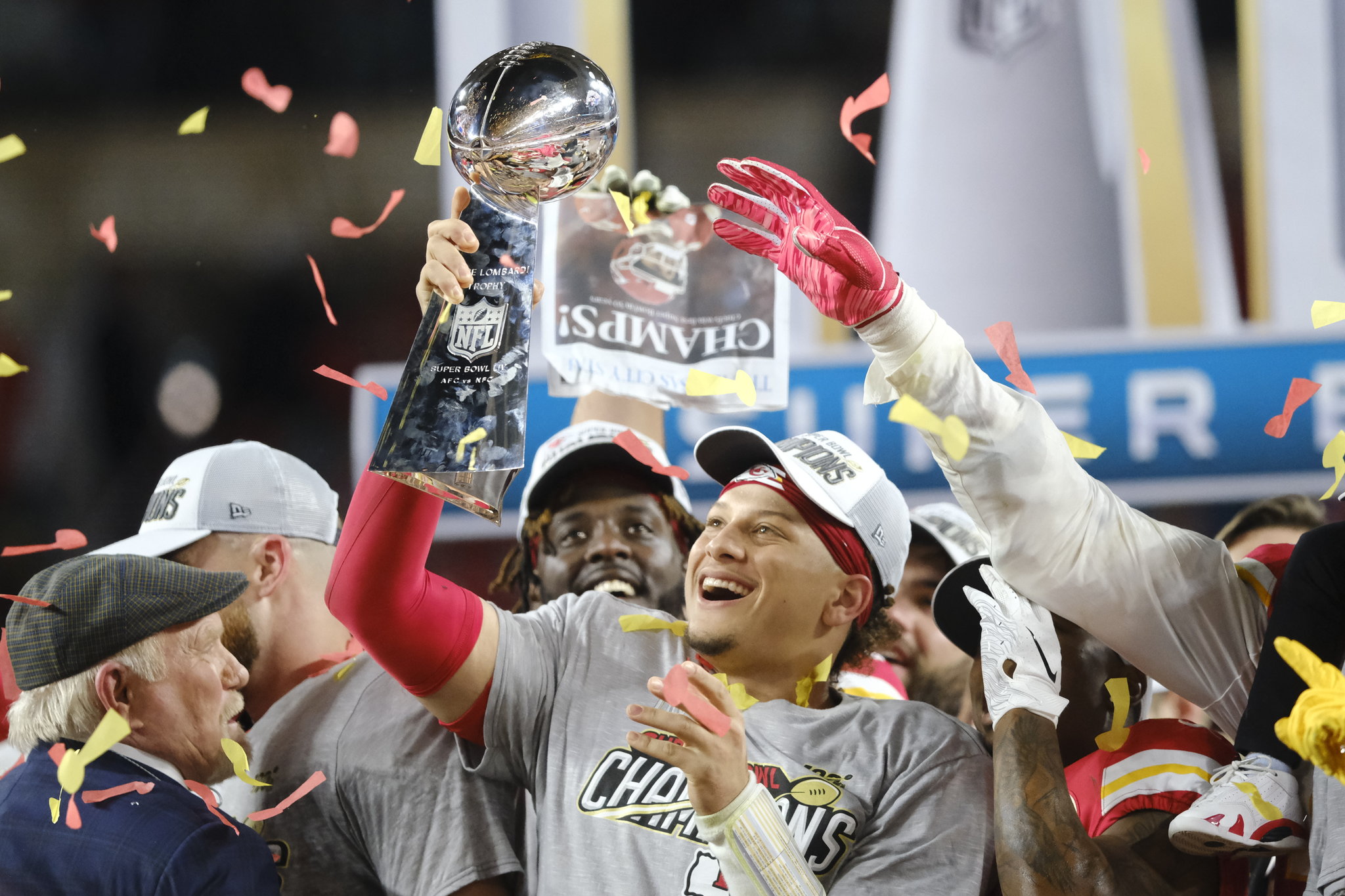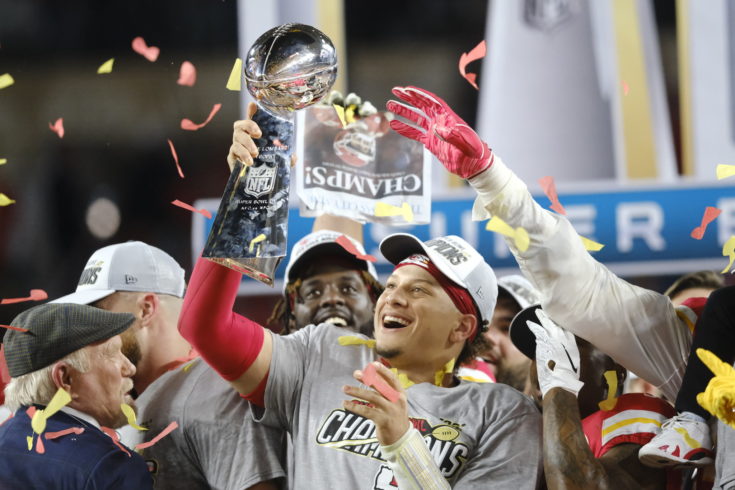 Kansas City Chiefs had to wait for 50 years to lift the Vince Lombardi Trophy. However, they did so in a dramatic fashion. The Chiefs had to overcome a 10-point deficit to stun San Francisco 49ers 31-20. Consequently, the Chiefs are the first team in the history of the NFL to win three games after trailing by 10 points or more in a single postseason. Interestingly, the Chiefs have a number of African players to thank for this.
Leading the Kansas City Chiefs is 24-year-old Patrick Mahomes. Last year, at the age of 23, he was the league's MVP. Now he adds Super Bowl MVP to his cap. At 24 years and 138 days old, Mahomes is now the youngest quarterback to win Super Bowl MVP. He is also the second youngest to win the Super Bowl. The youngest was Roethlisberger at 23. Also, Mahomes is the third African-American quarterback to win a Super Bowl. Speaking after the win Mahomes said,
"We kept believing. That's what we did all postseason. I felt like if we were down by 10, we weren't playing our best football. The guys really stepped up. They believed in me. I was making a lot of mistakes out there early. We found a way to win it in the end. We never give up. I think those guys, the leaders that we have on this team, they have that mindset that we never give up and we're going to fight until the end. Thank you, Kansas City. We did it, baby!"
"KANSAS CITY WE'RE COMING HOME, BABY!" @PatrickMahomes pic.twitter.com/e3GvZlaUq9

— Kansas City Chiefs (@Chiefs) February 3, 2020
African Players that Contributed to Kansas City Chiefs' Success
Racial diversity is one of the unique features of the Kansas City Chiefs team. Perhaps, that is their secret ingredient to success. Patrick Mahomes may be in the spotlight but there are many more players of African descent that deserve recognition too. We profiled all the players and you won't believe what we found. Let's meet them.
Derrick Nnadi
Nnadi is of Nigerian descent and plays defensive tackle for Kansas City Chiefs. The Chiefs signed him on a four-year deal on June 15, 2018, for $3.74 million. He recorded his first career interception in week 11 of the 2019 season. The Chiefs went on to win the game against Los Angeles Chargers by 24—17. While others partied after the Super Bowl win, Nnadi's way of celebration was by paying for all dog adoption fees at the Kansas City dog shelter. Consequently, families can take dogs home for free. Speaking to CNN he said,
"All my life, I always wanted a dog. When I first got him, he was very timid. It made me think of how other animals, whether they're owned or in a shelter, are feeling scared and alone."
The perfect way to cap off this great season ‼️ https://t.co/k9KSt05gtt

— Derrick Nnadi 🇳🇬 (@DerrickNnadi) February 3, 2020
Emmanuel Ogbah
Born in Lagos, Nigeria but moved to Houston Texas at nine. Ogbah plays at the defensive end for Kansas City Chiefs. However, he was traded to the Chiefs on April 1, 2019, in exchange for Eric Murray. Against Baltimore Ravens in week 3, Ogbah sacked Lamar Jackson 1.5 times. They went ahead to win by 33—28. However, a torn pectoral ruled him out of the season.
Alex Okafor
As a junior, Okafor earned All-American honors. Although born in Dallas, Texas, Okafor is of Nigerian descent. He signed a three-year deal with Kansas City Chiefs on March 14, 2019, and plays defensive end. The deal was worth $18 million. Against Denver Broncos in week 7, Okafor sacked Joe Flacco twice. They later won by 30—6. However, a torn pectoral in Week 15 ruled him out of the rest of the season.
Bashaud Breeland
Breeland is also an African American and plays cornerback for the Kansas City Chiefs. Growing up he played both football and basketball. He signed a yearlong contract with the Chiefs on March 18, 2019. He was also impressive at the Super Bowl LIV 2020, recording 7 tackles and intercepted a pass heading to Jimmy Garoppolo. In the 2019 season, Breeland had a total of 37 tackles and 2 interceptions.
Tyreek Hill
Tyreek Hill is another African-American that was impressive at Super Bowl LIV 2020. He used to be a return specialist but gradually transitioned to a wide receiver. He caught 9 passes for 105 yards including a 44-yard catch. In a response to a question about Mahomes at a press conference Hill said,
"When did I know he was going to be special? His first throw, his rookie year in training camp, I knew he was going to be special. Came out, threw the ball like eighty yards. I was like, OK, I'm a fast guy so ama be able to do something with that. I like that."
Tanoh Kpassagnon
We still have trouble pronouncing his name. Tanoh Kpassagnon has Ivorian and Ugandan parents. At Kansas City Chiefs, he plays defensive end. On January 19, 2020, Kpassagnon sacked Ryan Tannehill twice during the game with Tennessee Titans. They eventually won the game by 35—24. On his Super Bowl, Kpassagnon recorded two tackles. Before the Super Bowl, he said,
"You can tell everyone has a good energy and we are just excited to play this game. We were ready last Sunday honestly. But like Coach Reid would say, keep it cool, calm, even keel, until you are ready to hit 'em and boom, yeah."
There are a few other black players in the team who are not on our list. However, do you think the Chiefs were just lucky this time or they really deserved it? Let us know your thoughts in the comment box below.