Ghana's Annan Exits Life At 80, Leaving Behind A Legacy Of Diplomacy And Service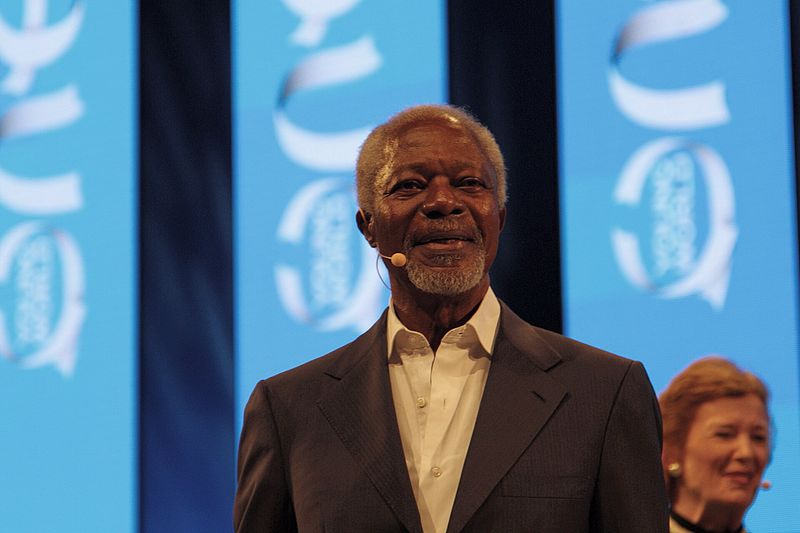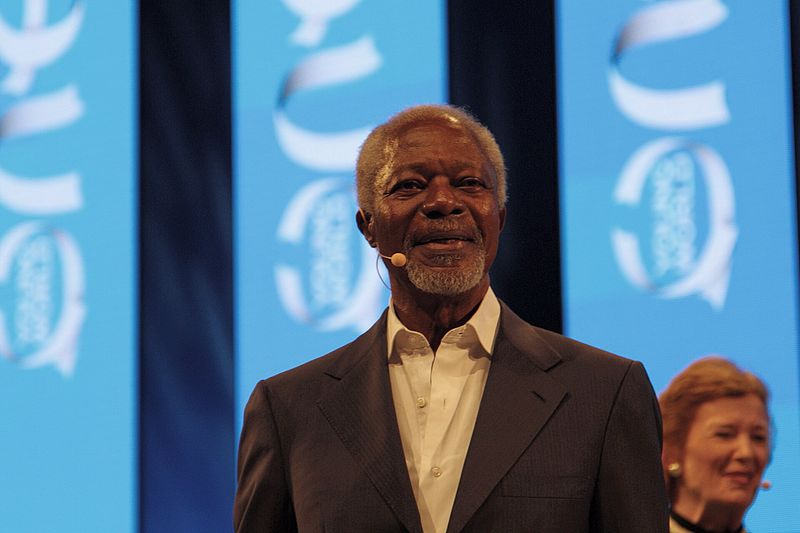 Former United Nations Secretary-General Kofi Annan died Saturday, the foundation bearing his name confirmed. He was 80.
"Kofi Annan was a global statesman and a deeply committed internationalist. He is the one who fought throughout his life for a fairer and more peaceful world. During his distinguished career and leadership of the United Nations, he was an ardent champion of peace, sustainable development, human rights, and also the rule of law," the Kofi Annan Foundation and Annan family said in a statement.
Annan was the seventh secretary-general of the United Nations. He serves between 1997 and 2006. He was also the first career staffer in the U.N. and the first black African to rise to the organization's most prominent job. He served for two terms.
Also, Kofi Annan was awarded the Nobel Peace Prize jointly with the United Nations in 2001 "for their work for a better organized and more peaceful world." The Nobel Committee "also recognized his commitment to the struggle to contain the spreading of the HIV virus in Africa and his declared opposition to international terrorism," according to the Nobel Foundation.
Major Accomplishments of Mr. Koffi Annan
As the Secretary-General of the UN, he launched the "Global Compact" campaign in 1999, which is the world's biggest initiative for promoting corporate social responsibility.
Annan viewed the HIV/AIDS pandemic as his "personal priority", and in April 2001, issued a "Call to Action", proposing the establishment of a Global AIDS and Health Fund to help developing countries deal with the crisis.
In 1998, Kofi Annan appointed a lady, Louise Frechette of Canada, as the first deputy secretary-general in an attempt to bring about more gender equality within the UN system.
After the September 2001 terrorist attacks on the US, he played a crucial role in stimulating the General Assembly and the Security Council to take action for combating terrorism.
In 2005, he presented a progress report, 'In Larger Freedom', to the UN General Assembly in which he recommended a host of reforms to renew and strengthen the UN organization.
Post United Nations- Koffi Annan
Kofi Annan stepped down from his post in 2006 but continued to hold an influential role in international diplomacy.
He set up the Kofi Annan Foundation in 2007 to mobilize leaders of all sectors to provide leadership where it needed. The Foundation works on the premise that there can be no long-term peace without development and no sustainable development without peace. And no society can long remain prosperous without the rule of law and respect for human rights.
The Foundation works to identify new threats to peace and security and supports Mr. Annan's preventive diplomacy and mediation activities. Kofi Annan chaired the Global Commission on Elections, Democracy, and Security (March 2011 to September 2012) and in January 2013, launched the West Africa Commission on Drugs, as a response to the surge in drug trafficking and consumption in West Africa and their impact on security, governance and public health.
In early 2008, he led the African Union's Panel of Eminent African Personalities, which mediated a peaceful resolution to post-election violence in Kenya. Today, with his Foundation, Mr. Koffi Annan devotes considerable time to supporting democracy and elections with integrity.
From February to August 2012, he was the UN–Arab League Joint Special Envoy for Syria, mandated to seek a resolution to the conflict there.
Mr. Koffi Annan is the founding Chairman of the Alliance for a Green Revolution in Africa (AGRA). Which works for a food secure and prosperous Africa by promoting rapid, sustainable agricultural growth based on smallholder farmers. AGRA's programs invest in soil regeneration and health. It improved seeds, access to markets, and building capacity and investment throughout the agricultural value chain.
He chairs the African Progress Panel, which advocates at the highest level for equitable and sustainable development in Africa. The Panel includes distinguished individuals from the public and private sectors. And publishes an annual Africa progress report.
In 2013, Koffi Annan became chair of the Elders, a group of retired world diplomats who meet regularly and plan discreet interventions in world conflicts, founded by Nelson Mandela.