African Style Inspiration: Vlisco's Deliciate Shades Collection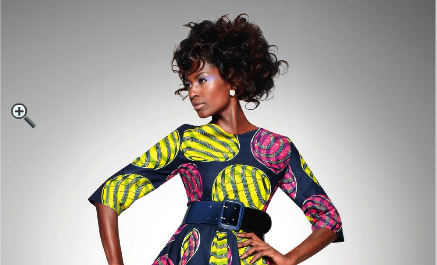 In the Vlisco Delicate Shades fabric collection, design plays a starring role, even more so than usual. Vlisco has reviewed its own craftsmanship, rediscovering its uniqueness and creativity, and experiencing its drawing technique in a completely different light.
This technique makes it possible to create two designs in one, uncovering a double layer with a subtle transparency effect. A number of designs take on a different appearance when viewed from the left or right, resulting in infinite ways to wear it. A range of bold blue shades and overpowering earthy tones are highlighted by bright accents of yellow and pink.
The colorful graphic designs play with your mind, transforming into three-dimensional illustrations with outlined shadows, as the elusive waves of color appear to set the illustrated woman into motion, seemingly revived in your imagination. Explore your own creativity and enjoy the ultimate Vlisco designs as part of the Delicate Shades fashion & accessories collection, available in Vlisco Boutiques as of November 2011.
African Style Inspiration – Look#1 & #2
African Style Inspiration – Look#3 & #4
African Style Inspiration – Look#5 & #6
African Style Inspiration – Look#7 & #8
African Style Inspiration – Look#9 & #10
African Style Inspiration – Look#11 & #12
African Style Inspiration – Look#13 & #14
African Style Inspiration – Look#15 & #16