15 Jewelry Statement Pieces To Showcase Your African Heritage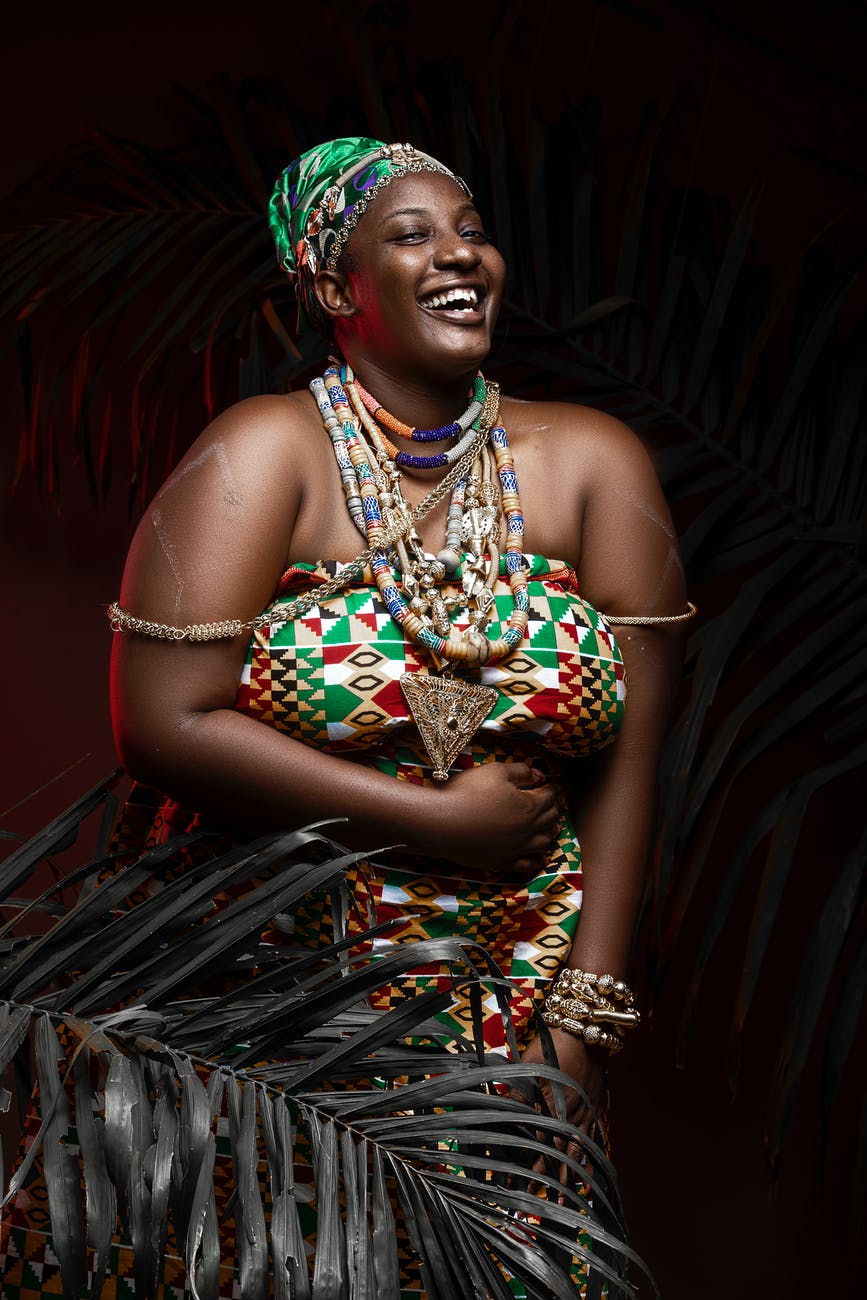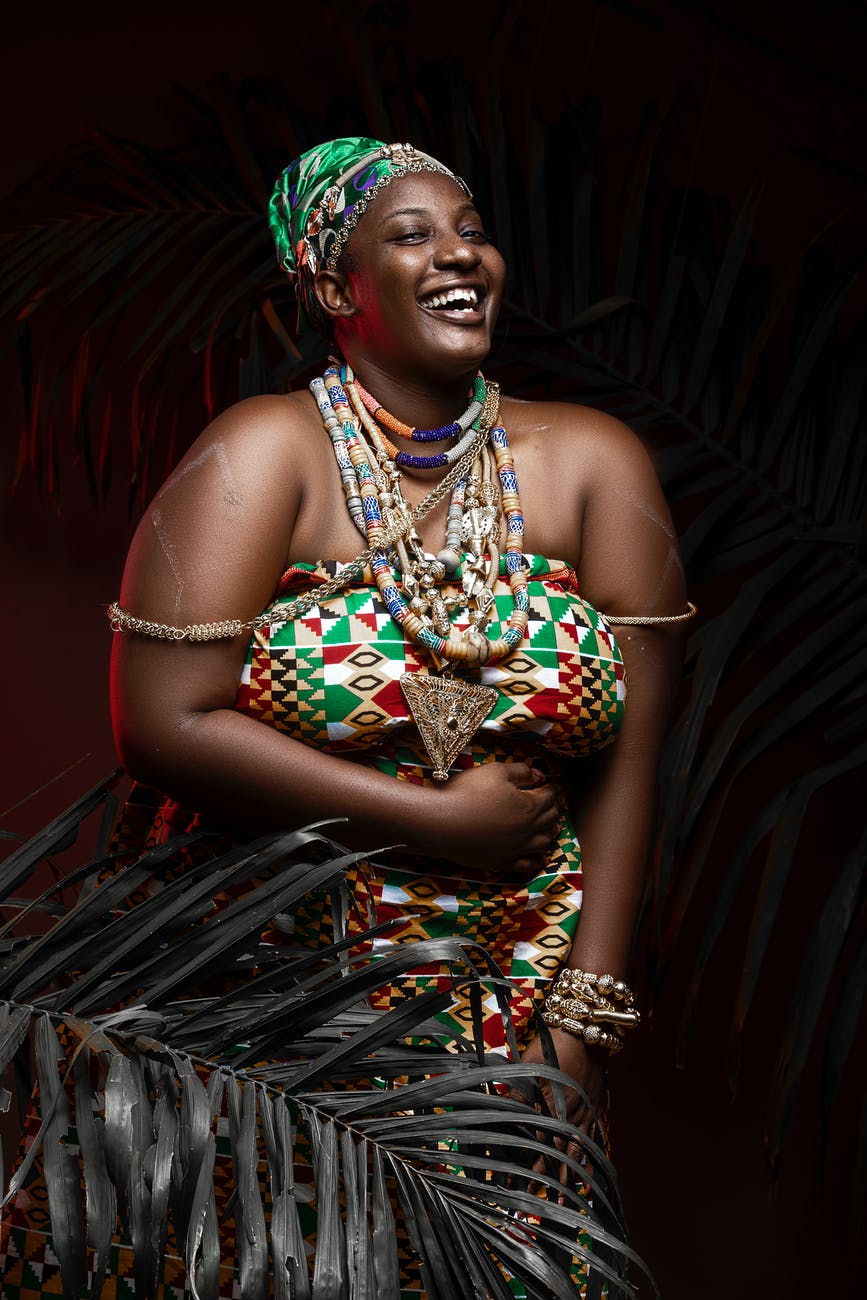 February is the Black History Month. It is the month when Africans in the diaspora and African Americans celebrate their contribution to America and beyond. Several African Americans and Africans in the diaspora want to seize the opportunity to connect to their roots. A great way they do this is by purchasing and wearing African jewelry and attires all through the celebration period. African attires and jewelry showcase the continent's cultural diversity and beauty.
African jewelry pieces are unique and highlight the creativity of blacks. Interestingly, some African bracelets are peculiar to a particular region. You will hardly see people from other parts of the continent wearing them. So, if you happen to be from a region with special cultural adornments, you can wear them on days you don't want to keep explaining your origin. Here are beautiful jewelry statement pieces you can use to celebrate black history month.
1. EWA African Statement Neck Piece
Want something bold and beautiful that screams, "I am proudly African?" Then, this is a great choice. This handmade three-step statement neckpiece is unique and can be worn on any dress and for any occasion. This neckpiece is carefully crafted from African Ankara fabrics, giving it a bright and colorful look. The EWA neckpiece isn't just an attractive choice but comfortable and 100% cotton. To get this jewelry, click here.
2. Beaded Coptic Choker
This intricately crafted choker is designed and hand-beaded by Maasai artisans in Nairobi. This exquisite work of art comes with finely detailed threaded brass borders and a center agate stone. This African jewelry perfectly showcases the creativity of Africans. You can wear this piece with any attire and still look chick. However, at a glance, everyone will understand how much pride you have for your heritage. To get this jewelry, click here.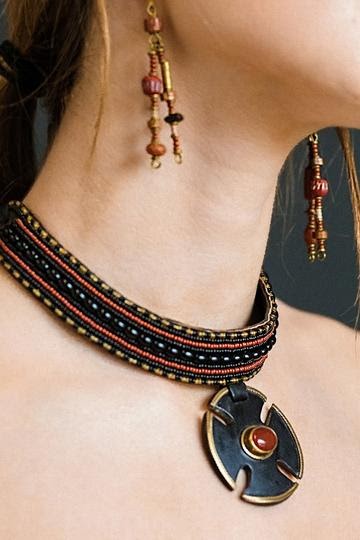 3. Jambo Rafiki Jewelry Set
If you like simple but stylish jewelry, this African jewelry statement set is the right choice. This hand-beaded jewelry set comes with a necklace and a matching pair of bracelets too. Its bright combination of colors and beautiful design makes it the go-to jewelry set for dinner and balls. It is a simple, fashionable, comfortable, and elegant piece. Why not grab a set here before it goes out of stock.
4. AFRICSTYLE African Print Jewelry Set
This beautiful African jewelry set includes a necklace and matching pairs of bracelets and earrings. Arguably the most striking feature of this handmade multi-strand Bib necklace is the African prints coating. However, the highlight of this jewelry set is the large knot rope design, which will rest comfortably just below your collarbones. Therefore, you can wear your pair of earrings or bracelets on separate days, for the love of Africa. This jewelry is available for purchase here.
5. African Sparkling Canine-Shaped Statement Collar Choker
If you want to replicate the Wakanda vibe, this African jewelry is your best bet. This African statement piece is outstanding, charming, and classy. The metallic shin will shimmer the sunrays and draw attention to you. Hope you'll be able to handle the attention. Another important feature of this necklace that is hard to ignore is durability. Already yearning to have this in your grip? Get yours here.
6. Fenical Fashion Handmade Alloy Ethnic Choker
If you are looking to celebrate black history month with your loved one, this amazing piece of art can be a gift option. It is designed to match every outfit of yours. Thanks to the multi-color pattern, it can go with every color combination and pairs well with both high fashion and jeans. You can dress it up with more layers of necklaces or make this the showpiece. A stunning pair of dangling earrings will complement this necklace beautifully. To get this jewelry, click here.
7. African Beaded Pendant Necklace
You cannot get your outfit wrong if you are adorned with this pendant. It comes in a sleek black appearance that makes it versatile for every outfit. This pendant gives your appearance all the details you need to be confident and make the right fashion statement everywhere you go. Its exquisite design will blend with a black or white evening gown. However, it can also tie together a pair of jeans and a blazer. Add dangling gold earrings to jack up the look and matching bracelets to tie the look together. Bet you can't wait to get yours. Click here.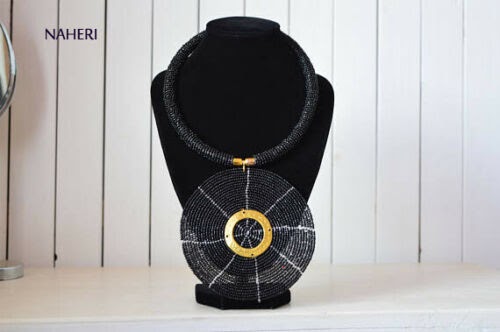 8. Blue Tribal Fashion Jewelry Handmade Pendant
This handmade pendant is a beautiful African jewelry piece that is available mainly in navy blue but is designed with other colors. The necklace has a back hook closure that ensures it is firm on your neck. You can rock this amazing piece for specific occasions where you plan to announce your South African heritage. Add a pair of colorful, dazzling, earrings to jazz up your look. With this piece hanging around your neck, you can afford to stack up on other fashion pieces. Also, if you have a characteristic thin neckline, this should be able to cover it up. Get yours here.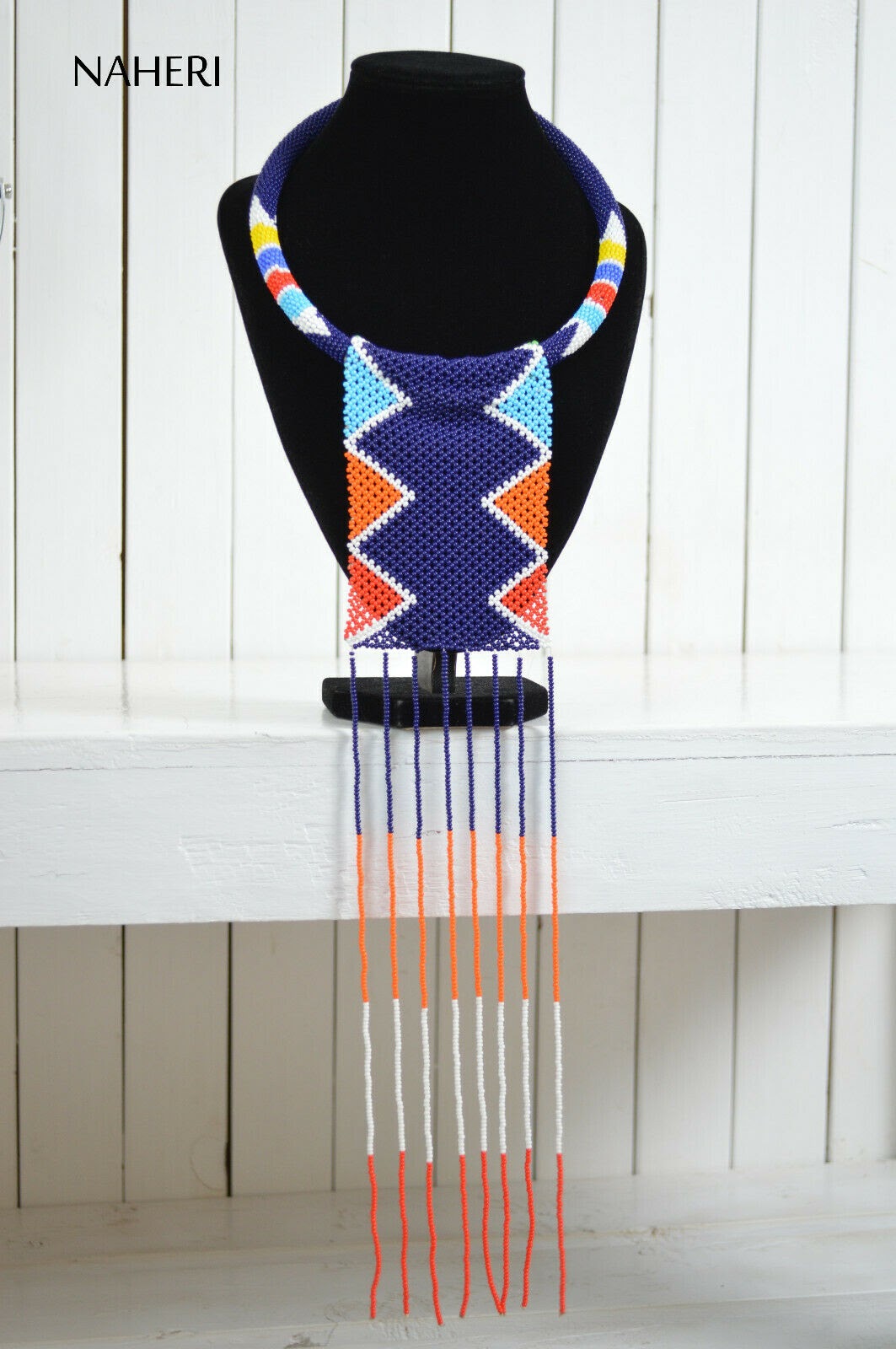 9. African Bib Collar Necklace Beaded
If you are all about African fashion, then this is one piece of jewelry you shouldn't miss out on. Made in Kenya, this bib collar necklace is well-layered with beads that give you the royal African look. In the local tribes, natives usually wear them on a bare neck which emphasizes their beauty. However, you can jack up your overall look with hair accessories, some colorful earrings, and multiple bracelets. This black history month, it's probably the best gift you should send to the one closest to your heart. Click here to get yours.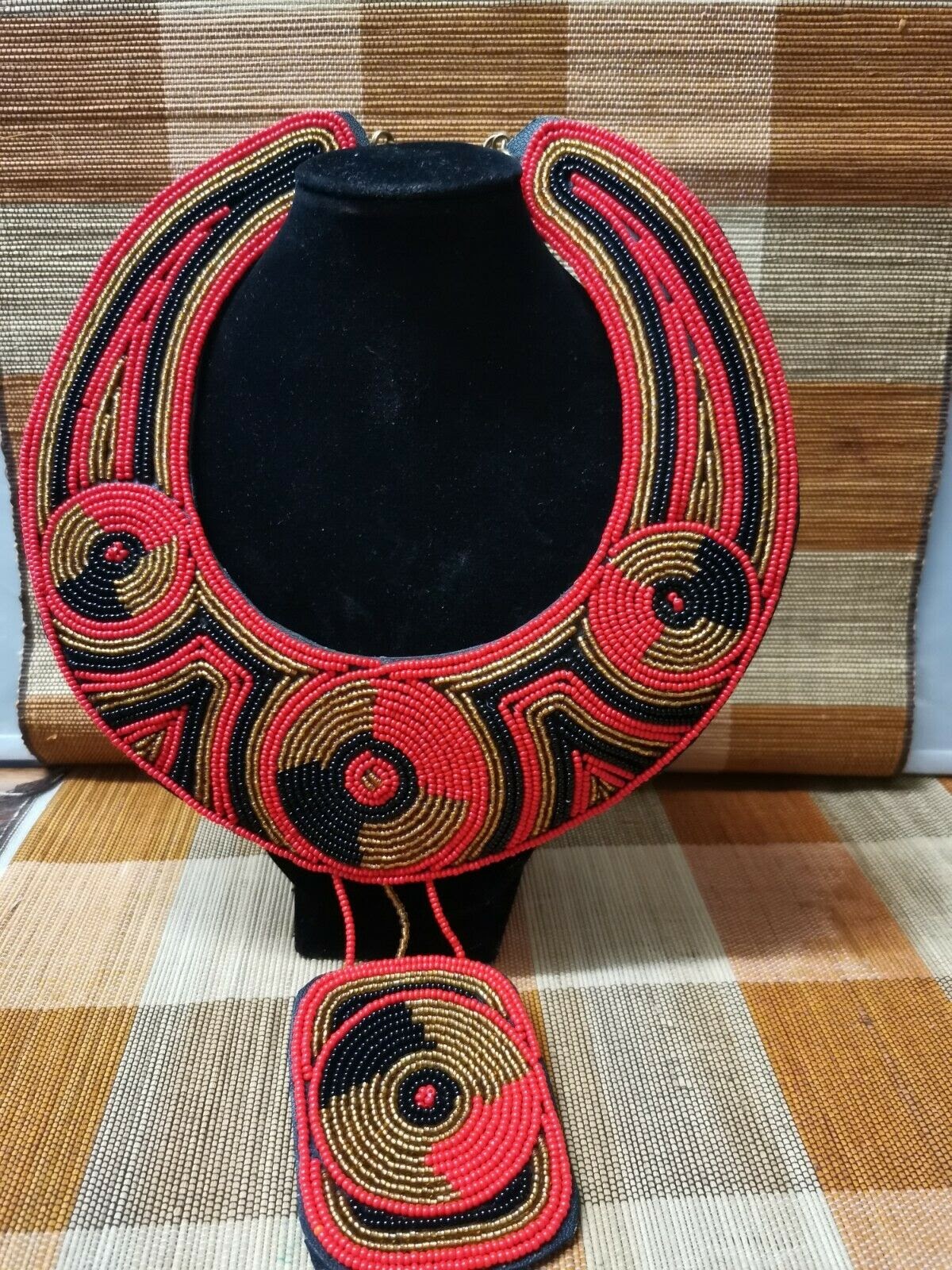 10. African Fabric Buttons Tribal Bib
There is no better way to connect with your African roots than to come out every day of the month in a stunning multicolored collar necklace like this. This African jewelry expresses the African culture at its best. It is designed with the Ankara fabric made into circles layered on themselves. It is simple, affordable, and can help give you a unique appearance.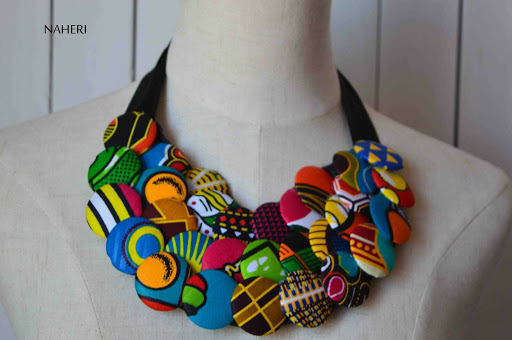 Feel free to keep up with the whimsical theme and add more color to the rest of your outfit. Nothing is off-limits when you wear this necklace. So, if you have an orange blazer or sundress you have been dying to break out, now is the time to pull it from the back of your closet and put it on. Don't forget to add more bling and bright earrings or hair accessories. Keep it fun! To get this jewelry, click here.
11. African Multilayer Jewelry Sets
This African jewelry set includes necklaces and earrings that add the African look to your appearance. Coming as a set of colorful pieces, you are sure that it can go with every outfit of yours. Are you attending a formal event? Dress up your evening gown with this stunning jewelry. Is Friday night girls night on the town? This set will have heads turning in the clubs. Every item in this set helps you connect to your African roots and ensures that you fully express it. Here is the link to get yours.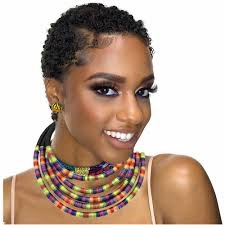 12. African Carved Hyena Multicolored Necklace
Are you the type of person that is unapologetic about your root? Then, this carved necklace is designed specifically for lovers of the African culture. If the Hyena is your spirit animal, why not adorn it around your neck? This necklace can be worn with heels or sneakers. Whatever event you are attending, be it work or play, you can justify wearing this jewelry. Perhaps, you can make it your good luck charm. This African jewelry's leather tie can be adjusted to ensure the necklace fits your neck just as you want it to. To get this jewelry, click here.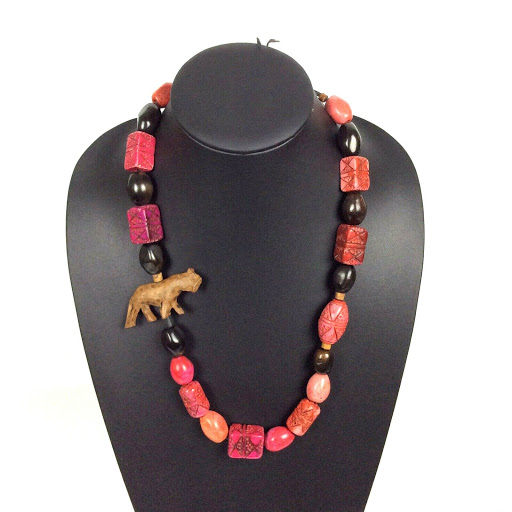 13. Women African Ethnic Statement Necklaces
Black History Month presents you with the perfect excuse to buy this new African Ethnic statement necklace. It is a simple necklace with a pendant and a great handmade option for anyone who loves the black culture. Embrace the bright yellows and show them off with your favorite dress. Add some designer earrings and other bling to finish off the look. Some greens or oranges from your eye shadow makeup palette will really be unique with this one. Connecting with the African culture feels a lot better and sophisticated with this amazing piece. To get this jewelry, click here.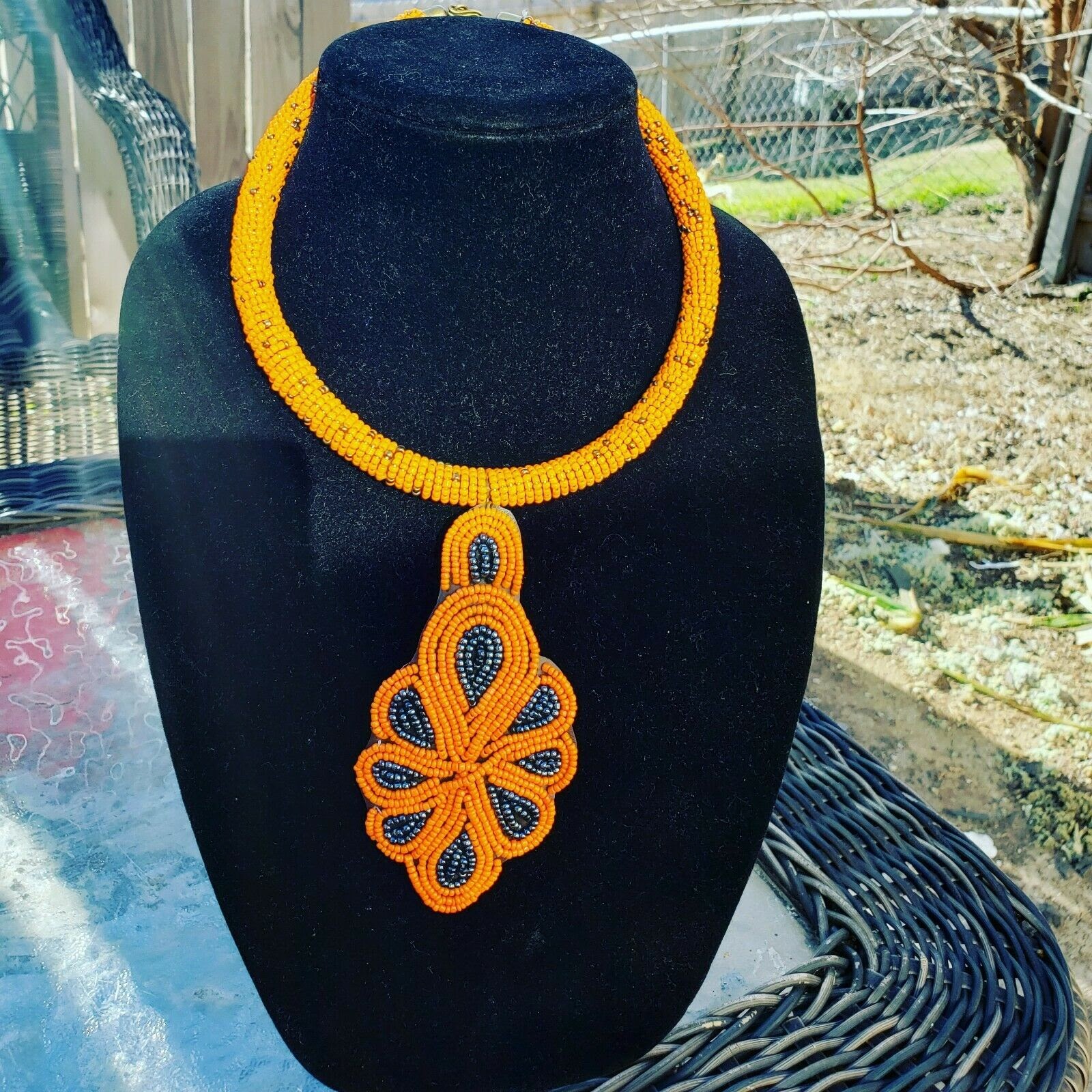 14. Bohemian Ethnic Multilayer African Jewelry Set
This African jewelry set includes a necklace and earrings and is the perfect match for an Ankara outfit. It is simply stunning and adds color and expression to your outfit. With this jewelry set, you can express the African statement everywhere, and be sure anyone that sees you on them will love them. The beads seem like a lot and difficult to make. However, it is still highly affordable. Get yours here.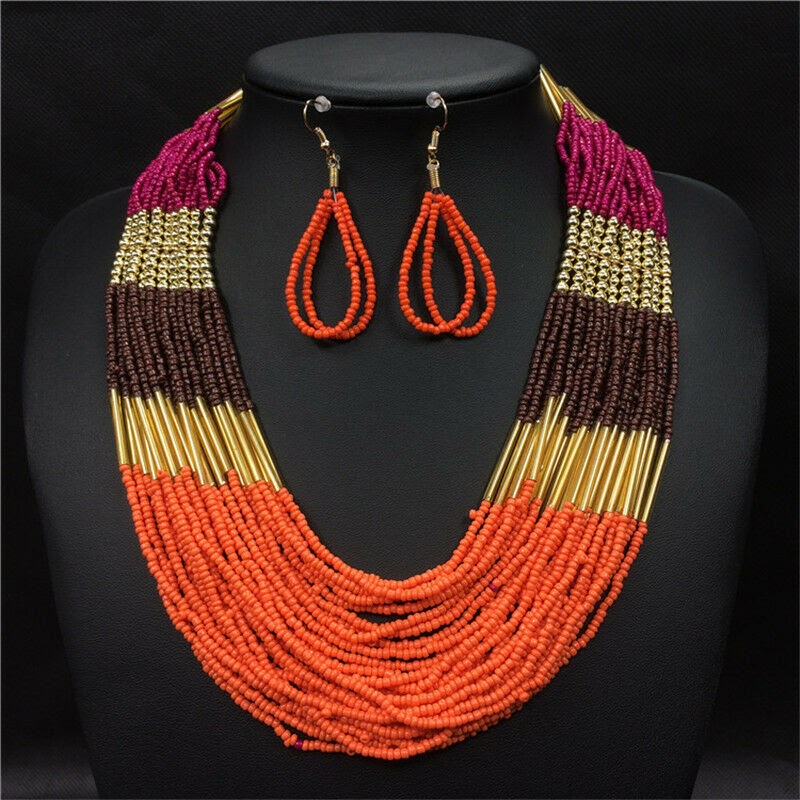 15. Fstrend African Leather Necklace Women Gold Color
How the outside this looks like a gold-plated metal. However, the inside is lined with African print. This African jewelry piece wraps the entire neck. Call it the African version of a choker and you won't be wrong. This jewelry piece is most suitable with African attire especially xibelani. Kill off your look and make yourself the center of attraction by pairing this with gold earrings and bracelets. You can get yours here.
Conclusion
Black History Month should no just end in February. The subtle activities of the month should embolden you to become unapologetic about your heritage. Hopefully, as the month grinds to an end you will still flaunt the African jewelry you acquired. Nobody should ever be ashamed of their heritage. Remember, it is the cultural diversity that adds spice to life. Take that away and humans will be a horde of unidirectional robots. Which of the African jewelry do you think you will get first? Share your thoughts with us in the comment box below.