We Think Every Fashionable African Man Should Have At Least One Of These Ensembles In Their Closet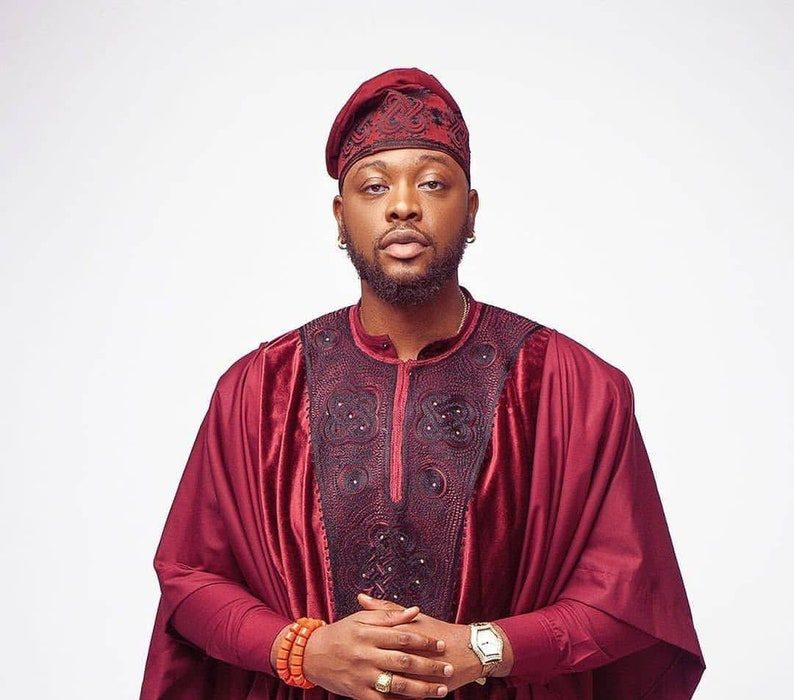 There used to be a general notion that African men are not fashionable. However, that was in the past. Unlike in the past when African men only felt fashionable in suits, they are finding ways of using local fabrics to create fashionable ensembles. In fact, the rest of the world now appreciates African men fashion—and wears them.
Inasmuch as African fashion is gorgeous, it owes part of its popularity to the high-profile figures that wear them. Today, we are going to look at ensembles that every fashionable African man should have in his closet. Now, let's see how fashionable you are. How many of these ensembles do you have in your closet?
#1. Dewe African Agbada (Get It Here)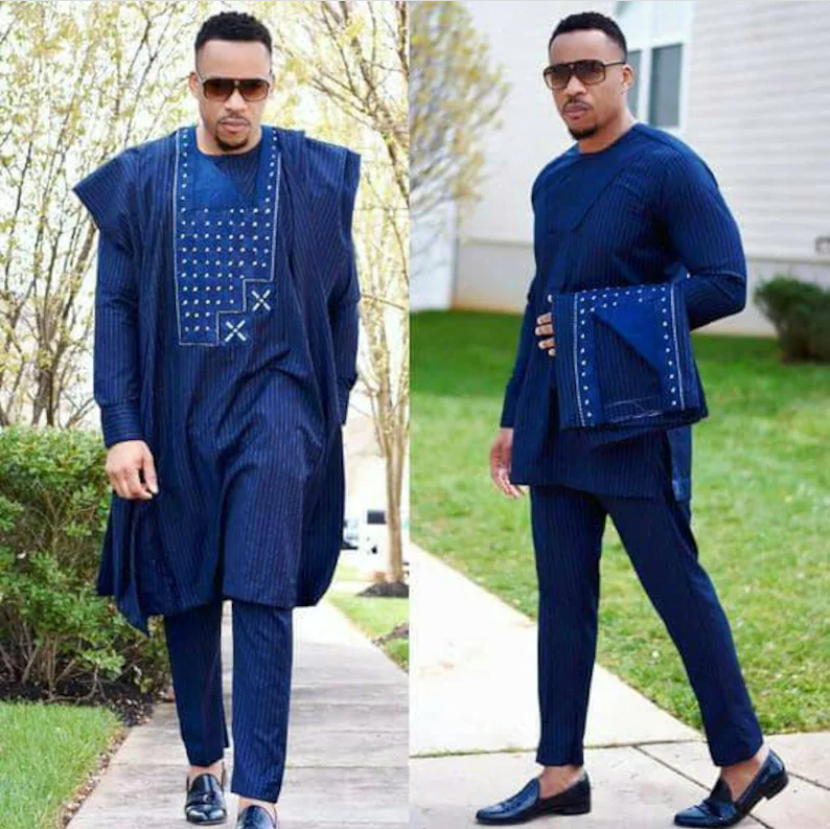 Call the Agbada African version of the three-piece suit and you won't be wrong. You can go with just the inner top and the trousers or wear the agbada when the weather is cold. The embroidery on the neck of the agbada is always stunning—and there is no limitation to the designer's creativity.
#2. Groomsmen Agbada (Get It Here)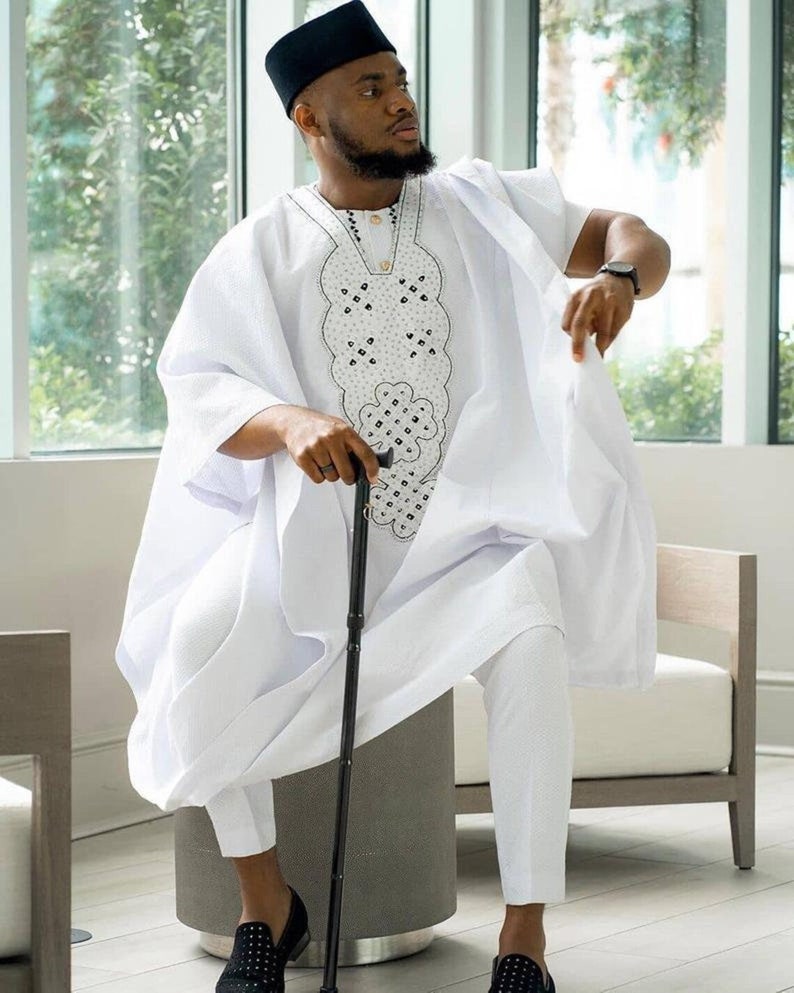 White has always been symbolic of weddings. You will definitely cause a stir if all your groomsmen show up rocking this outfit. From this, it is interesting to know that the agbada can go well with a long sleeve or short sleeve inner. This African men fashion has become a sensation outside the shores of the continent
#3. Alagba African Men Shirt (Get It Here)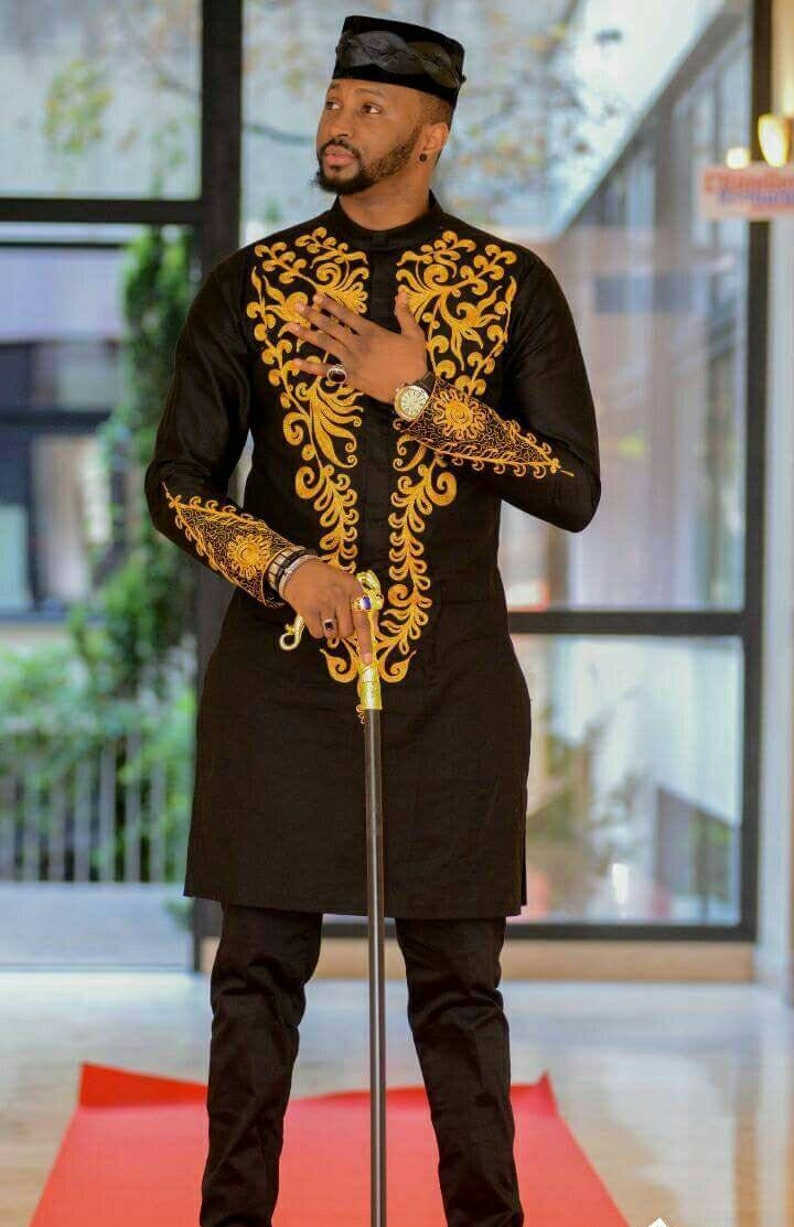 Gold has always been a symbol of royalty. If you really believe that your black skin is a symbol of wealth, this is one of the ensembles you should have in your closet. Rock it with a matching cap and walking stick and you will definitely command respect wherever you go.
#4. Dunsin African Agbada (Get It Here)
This is a popular attire among the elite Hausa tribe of northern Nigeria. Again, we see how versatile and flamboyant the embroidery of the agbada can be. One thing that is obvious is how the agbada feels more complete when you pair it with a matching cap.
#5. African Wedding Suit (Get It Here)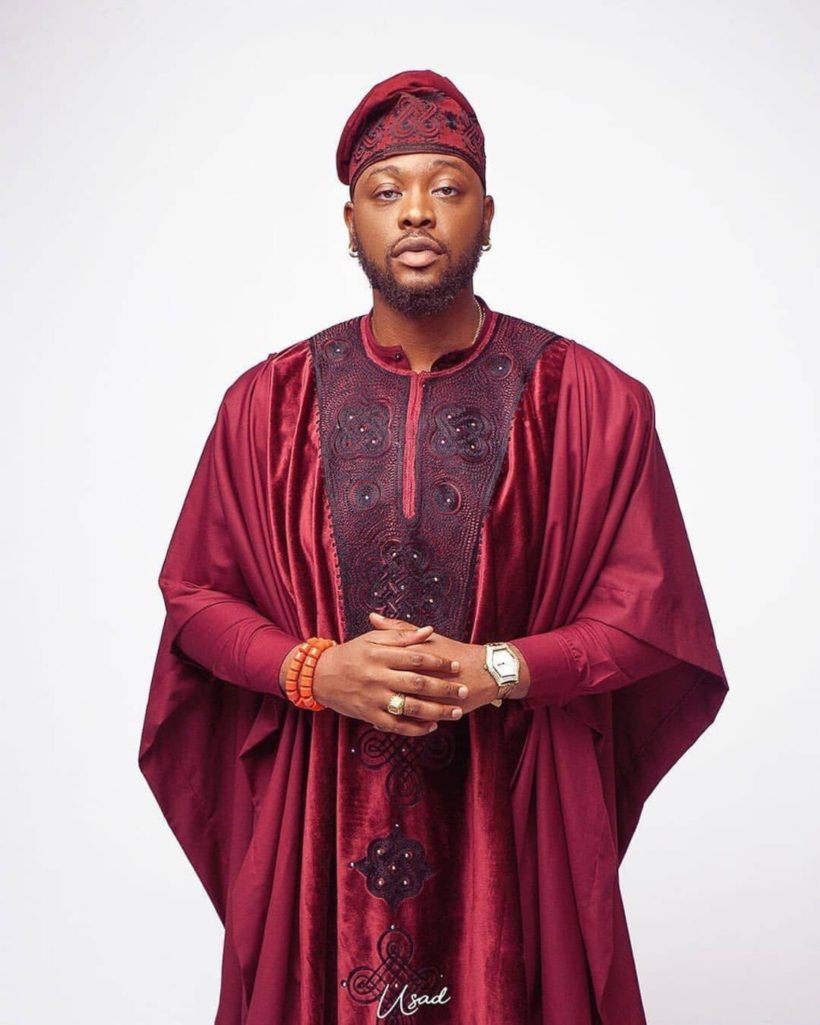 A decade ago, African men always wore a black or white suit to their wedding. However, that practice is changing. Today, we are seeing more couples show up for their wedding dressed in local attire. This is definitely one of the African men fashion you should have in your closet if you are planning to go against the norm on your wedding day.
#6. White Kaftan Suit (Get It Here)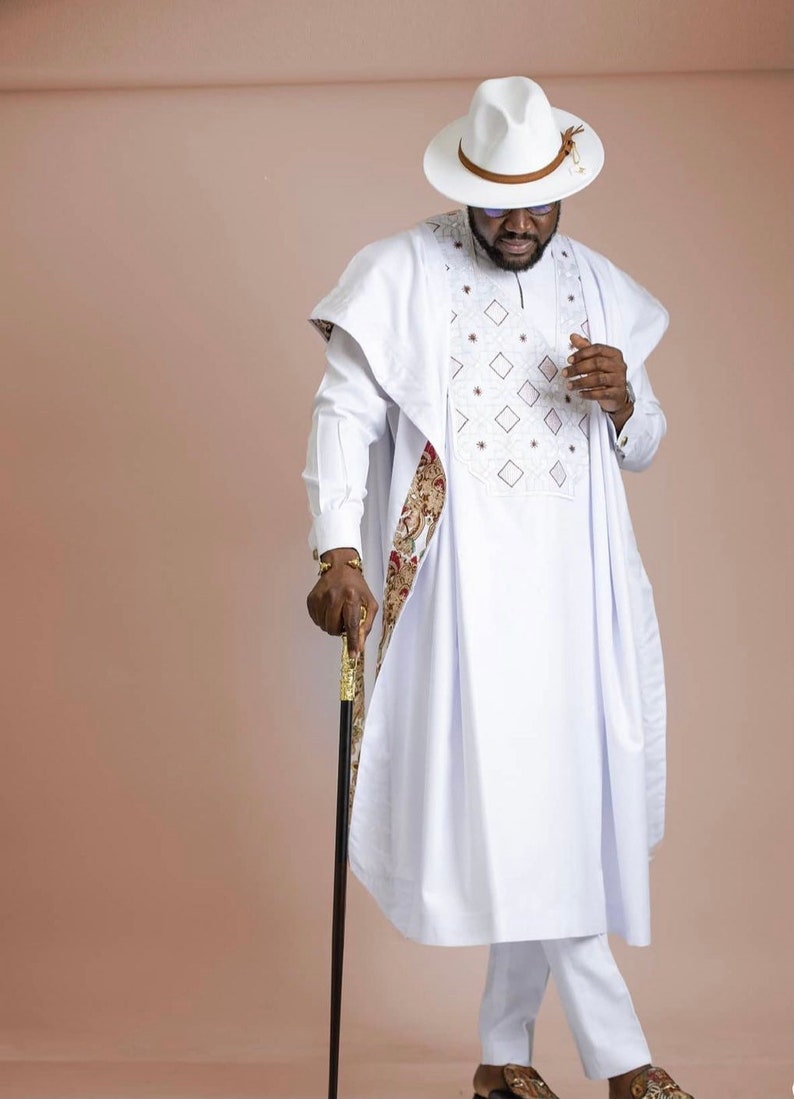 If you love fashionable African outfits, this Agbada will definitely catch your attention at a glance. You can't fail to notice the colorful print used to adorn the inner edge of the agbada. The entire ensemble pairs well with a cowboy hat. You can't help but love it.
#7. Feranmi African Men Shirt (Get It Here)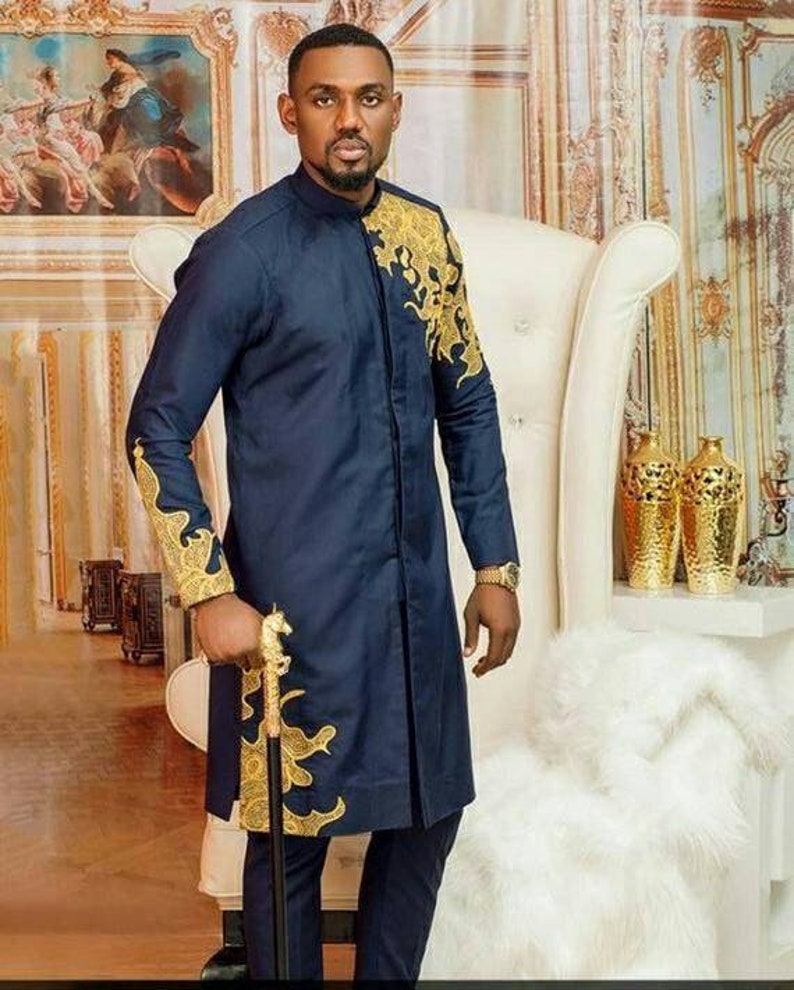 This rare African men's shirt looks like nothing you have seen before. This is the men's ensemble you want to wear on days you want to stand out rather than blend in. The gold embroidery at the top left hand and the bottom right corner of the outfit will be the talking point wherever you go.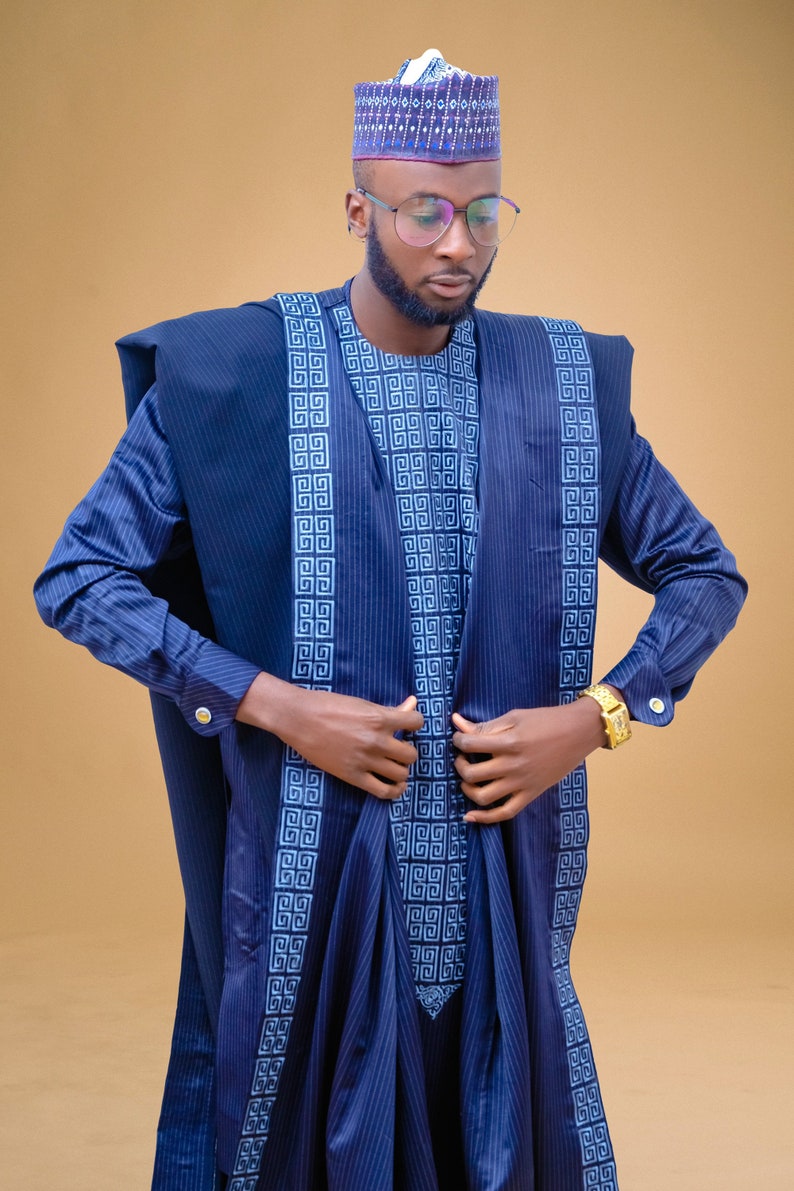 As you would have noticed so far, agbada is simply not complete without a cap. However, this time the cap is intentionally designed to match the agbada's color and design. What makes this agbada unique is that, unlike other agbada that combine different colors, this one makes use of different shades of the same color.
#9. African Men's Flap Shirt (Get It Here)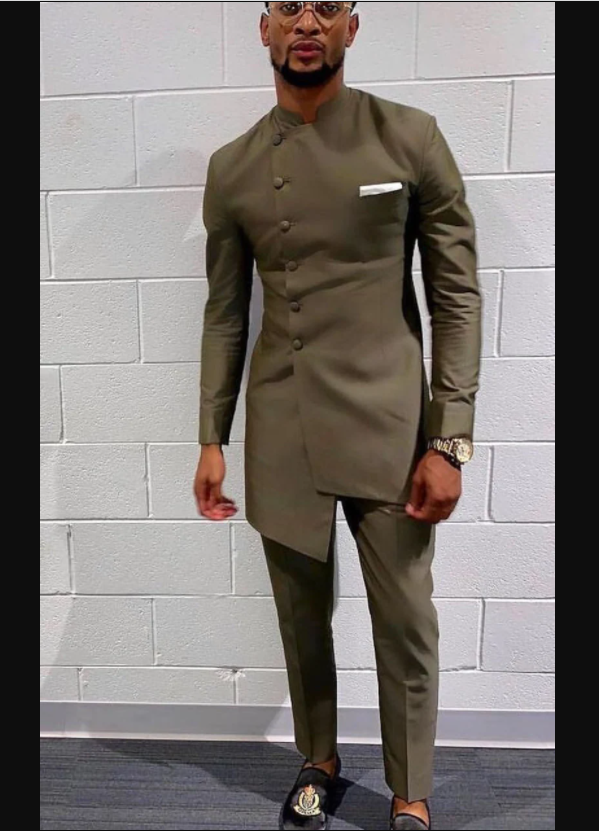 You don't see a shirt with an asymmetric cut every day and that explains why every fashionable African man should have this in his closet. Fashion is really not about blending in but standing out. This African men fashion is one of the few that you can be certain that you will not find its lookalike with ease.
#10. Sile African Agada Set (Get It Here)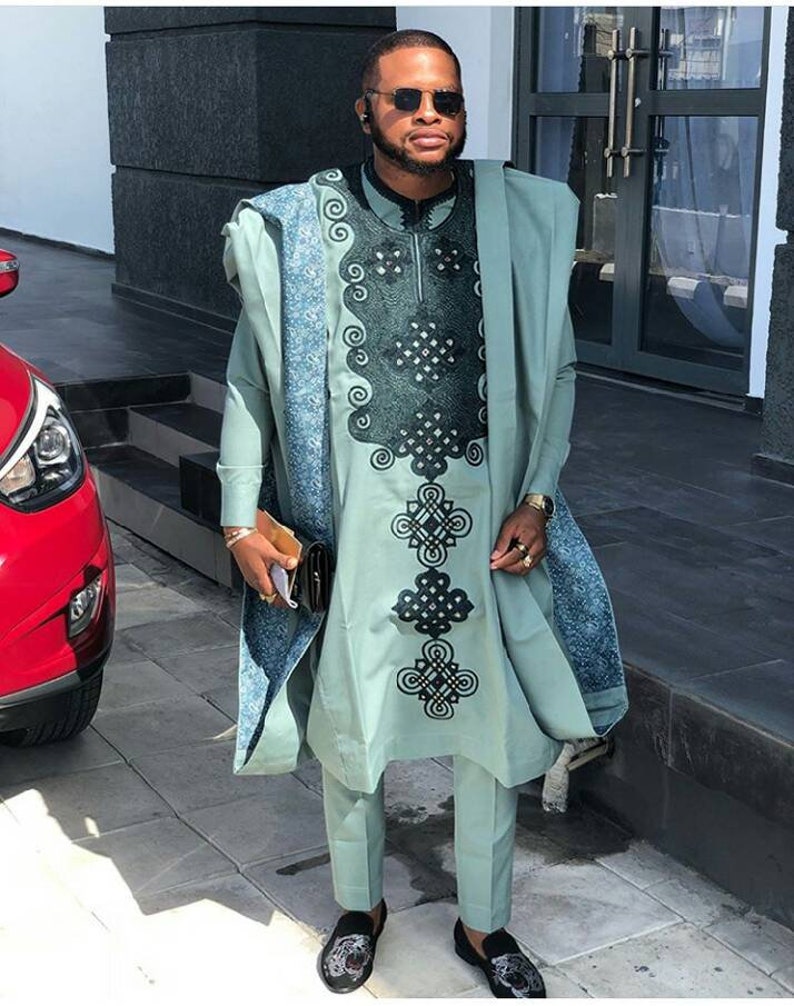 A typical agbada usually has a limited design around the neck. However, this one has a more elaborate design that runs from the neck all the way down. The entire front is covered with embroidery. Also, the inner edge is lined with a different material making it one of the most decorated agbada ensemble. Think you are fashionable? Then, you must have this in your closet.
#11. Charles African Men Shirt (Get It Here)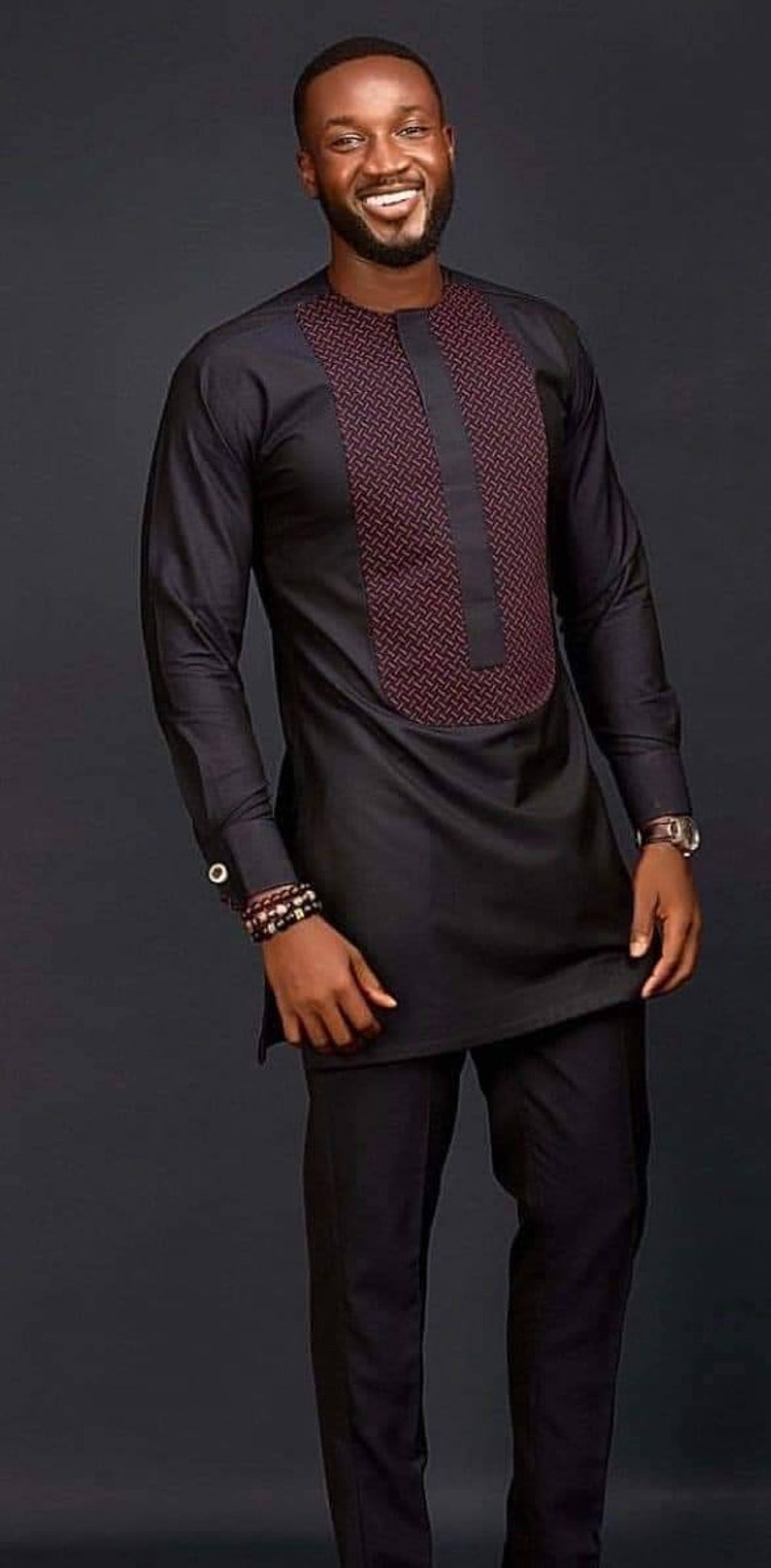 Fashion doesn't necessarily have to be complex to be beautiful—at least, that is what we learned from this ensemble. Besides the embroidery on the bodice, this would pass as a regular shirt. However, we know that this is far from regular.
#12. Oliye African Agbada (Get It Here)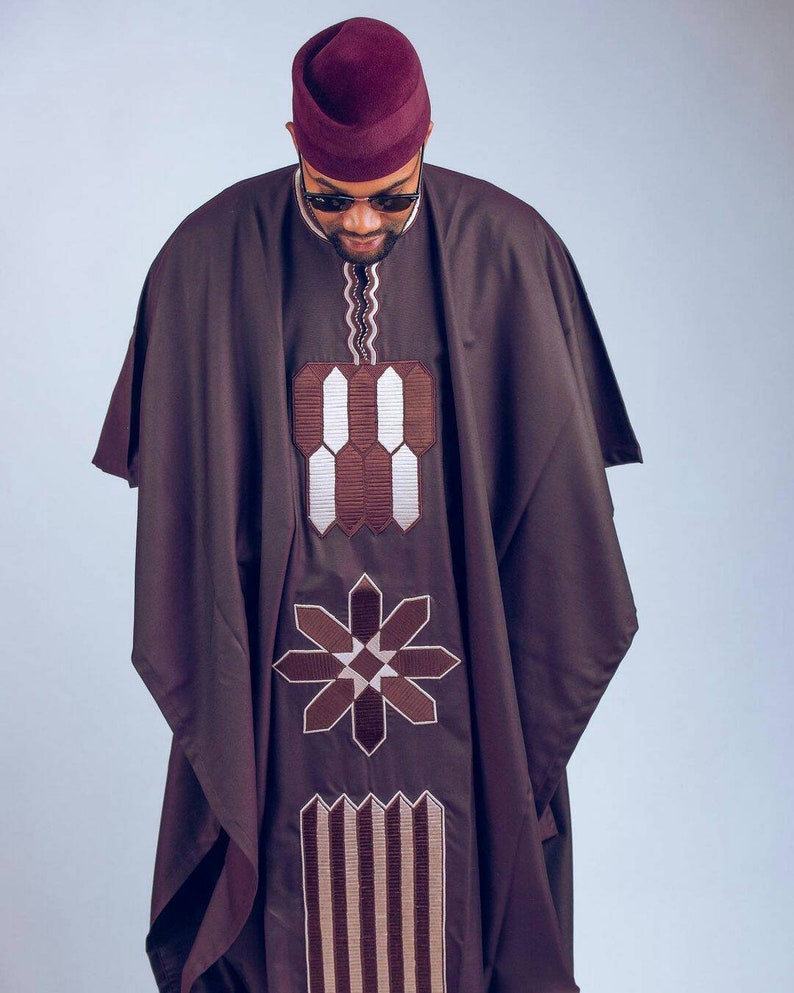 Who would have ever thought that agbada can be carved out from just any material? Here we are thrilled by this agbada with flamboyant embroidery made from a different material than what we hitherto know. One thing that has remained constant is the use of a cap to complete the look.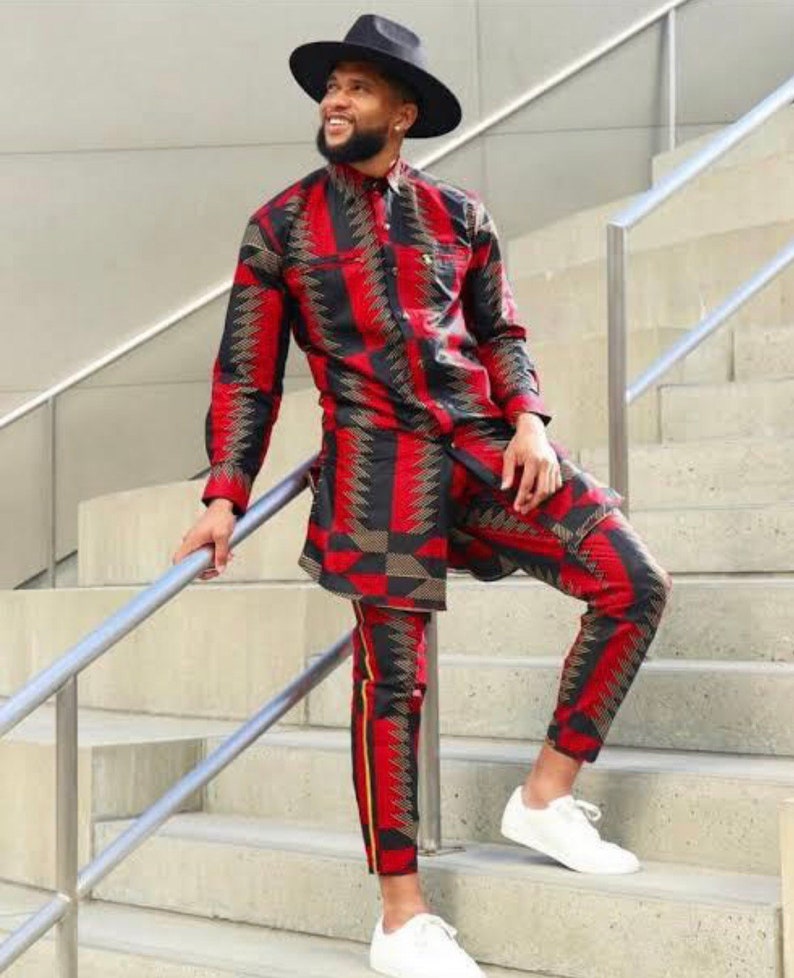 What we love most about Ankara is how versatile it can be. In the hands of the right designer, Ankara can turn into a suit, an agbada, or a simple long sleeve shirt and trousers like in this case. The thigh-length shirt stands out for a number of reasons including the collar and the deep slit at the bottom. Wear it with the right accessories and you could be mistaken for prince charming.
#14. African Royal Kente (Get It Here)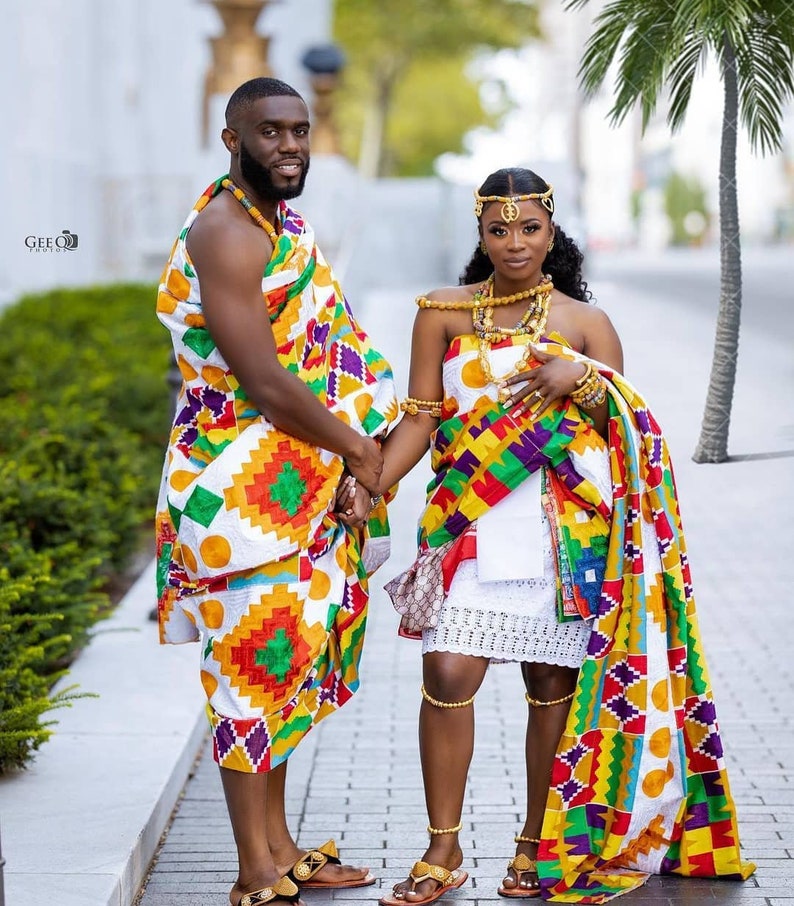 A Ghanaian royal wedding will not be complete without a colorful display of different Kente styles. Well, you mustn't be a Ghanaian to appreciate the beauty of this symbolic fabric. We believe it is a piece that every fashionable African man must have in his closet.
Conclusion
What really makes you fashionable is not having one of these ensembles. Rather it is having as many African men fashion as possible so that you always show up to different occasions looking different and unique. Tell us, which of these do you have and which do you think you will purchase next?