This African Country's Geothermal Power Produces The Cleanest Energy In The World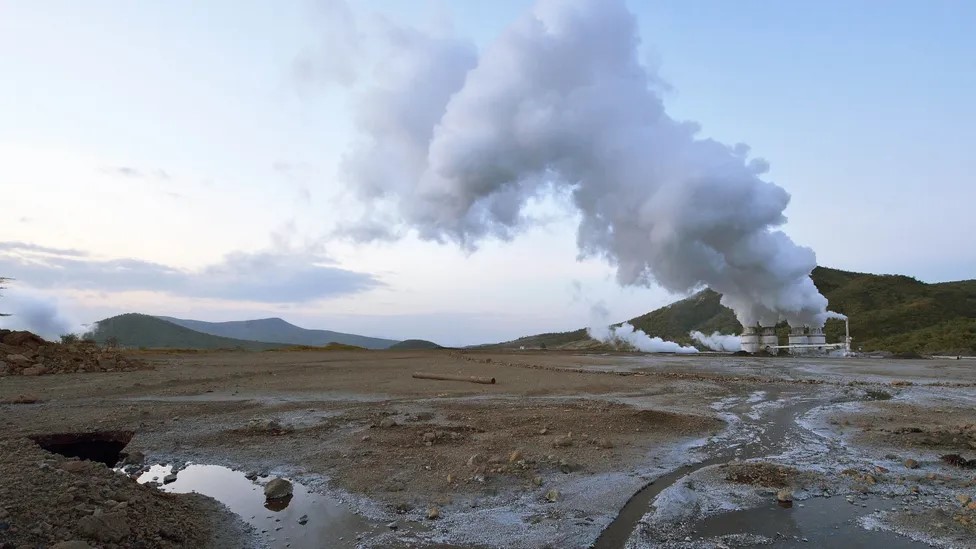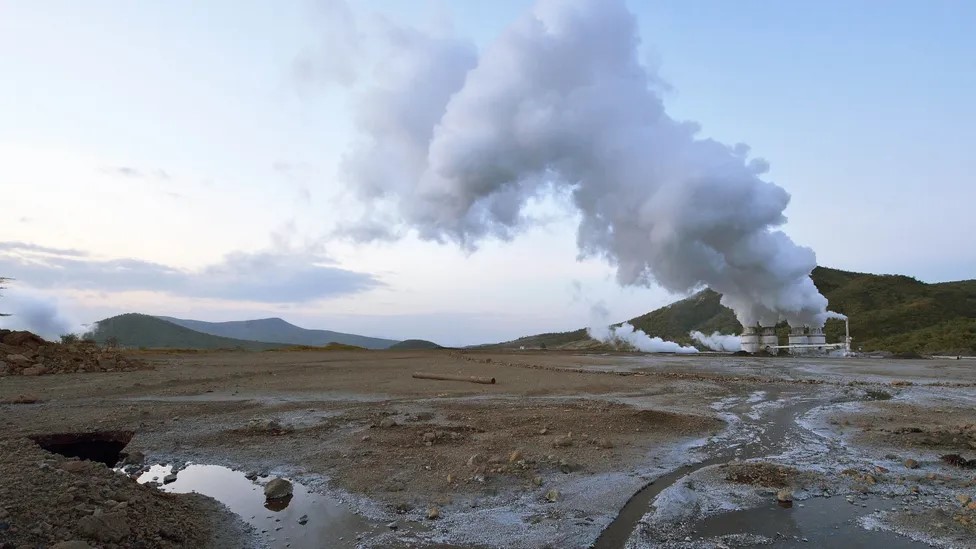 From nuclear to solar to hydroelectric and fossil fuels, different countries around the world rely on different energy sources to cater to the energy needs of their citizens. Kenya in East Africa is relying on geothermal power to provide electricity for its teaming population.
Unlike fossils, geothermal power is sustainable and doesn't lead to environmental pollution. As the world races to find solutions to global warming and climate change, fossil fuels are becoming less attractive.
ALSO READ: Notes For Other African Countries From Kenya Elections 2022
Kenya has an abundant geothermal supply and has been identified by the National Power and Transmission Masterplan as the most cost-effective and environmentally friendly. During his inauguration speech, President William Ruto made an ambitious plan to fast-track Kenya's transition to green energy.
The abundant supply of geothermal power in the country gives the president the chance to actualize this goal. Consequently, Kenya's Geothermal Development Company (GDC) signed a Memorandum of Understanding (MoU) with Nakuru County for the establishment of a geothermal heat park.
Timeline of geothermal power exploration in Kenya
The idea to generate electricity from geothermal power in the Olkaria Area in the Great Rift Valley around 44 miles northwest of Nairobi began in the 1950s. At that time, a consortium of power companies spearheaded by East African Power and Lighting Company started by drilling 2 wells in the area.
However, due to technical issues, they were unable to make power from them leading to their abandonment. At that time, nearly 90% of Kenya's electricity was produced from hydropower. The idea for geothermal power exploration was rekindled in the mid-1970s.
ALSO READ: Kenya Elections 2022: Why William Ruto Won. Expectations For The New President
With assistance from the United Nations, Kenya Power (a state-owned company) took charge of the exploration of geothermal power in 1977. Consequently, the first geothermal power plant in Africa was born in June 1981.
During its inauguration, the Olkaria I power plant had just one turbine and a generating capacity of 15 megawatts of electricity. This was about 2.7% of the national capacity at that time.
Legal framework for geothermal power investment
Once the potential of geothermal power became evident, Kenya's parliament passed the Geothermal Resources Act in 1982. This provided the legal framework for investing in the sector, as well as licensing and siting. That same year, a second turbine was added to the Olkaria I plant. It also had a 15 MW generating capacity.
Expansions continued in the years that followed starting with the change of Kenya Power Company to Kenya Electricity Generating Company (KenGen) in 1997. With rising investments, Kenya was able to add 93 MW of generating capacity in the last two decades of the 20th century.
In the first 2 decades of the 21st century, Kenya expanded its geothermal power generation capacity to 531 MW. In July 2022, Olkaria V was inaugurated. At the same time, a sixth turbine was added to Olkaria I. This added 258 MW generation capacity to the country's geothermal power. Also, that brings the country's total geothermal power production to 962 MW.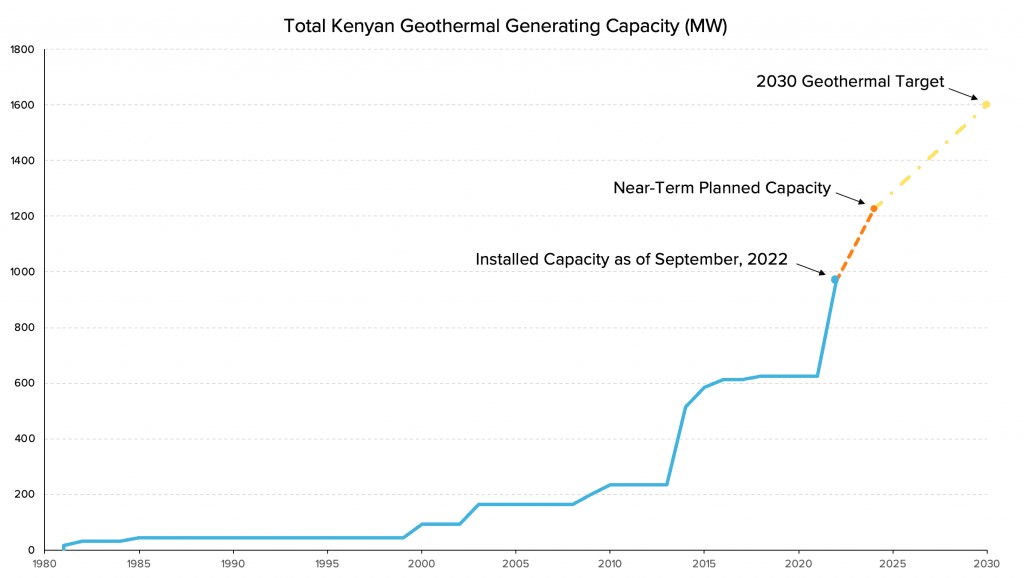 Future plans for Kenya's geothermal power capacity
More explorations are still on the way to expand Kenya's energy production from geothermal wells. The country hopes to add 300 MW of electricity to the national grid upon the completion of new projects at Olkaria and elsewhere. According to Kenya's green development goals, the country hopes to generate 1,600 MW of geothermal power by 2030.
The energy will be needed to power the government's rapid industrialization plan which is intended to push the country to middle-income status by the end of the decade. Geothermal energy is more reliable for industrialization compared to other green sources like wind and solar.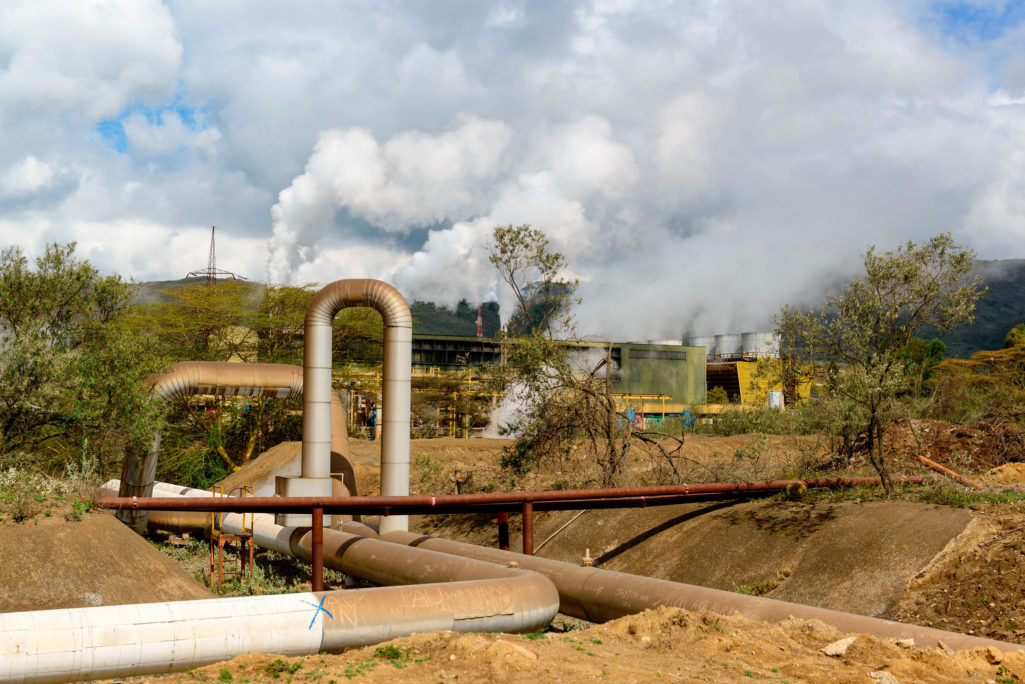 Several countries across Africa agree with this fact. This is because industrial processes are usually energy-intensive. Also, geothermal steam is often used directly in some industrial processes. That means the conversion of geothermal to electricity may not be needed all the time.
ALSO READ: Ultimate Guide To Investing In Real Estate In Kenya
The proposed heat park by GDC is an example of the direct use of residual heat from geothermal power plants. The heat can be used for milk pasteurization, timber drying, and grain drying. Further emphasizing the non-electricity potentials of the geothermal plant, the Managing Director of GDC Jared Othieno said,
"The most important component of the heat park is the geothermal heat mined from steam. We have heat in abundance and they are readily available. The heat is clean and can be used for various industrial processes."
Environmental impact of a geothermal plant
If Kenya hits the goal of generating 1065 MW of electricity by 2030, it would have escaped the use of 1.8 million tons of heavy oils to generate power per year. In terms of the economy, the country would have saved $1 trillion on diesel that would have been used to generate the same amount of power.
At 90% availability, 1065 MW of geothermal power will displace an equivalent of 4.2 million metric tons of carbon dioxide annually. If Kenya should achieve 5,530 MW of geothermal power by 2030, the country will become the largest source of clean energy in the world. However, is geothermal energy the holy grail of green energy?
Many will argue against that because geothermal power has its downsides. Firstly, it is the second most abundant source of natural energy after the sun. Also, the building of new geothermal plants can encroach into natural habitats.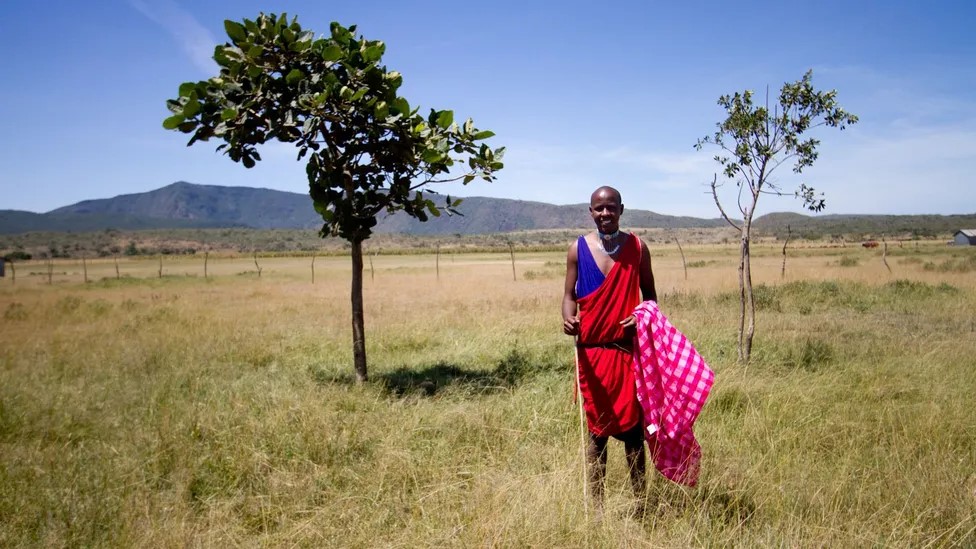 For example, the building of Kenya's Olkaria plants led to the displacement of hundreds of semi-nomadic Maasai families to leave their homes in the Great Rift Valley. KenGen has employed Maasai people as a form of compensation. But, is that enough?
ALSO READ: Kenya Set To Join African Countries Manufacturing Electric Cars
Therefore, before the construction of geothermal power plants, it is crucial to carry out an impact assessment and the execution should follow proper planning. Nevertheless, Kenya leads the world in green energy adoption.
They have clearly set the precedence for industrialized nations—who are the major contributors to global warming. As COP27 draws closer, it is time for world leaders to fast-track their energy evolution away from fossil fuels—just like Kenya.
Join African Vibes Community for more positive African news, exciting tips, and discussions.