TEDGlobal 2017 Tanzania Session 5 – Visual Thinking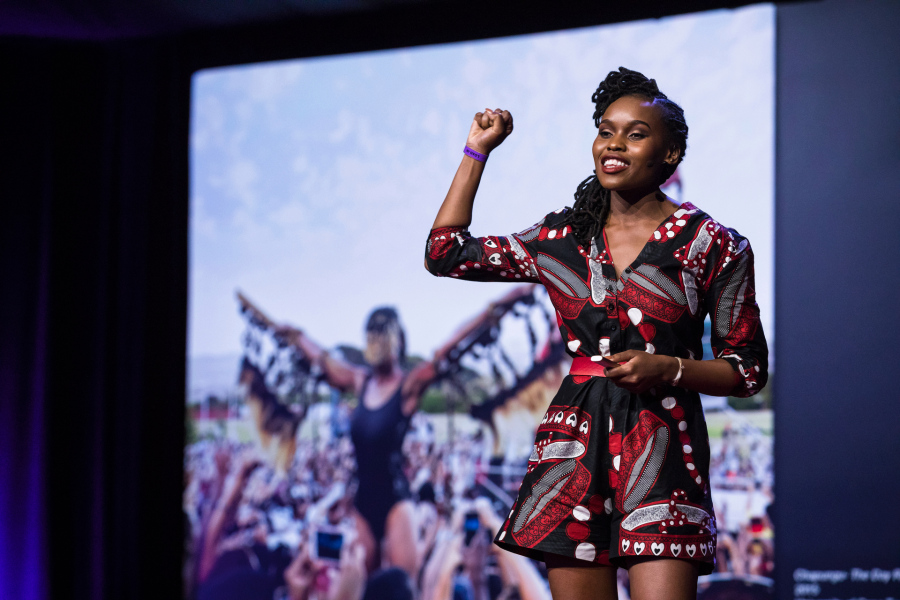 TEDGlobal 2017 Session 5 is about Re-patterning culture, identity, language. The speakers in this session are artists, designer-scientists, and visionaries who are remaking the world around them. 
TEDGlobal 2017 Session 5 Speakers
Self-styled "wild woman" Thandiswa Mazwai came off as both fierce and vulnerable in her performance. 
To recover, the audience watched this lovely short film featuring TED Fellow Walé Oyéjidé, a lawyer turned fashion maven for the menswear line Ikiré Jones. Their vision brings traditional African prints to tailored menswear, blending cultures, traditions, and signifiers to make gorgeous stuff.
ALSO READ: Tanzania Electric Train Commence Trial In July
Natsai Audrey Chieza
Points out that over the past century, our world has organized itself around fossil fuels — "arguably the most valuable material system we've ever known," she says. But that system is coming to an end — not only because we're within sight of running out of fuel, but because our dependence on petroleum has wreaked havoc on our planet and our economies.
Natsai Audrey Chieza imagines a world beyond fossil fuels — not just in our cars and homes, but in the many industrial processes that depend on petroleum. Imagine instead an industry based on biology, that grew itself and used itself up with no waste? Photo: Bret Hartman / TED
Ghada Wali 
Resolved that she would not leave her culture, nor the Arabic script, to disappear, after a visit to the library in search of Arabic and Middle Eastern texts that turned up titles about terrorism, fear, and ISIS. The solution that she designed is an appealing mashup of colorful Lego and the Arabic script: a game that teaches people Arabic by assembling Lego blocks.
Chris Sheldrick 
Wants to help the world's unmapped people, the estimated billions who live without an address, to get more findable. "If you look online at a map of a township in South Africa or a remote village in Nigeria, you'll see a few roads, surrounded by a lot of empty space. But if you switch to satellite view, you'll see vast swathes of houses, businesses and people there, spread across hundreds of unmapped streets." 
Iké Udé 
Found creative ways to repudiate the negative portrayal of Africans — most recently, through the evocative images of a portrait series, Nollywood Portraits: Radical Beauty. "Nollywood is Africa's vivid mirror par excellence," he enthuses. "It is the very first time that you have a school of Africans truly in possession of such cultural agency and in charge of telling African stories, for their Africans, without any foreign or colonial intervention."
ALSO READ: Tanzania Blockchain Baby is the World's First
IkéŽ Udé's astonishing self-portraits blend clothing, props, and poses from many cultures at once into sharp takes on global visions. Photo: Bret Hartman / TED
Sethembile Mzesane 
Became uncomfortable with the horde of masculine and racist symbols that loomed everywhere in Cape Town. This is the city she had lived in for five years. "I could not see myself represented, I could not see the women who raised me, the ones who influenced me, and the ones who have made South Africa what it is today. I decided to do something about it."
On the day in 2015 that the statue of Cecil Rhodes came down in Cape Town. Sethembile Msezane stood in front of it dressed as Chapungu, the soapstone bird looted from Great Zimbabwe. Her powerful pose reclaimed the space for African identities in a square once claimed by colonialists. Photo: Ryan Lash / TED
All Sessions
1. Session 1 – A New Map
2. Session 2 – A Path Forward
3. Session 3 – One Jump Forward
4. Session 4 – Exploring hard truths
5. Session 5 – Visual Thinking
6. Session 6 – Urban 3.0
7. Session 7 – Power Up 
8. Session 8 – Manifestos